I'm such a big fan of stuffed mushrooms and Mexican food. So why not combine the two? Mexican stuffed mushrooms don't just sound delicious, they are!
I realize vegans often feel a bit left out , food wise, at BBQ's. So it's nice to have a nice filling and healthy vegan appetizer made on the grill that even omnivores will drool over. The great thing about these easy stuffed mushrooms is that you can also make them in the oven. Either way they come out great. Oh and not to mention they don't look like little brown turds like most stuffed mushrooms :) These ones actually have a bit of color!
If you are making these Mexican stuffed mushrooms on the grill, you can use disposable tin foil pans or a baking sheet covered with tin foil. If you are using an oven, you will need to use a deep roasting pan that you can cover with tin foil (This is the Cuisinart one that I use). There are also some that already have lids.
This recipe is a kid-friendly version so it's not packing any heat. However, I recommend, for those craving some spicy stuffed mushrooms, adding a chopped jalapeno to the the stuffing mixture or if you are really ambitious a bit diced habanero. YUM! The mushroom recipe also doesn't use the actually stems. Don't throw them away though! There are so many other great uses for these.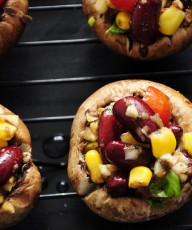 Easy Mexican Stuffed Mushrooms
makes 10 stuffed mushrooms
Ingredients
10

Mushrooms

Cremini (brown or white) - cleaned, steam removed and hollowed out

8

Cherry Tomatoes

quartered

½

cup

Sweet Corn

½

cup

Kidney Beans

2

tablespoons

fresh Cilantro

chopped

3

Garlic Cloves

crushed

1

teaspoon

Cumin

¼

teaspoon

Salt

½

teaspoon

Paprika

Lime Juice

optional

Jalapeno

optional
Instructions
Clean mushrooms and remove stems.

Carefully hollow out mushrooms with a small spoon, and dice what has been hollowed out. (stems will not be used)

Combine diced mushroom with quartered tomatoes, corn, beans, cilantro, garlic, cumin, salt, and paprika. (Add diced jalapeno at this time if desired)

Fill mixture into mushrooms using a spoon and push down with your fingers to ensure they are stuffed to their limit. Drizzle each mushroom with a dash of lime juice if desired.

Place stuffed mushrooms on a foil pan and grill covered on medium-high heat for 6-8 minutes until mushrooms are tender (if using an oven see NOTES)
Recipe Notes
1) If using an oven follow these directions: Heat oven to 435F (225C). Place stuffed mushrooms in a deep roasting pan. Cover roasting pan with tin foil and roast in oven (middle rack) for 12-15 minutes or until mushrooms are tender. 2) If you taste the raw mixture it will taste salty and overwhelmingly like garlic. Yes, you made it right. After roasting or grilling the mushrooms the flavor will become milder.