First off, Happy New Year!
I was actually awake for New Year but not necessarily by choice. There were fireworks going off all night which caused son #2 to wake up about every hour. I felt like he was a newborn again. Though he did sleep better as a newborn than last night. #1 then came into our bedroom shortly before 6 AM. All I wanted to do was put in ear plugs and pretend like I was on a secluded island. I swear I could probably sleep for 20 hours straight if I had the opportunity. Oh the joys of parenting!
I woke up, drank a liter of coffee by myself (ok, it was half-caf) and tried my hardest not to fall asleep next to #2's playmat. I try hard to be a good mom. But come on boys! Mama needs some sleep sometimes too!
Exhausted I got up and made some Coffee Brownies...which I'll post tomorrow. I'm been wanting to finally do a post about my favorite stuffed mushrooms. These were also on our Christmas menu and #1 loved them. Even Hubbs ate some and he
hates
mushroom.They looked like they took way more work than I actually put into them.
What I love about these stuffed mushrooms is that it actually allows the mushrooms to be the hero of the dish. Usually stuffed mushrooms are covered with pounds of cheese or some form of fatty meat (bacon, sausage). These are super healthy stuffed mushrooms plus they actually taste like mushrooms!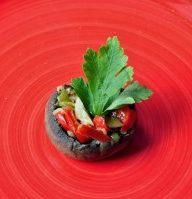 Vegetable and Garlic Stuffed Mushrooms
makes 15
Ingredients
15

Mushrooms

Cremini (brown or white) - cleaned, steam removed and hollowed out

1

teaspoon

Olive Oil

1

Shallot  

finely diced

3

Garlic cloves

crushed

small bunch of Chives

diced

1

small Red Bell Pepper

½

teaspoon

Salt

¼

teaspoon

Pepper

Olive Oil

Fresh Parsley leaves for garnish

optional
Instructions
Preheat oven to 480F (250C).

Clean mushroom and remove stems. Hollow out the mushroom a bit further with a small spoon and place mushrooms in a large baking dish.

Finely dice parts of the mushroom that were removed and place in a small mixing bowl. Add crushed garlic, shallot, chives, bell pepper, 1 teaspoon olive oil, salt and pepper to mixing bowl. Mix with a spoon.

Fill mixture into mushrooms using a spoon and push down with your fingers to ensure they are stuffed to their limit.

Drizzle mushrooms with a bit of olive oil.

Cover baking dish with foil or lid and bake for 15-20 minutes until mushrooms are tender.

Garnish with parsley leaves and serve hot.
Check out these Mexican Stuffed Mushrooms as well!