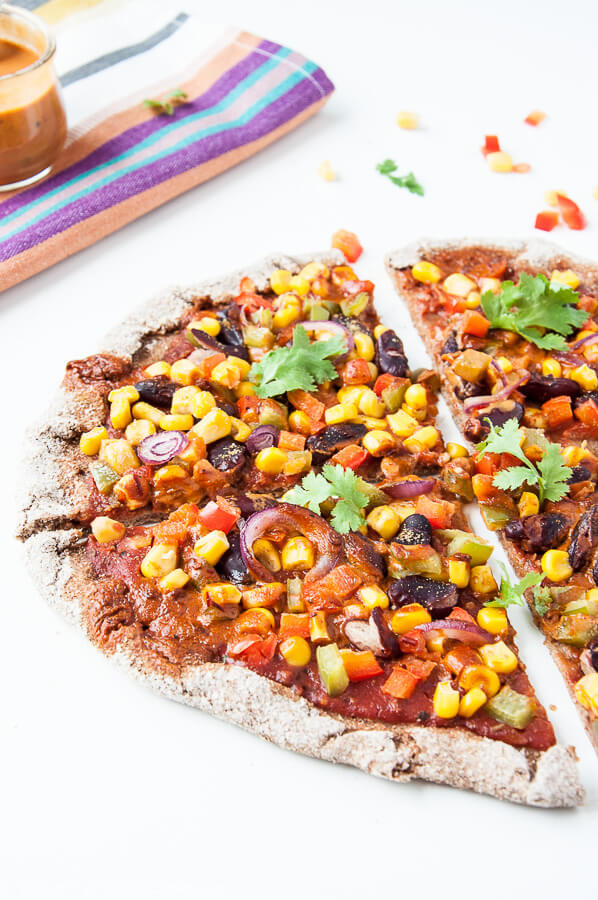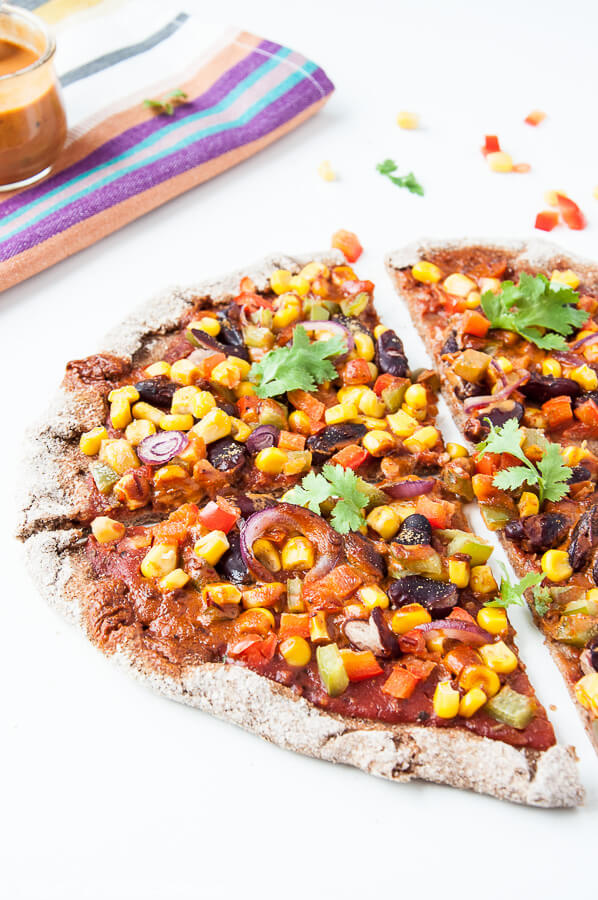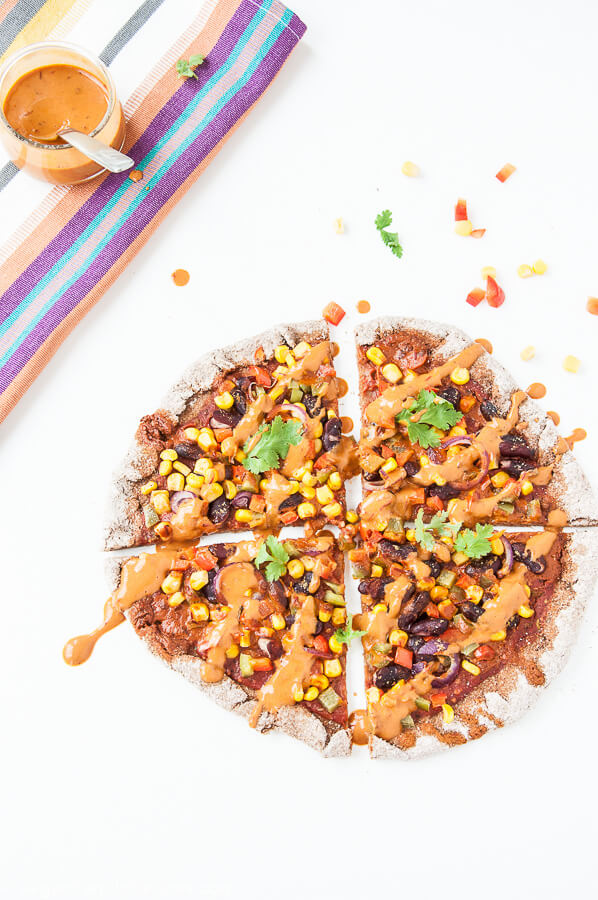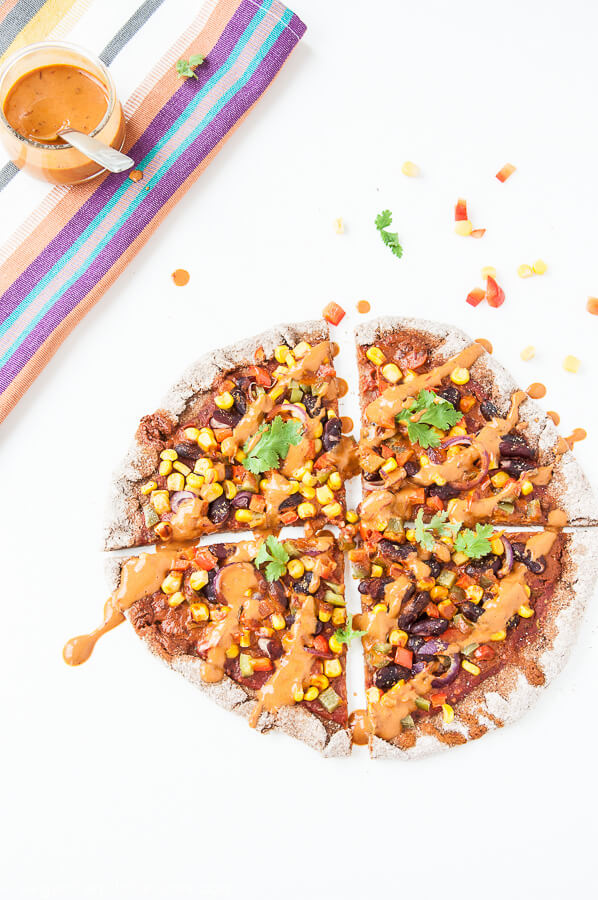 I'm so sick of hearing that vegan pizza is bland, tasteless, and boring. Obviously, those people have never had a vegan pizza before. The vegan pizzas I know are bright, colorful, and exploding with flavor. This spicy chipotle pizza is no different :) I tried my best to make this vegan pizza recipe as colorful and tasty as possible to hopefully convince those vegan pizza haters that we don't just put lettuce on our pizzas.
I came up with this pizza recipe mainly just because sometimes I go through spicy food cravings. The thing is when I want something spicy, I want it S-P-I-C-Y! This is one pizza you don't want your kids accidentally taking a bite out of ;) Then again, that's the whole point, right? However, if you really want to share this with your kids, then hold off on the chipotle sauce until the very end :)
I started this pizza off with my usual foolproof whole-wheat pizza crust. However, you can use a storebought pizza crust if you'd like instead.
Add the tomato sauce and sprinkle with all the veggies.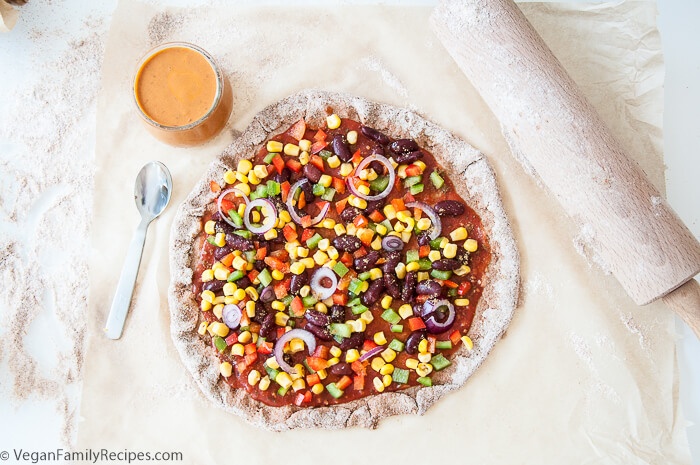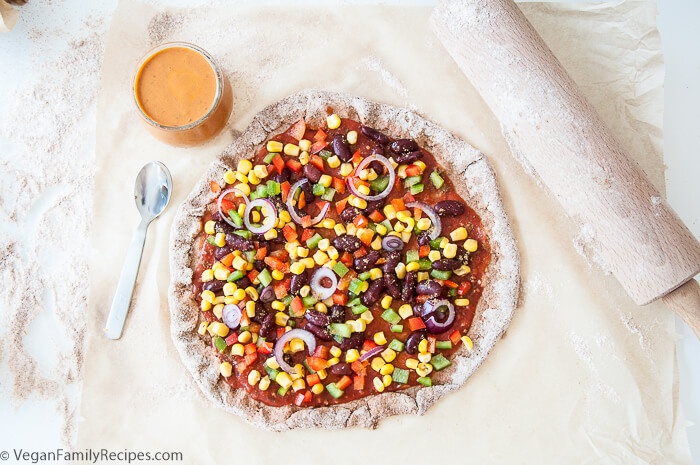 Then drizzle with some of the chipotle sauce and bake in the oven for only 10 minutes!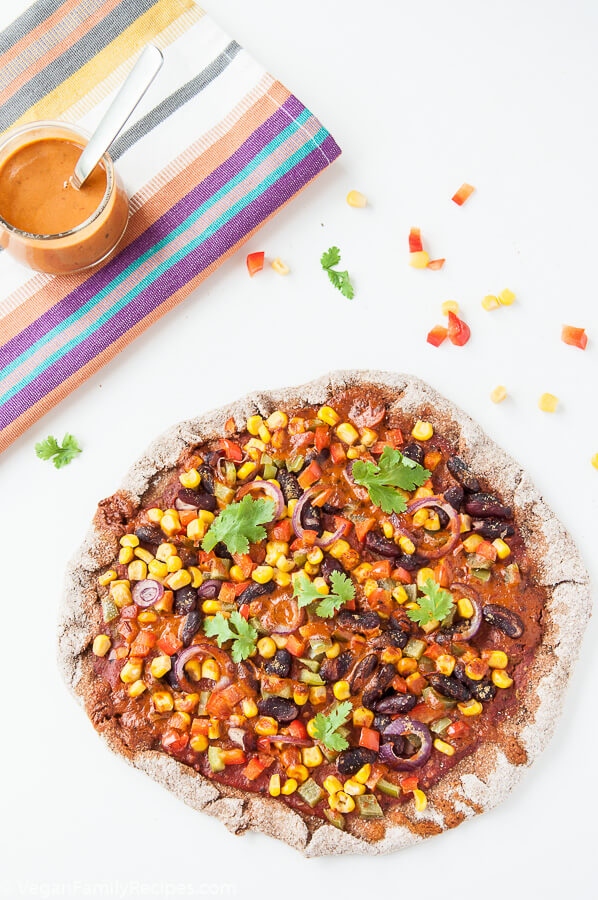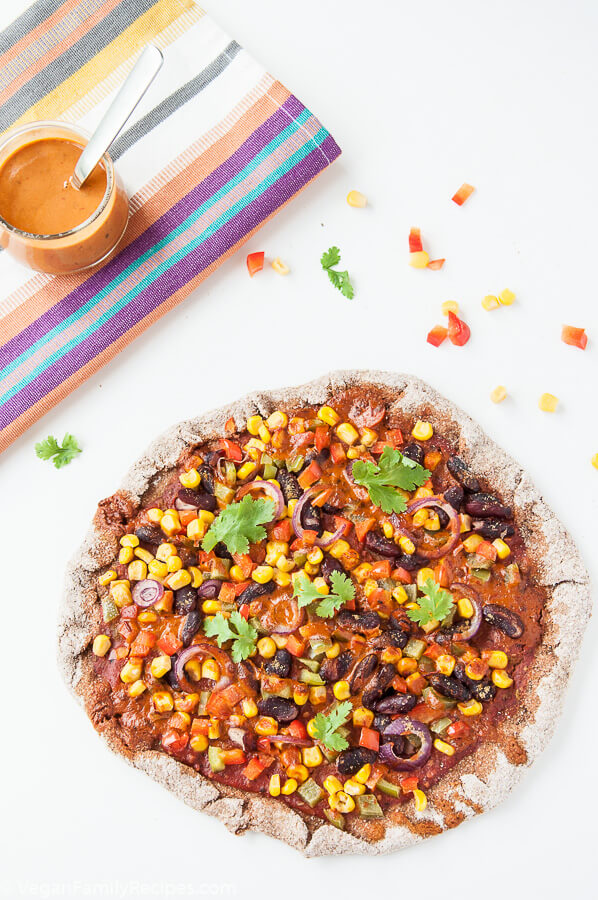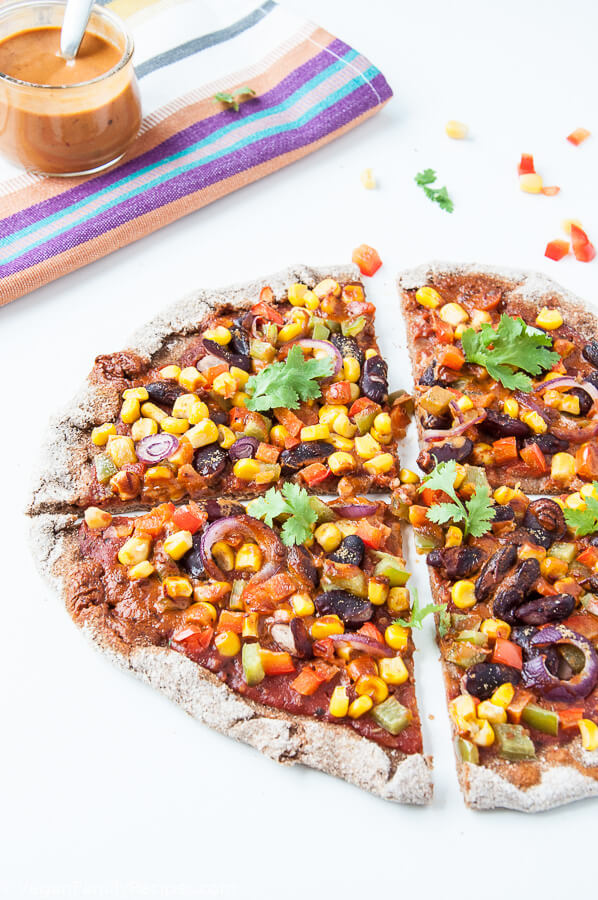 Look at that! Scrumptious, right? Now drizzle with some more sauce to give it that WOW! factor and indulge :)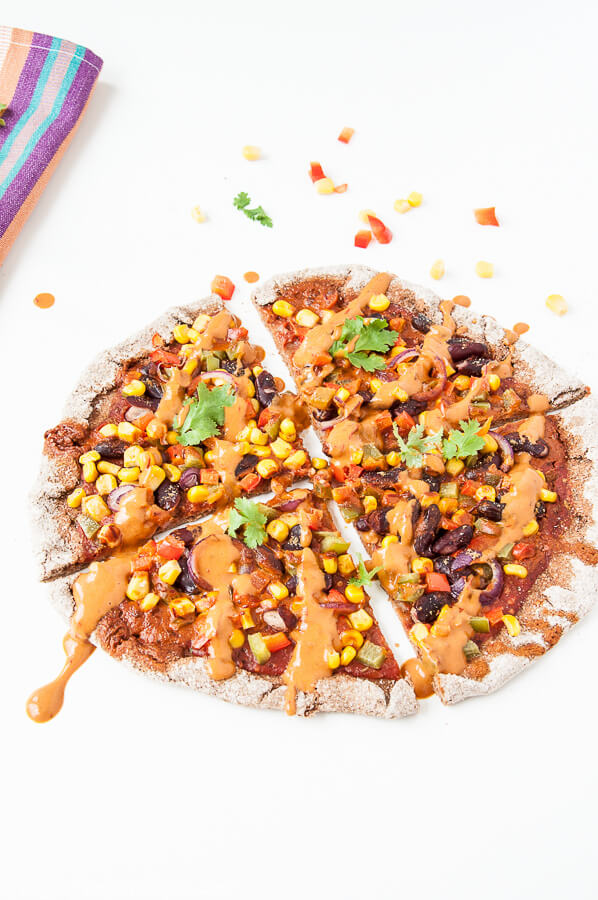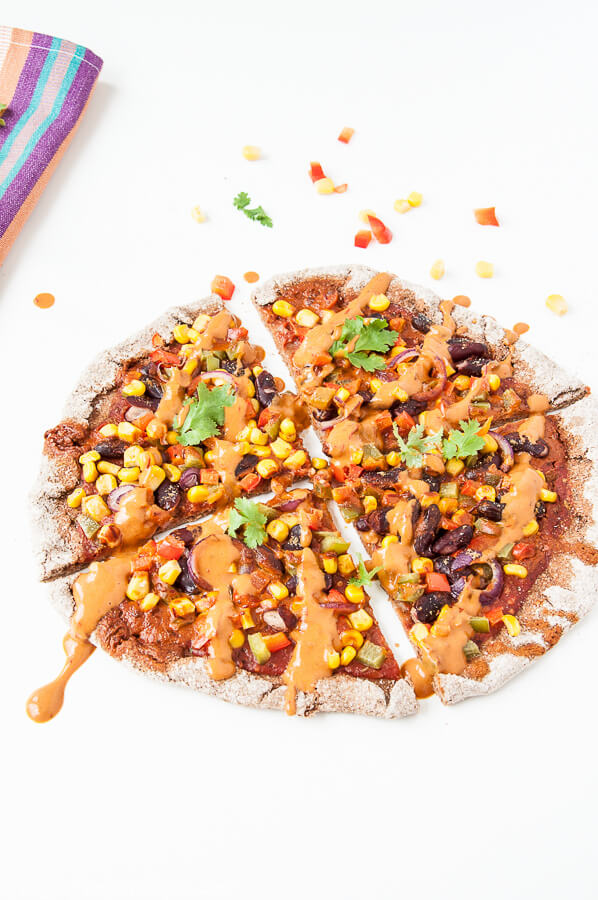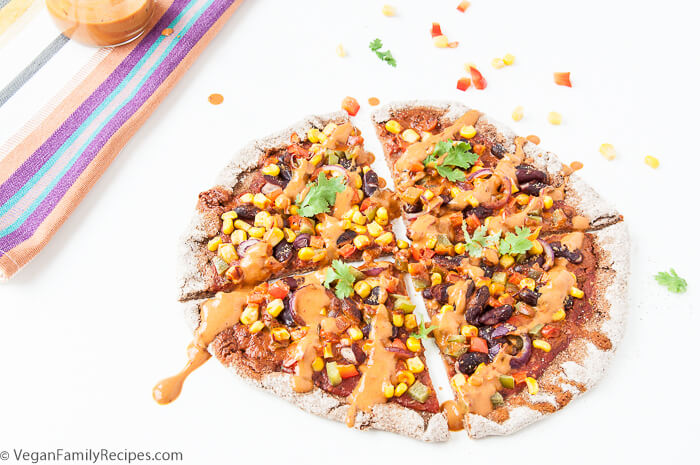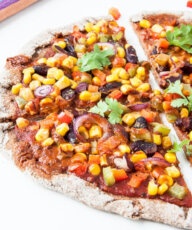 Spicy Chipotle Vegan Pizza
makes 2 x 10" or 25cm pizzas A mexican inspired veggie packed vegan pizza with a homemade whole wheat crust and a spicy chipotle sauce.
Ingredients
!Pizza Dough
½

a cube of Fresh Active Yeast

21g or .75 ounces or 1 Packet Dry Yeast

½

cup

Water

warm

2

cups

250g Whole Wheat Flour

¾

teaspoon

Salt

1

teaspoon

Whole Cane Sugar
!Chipotle Sauce
½

of a cup Coconut Milk

3

Chipotles in Adobo Sauce from a can
!Tomato Sauce
½

of a cup

125ml Tomato Puree

1

tablespoon

dried oregano

1

tablespoon

dried basil

Salt and crushed Pepper to taste
!Pizza Toppings
1

small Red Onion

sliced

½

of a Red Bell Pepper

finely diced

½

of a Green Bell Pepper

finely diced

½

of a cup Sweet Corn

½

of a cup Kidney Beans

drained and rinsed from a can or soaked and cooked

½

teaspoon

Cumin

Cilantro

optional
Instructions
Combine Yeast, ½ Cup (125ml) warm Water, and 2 tablespoons of the flour. Let stand for 10 minutes. Mix with a dough hook or knead with your hands while slowly adding salt and the rest of the flour. Knead until the dough is no longer sticking to the side of the bowl. The dough should not be sticking to your hands but still be soft and moist. (See notes if it is not) Cover dough with plastic wrap and let rise in a warm place for 20-40 minutes until it has doubled in size.

Preheat oven to 450F.

Prepare chipotle sauce by pureeing peppers and coconut milk until smooth in a food processor or with an immersion blender.

Make tomato sauce by stirring together all ingredients. Set aside

Take half of the risen dough and ,using a rolling pin, roll each half into a pizza base/crust. Using your thumb and index finger fold small sections of dough over to form a raised crust.

Lay on parchment paper lined sheet pan or pizza stone and cover to let rise for another 10 minutes. Repeat with remaining dough to make second pizza base.

Assemble pizza by spreading ¼ of a cup tomato sauce on each pizza base, top with vegetables, and drizzle with a bit of chipotle sauce.

Bake in oven for 10 minutes.

Serve hot and drizzle with more chipotle sauce and sprinkle with fresh cilantro if desired.
Too spicy for you? Leave off the chipotle sauce to make this mild. Otherwise, try out my kid-friendly Coconut-Garlic White Pizza Recipe.