There is no doubt that a habanero chili is spicy. Not everyone can handle the heat that it is packing. This spicy corn salsa is exactly for the select few who can handle the spiciness habaneros offer. Let's first talk a bit more about the habanero. How spicy is it really? Well...all I can say is it is pretty damn spicy. However, for the sake of being more technical, let's talk about measuring heat. Spice is usually measured using the scoville scale.
projectexplorer.org
As you can see above, a habanero measures at 200,000 - 300,000 scoville heat units. This is basically just how many units of a sugar solution need to be added to the chili pepper in order for the pungency to no longer be detected. This is great information since I'm sure some of us have accidentally made a dish too spicy. Often times people try to cover up the spiciness by adding some form of dairy or fat. However, the simplest way to counteract heat is by adding sugar.
This is one of the main reasons why I added a bit of maple syrup to this habanero corn salsa. Plus it also just plays nicely with flavors of sweet and spicy. If the habanero scares you, I can suggest using a jalapeno or cayenne. Here you can also find a nice detailed chart of peppers on the scoville scale. This way, you are sure to find one with the right amount of heat for this spicy corn salsa.
The great thing about this corn salsa is that I actually like to eat it as a salad as well. Skip the chips and just call it a spicy habanero corn salad!As dumb as it may sound, I have to add this: Habaneros are not something you want to rub in your eyes. I'm sure no person in their right mind would actually do this willingly but it's definitely also not something you want to do accidentally. I actually always wear disposable gloves when I handle these. If you aren't using gloves, just make sure you thoroughly wash your hands WITH soap to break down the oils.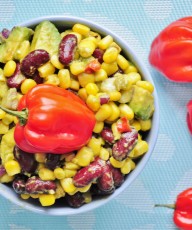 Spicy Habanero Corn Salsa
Ingredients
1

cup

Sweet Corn

1

small Red Onion

finely diced

1

Avocado

diced

½

cup

Kidney Beans

rinsed and drained

1

or ½ small Habanero

finely diced

½

teaspoon

Maple Syrup

½

teaspoon

Lime Juice

½

teaspoon

Cumin

¼

teaspoon

Paprika

Salt to taste
Instructions
Dice avocado, onion and habanero.

Gently combine with all other ingredients in a medium sized bowl.

Serve with chips or as a salad.
Recipe Notes
1) Sugar will counteract the spiciness. Add a bit more Maple syrup if it is too hot for your liking. 2) If habaneros are too spicy or not on hand, you can easily substitute with a different chili pepper.3) Do not stir the ingredients together. You want the avocado to remain diced and not mushed. Gently toss ingredients together with two spoons. 4) Always be careful handling chili peppers!