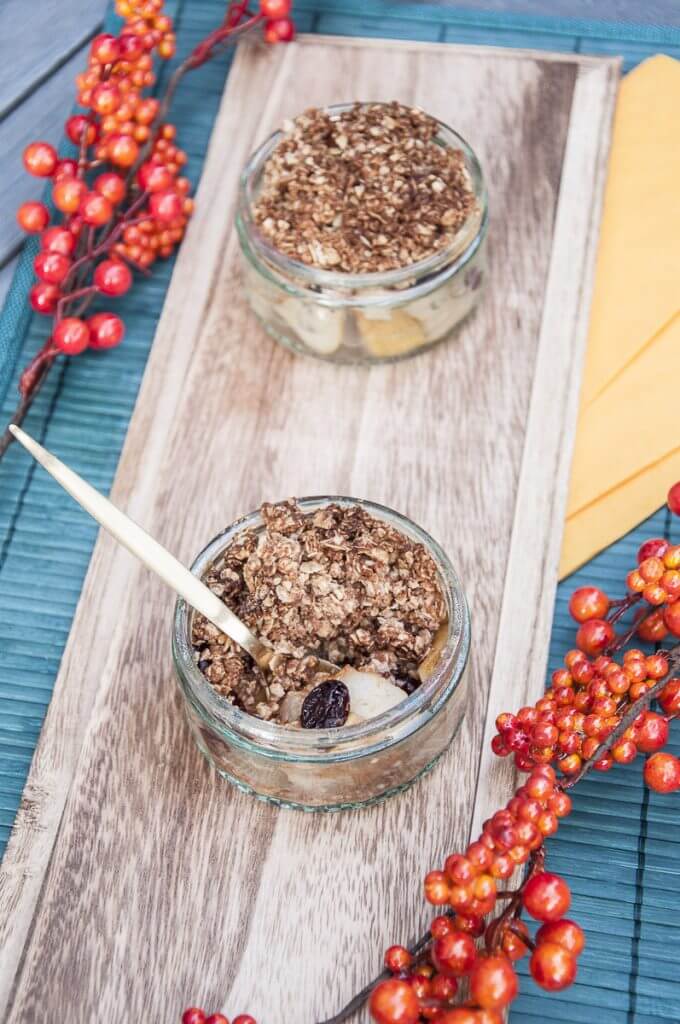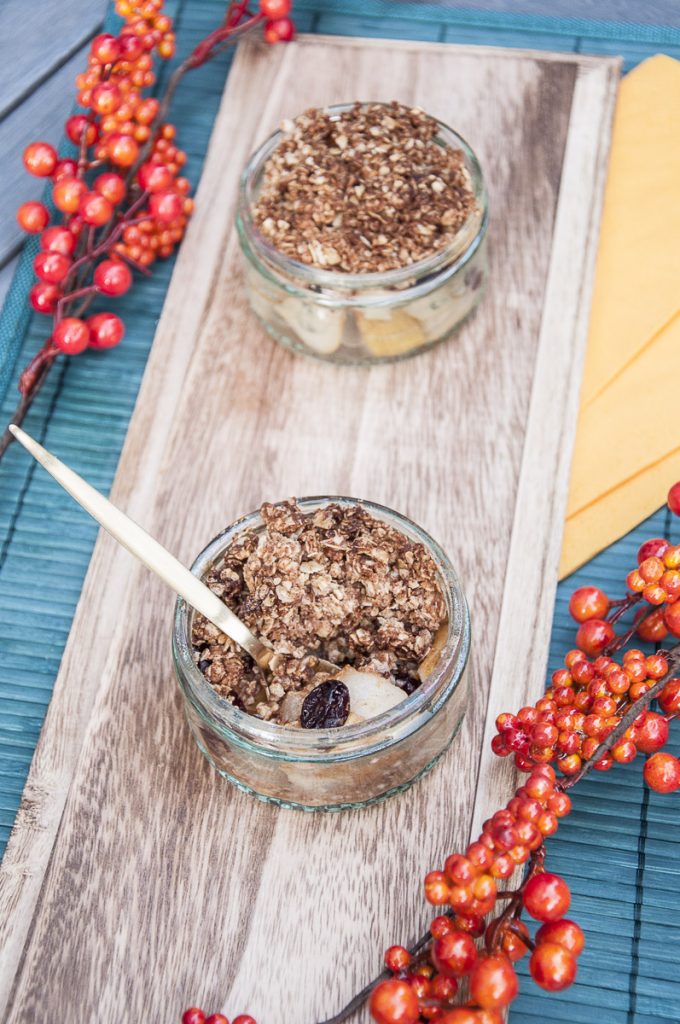 It's undeniable that fall is here now. To me that means eating lots of apples, sweet potato and pumpkin dishes. Most of the time, however, I just want to curl up on the couch with a warm, cozy blanket and watch TV aka spend too much time on Pinterest.
To me being lazy usually goes hand in hand with craving dessert. That dessert can't just be a stale cookie though. It needs to be warm and taste like autumn. This can be tricky though because when I'm lazy I don't want to be in the kitchen for three hours making myself a homemade apple pie. That would probably taste amazing but I really just want something that I can whip together quickly.
That's where this Cranberry-Pear Crisp comes in. You seriously only need 5 minutes of prep time! Just dice those pears, quickly mix together all the crisp ingredients and crumble them on top. Bake them in the oven and you've got something amazing!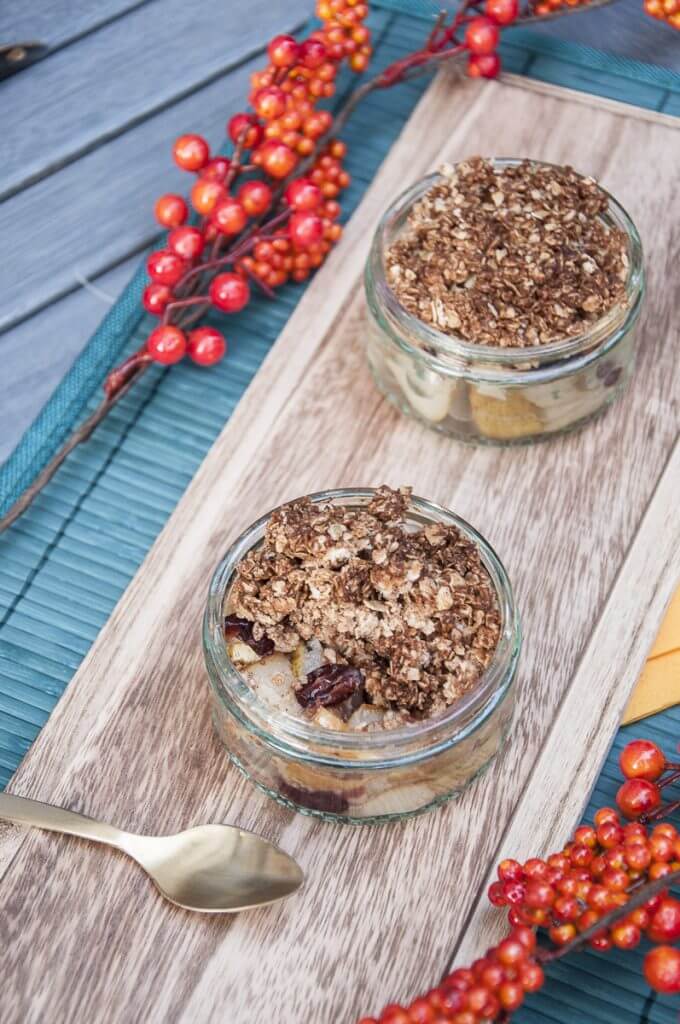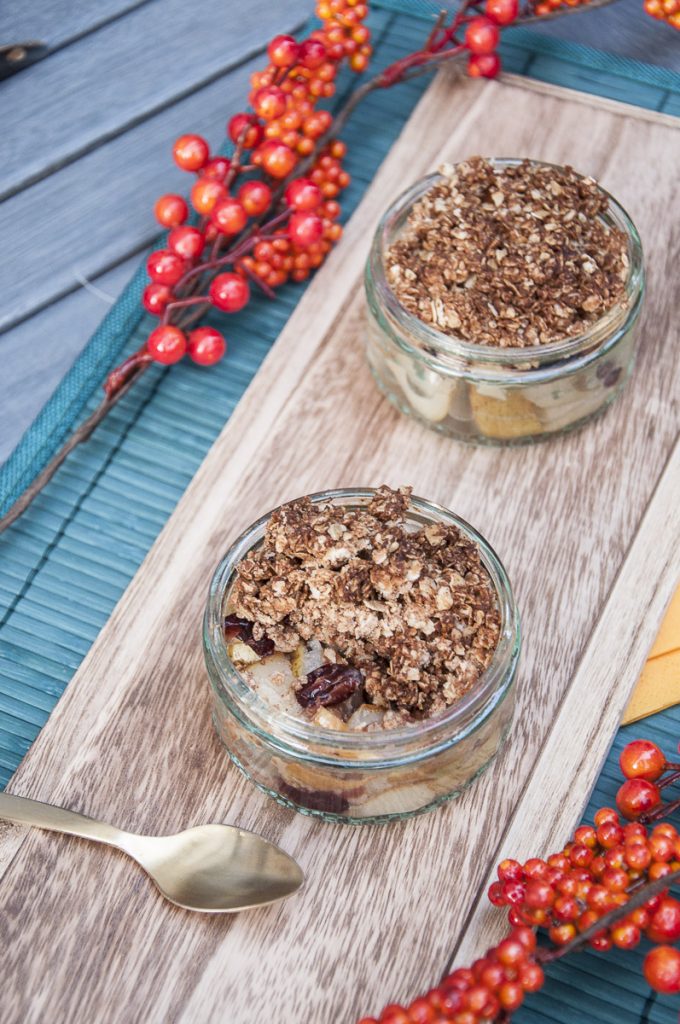 I love making this when I just need something comforting. It's pretty awesome too for those situations where you have company over and completely forgot to make dessert. Oops…I know I'm not the only person that happens to. Maybe the only food blogger…
Oh well, it's great for a last minute dessert because it uses ingredients most people already have at home and you definitely pretend you were planning on making this all along! ;) It will even cater to all your gluten-free guests too (make sure you use GF oats then).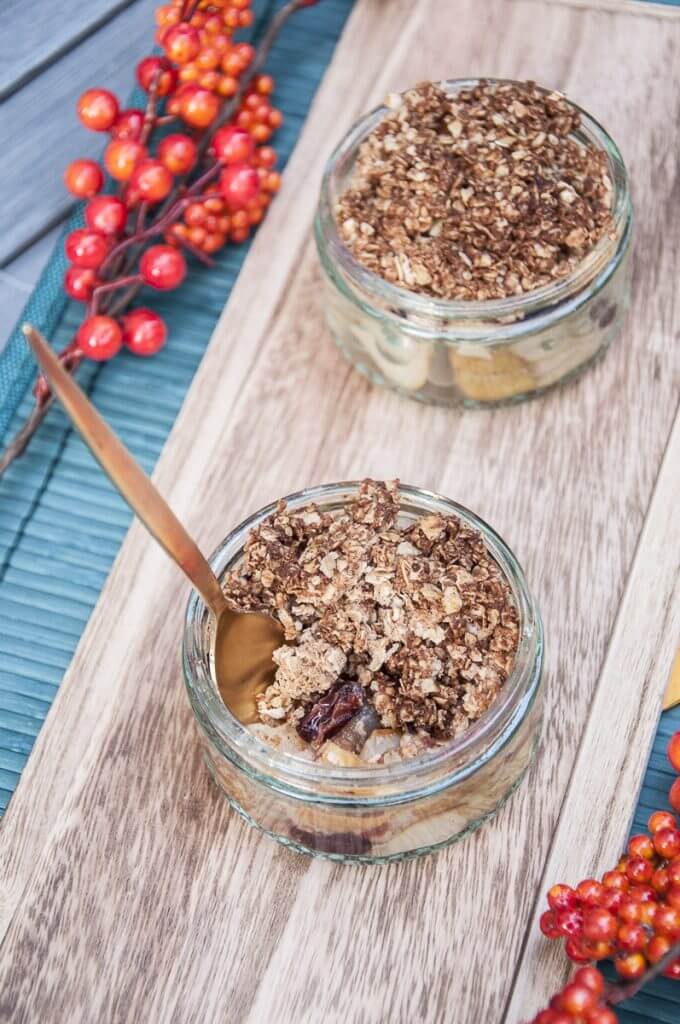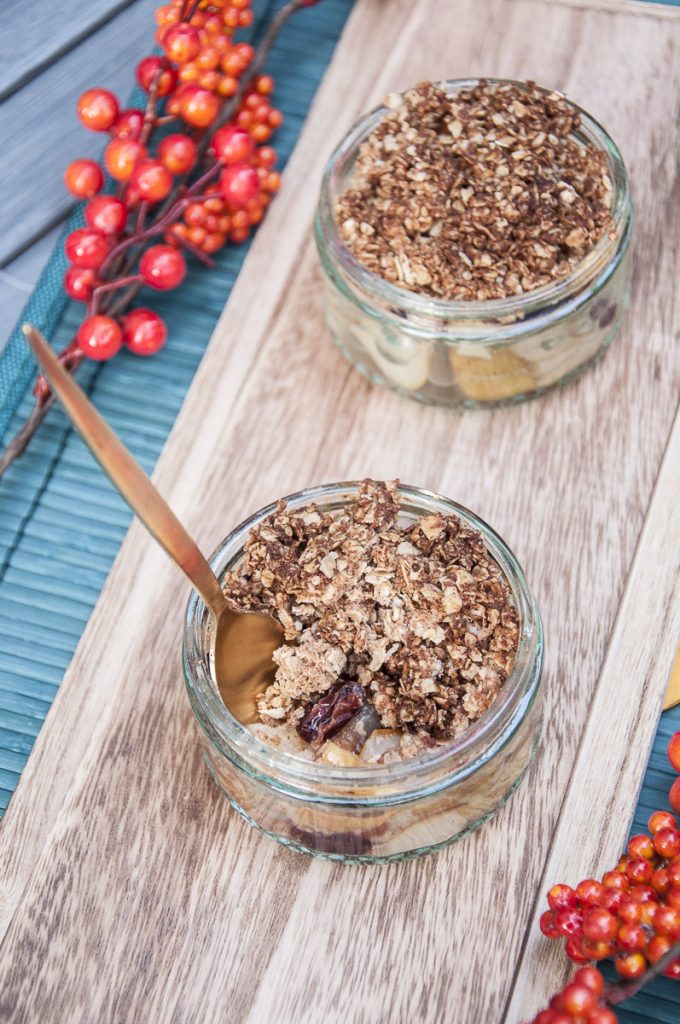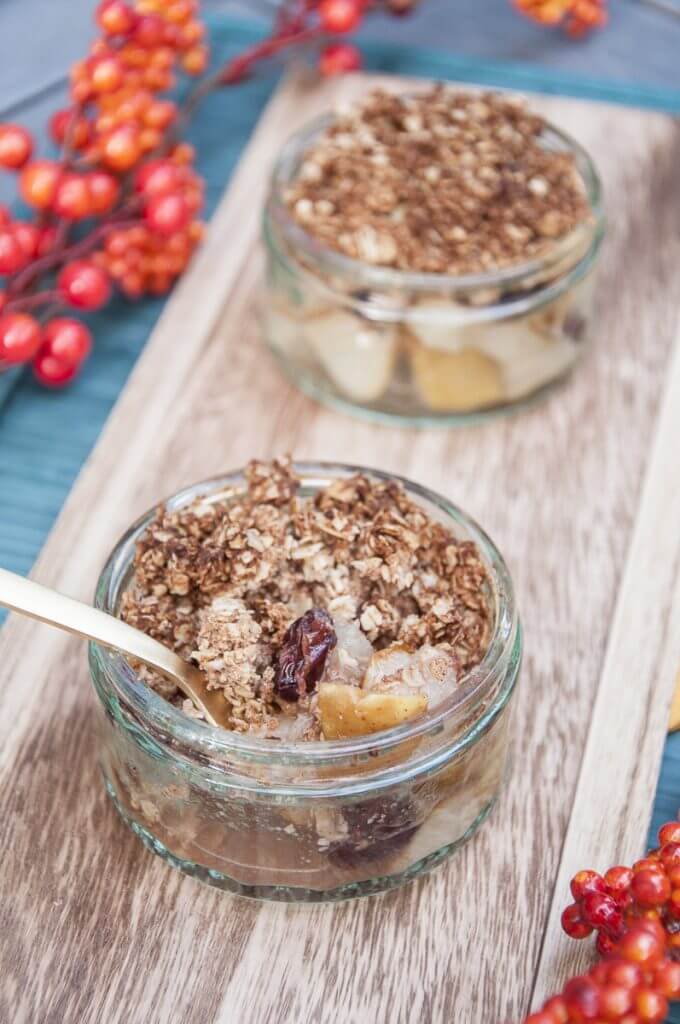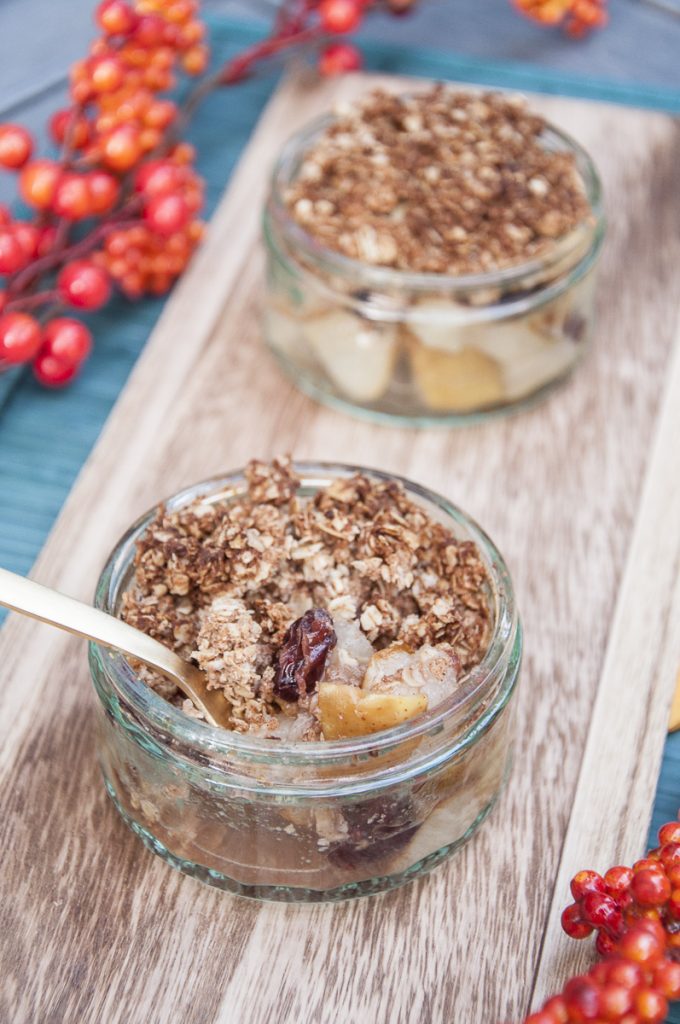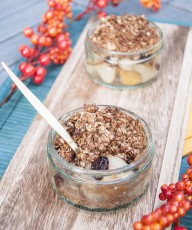 Cranberry Pear Crisp
Healthy single serve cranberry pear crisps that are vegan and easily made with other fruits as well.
Ingredients
1

pear

diced

1/8

of a cup dried Cranberries

1/2

of a cup quick Rolled Oats

gluten-free if needed

1

tablespoons

Pure Maple Syrup

1

tablespoon

Coconut Oil

not melted!

pinch

of Salt

1

teaspoon

Cinnamon

1/4

of a teaspoon All Spice

1/4

of a teaspoon Nutmeg

1

tablespoon

Coconut Flour

can be substituted with 2 tablespoons All purpose or whole wheat flour
Instructions
Preheat oven to 350F (180C)

Dice pear and mix together with cranberries. Divide between two ramekins until each is roughly 2/3 full.

Mix together remaining ingredients. This is best done with your hands. Crumble oat mixture over each pear filled ramekin.

Bake on lowest rack in oven for roughly 30 minutes. Cranberry pear crisp is done when fruit juices are bubbling, oats are crisp and browned.

Remove ramekins from oven, let cool for a few minutes, and eat warm.
Recipe Notes
1) The cranberries are completely optional. You can omit them or replace them with raisins.
On last thing before you go to check out more of my recipes. My good friend over at CrazyVeganKitchen has made some pretty awesome, limited time only Vegan T-shirts that are only available until Monday.
They are not your average, lame "Vegan Power" T-shirts. No, these are much better and worth checking out. Here is just a little peek at some of her designs.
I think I need one in every color :)