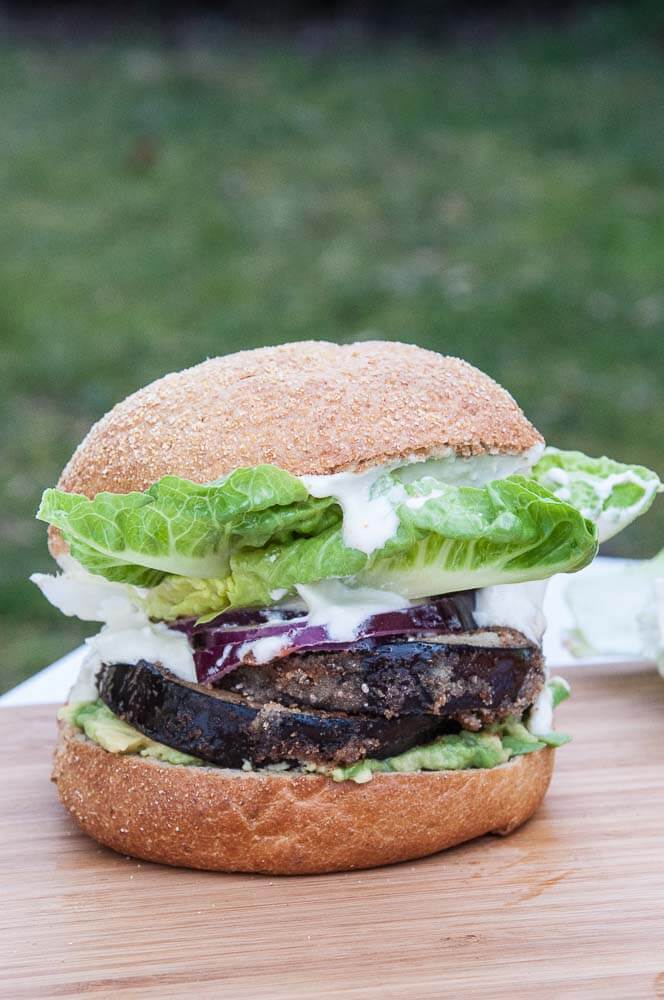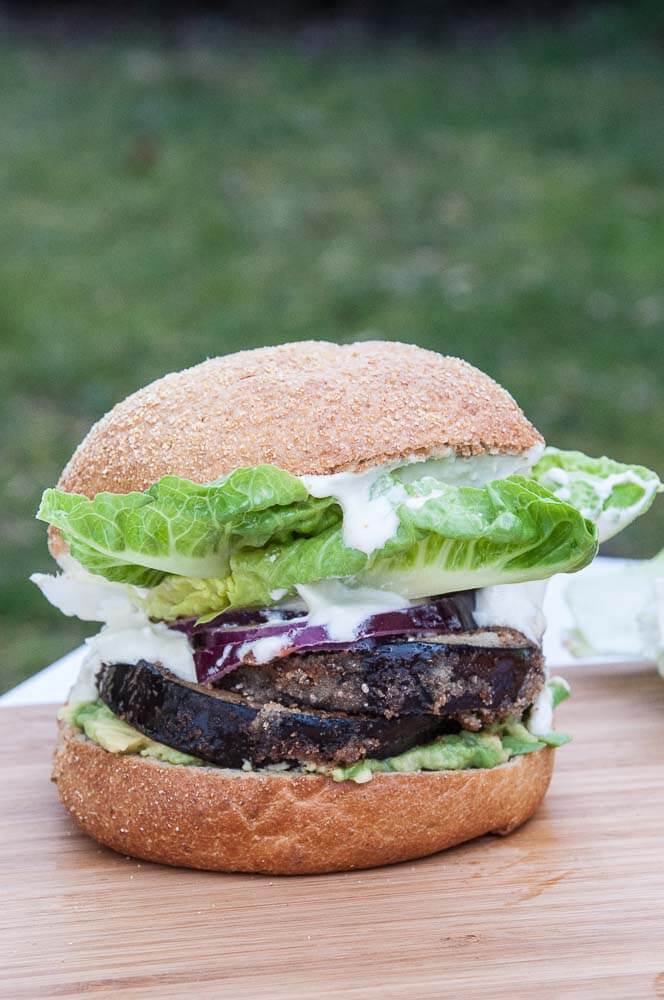 Eggplant is one of those ingredients that I tended to always steer away from. It just seemed like zucchini's weird cousin, that nobody wants to touch. After making this stuffed eggplant from Dishing Up The Dirt and loving it. I realized how wrong I was.
What better way to ease into eating more eggplant than with eggplant burgers? I've seen quite a lot of eggplant burger recipes around but they all seemed too overly complicated for me. I didn't want to bother having to cook the eggplant first and then mix it together with a bunch of other ingredients, just to cook it all again.
Of course, you could just add a few eggplant slices to the grill and use those in a burger but what's the fun in that?
I love, love, love chia seeds and since they are great at binding, I figured it would work great to use them to coat the eggplant. The result was surprisingly delicious :) It gives the eggplant burgers a nice crunchy texture.
First things first though. You need to pick out a beautiful eggplant to work with.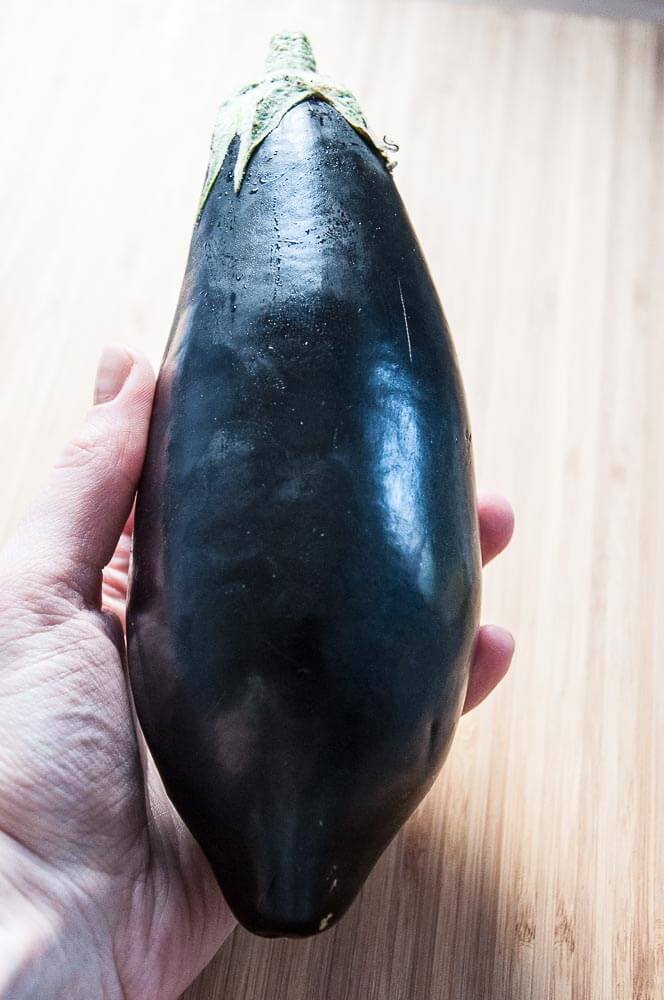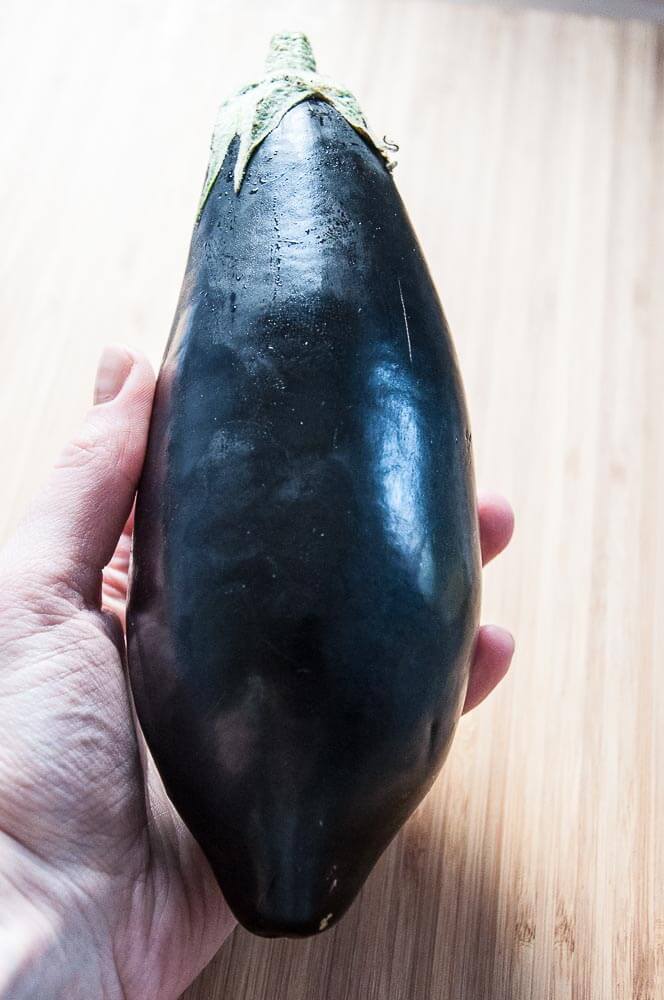 How do you choose the perfect eggplant?
Eggplant skin should be shiny and glossy-
Eggplant should be firm or almost hard to touch. If you press your finger against the skin, it should indent and spring back.
The leaves on the stem end should be nice and green. Don't bother taking an eggplant with brown leaves.
There should be no shriveling, scarring, cuts, wrinkling, or soft spots on the skin of the eggplant.
Smaller eggplants tend to taste better than larger ones.
Usually, a heavier eggplant tastes better.
People often think of eggplant as being very bitter but most of that bitterness comes from eggplants that are past their prime. Look over the list above before you buy eggplant to ensure you'll pick out a good one :) Most of the bitterness has been bred out of eggplants nowadays though.
What are the health benefits of eggplant?
Here's why you should add some eggplant to your diet:
Looking to maintain a healthy weight? Eggplant is low in calories and high in water content, making it a great choice for weight management.
Need some help with digestion? Eggplant is a good source of fiber, which can keep things moving smoothly through your digestive system. Plus, it may even help lower cholesterol levels!
Want to give your cells some extra protection? Eggplant is rich in antioxidants, including nasunin, which can help shield your cells from damage.
Need some brain power? Eggplant is a good source of B vitamins, including folate, which is important for brain function and can help prevent birth defects in pregnant women.
Want to reduce your risk of chronic diseases? Some studies have suggested that eggplant may have anti-inflammatory properties, which may help lower the risk of heart disease and cancer.
Want to keep your blood pressure in check? Eggplant is a good source of potassium, which can help regulate blood pressure and support healthy nerve and muscle function.
So there you have it - eggplant is not only delicious, but it's also super good for you! So go ahead and add some to your meals - your body (and taste buds) will thank you.
So now that you've got your shiny, purple eggplant in your hand, you can start slicing.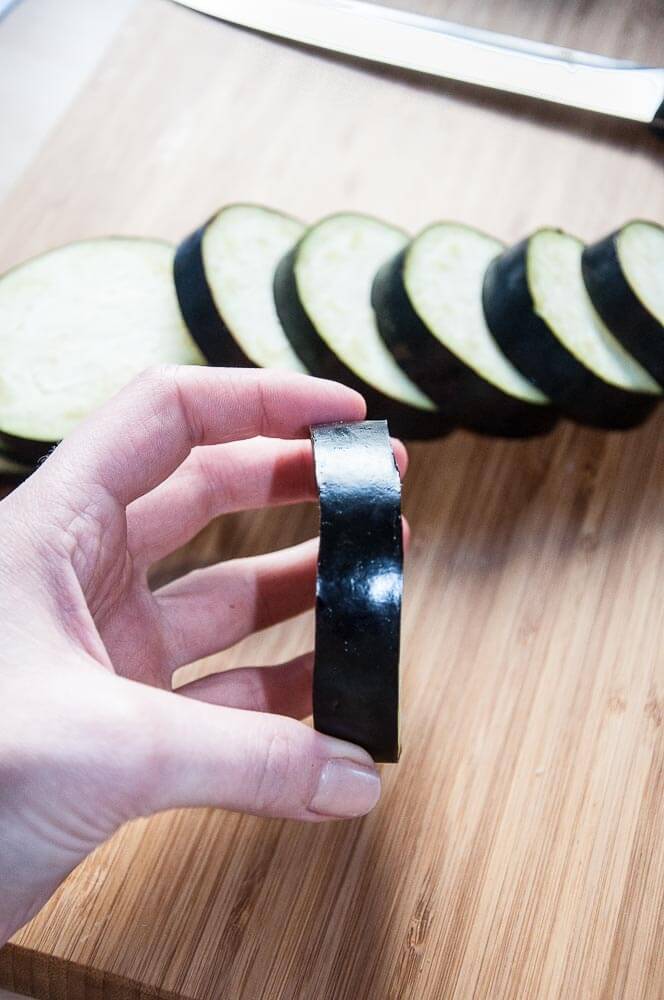 I like to take the extra moisture and any bitterness (you never know!) by rubbing both sides of each eggplant slice with some salt and letting it rest on some paper towels for a few minutes.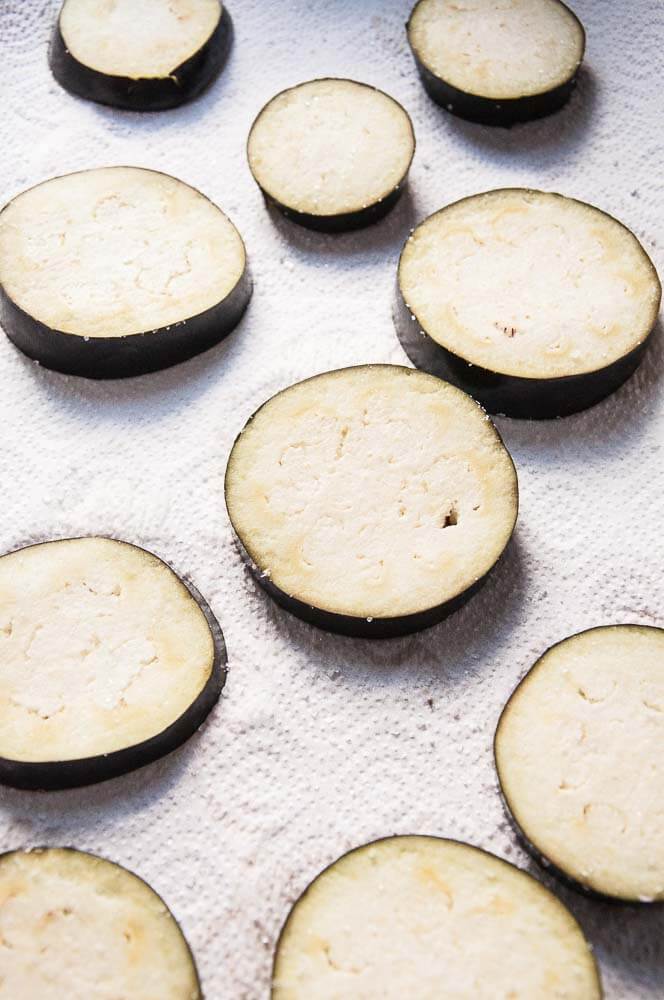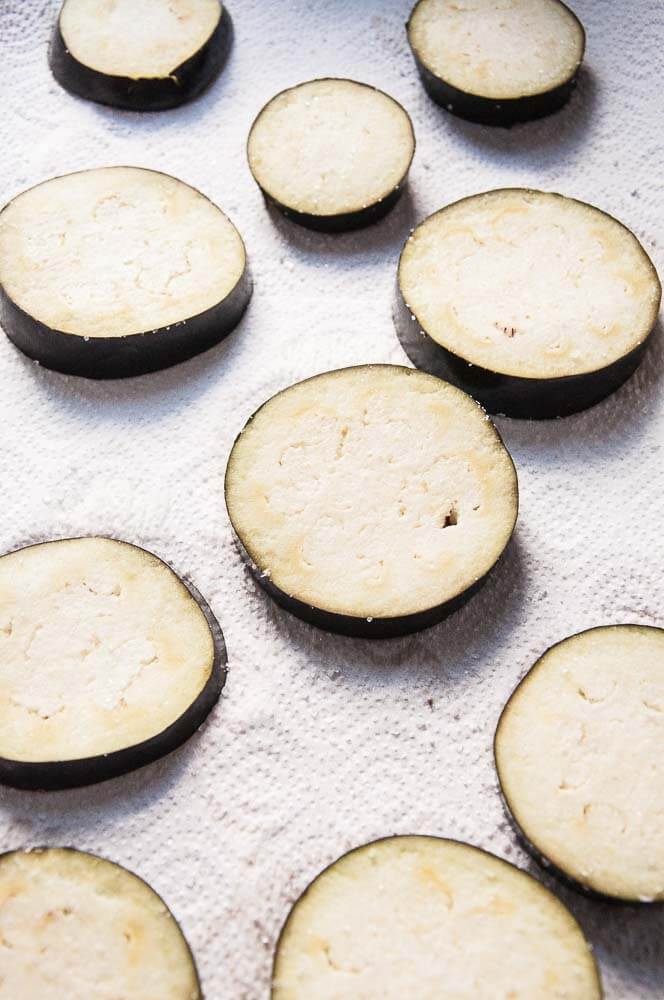 Then, dip them in your chia seed-coconut flour mixture and fry them :)
You could just add some ketchup to your burger now but that's just boring. What do we need?
Vegan Mayo!
This vegan mayo is the bomb! I feel like I'm in middle school again for saying that but oh well. I've made a couple of vegan mayos before but I felt they almost always tasted cashew-y. It took me a while to find the right cashew-macadamia ratio for this vegan mayo. Once I found it though, there was no going back to a plain cashew-based mayo.
I loved slathering it onto my eggplant burger but it's also perfect for every imaginable type of sandwich. If you add a bit of hot sauce to it, it's sooo good!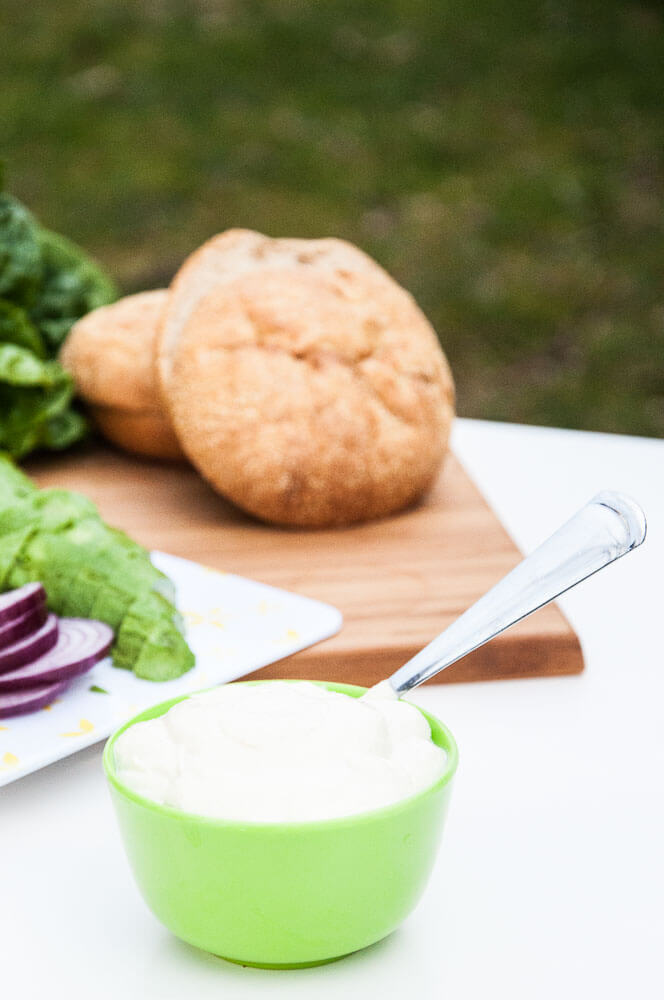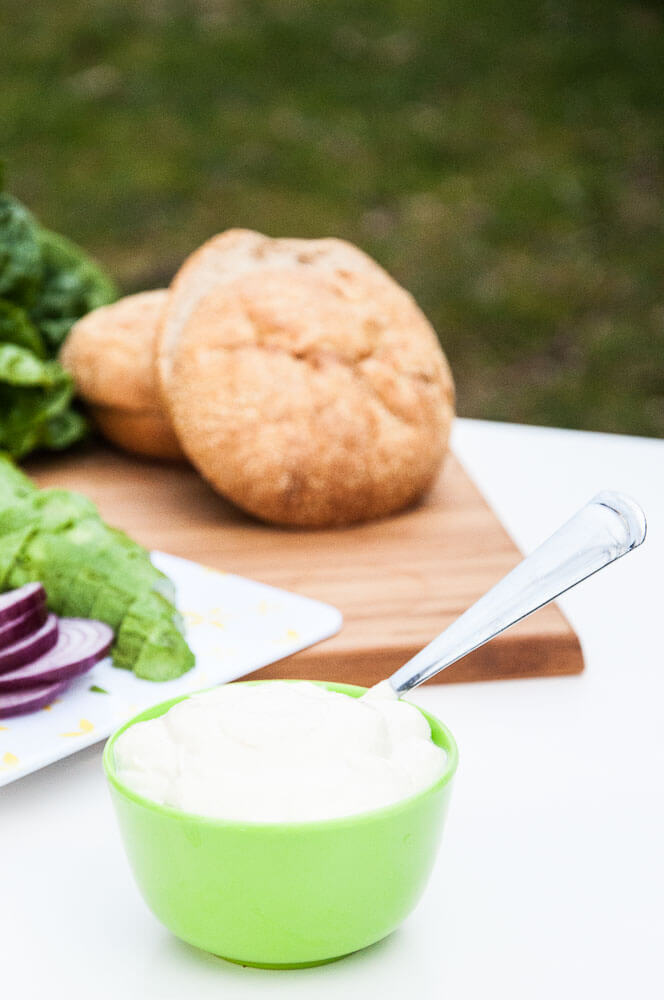 And another must is the smashed avocado. Avocado seriously makes EVERYTHING taste better.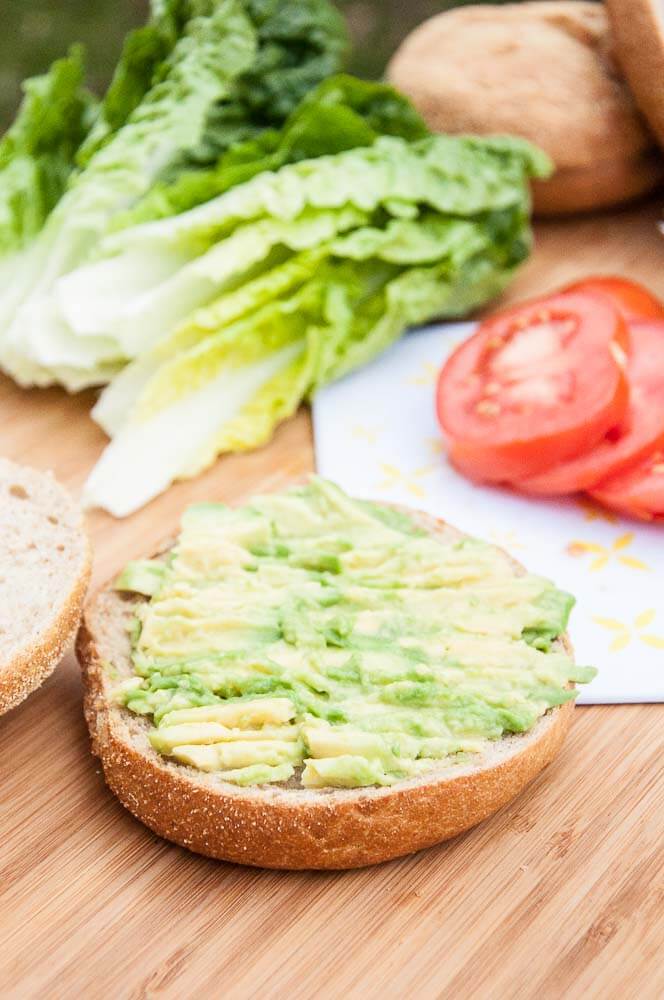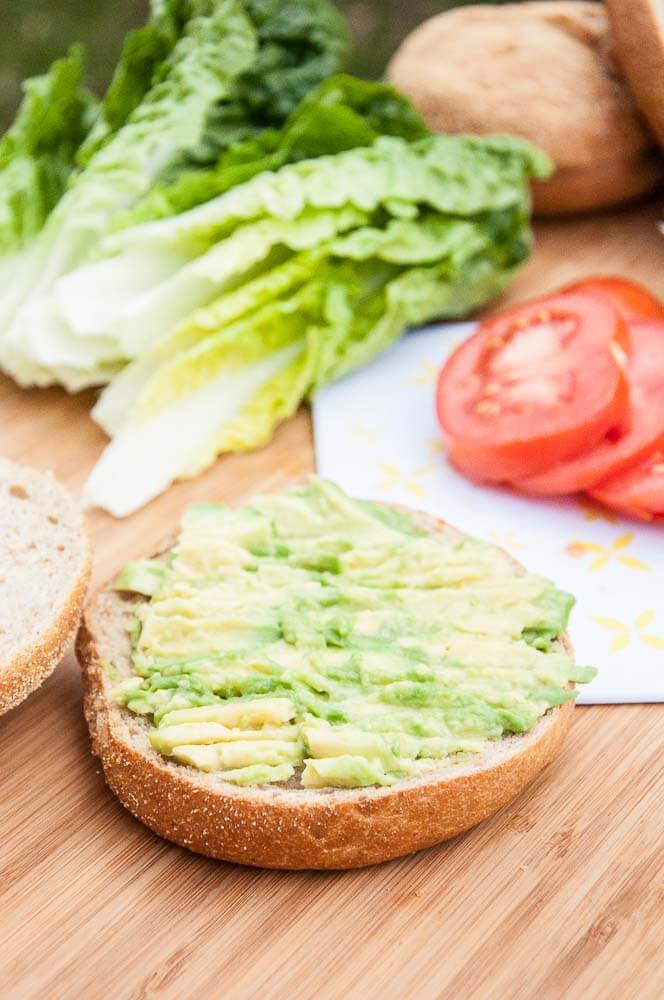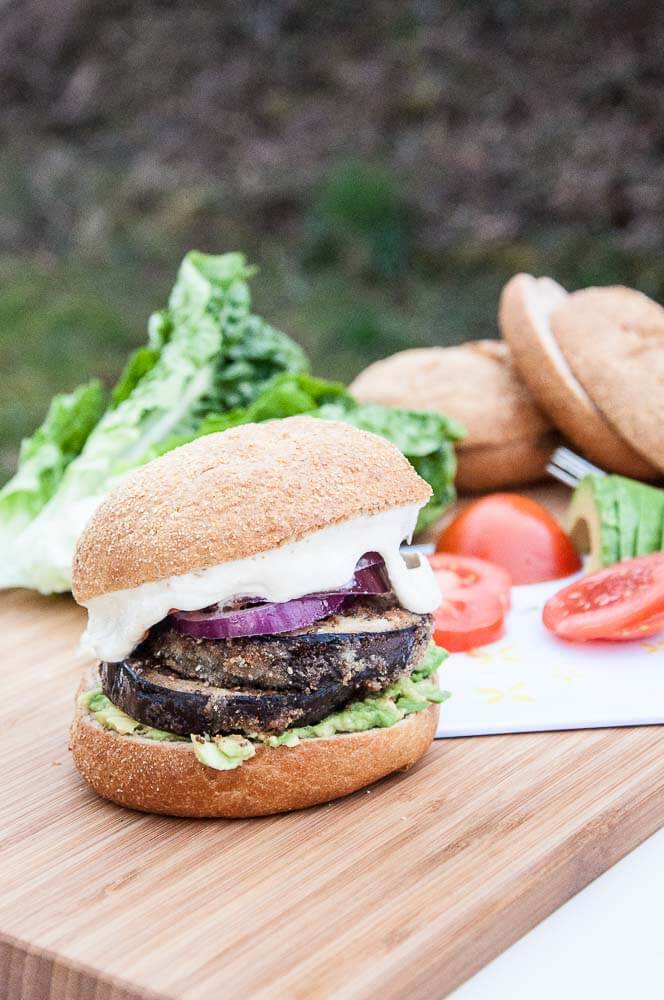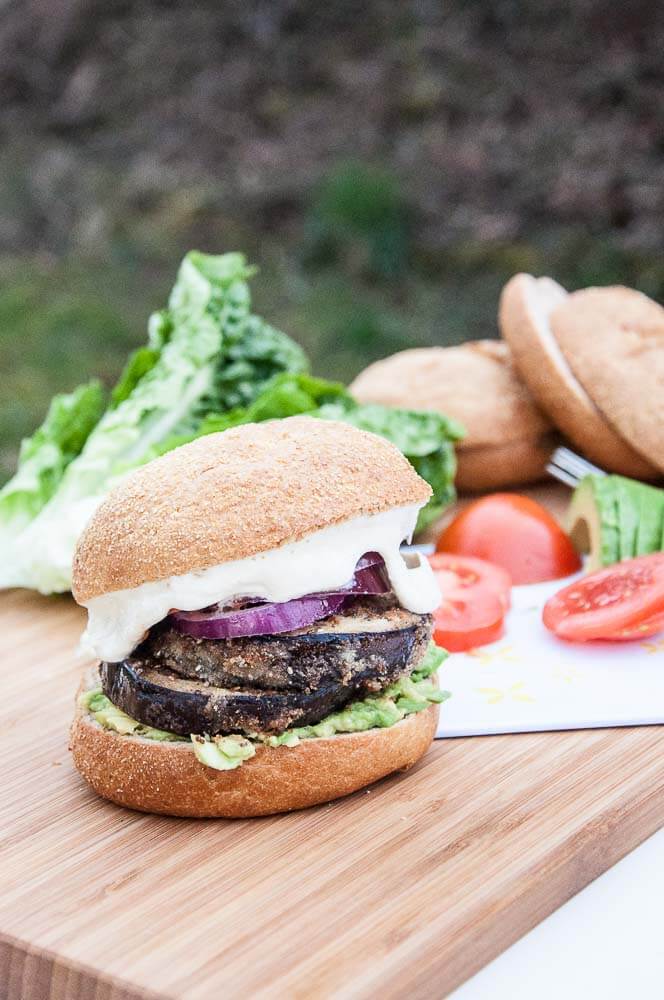 Oops...forgot to add the lettuce :D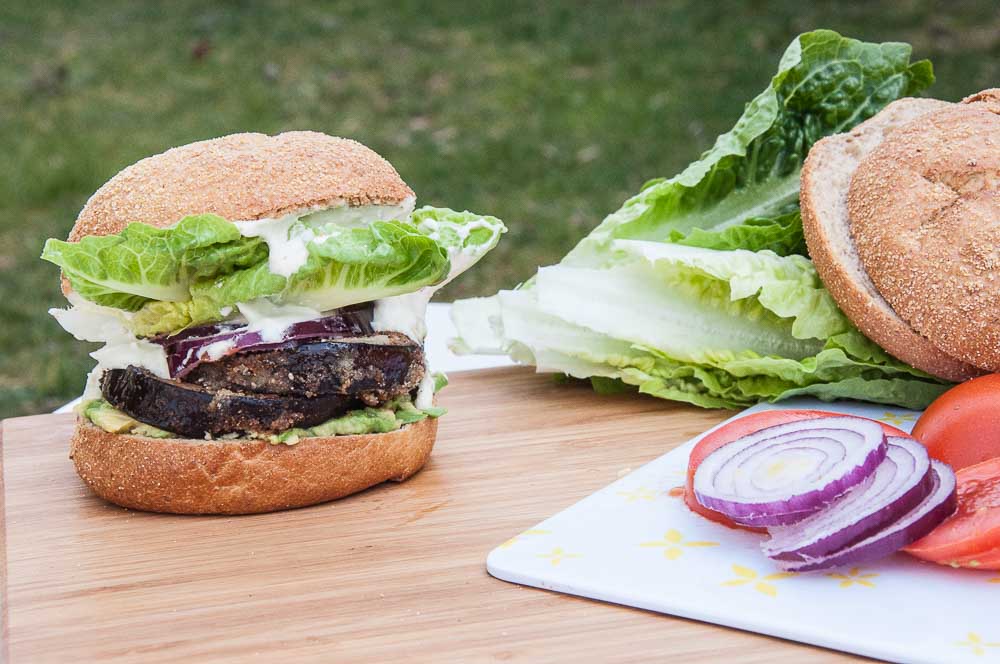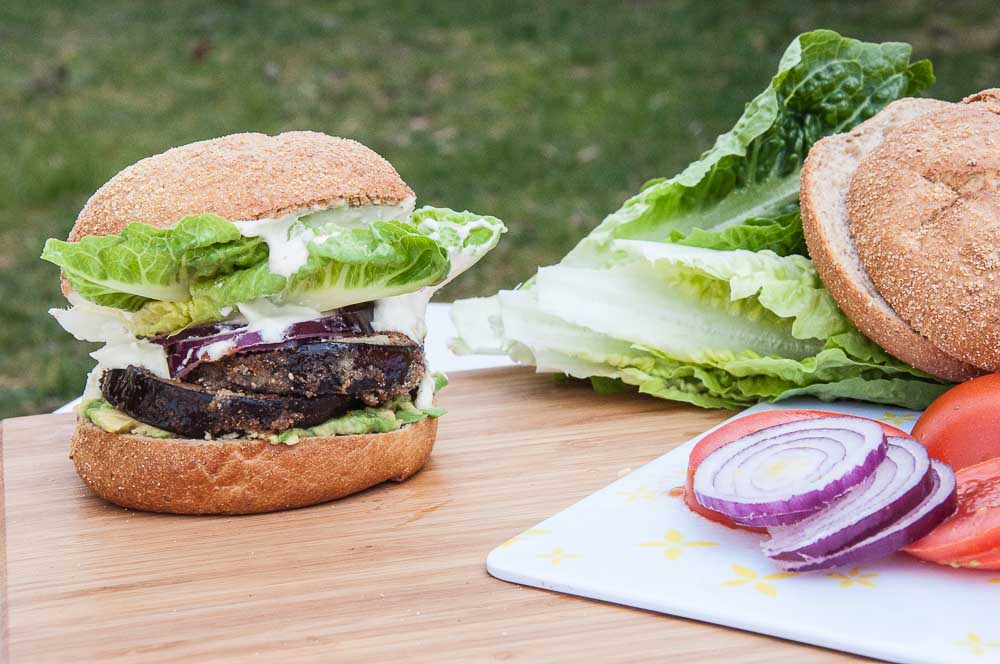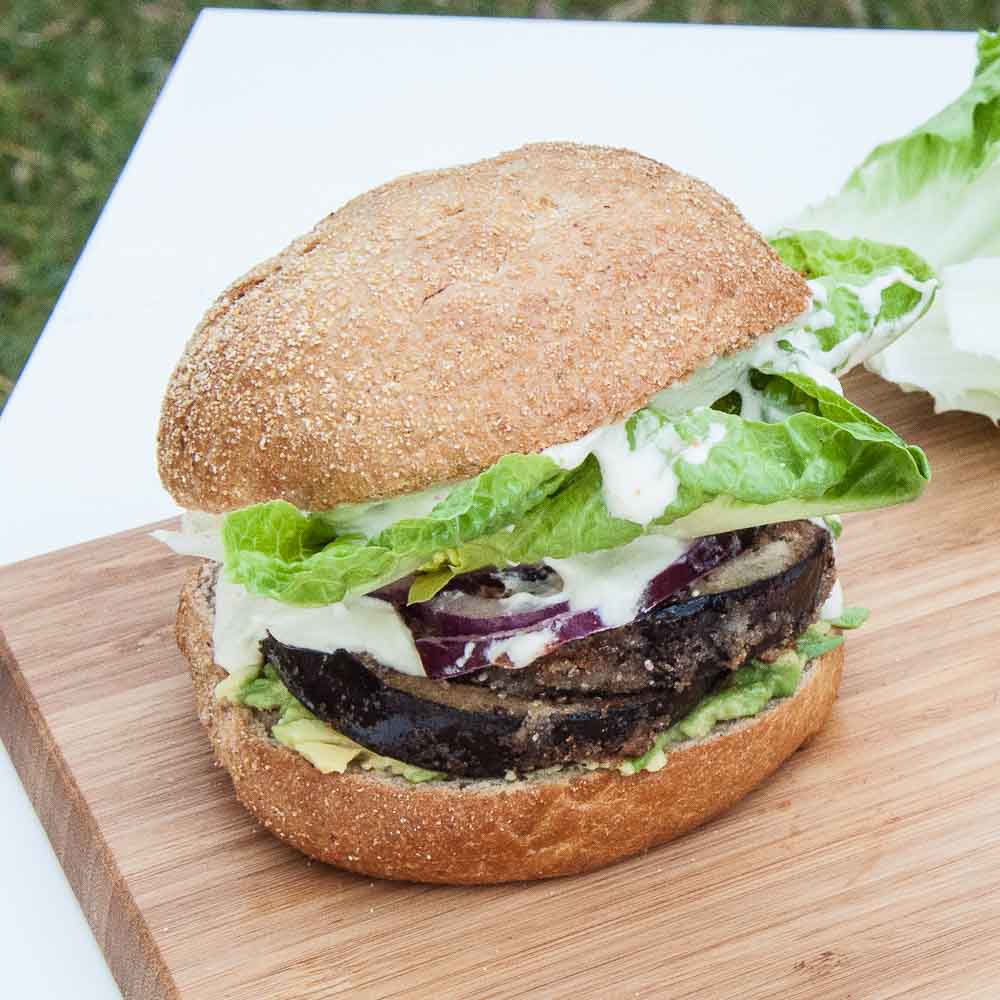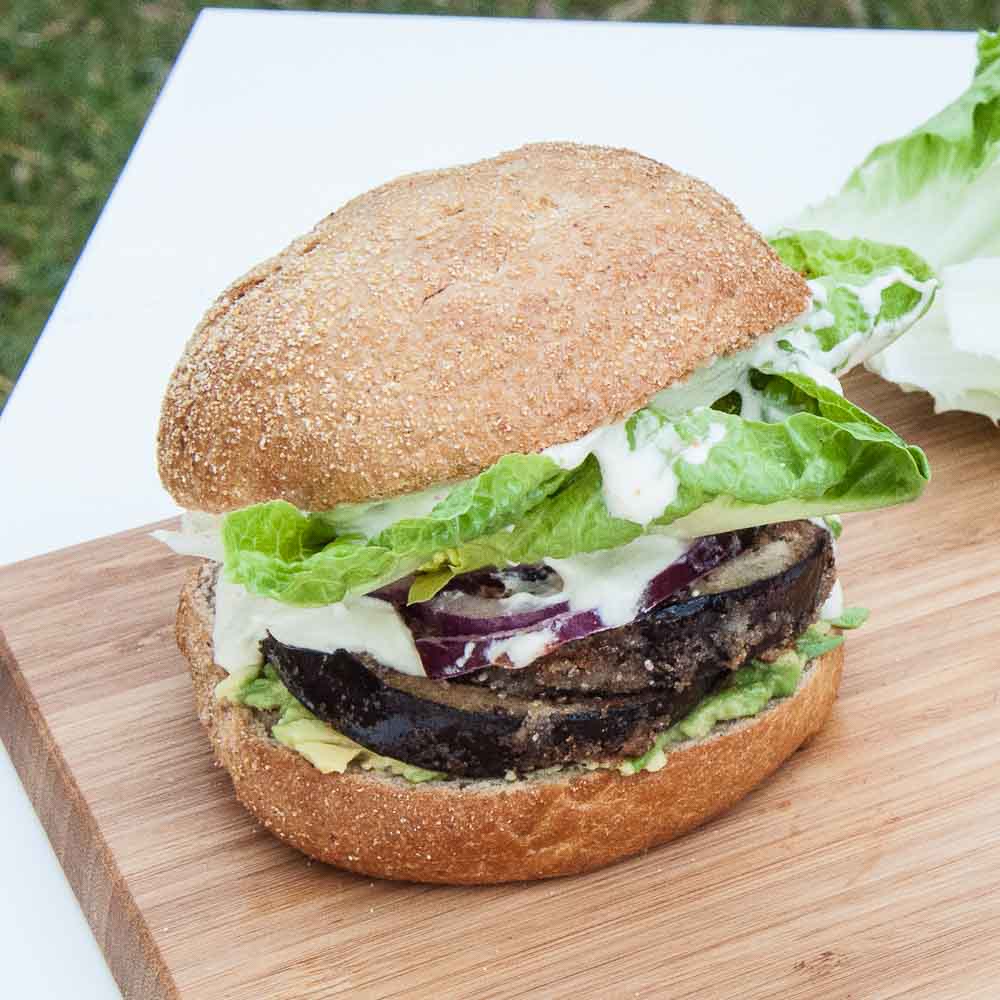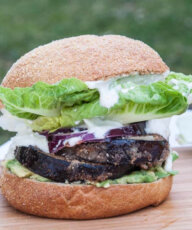 Healthy Eggplant Burger w/ Vegan Mayo
Healthy, Chia seed crusted eggplant burger recipe topped with fresh veggies and the best homemade vegan mayo
Ingredients
Vegan Mayo
⅔

cup

Macadamias

raw

⅓

cup

Olive Oil

1

tablespoon

Apple Cider Vinegar

⅔

cup

Water

1

tablespoon

Lemon Juice

⅔

cup

Cashews

raw, see Notes

Salt

to taste

Hot Sauce

optional
Eggplant Burger
1

Eggplant

washed, cut into ½ inch slices

2

tablespoon

Coconut Flour

or other flour of choice

2

teaspoon

Garlic powder

2

tablespoon

Chia Seeds

¼

of a cup cold

unsweetened Almond Milk (or other plant-based milk)

5

Gluten-free Burger buns

toasted

1

tablespoon

Vegetable Oil

of choice, no Olive Oil!

Lettuce

1

Red Onion

sliced

1

Avocado

smashed

2

Tomatoes

sliced

Salt
Instructions
Vegan Mayo
Place all ingredients in a food processor or high powdered blender. Blend until smooth.

Add a few drops of hot sauce to make this a spicy vegan mayo.

Store in refrigerator, covered, for up to a week.
Eggplant Burger
Slice the eggplant into ½" slices. Rub each slice with salt. Set aside.

In a medium sized bowl, mix together chia seeds, coconut flour, and garlic powder. Set aside.

Rinse eggplant with cold water and pat dry with a paper towel.

Coat each eggplant slice by dipping it in the flour mixture. For a ticker coating, dip in flour mixture then in almond milk, and again in the flour mixture.

Fry coated eggplant in a pan over medium-high heat for 5 minutes. Remove from pan and let rest on a paper towel for 5 minutes.Repeat until all eggplant slices are cooked.

Assemble burgers by spreading smashed avocado on the bottom burger bun and the vegan mayo on the top bun. Add two slices of cooked eggplant on top the avocado and top with tomato, onion, and lettuce. Place top bun on top and enjoy!
Recipe Notes
1) The nuts don't have to be soaked for the vegan mayo if you have a high-powered food processor or blender. If you're unsure then it's best to soak them for 15 minutes up to 8 hrs. The longer you let them soak the smoother the vegan mayo will be.2) If you don't have any macadamias on hand, then you can also just use cashews. I wouldn't replace them with any other kind of nut though.3) You don't need to coat your eggplant slices. For a low-cal version, grill the eggplant slices.
Browse through more vegan dinner recipes!