Print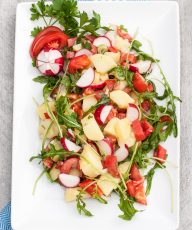 Healthy Vegetable Potato Salad
This vegetable potato salad is simple and versatile. Use the sauce and potatoes as a base and build on it by adding your favorite vegetables and herbs.
Bring a large stock pot filled with water and a teaspoon of salt to a boil. Add potatoes and cook them until they are tender but firm. (This took my potatoes about 12 minutes but will very depending on the size of the potatoes being used.) Drain the water from the potatoes, cool, peel and dice the potatoes.

While the potatoes are cooking, chop the vegetables and prepare the sauce by whisking together the broth, oil, vinegar and mustard.

Pour the sauce over the cooled, peeled and diced potatoes. Allow the potatoes to seep in the sauce for at least 5 minutes before adding the remaining vegetables.

Season the potato salad with salt and pepper to taste. Refrigerate the salad until ready to serve.