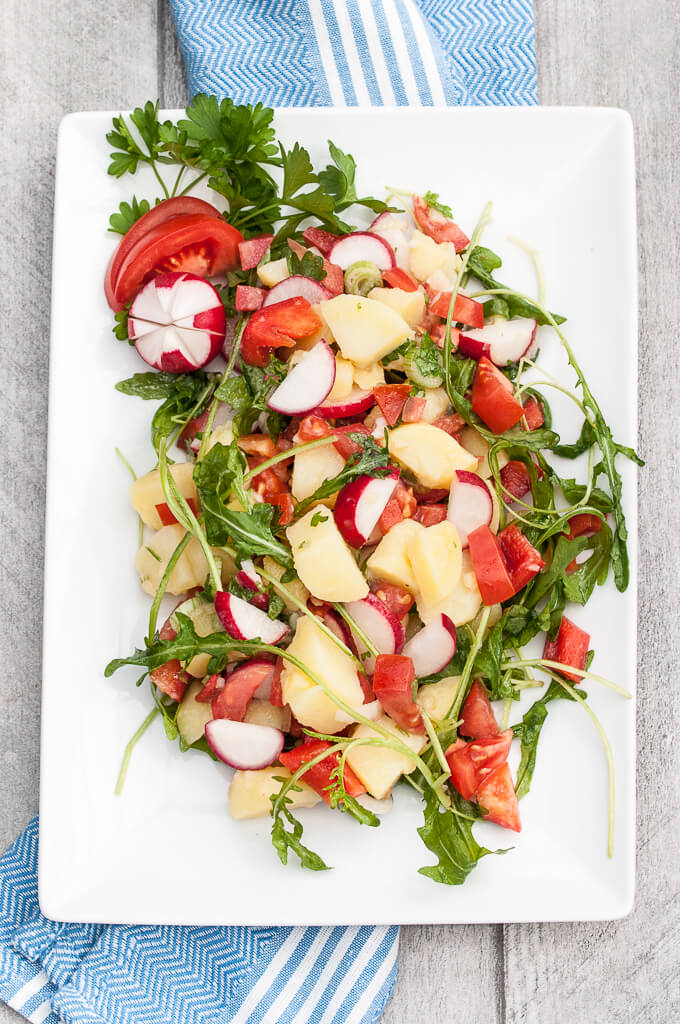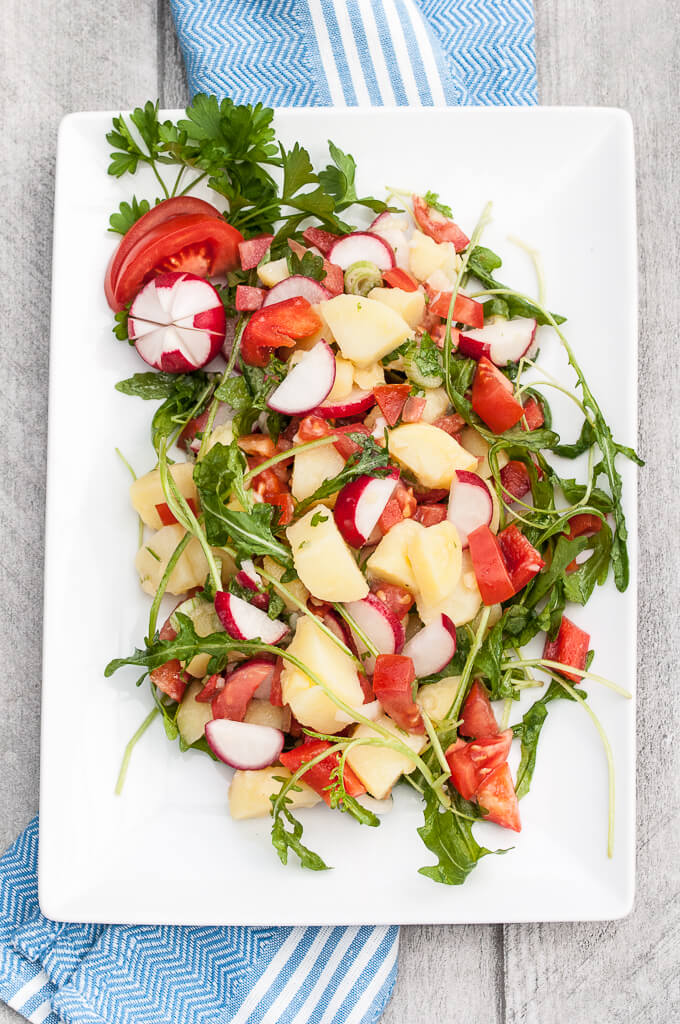 I've mentioned numerous times that I'm not a big fan of white potatoes. Sweet potatoes are edible gold to me but white potatoes...meh. They just seem to fall flat most of the time.
Don't get me wrong. I can eat white potatoes. It's just that there are soooo soooo many vegetables I'd rather eat.
Am I the only who thinks like that?
When my son said he wanted me to make potato salad, I naturally assumed he meant my sweet potato salad. I reached for some sweet potatoes to which my, sometimes bossy, 5 year old said, "Not those! I want the white ones. We need to go grocery shopping!" Oh wait, no...he definitely said "YOU need to go grocery shopping."
I could have started a big discussion with him or came up with ten different reasons why we couldn't go to the store now. However, as much as I didn't feel like going to the store, let alone buy white potatoes, this just seemed too silly to fight. He wasn't asking for a 5 gallon tub of ice cream or $200 Lego set. This poor boy just wanted some white potatoes. How can you say no to that?
So that is how I came about making this vegetable potato salad. Traditional potato salad is made with eggs, lots of mayonnaise and potatoes (what!?!?). So the eggs..well no thank you to those and mayo is obviously a no go. Even though I love a good vegan mayo mixing that with potatoes just seems too heavy and wrong. However, I don't think I could get past making a potato salad without actually using any potatoes.
So how do you make a potato salad if you don't just want to eat potatoes? You add lots of other fresh veggies to it! This gives this vegetable potato salad extra vitamins, crunch and makes it overall more satisfying.
I opted to make this vegetable potato salad with bell peppers, tomatoes, radishes and arugula. The great thing though that you can definitely just add whatever vegetables you have on hand.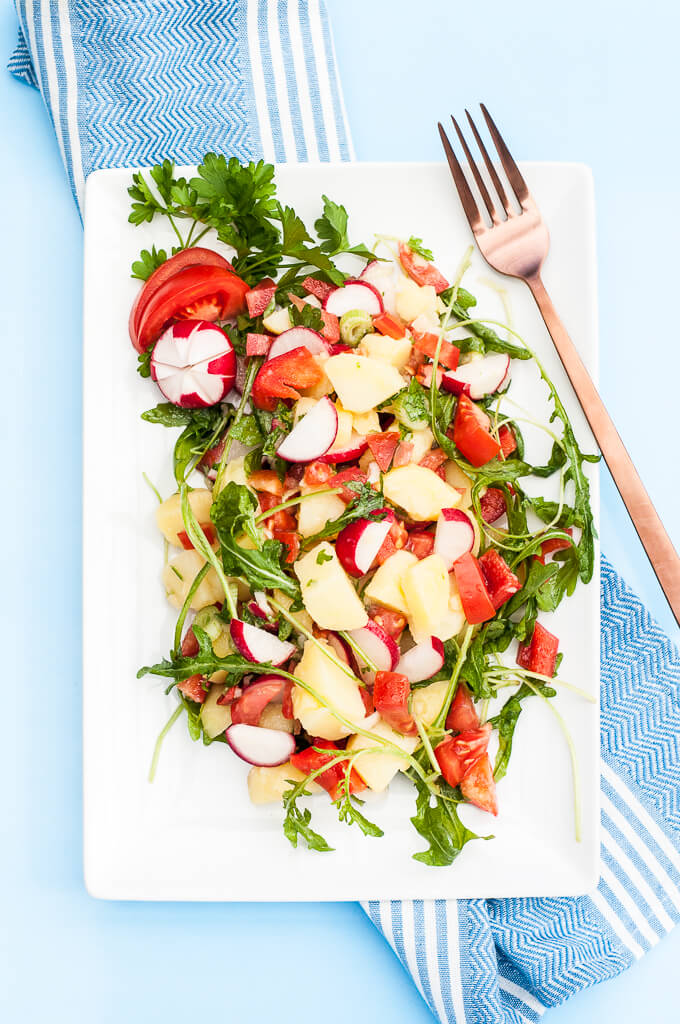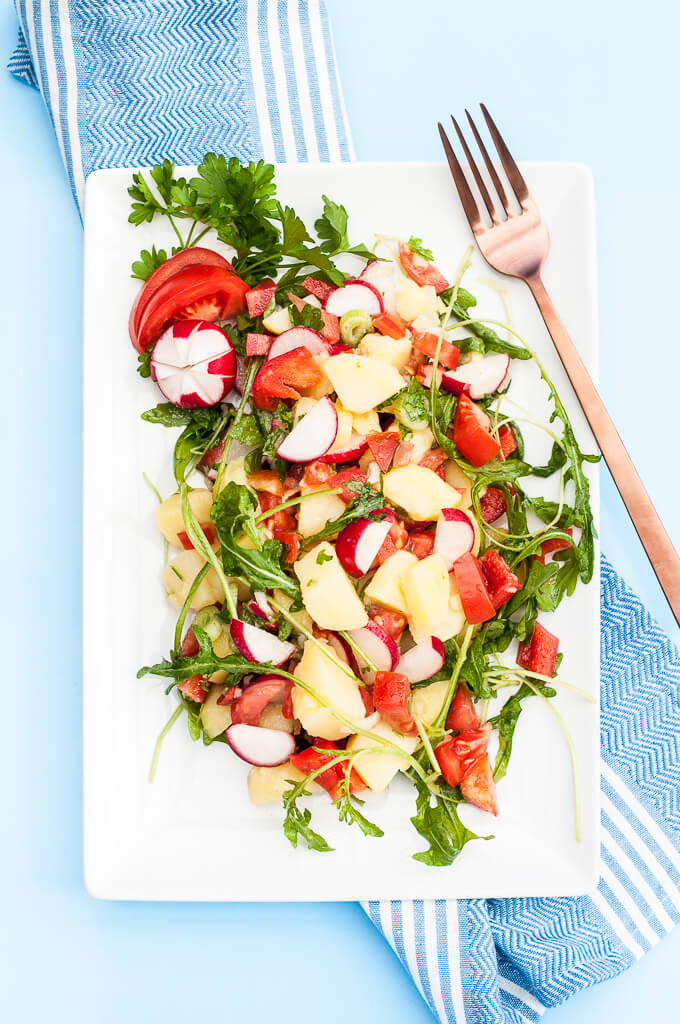 The dressing for this potato salad is typical for how my German mother makes it. Just broth, vinegar, oil and a little bit of mustard.
For those of you not used to making potato salad with broth...you have been missing out! Adding warm broth to your potatoes really allows your white potatoes to take on some real flavor.
So what are you waiting for? Make this healthy vegetable potato salad and gives those plain ol' white potatoes a chance ;)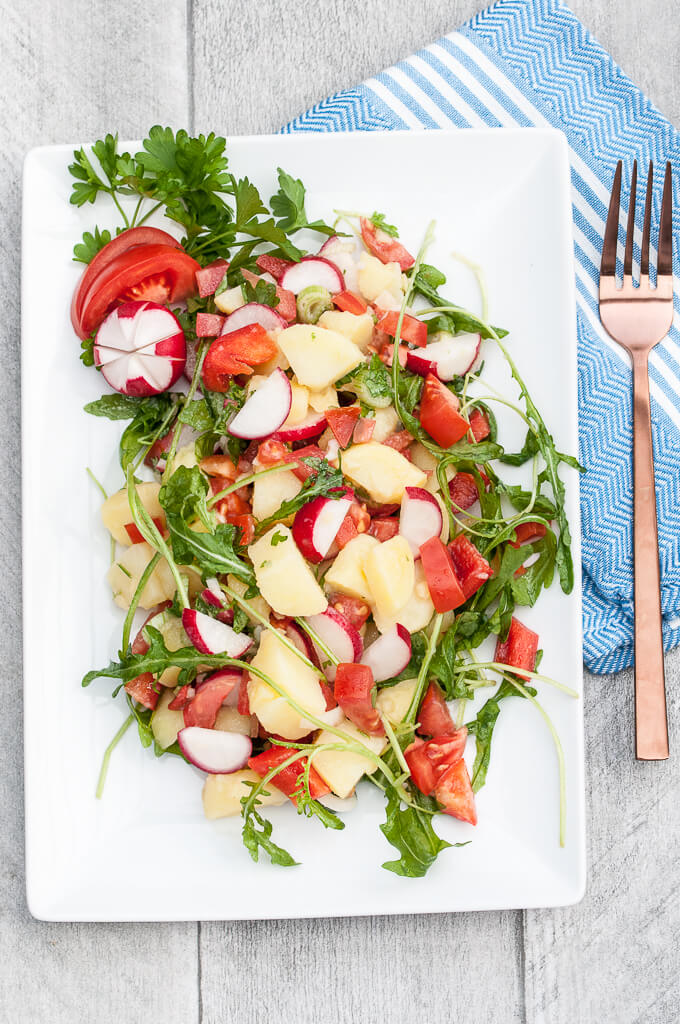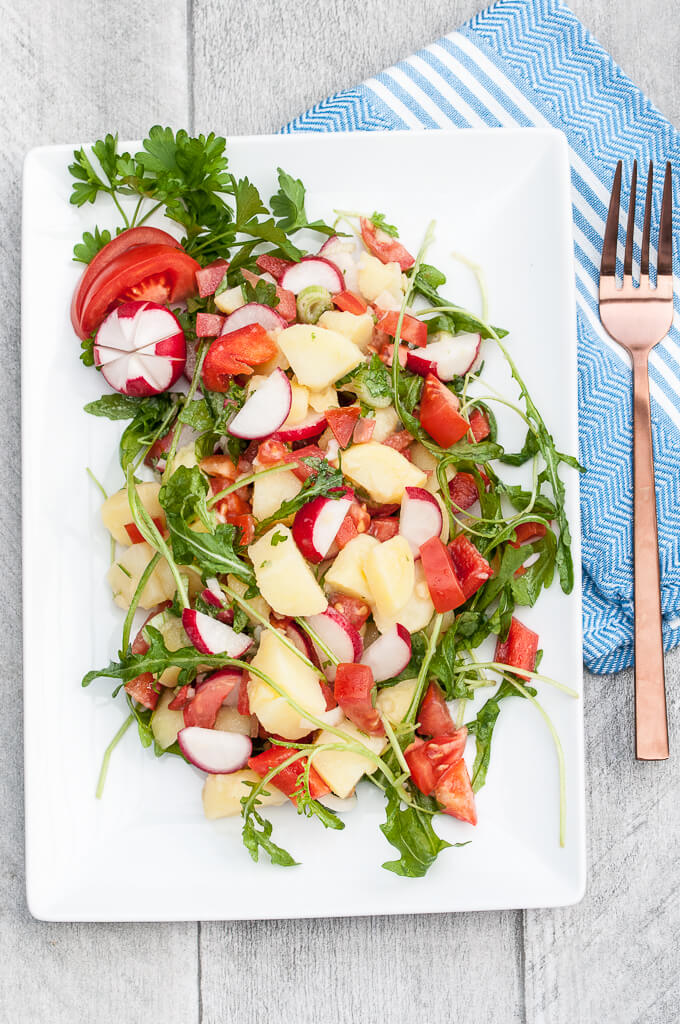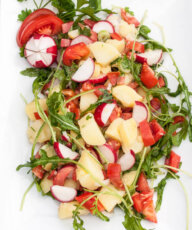 Healthy Vegetable Potato Salad
This vegetable potato salad is simple and versatile. Use the sauce and potatoes as a base and build on it by adding your favorite vegetables and herbs.
Ingredients
1.75

lbs

800g Potatoes

1

Red Bell Pepper

diced

2

Tomatoes

diced

6

Radishes

halved, sliced

Large handful of Fresh Parsley

chopped

Large handful of Arugula

or Rocket

1

Scallion

chopped
Sauce
2

tablespoons

Low Sodium Vegetable Broth

make sure broth is gluten-free if needed

2

tablespoons

Olive Oil

2

tablespoons

White Wine Vinegar

1

teaspoon

Dijon Mustard

Salt and Pepper to taste
Instructions
Bring a large stock pot filled with water and a teaspoon of salt to a boil. Add potatoes and cook them until they are tender but firm. (This took my potatoes about 12 minutes but will very depending on the size of the potatoes being used.) Drain the water from the potatoes, cool, peel and dice the potatoes.

While the potatoes are cooking, chop the vegetables and prepare the sauce by whisking together the broth, oil, vinegar and mustard.

Pour the sauce over the cooled, peeled and diced potatoes. Allow the potatoes to seep in the sauce for at least 5 minutes before adding the remaining vegetables.

Season the potato salad with salt and pepper to taste. Refrigerate the salad until ready to serve.
Want to try out something other than this Vegetable Potato Salad? Give these recipes a go ;)
Sweet Potato Salad, Vegan Potato Leek Soup or a Healthy Potato Pea Soup ;)