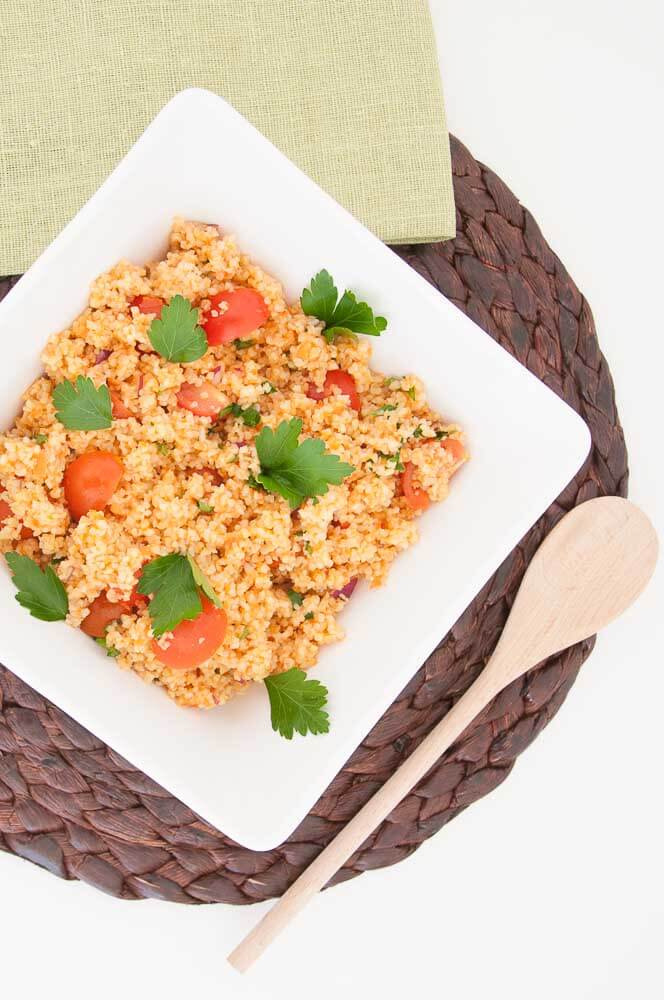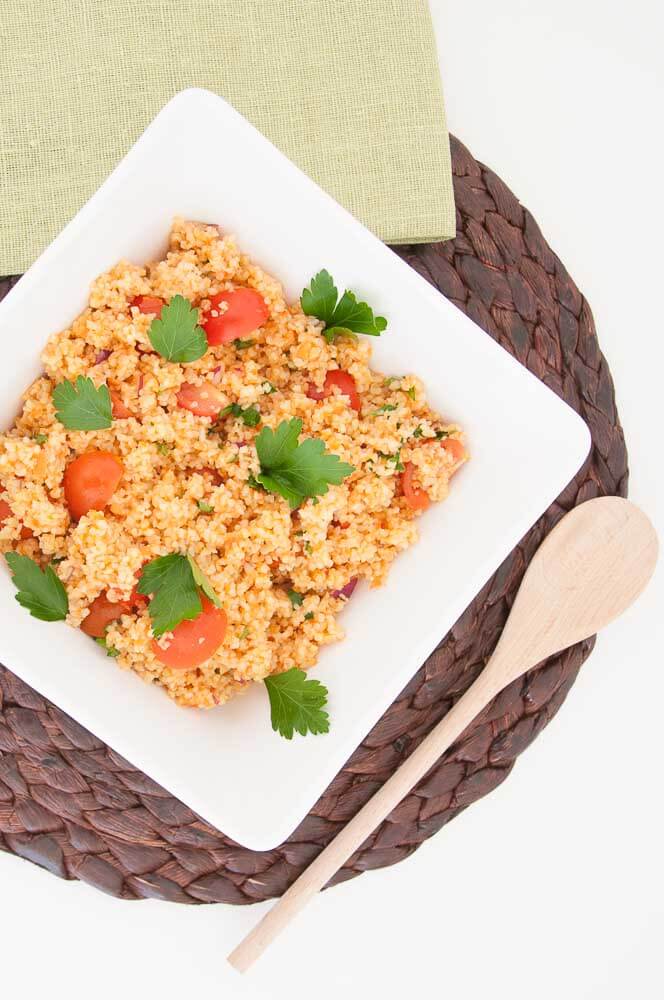 This easy bulgur salad will not disappoint! Bulgur is one of my favorite whole grains. It's a great source of vegan magnesium and iron. The benefits of bulgur don't stop there though. It will also put a big dent in your daily protein and fiber needs. The best part is...It's incredibly easy to cook so it seemed only fitting to make an easy bulgur salad recipe.
There's nothing crazy going on in this recipe. It's a very basic bulgur recipe made with ingredients I, and most people, already have at home. It tastes light and fresh when you follow the recipe. However, the best part is that you can easily customize this recipe to your liking. Add different raw vegetables (broccoli, bell pepper, carrots, scallions) or even cooked ones (sweet potatoes, potatoes, asparagus, artichoke). Your options really are endless :)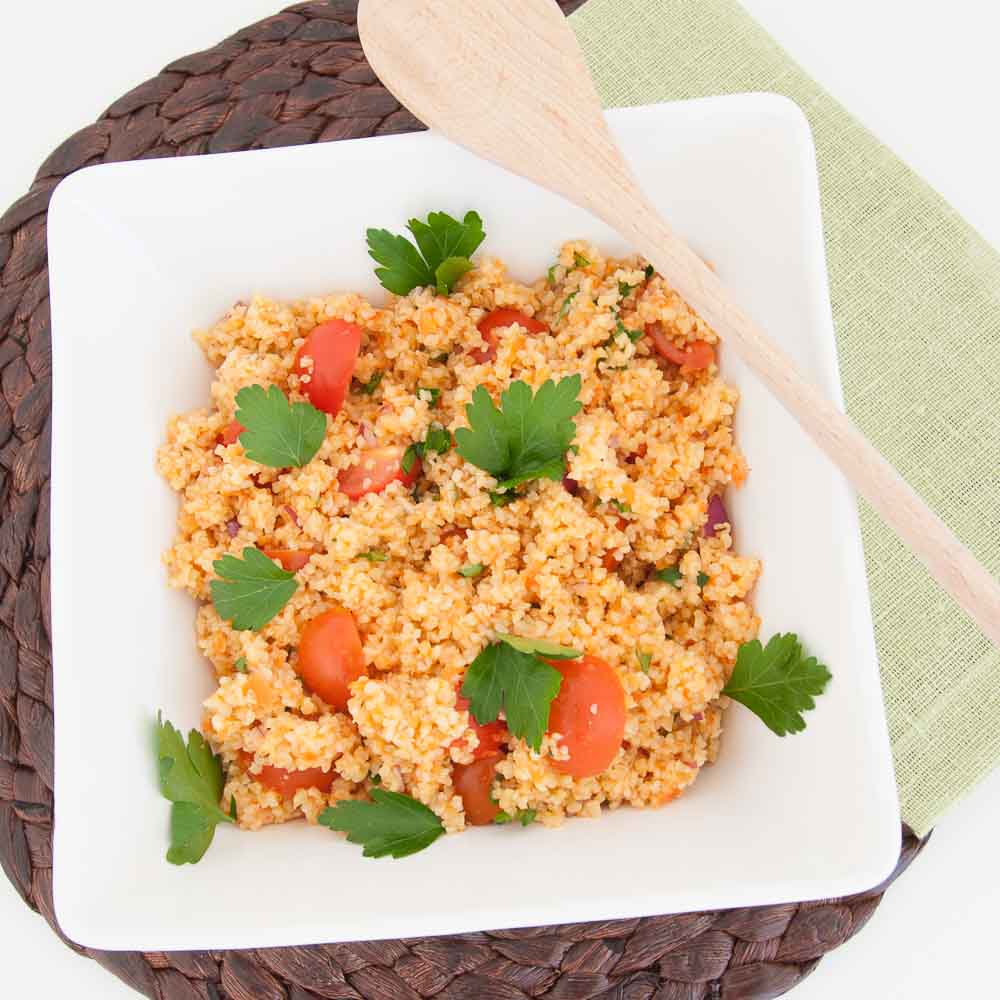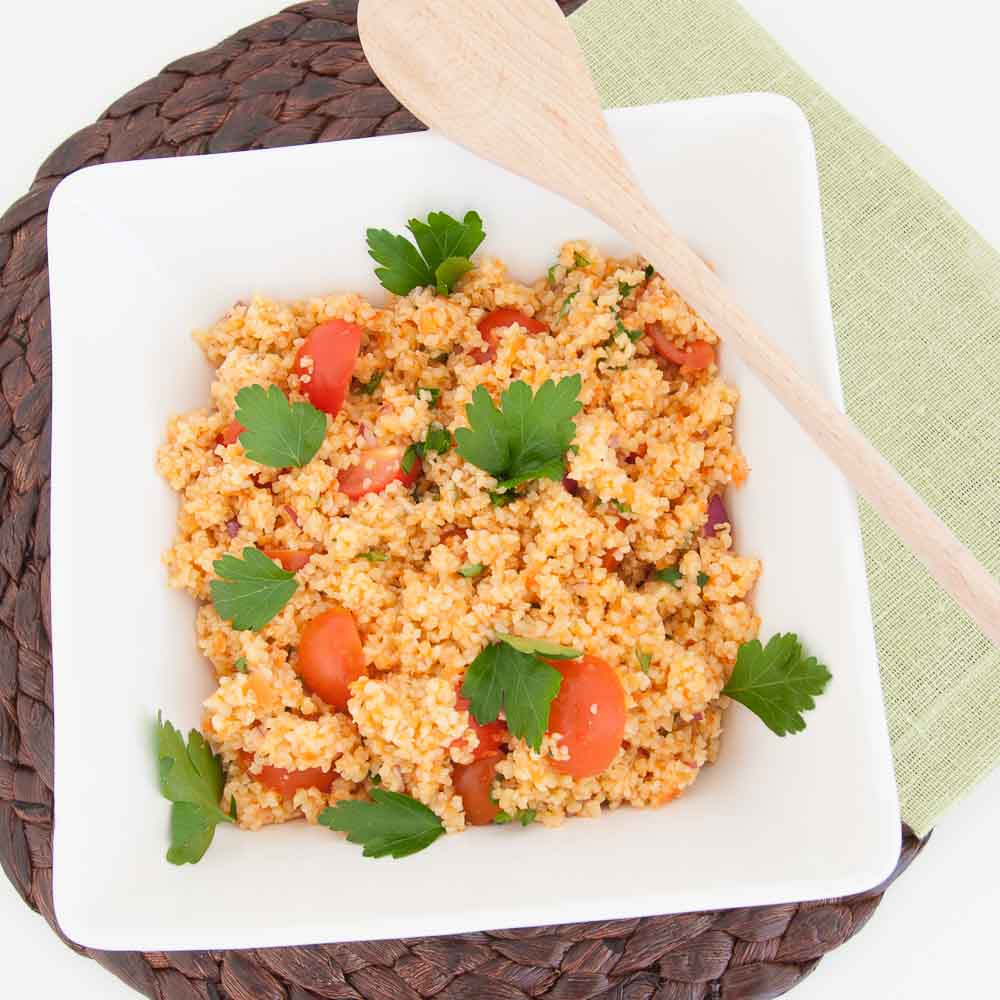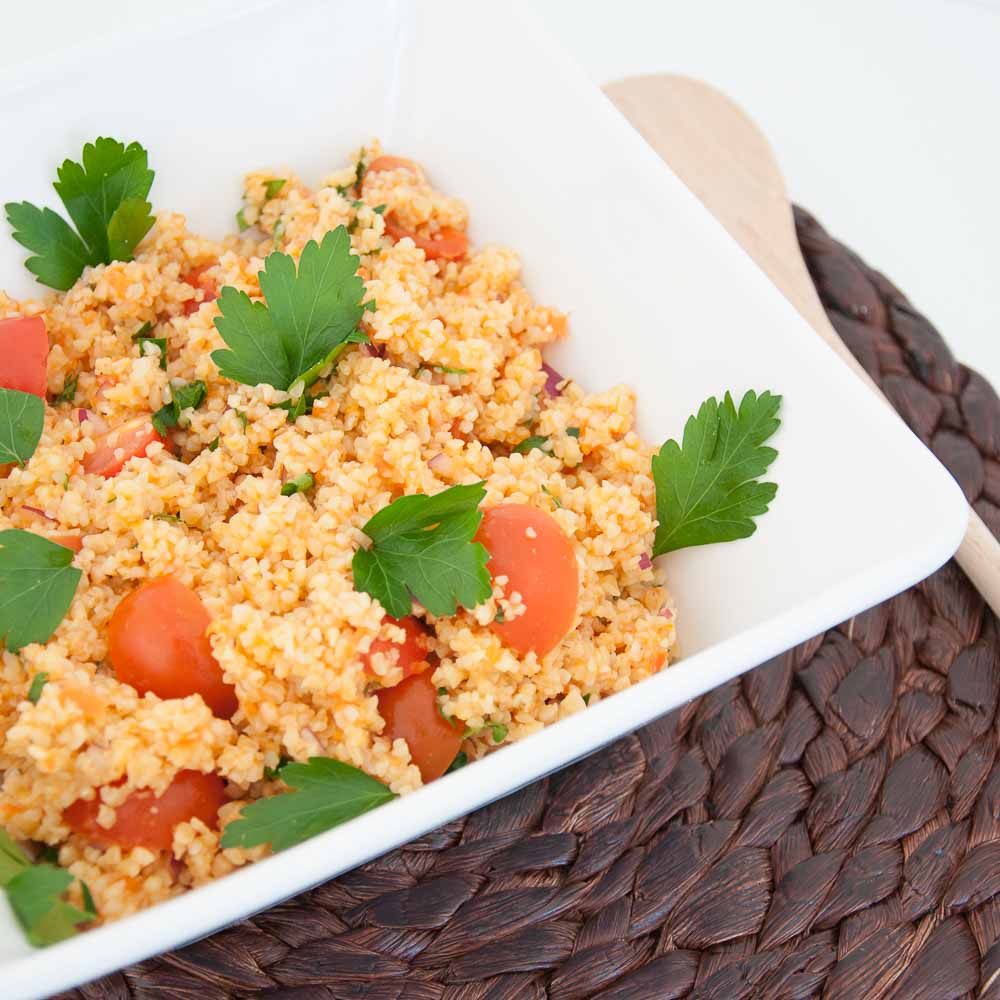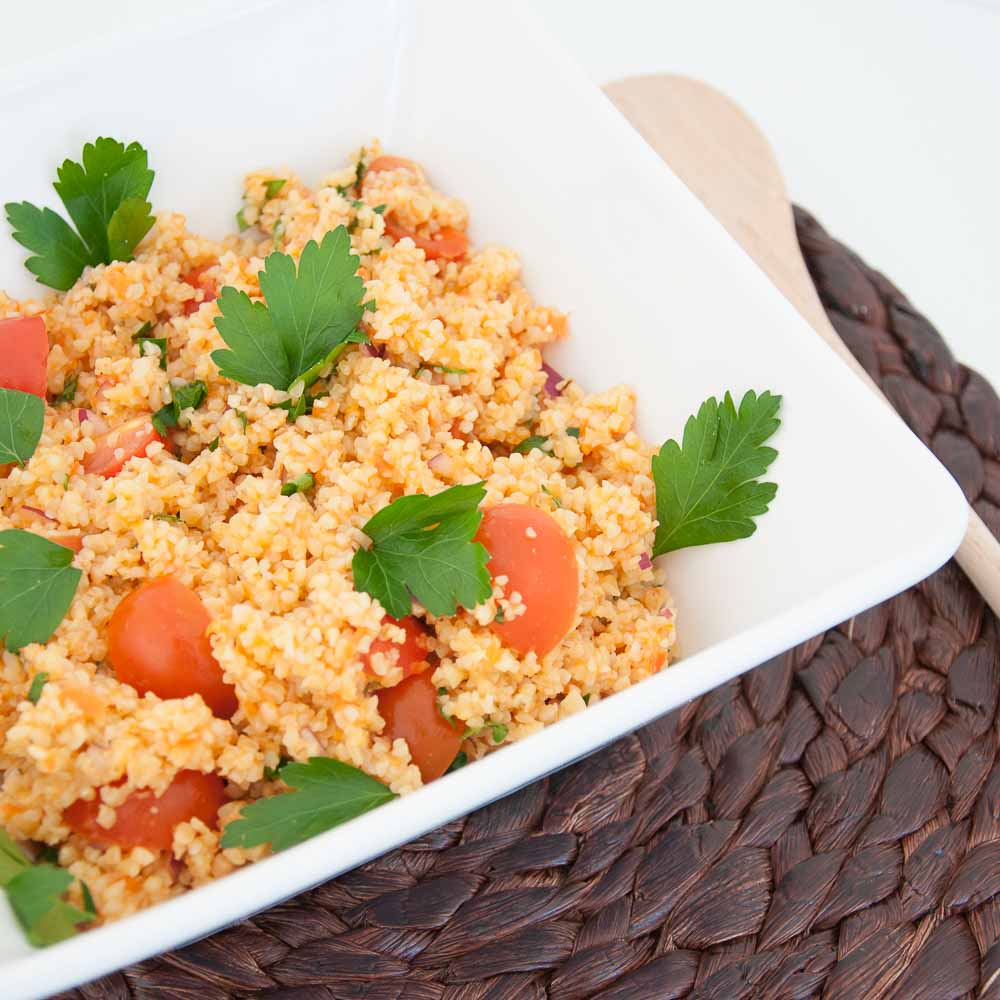 What really makes this recipe pop and what I wouldn't substitute is the bell pepper sauce. It's only 3 ingredients (red bell pepper, lemon juice, and salt) but combined together makes a delicious, oil-free sauce. It gives your cooked bulgur a nice red color and keeps it from tasting too dry. If you like a strong bell pepper taste then you can even roast your red bell pepper first. I'm too lazy for that and I actually prefer the taste of raw bell peppers to cooked ones.
First things first though.
How to cook Bulgur Wheat
As I mentioned above, cooking bulgur is super easy. Like with most grains you need the right water-to-grain ratio to cook bulgur just right. Bulgur can vary in size so it's best to always follow the directions on the packaging. However, for those that lose the packaging, can't read their packaging, or don't have it anymore, these easy steps will come in handy.
Bulgur wheat needs to be cooked in a 2:1 ratio (i.e. 2 cups of water for every 1 cup of uncooked Bulgur)
Place water and bulgur in a small stock pot. Bring to a boil.
Reduce heat and simmer for 10 minutes until the liquid has evaporated.
Remove from heat and fluff the cooked bulgur with a fork.
Easy Peasy as my 4 yr old would say :D
All you'll have to do then is add the bell pepper sauce to the bulgur plus some tomatoes, onion, and parsley. Done.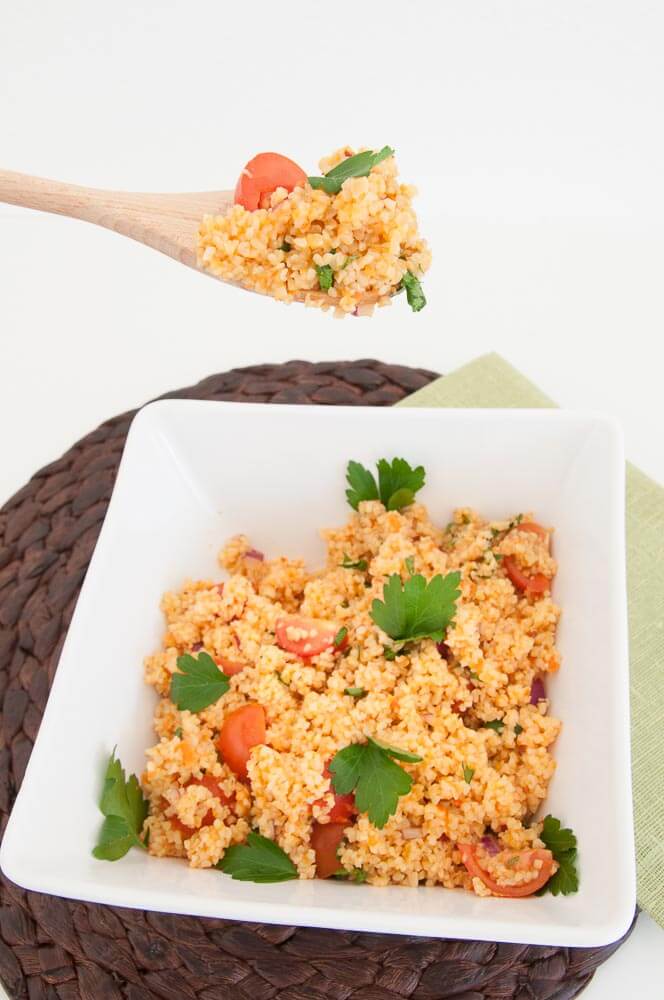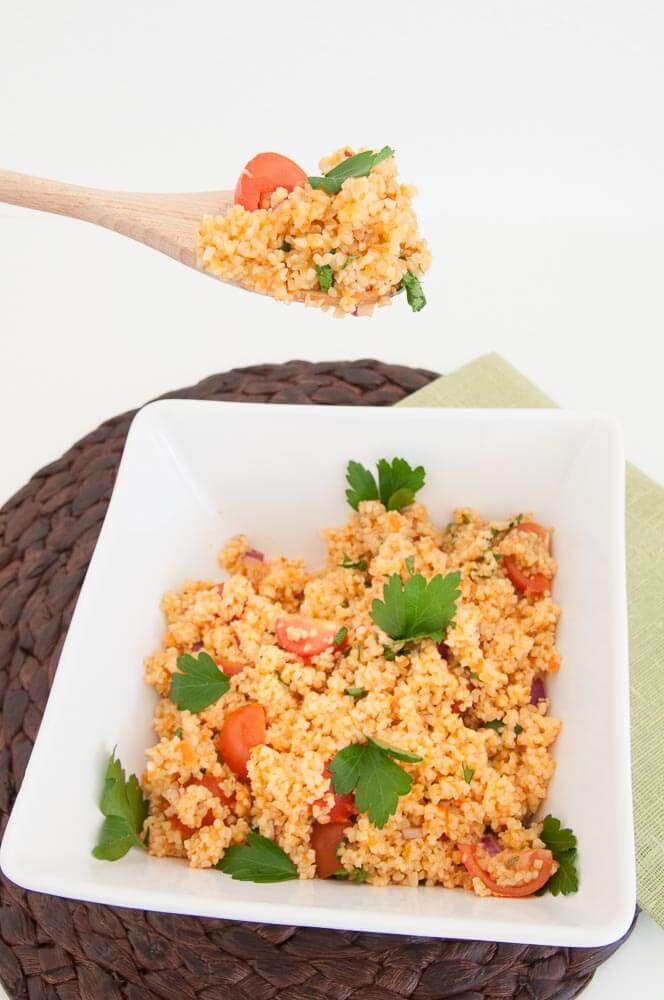 This recipe makes 5 cups of bulgur salad which is great for having a healthy lunch spread throughout the week. It keeps really well in the fridge. You can then it eat cold, which will be nice during the summer months, or quickly heat it for a tasty warm salad :)
Did I mention that my kids actually really liked this? Makes this easy bulgur salad even better, huh?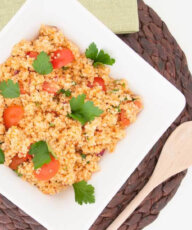 Easy Bulgur Salad
Ingredients
Bell Pepper Sauce
1

medium sized

Red Bell Pepper

core and seeds removed, roughly diced

2

tablespoon

Lemon Juice

½

teaspoon

Salt
Other
10

Cherry

Tomatoes

quartered

1

small

Red Onion

finely diced

handful fresh

Parsley

roughly chopped

Salt and Pepper to taste
Instructions
Cook bulgur according to instructions on packaging or check notes.

Prepare bell pepper sauce by adding bell pepper, lemon juice, and salt to a food processor. Pulse until no chunks of bell pepper are left. Stir bell pepper sauce into warm, cooked bulgur.

Add tomatoes, onion, and parsley to bulgur.

Season with salt and pepper to taste.

Serve bulgur salad warm or cold.

Bulgur salad will keep covered in fridge for up to 5 days.
Recipe Notes
1) Bulgur wheat is very easy to cook. Place 1 cup of uncooked bulgur into a small stock pot and add 2 cups of water to the pot. Bring to a boil over high heat, then reduce heat and simmer for 10 minutes. Remove cooked bulgur from heat and fluff with a fork.
Not convinced that bulgur is right for? Or maybe you would like a gluten-free alternative? Try my Spicy Millet Salad, Southwest Quinoa Salad, or Beluga Lentil Salad with Rice!
Alternatively, try a different one of my vegan salad recipes!