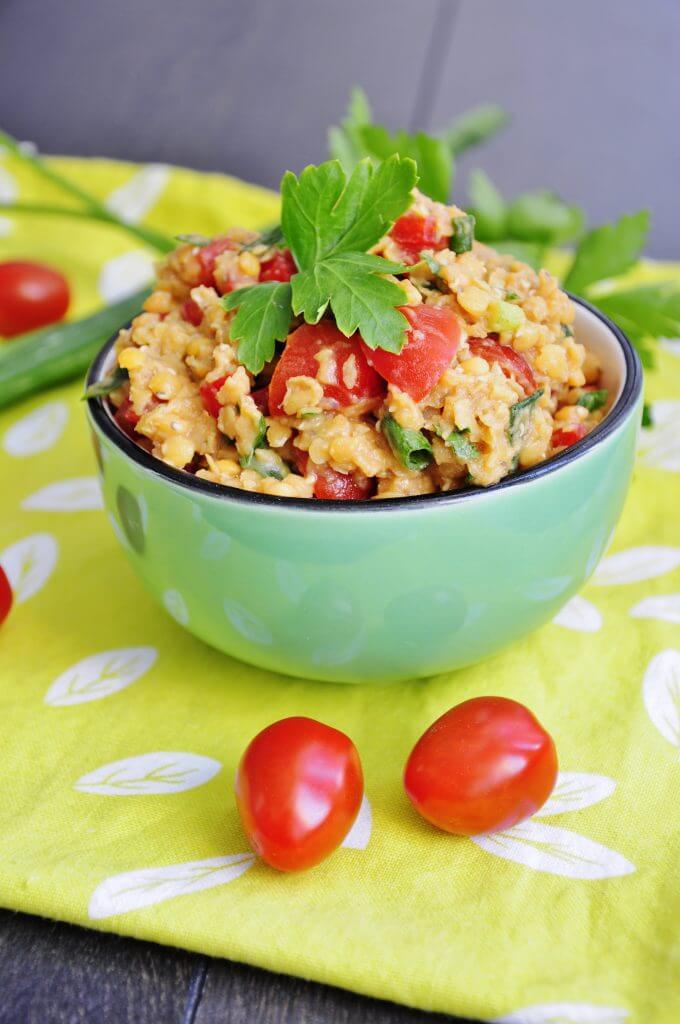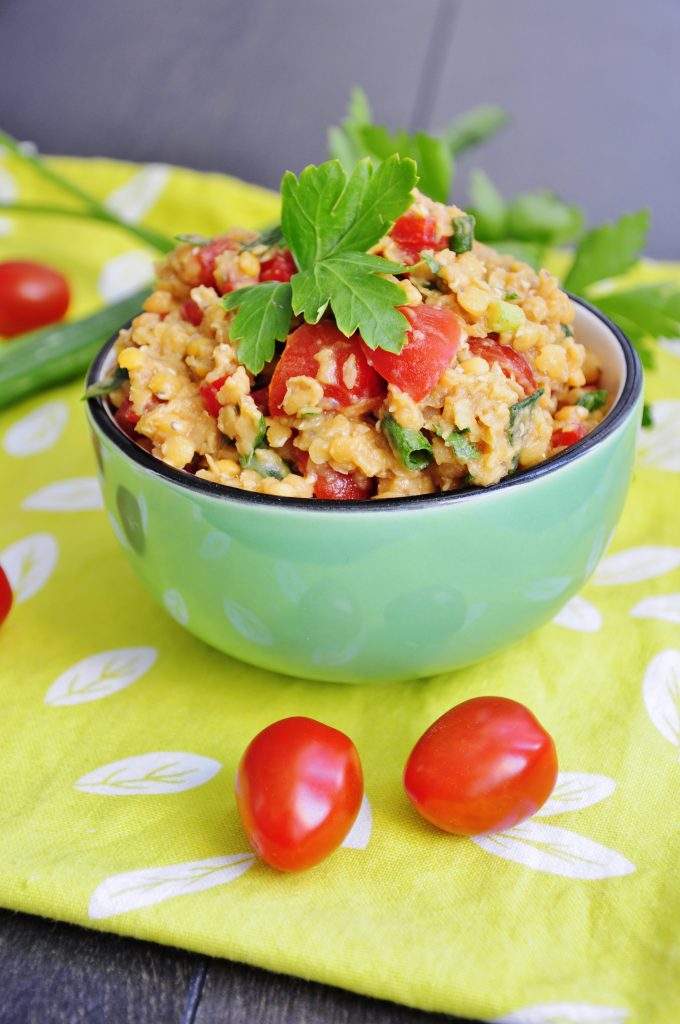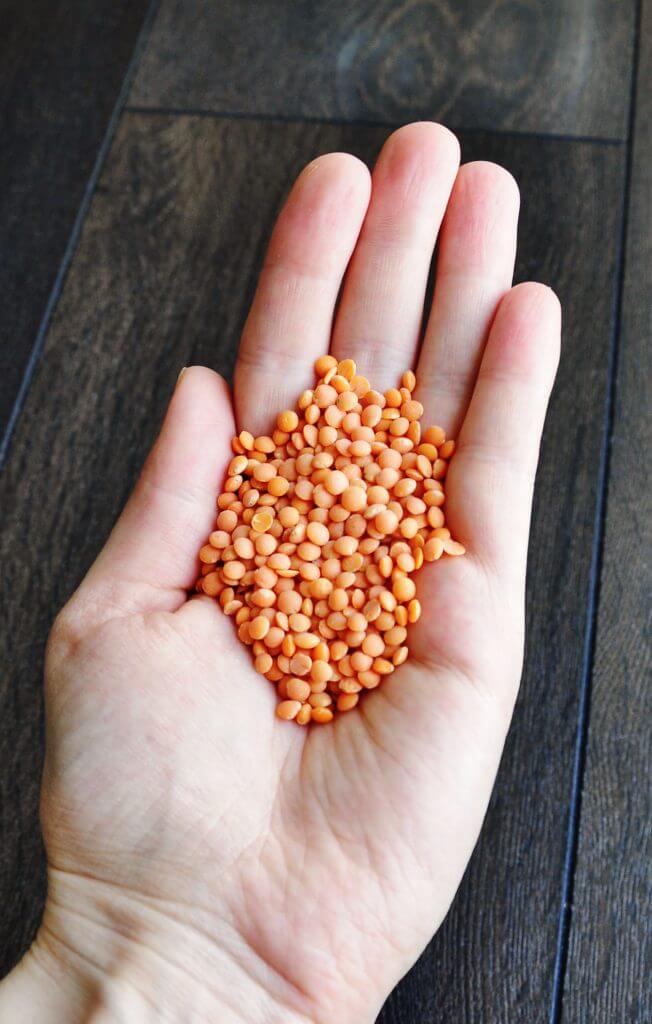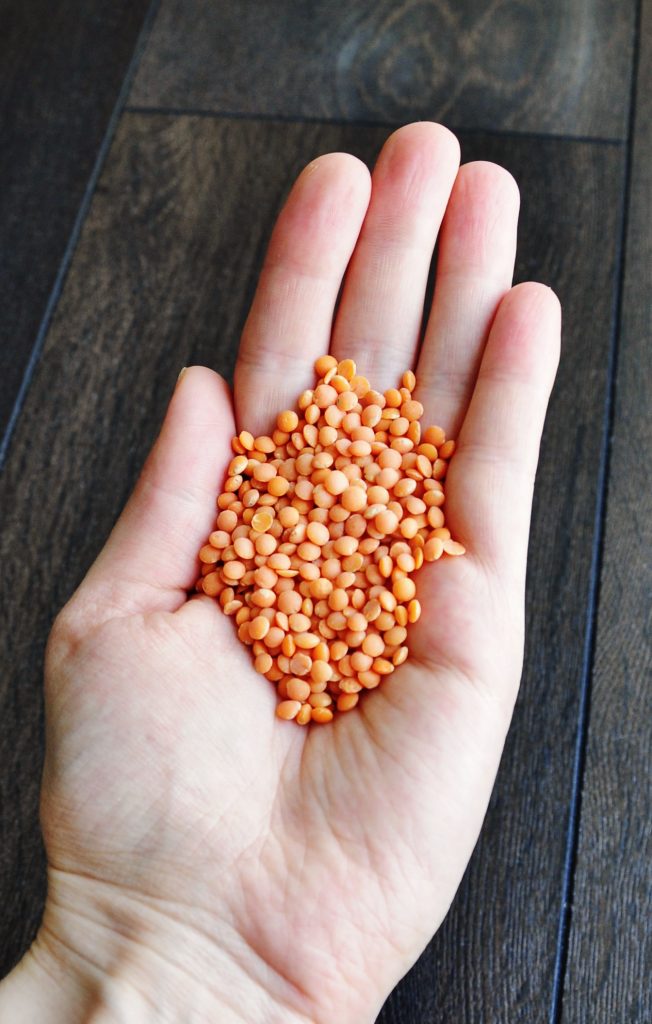 As a child I despised anything with lentils. I propbably would have run screaming away from this Red Lentil Salad Recipe. I still can't say that I haven't found a whole lot of ways to get my children to eat lentils, other than the beluga lentil burger recipe I made a while back. However, after I once again read the extensive health benefits of lentils I realized that I need to incorporate them into my diet more often. Hence the reasons for this delicious red lentil salad recipe :)
Here a just a few of the amazing benefits:
Naturally low in fat
High fiber food that is a great source of soluble and insoluble fiber! Just 1 cup cooked lentils has 16g or 68% of your daily fiber needs. Soluble fiber helps lower blood cholesterol. Insoluble fiber prevents constipation and other digestive problems such as irritable bowel syndrome.
Great Vegan source of protein with 18g in 1 cup cooked lentils
High iron and manganese food
Perfect food for pregnant and breastfeeding moms - 1 cup cooked lentils has 358mcg of folate (needed during pregnancy -600mcg, breastfeeding - 500mcg)
I find that one of the easiest ways to incorporate a healthy ingredients into my diet is by making a large salad that I can eat over several days. This way I always have something healthy and ready to eat in the fridge. No excuses!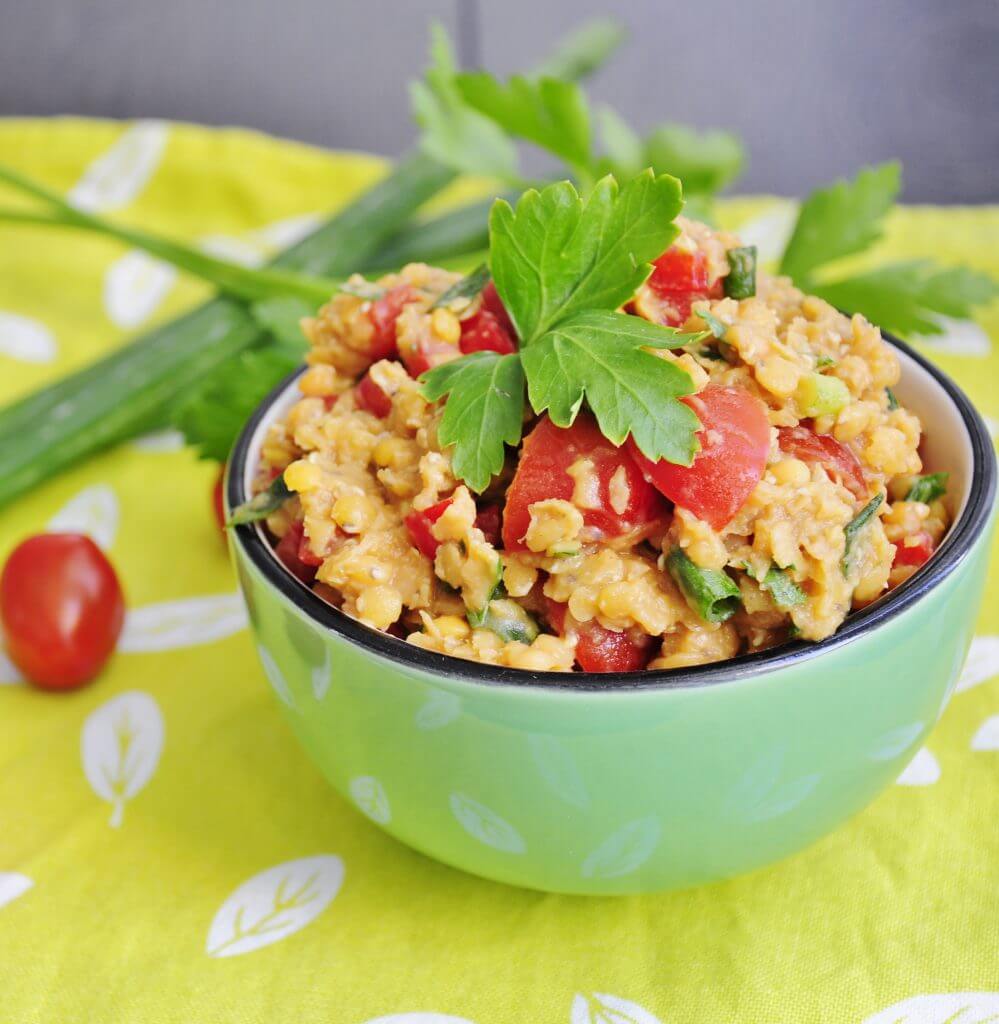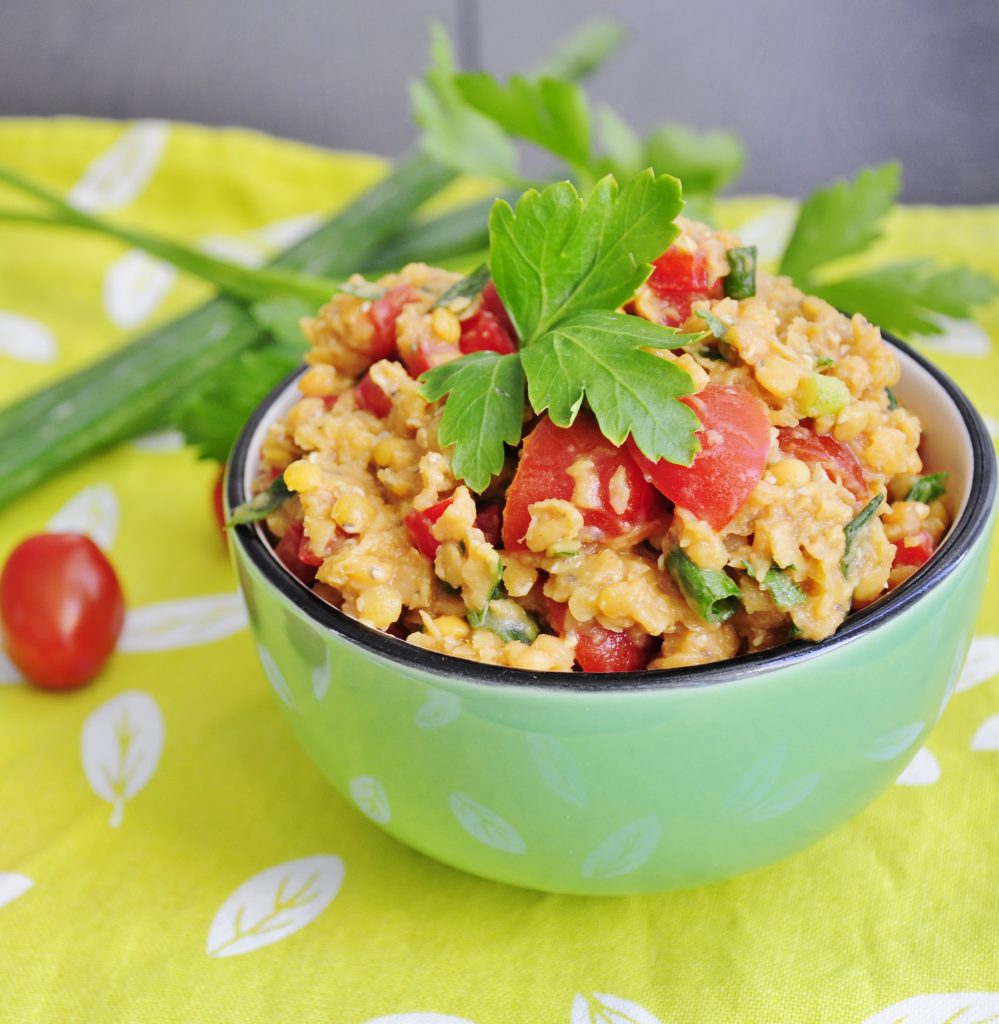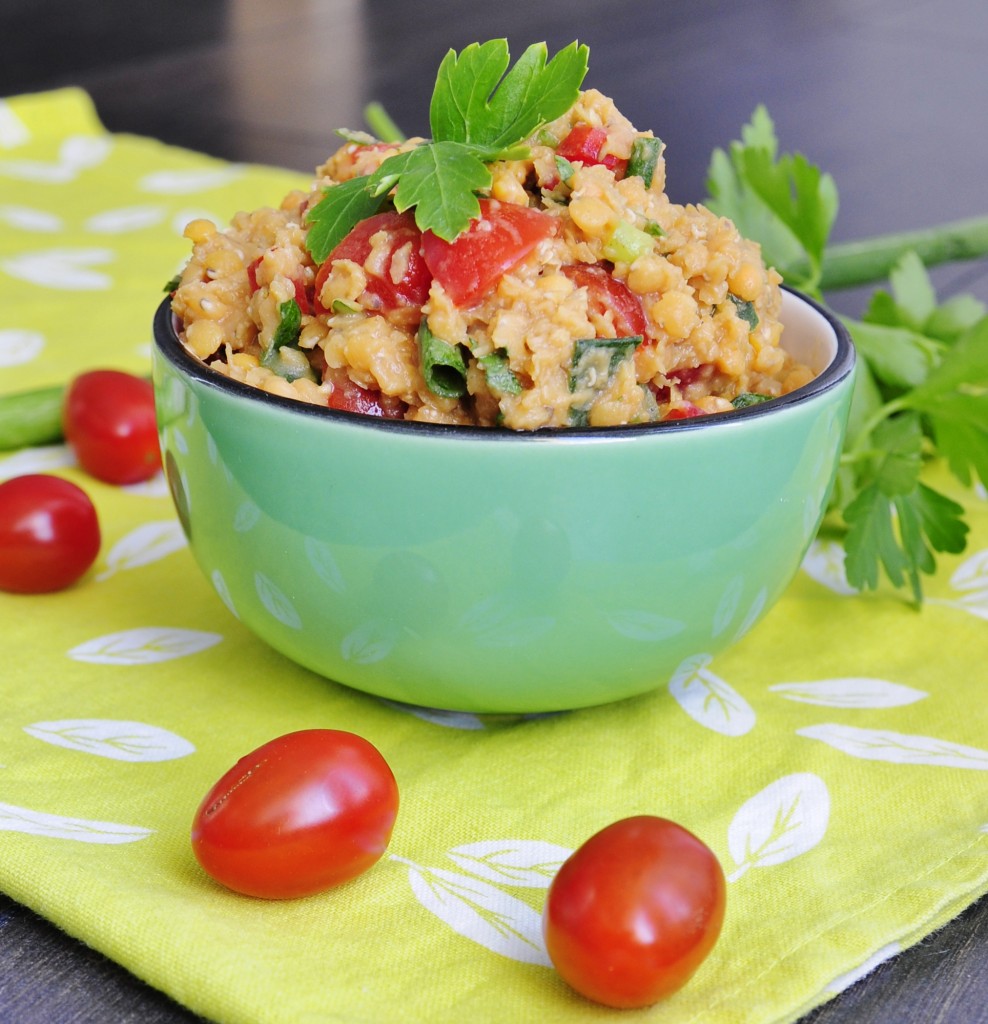 This red lentil salad recipe makes about 10 servings. Feel free to just make half if this seems like too much.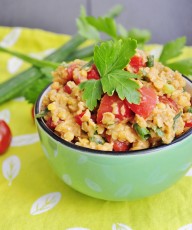 Red Lentil Salad
Ingredients
2

cups

uncooked Red Lentils

10

Cherry Tomatoes

quartered

5

tablespoons

Lemon Juice

4

tablespoons

Olive Oil

1

Red Bell Pepper

finely diced

3

Scallions

diced

½

cup

or large handful Fresh Parsley

chopped

1 ½

teaspoons

Cumin

Salt

Pepper
Instructions
Rinse lentils under cold running water to remove any debris. Add lentils and 6 cups of water (no salt added) to a large stock pot and bring to a boil. Once boiling, reduce heat and simmer for 10 minutes. Drain lentils, run under cold water to cool, and drain again.

Add lentils to a large serving bowl and stir in olive oil, lemon juice, and cumin.

Dice bell peppers and scallions, quarter tomatoes and chop parsley. Add to lentils and add salt and pepper to taste.

Enjoy!
Recipe Notes
1) Don't overcook your lentils! Red lentils are fragile and will easily turn to mush if cooked for too long. However, some of the lentils will split while cooking, this is normal.2) Store lentils salad in refrigerator covered. It will keep for up to 5 days.3) If you are planning on only making half of the recipe or twice as much, remember that lentils need to to be cooked in water with a 1:3 ratio. So 1 cup of dry lentils in 3 cups of water.4) Feel free to substitute red lentils for other lentils in this recipe as well :) The options are endless.