There aren't a whole lot of millet recipes around even though millet is such a great gluten-free whole grain. I think it is one of those grains a lot of people forget about or think is only suitable for birds to eat. Millet is so versatile and a great healthy addition to any kitchen.
Millet is great source for fiber, iron manganese, phosphorus, magnesium and B-complex vitamins. I like using it as a substitute for rice or in baking bread. However, I think the easiest way to prepare this is as a cold salad. Usually this is a millet salad I like to make during the summer in large batches. I keep the salad in an airtight container in the fridge and can eat it for lunch throughout the week.
Though as I mentioned in my Sweet Potato Salad post, I needed several dishes I could make ahead of time. This was one I resorted to and everyone was pleased with it.
Obviously millet is the most important ingredient in this recipe but so is Sambal Oelek. Sambal Oelek is a spicy hot pepper sauce that can usually be found in Asian supermarkets. I've even heard that Walmart sometimes carries it. Alternatively, you can order both
millet
and
sambal oelek
online. If you can't find millet or don't have it ready to go at home, feel free to substitute it with couscous or bulgur.
I do have to add that this isn't exactly kid-friendly. Due to the spicy sauce most kids will probably refuse to eat this. This doesn't mean that you can't!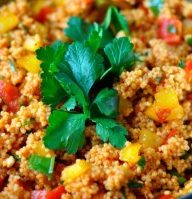 Spicy Millet Salad
Ingredients
1

cup

200g uncooked Organic Whole Millet

3

tablespoons

Sambal Oelek

3

tablespoons

Olive Oil

2 ½

tablespoons

Tomato Paste

½

teaspoon

Lemon Juice

3

Scallions/Spring Onions

ends removed and diced

2

Bell Peppers

any color other than green, I used red and yellow -finely diced

½

cup

fresh Parsley

chopped

Salt and Pepper to taste
Instructions
Rinse millet under running water. Add millet with 2 cups cold water to a mediums sized stockpot. Bring to a boil over high heat and continue to boil for 5 minutes. Remove from heat and cover stockpot and let steam for 10 minutes. After 10 minutes add millet to a large mixing bowl and fluff with a fork.

Allow millet to cool for 5 and then add sambal oelek, olive oil, tomato paste and lemon juice. Mix well with a fork or gently with a spoon until all of the millet is covered in sauce.

Add scallions, bell pepper and parsley to millet and mix again.

Season with salt and pepper if needed and garnish with a few parsley leaves.

Allow to cool completely and serve.
Recipe Notes
1) Do not allow millet to cool completely before adding the sauce ingredients. Otherwise you will end up with clumps of tomato paste in your salad. 2) Keep salad tasting fresh for a week by keeping it in an airtight container in the fridge. 3) This might seem obvious but make sure you always buy millet suitable for human consumption. Millet for animal use is most often still has an outer hull that can't be digested by humans. Therefore, make sure when you buy millet is says hulled somewhere on the packaging.
Looking for some of the ingredients I used?