Print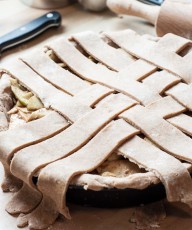 Whole Wheat Pie Crust
A vegan friendly whole wheat pie crust that is flaky and rich. Perfect for your favorite holiday pies.
Cut butter into small chunks and place in a bowl in the freezer.

Mix together sifted flour, sugar, and salt.

Use a mixer with a beater attachment or pastry cutter to beat the butter, and flour mixture together until very crumbly.

Add a few tablespoons of cold water to the mixture and mix with dough hooks. Add more water as needed until the dough comes together nicely.

On a lightly floured, flat surface, roll dough into a ball and press flat into a disk. Wrap in plastic wrap and place in fridge for at least two hours. Alternatively, if you are in a time crunch, place dough in freezer for 10 minutes.

Remove dough from fridge and cut in half. Roll out 1 half of the dough to fit a 9 inch pie plate. Work quickly to avoid the streaks of butter going through the dough from melting. Put other half back into the fridge. Place rolled out pie dough into pie form and press into the bottom and the sides evenly.

Put back into the fridge.
1.) The trick to a good flaky pie crust is keeping it cold. It may seem annoying have to constantly put the dough back into the fridge but it is worth the result. Just remember: when in doubt, put the dough in the fridge.2.) If you aren't vegan then feel free to use regular butter. 3.) Whole wheat flour can easily be substituted with all purpose flour, spelt flour, or your favorite gluten-free flour mix. 4.) If you don't have raw cane sugar, you can use white sugar. Use 1 1/2 tablespoons of white sugar then.