Print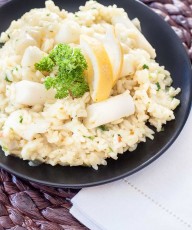 White Asparagus Risotto
Creamy risotto rice with white asparagus and hints of lemon and parsley.
Prepare asparagus by snapping off the ends at the normal breaking point. Toss ends. Using a peeler, peel the first layer of skin off the asparagus. Cut asparagus into 2 inch pieces and blanch for 2 minutes. Cool asparagus under cold water to stop cooking. Set aside.

In a large stock pot or sauté pan, heat olive oil over medium heat. Sauté shallots for 2 minutes. Add garlic and risotto rice. Sauté until edges of rice turn slightly translucent (roughly 4 minutes).

Stir in white wine until absorbed by rice. Then add broth 3/4 of a cup at a time, stirring occasionally, adding more once absorbed by rice. Stir in chopped parsley and lemon zest before adding last 3/4 of a cup broth.

Stir asparagus into risotto until hot.

Remove pan from heat and garnish risotto with more parsley, fresh cracked pepper and lemon juice to taste.
1) Using fresh white asparagus works best for this recipe. I've heard that you can also purchase it canned or in jars.This can be used as well though it will probably not taste as good. 2) If you can't find white asparagus anywhere, then this recipe can also be made with green asparagus. Cook the green asparagus the same as you would the white for this recipe. Don't peel the green asparagus though.