Print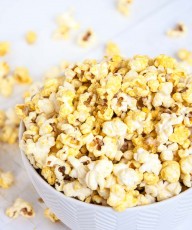 Vegan Cheese Popcorn
A super quick, easy, and healthy vegan cheese popcorn recipe that makes a perfect snack for kids and adults!
Combine all cheese powder ingredients in a food processor and pulse until fine cheese powder forms. Do not over process!

In a large stock pot, heat coconut oil with 3 popcorn kernels over high heat and cover. Once all 3 kernels have popped, remove them and add 1/4 of a cup popcorn kernels.

Place lid on stock pot and shake pot occasionally. Keep shaking once popcorn starts to pop. Once the popping slows down remove the pot from the heat and take off the lid. Allow popcorn to rest for 2 minutes.

Take the warm (not hot!) popped popcorn and put it in a large paper bag with 1/2 of a cup of cheese powder. Shake bag until all the popcorn is coated. Add more cheese powder if needed.

Taste and add more salted if desired.
1) Make sure to remove the popcorn once the popping slows down. Try to resist the urge of getting every single kernel popped. You'll end up burning your popcorn!2) The turmeric is added mainly to give this vegan cheese popcorn a cheesy color. Feel free to omit if not on hand. I find my kids enjoy it more with it. Plus turmeric is a very healthy spice with an incredible list of health benefits.