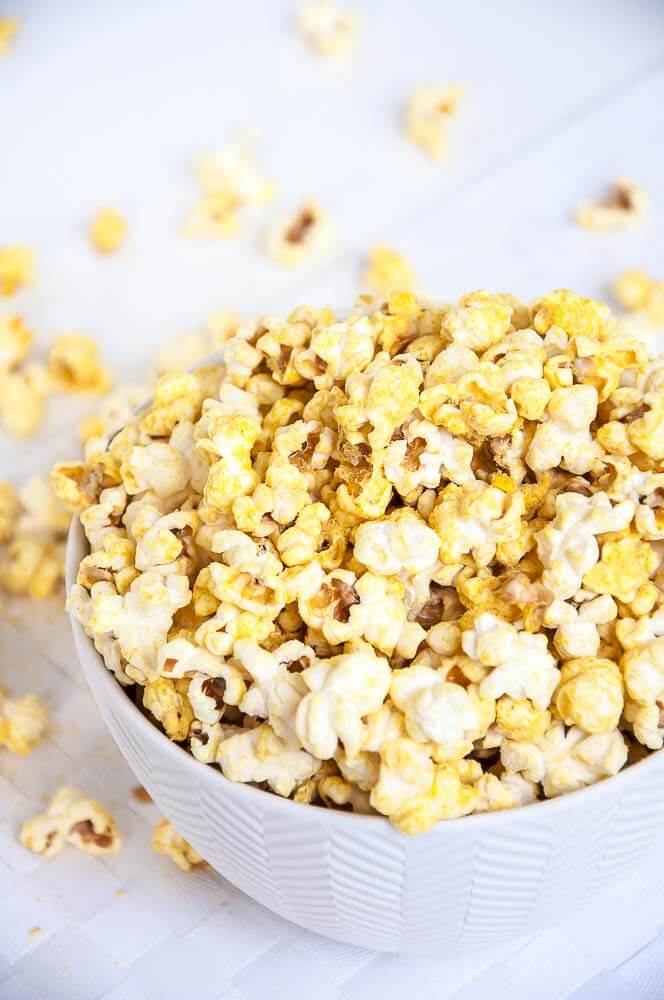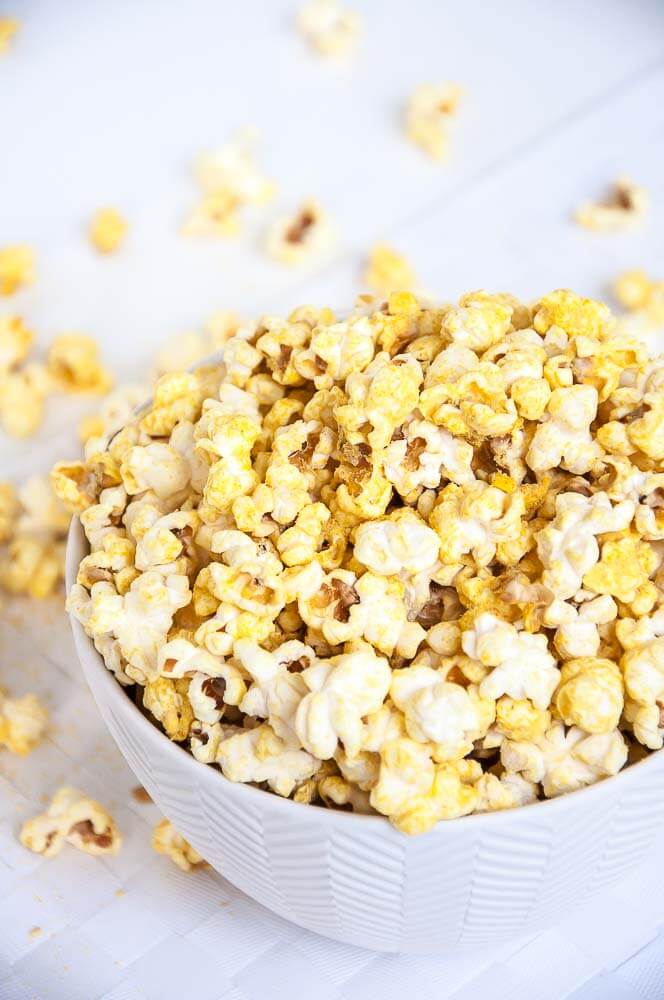 There used to be something I loved about microwave popcorn. Maybe it was the salty, fake cheese smell or the fact that it was fun to open the bag and release all the steam. Once I went vegan, I never bought microwave popcorn mainly because it usually isn't vegan-friendly.
Even when you do find vegan microwave popcorn, it has ingredients that don't need to be there. Don't even get me started on the ingredients in store-bought vegan cheese popcorn...
Unsalted, organic popcorn like Newman's is probably the best microwave popcorn you can buy with the least amount of trash unnecessary ingredients added. However, these are the ingredients listed: Organic Popcorn, Organic Palm Oil, Natural Flavor, Vitamin E (to Preserve Freshness)
Sure palm oil is disputable in the vegan world. Some choose to use it and others avoid it like the pest but what really bothers me is the natural flavors. What natural flavors need to be added to unsalted popcorn? And what exactly are natural flavors? You could spray some cat urine on your popcorn and it would be considered a natural flavor according to the USDA.
The best way to get around all of this is to just make your own popcorn with your own ingredients so that you know exactly what you are putting in your body. Better yet make it some cheesy vegan popcorn because unsalted popcorn is just boring.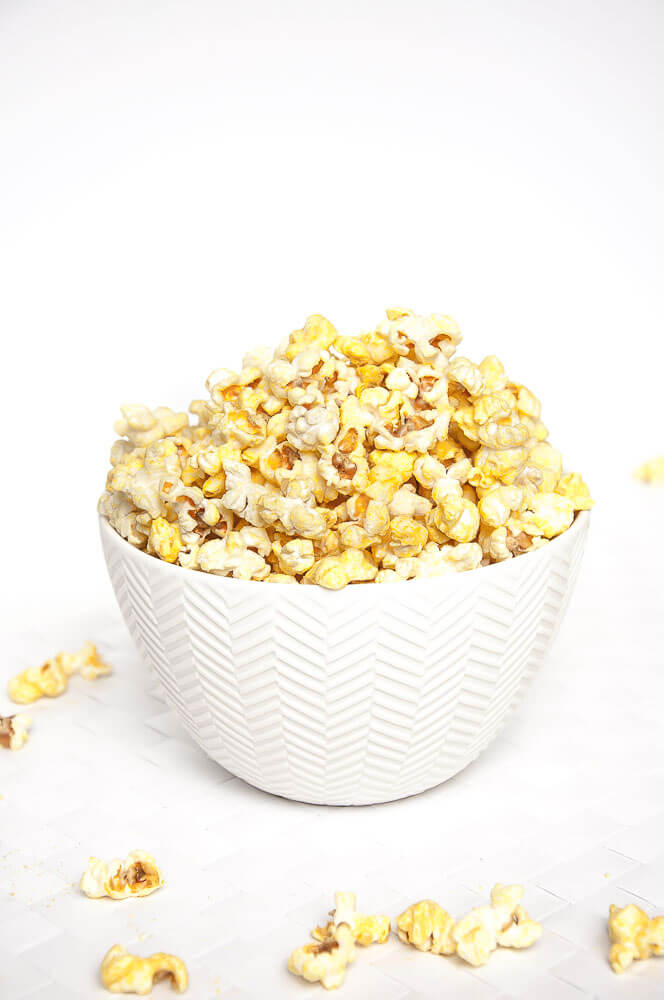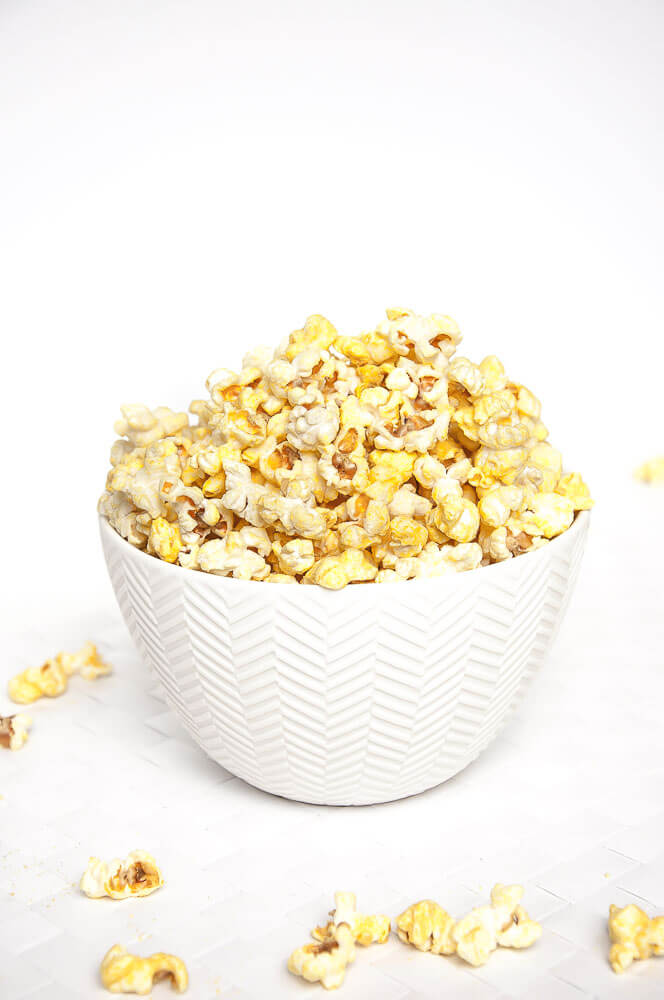 Popping your own popcorn at home is really easy and takes far less time than you think. Making vegan cheese popcorn takes just about an extra 3 minutes, which we should all be willing to spend.
As a family, we ate this popcorn within minutes. My kids, mainly my 4-year-old, ask me to make them this as a snack all the time. That's fine though with me since it's low in calories and I can make a ton of it in bulk to last us a good week.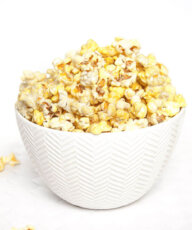 Vegan Cheese Popcorn
A super quick, easy, and healthy vegan cheese popcorn recipe that makes a perfect snack for kids and adults!
Ingredients
1

tablespoon

Coconut Oil

¼

cup

Organic Popcorn Kernels

equals o 8 cups popped popcorn

Cheese Powder!

⅓

cup

Cashews

raw, unsalted

1

teaspoon

Turmeric

2

tablespoon

+ 2 teaspoons

10g Nutritional Yeast

2

tablespoon

Corn Starch

¼

teaspoon

Cumin

1

teaspoon

Salt

1

teaspoon

Onion

dried, minced
Instructions
Combine all cheese powder ingredients in a food processor and pulse until fine cheese powder forms. Do not over process!

In a large stock pot, heat coconut oil with 3 popcorn kernels over high heat and cover. Once all 3 kernels have popped, remove them and add ¼ of a cup popcorn kernels.

Place lid on stock pot and shake pot occasionally. Keep shaking once popcorn starts to pop. Once the popping slows down remove the pot from the heat and take off the lid. Allow popcorn to rest for 2 minutes.

Take the warm (not hot!) popped popcorn and put it in a large paper bag with ½ of a cup of cheese powder. Shake bag until all the popcorn is coated. Add more cheese powder if needed.

Taste and add more salt if desired.
Recipe Notes
1) Make sure to remove the popcorn once the popping slows down. Try to resist the urge of getting every single kernel popped. You'll end up burning your popcorn!2) The turmeric is added mainly to give this vegan cheese popcorn a cheesy color. Feel free to omit if not on hand. I find my kids enjoy it more with it. Plus turmeric is a very healthy spice with an incredible list of health benefits.
Looking for a different kind of snack? These Puffed Quinoa Oat Bars and Chia Peanut Butter Protein Balls are two of my favorites. Otherwise, give these a try!