Print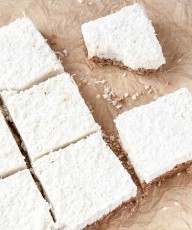 Lemon Cream Bars
This clean eating, lemony,treat is perfect for summer. Crisp coconut crust with a creamy coconut lemon filling. Plus a Raw vegan option!
Lemon Coconut Filling
2

cups

400g Coconut Cream (See Notes)

3

teaspoons

5g Lemon Zest

1/4

cup

60ml fresh Lemon Juice

1 - 2

tablespoons

Maple Syrup or Agave

optional

1/4

cup

shredded Coconut

optional
Preheat oven to 350F (175C) and line a 8x8 inch pan with parchment paper.

In a food processor pulse the almonds and date until finely chopped. Don't pulse too long or you will end up with almond butter.

In a medium mixing bowl combine the coconut flour with the coconut oil until a smooth paste forms. Stir in the chopped almonds and press into the base of the prepared pan.

Bake crust in the oven for roughly 8 minutes or until the edges have browned.

Remove pan from the oven and allow to cool.

Meanwhile, add coconut cream, lemon zest, lemon juice, and optionally the maple syrup to the food processor or mixing bowl. Process or mix until smooth. Taste the filling and add more maple syrup or lemon juice if needed to get the desired tart/sweetness.

Pour filling in the pan, over the crust. Spread the filling evenly across the pan. Sprinkle shredded coconut on top and lightly press into the filling.

Place pan in the freezer for roughly an hour until filling has set completely. Carefully remove the bars from the pan, place on a different plate and set in fridge. Allow bars to slightly thaw in the fridge before attempting to cut them.

Store bars in the fridge and eat within 5 days.
1) Lemon cream bars are also freezer friendly. Store them in the freezer for up to a month. Try not to thaw and refreeze these bars too often. 2) Coconut Creamcan be bought or can easily be obtained from 2 cans of coconut milk. Place coconut milk towards the back the fridge overnight. Carefully open the can and you will notice the coconut cream will have seperated from the coconut water. Scoop out this hard white cream and use it for this recipe. 3) To make this recipe raw vegan, skip baking the crust in the oven. Simple make the crust as described and pour the filling over it. The crust won't be crisp but more like that of my other vegan cheesecakes.