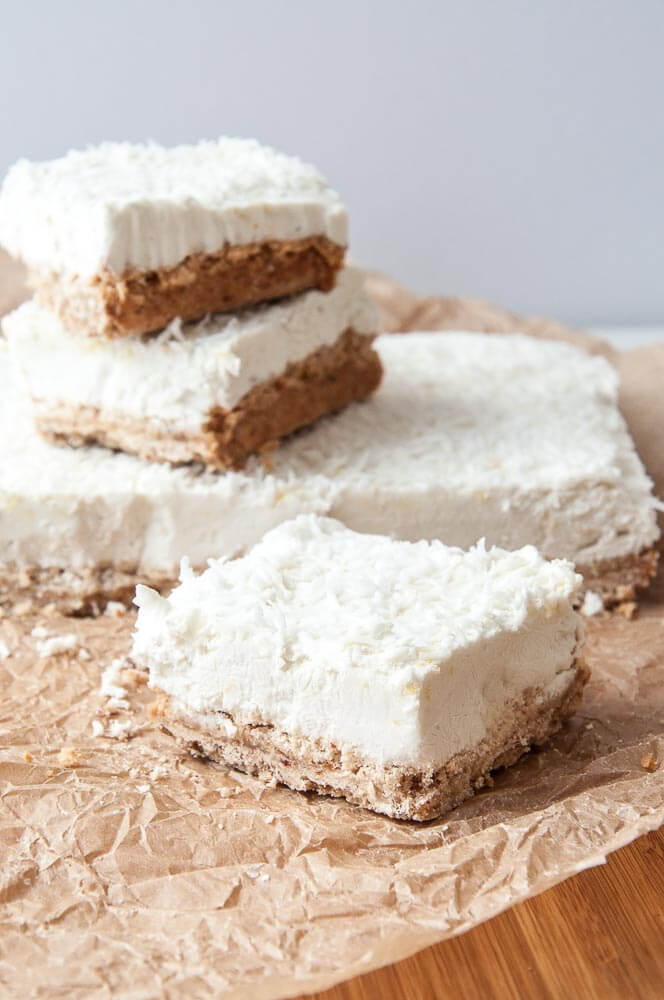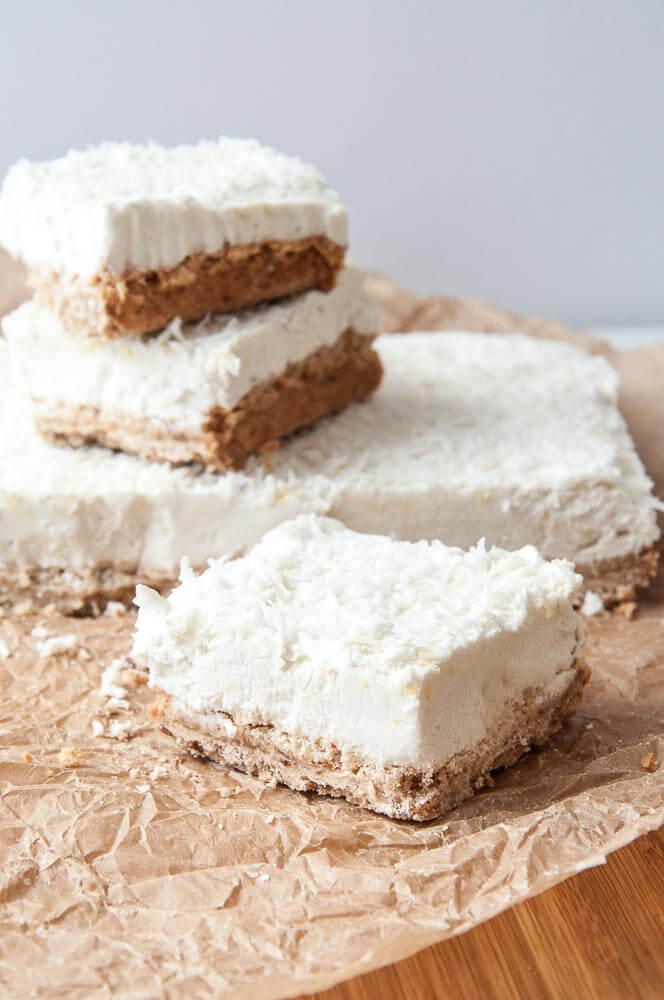 Before I dive right into these incredible lemon cream bars, I'd like to address the tiny elephant in the room...Where have I been for the past 3 weeks?
Sure, some of you might not have even noticed. Boo, you! You may scroll down and just read the recipe :D
For those of you that did, I got into a car accident with my two boys. To be honest, it was a complete nightmare. I was driving the speed limit of 45mph on a two-lane road when another car didn't see the traffic ahead of him and swerved onto the other lane, hitting us head-on. I never had a chance to see the other car coming. One second I was driving, the next I had the airbag in front of me.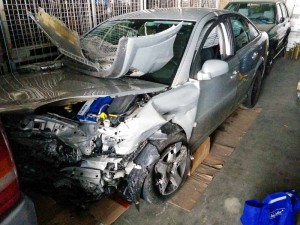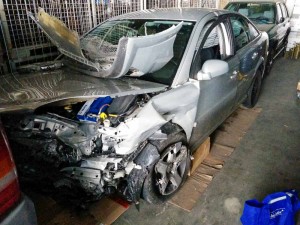 The car came to a stop in the ditch and my boys were screaming. I had to climb out of the passenger side door to get out of the car and got my youngest son (22 mo old) out of the car first, then screamed for help for someone to get my 4yr old. We waited in someone's car until the ambulances came.
The worst part was that there wasn't enough room for all of us in 1 ambulance. I was already in pain but any mother can imagine the gut-wrenching pain I felt when I was told my 4 yr old would have to ride in a different ambulance.
I didn't get to see him until 5 hours after the accident again when we were thankfully placed in the same hospital room. However, it still makes me feel absolutely miserable as a mother knowing that during the time when he needed me most, I wasn't able to be there.
Even after broken bones, nicks, and bruises, I am extremely grateful that nothing worse happened. By some miracle, which I call my 22 mo old son's Car seat, he was able to go home immediately with my husband with just one bruise on his hip.
The pain gets better every day. A broken sternum is really not something I wish upon anyone. It feels like a 300 lbs man is sitting on your chest and sucking the air out of your lungs. I wish I had a picture for that :D All I can say is, thank the heavens for pain meds!!
Emotionally, my 4yr old and I are still working through it. It's really hard for a child that age to understand that it was just bad luck, out of my control, and that sometimes things like this just happen. It was really tough seeing him cry in his sleep and having night terrors every night for the first two weeks. He stopped having them this week and is no longer taking any pain medication, so I'm hoping we'll soon be back to normalcy.
Enough with this somber talk, let's get back to what actually makes me happy. Good food or in this case, some creamy Lemon cream bars :)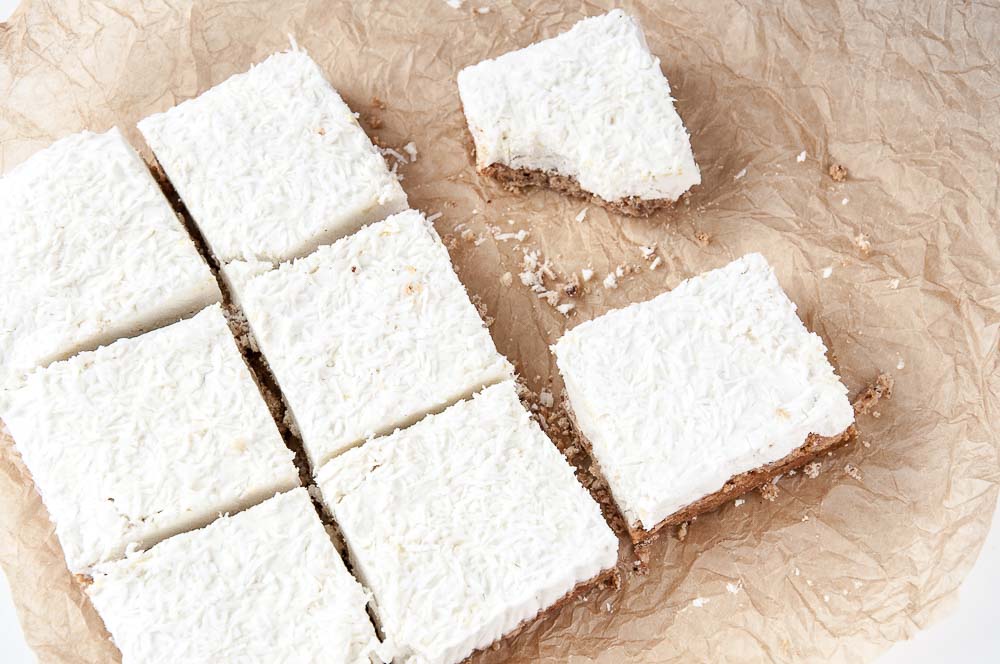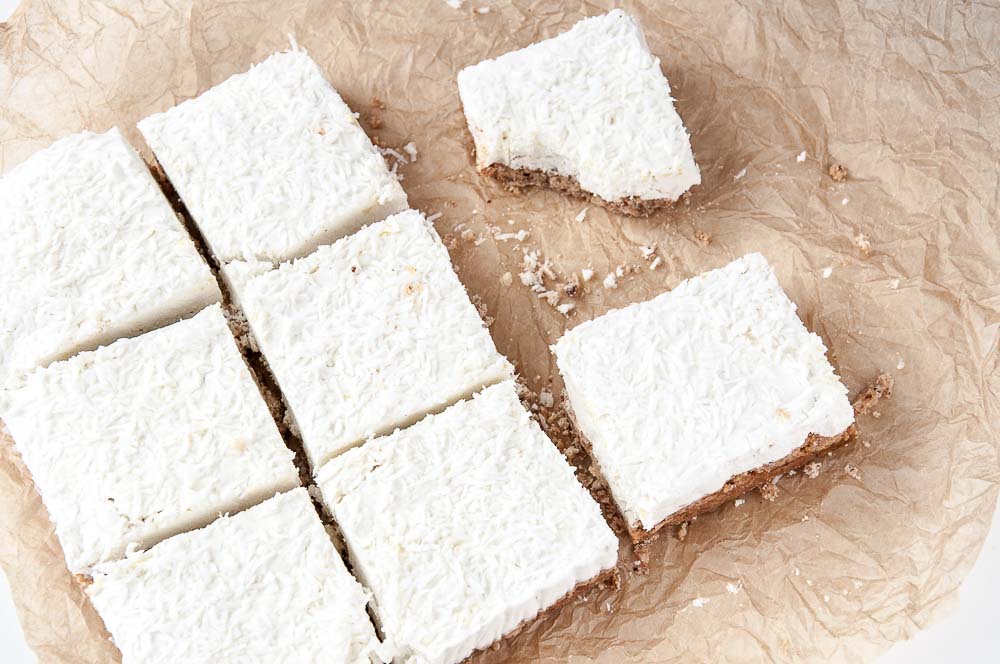 When I first thought about making these I really wanted to make plain vegan lemon bars. I made them once and realized that I really wasn't all that into that gooey sugar lemon filling, that tastes like it should have stayed in the oven for at least 30 minutes longer, at all. So I scratched trying to make a healthier version of that and just opted for these lemon cream bars.
They turned out way better than I anticipated and the great part about it was there were no cashews!! Plus with only 7 ingredients, they're pretty hard to beat.
I first thought about making these bars with a softer, raw vegan crust like the kind I use for my vegan cheesecake recipes but my husband complained last time that he wanted something crisp. So I made super easy coconut flour, coconut oil, and almond crust.
When you mix the coconut flour with the melted coconut oil, it turns into the texture of peanut butter. I could have spread that on my toast but I reaaaallly wanted to make the lemon cream bars instead :D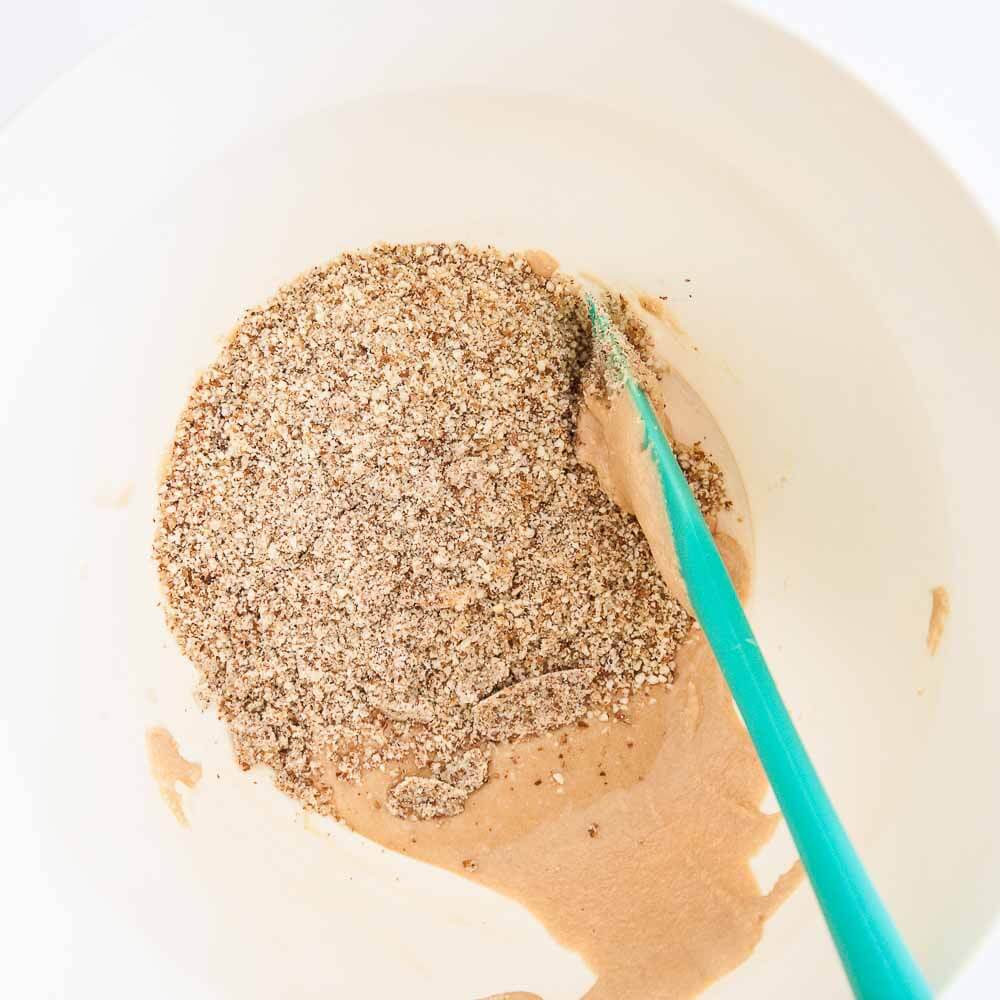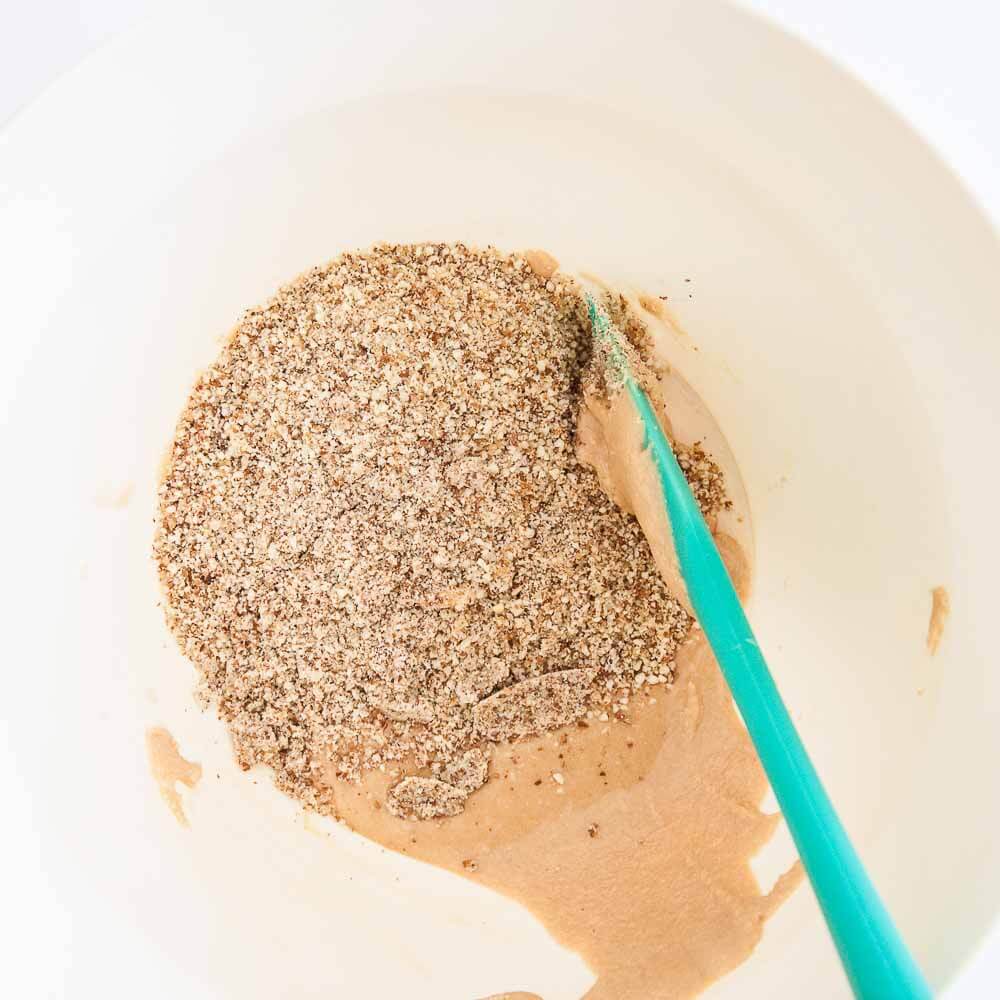 Mix it with some ground-up almonds and press it into a lined pan.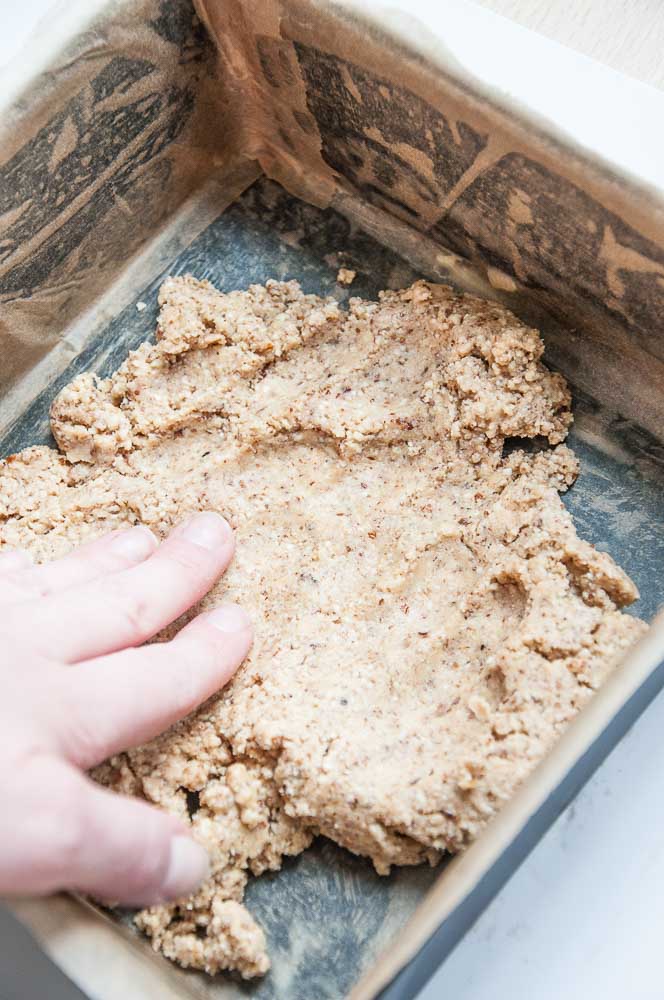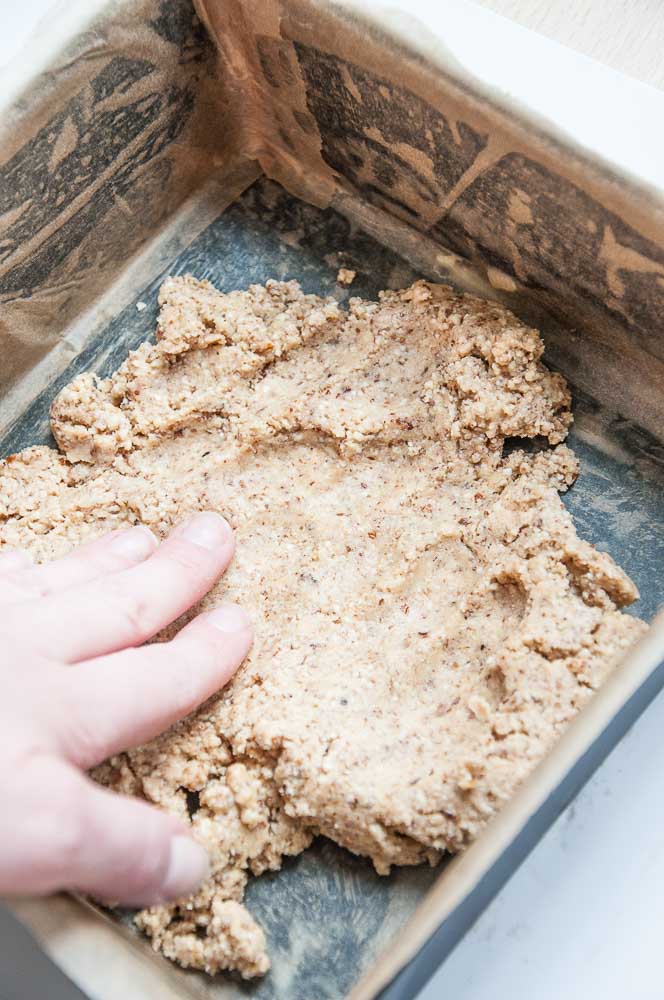 Bake it until the edges of the coconut flour crust turn are browned just a bit. Don't worry! You definitely can make this raw vegan though! Just skip the whole baking part and leave the crust as is!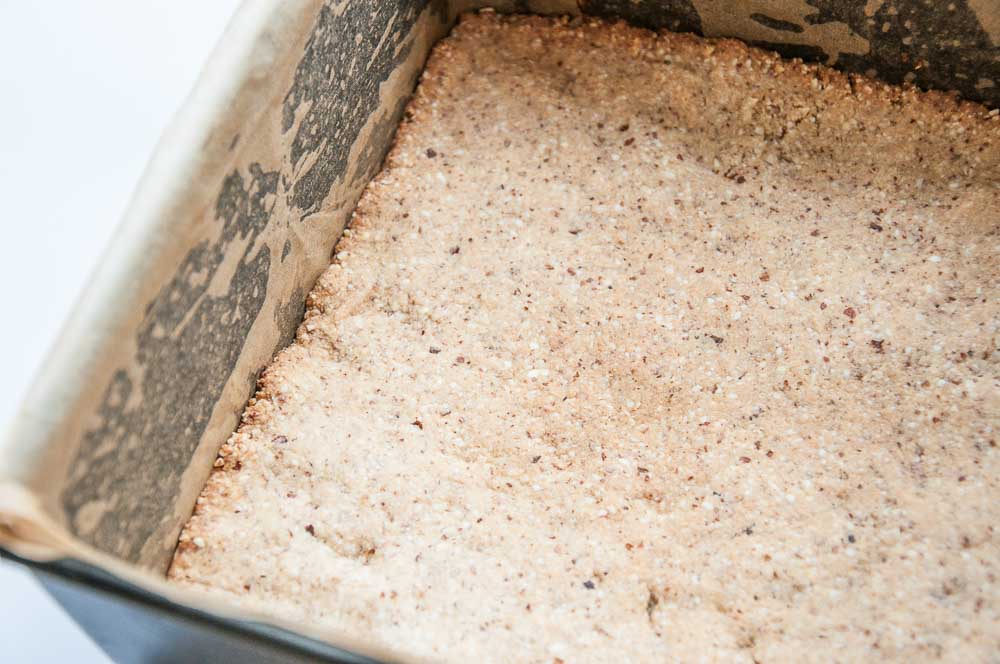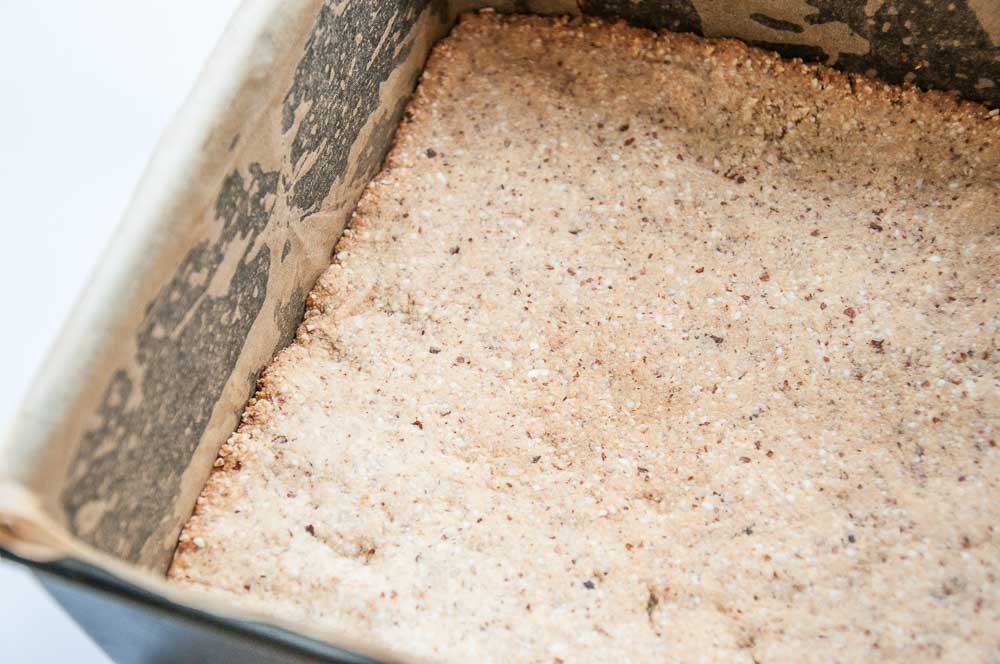 The filling is super easy. Nothing too complicated about that. Make sure to taste the filling before pouring it over the crust. You can add agave or maple syrup to sweeten it up a bit (I actually like it without) or add more lemon zest or juice to make it a bit more tart.
Pour it over the crust and press some shredded coconut on top. The shredded coconut is definitely optional but I think it adds a really nice texture to it.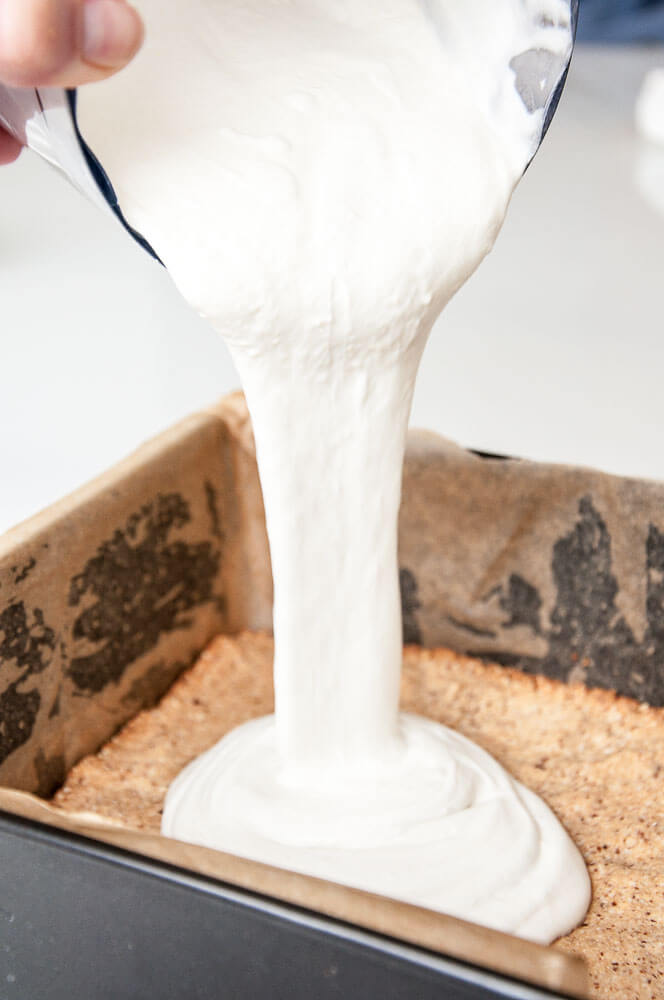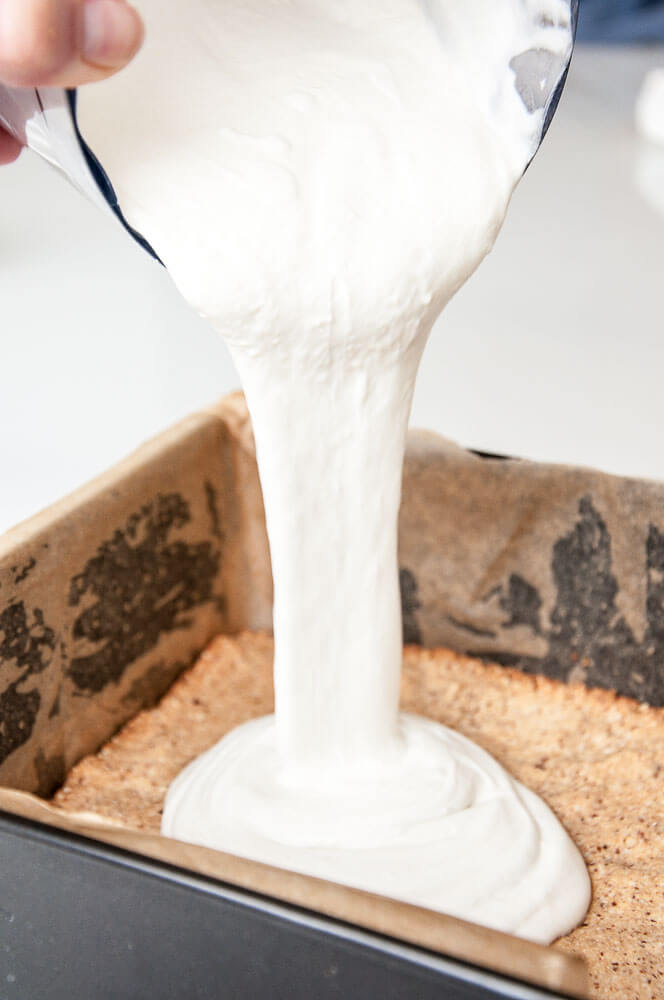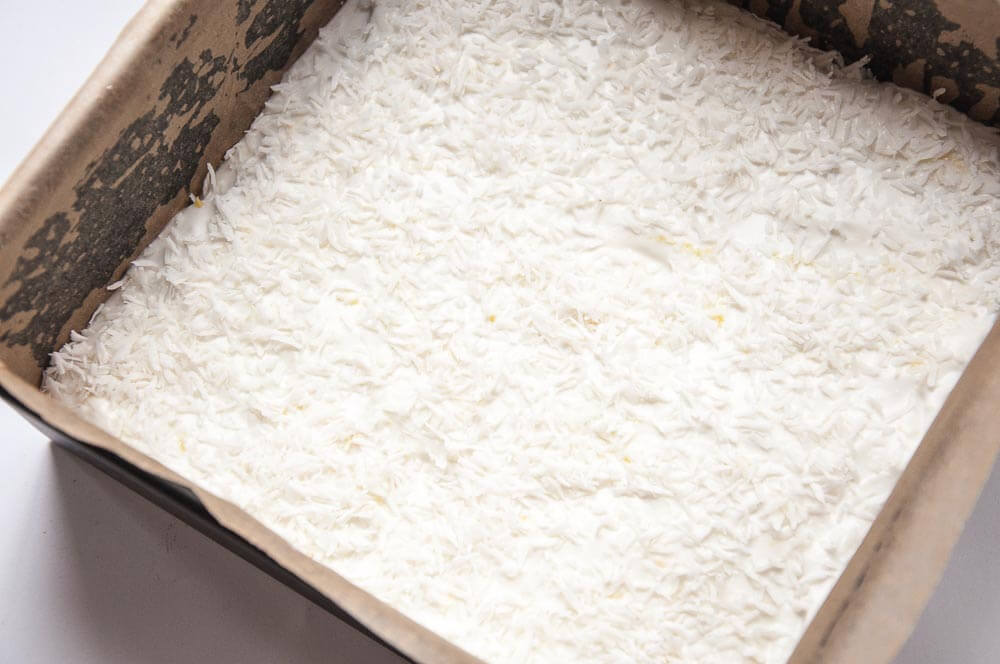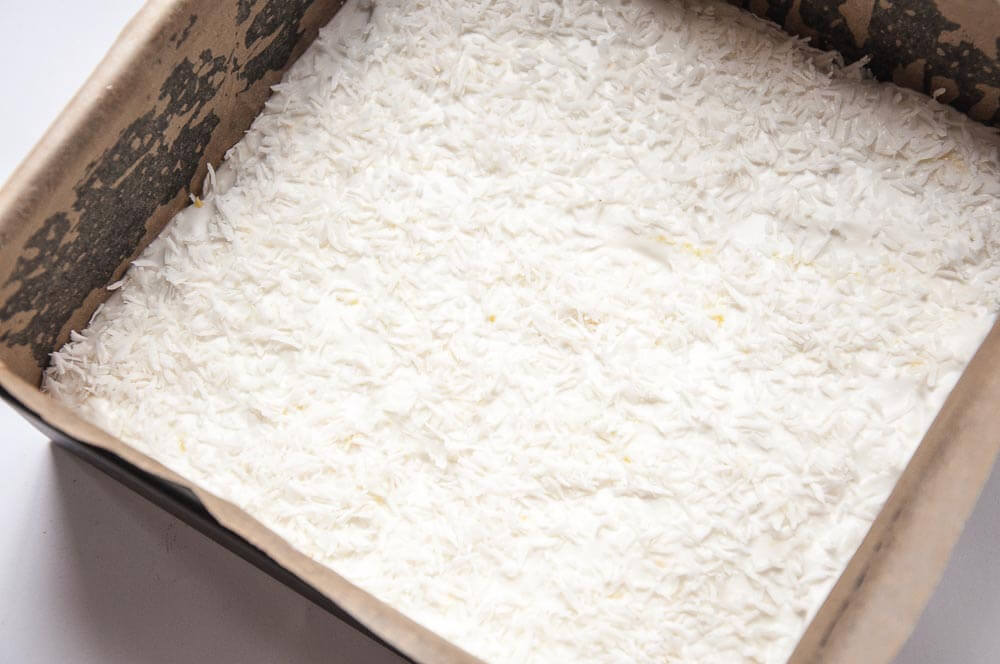 Now you want to freeze it. Just long enough though until the filling is nice and firm so that you can easily remove these bars from the pan.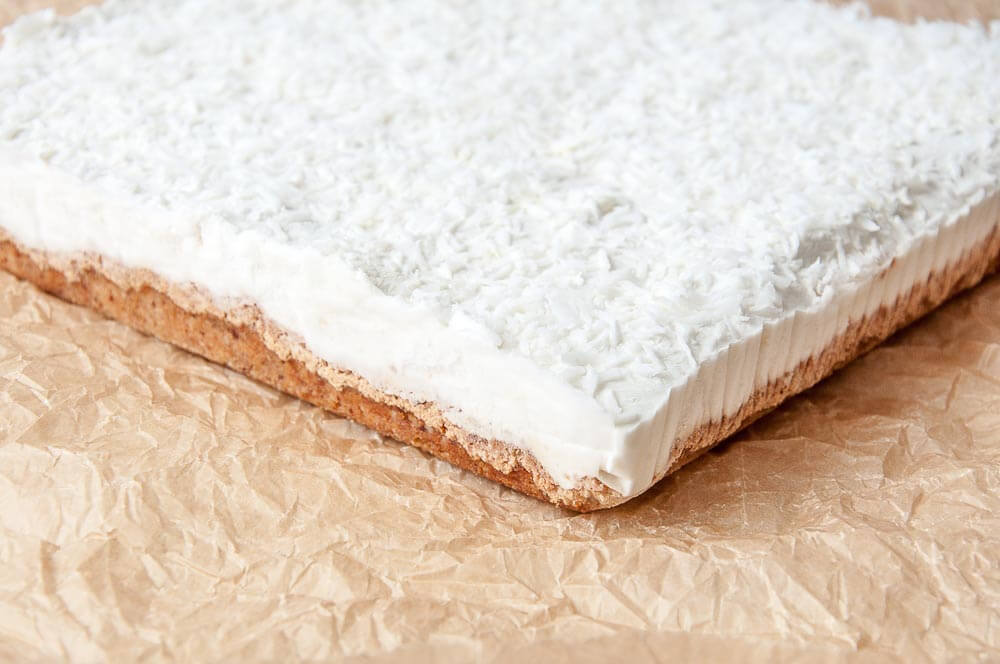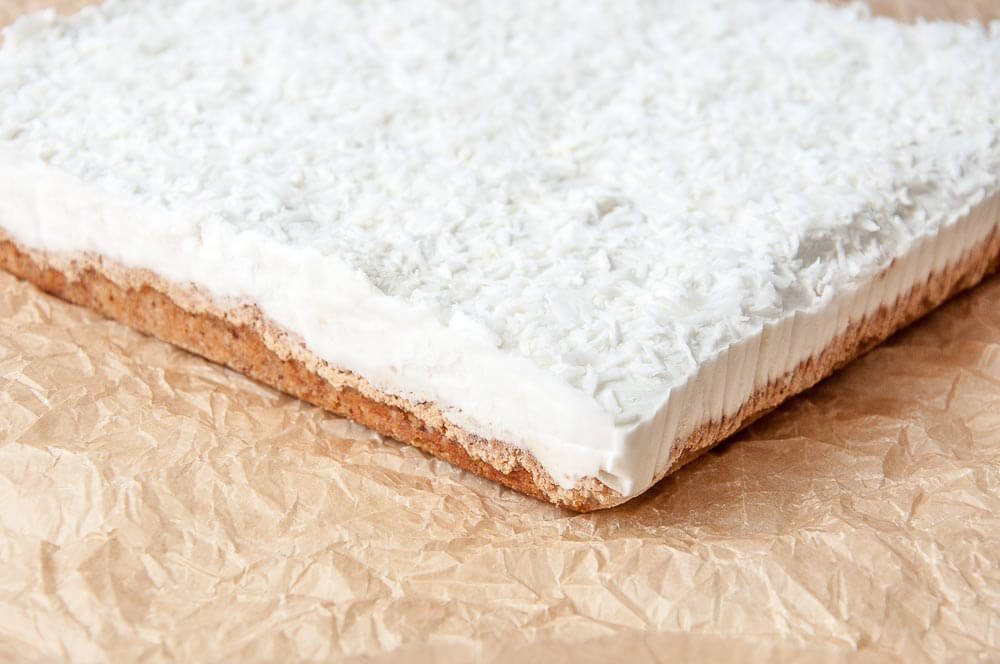 You'll get a nice, nearly frozen lemon cream bar block like that above. You'll see that the parchment paper left some lines on the side but once it thaws in the fridge it can easily be smoothed out again.
To make sure that the crust doesn't get soggy. You'll want to let the bars thaw in the fridge. Depending on how well you froze them and how warm your fridge is, this can take anywhere from an hour to 5 hours. Once it's slightly thawed you can cut it into squares or rectangles....whatever your little heart desires :D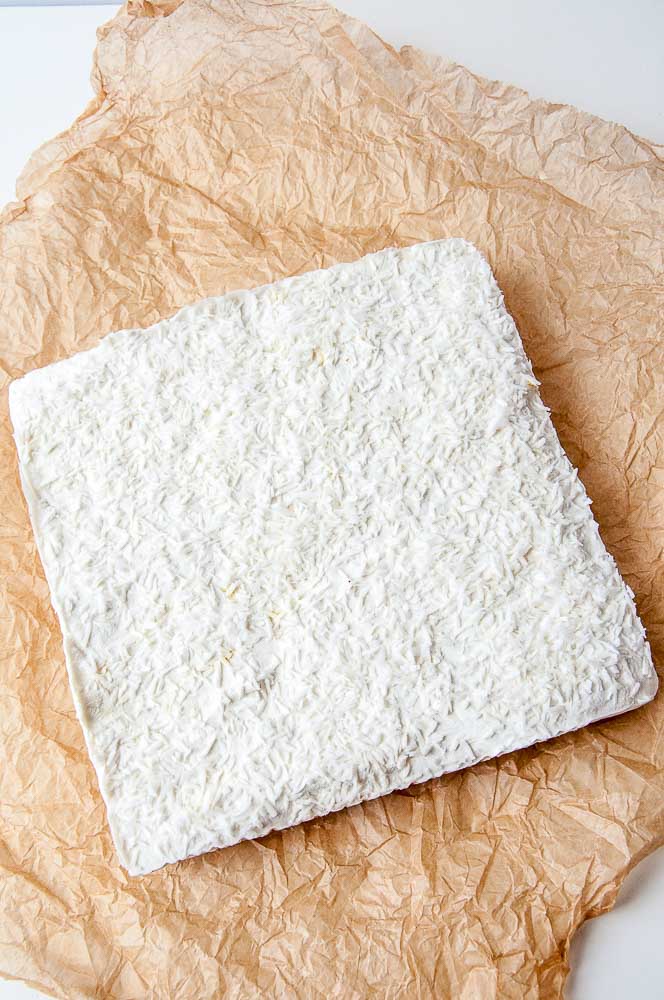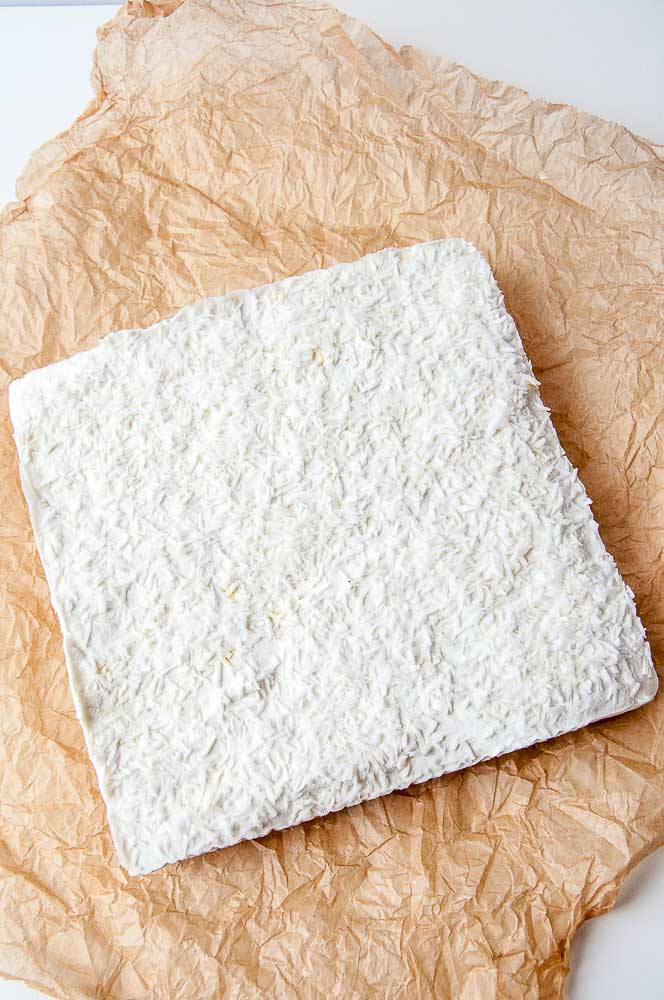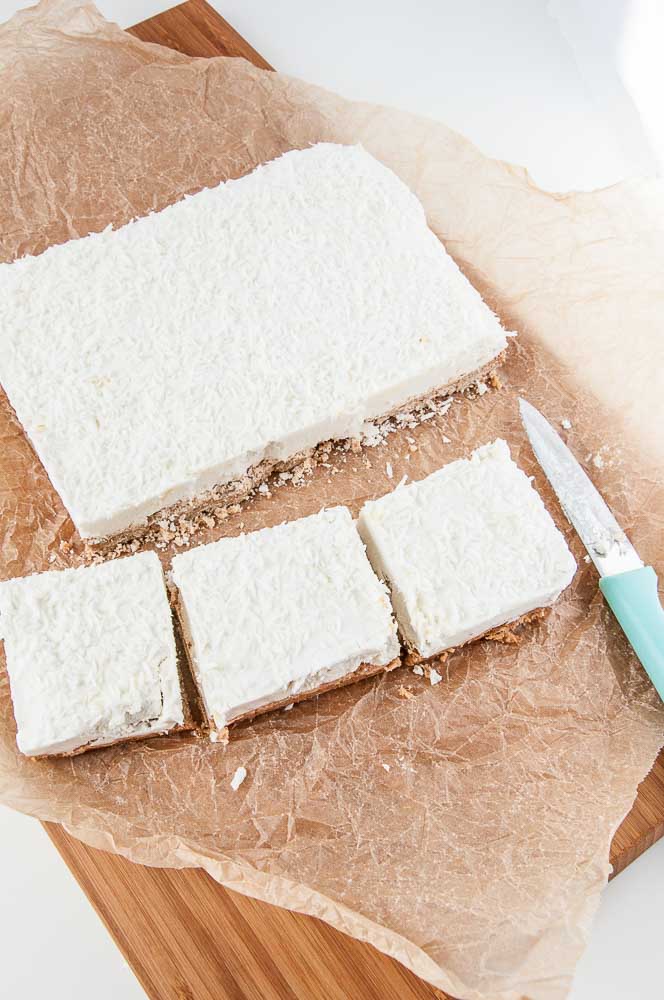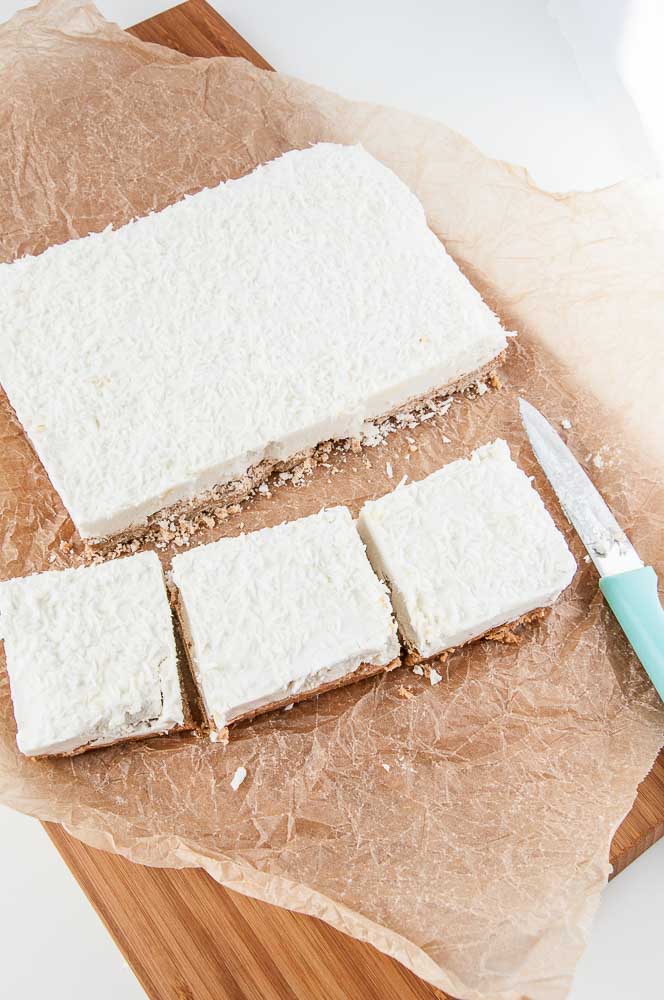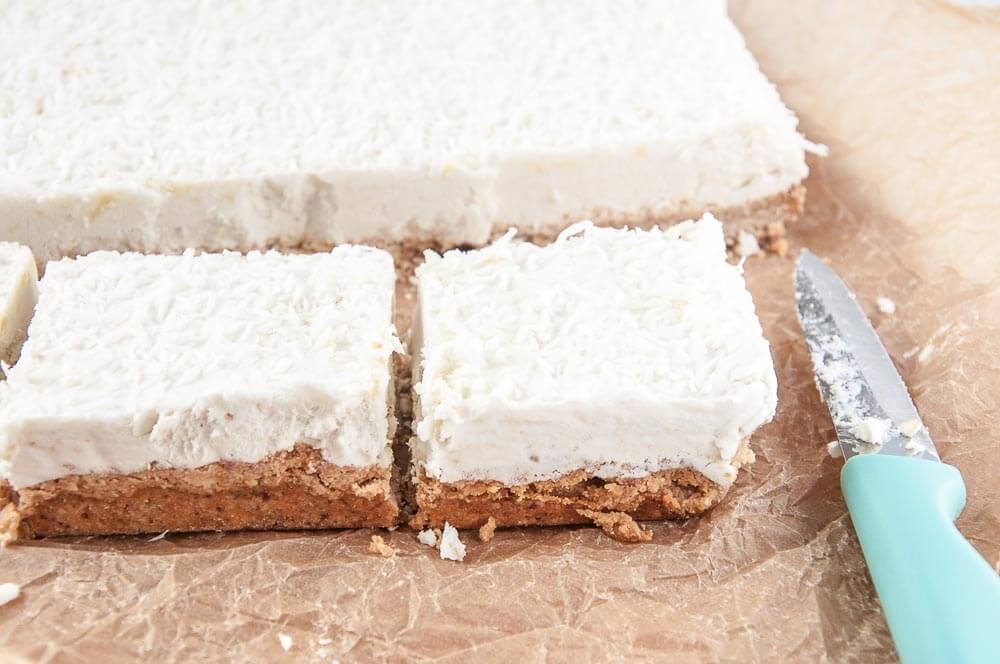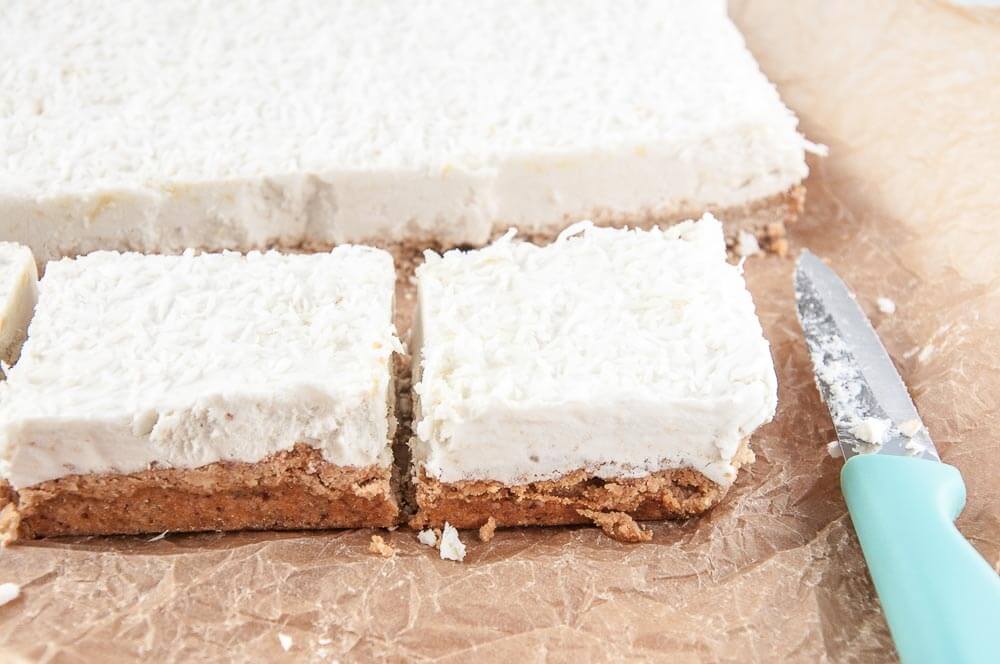 The best part is eating it. They taste like summer and are creamy without feeling heavy.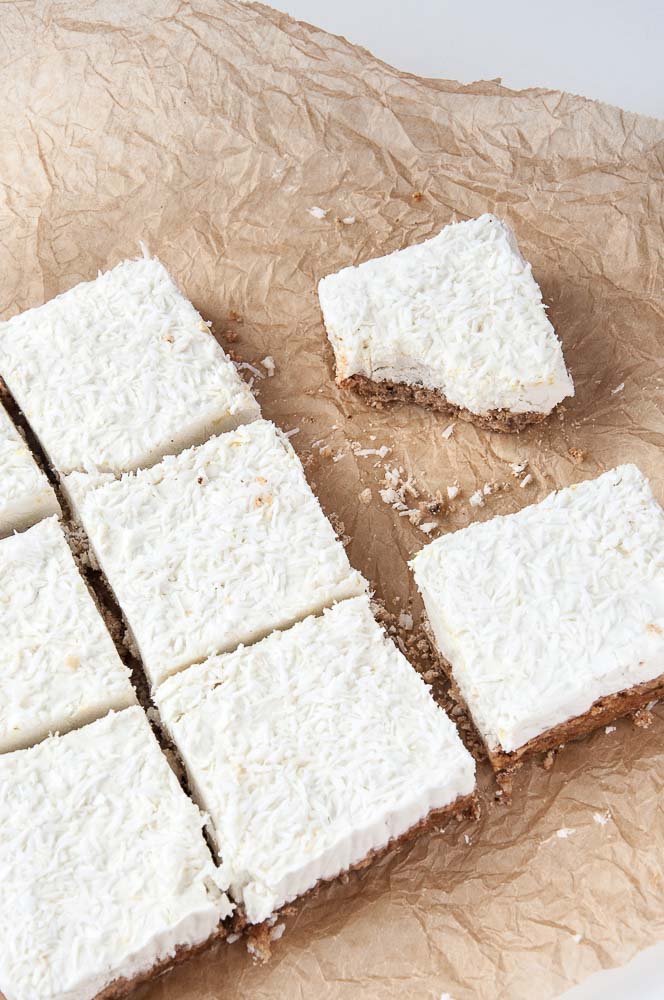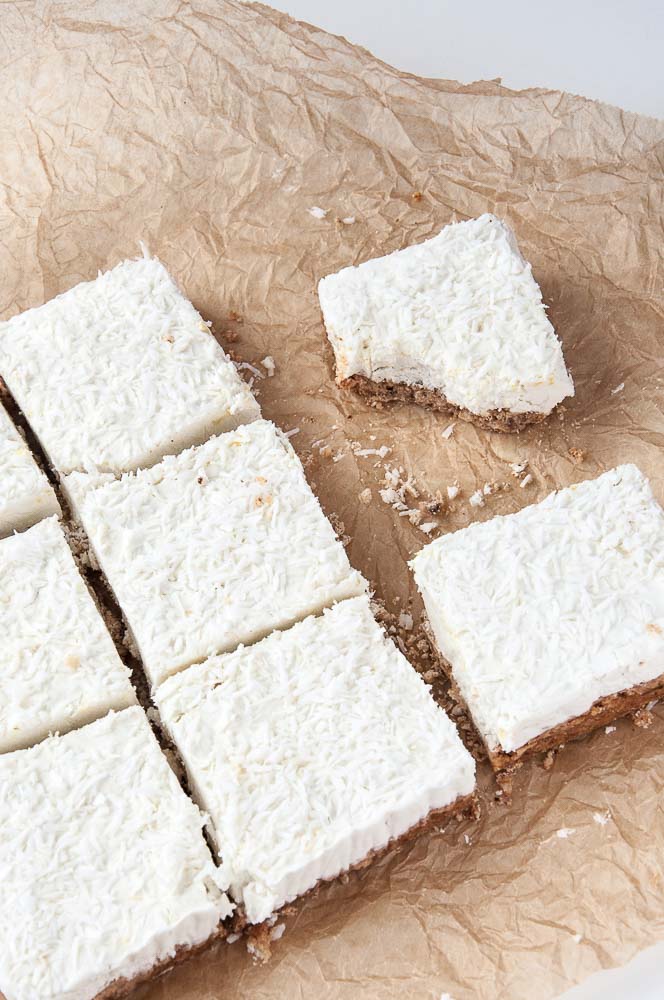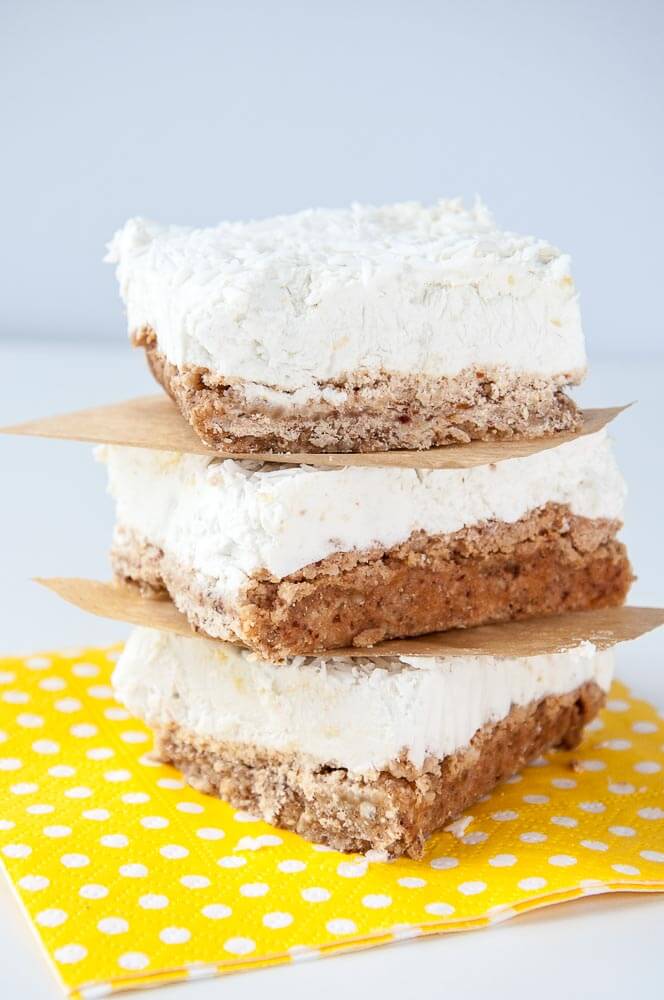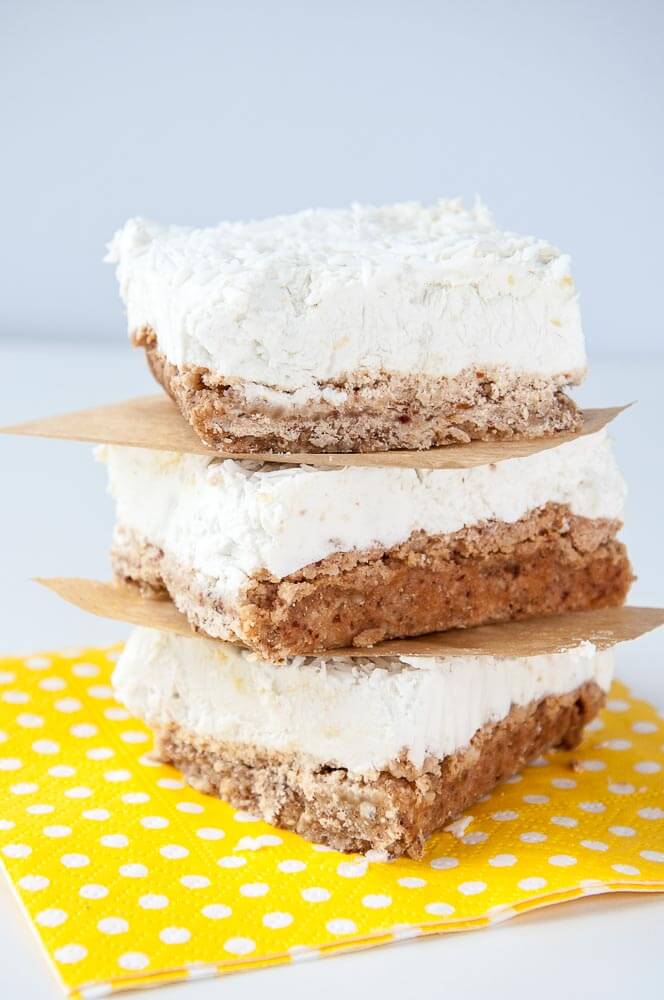 These are also super freezer friendly (see the notes in the recipe). They're great if you freeze them and then take them to a summer party. By the time you arrive, the lemon cream bars will have thawed just enough and be ready to serve.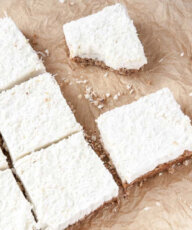 Lemon Cream Bars
This clean eating, lemony,treat is perfect for summer. Crisp coconut crust with a creamy coconut lemon filling. Plus a Raw vegan option!
Ingredients
Crust
6

tablespoon

Coconut Oil

melted, 65g

½

cup

Almonds

raw, 70g

1

Medjool Date
Lemon Coconut Filling
2

cups

Coconut Cream

400g (See Notes)

3

teaspoon

Lemon Zest

5g

¼

cup

Lemon Juice

fresh, 60ml

1 - 2

tablespoon

Maple Syrup

or Agave, optional

¼

cup

Coconut

shredded, optional
Instructions
Preheat oven to 350F (175C) and line a 8x8 inch pan with parchment paper.

In a food processor pulse the almonds and date until they are finely chopped. Don't pulse too long or you will end up with almond butter.

In a medium mixing bowl combine the coconut flour with the coconut oil until a smooth paste forms. Stir in the chopped almonds and press into the base of the prepared pan.

Bake crust in the oven for roughly 8 minutes or until the edges have browned.

Remove pan from the oven and allow to cool.

Meanwhile, add coconut cream, lemon zest, lemon juice, and optionally the maple syrup to the food processor or mixing bowl. Process or mix until smooth. Taste the filling and add more maple syrup or lemon juice if needed to get the desired tart/sweetness.

Pour filling in the pan, over the crust. Spread the filling evenly across the pan. Sprinkle shredded coconut on top and lightly press into the filling.

Place pan in the freezer for roughly an hour until filling has set completely. Carefully remove the bars from the pan, place on a different plate and set in fridge. Allow bars to slightly thaw in the fridge before attempting to cut them.

Store bars in the fridge and eat within 5 days.
Recipe Notes
1) Lemon cream bars are also freezer friendly. Store them in the freezer for up to a month. Try not to thaw and refreeze these bars too often. 2) Coconut Cream can be bought or can easily be obtained from 2 cans of coconut milk. Place coconut milk towards the back of the fridge overnight. Carefully open the can and you will notice the coconut cream will have separated from the coconut water. Scoop out this hard white cream and use it for this recipe. 3) To make this recipe raw vegan, skip baking the crust in the oven. Simply make the crust as described and pour the filling over it. The crust won't be crisp but more like that of my other vegan cheesecakes.
Looking for a different lemon recipe instead? Try my Raspberry Lemon Swirl Pie or Lemon Loaf Recipe!
Go ahead and also check out some of my other recipes!