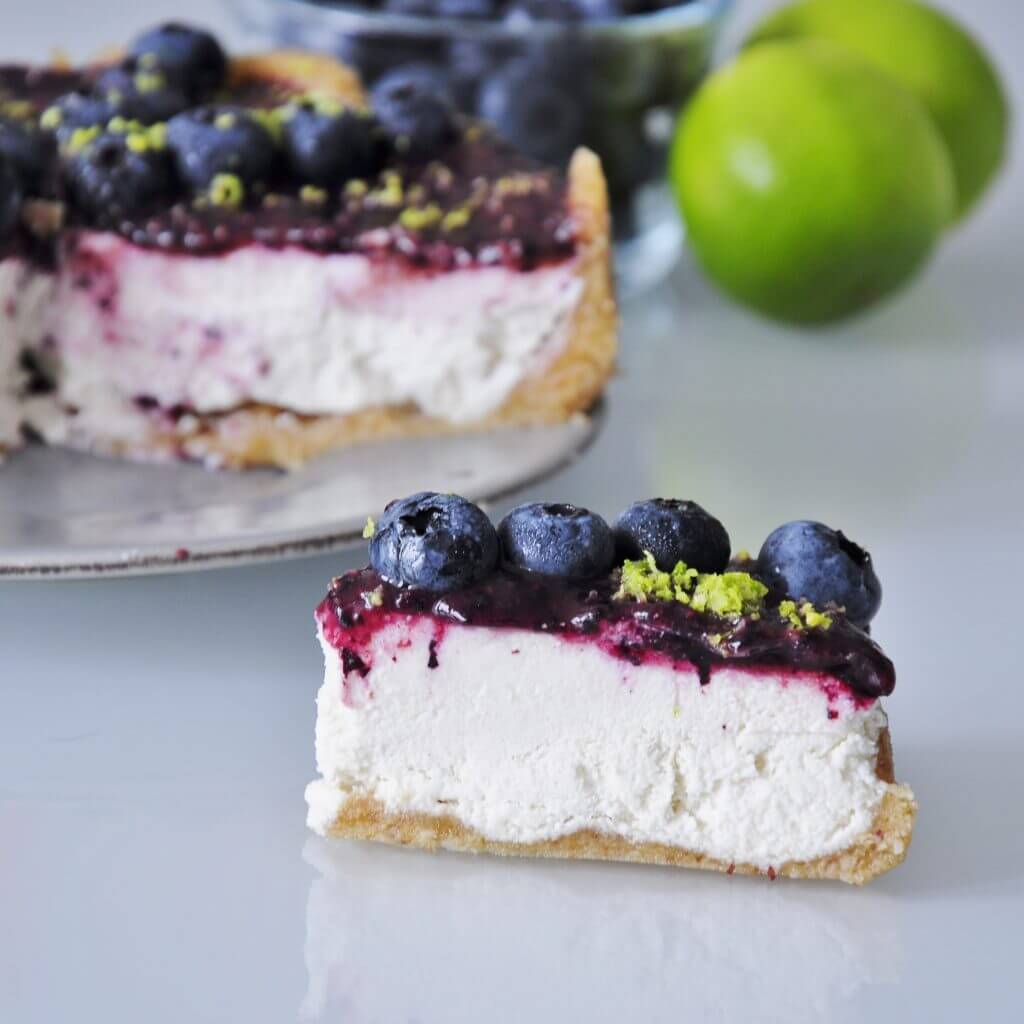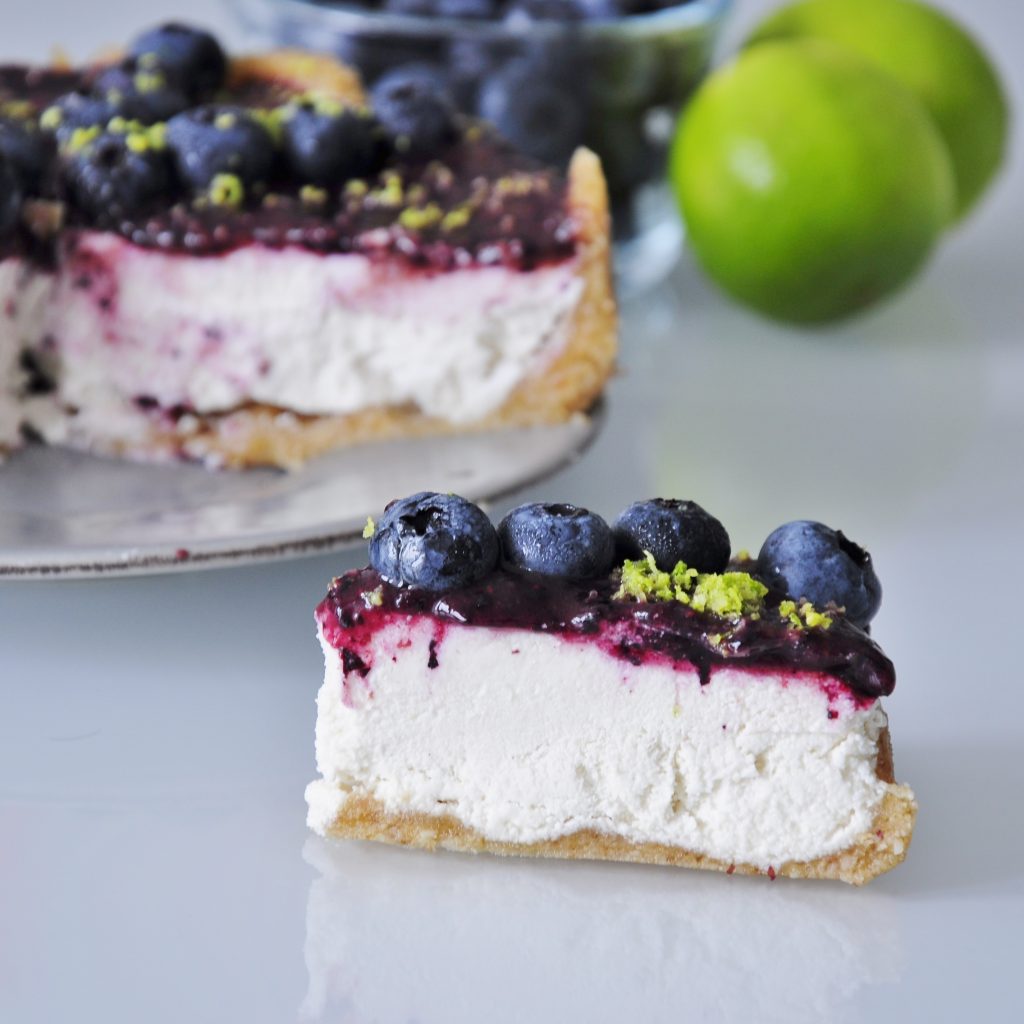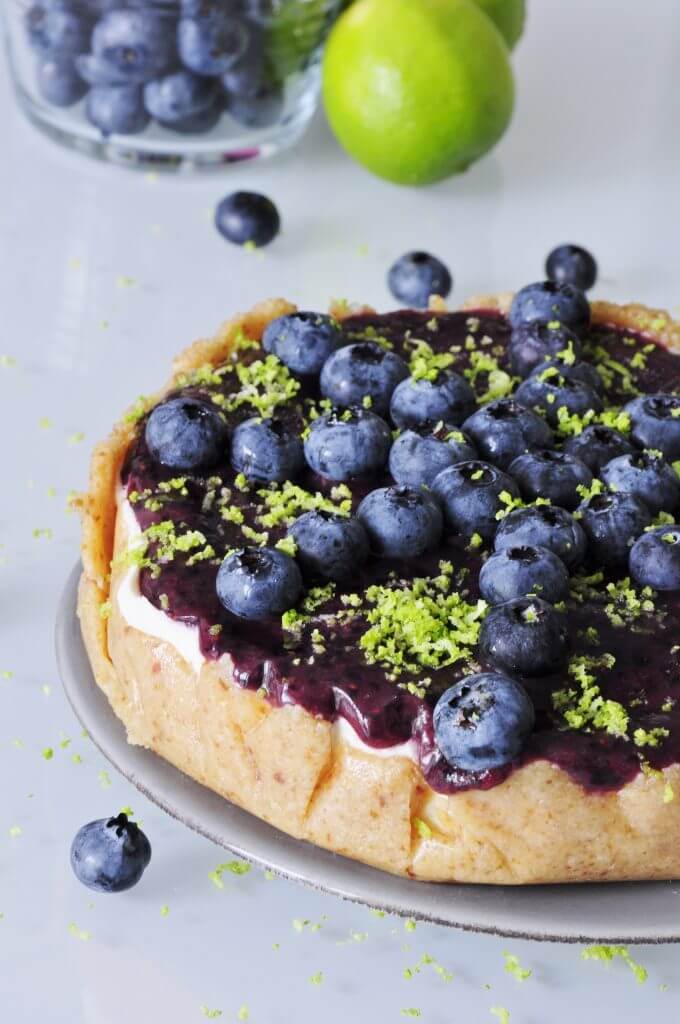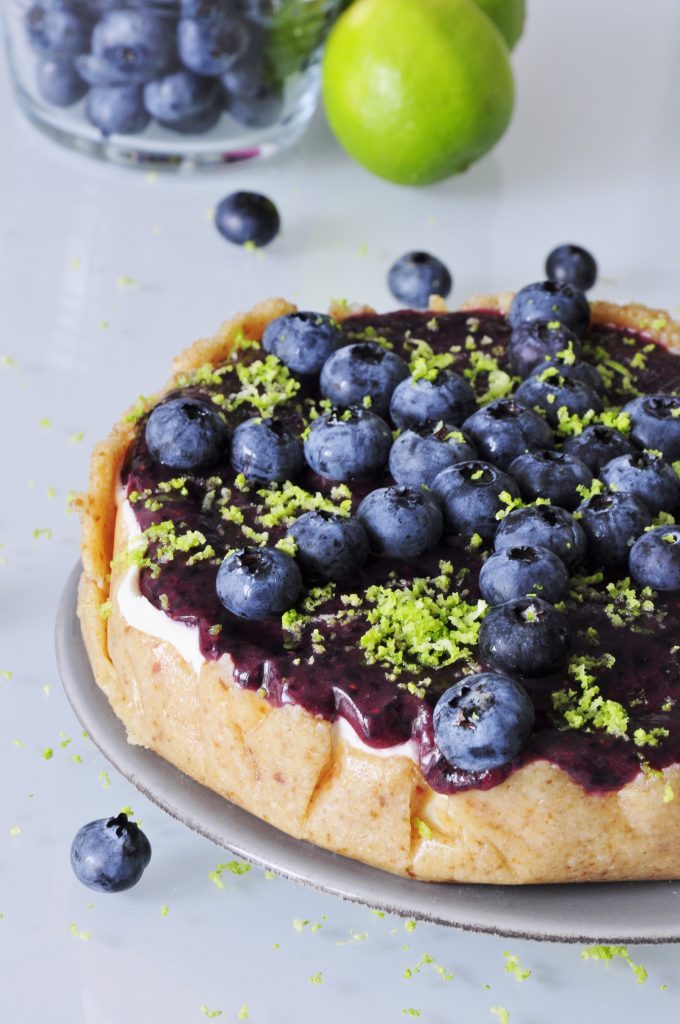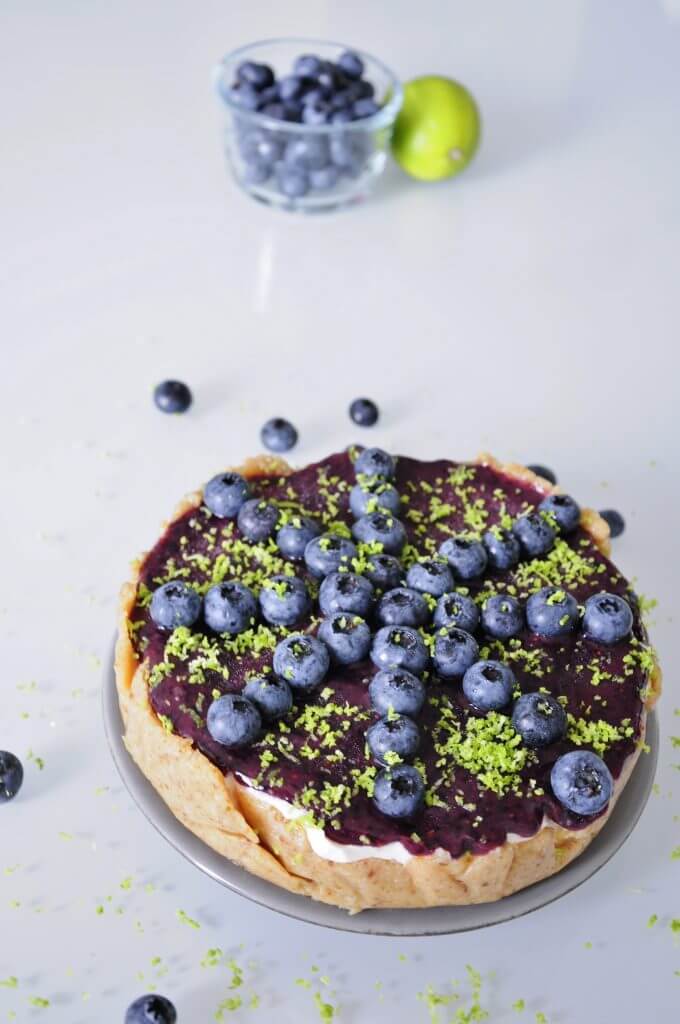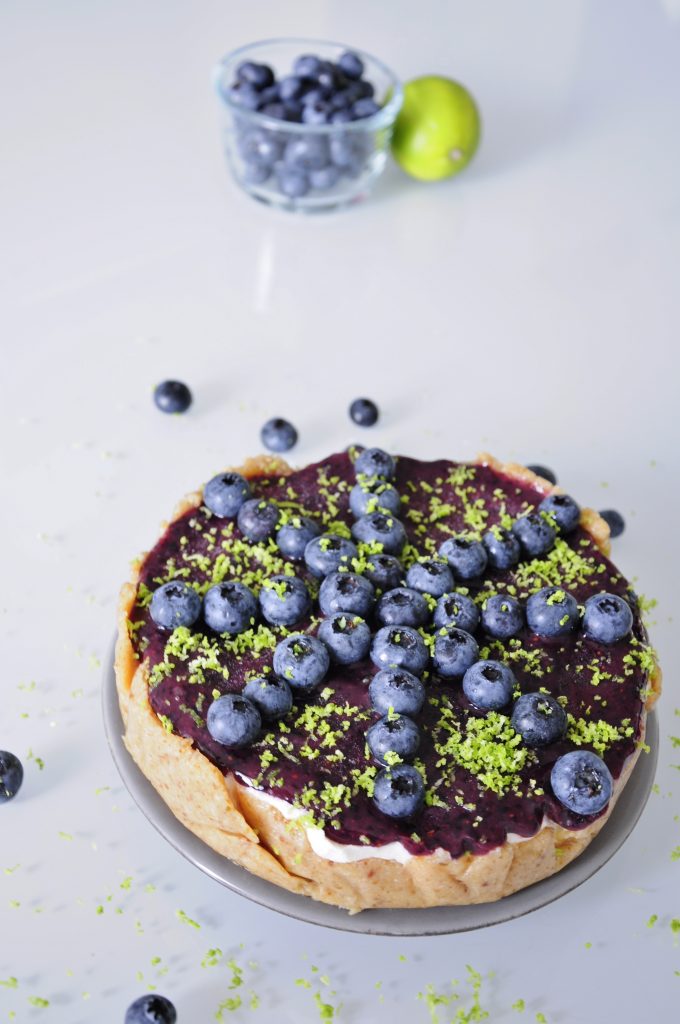 I just realized that I have added some form of fruit to all of my past 7 posts. Who can blame me though? It's summer and fruit is sweet without having to add sugar. This Vegan Blueberry Cheesecake is no different.
It is actually very similar to my Raspberry Lemon Cheesecake. However, this time instead of swirling in the raspberries I made a blueberry glaze on top. I also nixed the powdered sugar from this recipe :) This vegan cheesecake recipe also only has 8 ingredients! How amazing is that? I can't call it healthy but what the hell, it's straight up delicious!
One of the best parts of this vegan cheesecake is the macadamia nut crust. It's really easy and straightforward. Just toss macadamia nuts, dates, and a pinch of salt in your food processor and blend.
Depending on the strength of your food processor you can process all three ingredients at once, otherwise I suggest pulsing the nuts first and then adding the dates. I then like to use my fingers to press the macadamia crust mixture into a springform. If you don't care about removing the cheesecake from a form then you can also just use a regular pie form.


The filling can't really get much easier either. Only 4 ingredients and you are good to go. I used key limes for this pie and needed 2 for 4 tablespoons of lime juice. It will really depend on the size of your limes. I also made sure to use organic untreated key limes because I was also wanted to use some lime zest for garnish. Conventional limes you find at your grocery store are really not suited for zesting since they are covered in wax as well as pesticides. Nothing like making a delicious vegan cheesecake and then covering it with wax zest with a hint of lime.


The blueberry topping is made with just 2 ingredients: blueberries and dates. Blend and pour over your filling and you are done! Well, almost...you will need to leave it in the fridge for at least 4 hours until it firms up. You can also put it in the freezer to speed this up but I find that it takes almost just as long for it to thaw.


You can leave the blueberry lime cheesecake as is or top it with fresh blueberries and lime zest for one spectacular vegan cheesecake that even non-vegans will swoon over. Did I mention that it is deliciously creamy and tastes like summer? Are you still sitting there staring at the screen? Why aren't you making this yet? Get to it!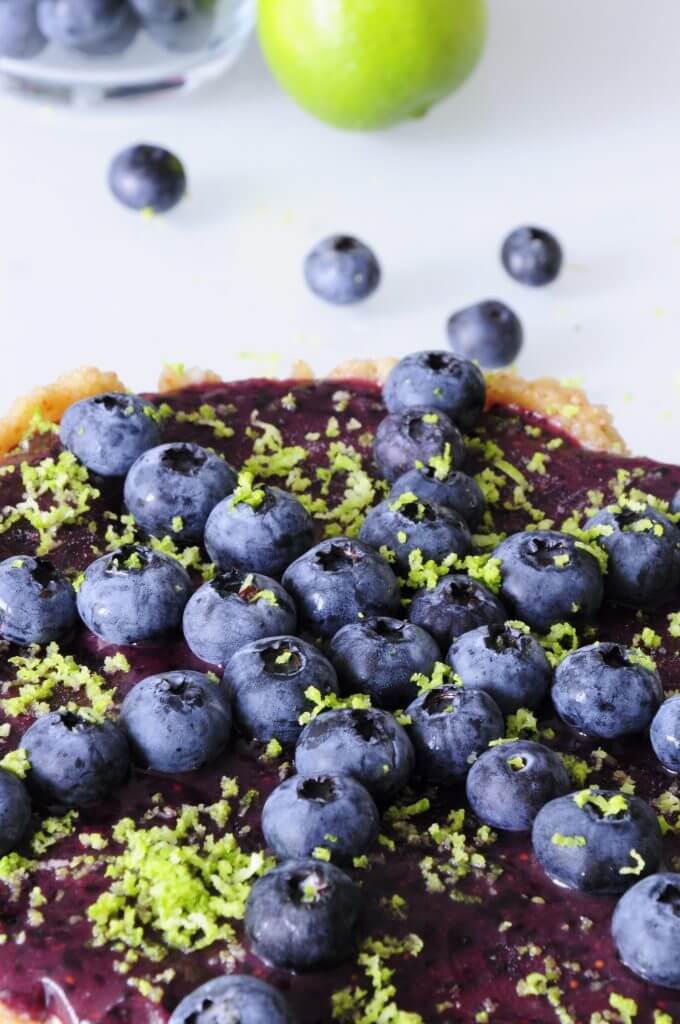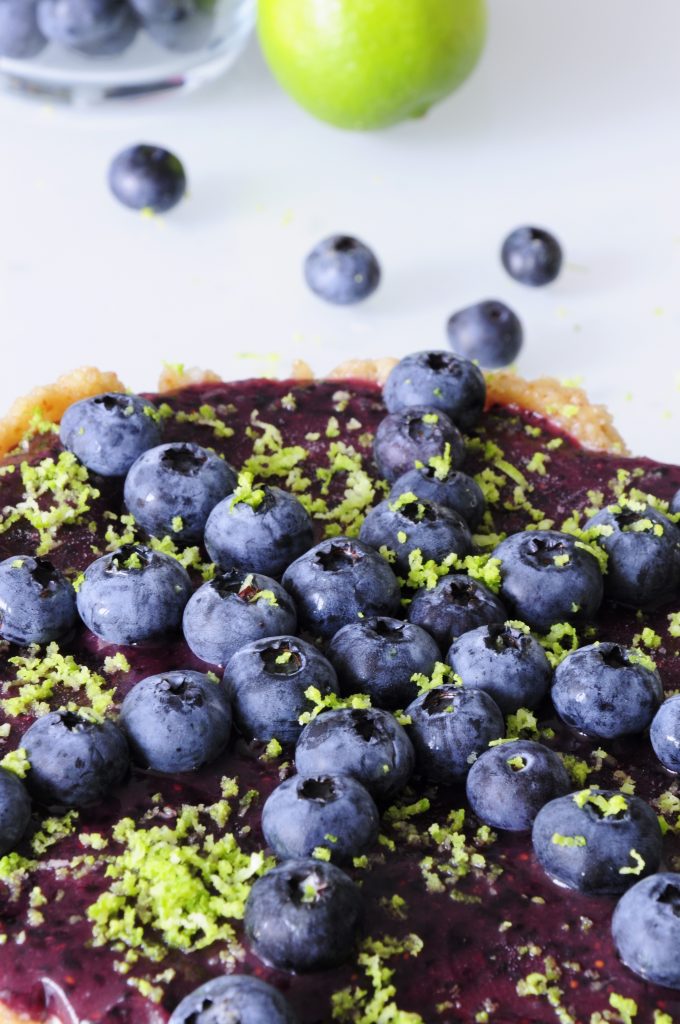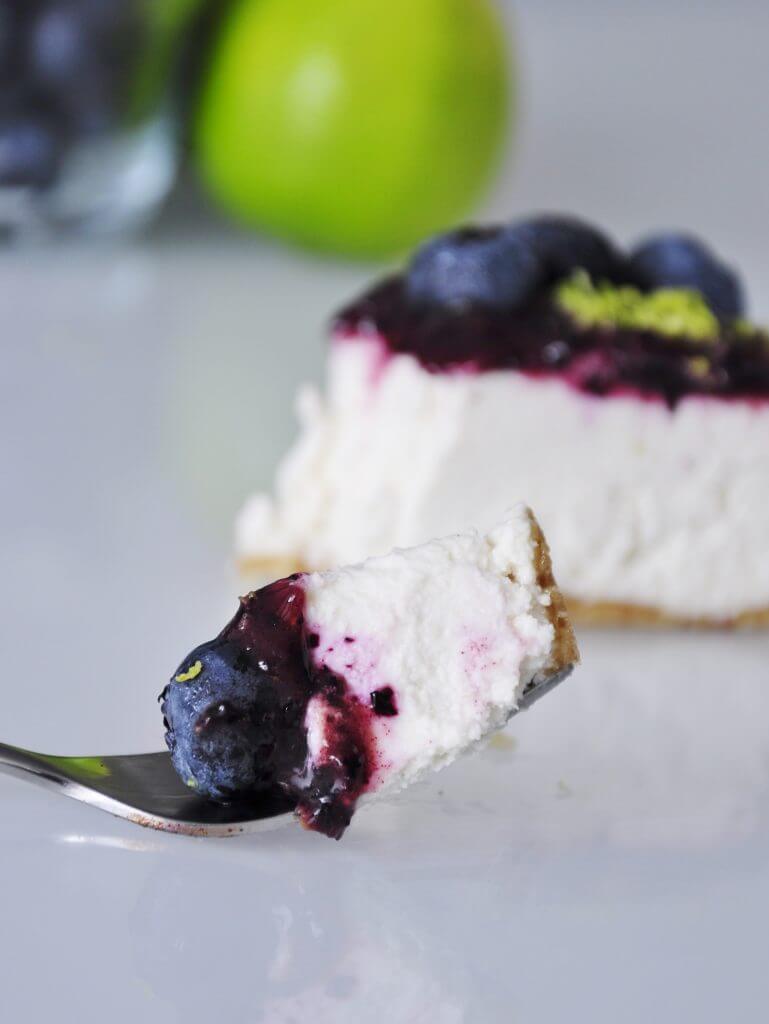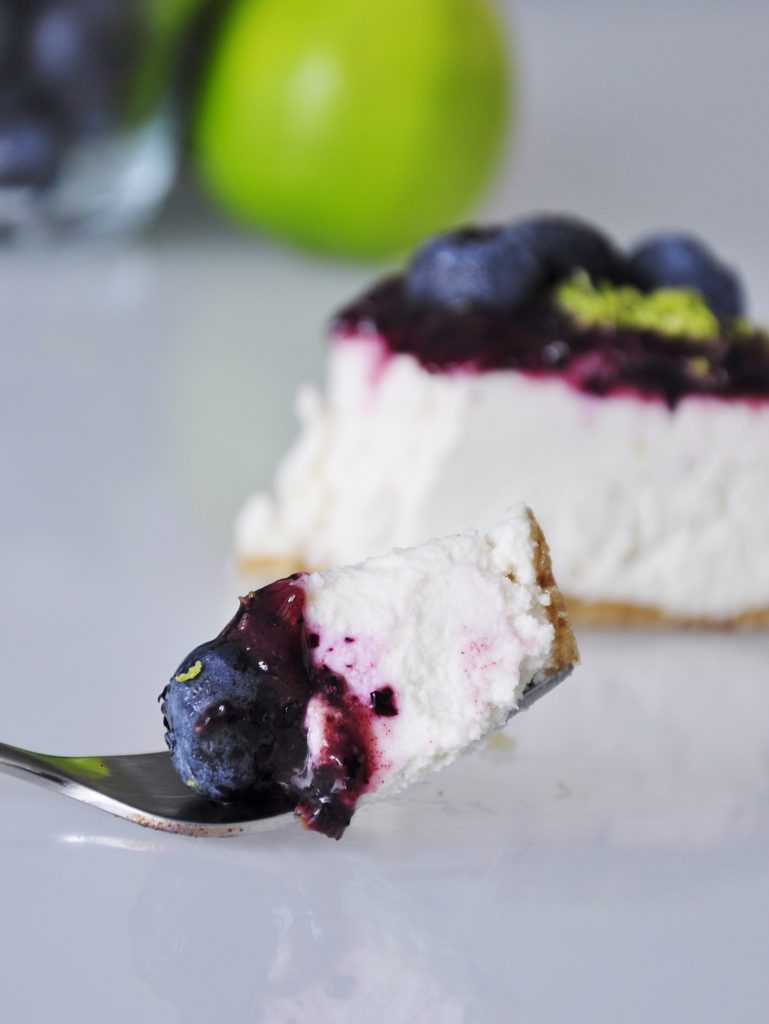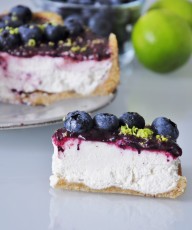 Vegan Blueberry Cheesecake with Lime
A vegan cheesecake perfect for the summertime. Cool, refreshing and easy to make!
Ingredients
4

Medjool Dates

1

cup

Macadamia Nuts

raw, unsalted

Pinch

of Salt

2

cups

Coconut Cream

see notes

⅔

of a cup Cashews

soaked in water for 10-15 minutes

4

tablespoons

Fresh Lime Juice

2

tablespoons

Maple Syrup

2

Medjool Dates

1

cup

fresh Blueberries

1

teaspoon

Lime Zest

optional

½

cup

fresh Blueberries

optional
Instructions
Line a 7 inch springform with parchment paper.

Place macadamia nuts, 4 dates and pinch of salt in food processor and pulse until a sticky mass forms.

Press macadamia crust into bottom of springform and half way up the sides using fingers. place in freezer while you prepare the filling.

Clean out food processor and place coconut cream, cashews, lime juice, and maple syrup in it. Pulse and process until mixture is smooth.

Remove springform from freezer and pour lemon cheesecake filling into the springform. Place springform in freezer again until filling in slightly firm (about 10 minutes).

Clean out food processor again and place blueberries and 2 dates in it. Pulse again until smooth (blueberry skin will still be present, this is OK). Carefully spread blueberry topping over filling in the springform.

Place in refrigerator for at least 4 hours or overnight until filling is firm.

When cheesecake is firm and ready to serve garnish with fresh blueberries and lime zest.
Recipe Notes
1) Cashews can be soaked in water for 10-15 minutes first to make filling extra smooth. Make sure to dry off excess water from them before placing them in food processor. 2) The cheesecake recipe calls for 2 cups Coconut cream. This can be store bought coconut cream. Alternatively, you can place 2 cans of coconut milk in the refrigerator for at least 2 hours, then scoop the thick creamy part out of the can. Depending on the coconut milk brand, either 1 or 2 cans of coconut milk will yield 2 cups coconut cream.3) Blueberry lime cheesecake can also be placed in the freezer to help firm the filling up quickly. I find that it takes a long time for it to thaw to the point of the cheesecake being nice and smooth. However, if you are planning on transporting the cheesecake then having it frozen works wonders. 4) Cheesecake will keep in refrigerator for up to 4 days.5) Crust can easily be made with other nuts as well. Almonds, hazelnuts, and walnuts work well.