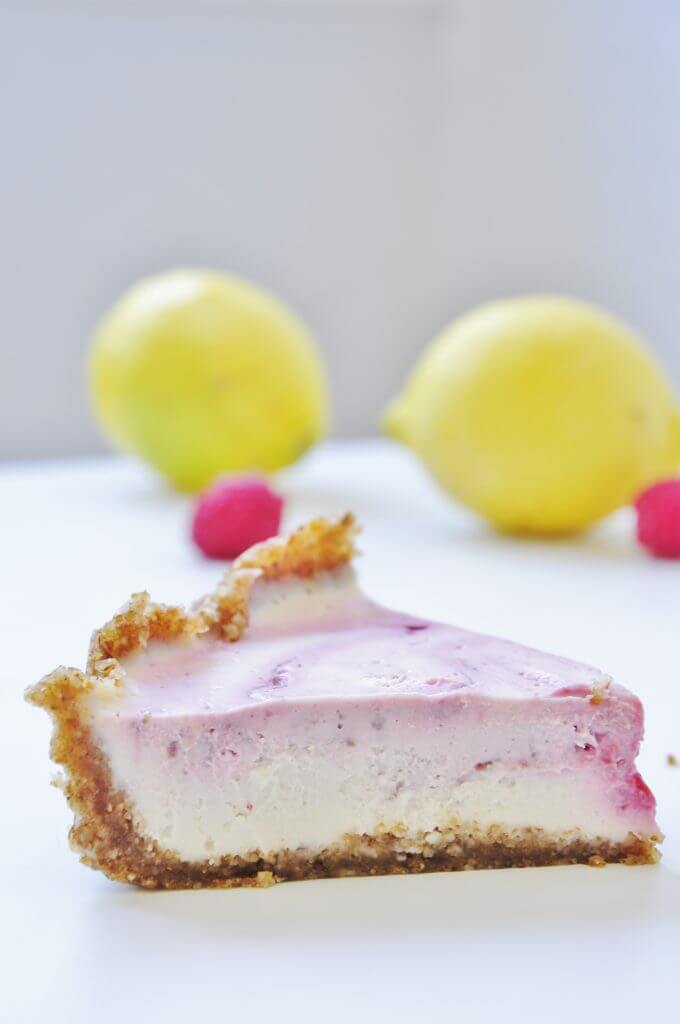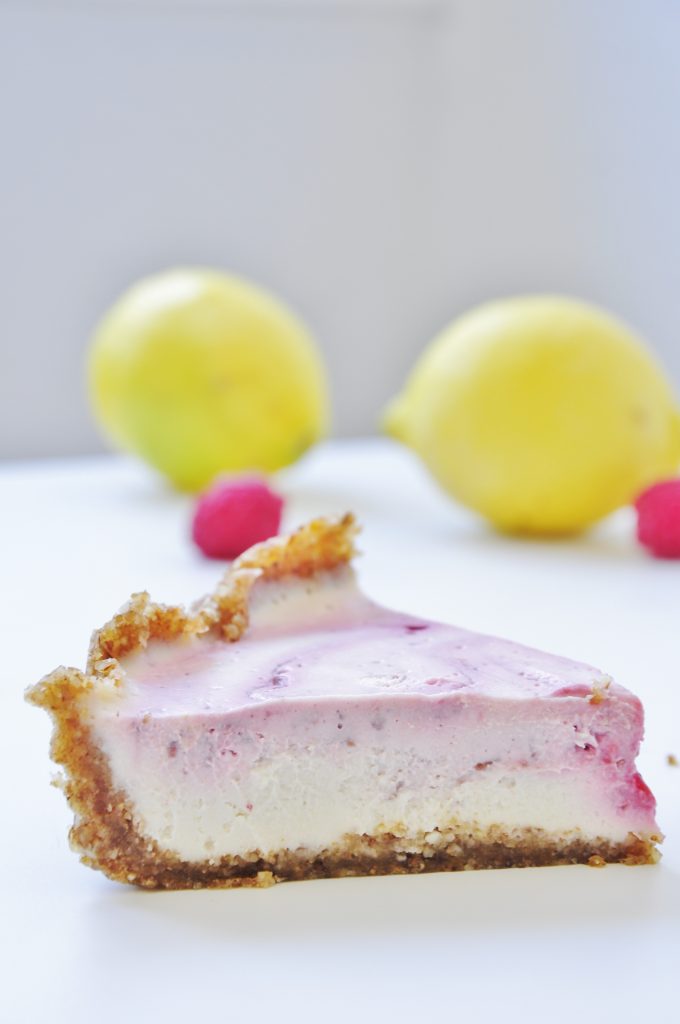 If you haven't had the pleasure of eating a vegan cheesecake you are missing out. Worse yet, if you haven't had the pleasure of having a vegan lemon cheesecake with raspberry swirl, you haven't lived!
This vegan cheesecake is so great to make all year around but in the summer it's out-of-this-world good! If you don't have to bake when it's in the 90's out, it's an automatic win.
I tried to keep this vegan raspberry lemon cheesecake simple. Even the delicious hazelnut crust only has 2 ingredients plus a pinch of salt. Just pulse the dates and hazelnuts until you get this nice sticky mixture. I then pressed the hazelnut crust mixture into a 7 inch springform. The great thing is, you don't need a 7 inch springform. The smaller the form, the deeper the cheesecake will be. The deeper the vegan cheesecake, the longer it will take for the filling to firm up in the fridge.


Next, I made the lemon filling. Again, I used the food processor to blend the lemon mixture until it was smooth. You can soak your cashews for 15 minutes before hand to make the filling extra smooth but if your food processor is powerful enough, it's really not necessary.


Next up: Raspberries and powdered sugar. Yum! Blend and then swirl into the filling using a fork. Don't pour all the raspberry mixture into the filling at once. You don't want a big blob of raspberries in the middle that will have your pie falling apart. Add a few tablespoons to the center and use a fork to swirl outwards.


Perfect. Raspberry lemon pie all done!Well, almost.... Now in the fridge and forget it for a few hours. I know, it's nearly impossible! I had to calmly remove myself from the house so this no bake pie would be safe from my fingers. You can speed up the process of having to wait by putting it in the freezer as well. Allow it to thaw for a few minutes though before you try to eat it.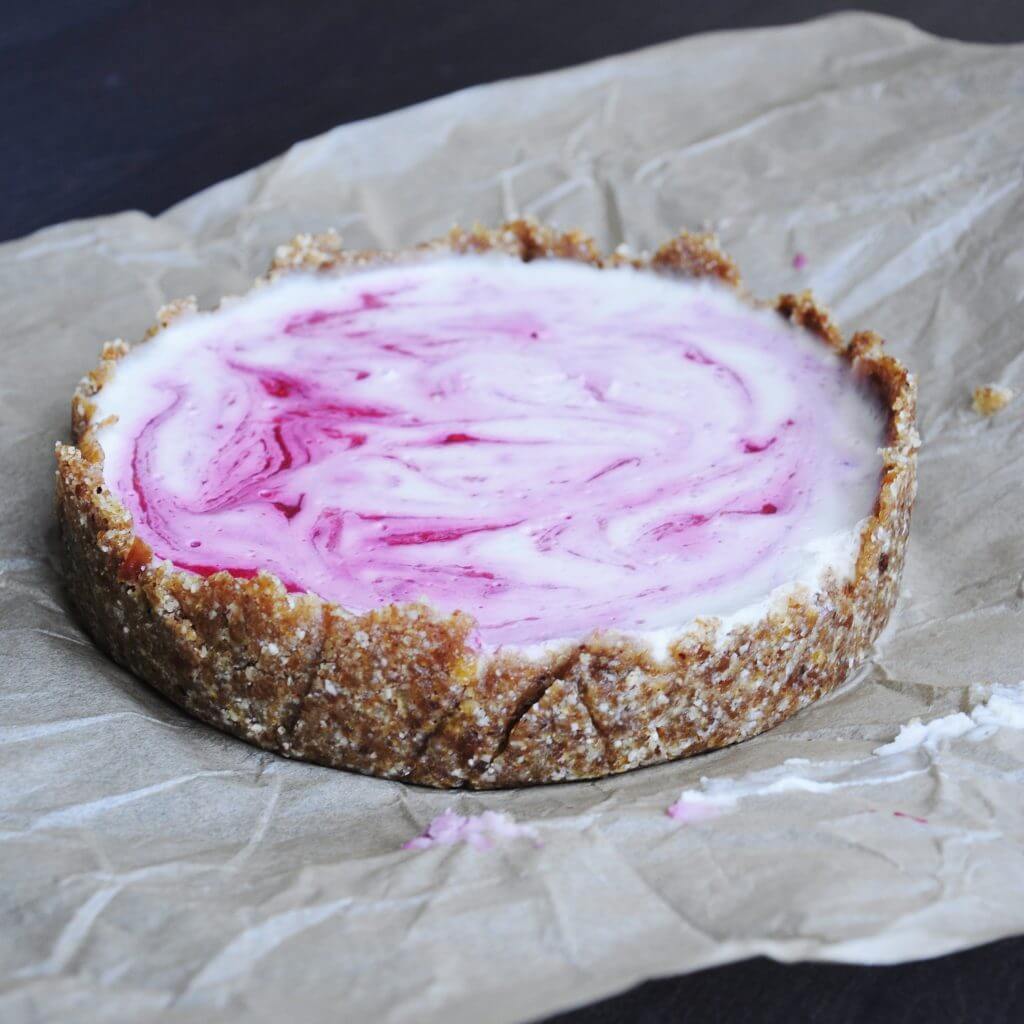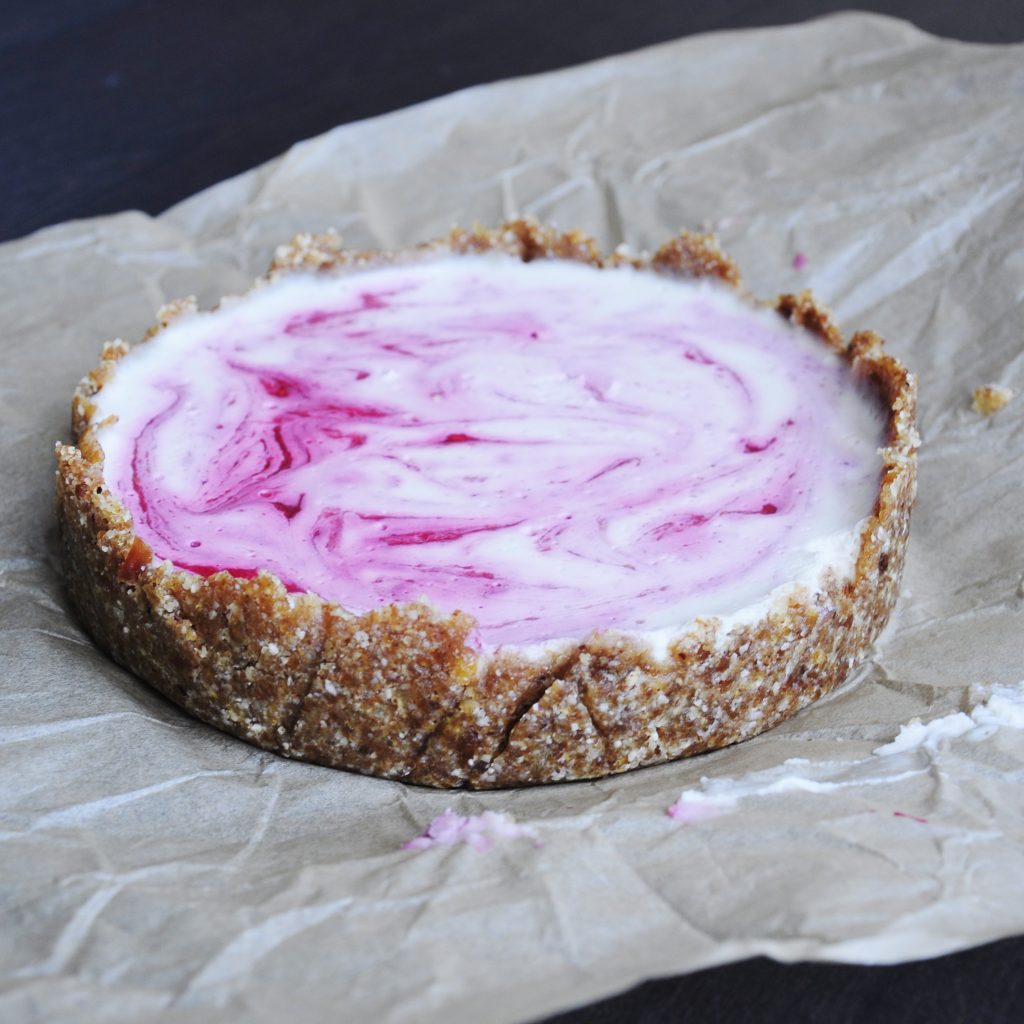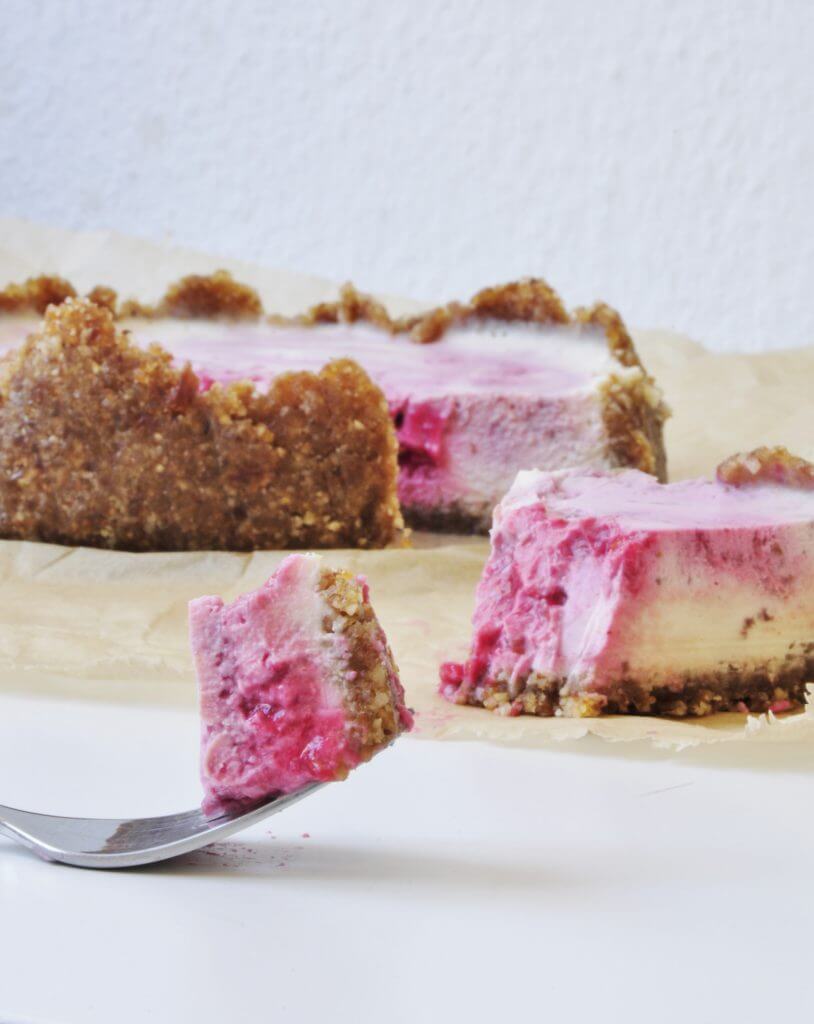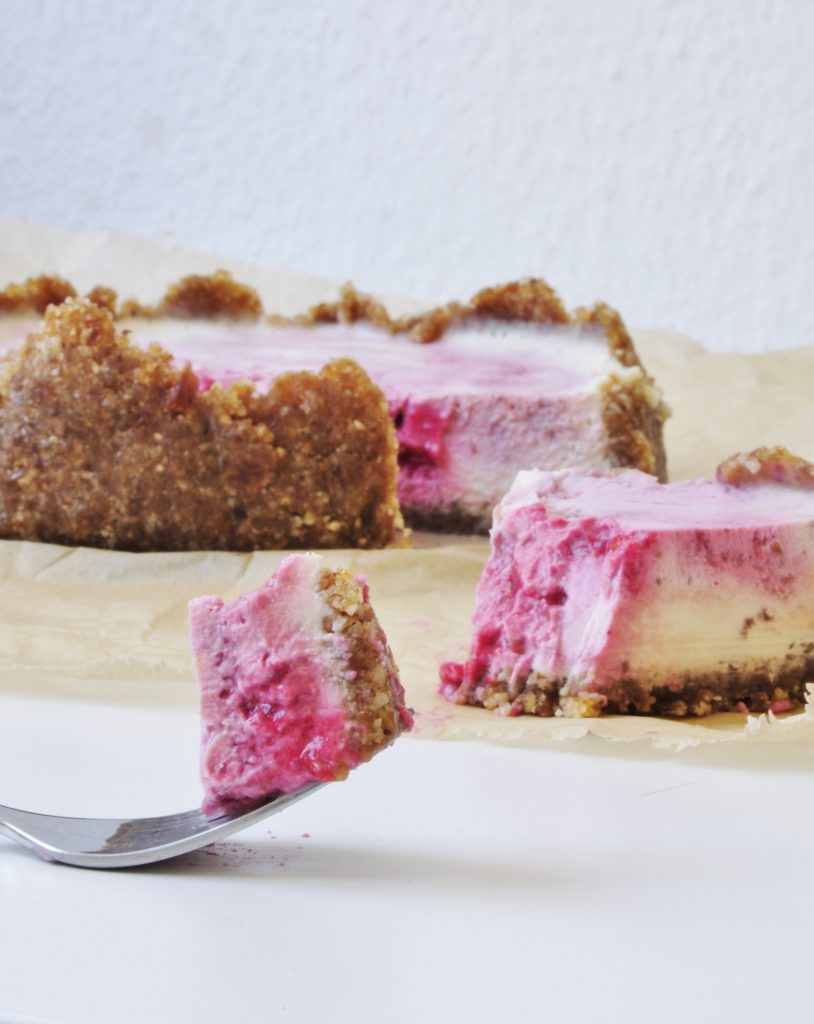 Vegan Raspberry Lemon Cheesecake
Ingredients
¾

cup

Hazelnuts

1

cup

pitted Dates

about 20

pinch

of Salt

2

cups

Coconut Cream

⅔

cup

Cashews

½

teaspoon

fresh Lemon Zest

4

tablespoons

fresh Lemon Juice

2

tablespoons

pure Maple Syrup

½

cup

Raspberries

2

tablespoons

Powdered Sugar
Instructions
Line a 7 inch springform with parchment paper.

Place hazelnuts, dates and pinch of salt in food processor and pulse until a sticky mass forms.

Press hazelnut crust into bottom of springform and half way up the sides using fingers.

Zest a lemon until you have ½ teaspoon lemon zest.

Clean out food processor and place coconut cream, cashews, lemon zest, lemon juice, and maple syrup in it. Pulse and process until mixture is smooth.

Pour lemon filling mixture into the springform.

Clean out food processor again and add Raspberries and powdered sugar to it. Pulse again until smooth (raspberry seeds will remain whole and this is OK).

Drop 2 tablespoons of raspberry mixture into center of lemon filling. Use a fork to swirl mixture through the lemon filling. Repeat this step until you have used up all the raspberry filling.

Place cheesecake in refrigerator for at least 4 hours until filling is firm.
Recipe Notes
1) Cashews can be soaked in water for 10-15 minutes first to make filling extra smooth. Make sure to dry off excess water from them before placing them in food processor. 2) The recipe calls for 2 cups Coconut cream. This can be store bought coconut cream. Alternatively, you can place 2 cans of coconut milk in the refrigerator for at least 2 hours, then scoop the thick creamy part out of the can. Depending on the coconut milk brand, either 1 or 2 cans of coconut milk will yield 2 cups coconut cream.3) Pie can also be placed in the freezer to help firm the filling up quickly. 4) Raspberry Lemon pie will keep in refrigerator for up to 4 days.
Please note that not all powdered sugar is vegan. Since often sugar is processed through bone char (yuck!). Here are some of the ingredients I used:
Hain Organic Powdered Sugar
SunMaid Pitted Dates
Dying to for another vegan cheesecake recipe? Try these :)