Print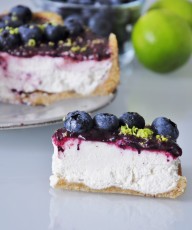 Vegan Blueberry Cheesecake with Lime
A vegan cheesecake perfect for the summertime. Cool, refreshing and easy to make!
Line a 7 inch springform with parchment paper.

Place macadamia nuts, 4 dates and pinch of salt in food processor and pulse until a sticky mass forms.

Press macadamia crust into bottom of springform and half way up the sides using fingers. place in freezer while you prepare the filling.

Clean out food processor and place coconut cream, cashews, lime juice, and maple syrup in it. Pulse and process until mixture is smooth.

Remove springform from freezer and pour lemon cheesecake filling into the springform. Place springform in freezer again until filling in slightly firm (about 10 minutes).

Clean out food processor again and place blueberries and 2 dates in it. Pulse again until smooth (blueberry skin will still be present, this is OK). Carefully spread blueberry topping over filling in the springform.

Place in refrigerator for at least 4 hours or overnight until filling is firm.

When cheesecake is firm and ready to serve garnish with fresh blueberries and lime zest.
1) Cashews can be soaked in water for 10-15 minutes first to make filling extra smooth. Make sure to dry off excess water from them before placing them in food processor. 2) The cheesecake recipe calls for 2 cups Coconut cream. This can be store bought coconut cream. Alternatively, you can place 2 cans of coconut milk in the refrigerator for at least 2 hours, then scoop the thick creamy part out of the can. Depending on the coconut milk brand, either 1 or 2 cans of coconut milk will yield 2 cups coconut cream.3) Blueberry lime cheesecake can also be placed in the freezer to help firm the filling up quickly. I find that it takes a long time for it to thaw to the point of the cheesecake being nice and smooth. However, if you are planning on transporting the cheesecake then having it frozen works wonders. 4) Cheesecake will keep in refrigerator for up to 4 days.5) Crust can easily be made with other nuts as well. Almonds, hazelnuts, and walnuts work well.
Nutrition Facts
Vegan Blueberry Cheesecake with Lime
Amount Per Serving (1 /8 of cheesecake)
Calories 343
Calories from Fat 272
% Daily Value*
Fat 30.2g46%
Carbohydrates 18.2g6%
Protein 4.4g9%
* Percent Daily Values are based on a 2000 calorie diet.