Eco Friendly Toys for Toddlers
As a mom, I am always on the hunt for engaging, educational toys for my kids that spark their interest and encourage creativity. Toys that are so much fun they don't even realize they are learning from them!
Finding such toys but also keeping our planet in mind by purchasing eco-friendly toys can be some-what of a challenge. So, I have put together this list of my all-time favorite eco friendly toys for toddlers that are both fun and made from earth wise, non-toxic materials.
Remember: Quality over quantity!
Before we take a look at all the fun, eco friendly toys for toddlers let's look at the WHY this is something that SHOULD be important to you.
Why choose Eco Friendly, non-toxic toys for Toddlers?
Eco friendly toys use materials that are safe for our environment. This means that the toys are made up of recyclable, biodegradable and natural materials.
The toys reduce chemical waste.
Too many toys contain hazardous chemicals and heavy metals that can cause serious health issues in children (and adults). Toddlers are especially susceptible since they like to put toys in their mouths. The chemicals found in toys accumulate in their bodies over time and can cause cancers and reproductive disorders. Check this list on hazardous chemicals often found in toys.
It gives us, parents, the opportunity to teach our kids about why we choose to by environmentally friendly products.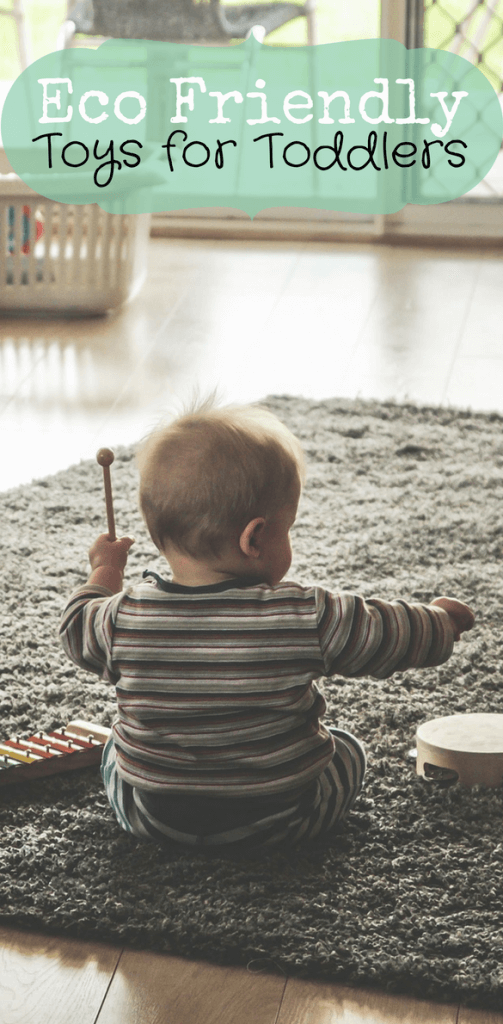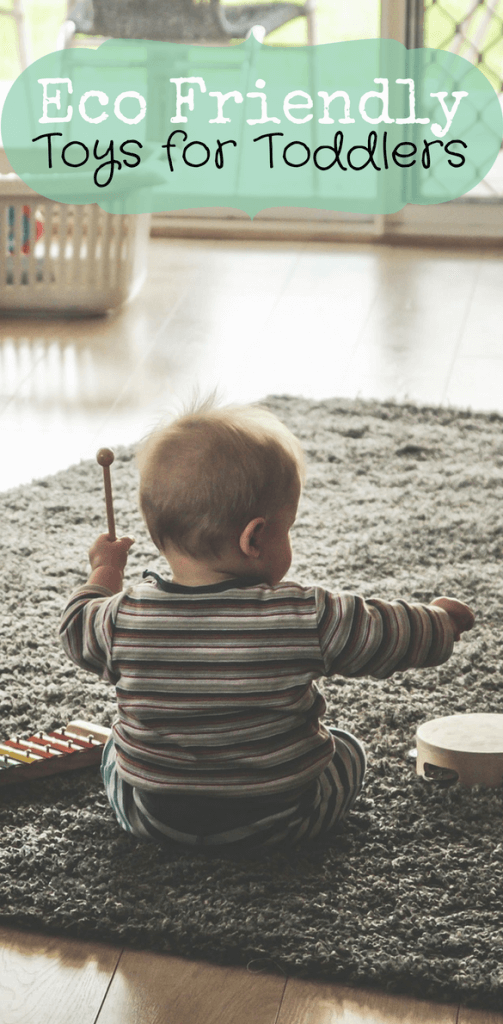 Tips for choosing eco friendly toys
Avoid all toys made with PVC (vinyl). Even toys that are labeled "phthalate-free PVC" can still contain numerous other harmful and untested chemicals.
If you are buying plastic toys, choose ones that are labeled BPA free.
A lot of stuffed animals are stuffed with polyurethane foam, a petroleum based material that can cause respiratory problems and skin irritation. It often contains toxic materials such as formaldehyde, benzene and other chemicals. Look for toys stuffed with cotton instead.
Consider buying bamboo toys. It's a light, flexible and strong material. It doesn't require any pesticides or herbicides for growth making it a safe and sustainable product.
At HealthyStuff.org you can search for popular toys and check for the levels of toxins in them such as lead, chlorine and others. It's not just for toys though. You check for car seats, food packaging, cars and more.

List of Eco-Friendly Toys for Toddlers
From building toys and puzzles, to musical and imaginative play there is something here sure to please everyone!
1. Wooden Pull Along Toy Set Of 3
Giraffe, Elephant and Zebra wooden pull along toy made from natural organic wood.
2. Green Toys Tool Set
Realistic tool box that comes with a phillips screwdriver, flat screwdriver, hammer, saw, wrench, pliers, 2 two-hole connectors, 2 nails, 2 bolts and 2 nuts. Eco-friendly, made from recycled milk jugs. BPA and Phthalates free.
3. Eco Kids Non-Toxic Natural Paint
Non-toxic finger paint in 5 great colors; Magenta, Orange, Green, Yellow, Blue. Made from natural ingredients and safe for kids of all ages.
4. Pound & Tap Bench with Slide Out Xylophone
Durable, musical instrument toy with a vibrant non-toxic paint finish.
I've always been very happy with Hape products and they offer a large selection of eco friendly toys for toddlers that is definitely worth looking at.
5. Hurley Hippo and Friends Bath Toy Set
6 fun, bath time animals made from safe, non toxic materials and free of PVC, phthalates and BPA. Each animal is different and comes in a convenient carrying case to keep them all together.
6. Wooden Toy Magnetic Dry Erase Board Puzzles
This is a great, portable puzzle that comes in a wooden case with over 100 puzzle pieces to keep kids busy.
7. Crayon Rocks 16 Colors in a Red Velvet Bag
16 non-toxic crayons made from soy wax. The rock shape is great from small fingers.
8. Farm Playset
Cute farm playset complete with barn, pick-up truck, farmer cow characters, sheep, pigs, fences, and a hog shed for endless imaginative play. No BPA, phthalates, or PVC.
9. Colorful Wooden Tangram Jigsaw Puzzle
Wooden jigsaw puzzle with 21 colorful pieces, made from natural wood and non-toxic paints.
10. Eco-dough and Clay Tool Set
5 colorful doughs made from natural ingredients and essential oils to keep the dough soft and comes with a 14 piece clay tool set.
11. Storybook Gift Set
Beautiful gift set that comes with a book and toy train made from 100 percent recycled plastic.
12. Green Toys Cupcake Set
Great for imaginative play, this 16 piece mix and match cupcake set is made from recycled milk jugs making this toy earth safe and fun.
13. Stacking Cups
Colorful stacking cups that are numbered from 1 to 6 and are volumetrically accurate, encouraging match and and counting concepts. Made from recycled plastic.
14. Balance Boat Shapes and Colors
Awesome educational puzzle toy, with 6 different shapes that are labeled with the shape name and color. Made from sustainable rubberwood.
15. Premium ABC Magnets for Kids Gift Set
142 magnetic letter set made from eco friendly foam materials with 90 lower case 52 upper case for endless word combinations.
I should also note that Duplo (as well as Lego for older children) is BPA, Phthalate, PVC and lead-free. They are even produced by wind power! However, they are still made from ABS (acrylonitrile-butadiene-styrene) which are petroleum derived polymers. Lego is planning on phasing out ABS by 2030 but I guess by then our kids will all be much older ;)
By creating a demand for safer, eco friendly products and toys, more companies will hopefully follow suit.  Wouldn't it be nicer to no longer have to pick and choose which toys are safe for our kids but know that ALL toys are safe, environmentally friendly, and non-toxic?