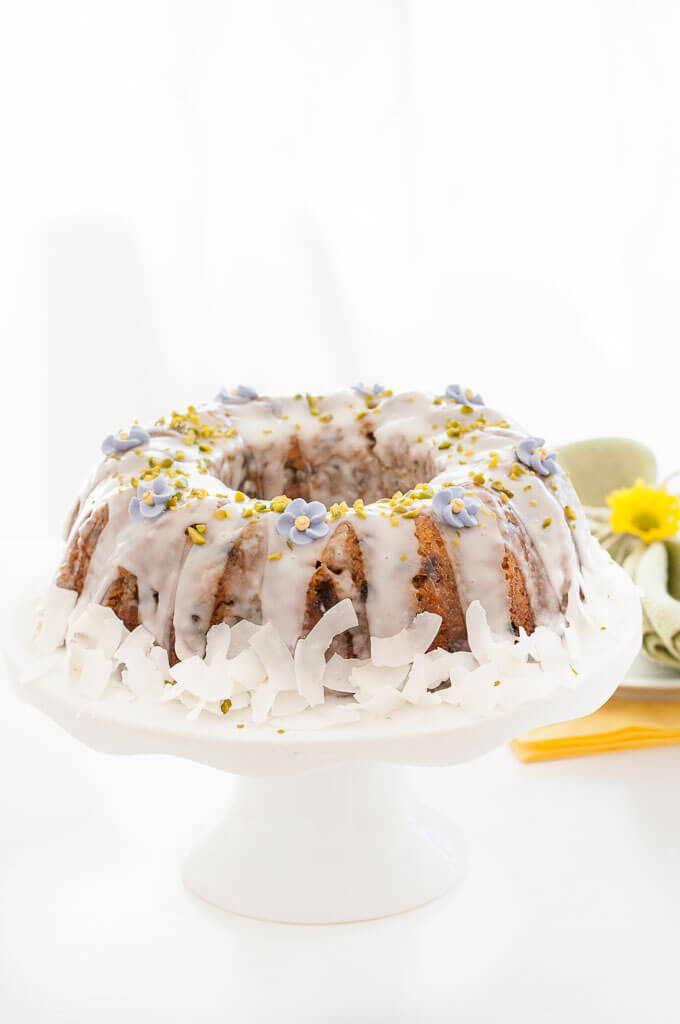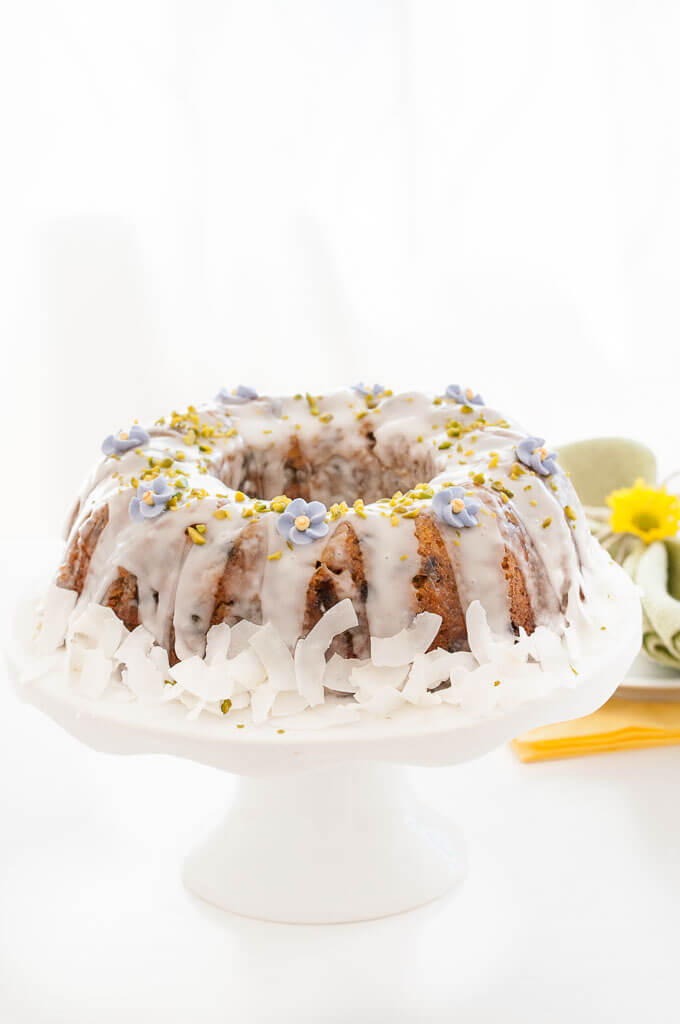 Easter is in 7 days and I know I'm running behind posting my vegan carrot cake recipe. This should have been up two weeks ago…Life got in the way though ;) Darn you, Life! Better late than never though!
I've seen a few healthy and yummy looking vegan carrot cake recipes. I love a good healthy vegan carrot cake but sometimes I want one that kind of feels naughty…you too, right?
So I tried to stick to my healthy roots by first adding lots of carrots and a bit of lemon juice. Starting off strong…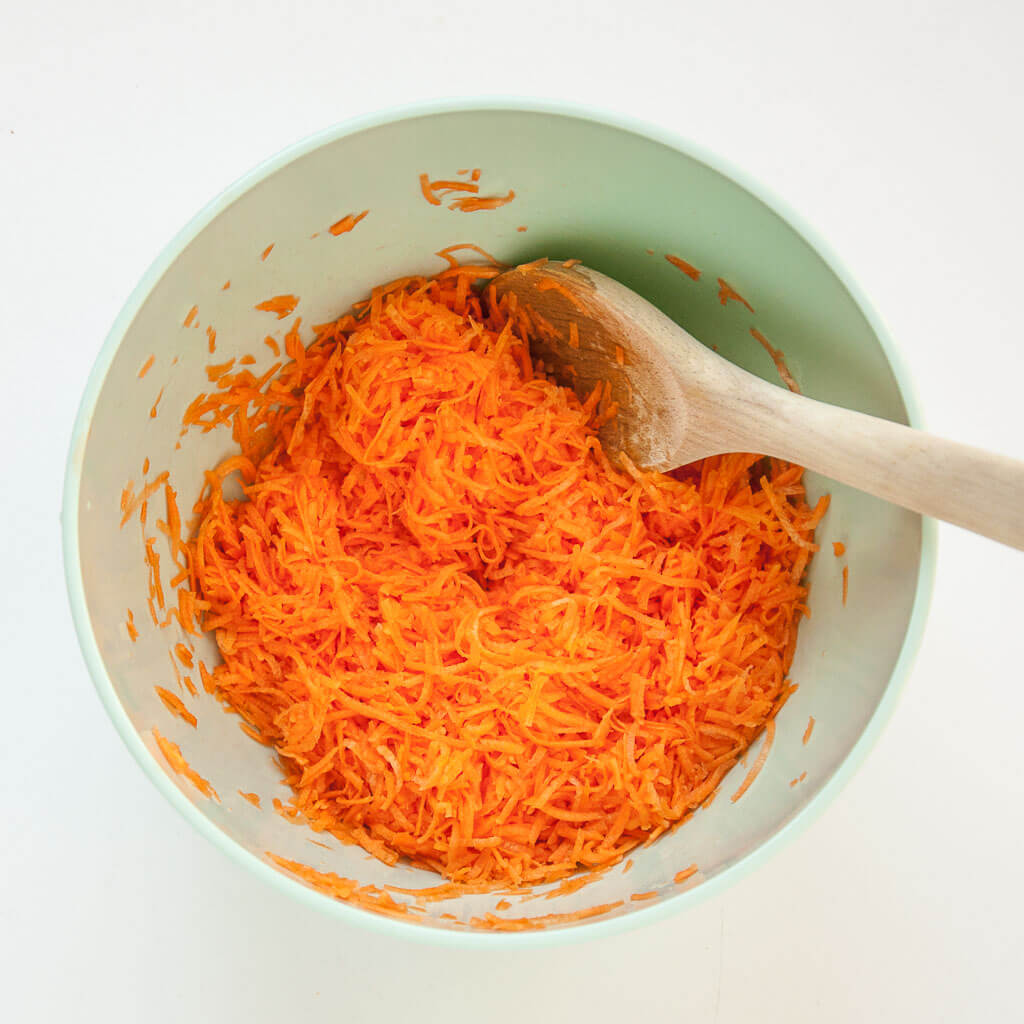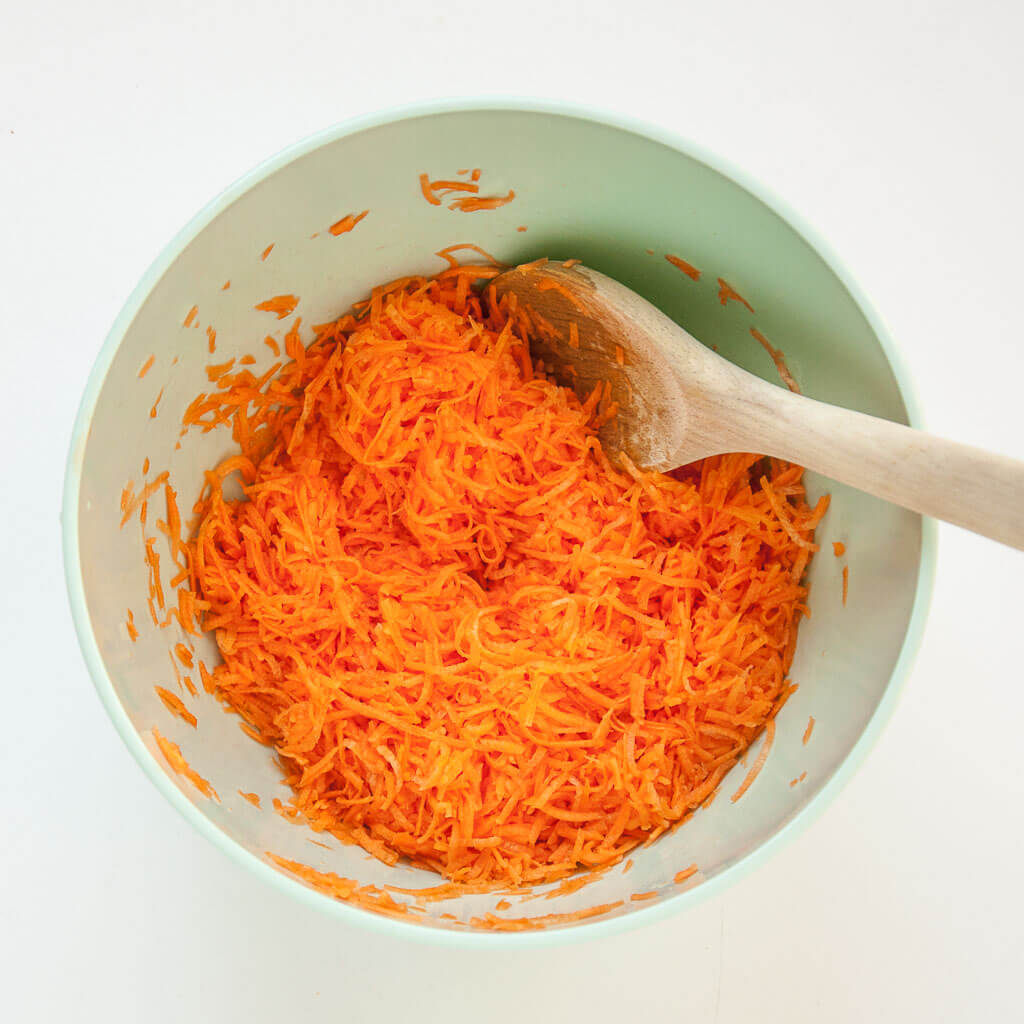 Then I kind of went off the deep end by adding chocolate chips because that is what needed to happen. Oh, and some other not overly important ingredients made it into the bowl as well ;) But hey, it's also a gluten-free carrot cake so it can't be super unhealthy!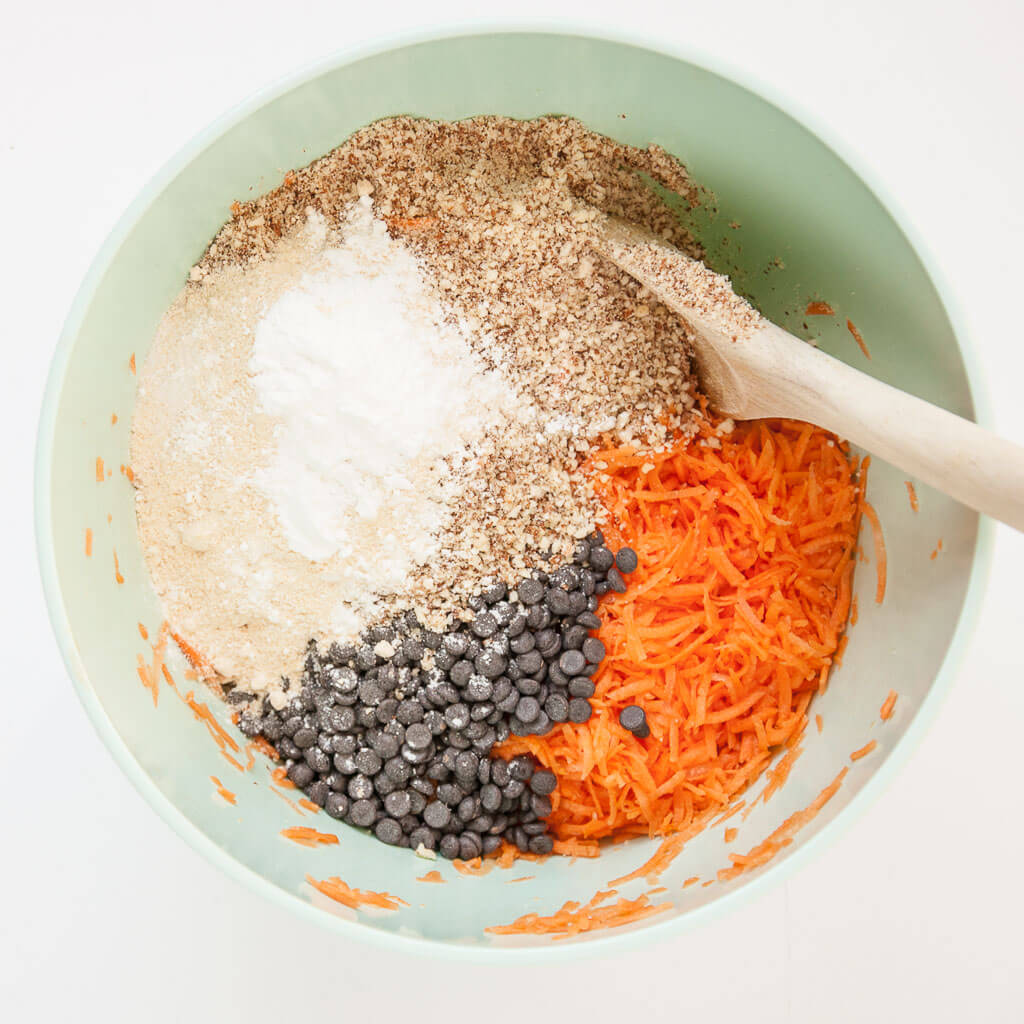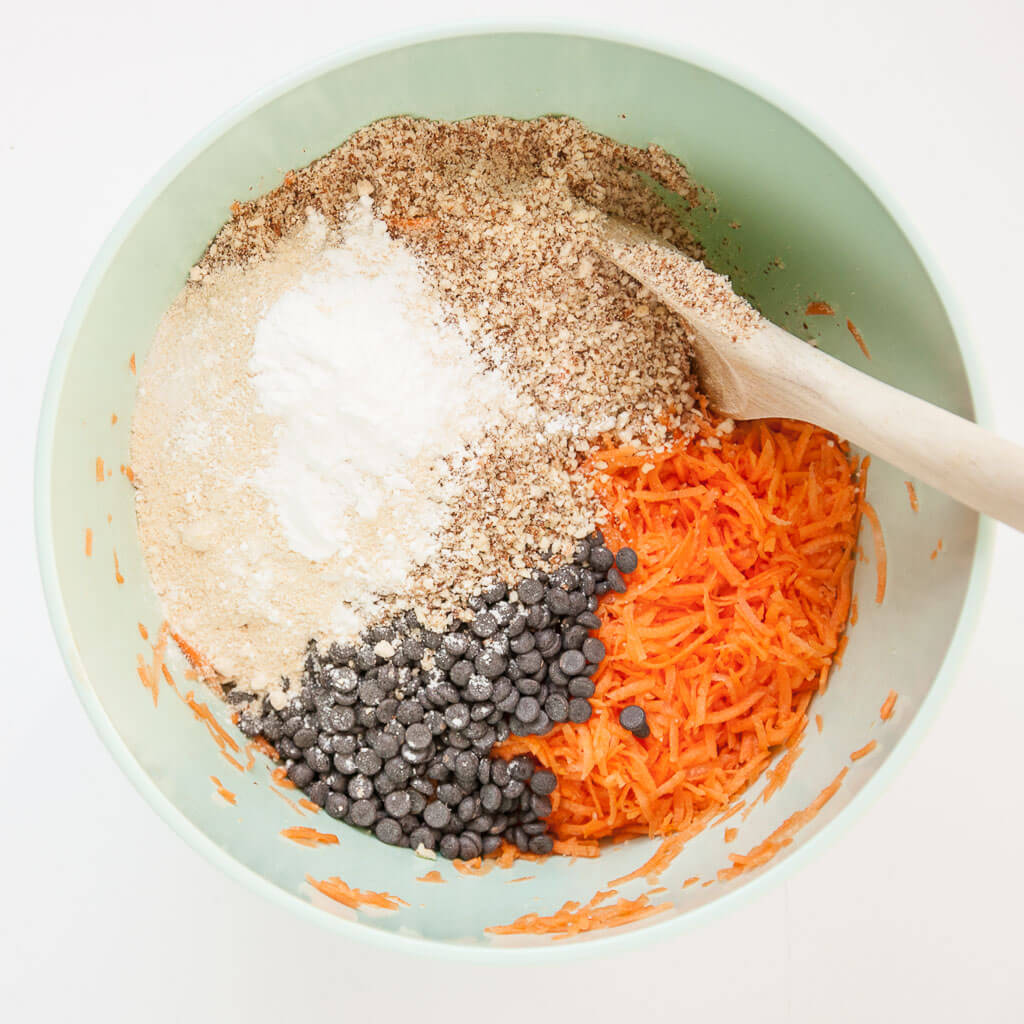 Of course, it wouldn't seem like an Easter recipe without some eggs. Well, Flax eggs to be exact. I mixed all that up and pressed it into my bundt pan.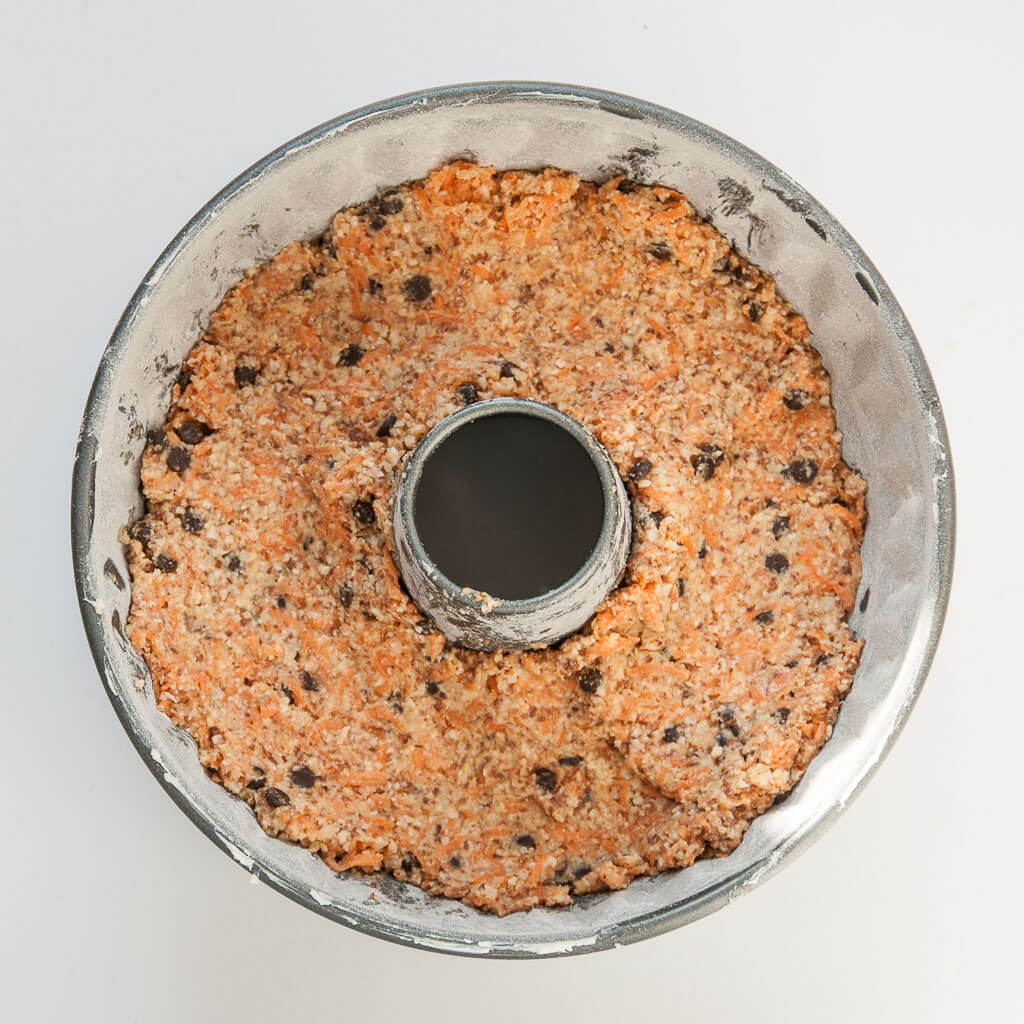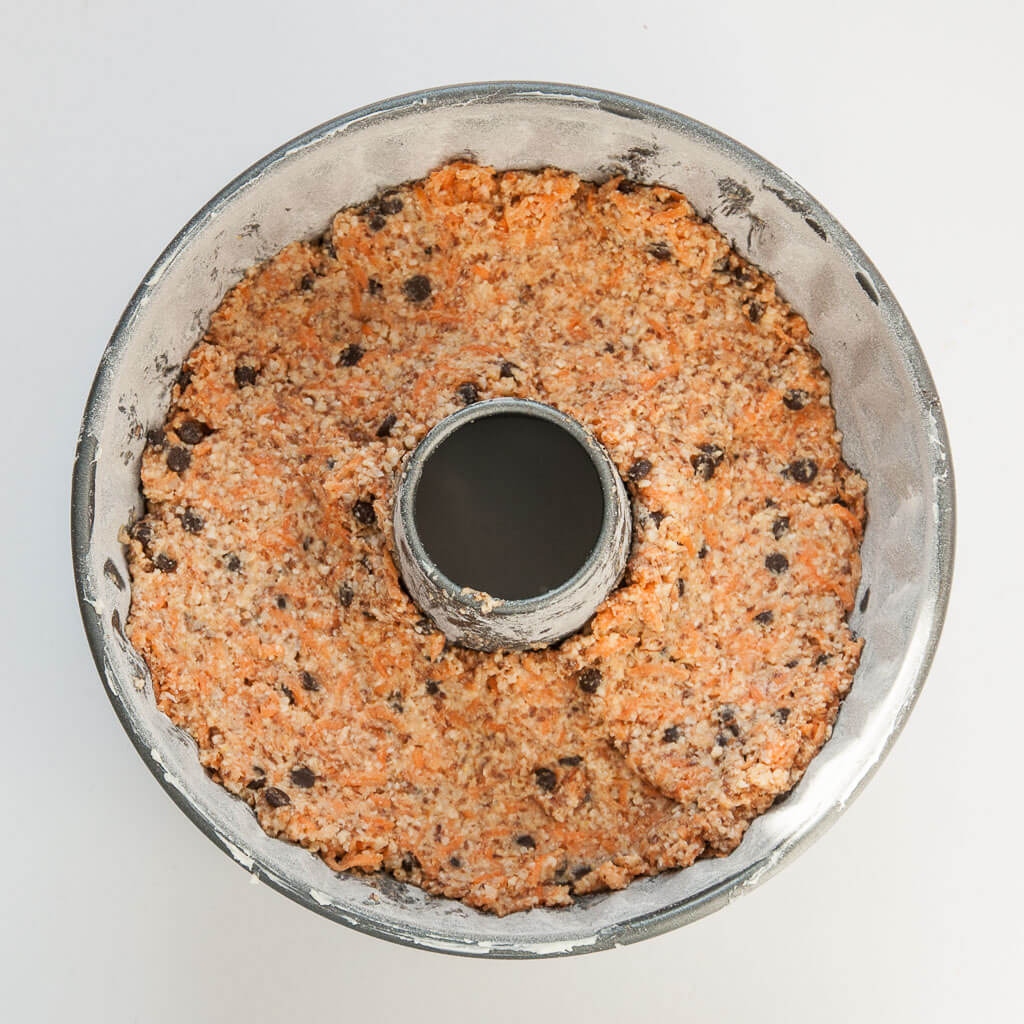 Okay, before we move on I HAVE to admit that I can't say the word bundt without thinking of My Big Fat Greek Wedding. If you haven't seen the movie (it came out 14 years ago!) then just ignore this part but if you have then you will LOVE being reminded of this scene. You're welcome!
Anywho…You might be looking at the cake batter and think it is way way way too thick. I thought the same thing so the first time I made it I added more liquid and the whole thing fell apart. Then, I finally listened to my original idea of how I thought this recipe should come together and BAM!
This vegan carrot cake doesn't rise much so don't worry about it overflowing but it's moist, soft and heavenly.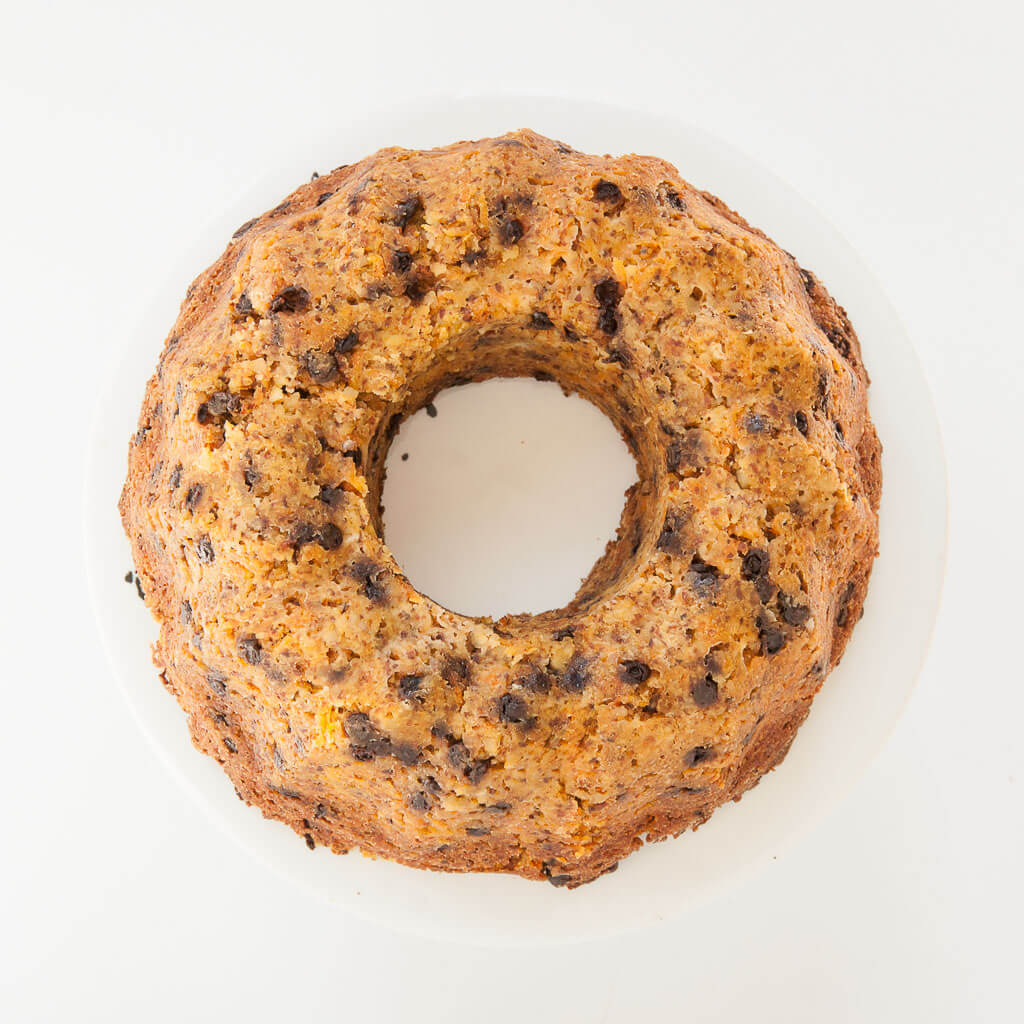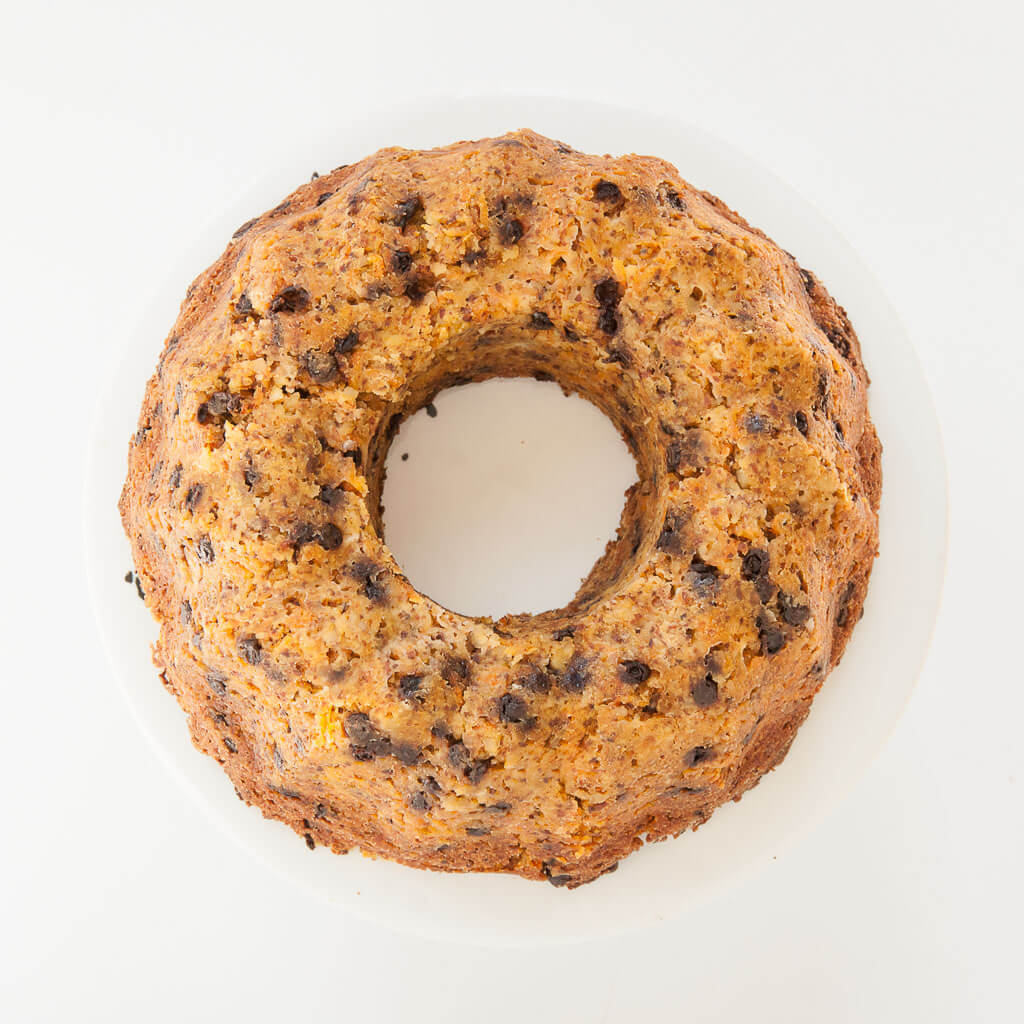 So now we have a, perfectly delicious on it's own, gluten-free, vegan carrot cake BUT I wanted it to feel like I was really, I mean REEAALLYY, indulging. So what better way that to add lots of sugar in icing form, some crunchy coconut flakes, chopped pistachios for color, and some cute little frosting flowers for an added springtime touch.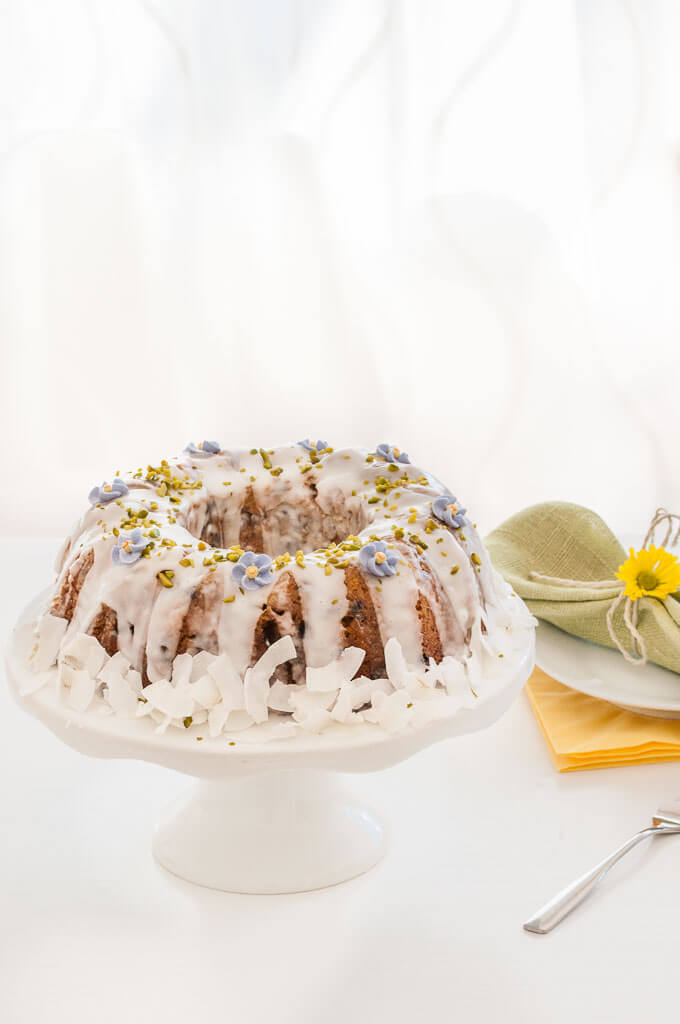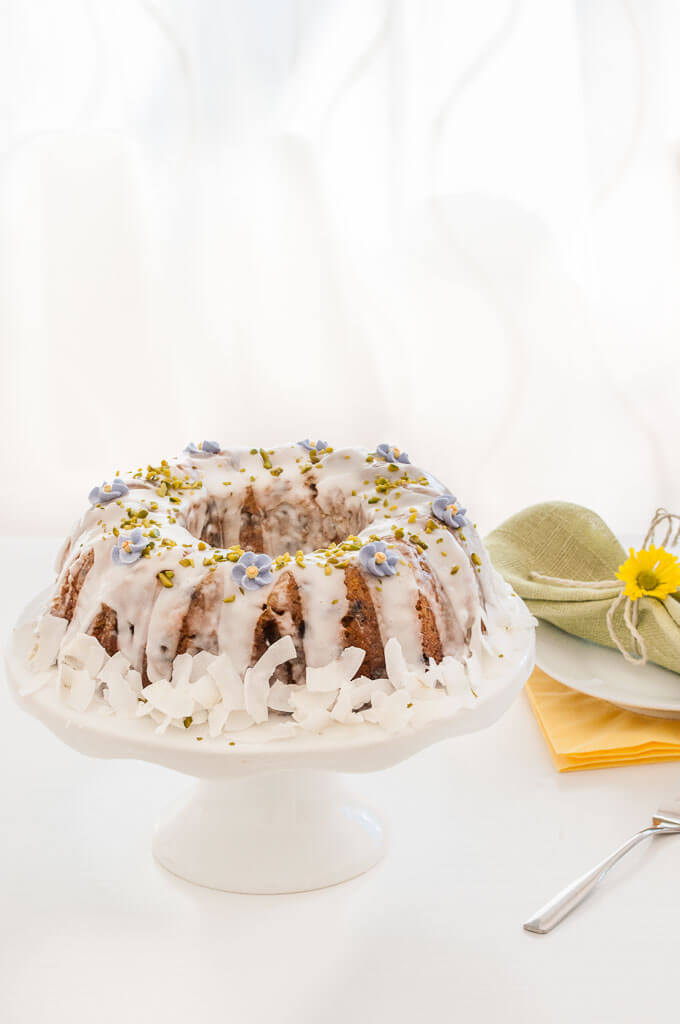 Oh yeah, much better! Now this carrot cake is Easter brunch worthy ;)
Want to know what else is awesome about this vegan carrot cake? It stays completely moist for 4 long days in the fridge UNCOVERED! None of this having to wrap you pretty cake in plastic wrap, hoping to keep all the moisture in. Nope, not needed.
So there you go, my unhealthified GF Vegan Carrot Cake Recipe!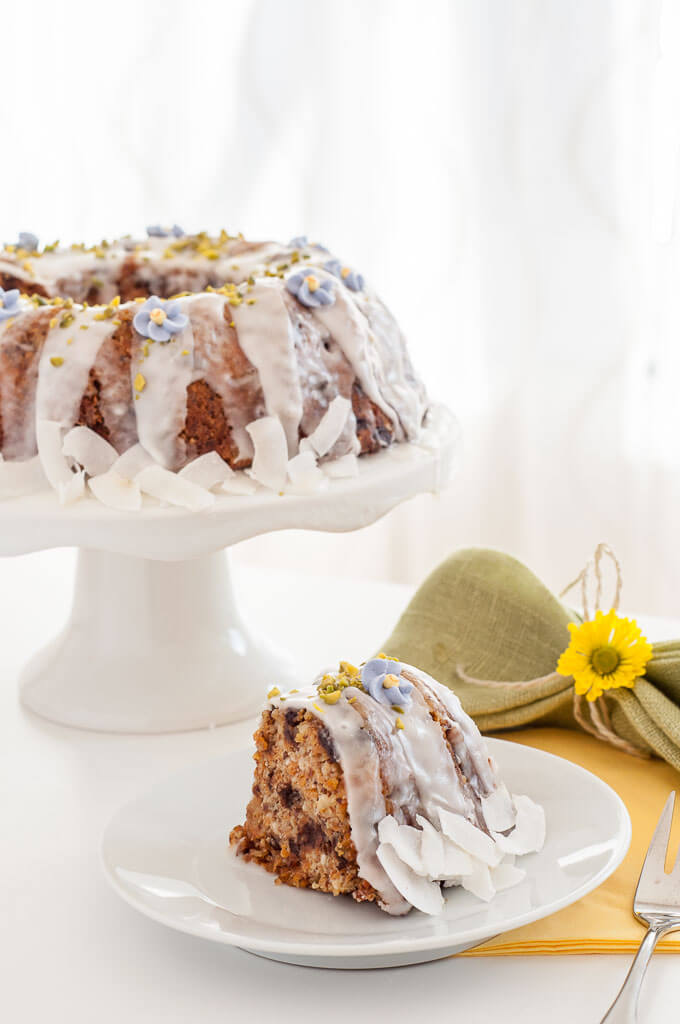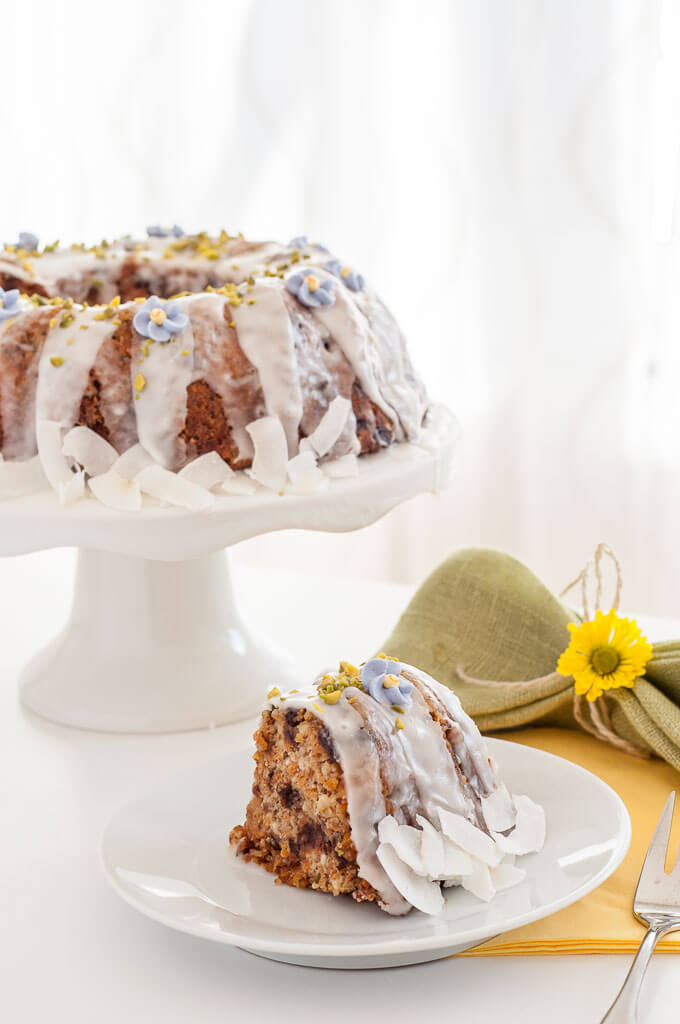 Gluten-free Vegan Carrot Cake w/ Icing
A super moist GF and Vegan Carrot Cake recipe with chocolate chips and Icing that is perfect for Easter and springtime. This recipe doesn't have to be made in a bundt pan. Use other cake pans as well but bake times may vary.
Total Time
1
hour
15
minutes
Ingredients
10

Ounces

285g finely grated Carrots

2

tablespoons

Fresh Lemon Juice

1/2

of a cup

100g Chocolate Chips (I used these Vegan, GF Mini Chocolate Chips)

1

and 1/3 of a cup

200g raw, whole Almonds (ground - should equal 1 1/2 of a cup ground Almonds)

scant 1/4 of a cup

30g Coconut Flour (can be substituted with 1/3 of a cup whole wheat or all purpose flour)

1/4

of a teaspoon Salt

1

and 1/2 teaspoon Baking Powder

4

Flax Eggs

See notes on how to make flax eggs

1/3

of a cup

60g Whole Cane Sugar (can be substituted with equal amount of white sugar)

1

teaspoon

Vanilla Extract

3

tablespoons

of water

2

and 1/2 tablespoons melted Coconut Oil

can be substituted with equal amounts of canola oil or applesauce to make oil-free
Icing
1

cup

100g sifted Powdered Sugar (Note that not all powdered sugar is vegan. This one is though!)

2

tablespoons

unsweetened Almond Milk or Fresh Lemon Juice

strained to remove pulp and seeds
Instructions
Preheat oven to 355F (180C) and grease and flour a bundt pan or other cake pan.

Squeeze out excess liquid out of carrots and then mix together with fresh lemon juice in a large bowl.

Add chocolate chips, ground almonds, flour, salt and baking powder to bowl with carrots. Mix well.

Blend flax eggs in a food processor or blender. Slowly add the sugar, vanilla extract and water.

Add flax egg mixture and melted coconut oil to the carrot/flour mixture and mix well. The batter should be fairly thick.

Press the carrot cake batter intoto the prepared bundt pan or other cake pan. Bake in lower third of the oven for 60 minutes. Cake should be golden brown when finished and when a skewer poked in the middle of the pan comes out clean.

Remove cake from oven and let cool for at least 10 minutes before attempting to remove the cake from the pan.

While cake is cooling, prepare icing by whisking together almond milk (or lemon juice depending on preference) with powdered sugar until smooth. Drizzle icing over cake once cake is completely cooled.

Add coconut flakes, frosting flowers and chopped pistachios to the carrot cake for decoration if desired.

Store in refrigerator and enjoy within 4 days.
Recipe Notes
1.) To make 1 flax egg combine 1 tablespoon ground flaxseeds with 3 tablespoons water. Let the flax seed/water mixture sit for 20 minutes or longer until a gel forms. (Note that this recipe calls for 4 flax eggs. So, you'll need 4 tablespoons of flax seeds and 12 tablespoons of water)
Looking for a few other recipes that might be Easter worthy? Or just perfect for Spring?
I got you covered with my Lemon Cream Bars, Healthy Potato-Pea Soup, and Vegan Lemon Loaf Cake! Enjoy!