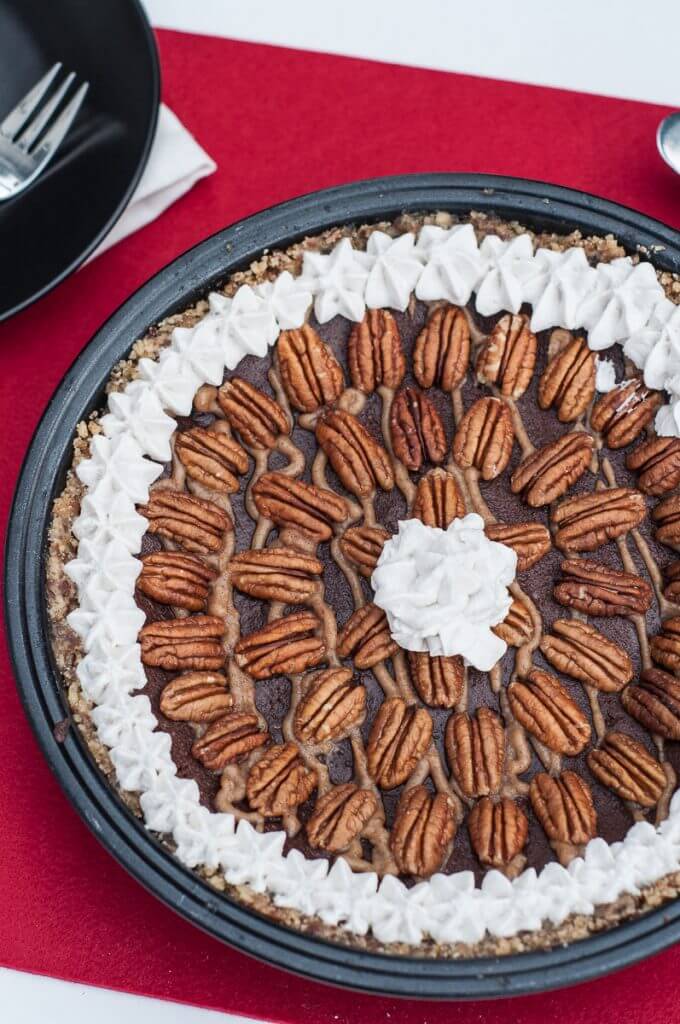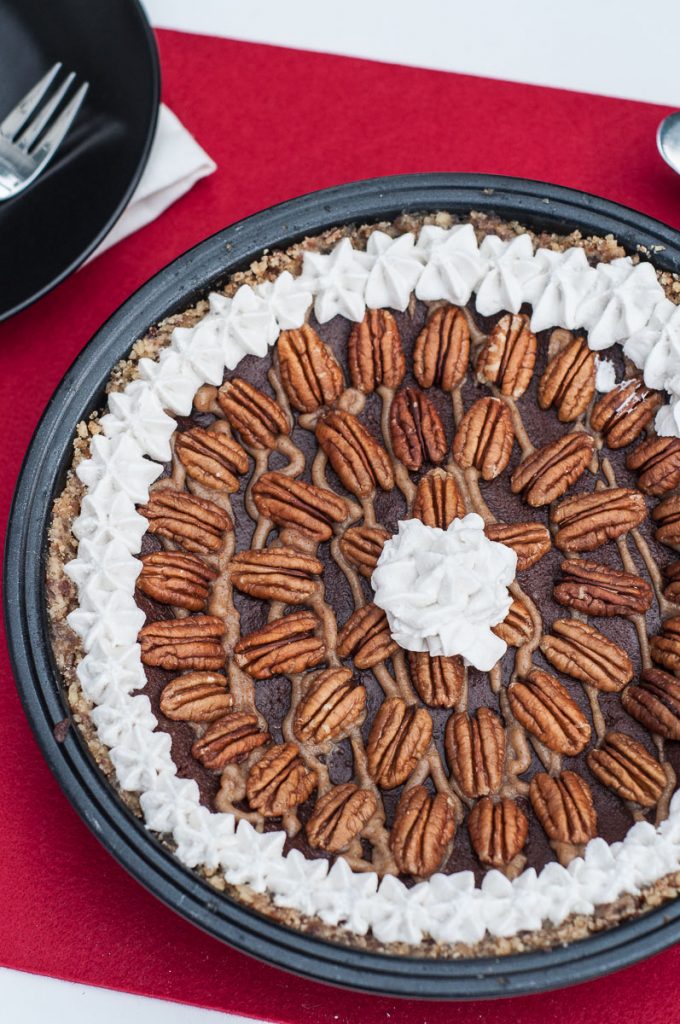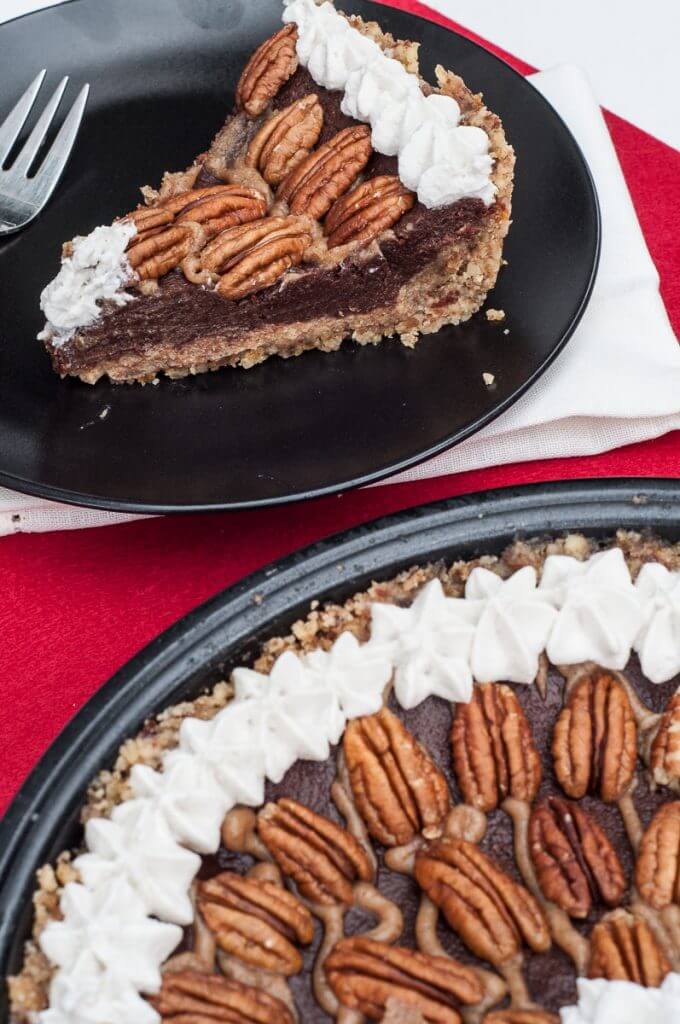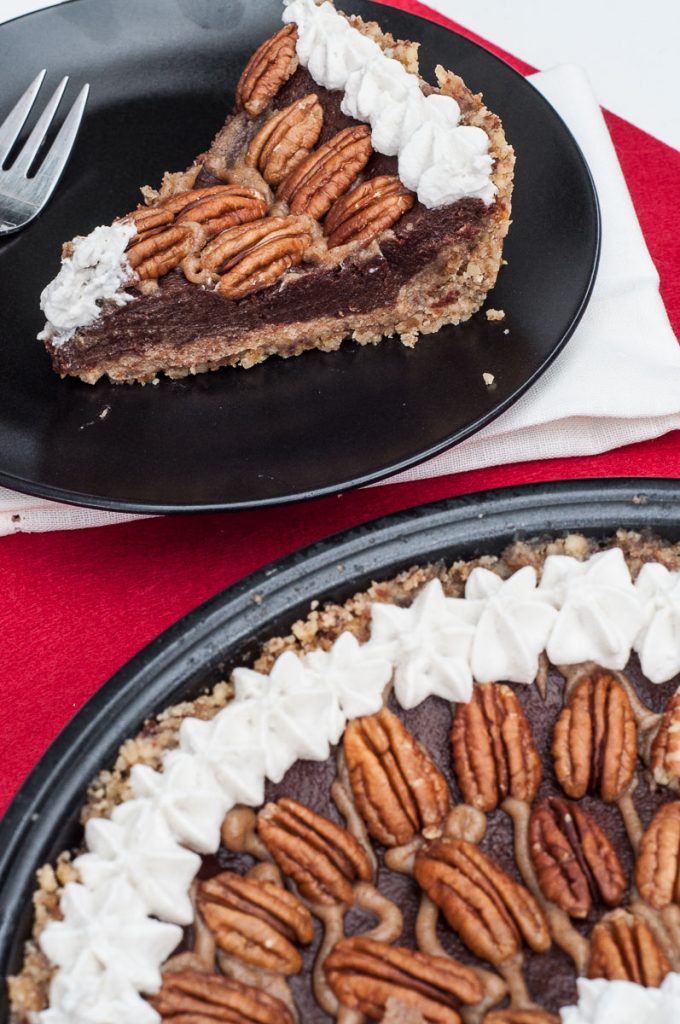 I've been on a full-on pie-making spree. Over the past weeks, I've been busy making all types of pies. Some were very delicious and others, sadly, didn't turn out so well. That is the fun of being a food blogger though. You get to try out lots of different combinations and see what works the best. Once you find a combination of ingredients that work well, then you need to make it several times again to perfect it until it is just right.
That is exactly what happened when I made this delectable chocolate caramel pecan pie. The first time I made it, the chocolate filling turned out too runny and I had to throw it all away. I was a bit put down by that first soggy mess but I was so determined to make a crazy good chocolate caramel pecan pie. I kept at it and finally after making 6 variations of it. I made the perfect one!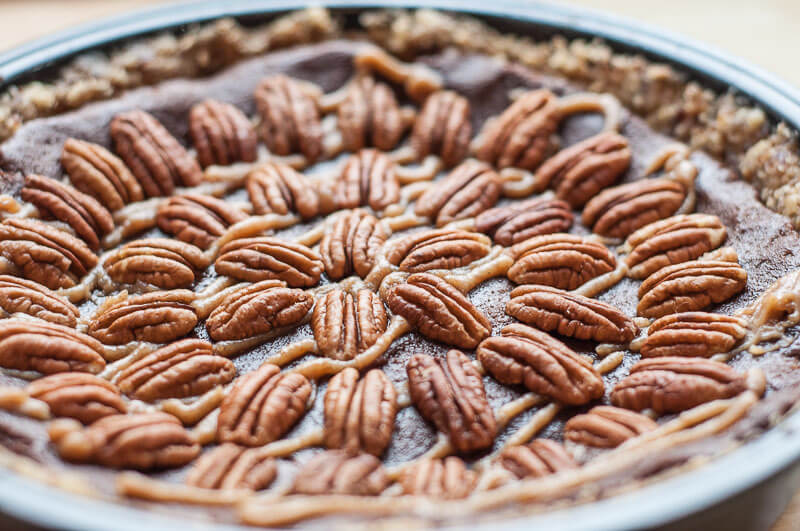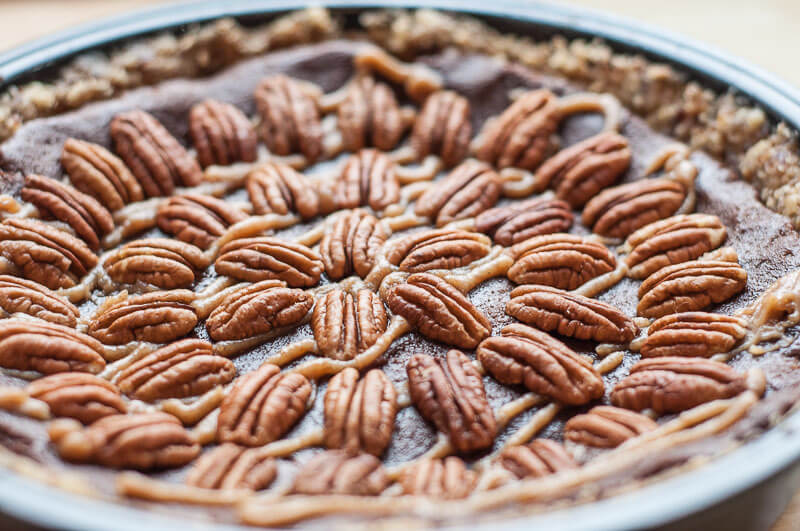 This pie is my favorite raw vegan pie. Don't just take it from me. Hubbs who usually can't stand any raw vegan desserts ate nearly ⅔ of this pie. I think it's safe to say that even non-vegans will like this pie. It gets even better though since this pie is also gluten-free and paleo. That makes this pie perfect for those families where everyone has different food preferences. This pie should cover almost everyone's food preferences except those with nut allergies...sorry.
So how exactly do you make this raw vegan delight?
Start off with the crust. Just toss some nuts, dates, and a pinch of salt in a food processor and pulse until sticky yet chunky. You're not trying to make nut butter here so don't over-mix.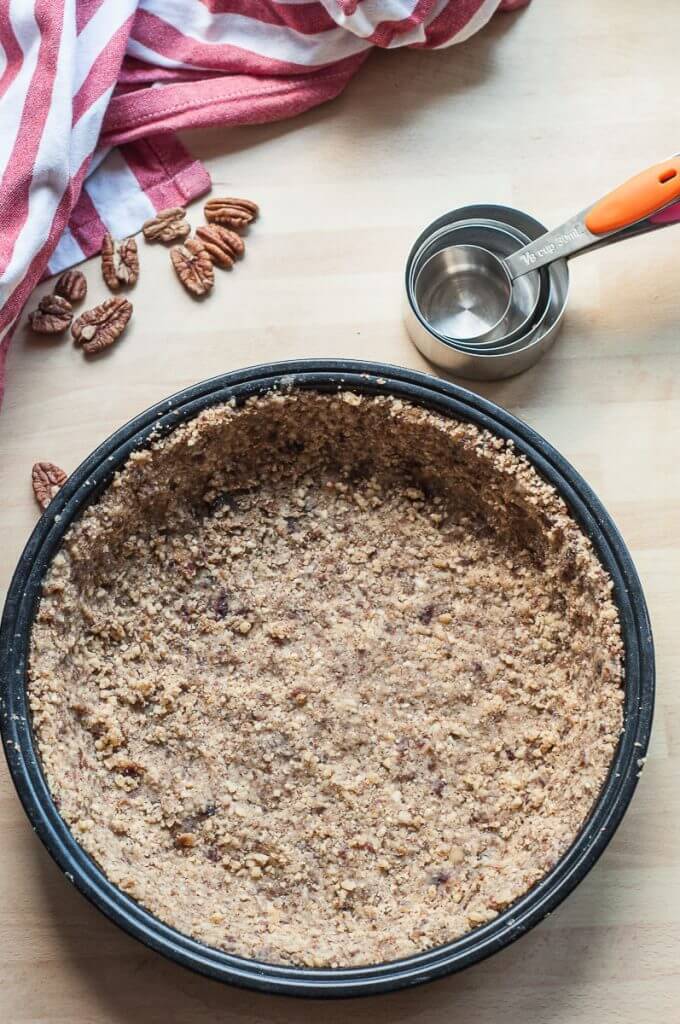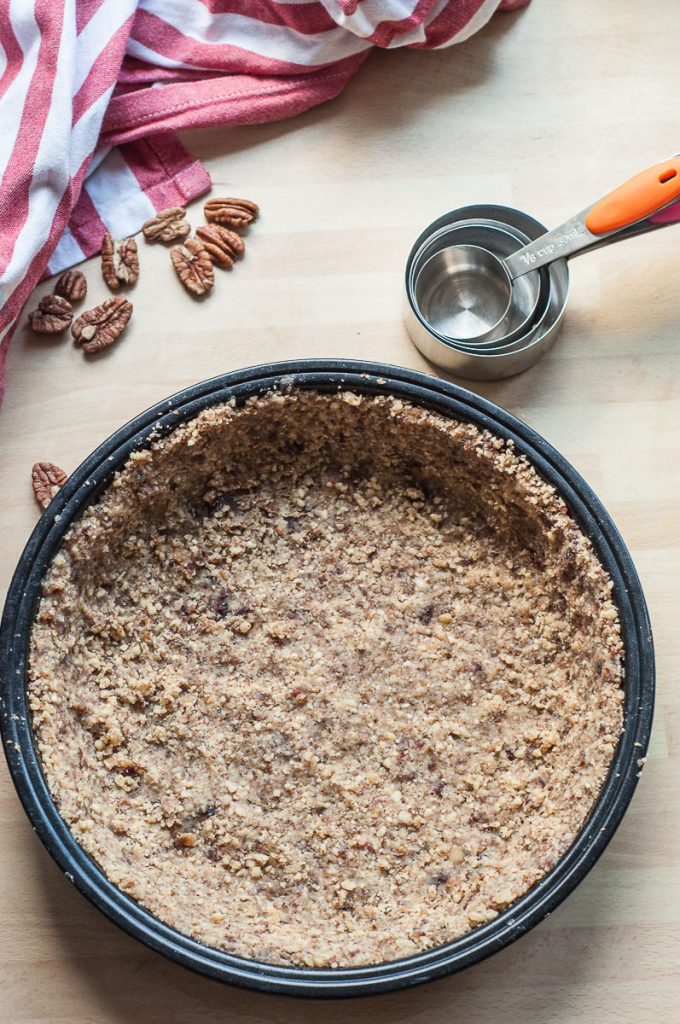 Next, you'll need to double my healthy caramel dip recipe. Spread most of the dip over the crust for your first caramel layer.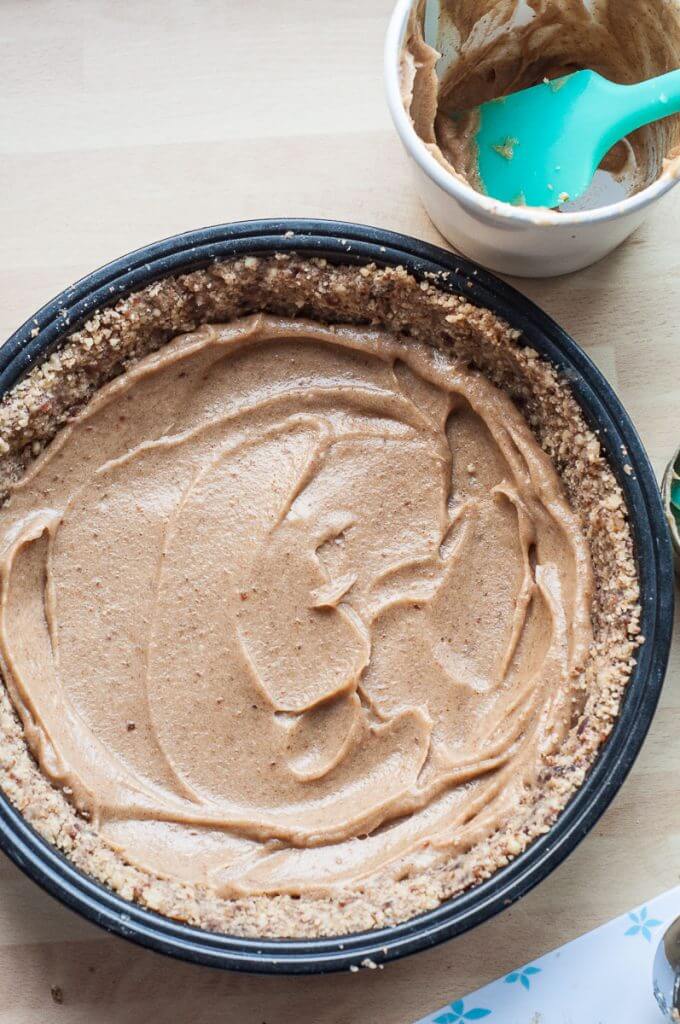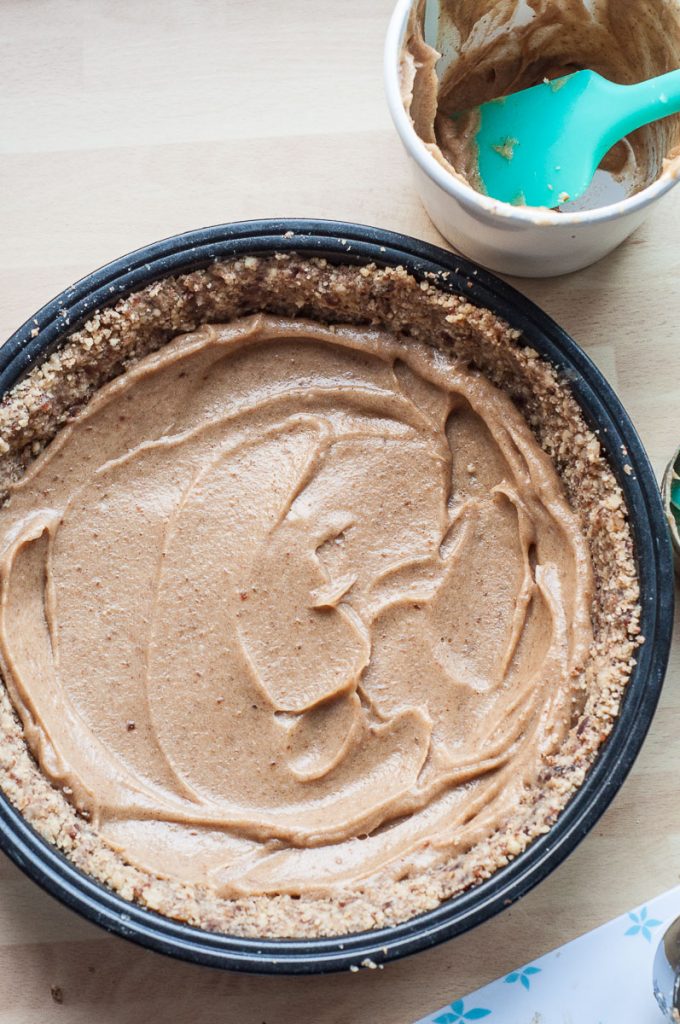 Now comes the chocolate. This isn't a light airy chocolate layer like that of my chocolate mousse tart. No, this is more of a raw vegan chocolate brownie layer. Equally just as good :)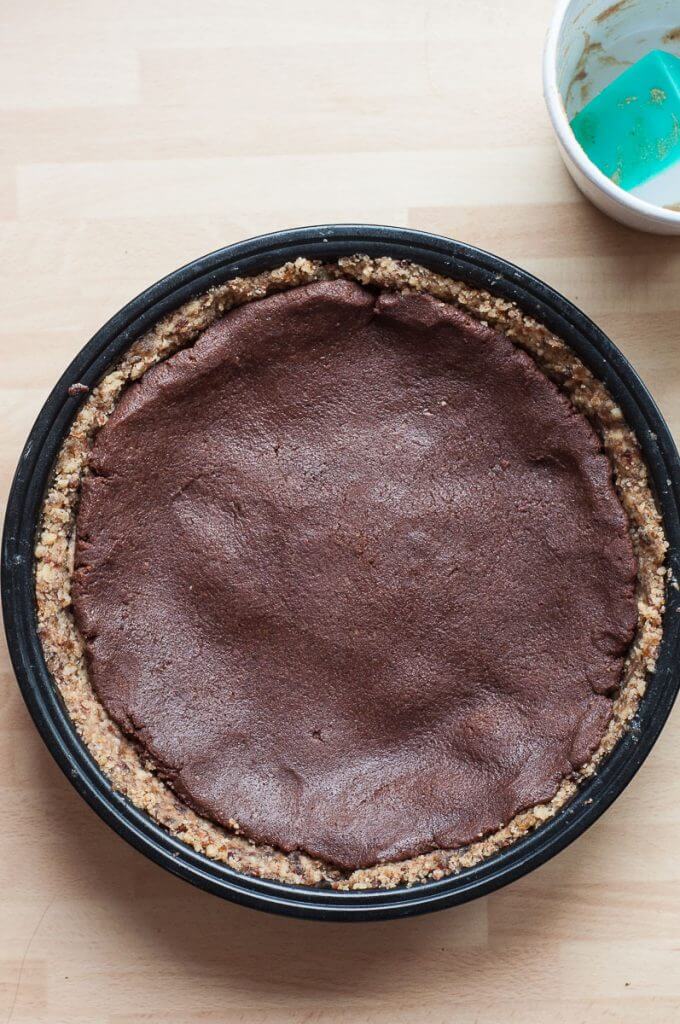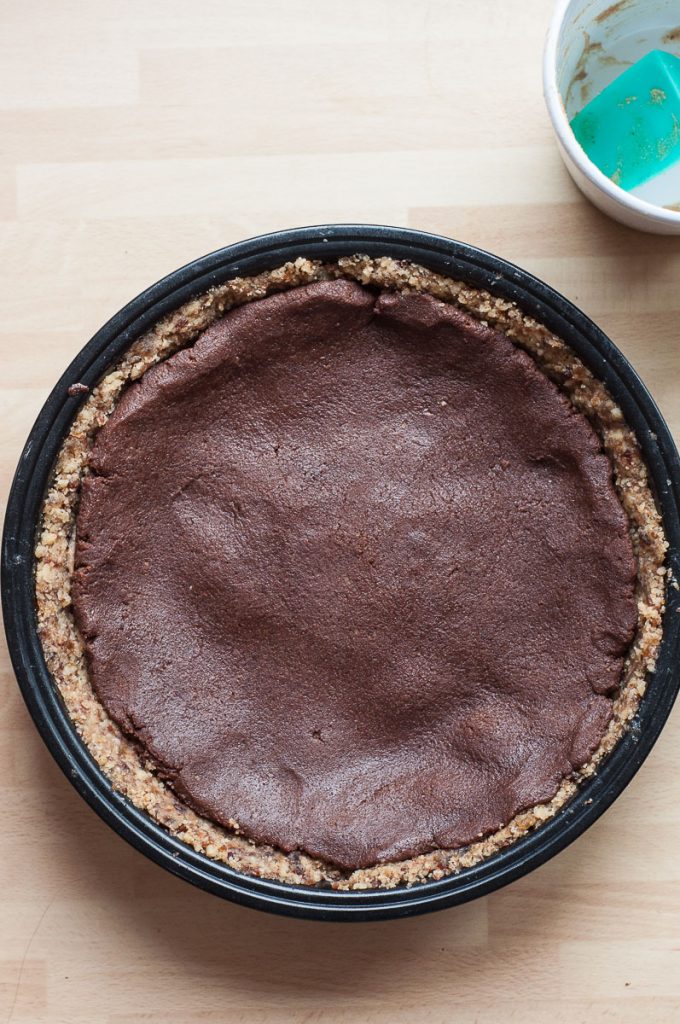 Then warm up the remaining caramel and drizzle it over the chocolate layer. You'll want to warm it up because it makes it easier to drizzle. I used a small piping bag to do this. Works easier. Decorate with some pecans, in any way you see fit.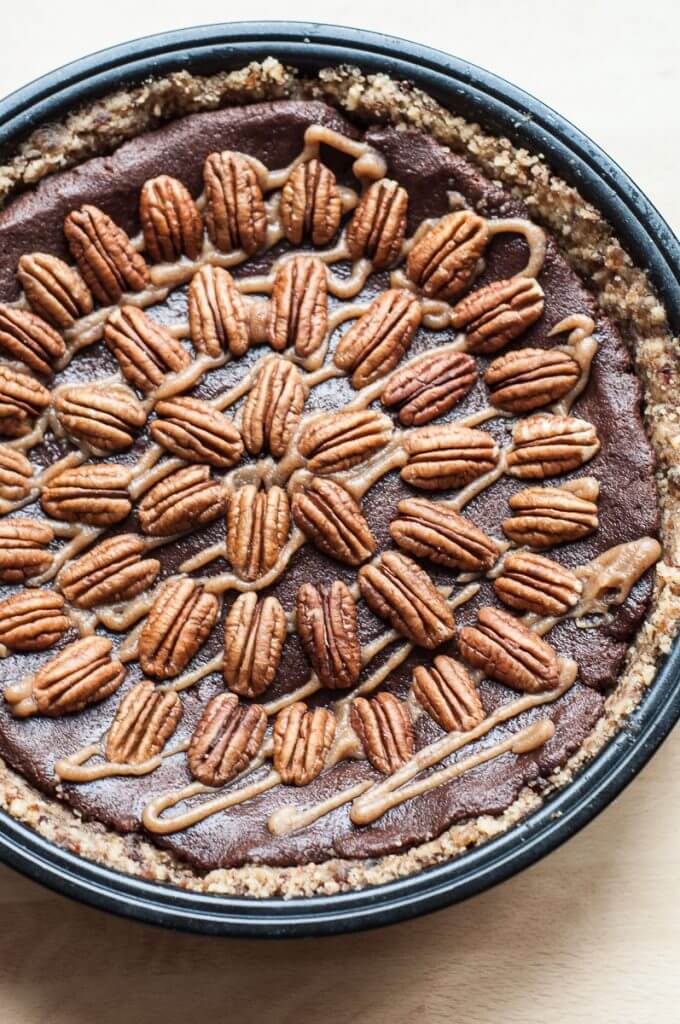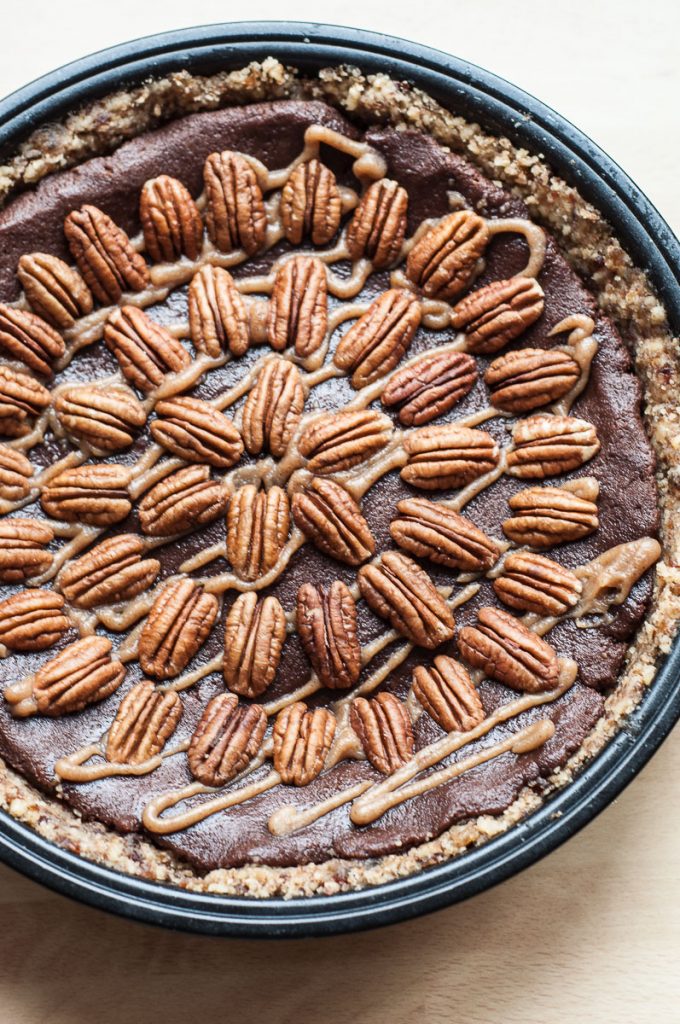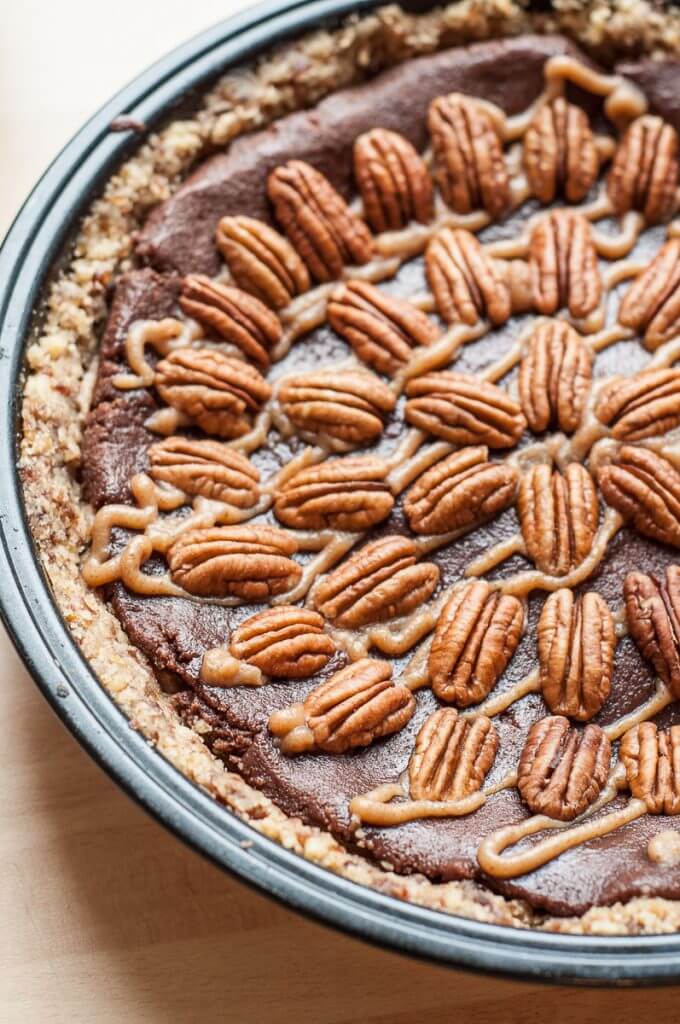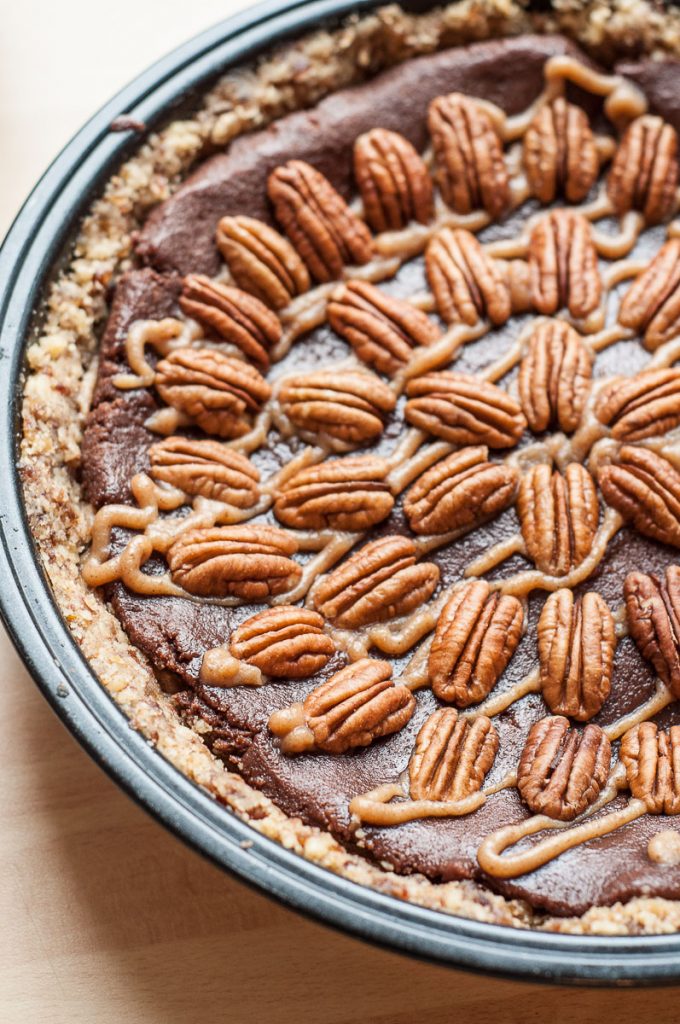 It doesn't stop there though. No pie would be complete without some whipped cream. However, whipped cream isn't vegan and definitely not raw vegan. That's why it's much easier to opt for whipped coconut cream. There's nothing crazy or complicated about whipped coconut cream. All you need to do is whip the coconut cream with an electric mixer. I prefer using a handheld mixer for this. Then add it to a piping bag and pipe it over or around the pie.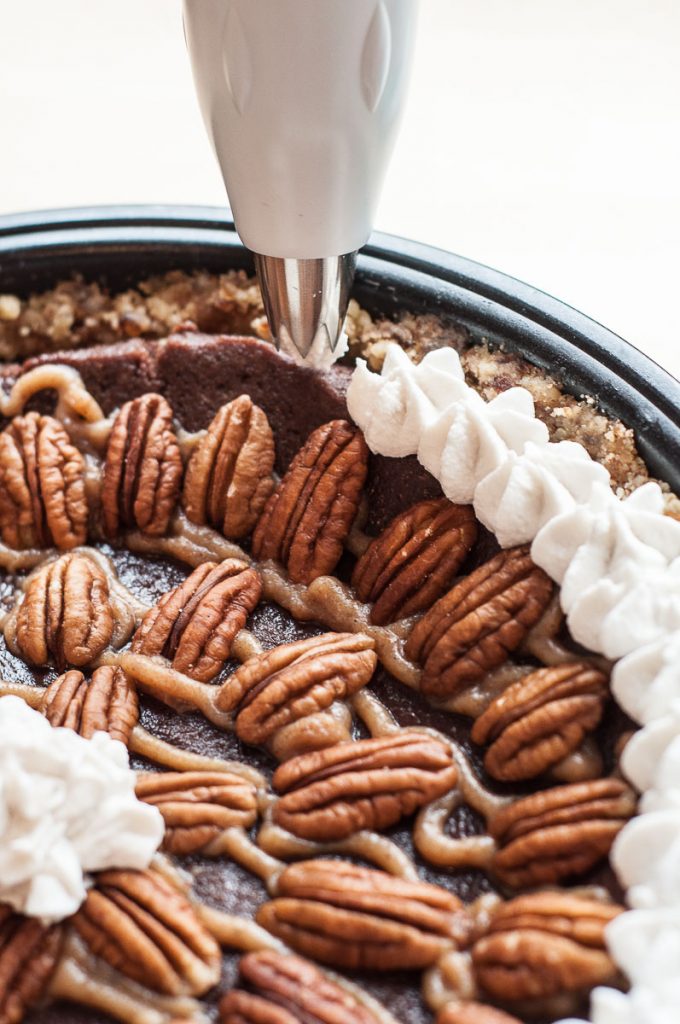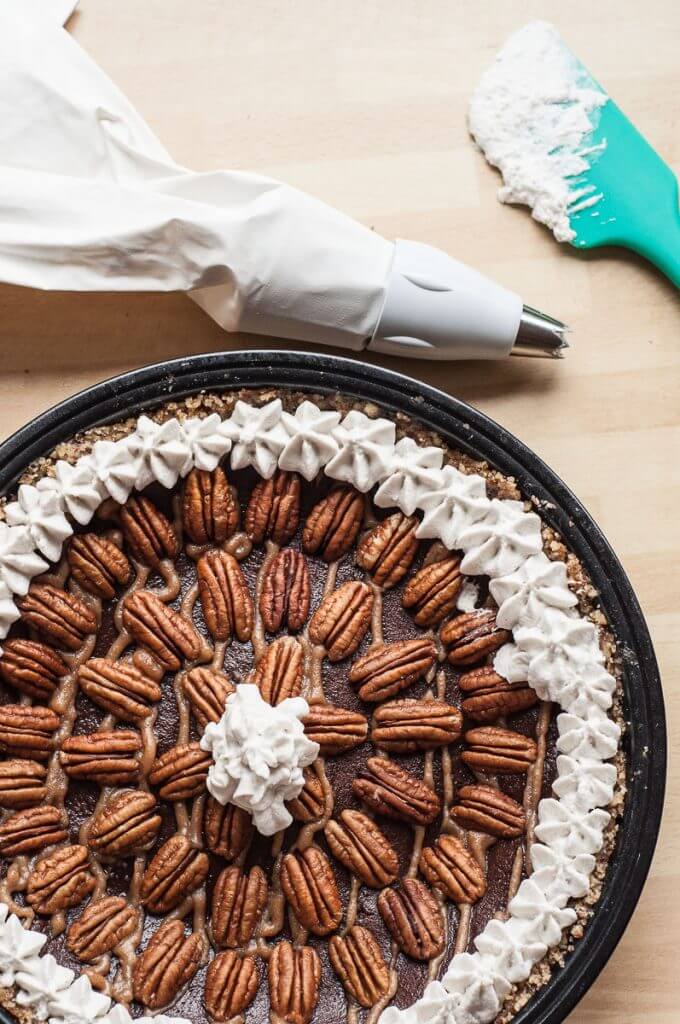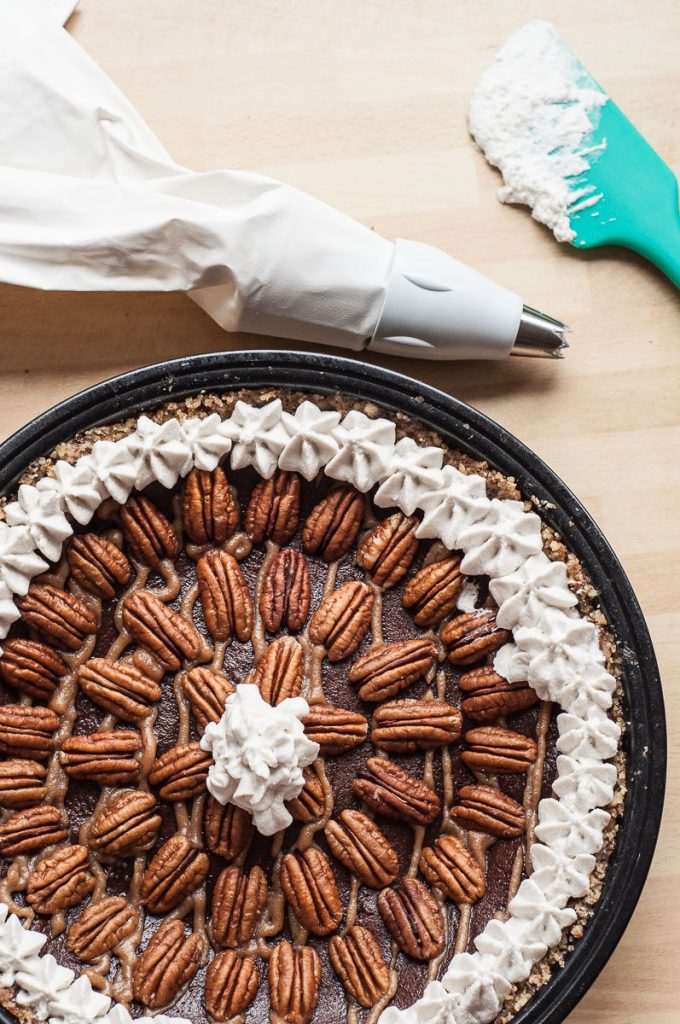 If you want to make the whipped coconut cream you can add a bit of vanilla extract or even powdered sugar (won't be raw vegan then). I prefer using unsweetened coconut cream for this pie since I think it's already sweet enough.
Refrigerate the chocolate caramel pecan pie for at least an hour before serving. It will make it easier to slice and remove the pie from the pie dish.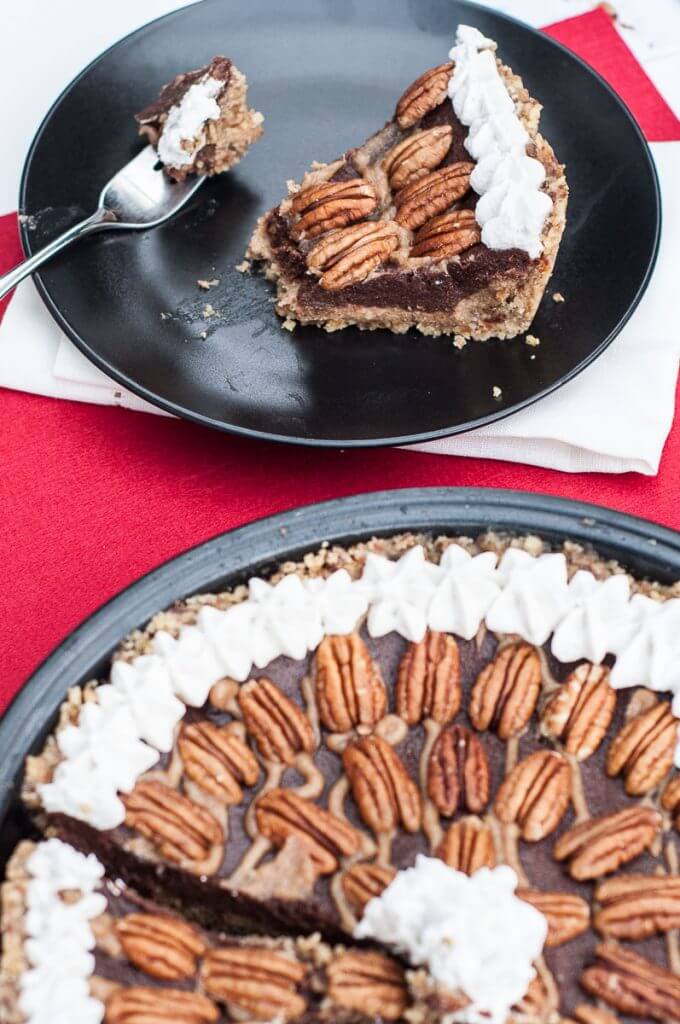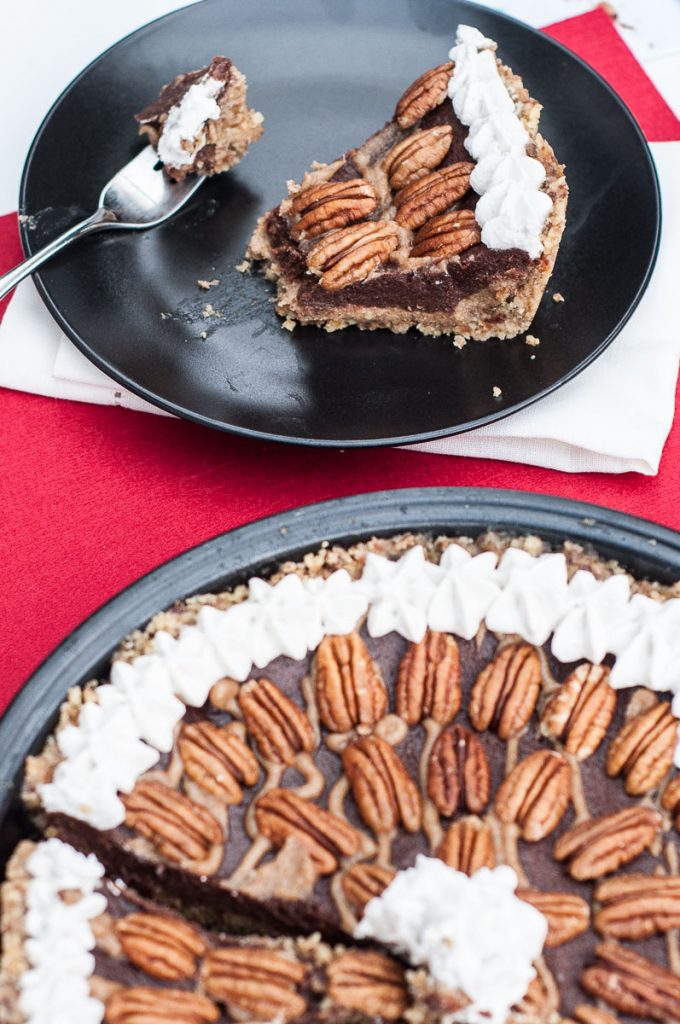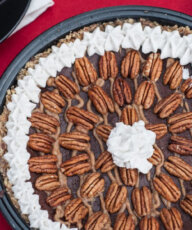 Chocolate Caramel Pecan Pie
Adapted from
Mini Raspberry Chocolate Cake
This chocolate caramel pecan pie is a complete game changer! A no bake pie that taste incredibly and will cater to almost anyone's food preferences during the holidays.
Ingredients
Crust
3

cups

300g Pecans

4

Medjool Dates

Pinch

of Salt
Caramel
Chocolate Filling
2

cups

300g Cashews (soaked for at least 2 hrs, patted dry)

3

Medjool Dates

5

tablespoons

75g Coconut Oil

3

tablespoons

20g Raw Cacao Powder (unsweetened cocoa powder will work too, if needed)
Toppings
Extra Pecans for garnish

optional but recommended

1

cup

Coconut Cream
Instructions
Prepare crust by adding pecans, dates, and a pinch of salt to a food processor. Pulse until the mixture becomes sticky and cumbled. If your dates are very dry feel free to add up to a tablespoon of water. Press the crust into a 9 inch pie dish and set in fridge.

Clean out the food processor and add all chocolate filling ingredients to it. Pulse the soaked cashews, dates, coconut oil, and cacao until smooth. The mixture will be thick. Spread chocolate filling over the Caramel layer.

Heat remaining ¼ of a cup caramel dip in a water bath until warm and soft. Add to a piping bag with a small round tip and drizzle across the top of the pie.

Decorate Pie with pecans.

Whip coconut cream with an electric mixer. until thick and creamy. Add to a piping bag and pipe decorative whipped coconut cream around the pie.

Cool pie in fridge for at least an hour before slicing and serving.

Pie will keep covered in fridge for up to 5 days.
Recipe Notes
1.) If you don't have enough pecans for the crust you can easily substitute with different nuts. Walnuts, macadamia, and almonds will work well for it.2.) If you don't have a piping bag then add the warmed caramel to a Ziploc bag and cut off a small corner, and pipe it through the hole.
Looking for some more holiday recipes? Try these :)