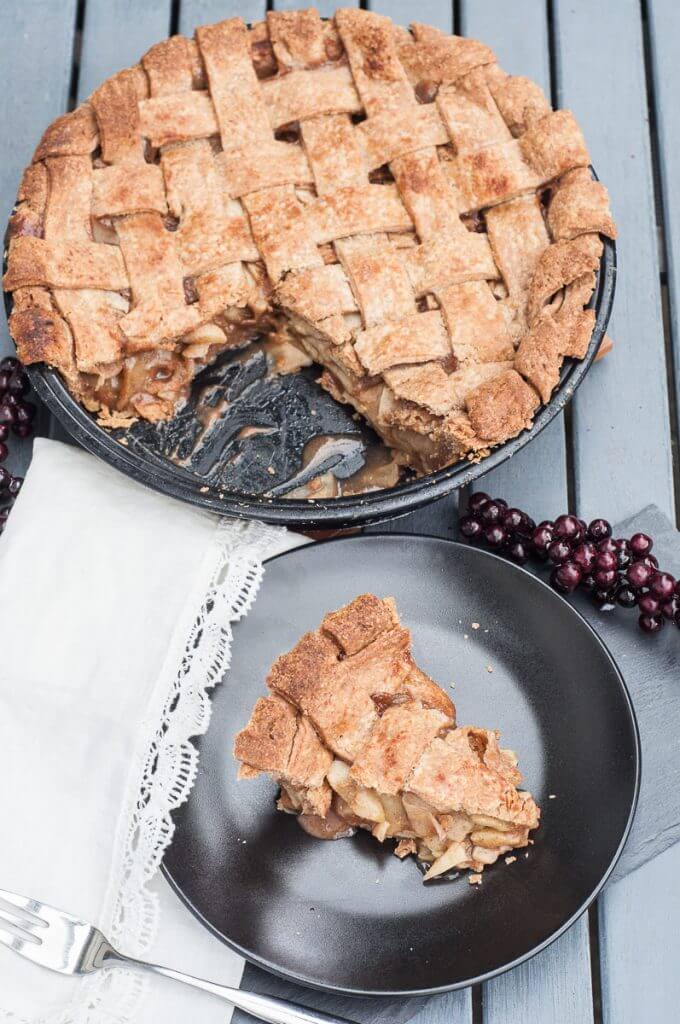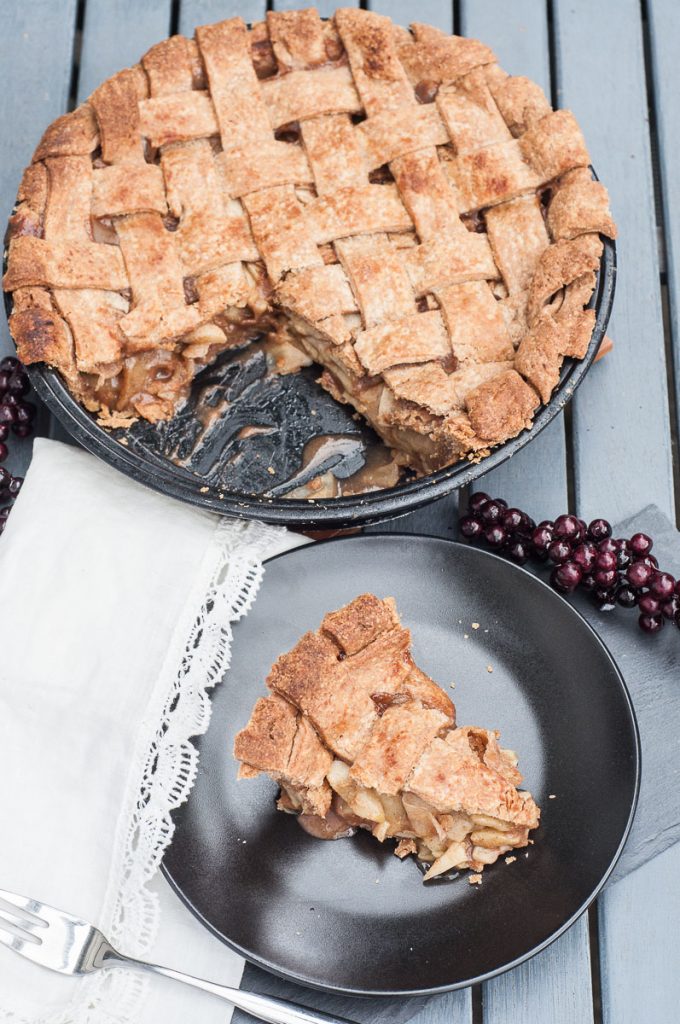 There's something so warming and loving about making an apple pie. I dare you to try but I'm pretty sure no one is able to eat an apple pie angry. If you can, show me on Instagram. I would love to see! No cheating and pretending you are angry though!
Once you realize you that a perfectly balanced, vegan apple pie can brighten even the gloomiest November day, you'll stop try to take an angry apple pie eating selfie and just enjoy it! :)
The trick to a good apple pie ,whether it be vegan or not, is choosing the right apples. You need nice tart apples. I prefer granny smith but you can go with royal gala, empire or even golden delicious apples as well. You'll also want to make sure you slice your apples in roughly the same way. You'll want all your apples to have an even cook on them.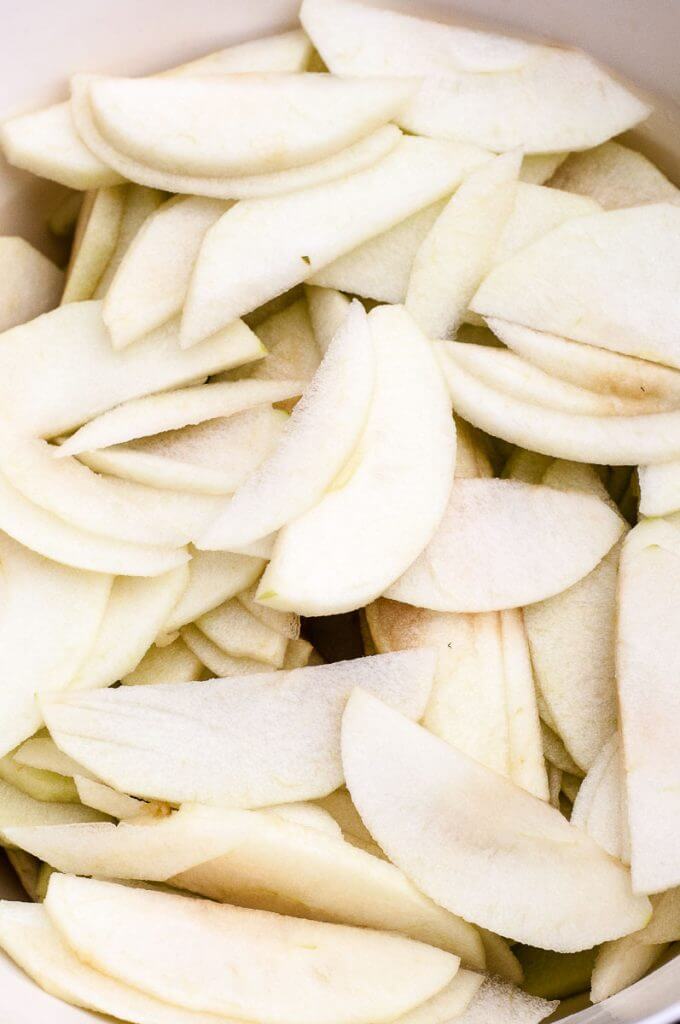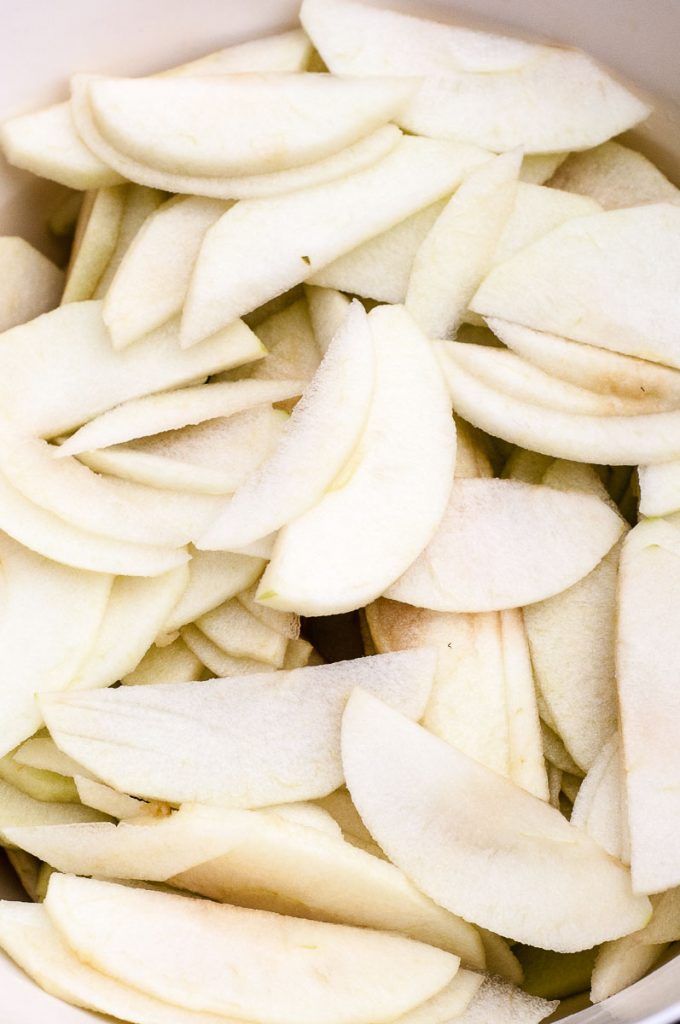 Another newbie apple pie mistake I often see taste is that people think adding lots of cinnamon will miraculously make the apple pie taste 200x better. So let's answer this quick question. What should apple pie taste like? Like cinnamon pie? No. Like all spice pie? No. Like sugar? No. Mmmm…Oh right…like APPLE PIE. Keyword being APPLE. Go easy on the spices. You want a hint of cinnamon and sweetness. not an overwhelming amount.
I also want to point out that I used whole cane sugar or also known as sucanat. It's basically just dehydrated sugar cane juice and therefore retains all of molasses content of sugar cane. Because of the molasses in whole cane sugar you won't need to add too much of it. Usually in baking you'll need about 2/3 of what the recipe is calling for in white sugar. You'll also get a nice caramel like taste from it which works wonderful in this apple pie. If you don't have sucanat on hand then feel free to use white sugar. See the notes of the recipe then.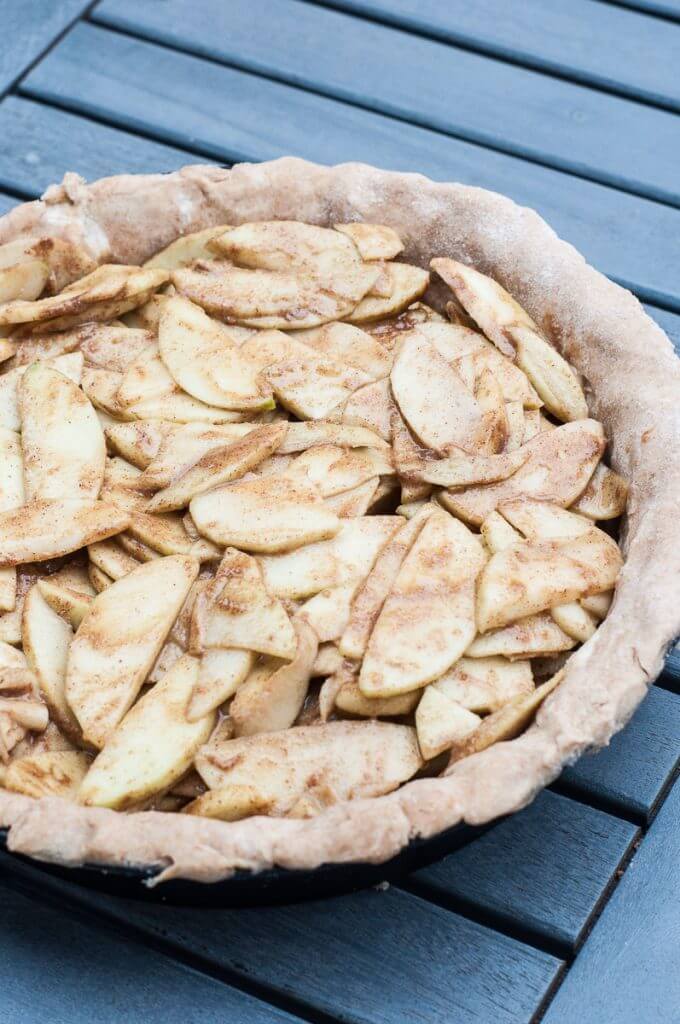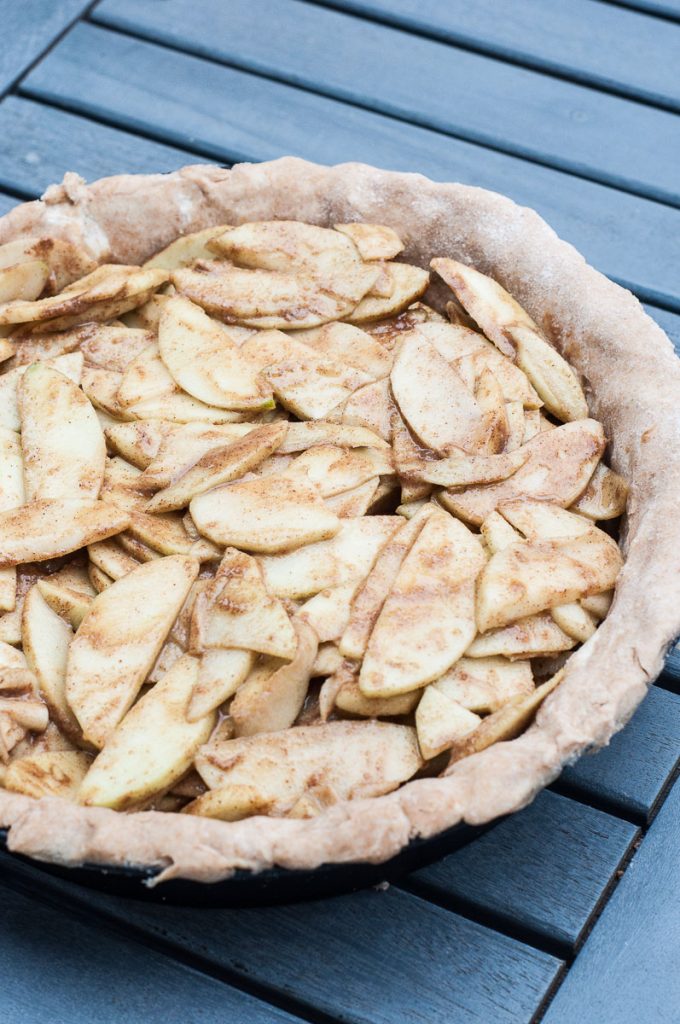 Now your pie just needs a top. I prefer making lattice top for pies. I think it looks nicer and I actually like making it. Makes me feel crafty :) If you aren't in a crafty mood, you can always bake the pie without a top or just roll out the pie top place it on top and cut some slits in the top.
Otherwise, lattice is the way to go. You'll want to roll out your pie dough and cut it into strips. I like using 1 inch strips but you can also make a smaller lattice. Just make sure you use a yard stick or a different way of measuring to make sure they are all the same size. You don't need to worry too much about the length at this point. Just make sure they are longer than your pie plate.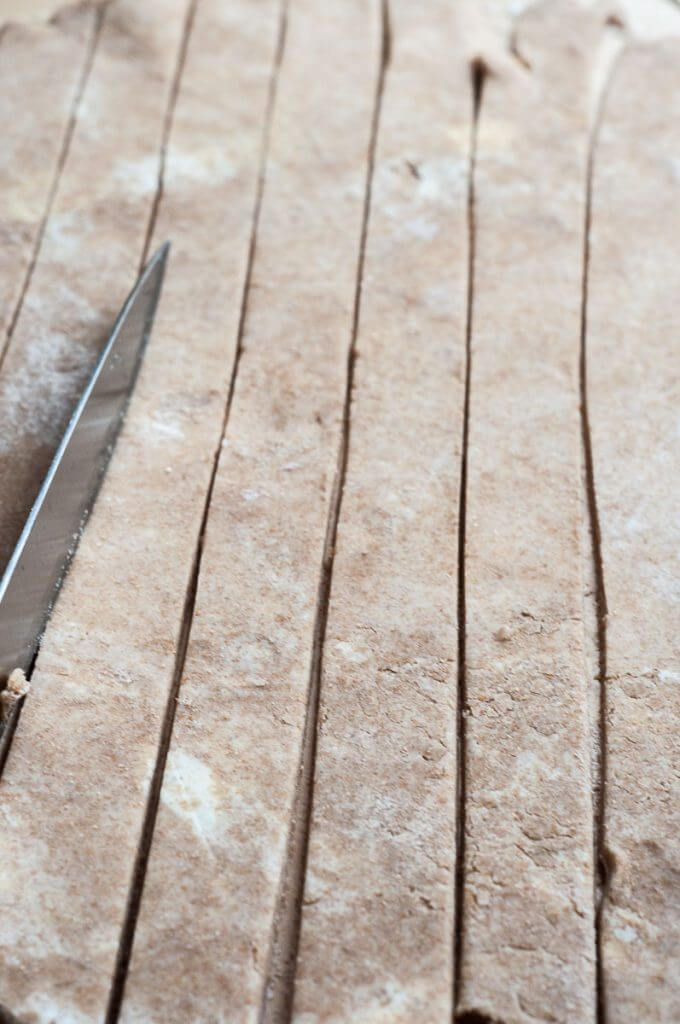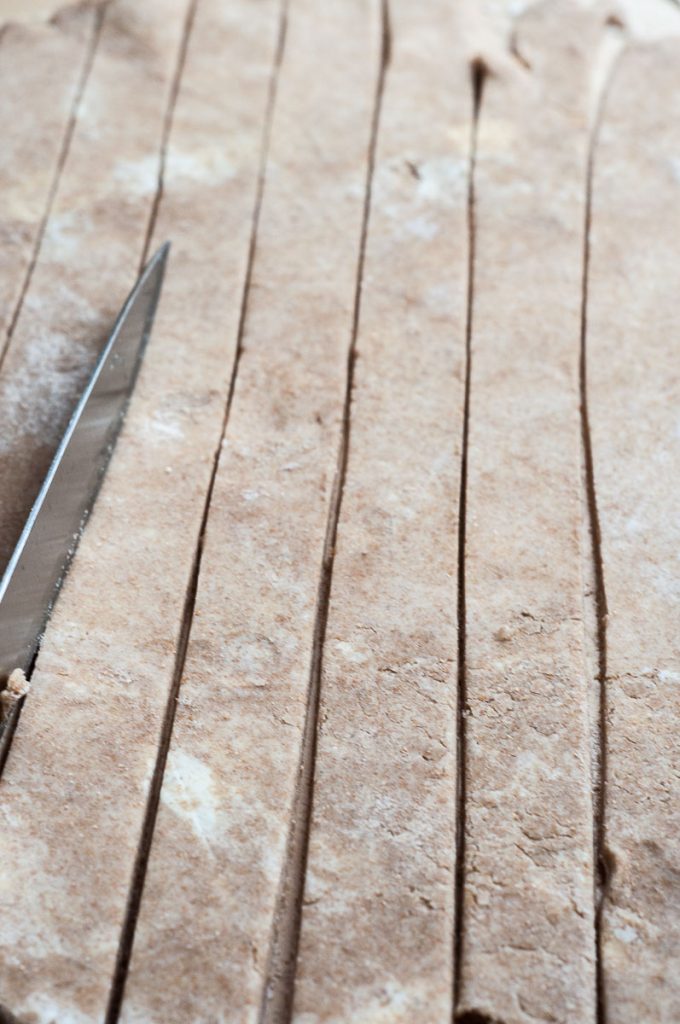 Then you'll want to start weaving. Everyone weaves their lattice in a slightly different way. For a step by step lattice pie top look here. Otherwise if you are feeling adventurous then dive right in and realize that inner weaver! Make sure to touch the dough as little as possible you still want to little streaks of butter going through the dough.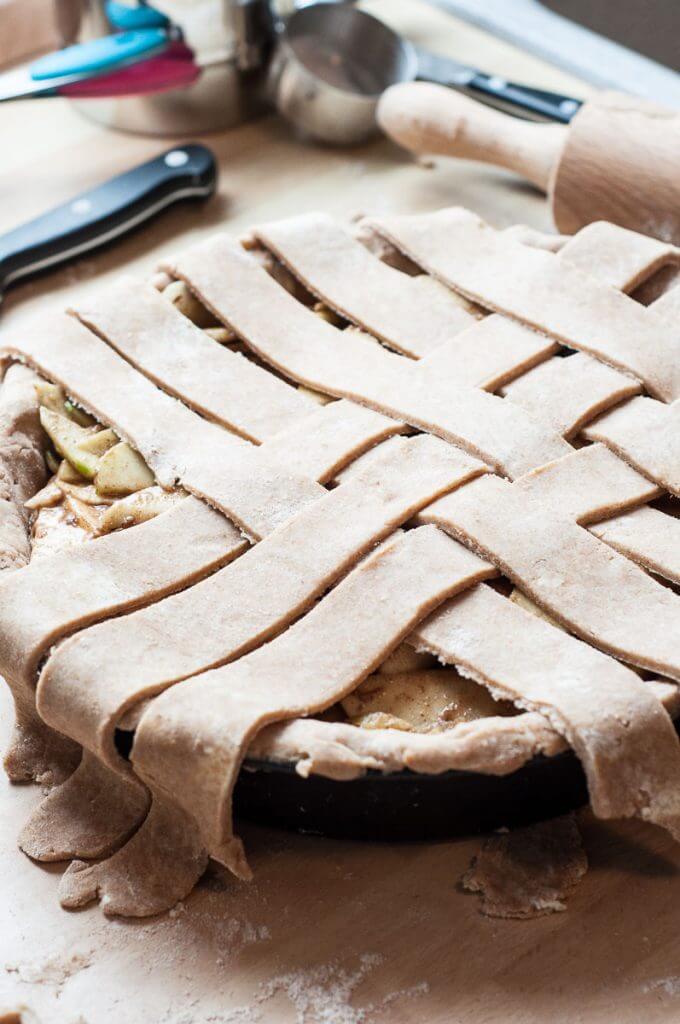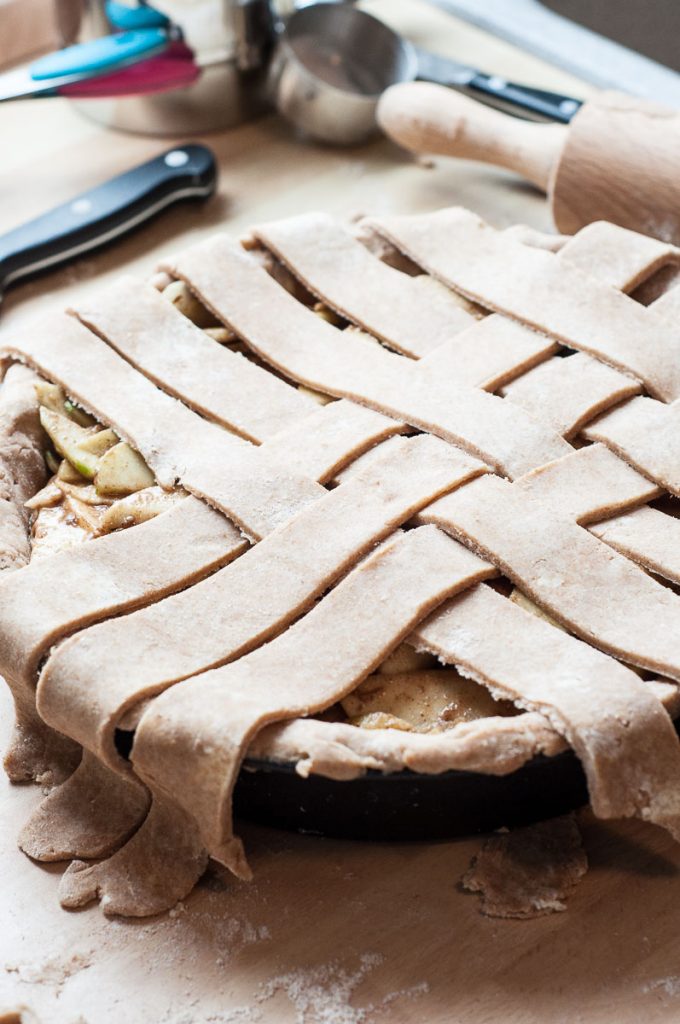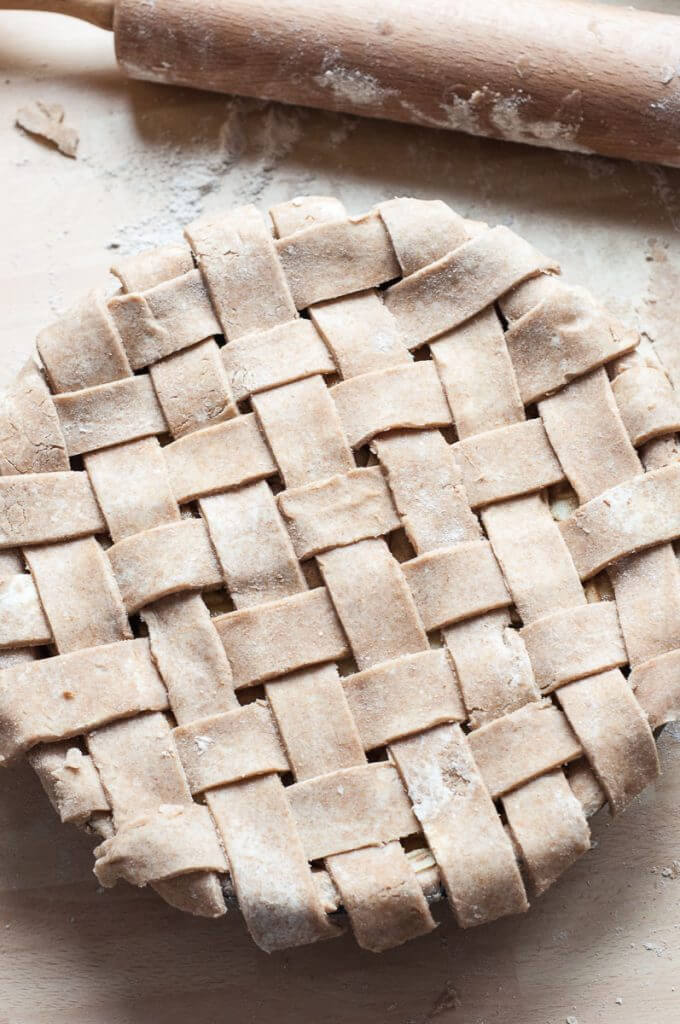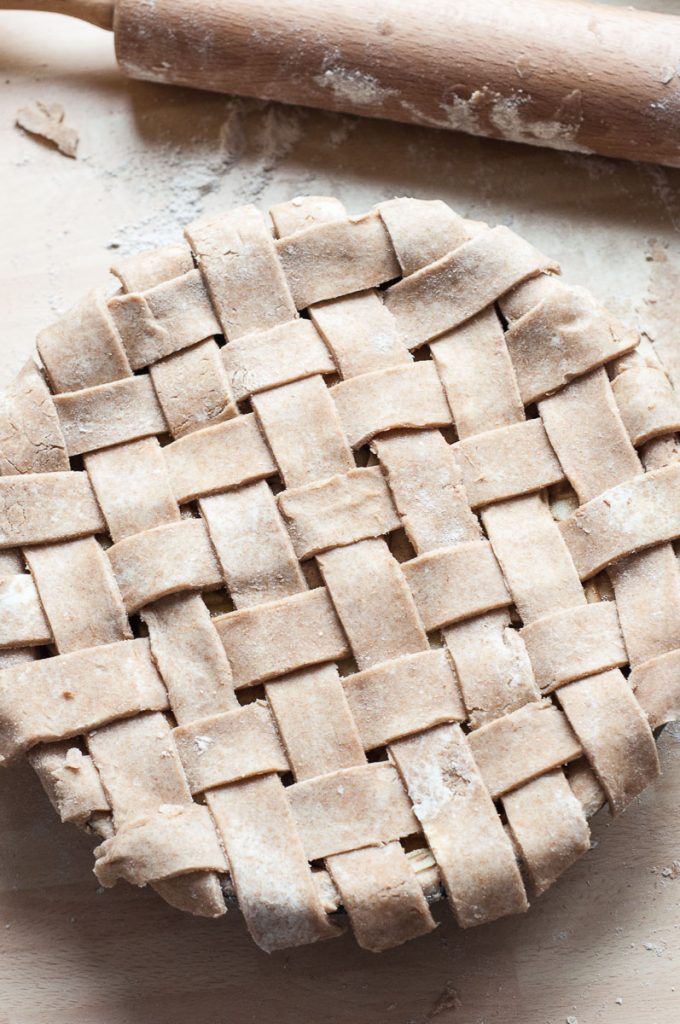 Make sure to cut of the excess length from each strip of dough off and fold it over or up depending on the look you are going for :)
Now all there is left to do is to bake it. Finally!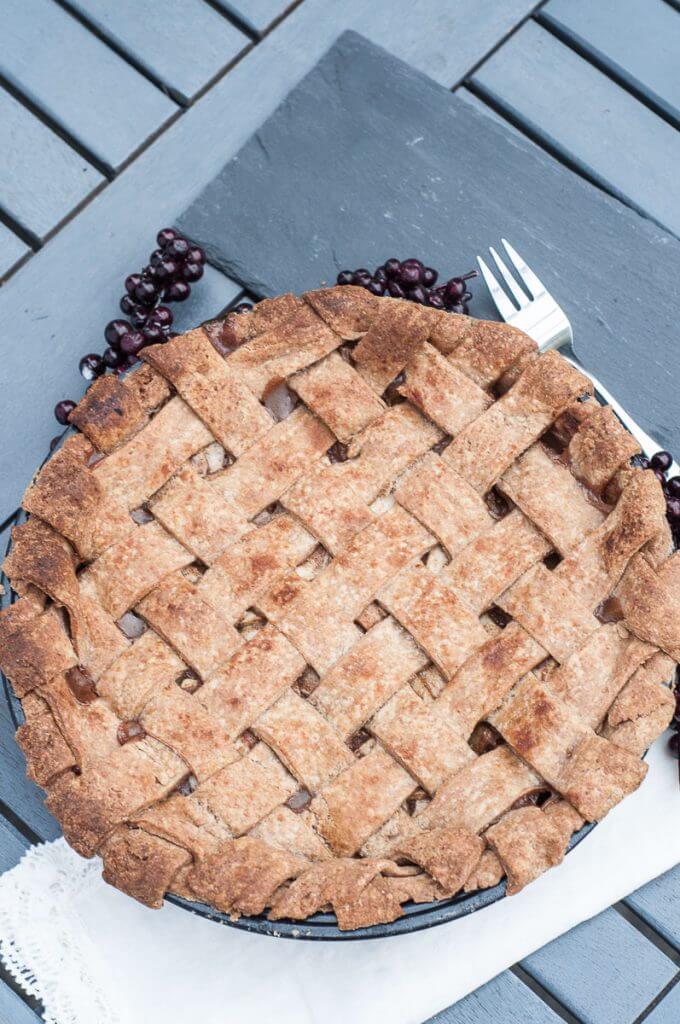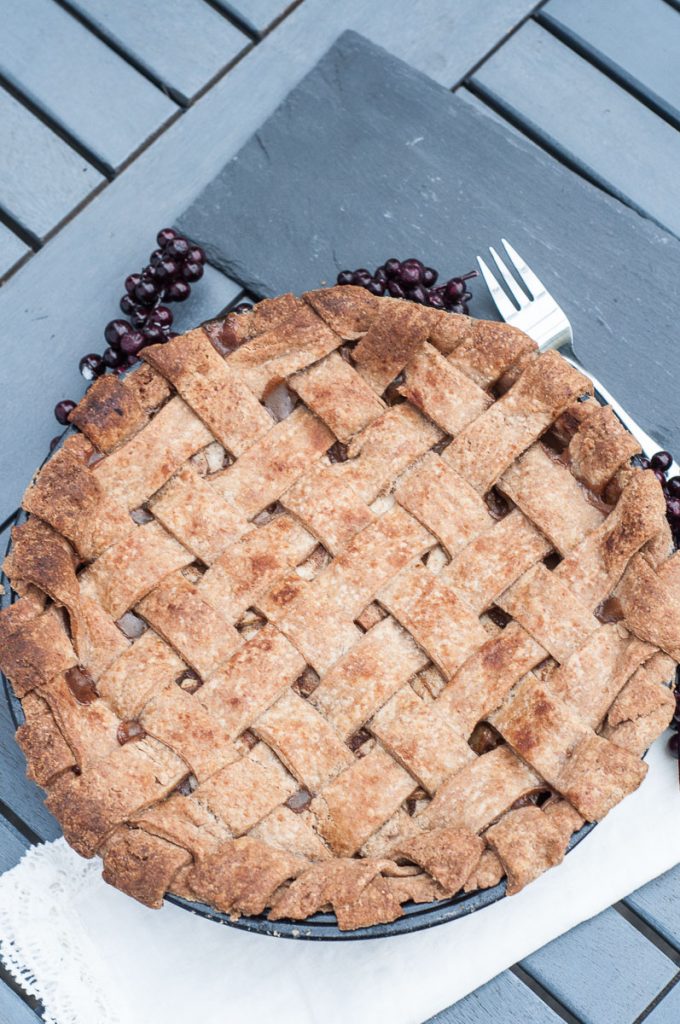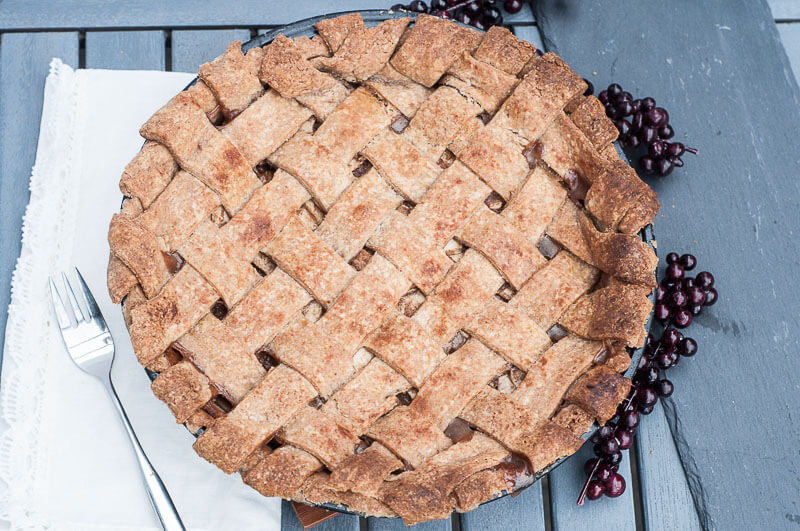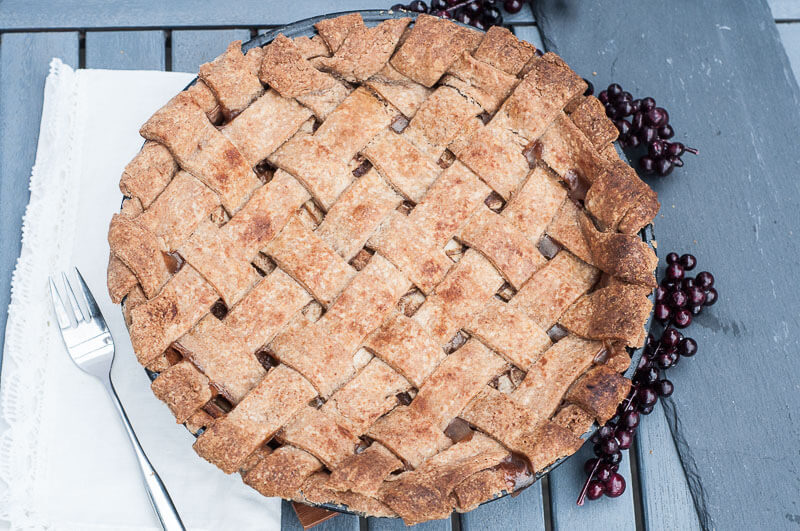 Now what should we do with it? Or we wanted to eat it. That's right :)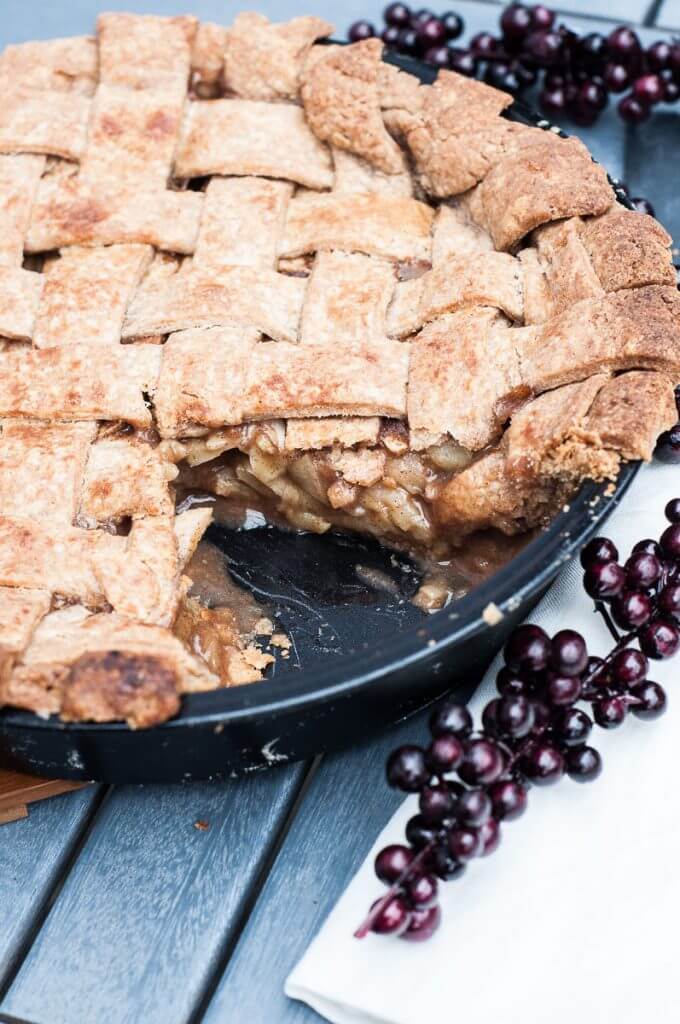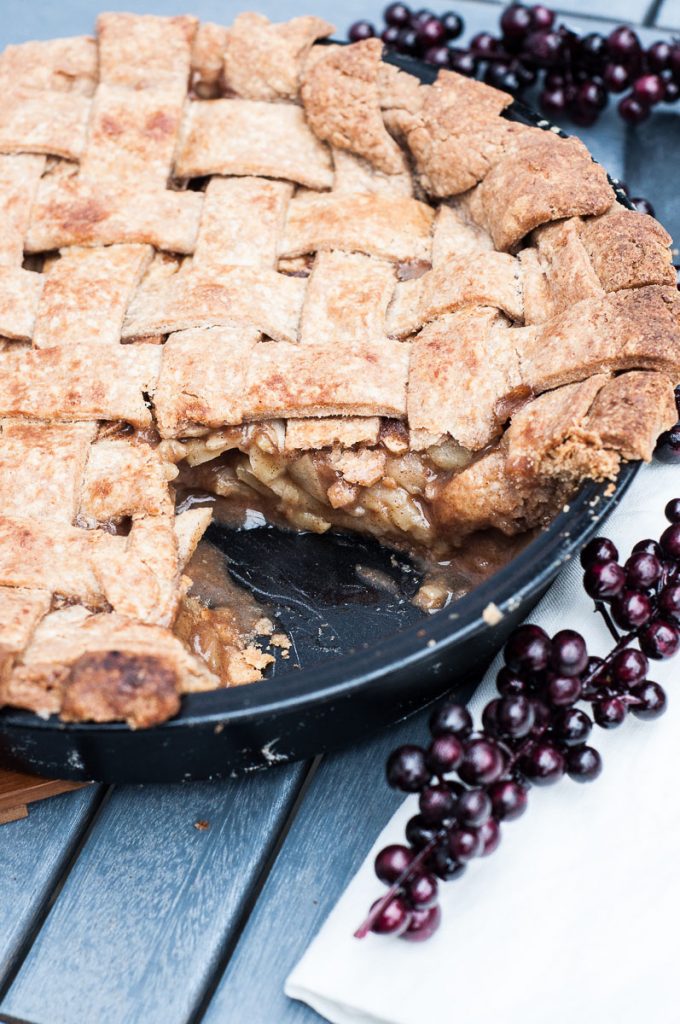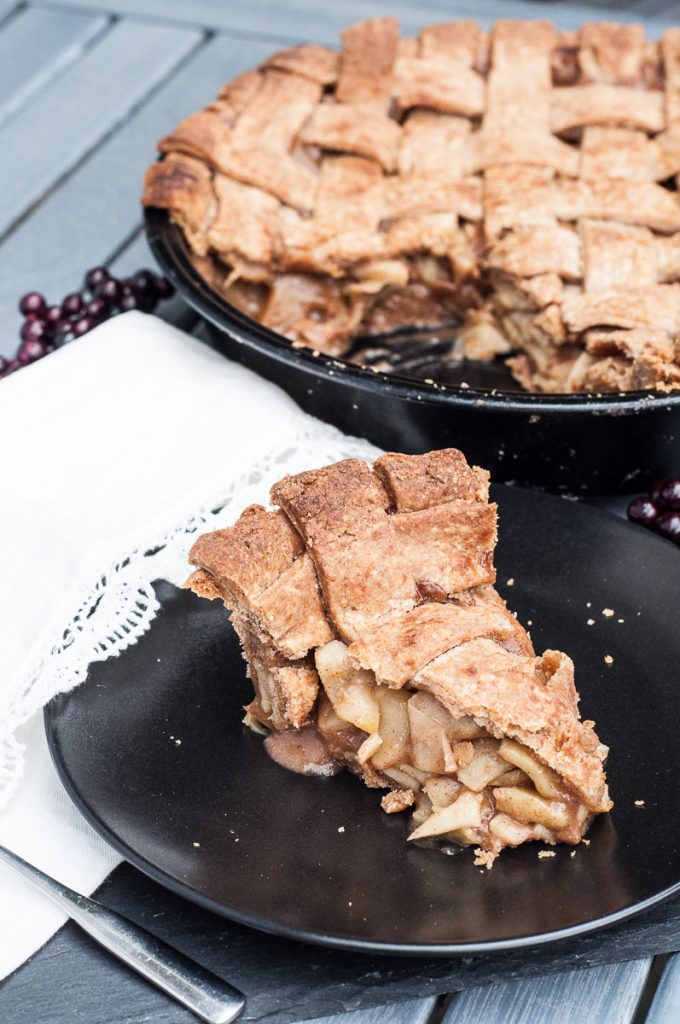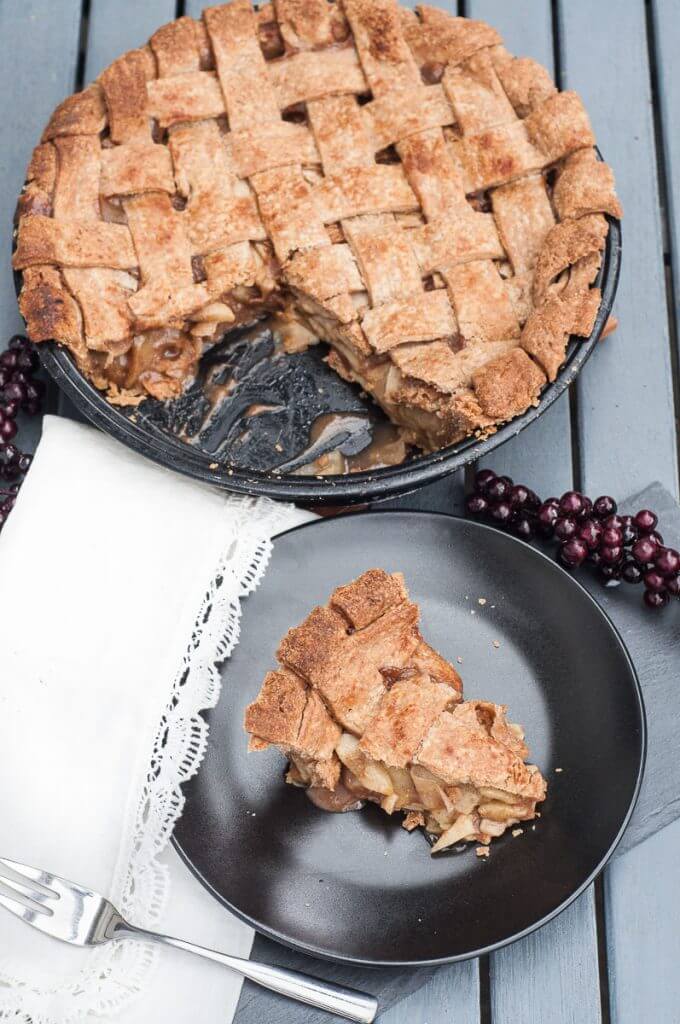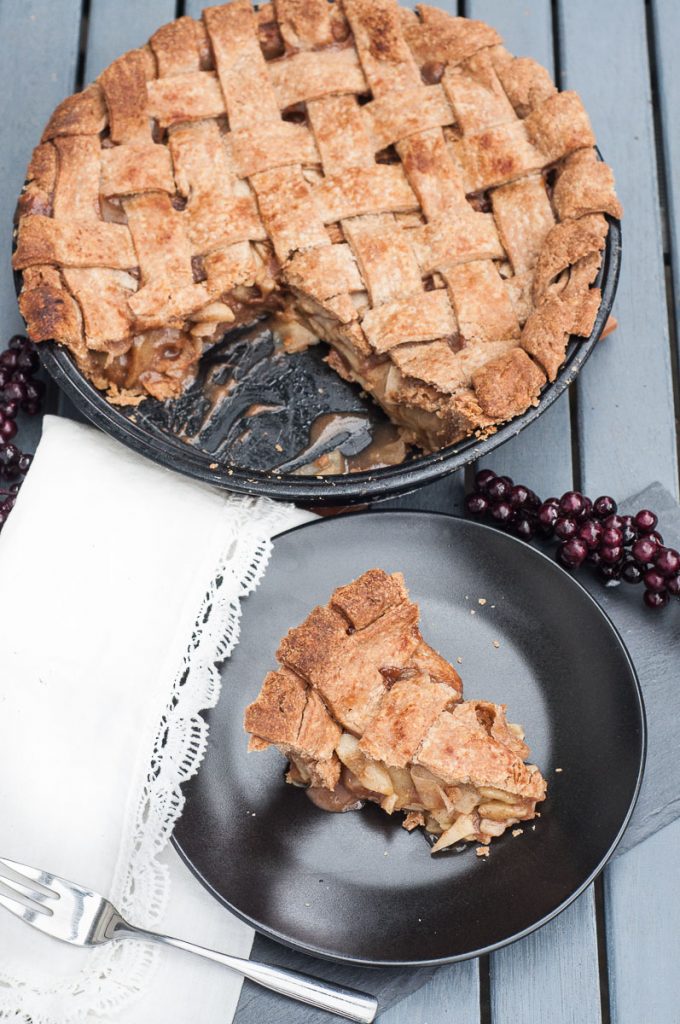 There you have it. A perfectly delicious Whole Wheat Vegan Apple Pie!
Vegan Whole Wheat Apple Pie
A healthier Whole Wheat Apple Pie recipe that is vegan yet tastes perfect! Use your favorite tart apples for this pie i.e. Granny Smith, Royal Gala, Empire and Golden Delicious.
Cook Time
1
hour
5
minutes
Total Time
1
hour
35
minutes
Ingredients
6

Granny Smith Apples or other tart apples

cored, peeled and sliced

1/4

of a cup

40 g Whole Wheat Flour (sifted)

1/2

of a cup

70 g Whole Cane Sugar or Sucanat

3/4

of a teaspoon Cinnamon

1/2

of a teaspoon All spice

1/4

of a teaspoon Nutmeg

Pinch

of salt
Instructions
Preheat oven to 410°F (210°C).

Mix apples together with flour, sugar, cinnamon, all spice, and salt.

Fill pie with apple mixture. Place in fridge.

Take remaining half of the previously made pie crust and roll it out thinly on a lightly floured, flat surface. Try not to touch the dough very much as you don't want the butter to melt.

Cut the dough into 1 inch long slices. Weave a lattice crust with the slices. Cutting off the edges of the dough when they are too long.

Bake pie for 15 minutes at 410°F (210°C), then lightly cover with aluminum foil and cook for another 50 minutes at 375°F (190°C). Remove apple pie from oven. If pie is not golden brown yet, return it to the oven and bake (without aluminum foil) for an additional 5 - 10 minutes.

Allow apple pie to fully cool before cutting and serving.
Recipe Notes
1.) Make sure your apples completely fill the pie plate and almost form a small mound. When the apples are cooking they will sink a bit.2.) If you don't want to make a lattice crust you can simple place another rolled out disk to fit a 9 inch pie form and place it on top of the apples. Be sure to cut slits into the pie crust for steam vents.3.) Whole cane sugar can be substituted with white sugar. Use 2/3 of a cup of white sugar then.4.) Whole Wheat Flour can easily be substituted with all purpose flour, spelt flour, or your favorite gluten-free flour mix.
If you haven't made the Whole Wheat Pie Crust yet be sure to do that first!
Looking for some other Holiday recipes to make? Some of these might tickle your fancy ;)