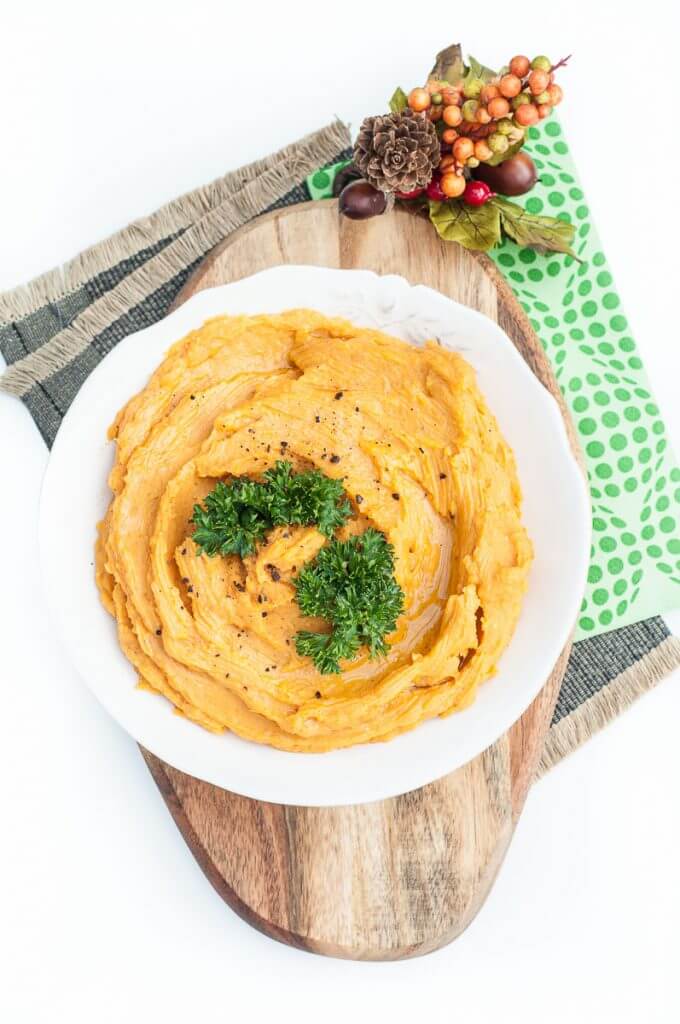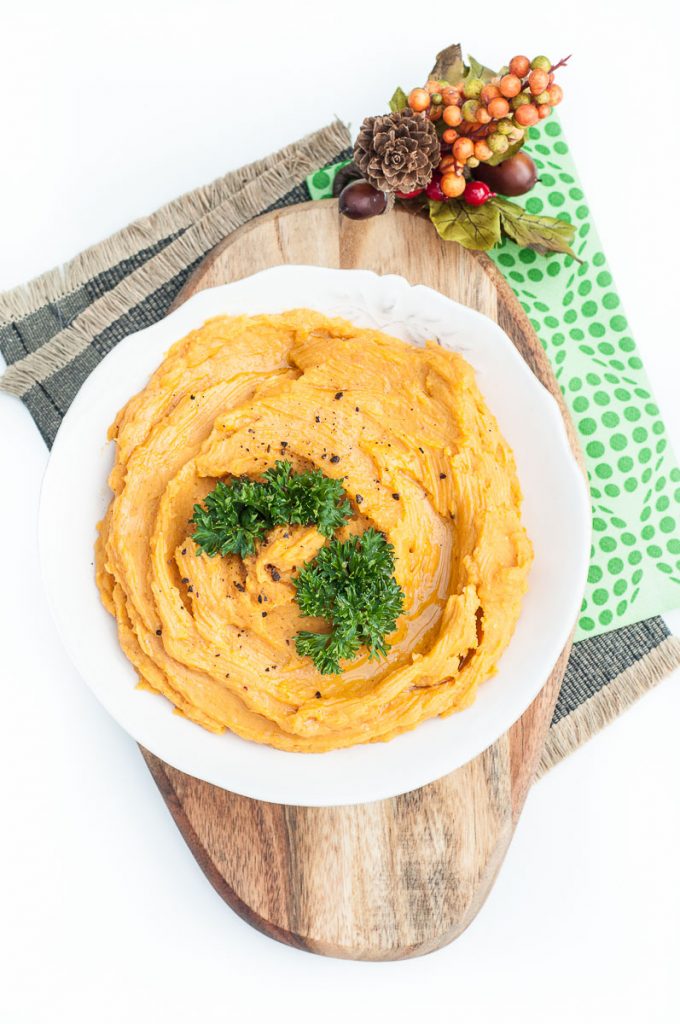 I have no idea why but I hate regular white potatoes. My German and Irish ancestors must be appalled. Oh well. They also ate a lot of things that vegans have nightmares about ;)
Just because I don't like white potatoes, doesn't mean I don't want mashed potatoes at Thanksgiving. So if I don't want to use white potatoes, I'll use...you guessed it! Sweet Potatoes!
Mashed sweet potatoes might not sound like anything new to you but have you tried it with coconut butter? One word to describe it - UNREAL!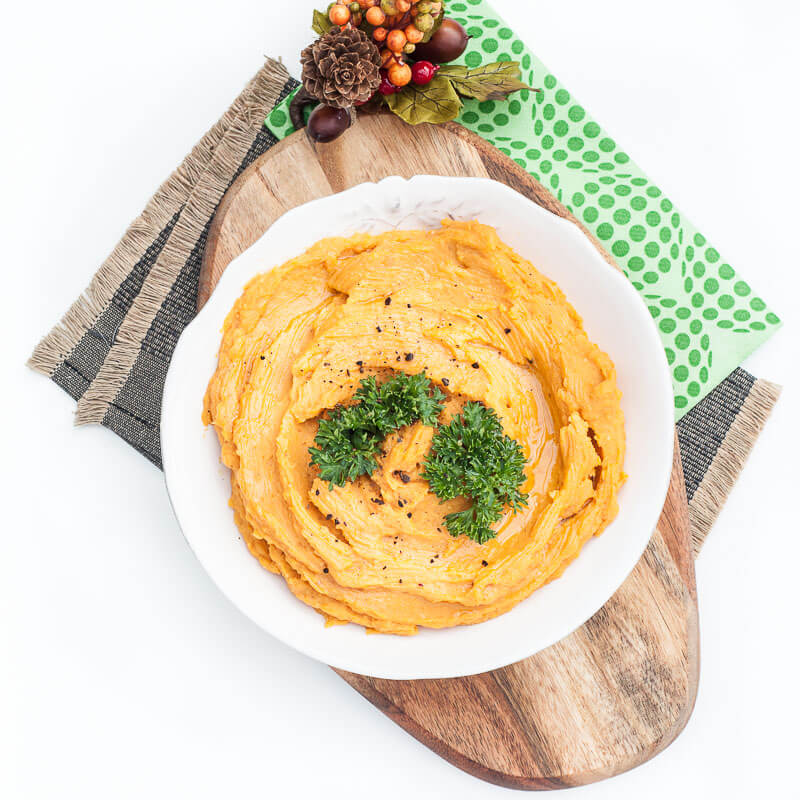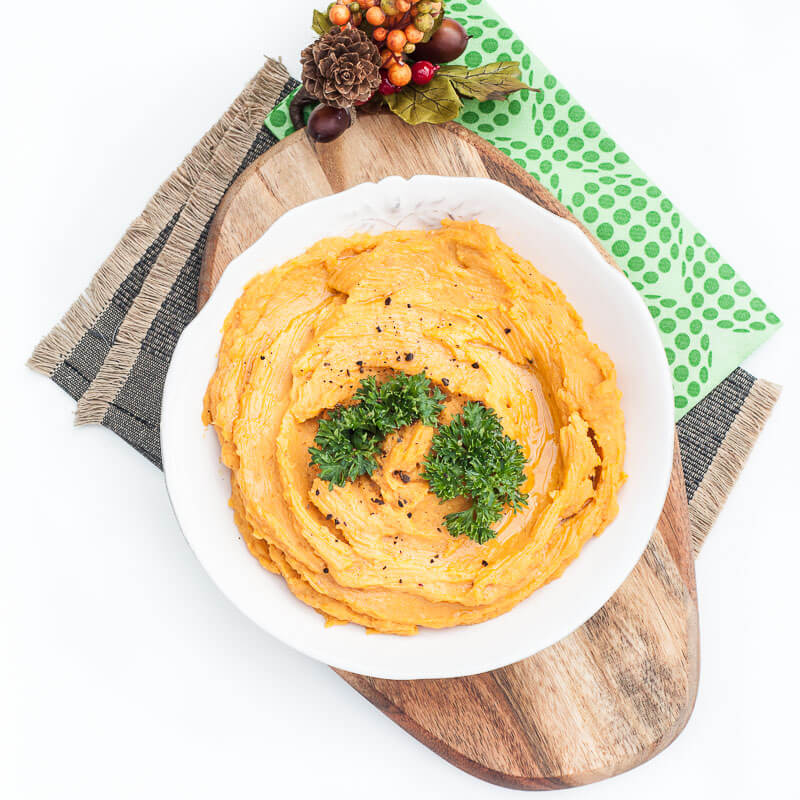 I know what you are thinking now.
Coconut butter is soooo sooo expensive! #cryinginside
True. Store bought coconut butter can cost you more than $10 a jar. However, you won't need a whole jar to make this. You only need ¼ of a cup melted coconut butter. That's not a lot at all. That's like one spoonful of coconut butter I like to shove in my mouth and call it a snack ;) Plus, if you make your own coconut butter it will cost you less than a third of the store bought coconut butter.
Now that we are ok with that. Let's move on to steaming! I find steaming vegetables to be so important. Back when I was still making my own baby food for my boys I always made sure to steam all the vegetables for them. Boiling results in such significant loss of vitamins and minerals. We all want those! So make sure to steam up these sweet potatoes. The cook time when steaming is usually around the same if not shorter.
If you don't already have a steamer then you should definitely invest in one. I got this fairly cheap steamer from amazon for $21. So worth it!
Think of boiling vs steaming your vegetables this way. Eating boiled vegetables is like buying a ferrari without any seats or steering wheel. It won't do you any good. It's nice to look at but pretty disappointing. Steaming your veggies is like having a tricked out ferrari. You can reap all the benefits it has to offer and people will go crazy for that gorgeous glow on your face.
Point being : Steam 'em!
Mix up those yummy nutrient filled sweet potatoes with coconut butter and some healthy plant based milk and you've got creamy mashed sweet potatoes.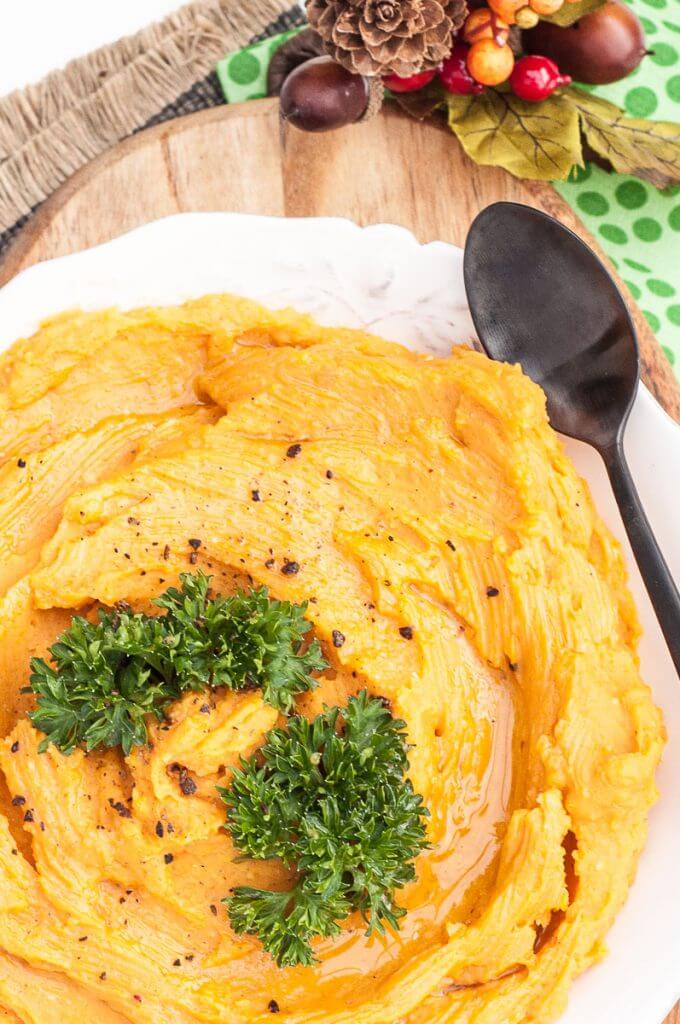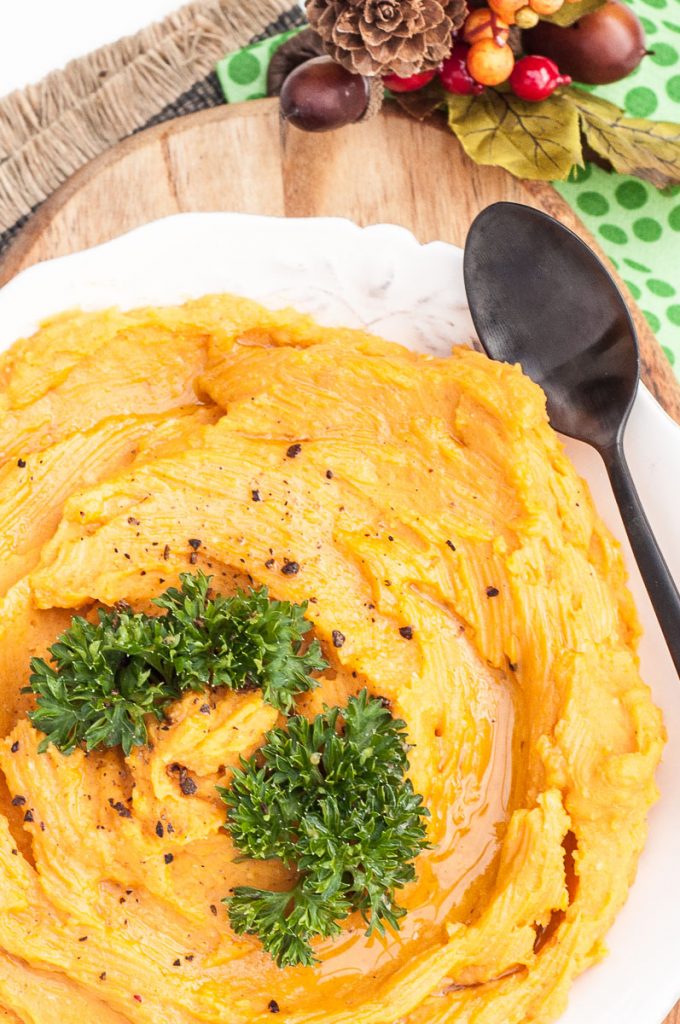 Some might say heaven in a bowl. I won't name names.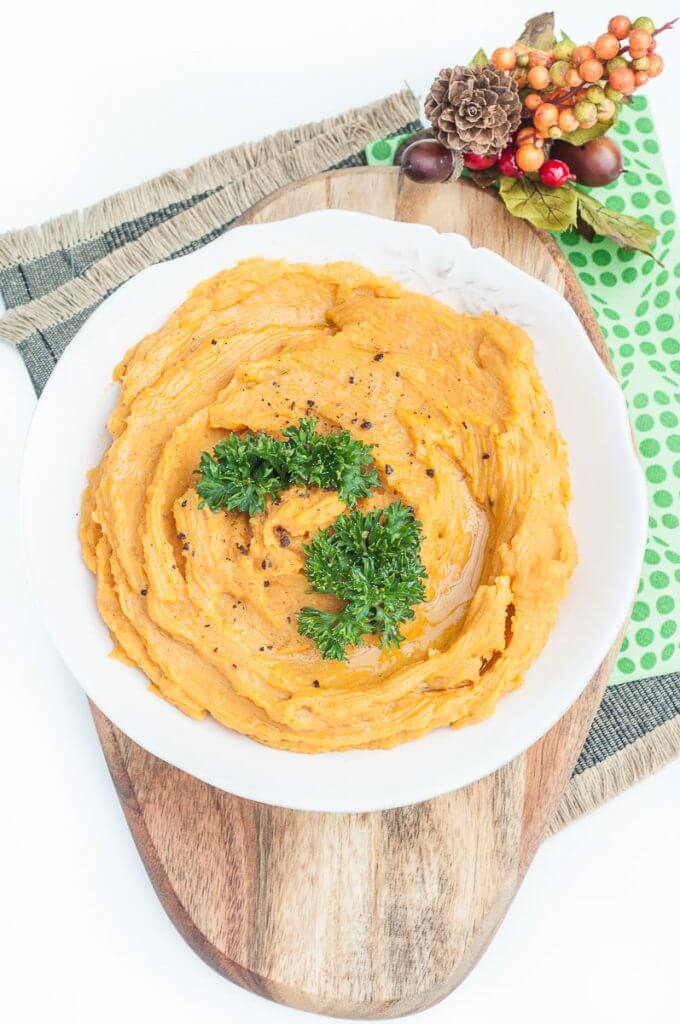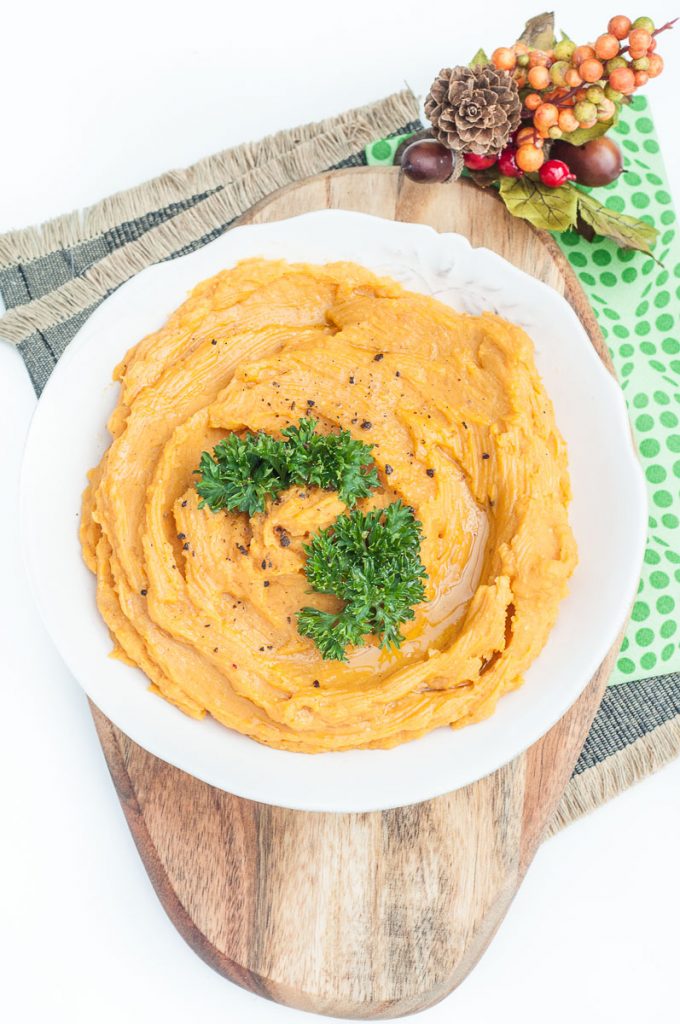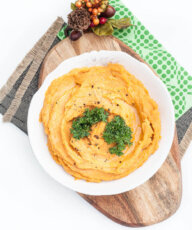 Healthy Mashed Sweet Potatoes
Ingredients
2.2

lbs

1 kg Sweet Potatoes (peeled)

¼

of a cup

60 g Melted Coconut Butter (Learn how to make your own here.)

¾

of a cup

185 ml warm unsweetened Oat Milk (other unsweetened plant based milks will work too)

1

teaspoon

Salt

½

teaspoon

Black Pepper
Instructions
Peel and roughly dice sweet potatoes. Steam sweet potatoes until you can easily pierce them with a fork, around 15 minutes.

Remove potatoes from steamer and place in a large pot and mash with a potato masher. Add melted coconut butter, oat milk, and salt and pepper. Beat ingredients into sweet potatoes until fully mixed and fluffy.

Add more salt and pepper to taste.

Serve hot.
Recipe Notes
1.) If you don't have a steamer, you can also boil the sweet potatoes in a large stock pot in lightly salted water. If you have boiled your potatoes, make sure once they are cooked, that you return them to the stove over low heat to dry off any excess water for 1 - 2 minutes.2.) If you don't have any coconut butter on hand, feel free to use vegan butter.
Looking for some other seasonal recipes? You'll love these :)