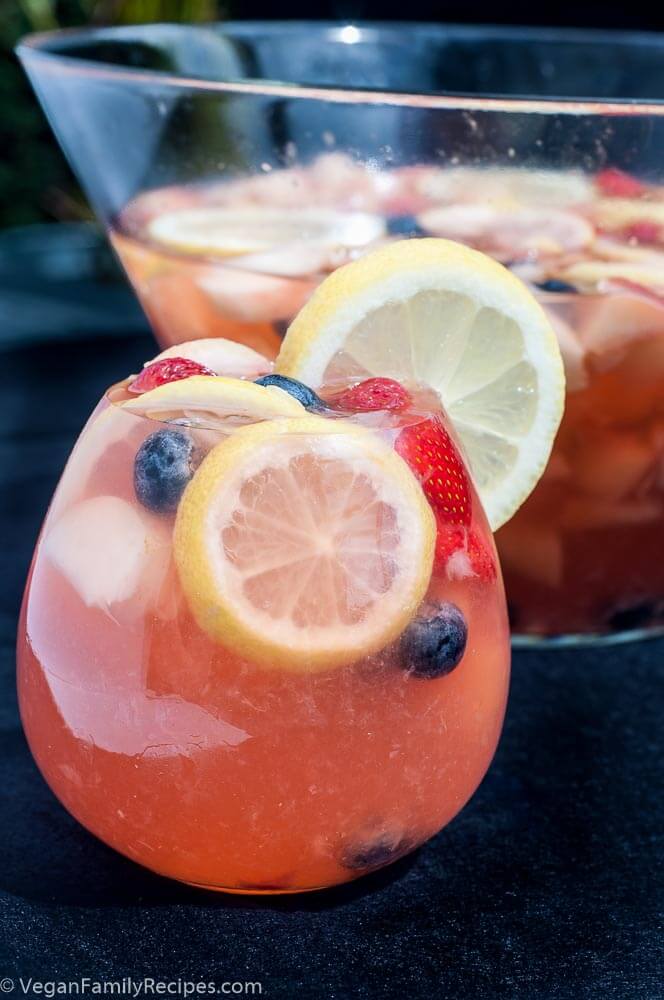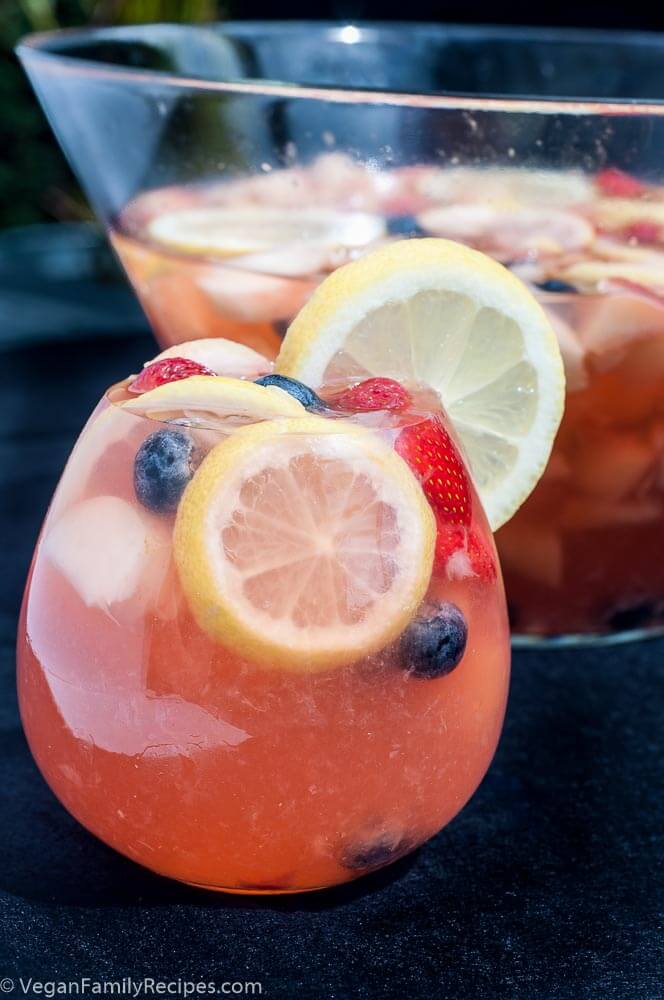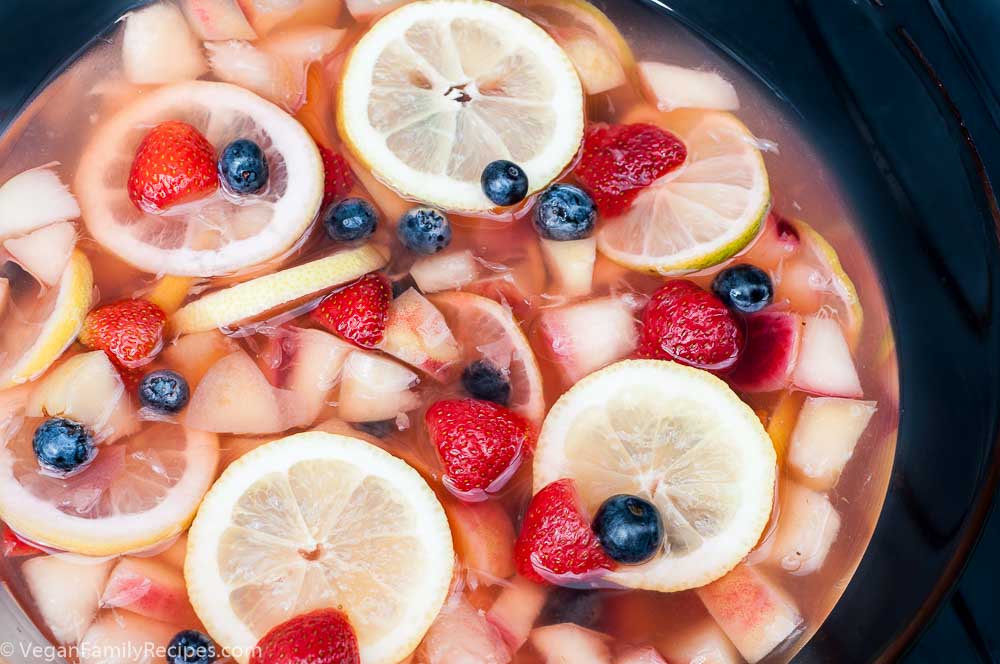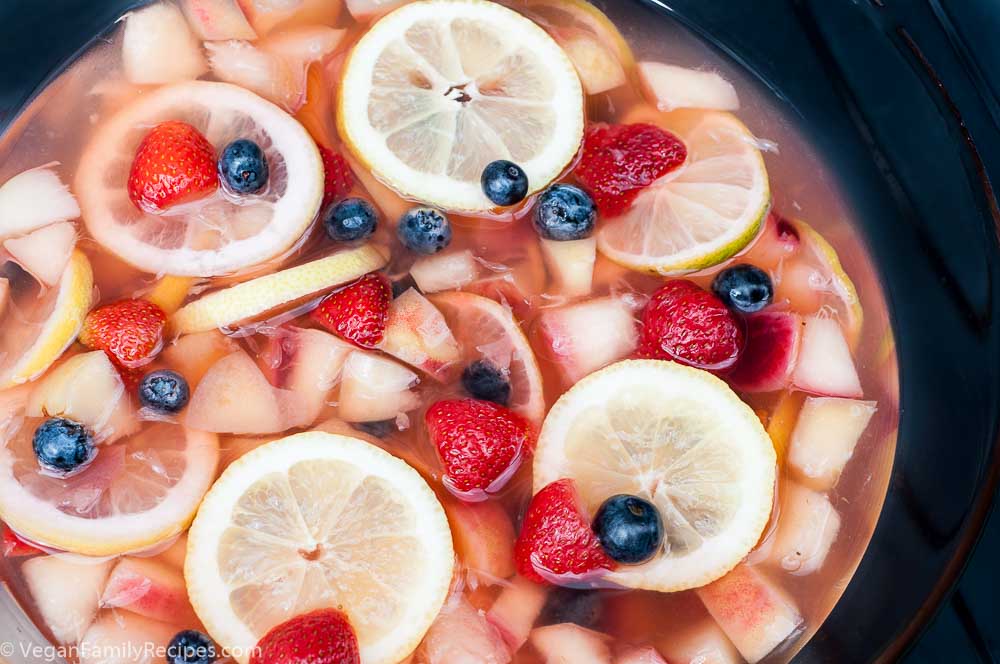 Thank the Spanish for giving us sangria! It's really nothing more than wine, fruit, a bit of sugar, and a splash of brandy.
Even though it's so simple, it just tastes so darn good. I think most recipes are like that though. The simpler the better :)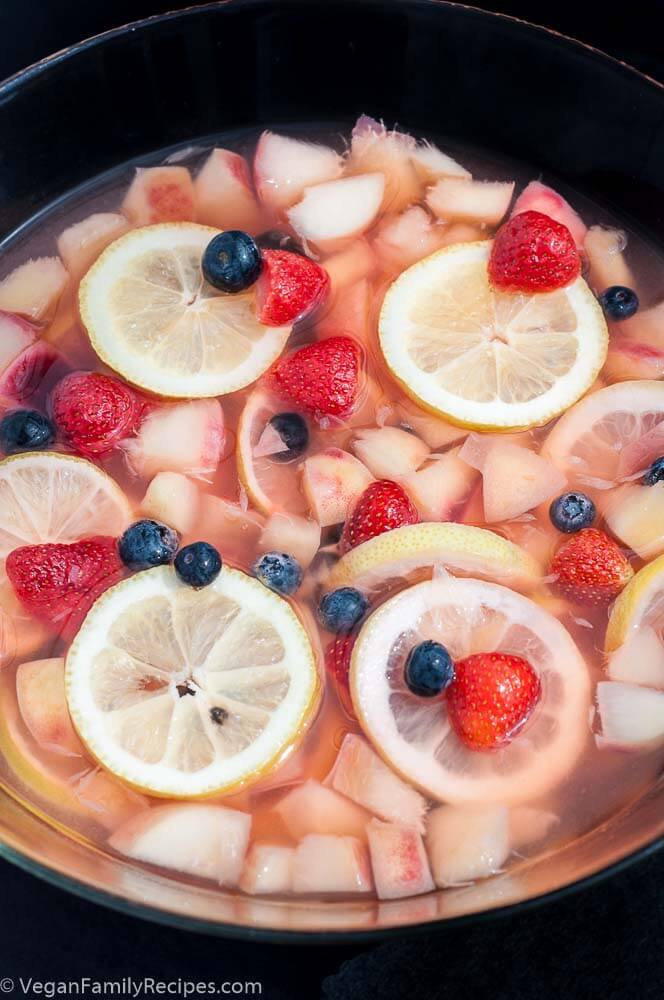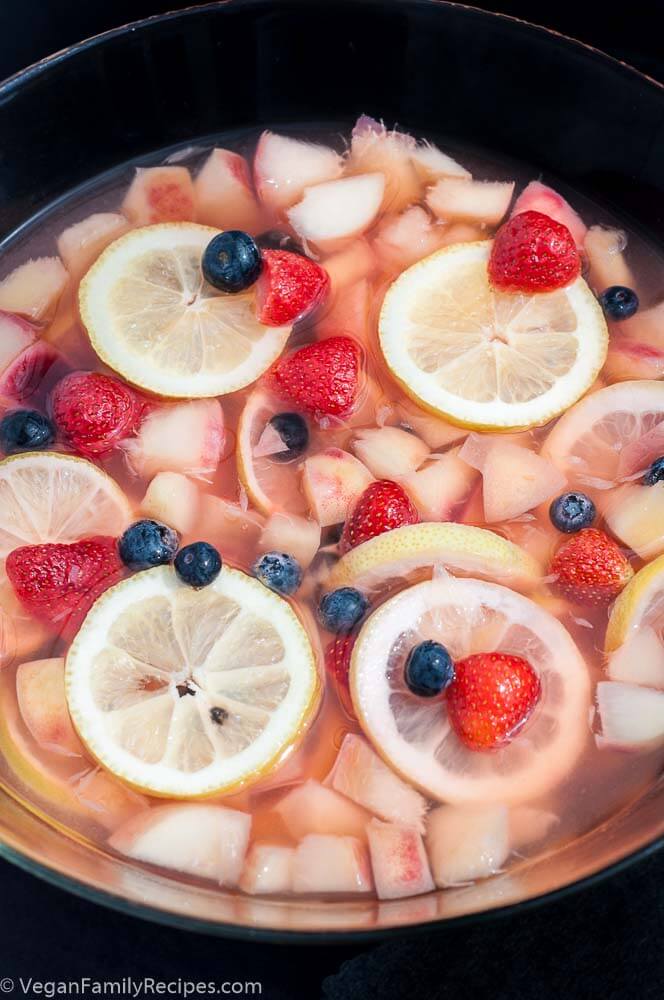 I made this white peach sangria for a little get-together over at my neighbors a while back. I craved it the following weekend and made it again. You know, just to make sure it REALLY does taste good ;)
Plus it's nothing new to anyone that I like love wine.
My husband took a sip of this white peach sangria and he loved it. The thing is, he doesn't like wine at all! Not one bit. Whenever I drink a glass of wine, he might take a sip and then immediately make a sour face. That is what I was expecting him to do when he tried the sangria. Unfortunately, that was not the case. So now you can imagine how surprised and slightly irritated I was when he started guzzling all my yummy sangria up! Then again, I wouldn't have been able to drink it all by myself and still function as a mother.
If you haven't already scrolled down to the recipe, you might be looking at the pictures trying to figure out what type of wine I used for this sangria. I actually used two bottles of white wine and the trick is to prepare the sangria and leave it in your fridge overnight. The red tint from the white peach skin will seep into the alcohol and turn it into a beautiful pink sangria! I feel like it almost looks like grapefruit juice :D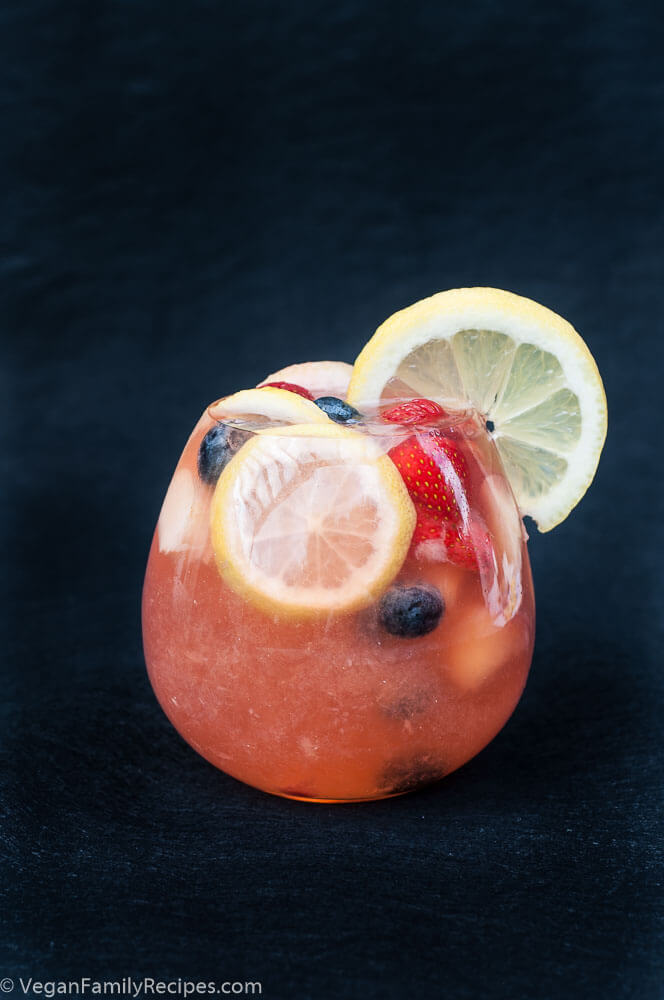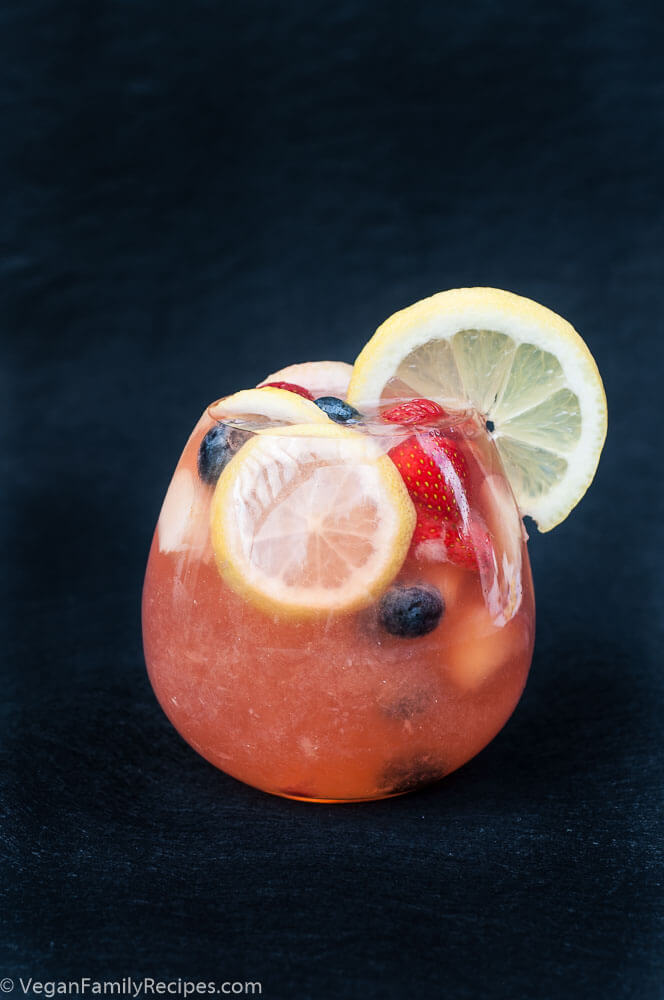 If you let the sangria sit overnight (you don't have to) the alcohol will seep into all the fruit. This is why it is super crucial to always have a little fork nearby when drinking sangria. That fruit NEEDS to be eaten! That is where you will get the real buzz from :) Plus it's just too good to let it go to waste.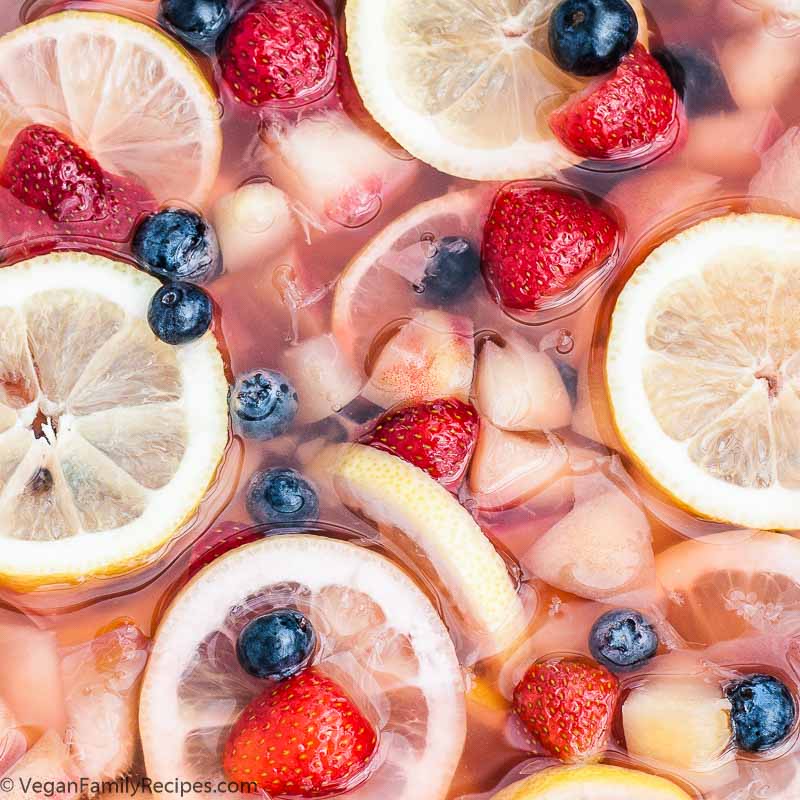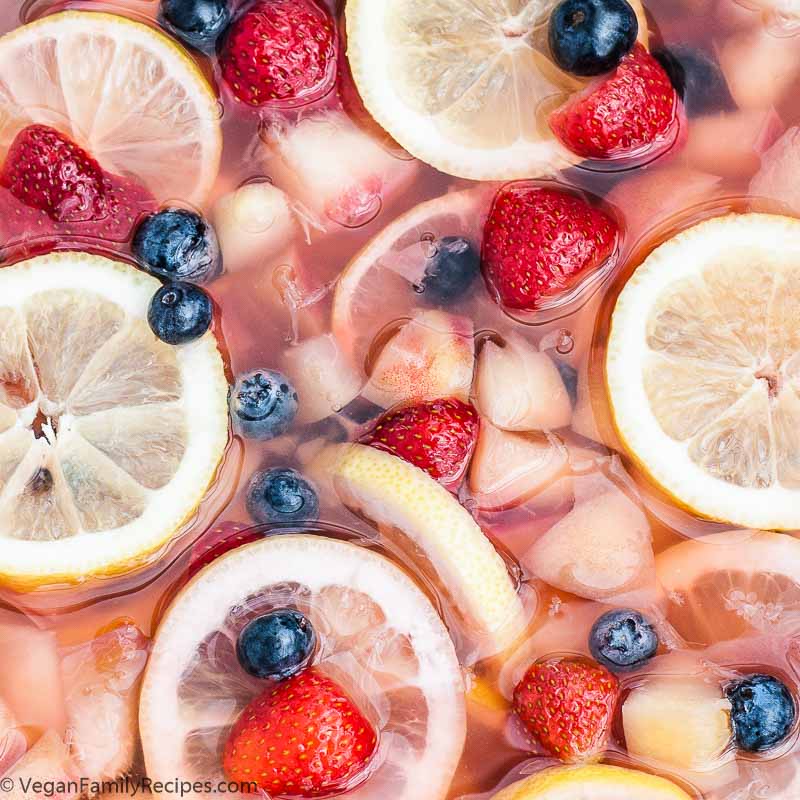 Since white peaches are...surprise, surprise...white, they don't do much for color with this sangria. I therefore also added some blueberries and strawberries. Makes it almost look patriotic and perfect for the 4th of July...or any day for that fact ;)
So what are you waiting for? Get your drink on!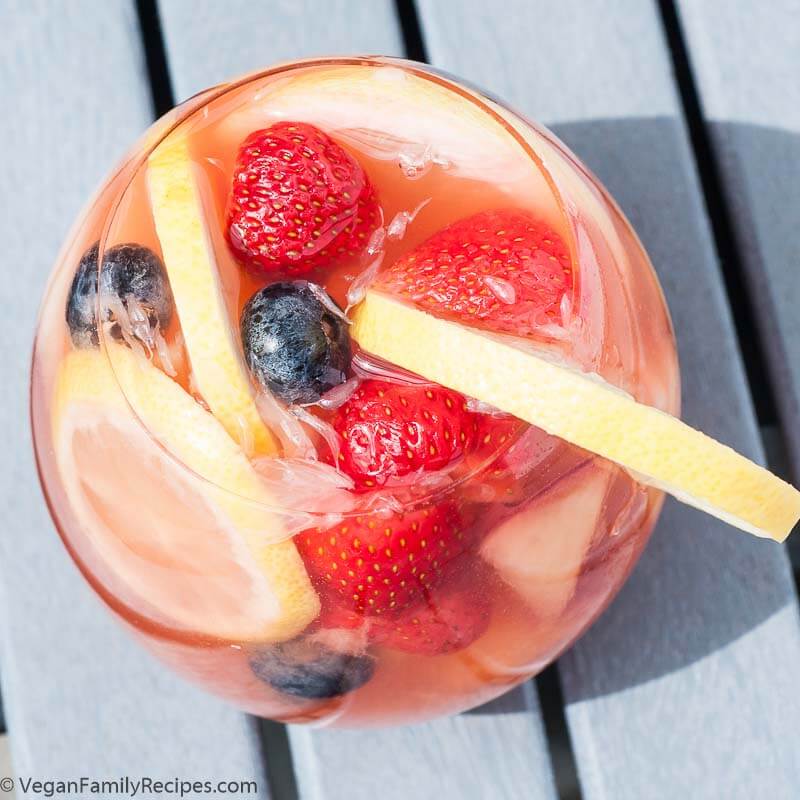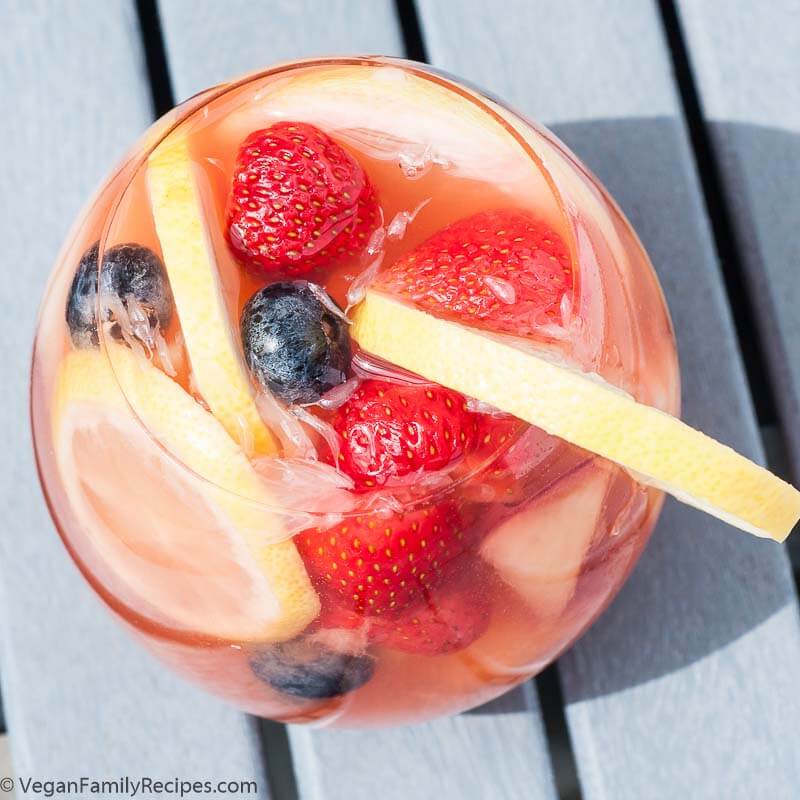 If you do make this, try not to drink it right away. I know, I know, it's so so hard! Take a quick picture of it and share it with me on Instagram using #VeganFamilyRecipes so I can find it and share it along :)
This recipe was inspired and loosely adapted from Wine Folly's Peach Sangria.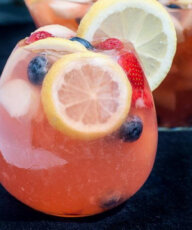 White Peach Sangria
A fruity, alcoholic white wine sangria loaded with fruit. Perfect for parties and your next summer BBQ.
Ingredients
½

of a cup Brandy

¼

of a cup Sugar

or more to taste

2

750ml

bottles White Wine

a fruity, zesty wine works best i.e. Riseling, Pinot Grigio, Sauvigon Blanc

3

tablespoons

Lemon Juice

6

White Peaches

diced

2

Lemons

cut into slices

1

Lime

cut into slices

½

cup

Blueberries

½

of a cup halved Strawberries

about 15 small strawberries

½ to 1

cup

Seltzer Water / Soda Water

optional

2

cups

Ice Cubes
Instructions
In a large punch bowl or pitcher stir together brandy and sugar until sugar dissolves.

Add white wine and all the fruit and give it a quick stir.

Leave in refrigerator overnight for the flavor of the fruit to mix together with the alcohol.

When ready to serve, add seltzer water and more sugar, if needed.Top off with ice cubes to keep chilled.

If you are planning on serving it straight away, skip placing the bowl in the fridge and add seltzer water to taste (optional) and ice cubes. Serve!
Recipe Notes
1) Letting the alcohol soak with the fruit gives this sangria it's nice pink color. The fruit will also absorb a lot of the alcohol and create less need for extra sugar. That being said, it also tastes great when drunk right away! 2) The fruit may not look as crisp and fresh the next day since it has soaked. Add a few more fresh lemon slices and berries to the top, if presentation is a big factor.3) Brandy can be substituted with triple sec, if needed. If both are not available it can also be omitted. 4.) Adding soda water is completely optional. It really just depends on how strong you like your sangria.5) Easily cut this recipe in half if you are looking to just make a large pitcher instead.