I might need to explain the name of these drop dead coffee brownies. I make these coffee brownies using mainly whole wheat flour and a load of chocolate. They are a rich gooey chocolate dream but super filling. I was only able to eat a small square of them and was full...but...they were soooo good! I had to go back and eat another square. By then all I wanted to do was lay on the couch and close my eyes. However, these brownies have coffee in them so I couldn't (well also because I have two children and taking a nap whenever I want is not anywhere in my near future).
I can't exactly say that these are really healthy. They are probably loaded with calories due to all the chocolate but sometimes we need a treat :) The only good thing about these is that the whole wheat flour which you can't taste keep you feeling full longer. So hopefully you won't be running back every few minutes to finish the pan.
You can leave out the coffee if you like, use decaf coffee, regular coffee, espresso or no coffee at all. Depends on how kid friendly you want to make these and how much of a caffeine buzz you want.
Either way they are delicious and definitely my favorite coffee brownie recipe I've made.
One the most important steps for these brownies is slowly melt the butter, chocolate, sugar, and coffee together while stirring constantly. The melted mixture will seem slighlty grainy due to the coffee. In the pictures below you can see that I used a coarse ground coffee, which you would typically use for a french press. Don't worry, once you bake these vegan brownies they are no longer grainy or coarse just absolutely delicious!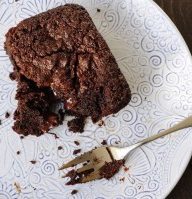 Drop Dead Coffee Brownies
Ingredients
7

ounces

200g Vegan Semi-Sweet Chocolate

5

tablespoons

75g Vegan Butter

⅔

cup

Whole Cane Sugar

3

tablespoons

Ground Coffee or Espresso

Optional but recommended

⅔

cup

Applesauce

7

ounces

200g Vegan Semi-Sweet Chocolate

½

cup

Whole Wheat Flour

¼

cup

All-purpose Flour

¼

teaspoon

Salt

¼

teaspoon

Baking Soda
Instructions
Preheat oven to 375F (190C). Grease and flour a 9x9 inch pan.

Over medium-low heat, while constantly stirring, melt 7 ounces of chocolate, butter, sugar and coffee. Be careful not to burn the chocolate. The melted mixture will look a bit grainy due to the coffee.

Allow melted mixture to cool slightly then add remaining ingredients (other 7 oz of chocolate, applesauce, flours, salt, and baking soda)  and mix together with a wooden spoon or spatula.

Pour mixture into square pan and bake in oven for 30-35 minutes.

Allow brownies to cool, cut into squares and enjoy.
Recipe Notes
1) Yes, this recipe calls for 7 ounces of semi-sweet chocolate TWICE. This was not a mistake. 2) If you don't like the slight grainy texture the coffee gives these brownies try making them using instant coffee. 3) Don't over mix the brownie dough. Never use a mixer to make brownies!