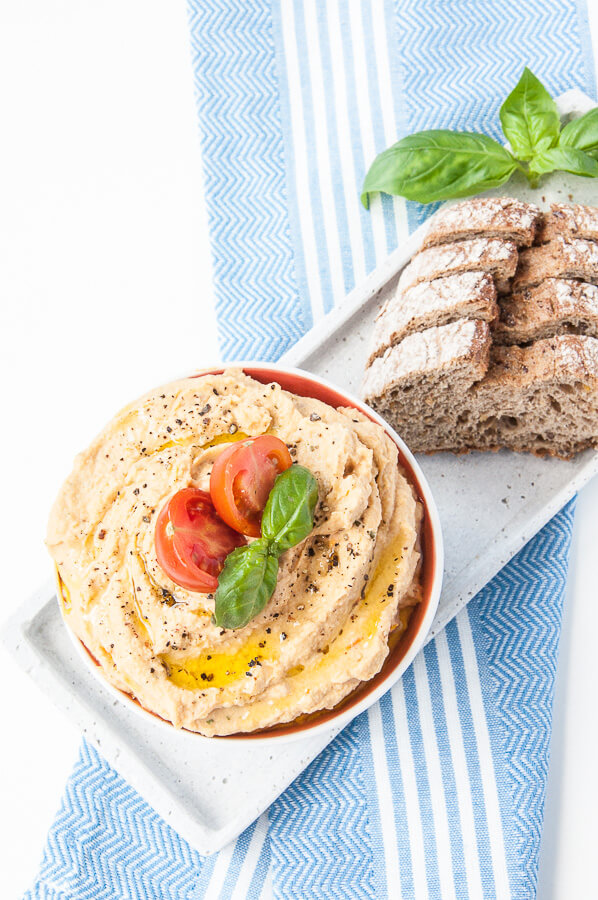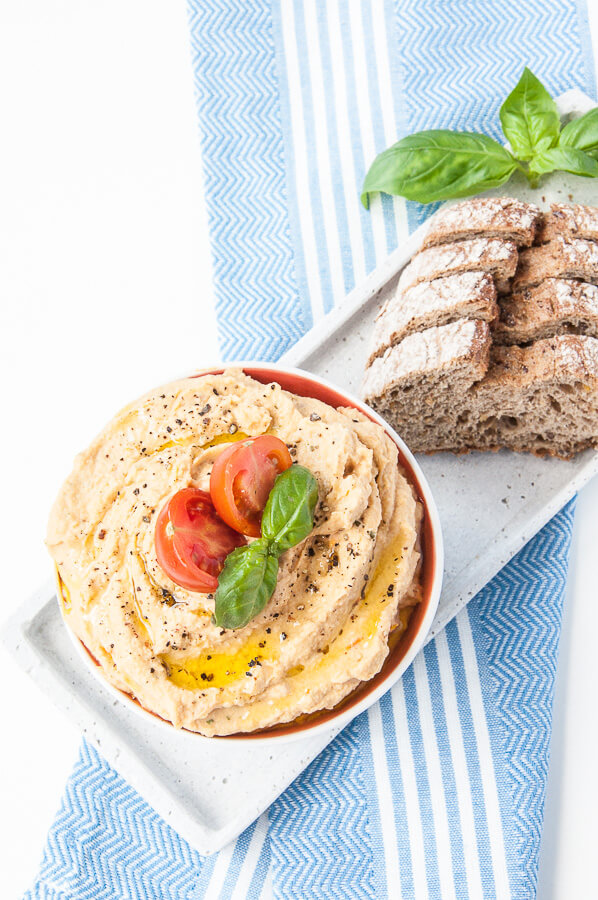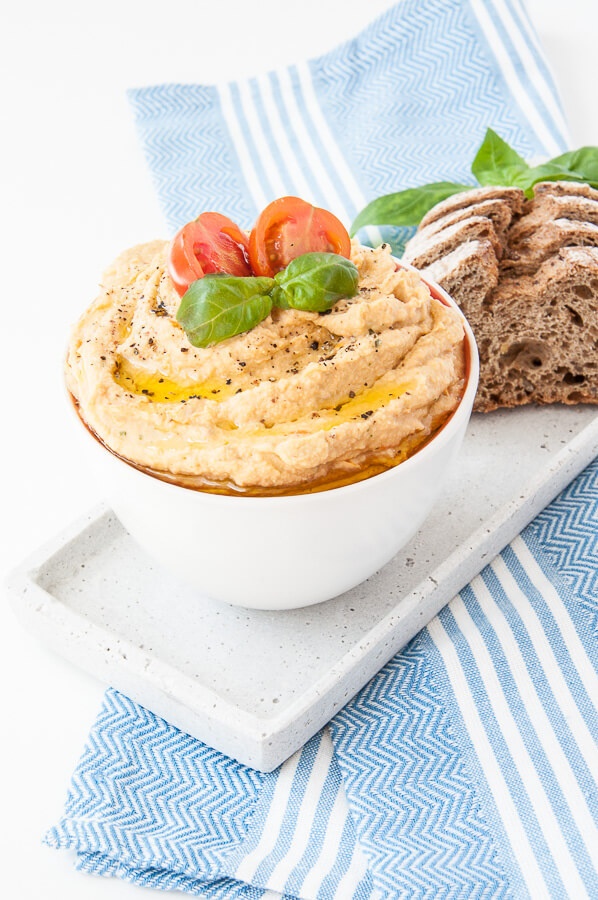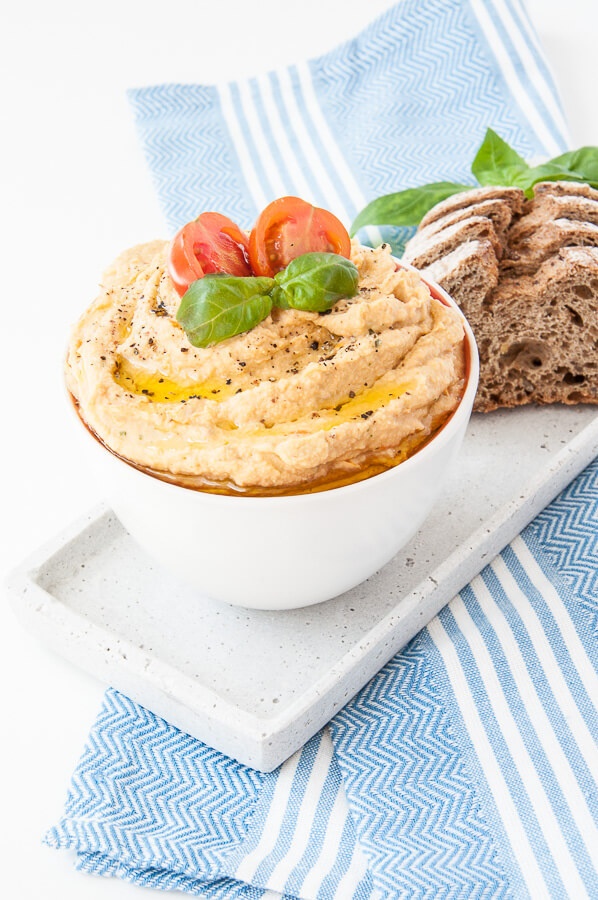 Making tomato basil hummus has been at the top of my recipe-making list for a long time. I kept seeing all these delicious-looking sun-dried or roasted tomato hummus recipes on Pinterest. I just wanted an easier and faster way to make tomato basil hummus. Lazy, I know...
To be honest, I at first thought that adding whole, fresh tomatoes to hummus would just taste weird. I really went in thinking that there's a 50% chance I'm going to have to throw away a whole bowl of hummus and that would just be DEVASTATING!
My youngest sister came to visit me during this time and I thought if it's really that horrible, I'll just make her eat it. That's what little sisters are for, right?
The thing is this tomato hummus blew my mind! It was so good that I ended up making it 3x that week, just to keep up with demand.
The best thing is though that my kids go insane for this hummus. It's a nice alternative to the avocado hummus they always want me to make. My 2 yr old likes to spoon it onto a slice of bread or cracker and then just lick it off. I guess if I wasn't "grown-up", I'd do the same ;)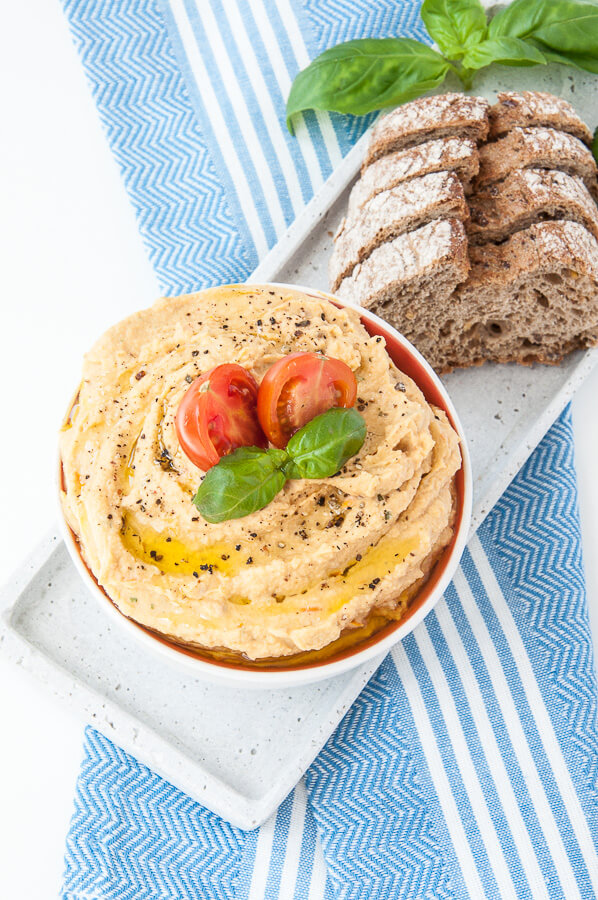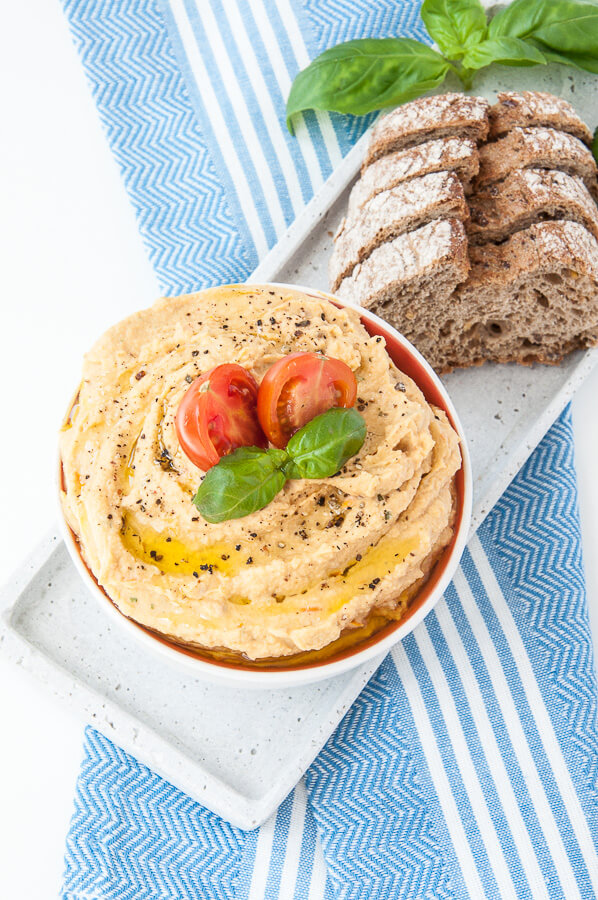 If you've never made hummus yourself...you haven't lived! I'm sorry, but SCREW storebought hummus...this is so so so so so so much better!
Did I also mention cheaper and faster? In the time that it takes you to get in your car, drive to the grocery store, and get back, you could have made 6 batches of different hummus.
Want to see how long it takes? Here: Put everything in a food processor...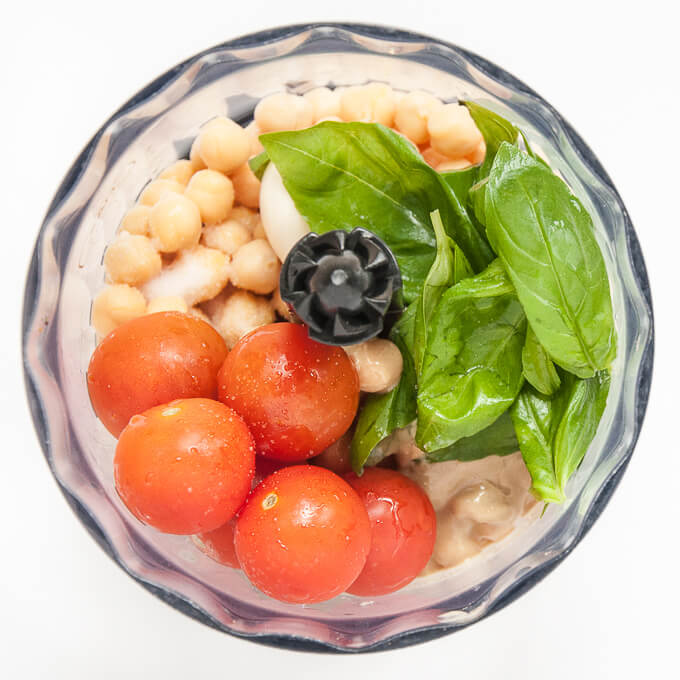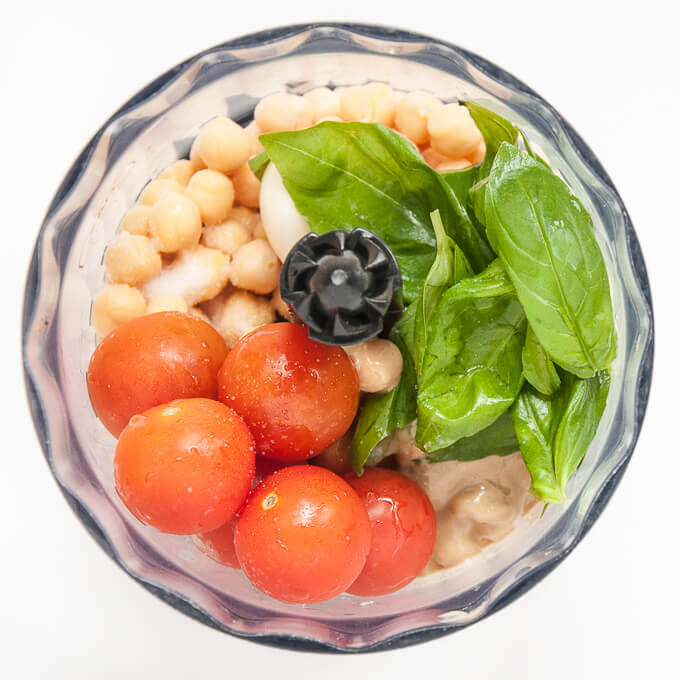 Pulse until smooth (usually around 2 minutes)...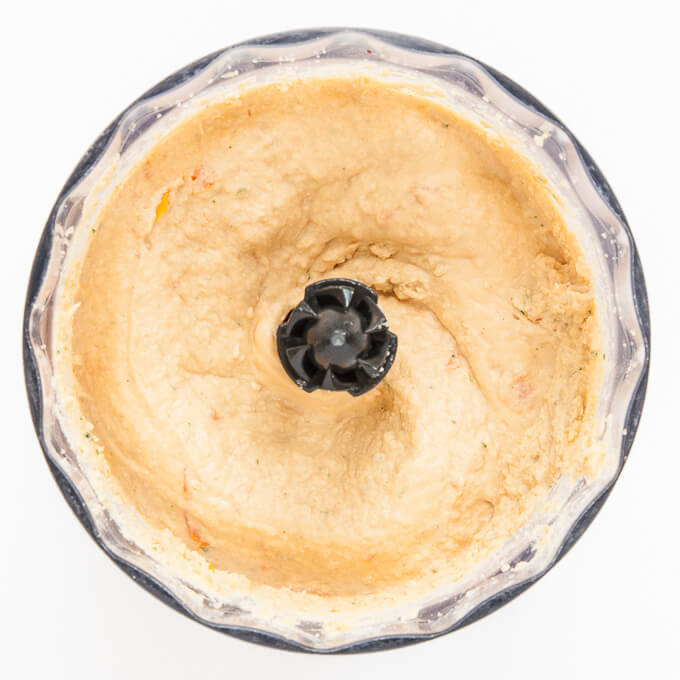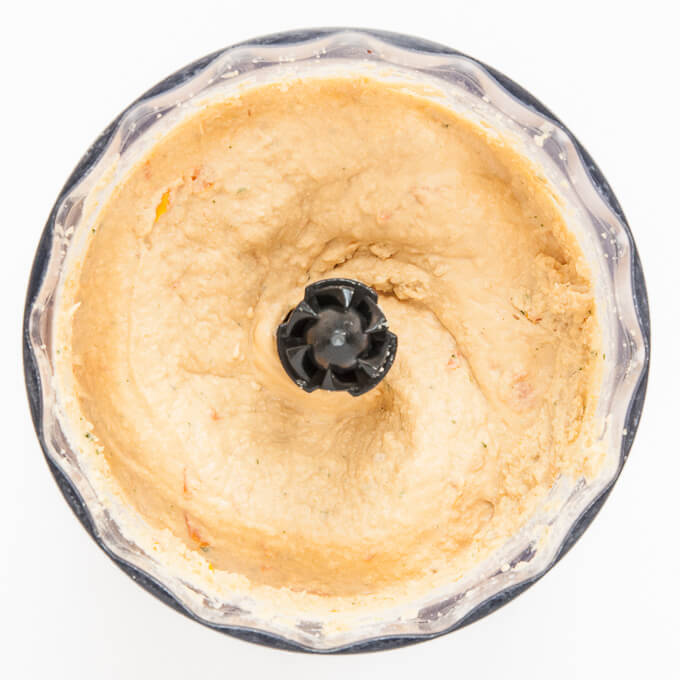 and done! Wasn't too hard, huh?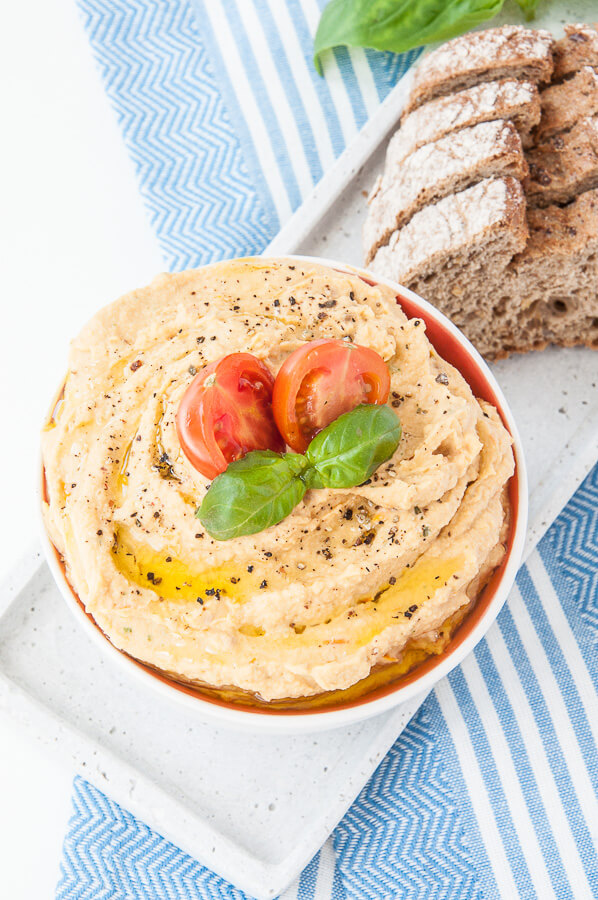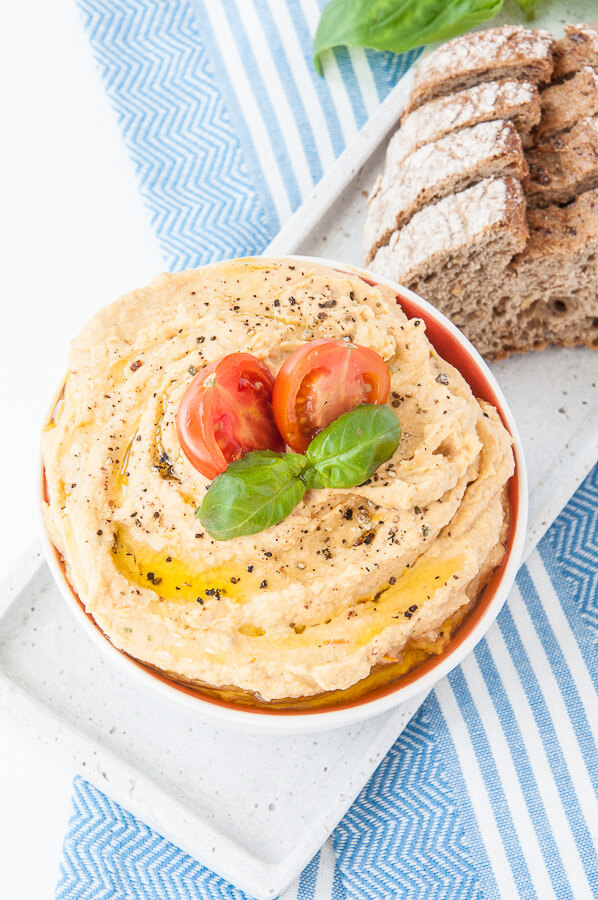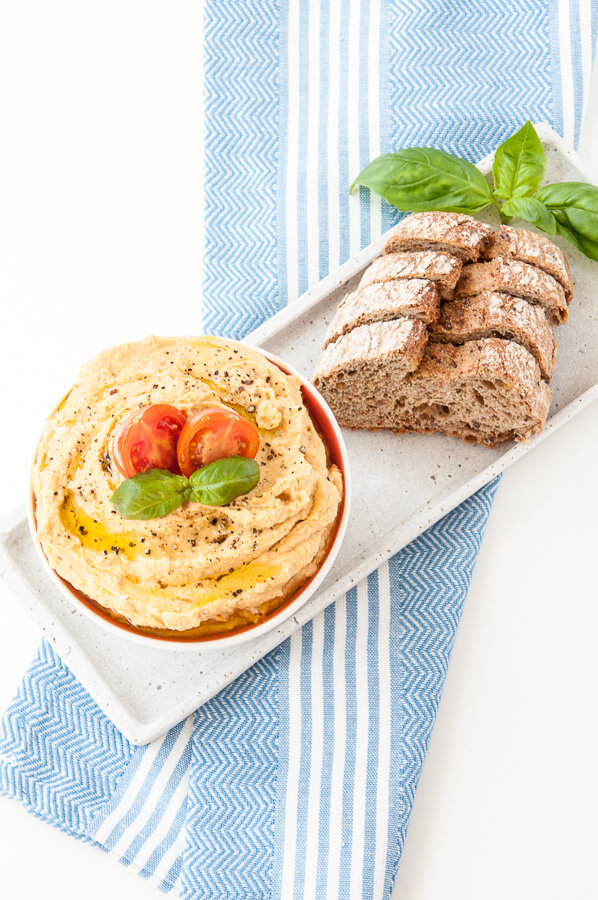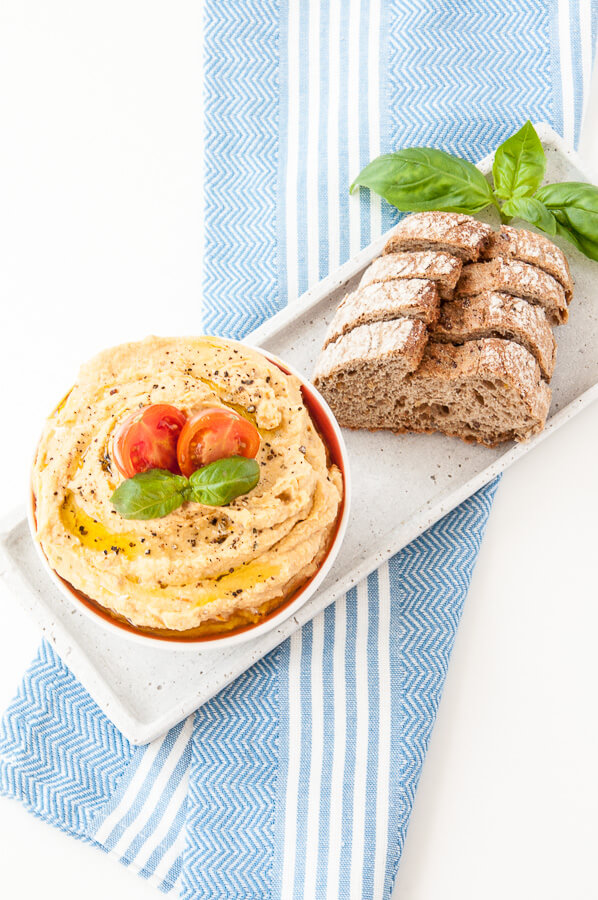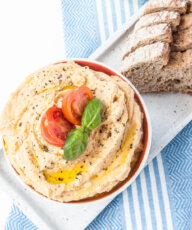 Fresh Tomato Basil Hummus
A healthy tomato basil hummus recipes perfect as a healthy sandwich spread or for a light cracker or veggie dip.
Ingredients
1 ½

cups

Chickpeas

soaked and cooked or rinsed and drained from a can

1

Garlic Clove

⅓

of a cup Tahini

Sesame Paste- buy it here

10 - 12

fresh Basil leaves

¼

of a teaspoon Salt

10 - 12

Cherry Tomatoes or Mini Roma Tomatoes

1

tablespoon

Olive Oil

optional

Fresh Cracked Pepper

optional
Instructions
Place all chickpeas, garlic, tahini, basil, salt, and tomatoes in a food processor and pulse until smooth. If it is too thick, add water ½ of a tablespoon at a time. If too runny, add more chickpeas or tahini.

Transfer tomato hummus to a bowl, drizzle with olive oil and fresh cracked pepper (optional).

Serve hummus with crackers, pita bread, or veggies.

Store tomato hummus in refrigerator for up to 4 days, covered.
Recipe Notes
1.) I find using small tomatoes like cherry and mini roma tomatoes add the most tomato flavor to this hummus. You can, however, also use any other type of tomato. Keep in mind that the larger the tomato in size the less of them you will need for this hummus.
This tomato basil hummus recipe isn't floating your boat? That's alright...Browse through these 28...I guarantee you'll at least like one!