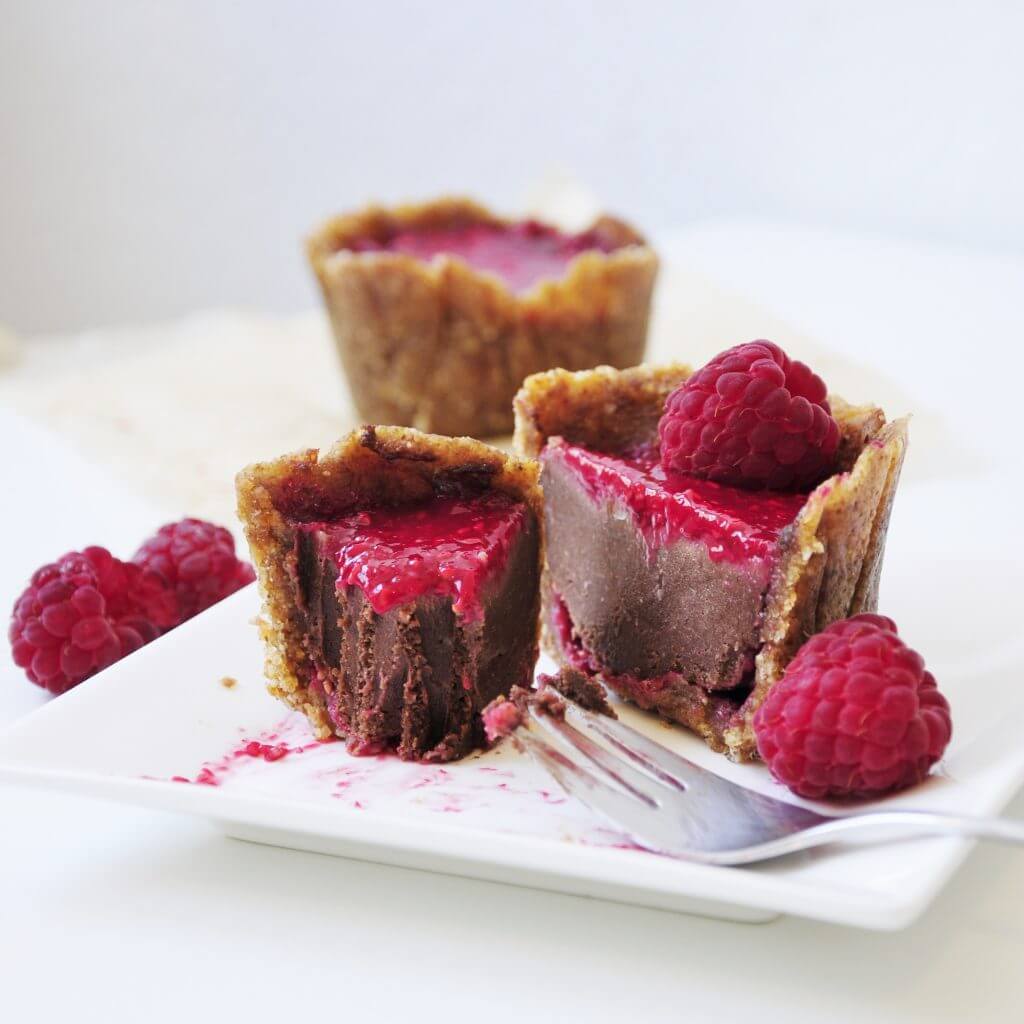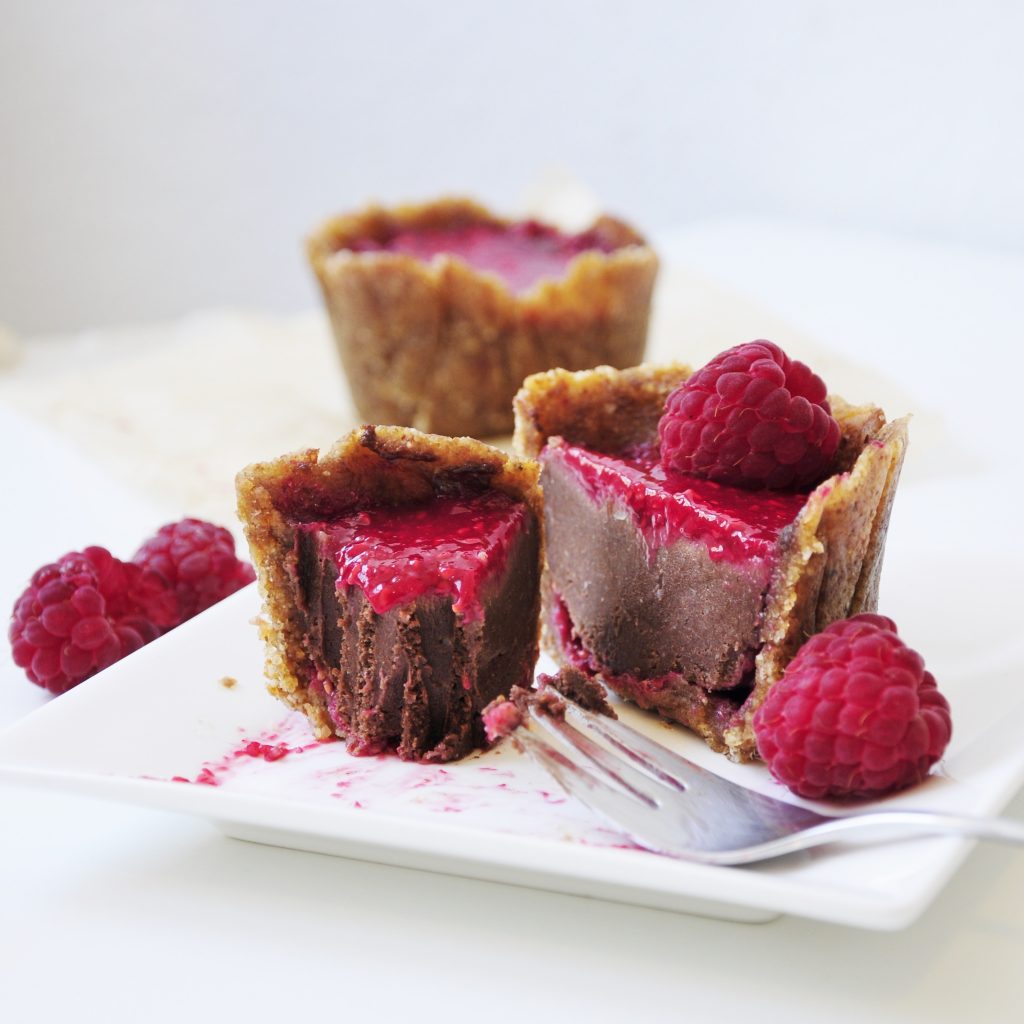 There is something so special about having your own personal mini cake. You don't have to share it, though you could, and no one will judge you for eating the whole cake by yourself :D
After making the lemon raspberry pie last week, my son really wanted something with chocolate. We still had plenty of raspberries left and what better pairing than chocolate and raspberries? He absolutely adored these mini raspberry chocolate cakes. We shared one since a whole one is definitely too much for a 3 year old. The chocolate layer is fairly dense and almost fudge like. The raspberries don't get hard in the fridge so they almost melt together with the chocolate filling in your mouth. Delicious!
For this I used my simple 2 ingredient hazelnut crust recipe. If you aren't too fond of hazelnuts you can easily substitute other nuts in the crust as well. Almonds and walnuts work really well. Pulse the nuts and dates in a food processor and press the crust mixture into your ramekins.


I then made the raspberry glaze , put it aside and quickly made the chocolate filling. Then all you need to do is layer the ingredients by adding raspberries, chocolate filling and raspberries again. Pop it in the fridge and you are on your way to a delicious mini raspberry chocolate cake!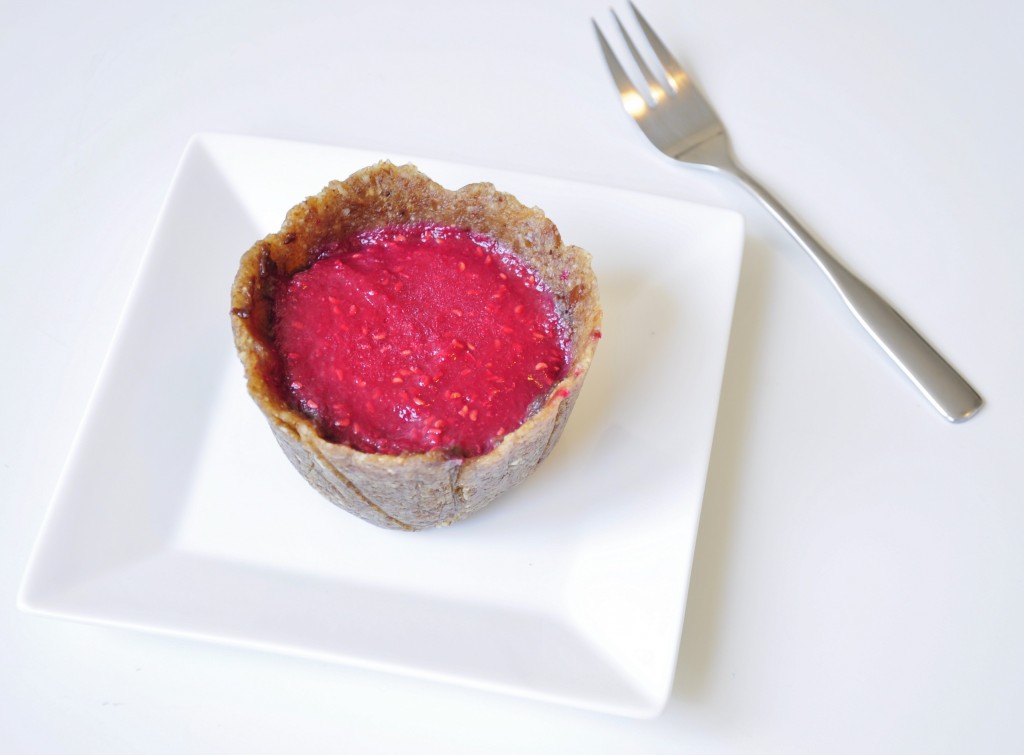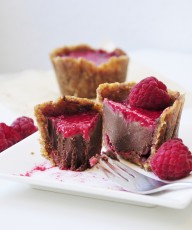 Mini Raspberry Chocolate Cakes
Makes 2 in 8oz ramekins
Ingredients
⅓

cup

Hazelnuts

½

cup

Dates

pitted

pinch

of Salt

¼

cup

fresh Raspberries

2

teaspoons

Powdered Sugar

vegan

½

cup

Cashews

1

tablespoon

Maple Syrup

2

tablespoons

Water

2

Dates

pitted

2

tablespoons

Coconut Oil

1

tablespoon

Cocoa Powder

unsweetened
Instructions
Line 2 8oz ramekins with parchment paper.

Place hazelnuts, dates and pinch of salt in food processor and pulse until a sticky mass forms.

Press half of hazelnut crust into bottom of each ramekin and up the sides using fingers.

Clean out food processor and add Raspberries and powdered sugar to it. Pulse again until smooth (raspberry seeds will remain whole and this is OK). Pour Raspberry glaze into a small bowl.

Clean out food processor again and place cashews, maple syrup, water, dates, coconut oil, and cocoa powder in it. Pulse and process until mixture is smooth.

Drop 1 tablespoon raspberry glaze into each ramekin. Top with half of the chocolate filling and push it out to the sides. Top with another tablespoon of raspberry glaze.

Place in refrigerator for at least 4 hours or overnight until filling is firm.
Recipe Notes
1) Cashews can be soaked in water for 10-15 minutes first to make filling extra smooth. Make sure to dry off excess water from them before placing them in food processor. 2) Cakes can also be placed in the freezer to help firm the filling up quickly. Allow enough time to thaw before eating.3) Raspberry chocolate cakes will keep in refrigerator for up to 4 days.
Please note that not all powdered sugar is vegan. Since often sugar is processed through bone char (yuck!). Here are some of the ingredients I used: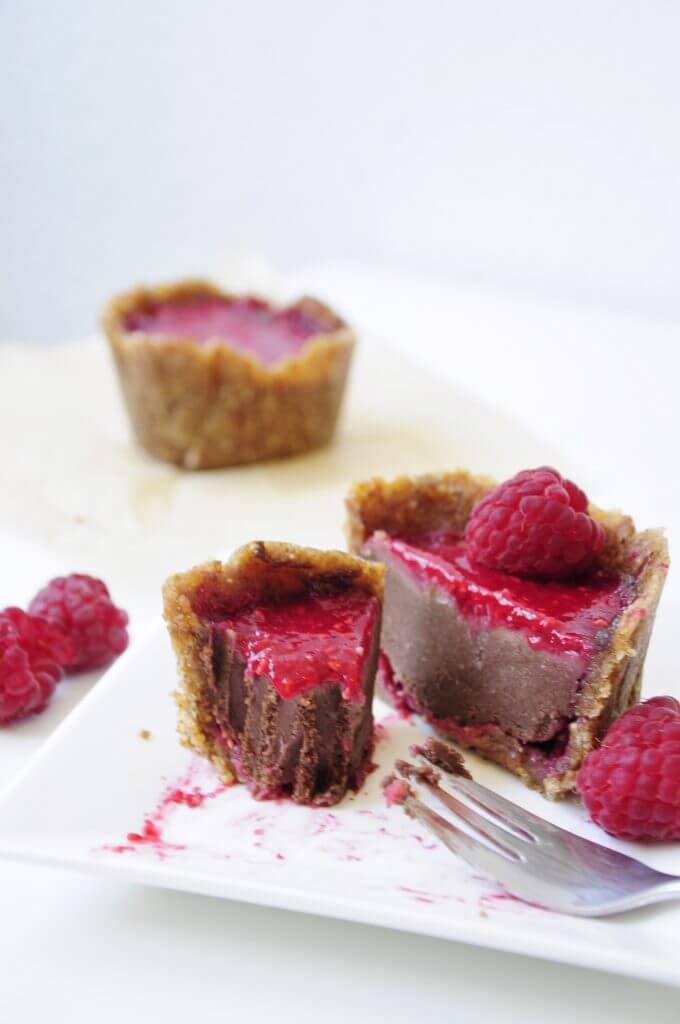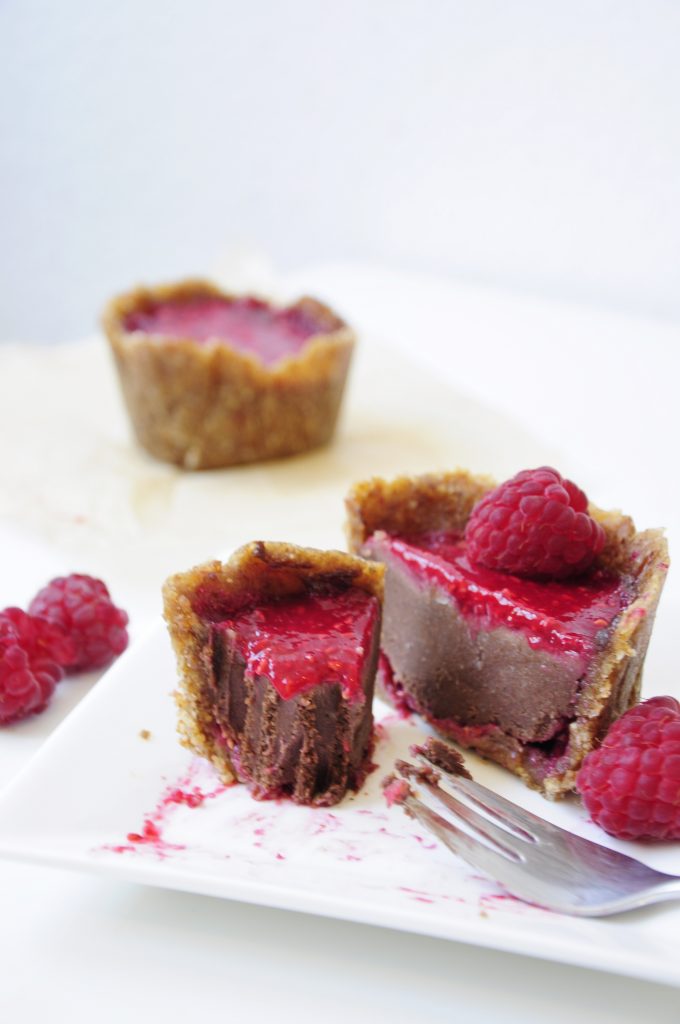 A little bonus: If you have any left over raspberry glaze, drizzle it over your favorite vegan ice cream. If I could taste heaven, I'm sure it would be very close to this.