The best pesto is always homemade. Last week I made this easy parsley walnut pesto and my kids couldn't get enough of it. We had spent all afternoon at the park and were rushing to get home. Both kids were super hungry and I had about 2 cups of parsley that needed to be used sitting on the counter. I stood there and stared at it for about 5 minutes trying to decide what I can make with it until #1 asked me for pesto and noodles. Traditionally pesto is made with basil but I thought why not give parsley a try?
I quickly boiled some water for pasta and got to adding the pesto ingredients into a food processor.
I then added the pasta into the boiling water and added the remaining ingredients into the food processor. Turned it on and voila! Pesto was done.
Drained pasta, mixed in the pesto and dinner was served.
My kids and Hubbs ate this like it was there last meal. It really doesn't get better or easier than that. It's always great to find a recipe that is not only fast to make but satisfies the entire family. Pesto is just so versatile in that you can use it on a sandwich, pizza, or pasta. The best part is that you can mix it up however you like by using different herbs or nuts.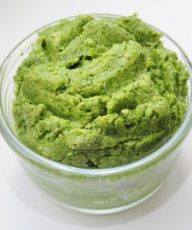 Parsley Walnut Pesto
makes ¾ cup pesto, enough for 6 servings of pasta
Ingredients
1 ½

cup

Fresh Parsley

washed - or large handful

1

Garlic clove

½

cup

Walnuts

about 12-14 walnut halves

¼

cup

Sunflower Seeds

¼

cup

Olive Oil

¼

teaspoon

Salt

¼

teaspoon

fresh cracked Pepper
Instructions
Place all ingredients in a food processor and process until desired consistency is reached.

Mix in hot pasta, use as a sandwich spread, or as a pizza topping.

Enjoy
Recipe Notes
1)If adding to pasta I suggest adding an additional ¼ teaspoon of salt (½ teaspoon total)2)Pesto will keep in airtight container topped with Olive Oil in refrigerator for 2-3 days.3)Can use ½ cup Walnuts if no sunflower seeds are available. (½cup total)