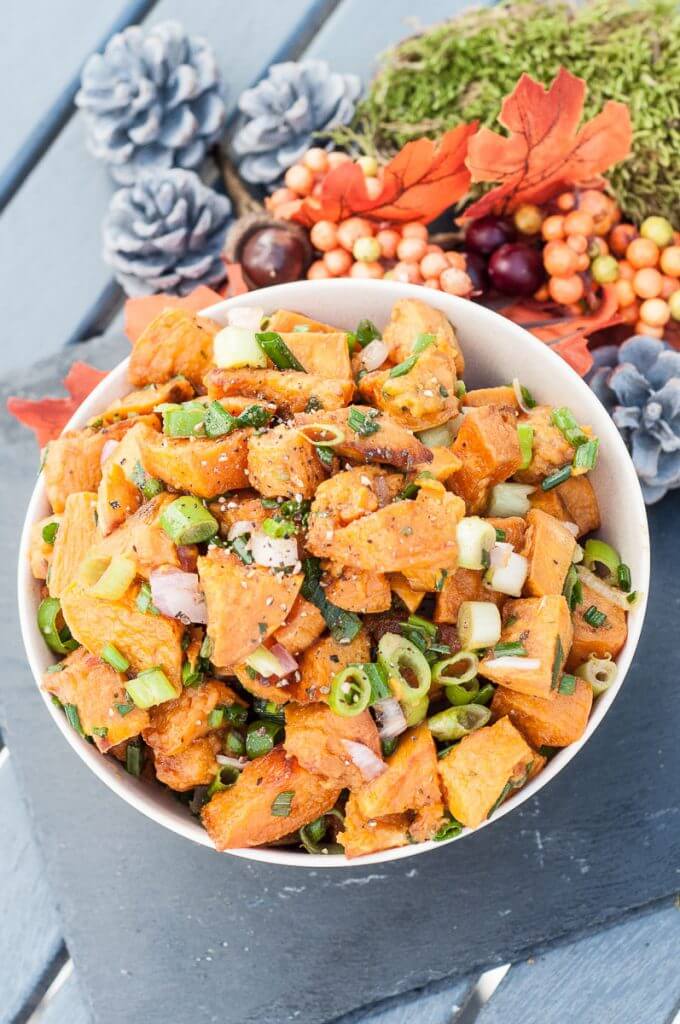 I hope everyone had a great Christmas. This was my first all-vegan Christmas dinner. I must say I was pleasantly surprised, as was everyone else. I was the only full-time vegan at our dinner and I was a bit nervous serving only plant-based dishes. However, I was able to get most everyone to the point of unbuckling their belts and trying to find a pair of sweatpants. Everyone was stuffed.
The tricky part of Christmas dinner was deciding which dishes to serve hot and which to serve cold. Only having one stove/oven wasn't the main challenge. Nap time for my two boys gives me about 2 hours to cook and realistically there is no way I would be able to prepare and cook all Christmas dishes in that amount of time. Therefore I had to resort to making dishes that would taste great even if I made them the day before and served them cold.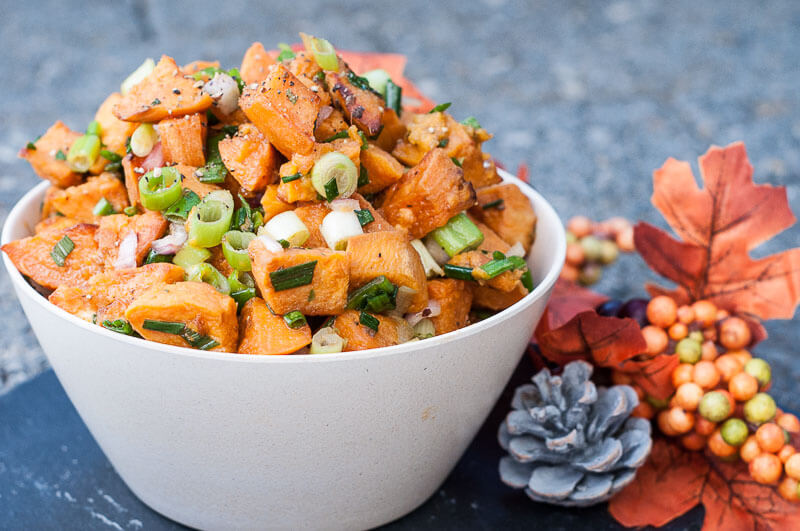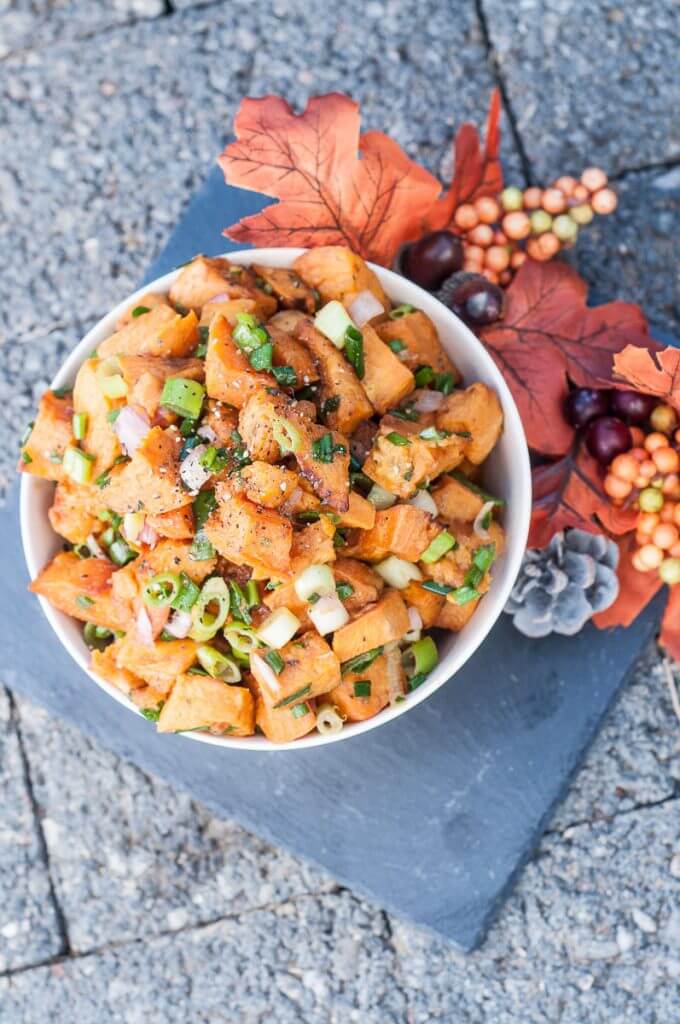 Though I have many, sweet potato is one of my favorite vegetables. I have NEVER served sweet potato cold. I NEVER imagined it tasting any good cold. Boy, was I WRONG! This was by far the easiest dish I made and it was gone within minutes after starting dinner.
If you can roast sweet potatoes then you will have no problem making this recipe. If you don't know how to roast sweet potatoes, then you are in luck, because it is incredibly easy.
The trick to getting a good, even roast on all your sweet potatoes is dicing them all roughly the same size. Toss the diced sweet potatoes in olive oil and spread in a single layer on a baking sheet. Then, bake them! Done!
If you can keep yourself from eating all the sweet potatoes straight from the oven, then you can make this sweet potato salad :) Just whisk together all the dressing ingredients and toss over the sweet potatoes. Adjust the salt and pepper to your liking. I prefer eating this salad cold just for convenience purposes but it also tastes delicious warm. Totally up to you!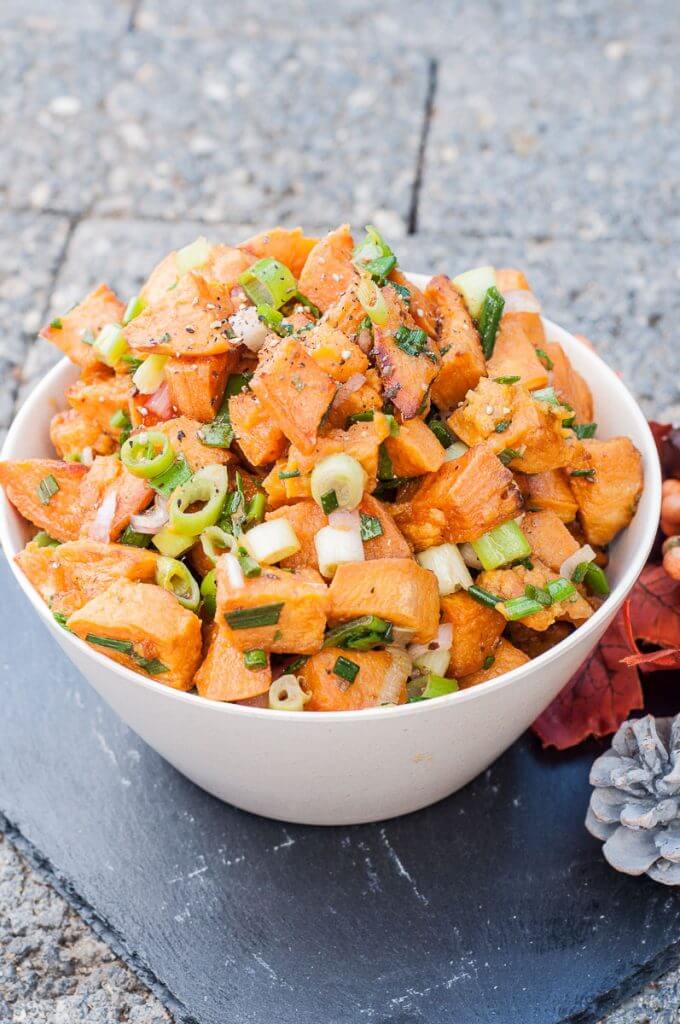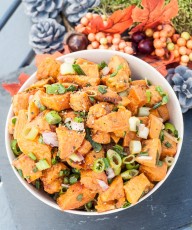 Sweet Potato Salad
This sweet potato salad is best served cold but can also be enjoyed warm. Perfect side dish to make ahead for holidays like Thanksgiving and Christmas.
Ingredients
2

large Sweet Potatoes

peeled and cut into 1 to 1 ½ inch cubes

1

tablespoon

Olive Oil

½

of a teaspoon each of Paprika

Oregano and Cayenne Pepper (optional)

1

Shallot

diced

2

Scallions/Spring Onions

ends removed and diced

small bunch of Chives

chopped

3

tablespoons

Red Wine Vinegar

2

teaspoons

Olive Oil

1

tablespoon

Pure Maple Syrup

Salt and Pepper to taste
Instructions
Preheat oven to 390F (200C) and line a baking sheet with parchment paper.

Toss sweet potato chunks with 1 tablespoon of olive oil and optional spices. Spread on lined baking sheet and bake in oven for 25-35 minutes until roasted.

Remove sweet potatoes from oven and cool at room temperature.

Meanwhile, prepare dressing by mixing shallots, scallions, chives, vinegar, olive oil, and maple syrup.

Toss sweet potatoes with dressing, garnish with chives and serve. I suggest refrigerating salad for an hour before serving to allow for all the flavor to seep into the potatoes. Enjoy!
Looking for more sweet potato recipes? Try these: