I've made my fair share of soups. Especially during the colder months I enjoy thick, creamy and filling soups. However, now that it is getting warmer I'm not so keen on eating a soup that "warms me up" and makes me feel full.
In comes this beautiful broth based spring vegetable soup. Nearly all of the flavor is packed in just the broth. Let's just say if I were a vegetable I would want to swim in this broth :)
It is much simpler than it looks and it tastes like a parade in your mouth!
The secret is letting chili peppers, garlic, ginger and lemongrass soak in some hot regular store-bought broth (or make your own if you have the time). This really allows you to determine the complexity and intensity of the flavor. The longer they soak the more spice and kick the broth will have from the ginger and chili peppers and sweet citrus from the lemongrass.
The remaining ingredients are quite simple. Chop your veggies and some vermicelli which are also known as cellophane noodles. Add everything to the broth, fry some tofu, and serve! Pretty easy and damn delicious :)
Hubbs ate this like I hadn't made a meal all week and called it "exotic" and "tasty". I'll take that as a compliment. Thank you very much. The only difficult part of this soup is actually eating. You would think chop sticks would work well...but then you don't get any of the broth. If you use a spoon the noodles fall off. Hubbs and I figured it worked best using a very large spoon and occasionally using a fork to help with the noodles. We looked ridiculous eating this but it tasted so good we didn't care. Please do let me know if you come up with a more effective way.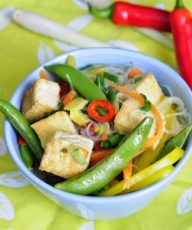 Asian Spring Vegetable Soup with Tofu
Ingredients
1

thumbsized piece of Fresh Ginger

sliced

1

large Garlic Clove

sliced

1

fresh Cayenne Pepper

chopped

1

Lemongrass stalk

4

cups

Vegetable Broth

I prefer organic, low sodium

1

Red Bell Pepper

sliced

1

Yellow Bell Pepper

sliced

2

Carrots

peeled and julienned

10

Sugar Snap Peas

3.5

ounces

or 100g Cellophane Noodles/Bean Thread Noodles/Chinese Vermicelli/Glass noodles- all the same thing just different name

2

Scallions

sliced

1

tablespoon

Olive Oil

7

ounces

organic Firm Tofu

diced

Salt and Pepper
Instructions
Cut ginger and garlic into thin slices. Chop cayenne peppers and beat the lemongrass stalk with a wooden spoon until it frays a bit. Place ginger, garlic, cayenne pepper and lemongrass stalk in a medium sized stock pot filled 4 cups vegetable broth.

Bring broth to a boil, remove from heat and let sit for 15 minutes.

Meanwhile julienne carrots, slice bell peppers and scallions.

Prepare cellophane noodles according to package directions. This is usually done by placing noodles in warm water for 10 to 15 minutes. Then drain and rinse noodles.

After allowing broth to sit for 15 minutes, remove lemongrass and add sugar snap peas. Bring broth to a boil again and then simmer for 3-5 minutes.

Dice tofu and fry in olive oil for 2-3 minutes. Season tofu with salt and pepper.

Add bell peppers, carrots, scallions, tofu, and noodles to broth. Simmer for 2 minutes.

Serve hot and enjoy!
Recipe Notes
1) If you love heat, try using a different chili pepper to season your broth with. The cayenne isn't to spicy and just gives this broth a subtle kick. You can up the heat of the cayenne pepper used in the broth by letting it soak in the broth longer. Hubbs and I noticed this when we went back for seconds. The broth had been sitting for an additional 15 -20 minutes and was far spicier.2)Feel free to use different colored bell peppers or to use those on hand. I don't recommend green bell pepper for this soup.3)You can also use rice noodles in place of the cellophane noodles.4)This is gluten free if you make sure to use gluten-free broth.