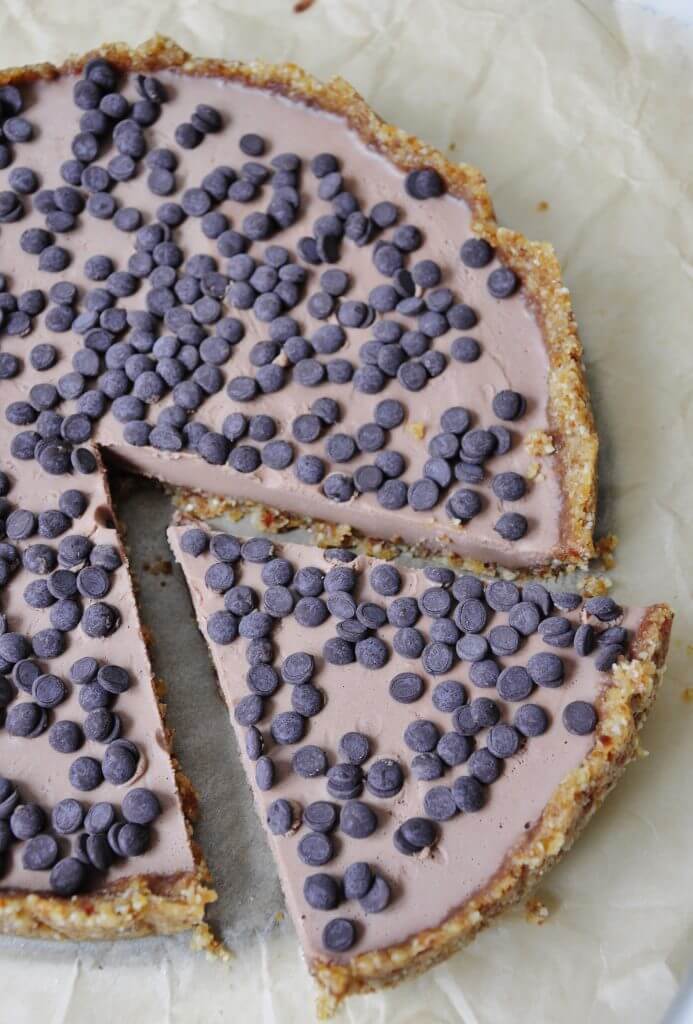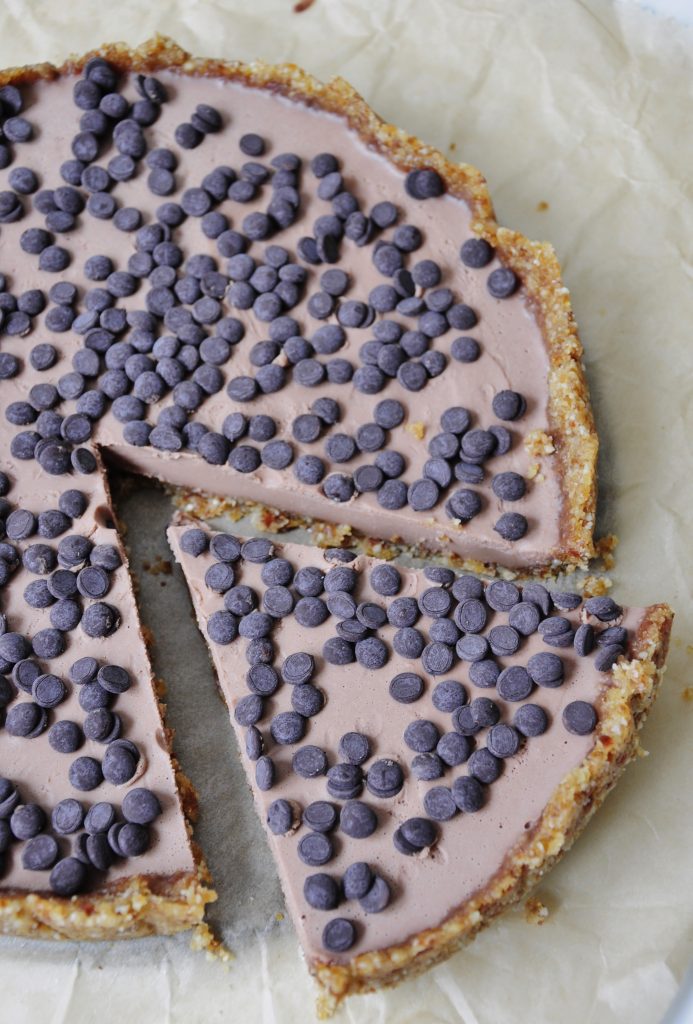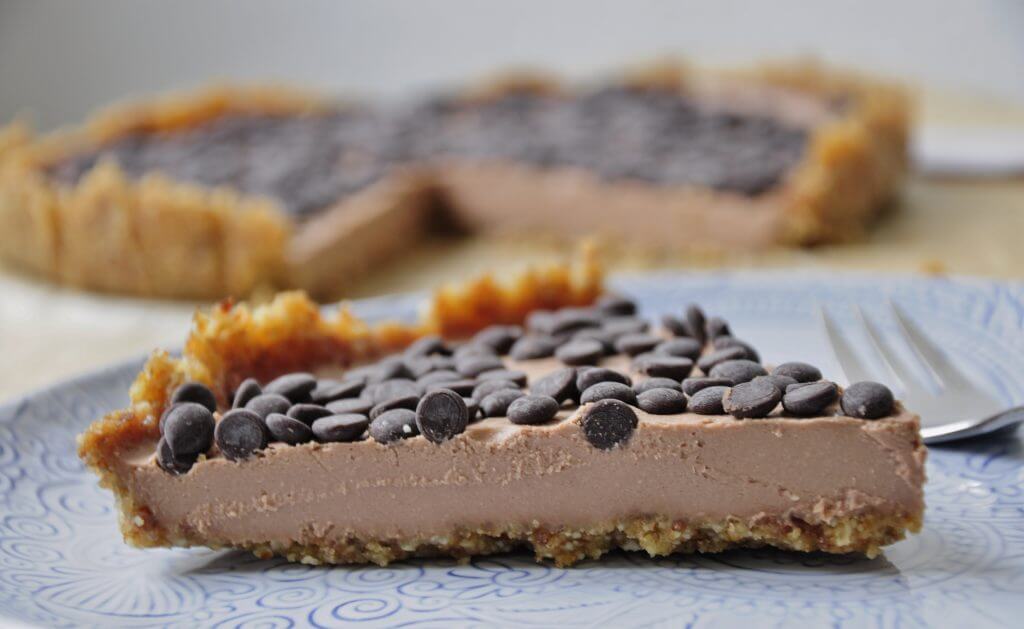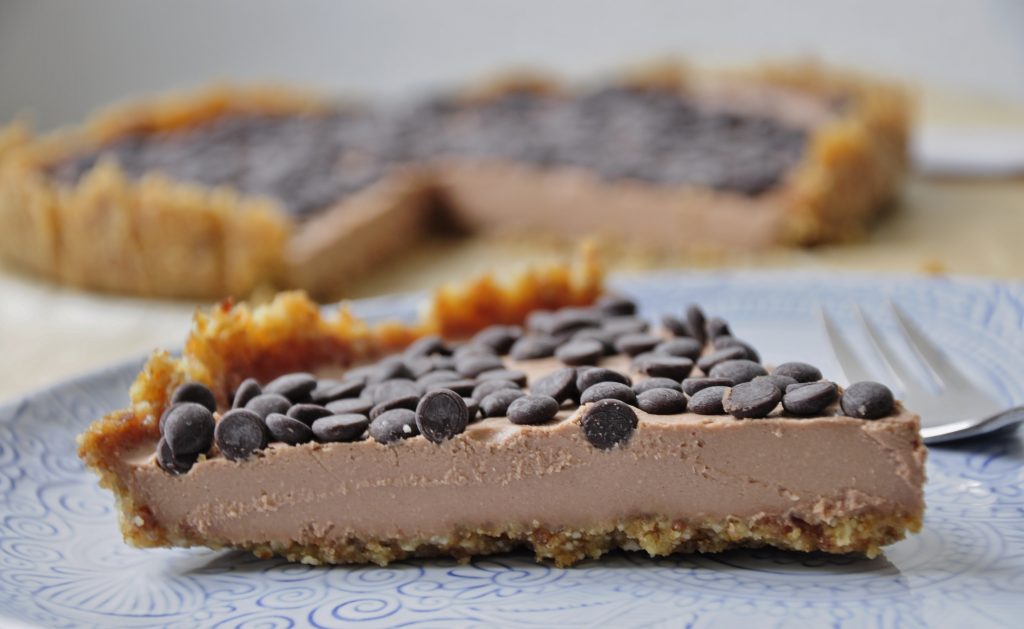 I am so excited to finally share this chocolate mousse tart with everyone that I don't even know where to begin! I feel like a little kid that is filled with so much excitement that they can't find words to talk. Maybe it's also just the daily gallon of coffee intake that is finally catching up to me. Either way, this chocolate mousse tart is seriously amazing and by far one of the easiest desserts to make.
Why is it an easy dessert? You only need 8 ingredient, a food processor, and a pie or tart form. Oh and a fridge but I'll just assume you have one of those :) This chocolate mousse tart recipe is also pretty fool-proof. It will be really tough to mess this one up. If Hubbs can make this, then you can too!
There are 3 simple steps:
First add all the ingredients for the crust in a food processor and pulse. Simple enough right? Then press the crust mixture into a tart form lined with parchment paper. I used a 10" springform but this isn't necessary. Only if you want to take the chocolate mousse tart out of the form. If you are content with leaving it in the form, you won't even need to use any parchment paper.


Clean out your food processor real quick, then add all ingredients for the filling to it. Again pulse making sure there are no cashew chunks left. Pour it into the pie crust and refrigerate. The filling won't be stiff or very thick. You might think you did something wrong at this point because it is thin like milk. You didn't! It's exactly right.


Now for the final step. Refrigerate for at least 4 hours until the filling is firm. Then eat! You can also add some chocolate chips on top like I did but it's definitely not necessary.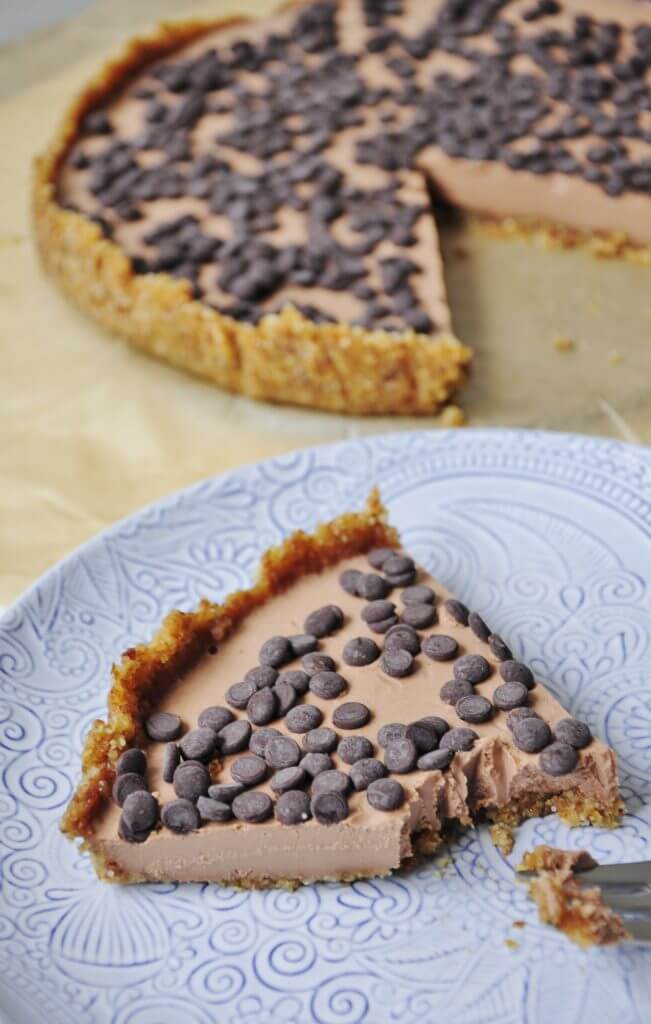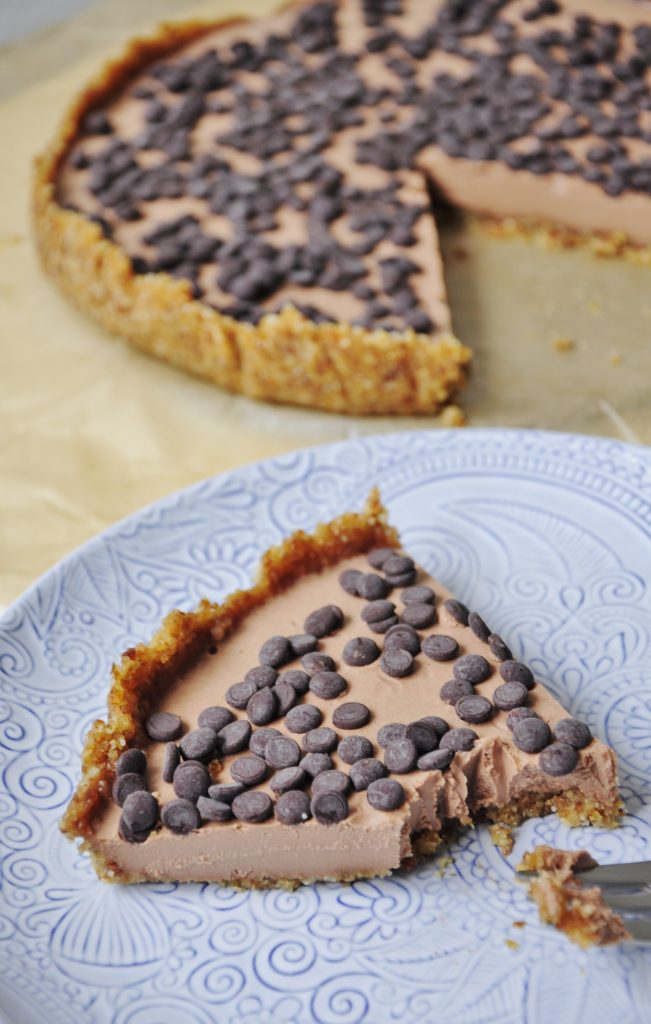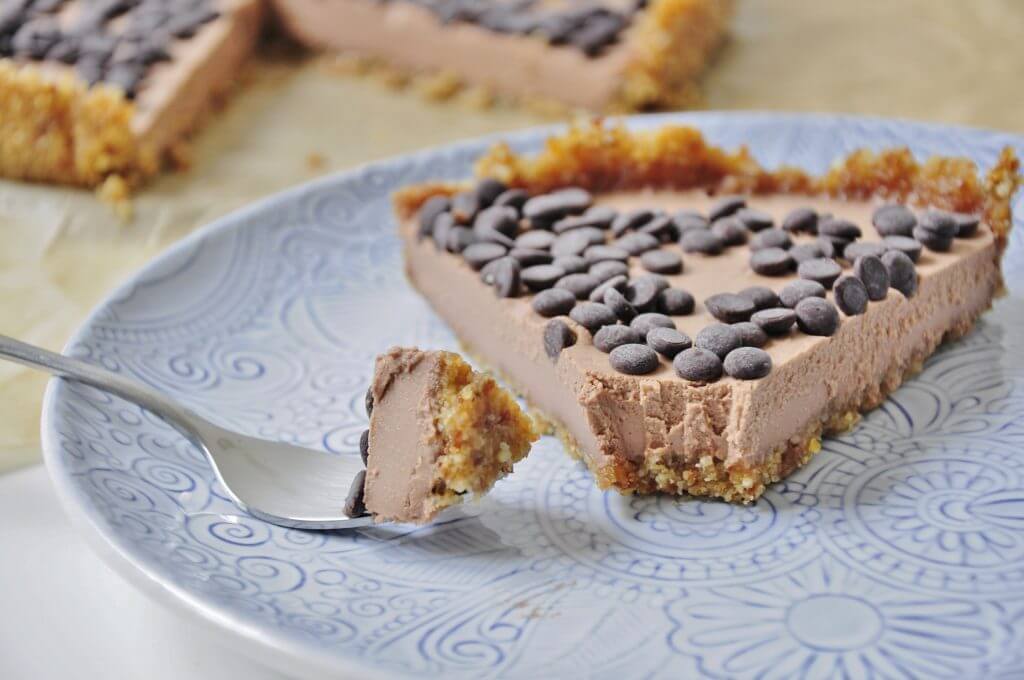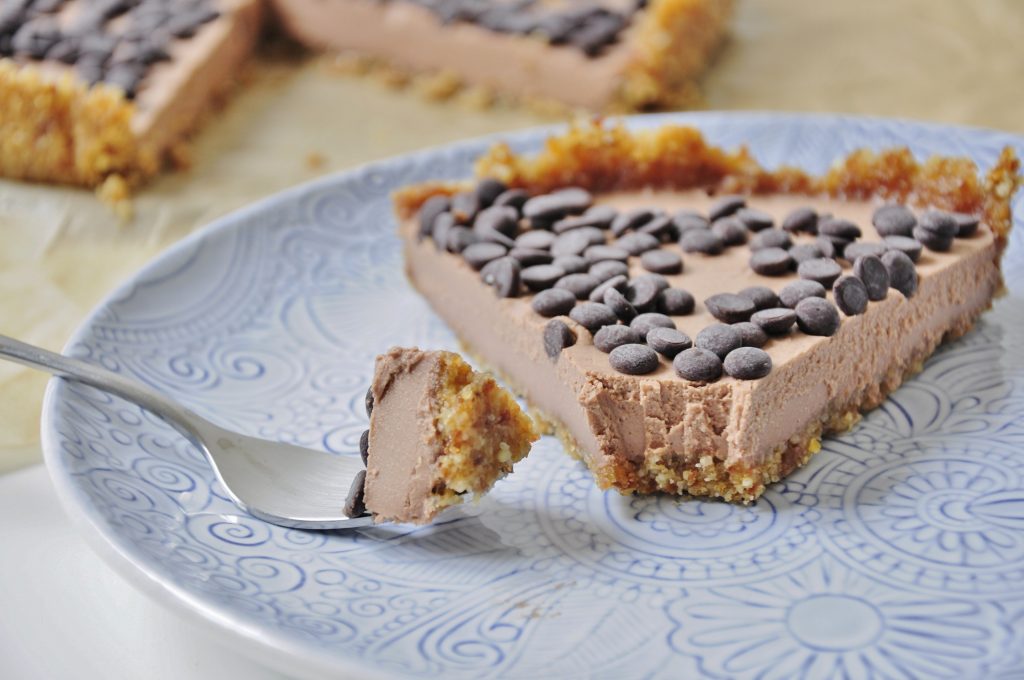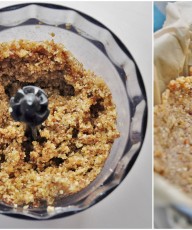 Chocolate Mousse Tart
Ingredients
1

cup

Walnuts

raw, unsalted

½

cup

Almonds

raw, unsalted

1 ½

cups

Dates

pitted

1

teaspoon

Coconut Oil

Salt

2

cups

Coconut Cream

from 2 cans coconut milk

2

tablespoons

Cocoa Powder

4

tablespoons

Powdered Sugar

½

cup

Cashews

raw, unsalted

⅓

cup

Chocolate Chips

optional
Instructions
Line a 10" pie, tart, or springform with parchment paper.

Pulse walnuts, almonds, pitted dates, coconut oil and a pinch of salt in a food processor to make crust dough. This should be crumbly and sticky.

Firmly press crust mixture into tart form, forming a 1 inch raised border.

Add 2 cups coconut cream (not coconut milk), cocoa powder, powdered sugar, and cashews to food processor and again pulse until smooth.

Pour filling into pie form and place in refrigerator.

Refrigerate for at least 4 hours until filling has set and become firm.

(Optional) Once filling is firm lightly press chocolate chips on top before serving.
Recipe Notes
1) Nuts for crust can be varied as long as 1 ½ cups raw nuts are used. Try hazelnuts, almonds, walnuts, macadamia etc. I don't recommend cashews for the crust. 2) Only cashews can be used for the filling.3) Get 2 cups of coconut cream by scooping out the thick cream layer of 2 cans of coconut milk that as been sitting for at least 2 hours.4) Tart will keep in fridge for 3 days.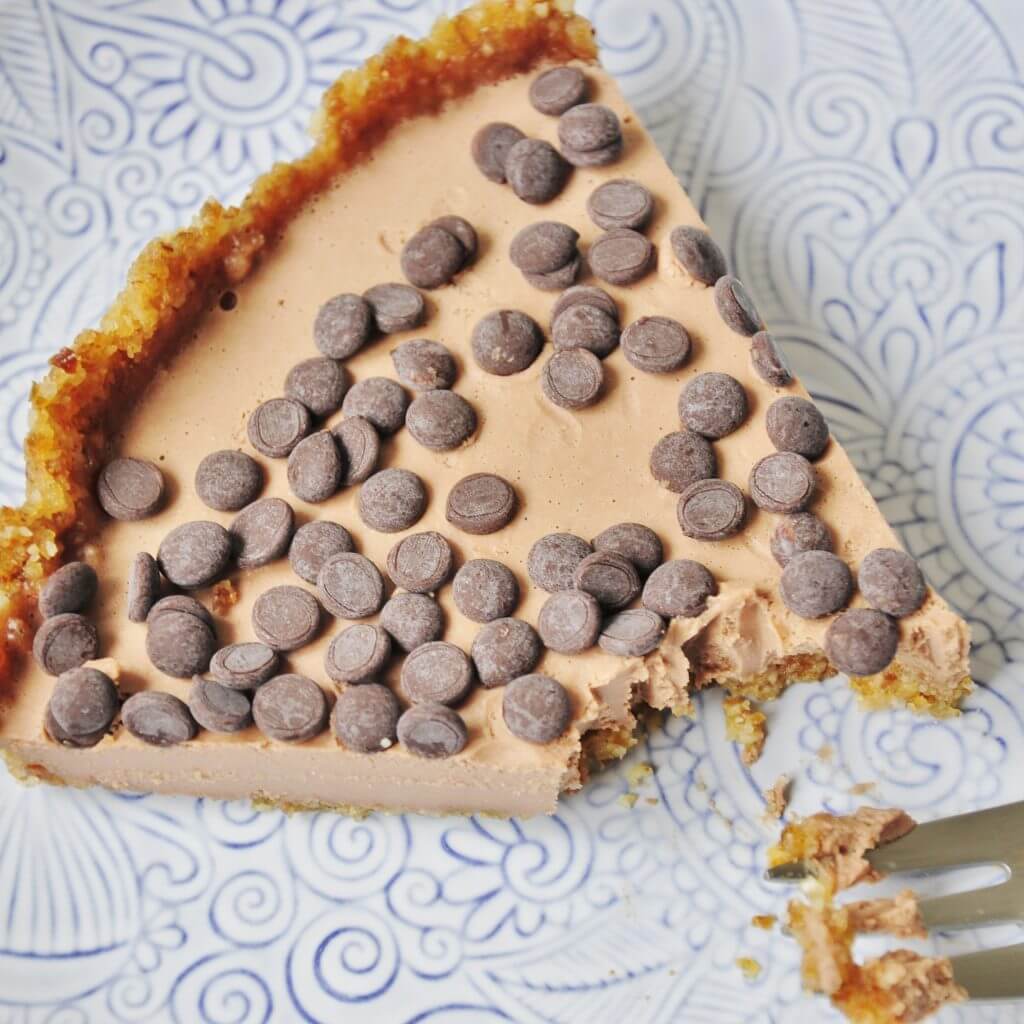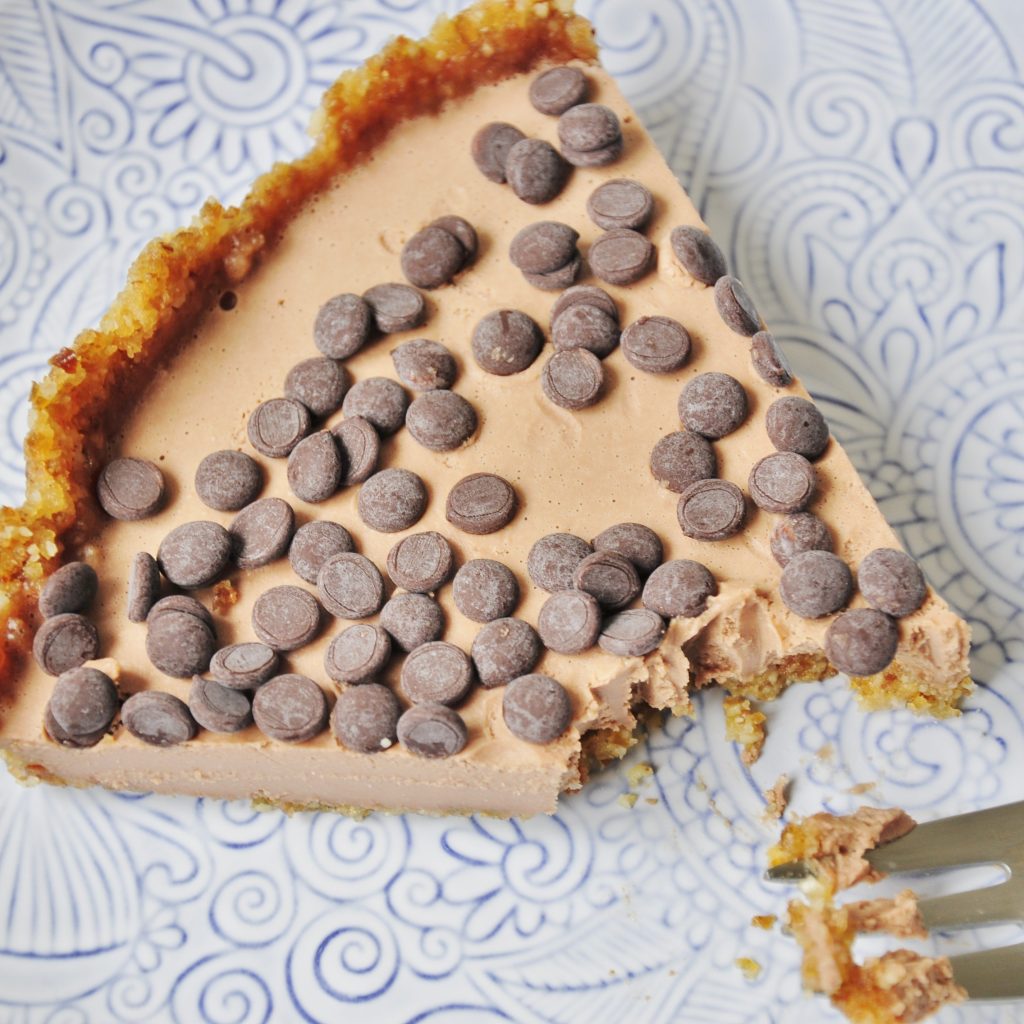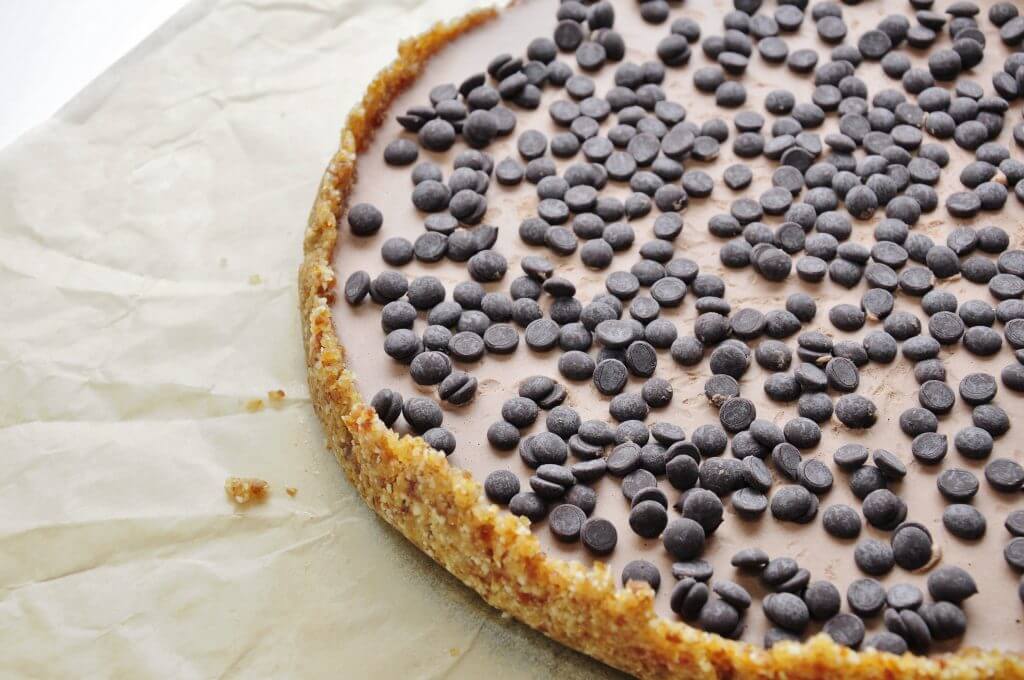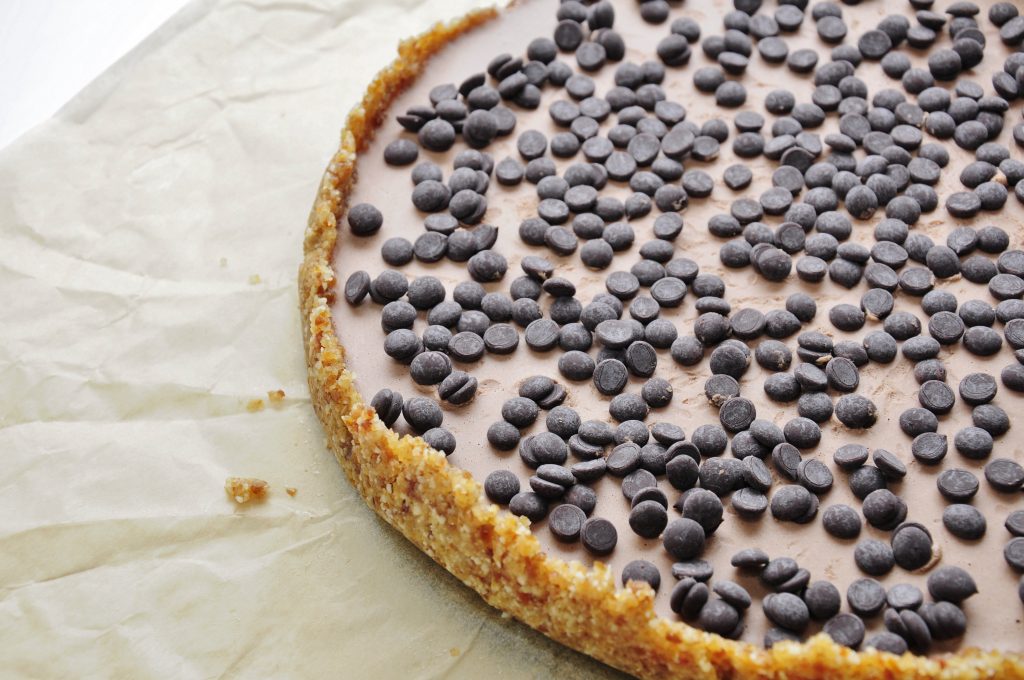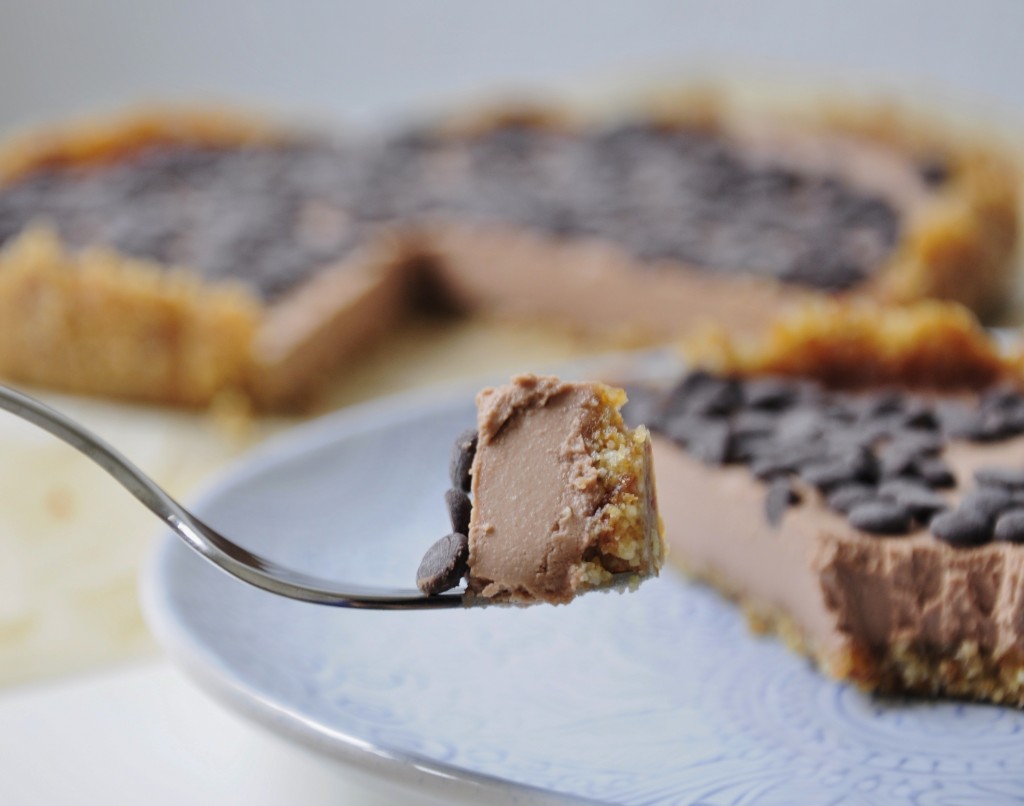 * Note that not all powdered sugars are vegan. In fact, most aren't. However, Hain Organic Powdered Sugar is! Same goes for chocolate chips. Enjoy Life Chocolate Chips are by far the best vegan-friendly option.
Looking for another No bake pie? Try this Raspberry Lemon Pie, it tastes like summer!