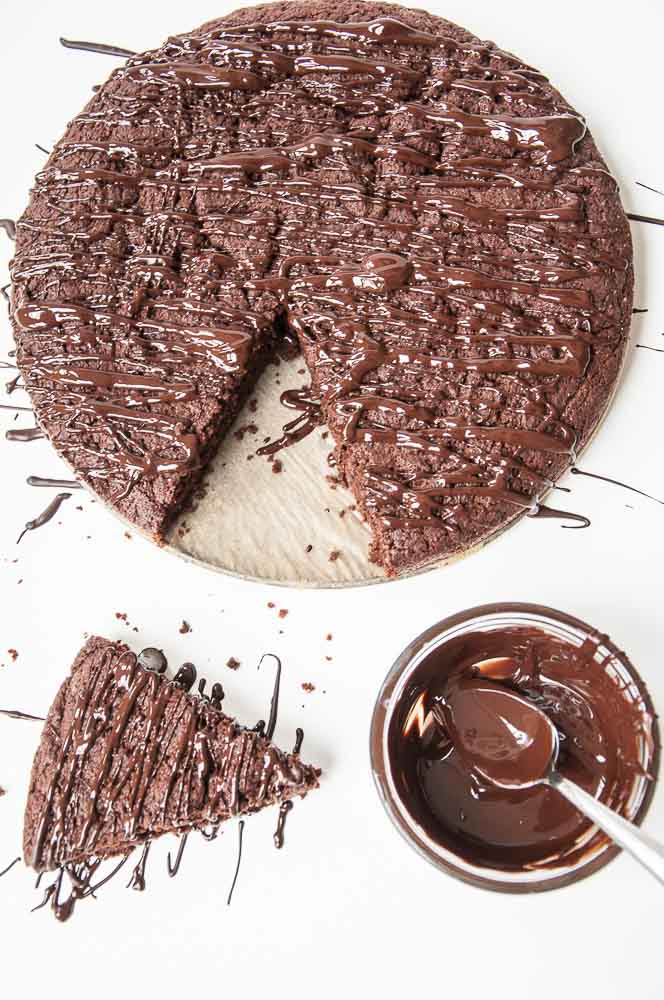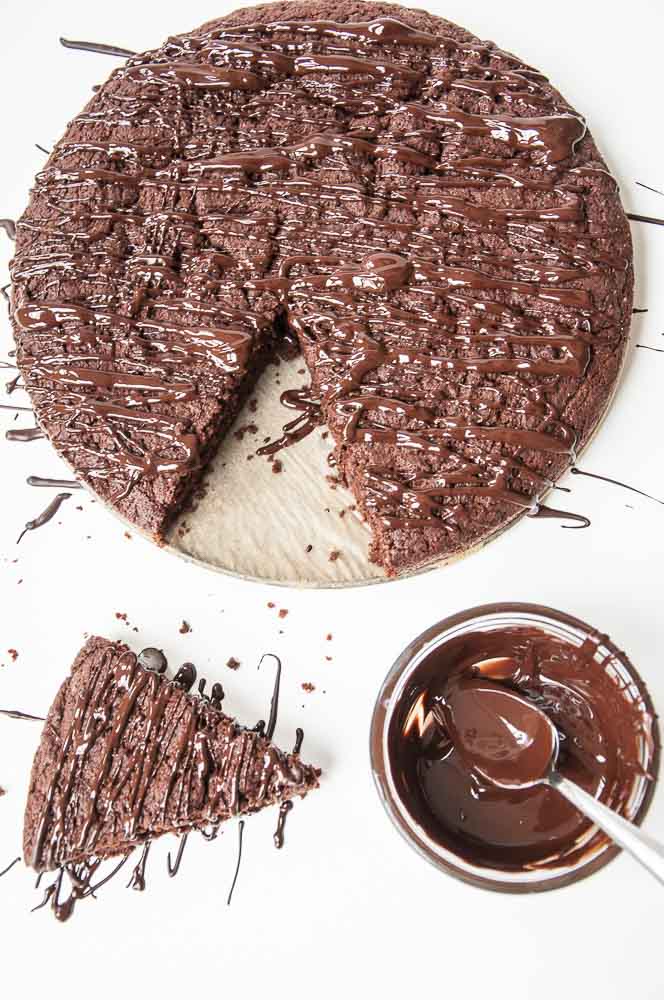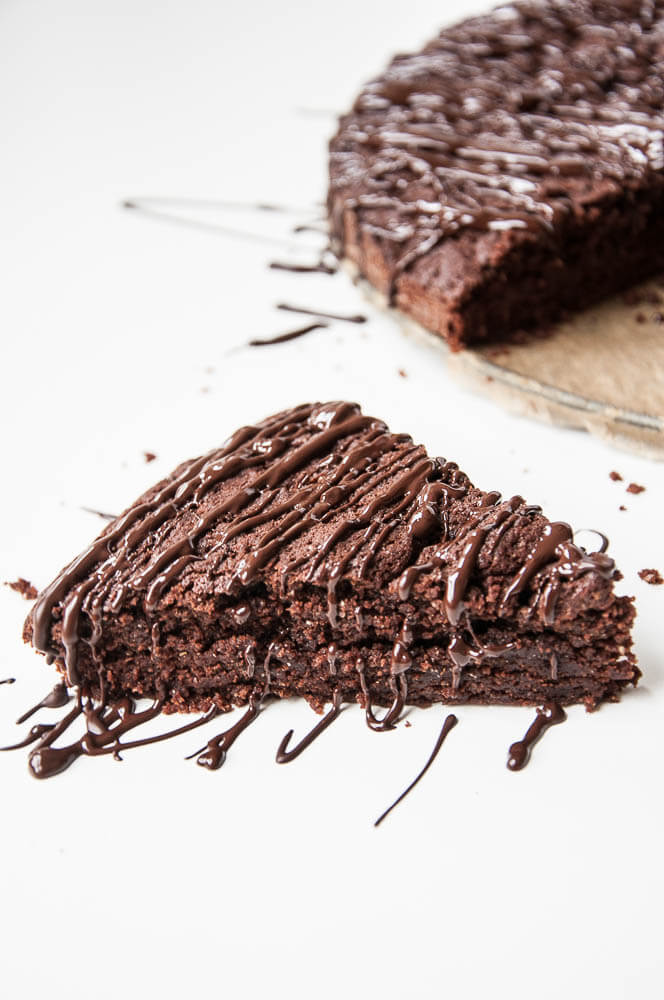 A chocolate olive oil cake is something I've been wanting to make for the longest time now and not just because of this really cool Kouzini Olive Oil giveaway.  I've used olive oil before in muffins because it makes them really moist. So, obviously the same must hold true for when adding it to a cake.
Add olive oil and raw cacao  and you get this incredibly moist and super rich chocolate olive oil cake. You might be thinking, "Ew, olive oil in a cake. That must taste really weird." Believe me though when I tell you, it actually works. Olive oil gives the cake a distinct taste but it's not overpowering. It adds a whole different depth of flavor to cake that regular canola oil or butter could never even come close to.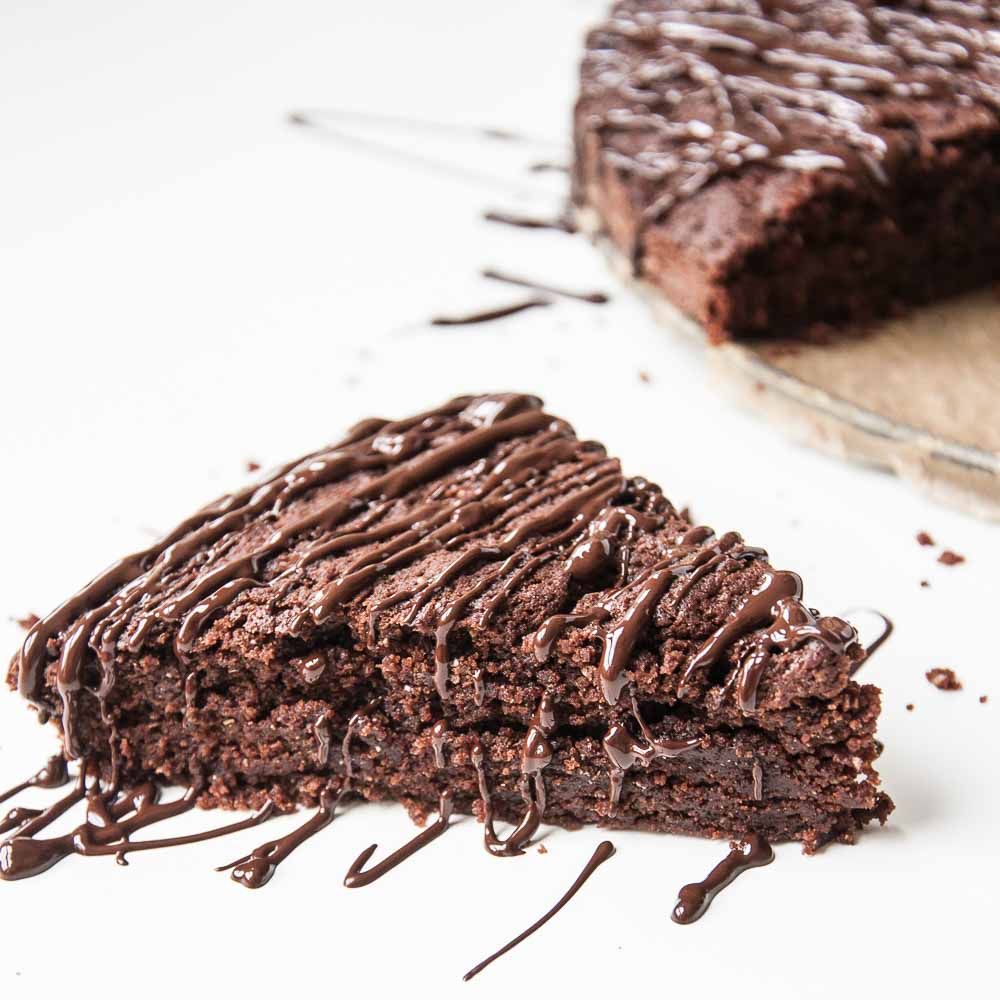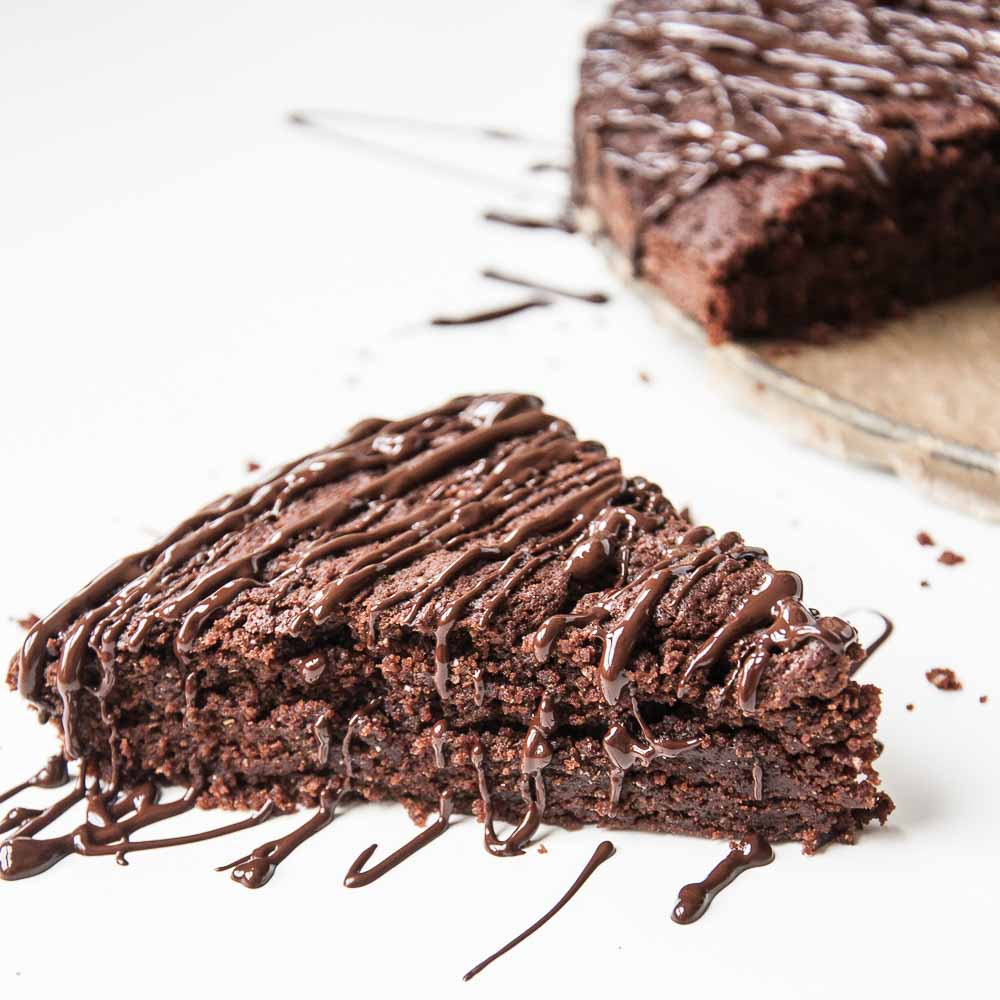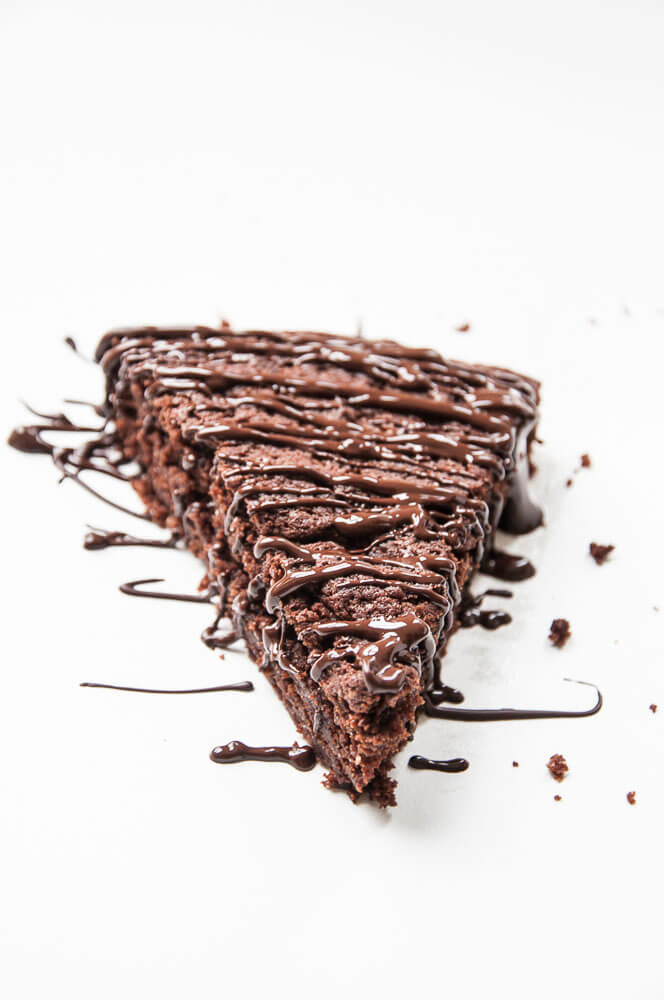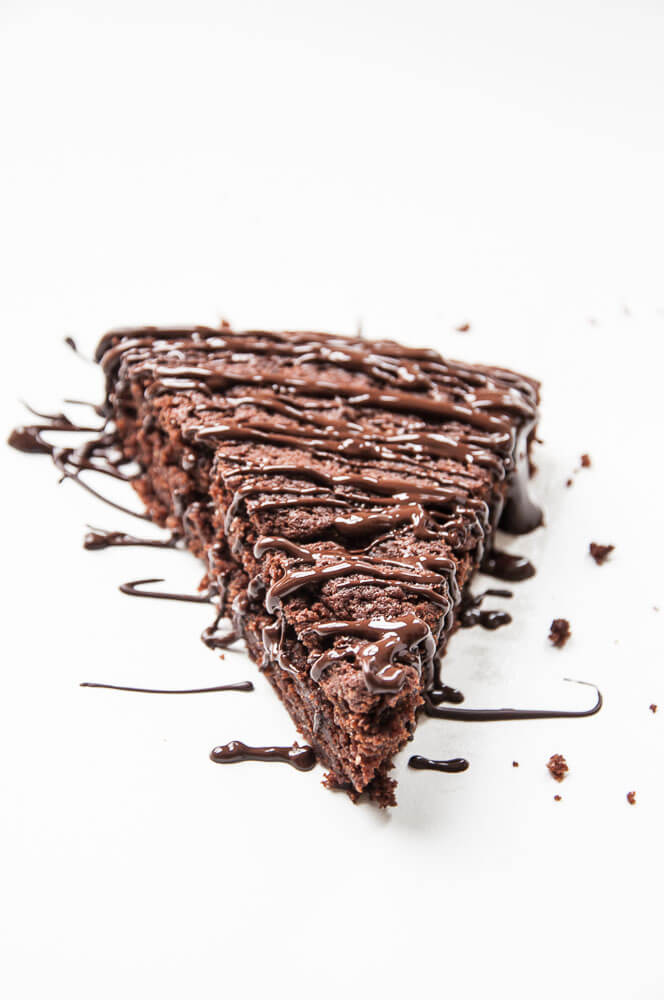 What's even better when it comes to this chocolate olive oil cake recipe is that it is, yet again, really easy to make. I might have to change my blog to ReallyEasyToMake.com since it's something I nearly say for EVERY SINGLE recipe. Might just have to use a thesaurus though ;D
There aren't any intricate steps to making this cake. Just Mix all you dry ingredients, then add in all the wet ingredients. That's how easily you get your cake batter :)


Bake it and you'll get a deliciously moist olive oil cake.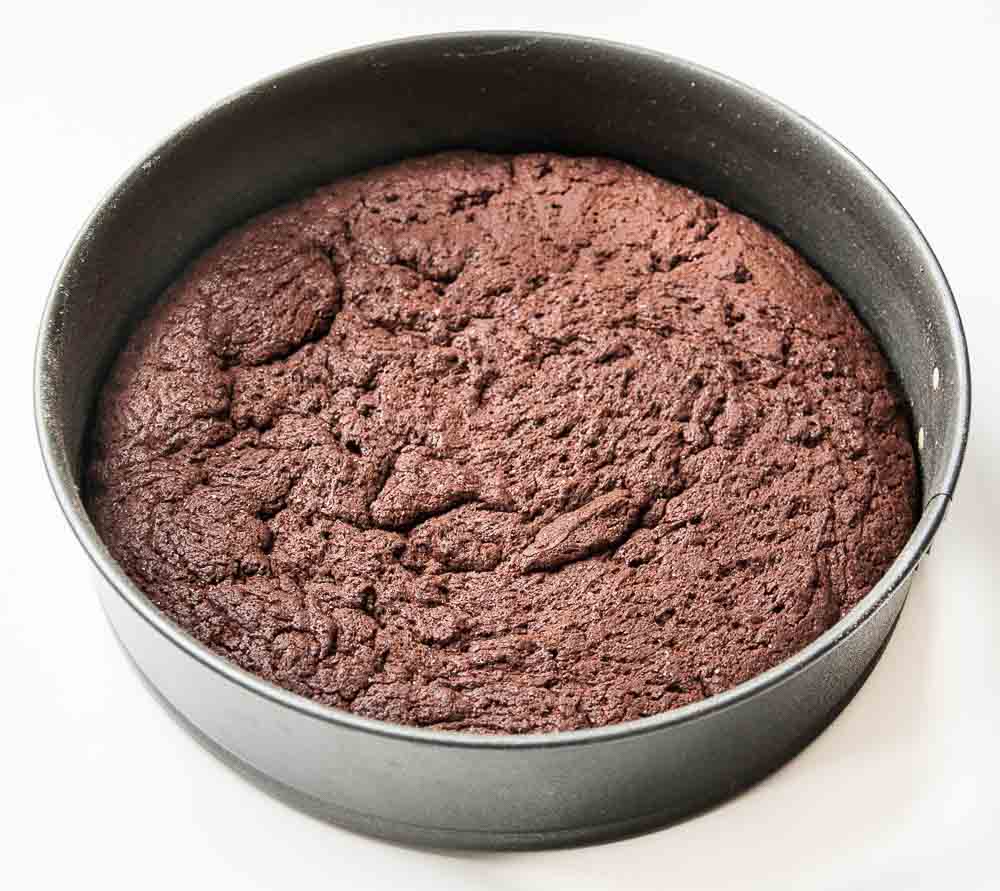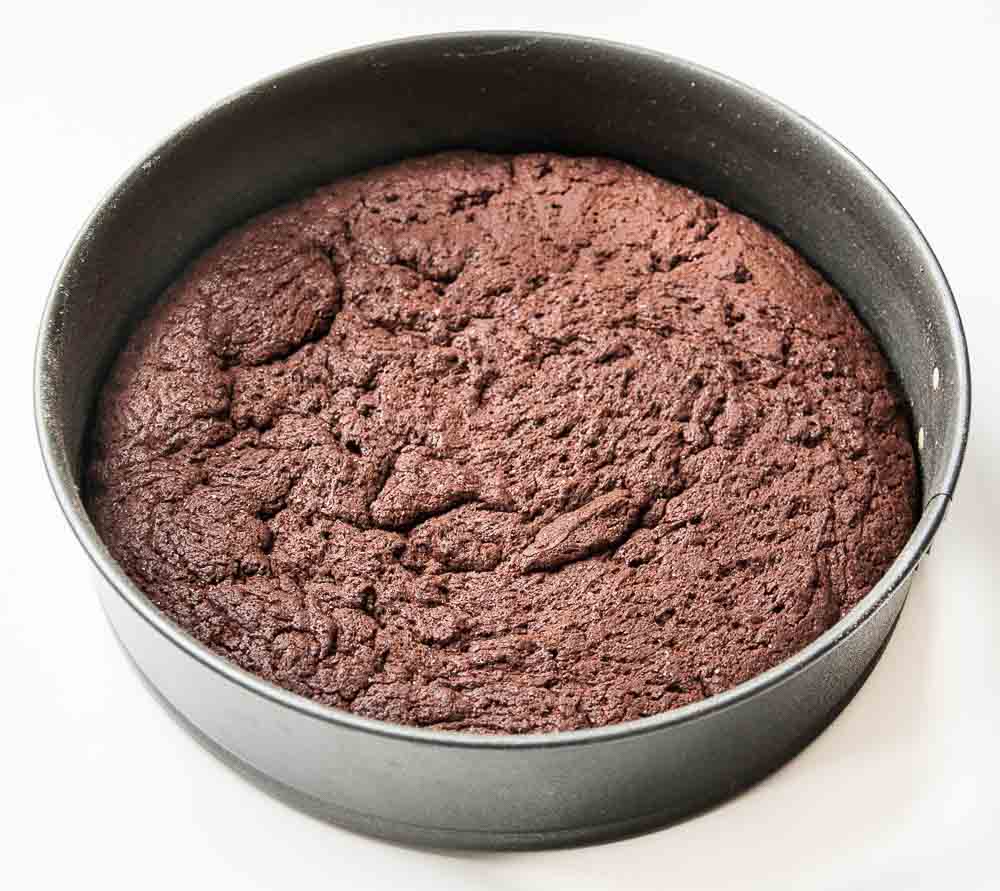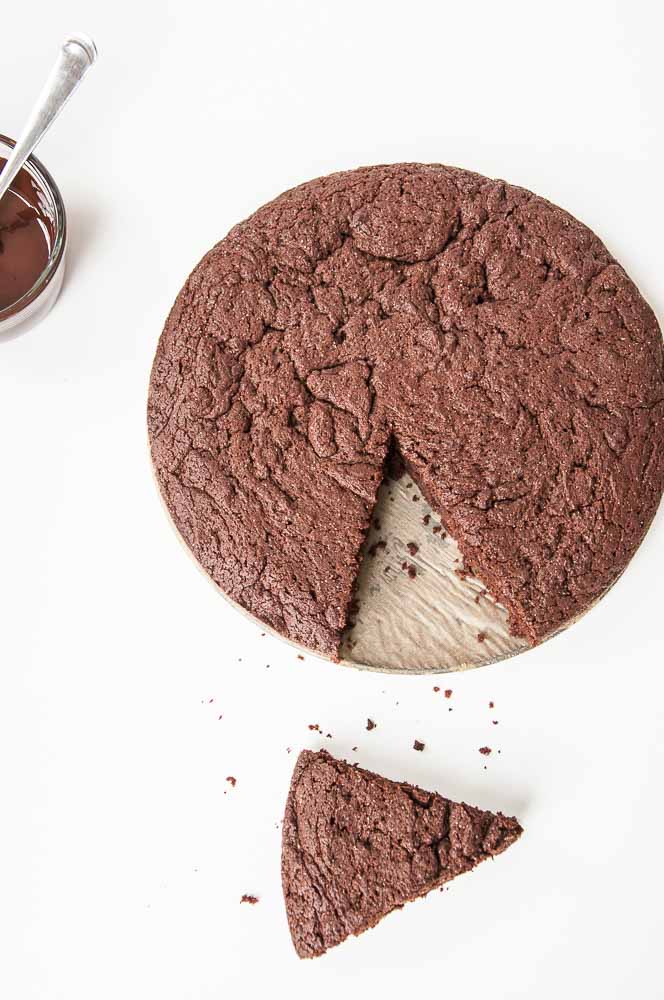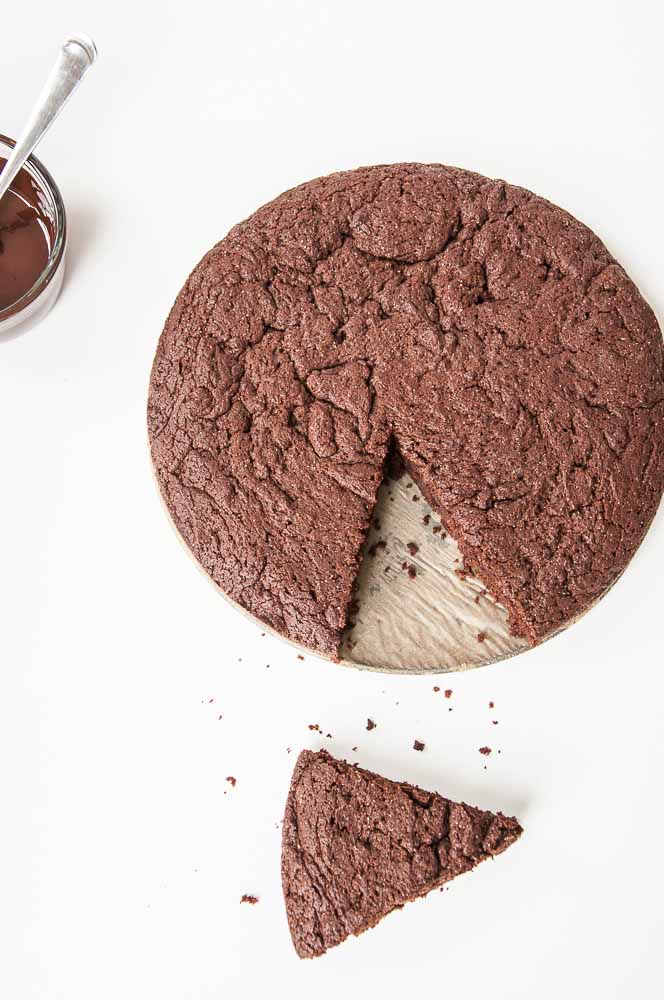 You can eat it now but why would you want to, if you can make it EVEN better ?!
Drizzle this bad boy with melted chocolate. I wanted to go overboard with the dark chocolate. So i used Lindt's 70% Cocoa Dark Chocolate. If that's not dark enough for you then go for their 85% or 90% Cocoa Chocolate.
However, if don't want to be all up in this dark chocolate lovers paradise then you can just use semi-sweet vegan chocolate chips or whatever other kind of chocolate you prefer.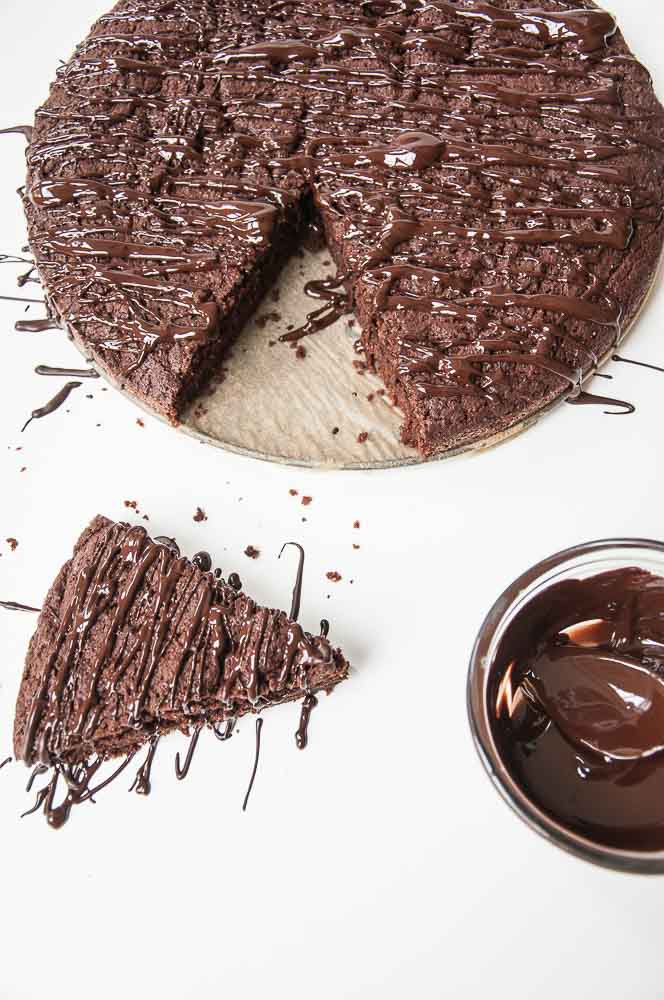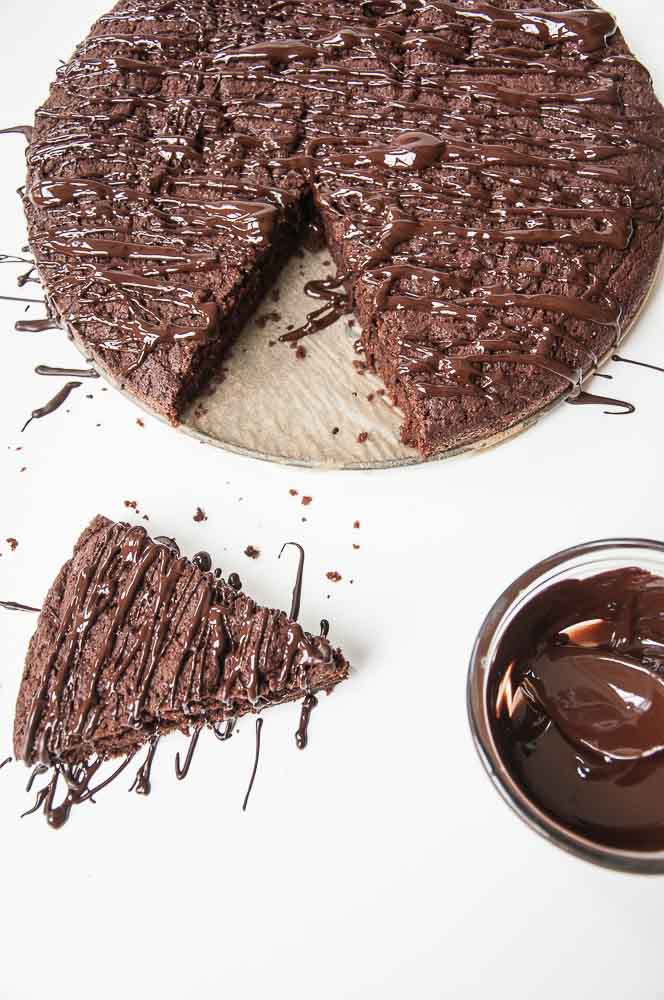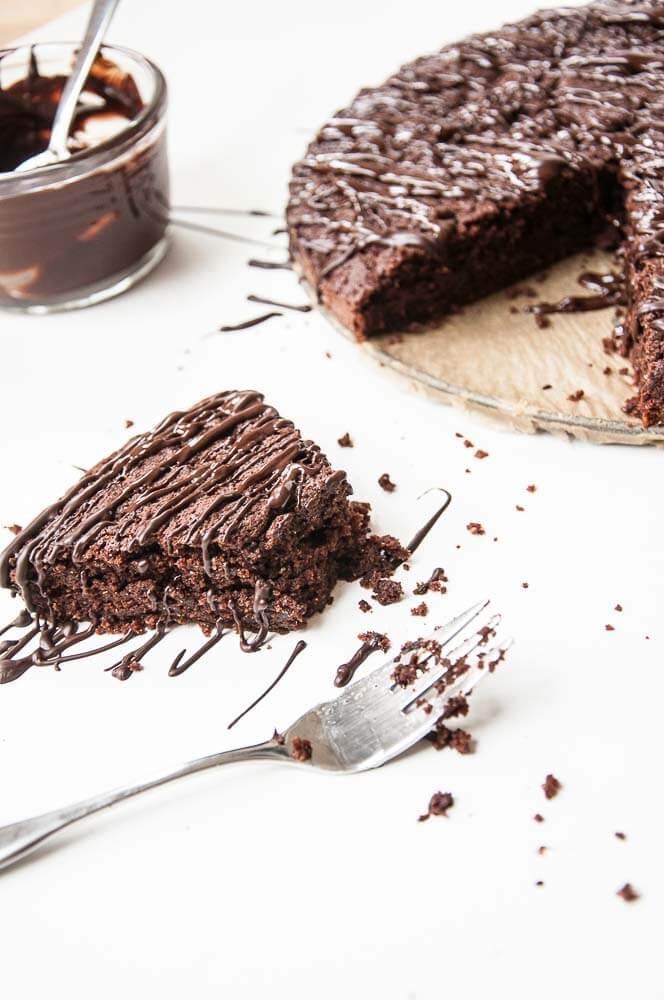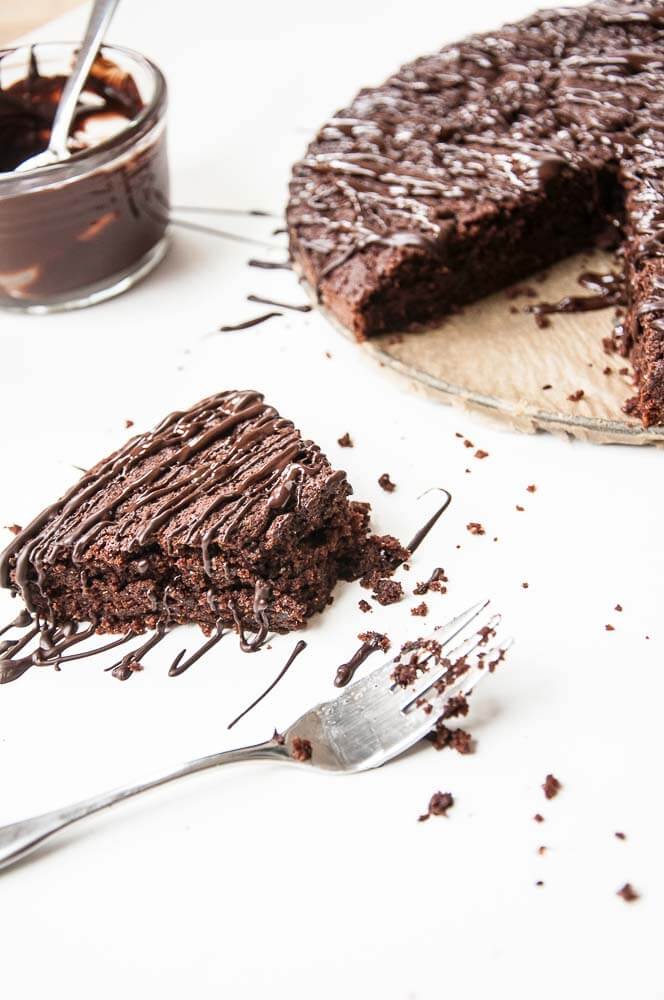 Oh right, we're still not done yet! Put the fork down! Top the chocolate olive oil cake off  with some whipped coconut cream for a truly satisfying dessert.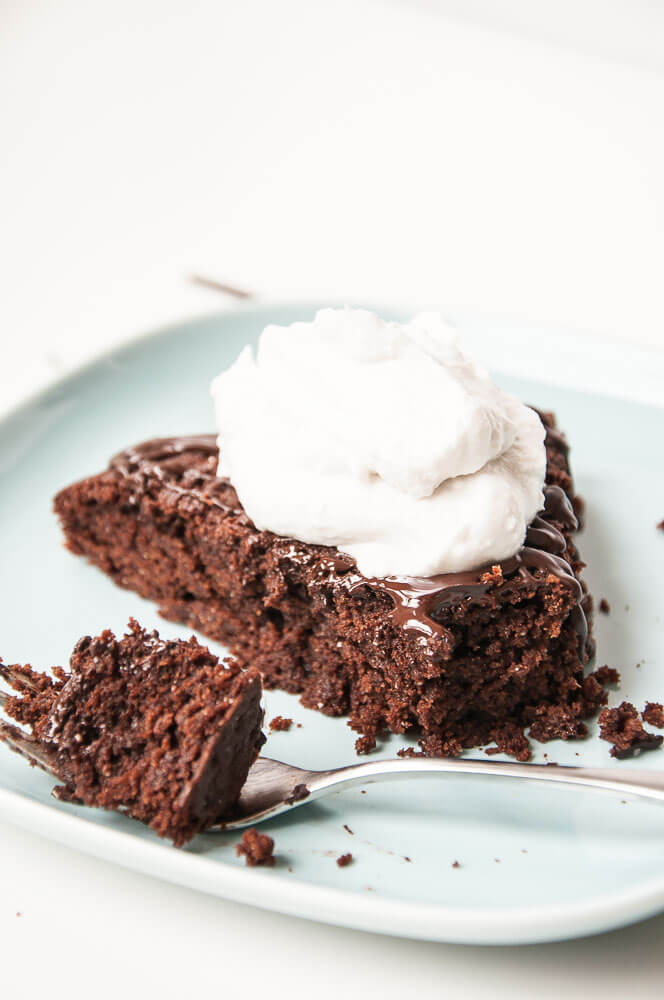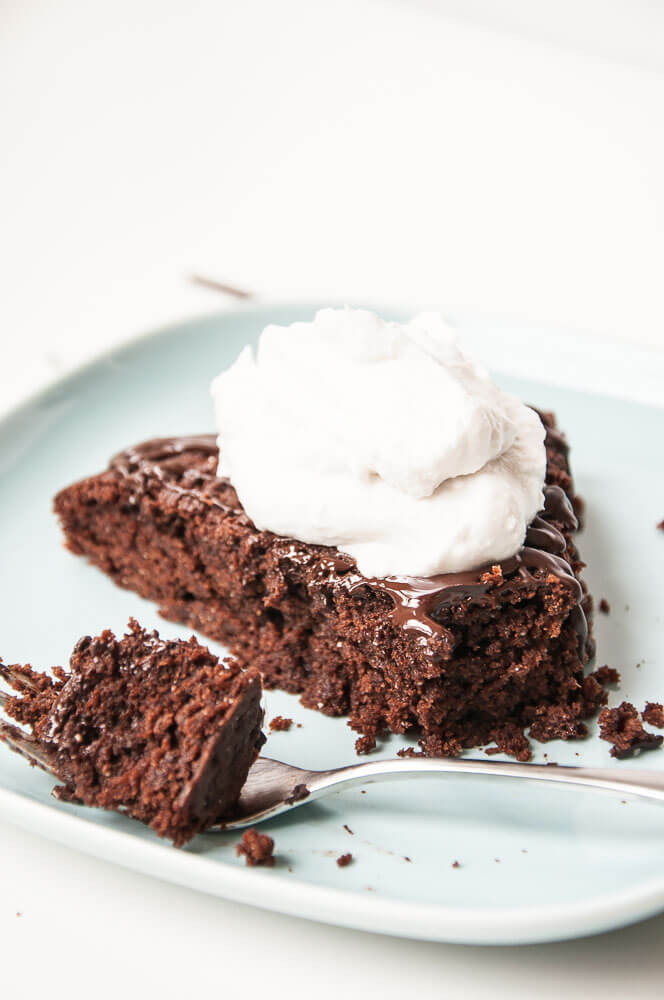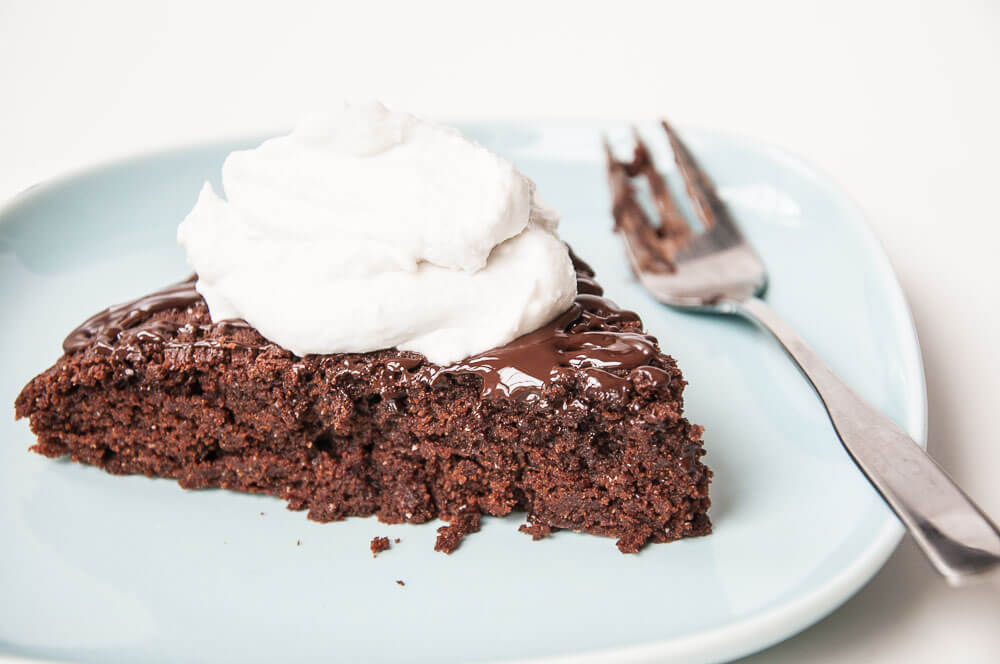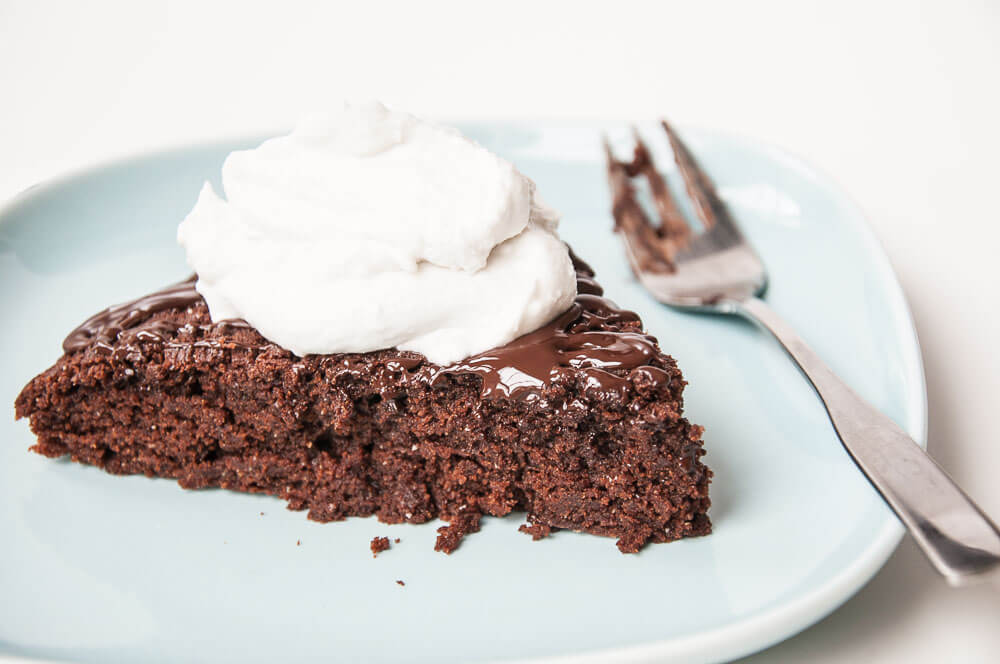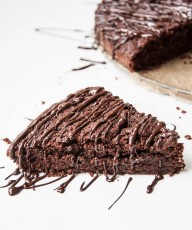 Chocolate Olive Oil Cake
Incredibly moist Vegan Chocolate Olive Oil Cake that is perfect for dark chocolate lovers.
Ingredients
8

tablespoons

Raw Cacao or Cocoa Powder

unsweetened

1 1/2

cups

Whole Wheat Flour

3

teaspoons

Baking Powder

3/4

cup

Raw Cane Sugar

1/2

teaspoon

Salt

2

tablespoons

Apple Cider Vinegar

3/4

cup

Almond Milk or other plant based milk

1/2

cup

warm Water

1

cup

Olive Oil

1/4

cup

Vegan Chocolate of choice

dark chocolate, chocolate chips, etc. I used this melted (optional)
Instructions
Preheat oven to 350F (180C). Grease and flour a springform or line with parchment paper (See notes).

Stir together dry ingredients in a large mixing bowl.

Stir in apple cider vinegar, milk, and water. Slowly add olive oil until just mixed.

Pour cake batter into prepared springform and bake in preheated oven for 30 minutes. Cake is finished when the cake bounces back after being lightly pressed on or when a toothpick inserted into the center comes out clean.

Let cake cool before removing it from the springform.

Melt chocolate chips and drizzle over chocolate olive oil cake.

Serve with whipped coconut cream.
Recipe Notes
1) I used a 10 inch springform and the cake isn't very thick. The cake is so rich that it's great since you won't need a very big piece to feel full. You can use a smaller springform though to make it a thicker cake. Be aware that the bake time might vary then.
Now that we know that we can use olive oil in savory and sweet dishes, it makes this giveaway even more appealing. Kouzini is giving away this incredible prize package to 1 winner.
1 500ml Kouzini Extra Virgin Olive Oil Bottle
1 500ml Kouzini Unfiltered Extra Virgin Olive Oil Bottle
1 Picante spice blend
1 Toscano spice blend
1 Byblos spice blend
1 Santorini spice blend
1 Sriracha sea salt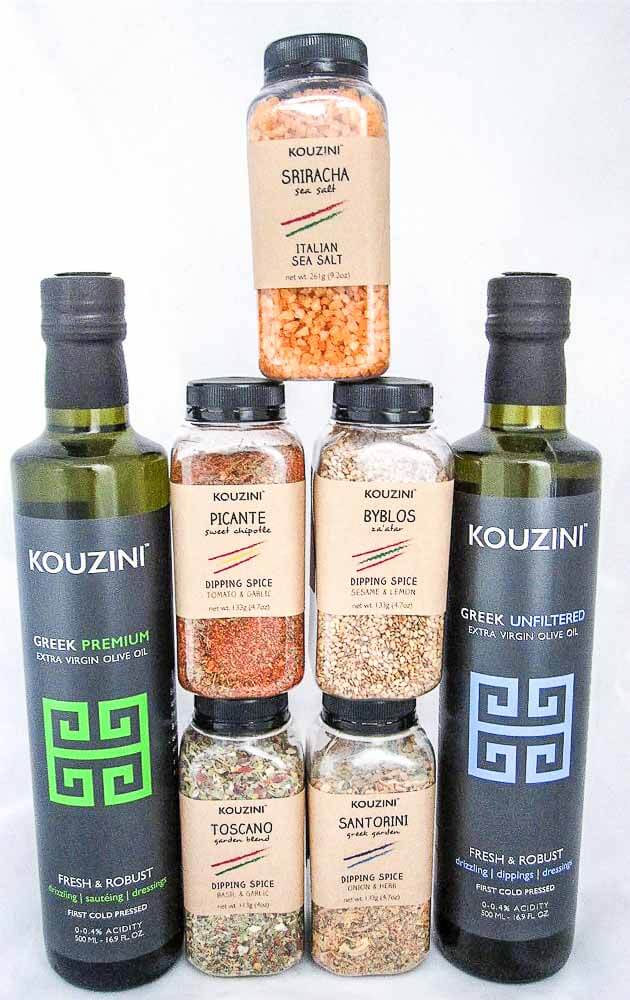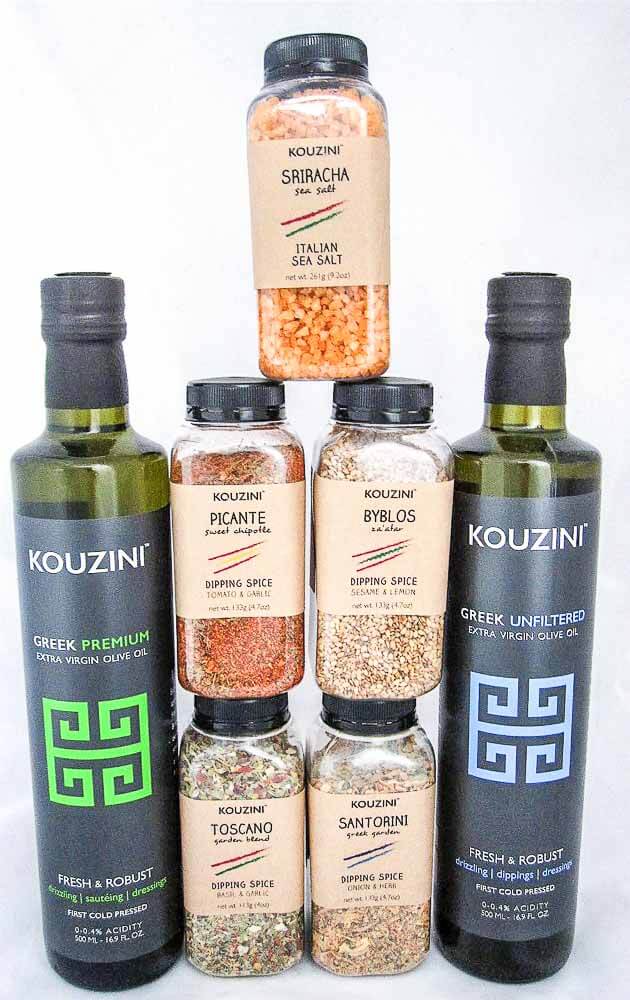 Kouzini olive oil is a premium, single origin olive oil. They bottle their olive oil in dark glass to protect from harmful light rays. Their olive oil, also only has a .3 aciditiy (which is less than half of the standard .8 to be considered extra virgin).
You may have noticed that one of the bottles in the giveaway is for unfiltered extra virgin olive oil. When I first saw that on their olive oil bottle, I wasn't quite sure what to expect.
This means  that the olive oil doesn't go through the regular filtering process and therefore leaves the naturally occurring olive pulp intact and gives it more of a fruity flavor.
It tastes perfect when you pair it with their spice blends (all vegan, gluten-free, and no caking agents used!).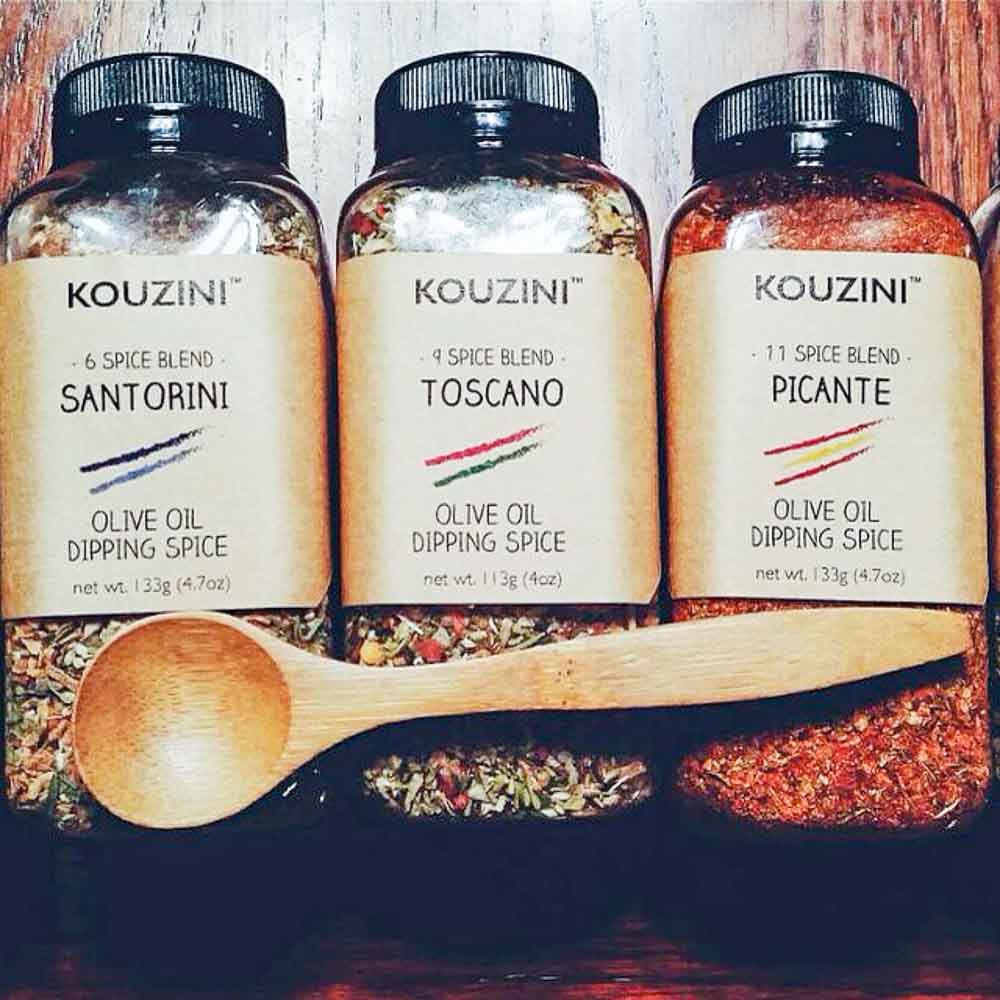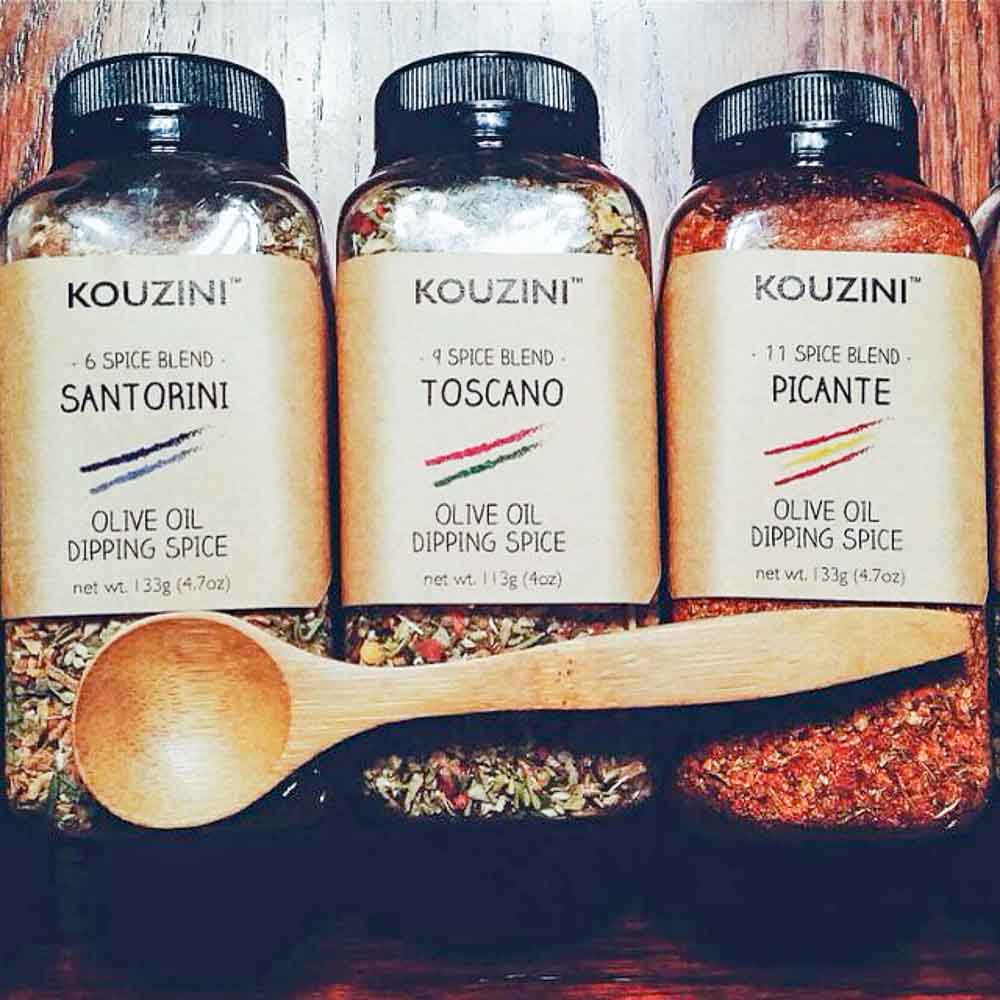 Just add some olive oil to their dipping spice blends and eat with some bread. Tastes like heaven.
You can enter the raffle in a couple different ways. Tweet about it, become an email subscriber, follow VeganFamilyRecipes or Kouzini on Instagram, or follow VeganFamilyRecipes on Twitter. All entries will be verified.
Oh and before I forget, Kouzini will ship WORLDWIDE! So really anyone (18+) can enter to win :D
This giveaway has ended.
Congrats to Sarah S. for winning this prize pack :)