Beets, Beets, Beets! Oh, how I love beets. I recently made this incredible summer beet dip that is definitely going to be a summer BBQ staple. I've always been excited about all types of beet recipes. I just wish more people were too. I still think beets have such a bad reputation but those who believe that reputation haven't found a good way to prepare them. This recipe hopefully will change those non beet-lievers (sorry! I couldn't resist) minds.
In this dip I added horseradish as well as apple. I'll admit I often just use store bought horseradish (Atomic is my favorite, it's vegan and gluten-free). However, if you can find fresh horseradish (it looks like a long root) then I can only recommend using that. Finely grate it and add to dip. Simple as that!
Last quick note to give you that extra push to use more beets in recipes. Check out these great health benefits:
contains high levels of folate making it great for pregnancy and for breastfeeding moms.
great source of other minerals and nutrients such as sodium, magnesium, iron, phosphorus, calcium, vitamin A, vitamin C and niacin.
low fat and low calorie
works as a blood cleanser, lowers blood pressure and can help prevent certain cancer types
Click here to learn more
So let's get to making this :)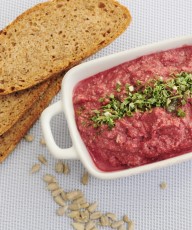 Summer Beet Dip
makes 1 cup
Ingredients
1

small Beet

Beetroot -peeled, diced, and steamed

1

small Red Onion

½

Apple

sweet ones work best, Jonagold, Gala, or Fuji

6

tablespoons

Sunflower Seeds

½

teaspoon

Salt

1 ½

teaspoons

Horseradish

freshly grated or store bought

2

tablespoons

Water
Instructions
Peel, dice and steam beet for about 15 minutes. Beet is done when it can easily be pierced with a fork.

Add remaining ingredients in a food processor along with slightly cooled beet. Blend until desired consistency is reached. (I prefer it a bit chunkier, than too smooth)

Serve cold with bread, crackers, or veggies.
Recipe Notes
1) Beet Dip will last covered in refrigerator for up to 5 days. 2) This recipe calls for horseradish. Either the actually plant or prepared horseradish, NOT horseradish sauce or anything that says creamy horseradish)3) Easily adjust the level of spice by adding more horseradish.
If you want some more vegan beet recipe inspiration check out these two recipes: