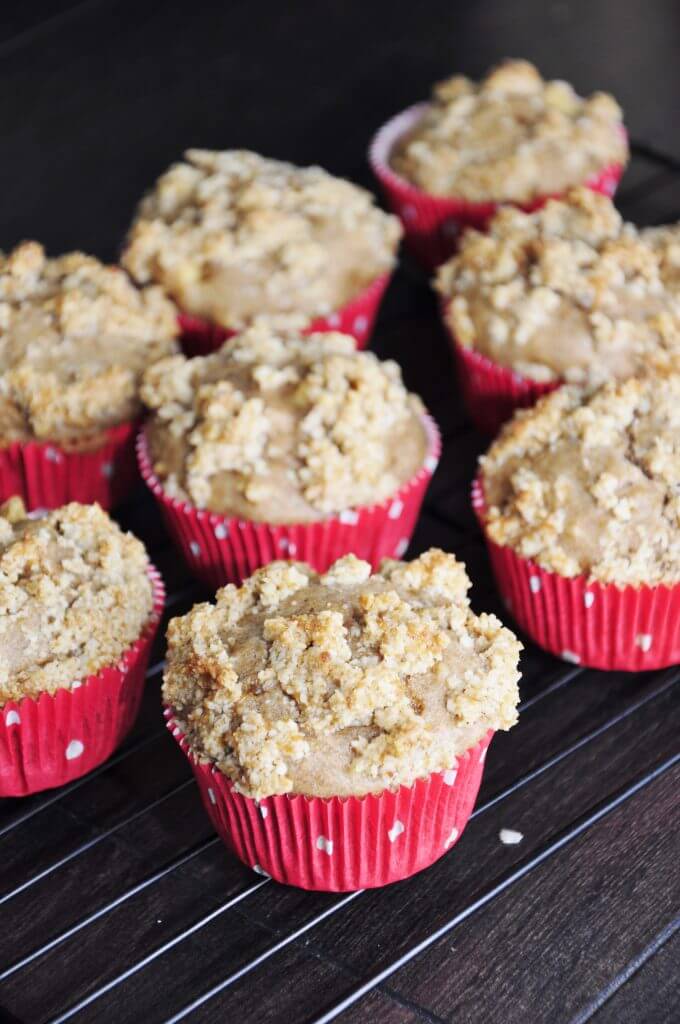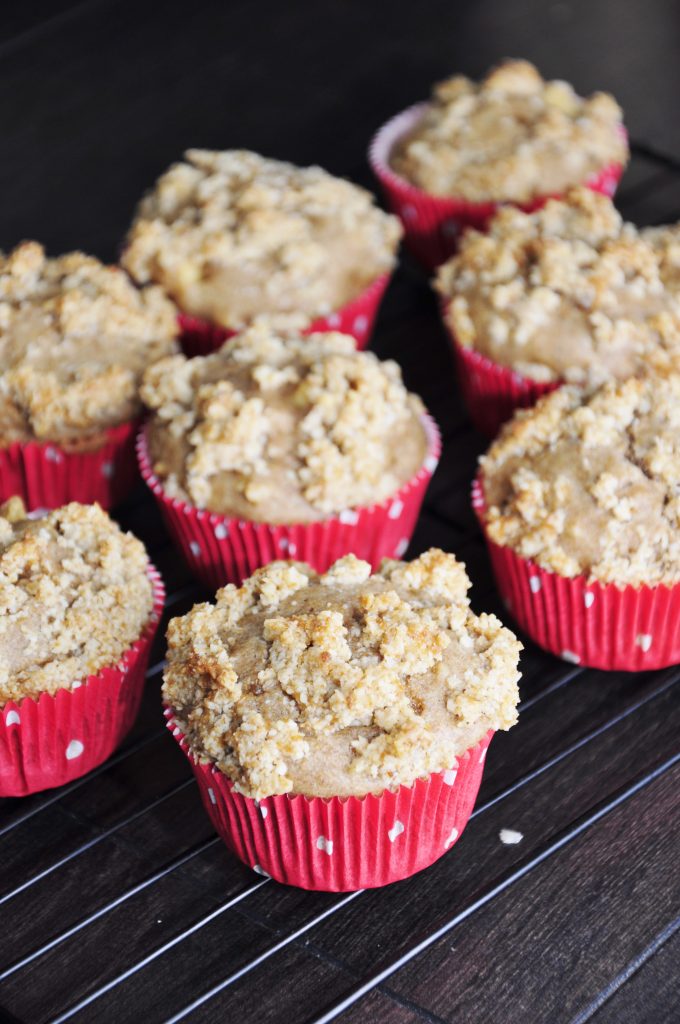 It's so sad but it's time to give up on summer. I would love to mope about it but there is really nothing to do other than embrace fall. But wait...it's not that bad since there is a lot of great produce at its prime during the fall months. Apples, mushrooms, squash, sweet potatoes, pears, cranberries, cauliflower, and many more. Really no need to complain. Plus it's nice for a change to turn on the oven and not be dripping in sweat :)
I picked up some apples from our local farmer's market and immediately wanted to make muffins. We all have those days where we wake up an are determined to make brownies, waffles, spaghetti or ,in my case, muffins. Not just any kind of muffins but muffins with walnuts and some form of streusel on top. Believe me, you don't want to see me on those days were I am determined to bake or cook something specific. Good thing I did get to make muffins or there would have been tears, yelling, and a lot of wine.
These Apple Banana Muffins actually turned out much better than I had anticipated. They turned out really moist because I used olive oil in them and the streusel topping with rolled oats was delicious. I couldn't stop eating them but I had to...Sadly, I had to bring some to #1's preschool. I was really hoping that people wouldn't actually want to eat them. I made sure everyone knew they were vegan in the hopes that some would think "Ew...Vegan food can't possibly taste good". This just backfired though because they were gone within 10 minutes.
My healthy Apple Banana Muffin recipe is really easy to make. The baking instructions are actually quite similar to those of the Whole Wheat Blueberry Muffins I made a while back. Start off by blending all the wet ingredients to make sure there are no banana chunks. I used a immersion blender in the bowl but use whatever type of blending device you have on hand. A blender or food processor work just as well.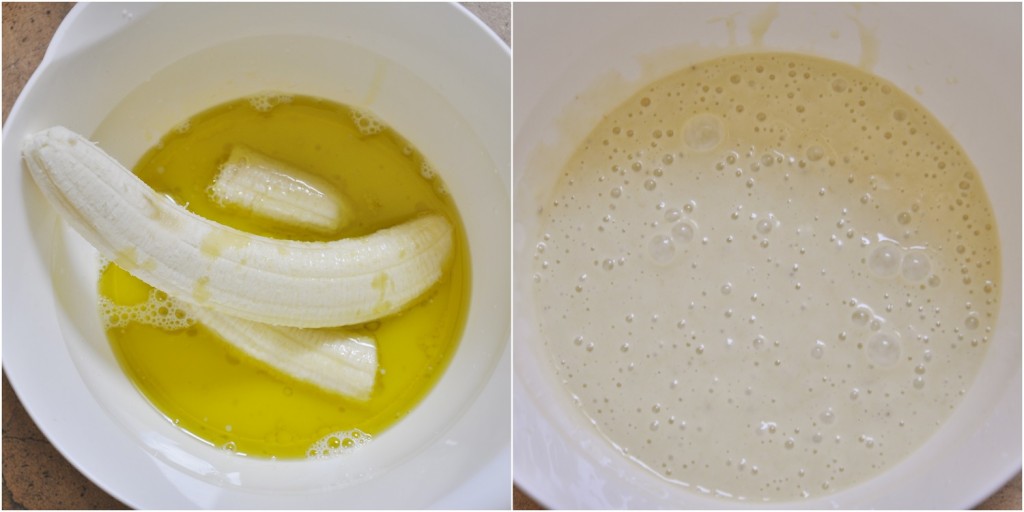 Then stir together the dry ingredients and combined those with the blended wet ingredients.


You'll then have chop the walnut halves and apple. I like to just pop the walnuts in the food processor because I'm lazy like that. :)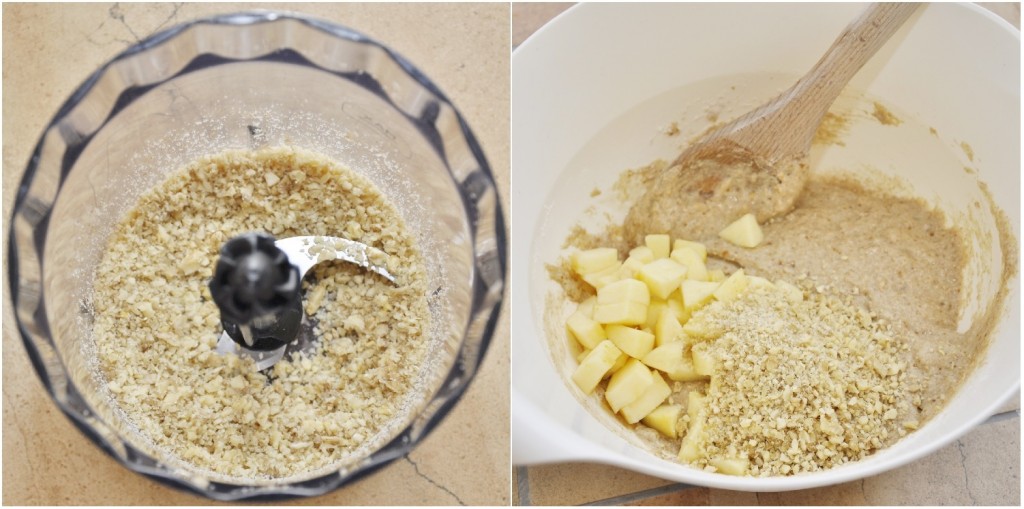 There are so many apple varities and it may seem overwhelming at times. I used Jonagold apples but use which ever you have or like. I found this great chart below to help pick the right kind of apple for baking these muffins.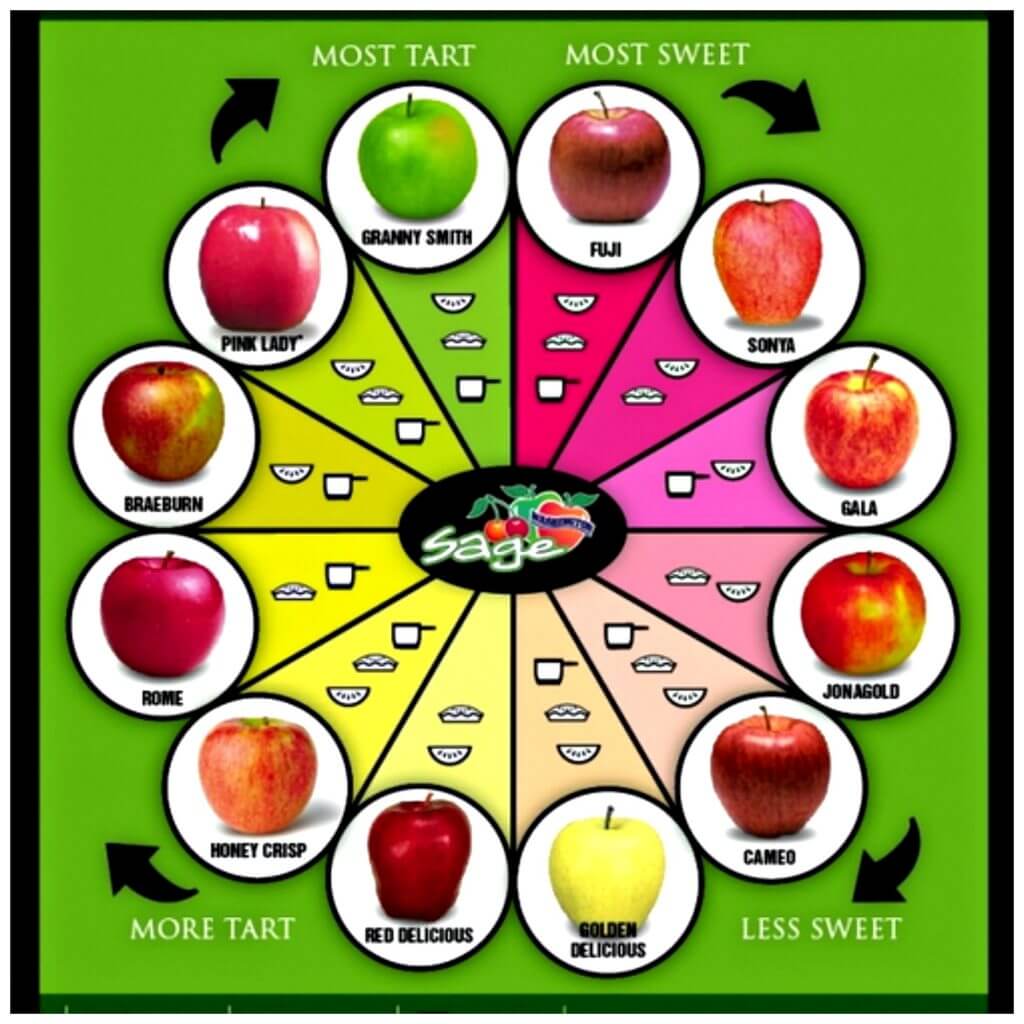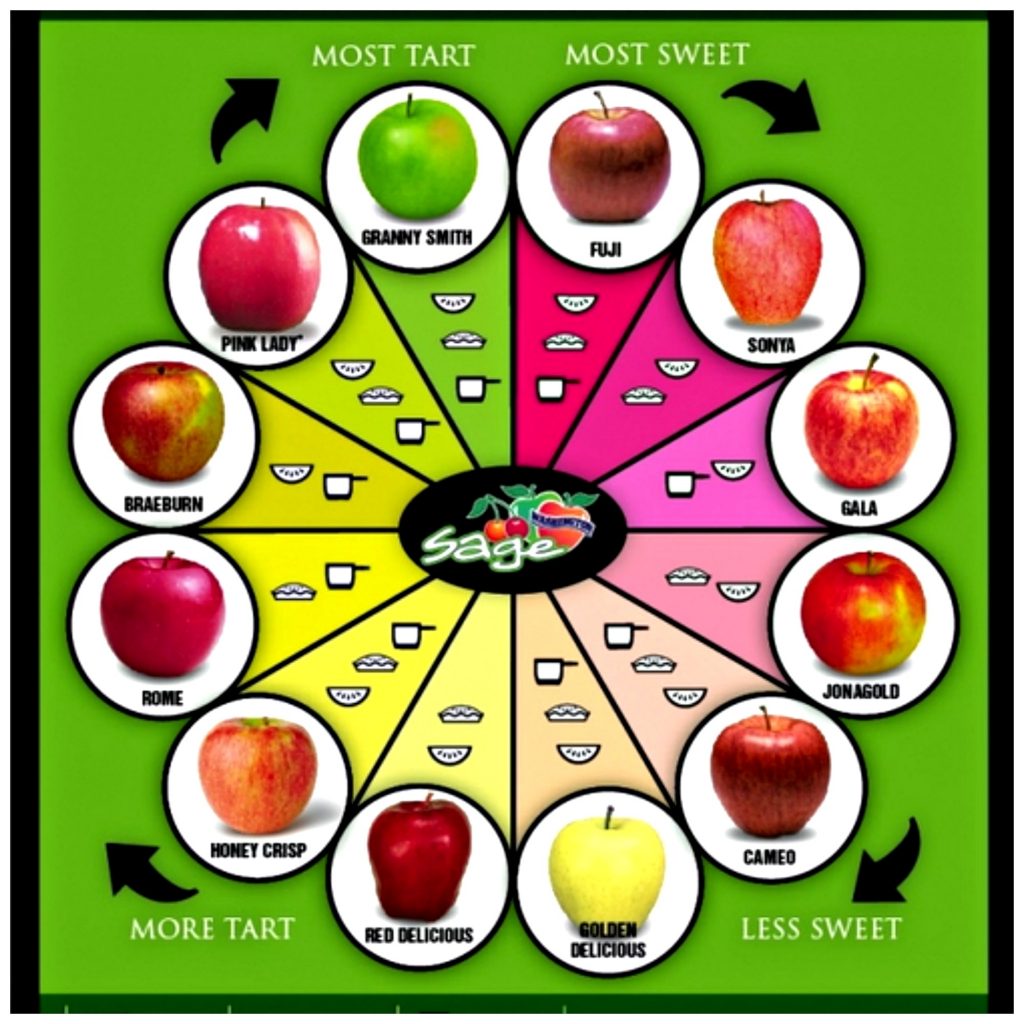 Enough about apples. Back to making these apple banana muffins! Now add the streusel ingredients into the food processor. It will form a crumb like mass. Squeeze the crumbs together and then lightly sprinkle over the muffins.


Bake and eat, quickly or someone else will!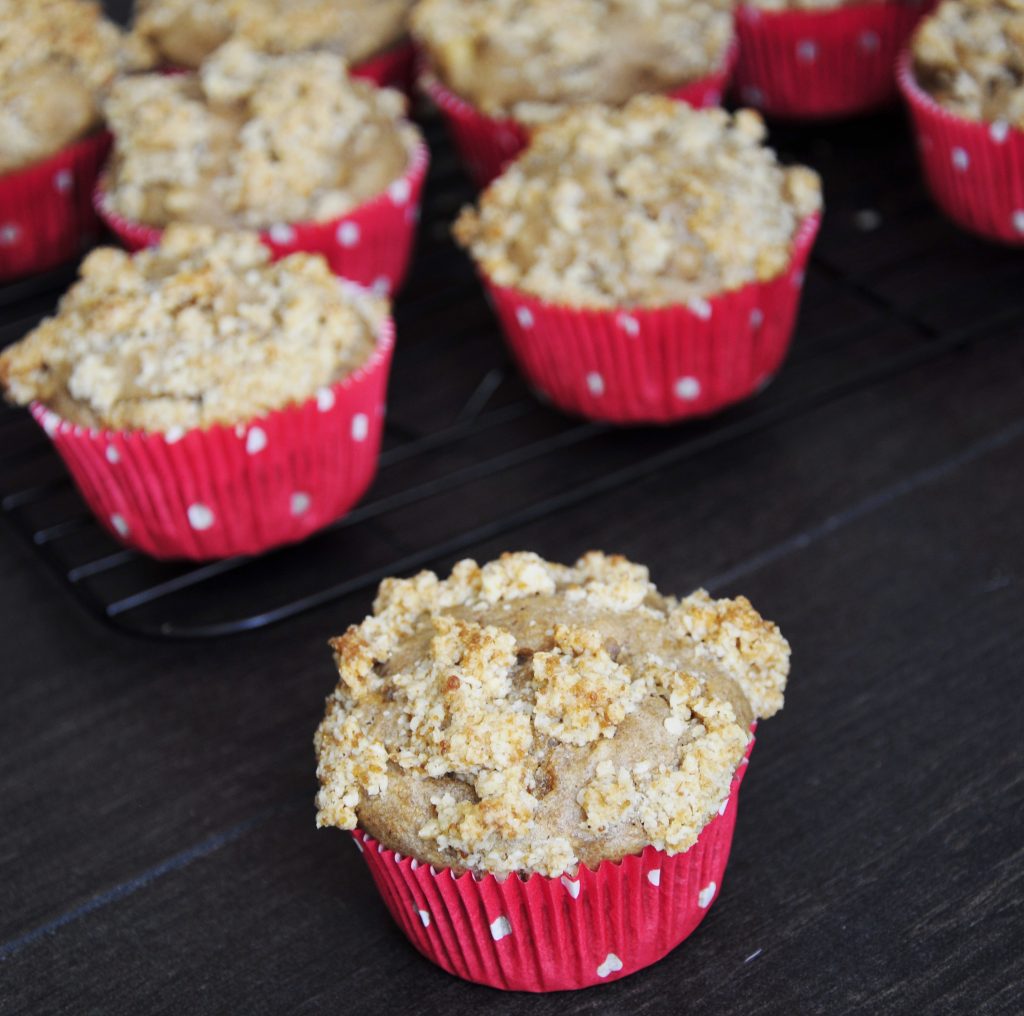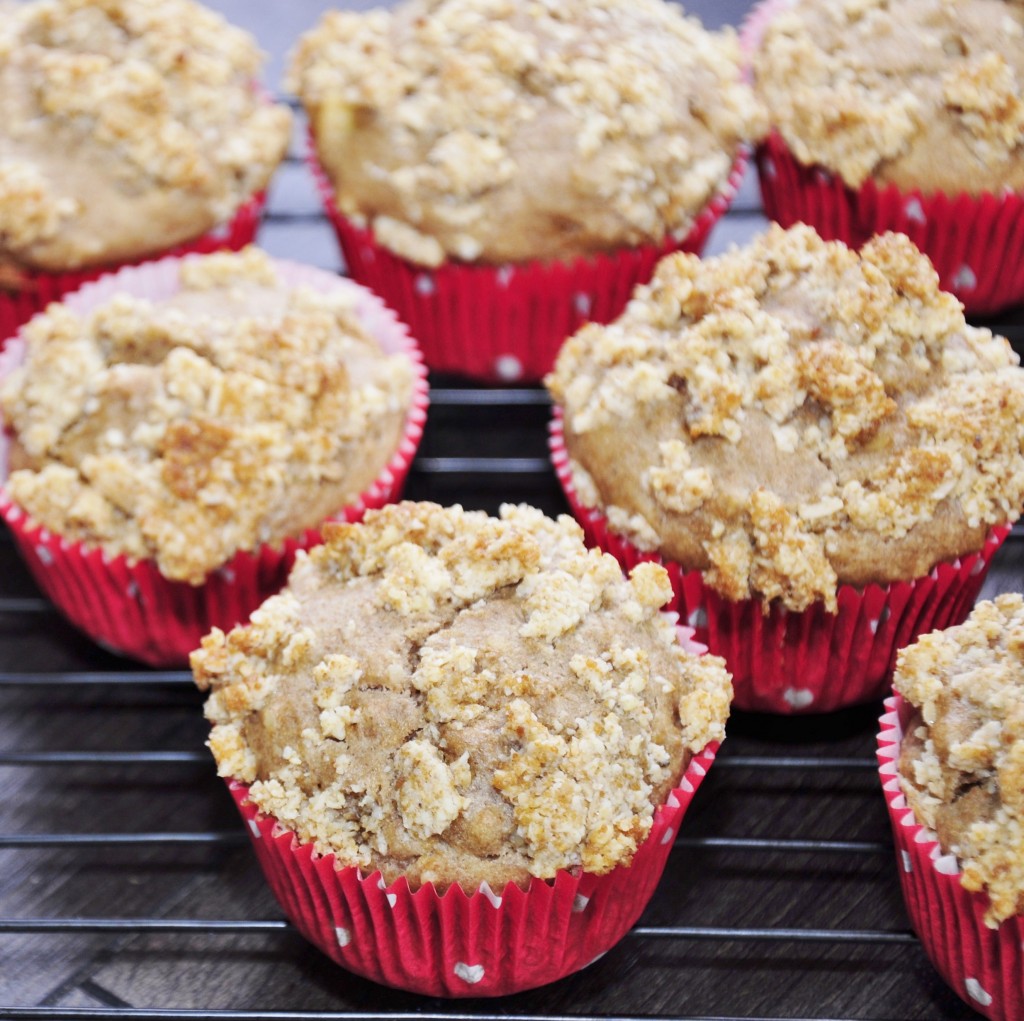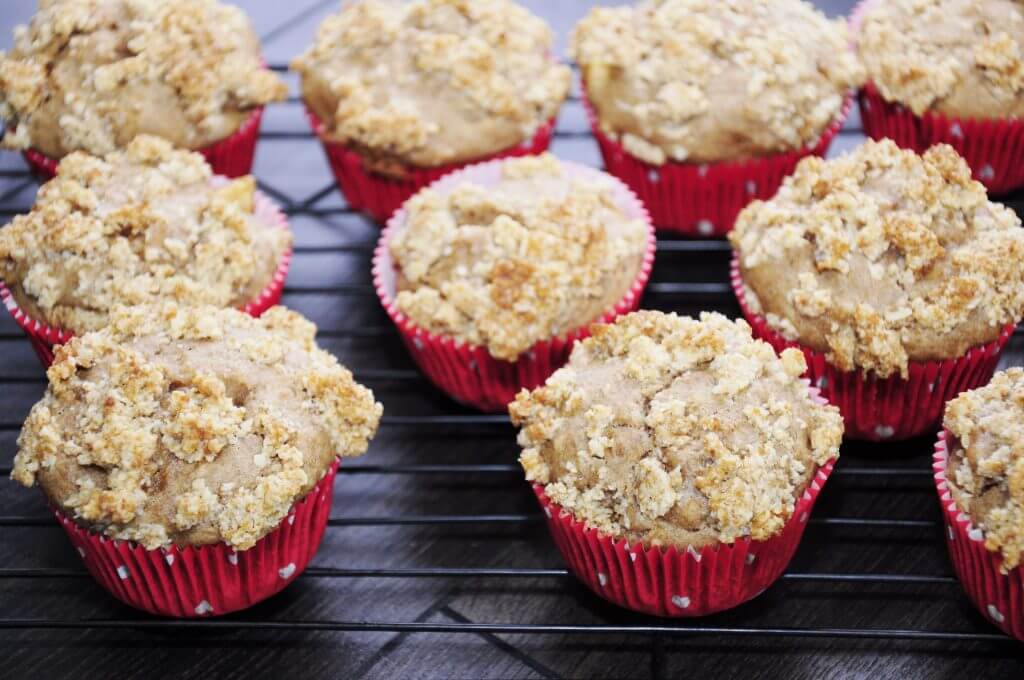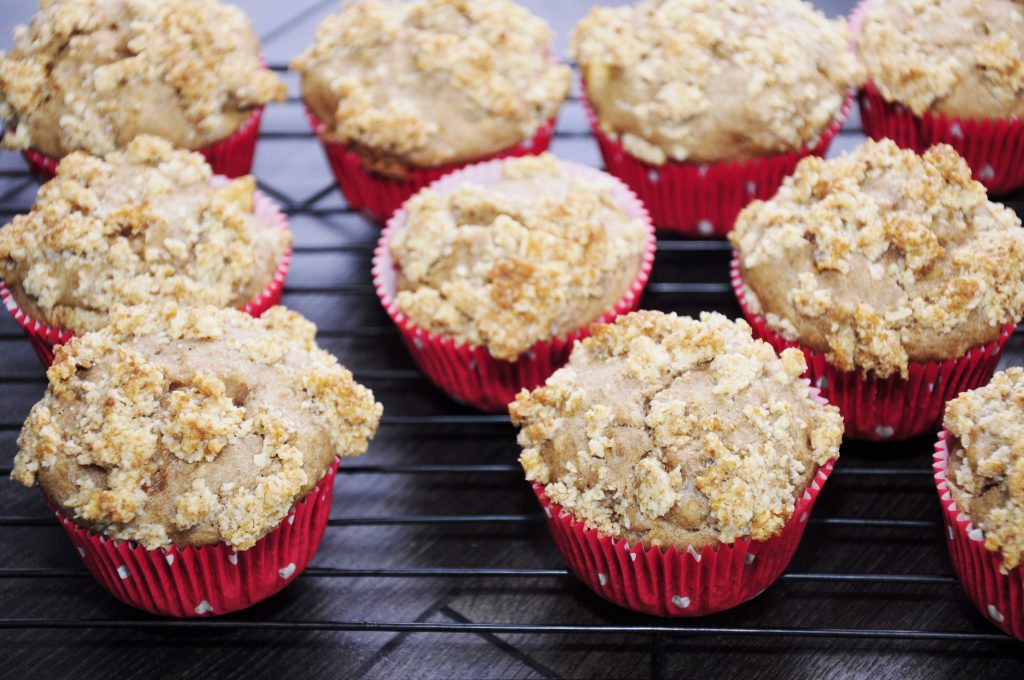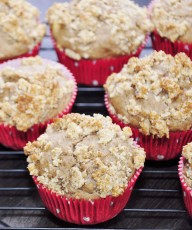 Apple Banana Muffins with Streusel
Ingredients
2

Bananas

pureed

⅓

cup

Olive Oil

¾

cup

Plant Based Milk

½

cup

All Purpose Flour

1 ½

cup

Whole Wheat Flour

⅓

cup

Raw Cane Sugar

1

teaspoon

Baking Powder

½

teaspoon

Baking Soda

¼

teaspoon

Salt

¼

teaspoon

Cinnamon

pinch

of Nutmeg

1

Apple

peeled, core removed, and diced

½

cup

Walnut Halves

chopped

2

tablespoons

Raw Cane Sugar

¼

cup

Walnut Halves

⅓

cup

Rolled Oats

3

tablespoons

Coconut Oil
Instructions
Preheat oven to 350F. Grease and flour a 12 cup muffin tray or line with muffin cups.

Blend together bananas, milk, and olive oil until smooth using a blender, food processor or an immersion blender.

In a separate large bowl mix together flours, ⅓ cup sugar, baking powder, baking soda, salt, cinnamon, and nutmeg with a wooden spoon.

Add the blended ingredients to the bowl and mix again mix with a wooden spoon.

Stir in diced apple and finely chopped walnuts. Evenly distribute muffin dough into muffin cups.

Place 2 tablespoons sugar, walnuts, oats, and coconut oil in a food processor to make streusel topping. Pulse until there are no visible large walnut chunks. Crumble streusel topping over muffins.

Bake in oven for 15 to 18 minutes. Remove from oven and allow to cool completely on wire rack.
Recipe Notes
1) Bananas need to be pureed until smooth. Leaving chunks of banana in the muffin dough will result in raw muffins.
Interested in the ingredients I used? Here at some that I like and use:
FYI: My famiky and I are moving in two days. I will try to update my blog as soon as possible again. We won't have internet set up straight away either so I apologize if I don't respond to comments or questions right away.
Have a look at some of my other recipes inspired by fall if you miss me to much :)