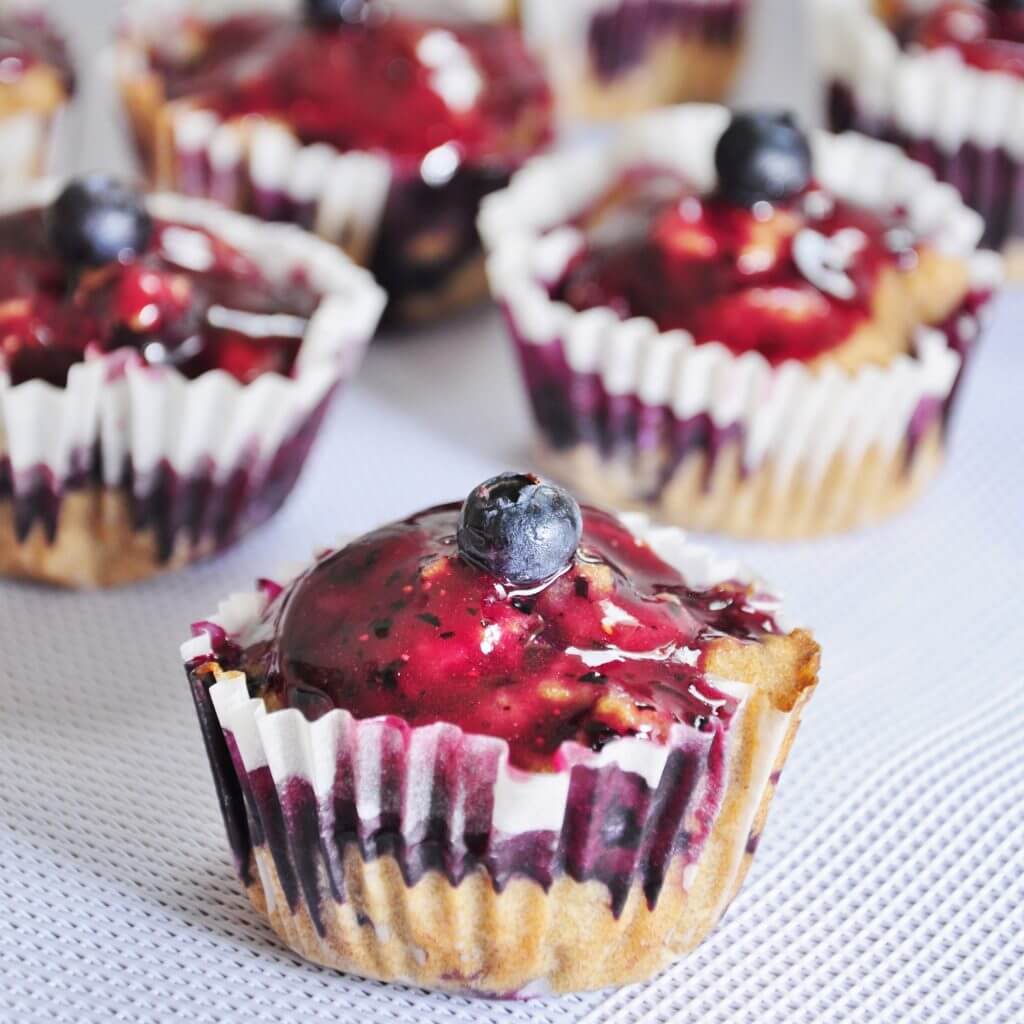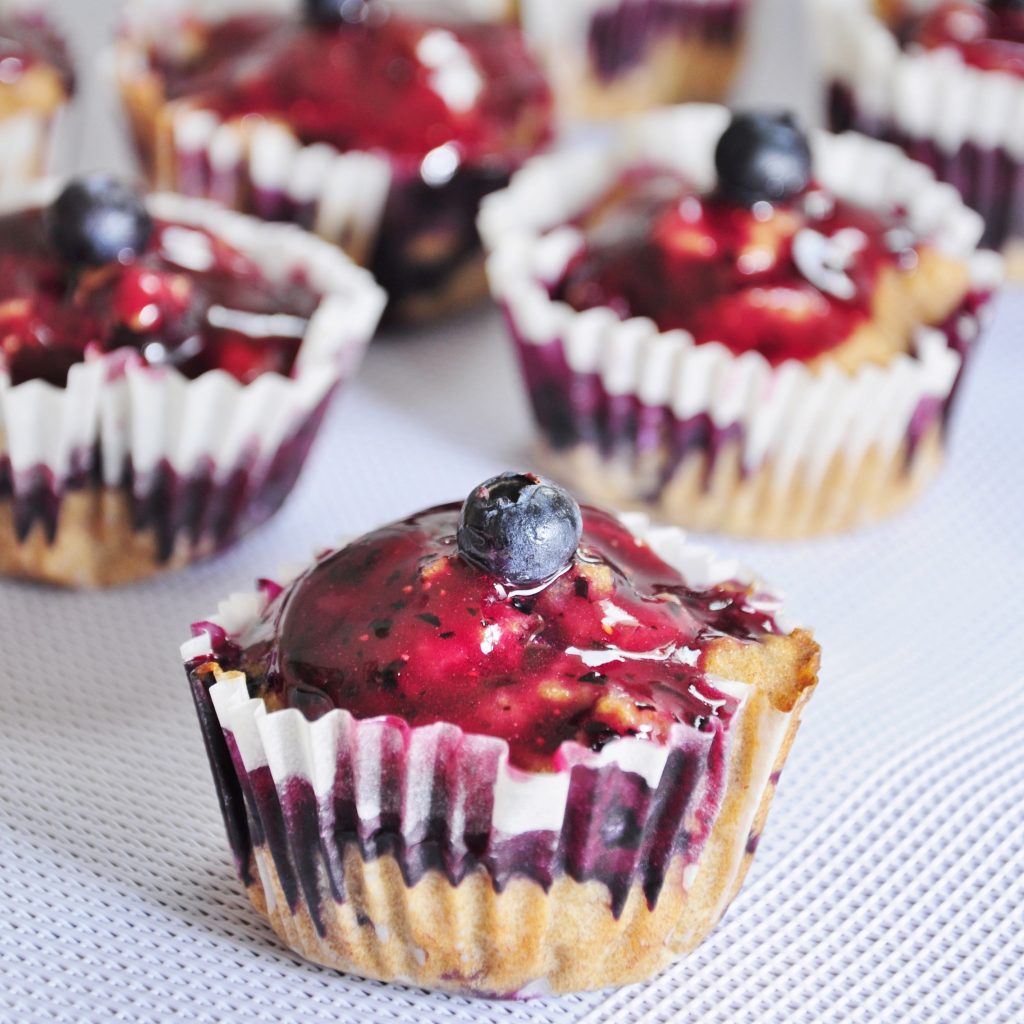 I know what you are thinking. Another blueberry muffin recipe? Really? Yes, deal with it. The only thing that sets these whole wheat blueberry muffins apart from the rest is that these have a delicious blueberry glaze on top. I had so many blueberries that needed to be used. I put nearly a cup of fresh blueberries in the batter,blueberries in the glaze, and a blueberry on top of each muffin. I still had blueberries left. So good thing I have a toddler who eats blueberries like they are candy. Yes, his diapers do look incredible! Thanks for asking :)
This recipe is really straightforward. For this blueberry muffin recipe I like to blend my wet ingredients. This way there are no sneaky banana chunks that could possibly make for a raw muffin. I like using an immersion blender to do this but a blender or food processor will work just as well. Did I mention that this vegan muffin recipe also uses olive oil? It might seem like a turn off to those who have never used olive oil in baking before. However, olive oil makes for really moist muffins and we're not complaining about the heart healthy fat boost :)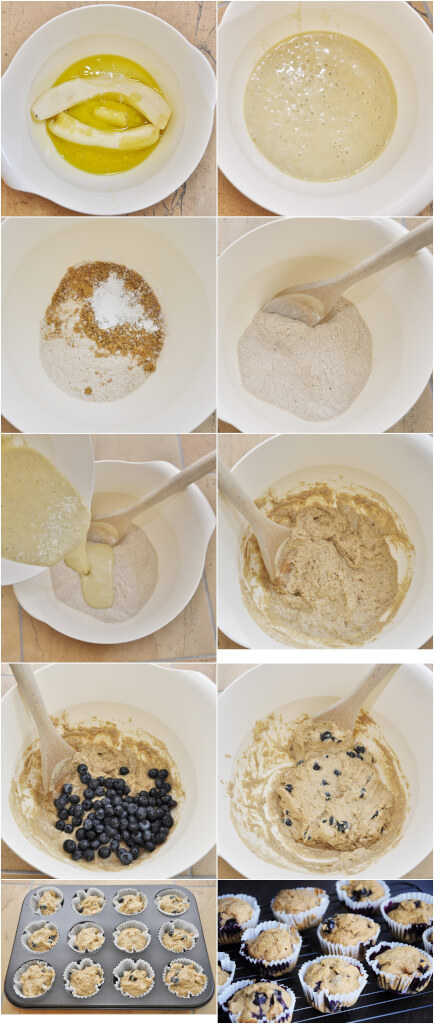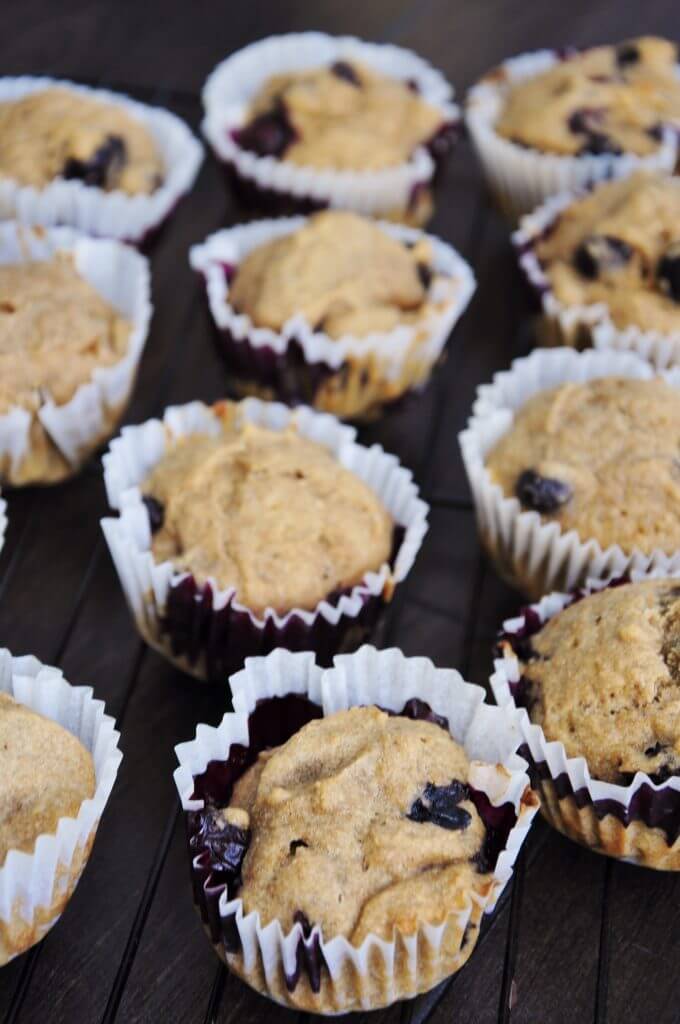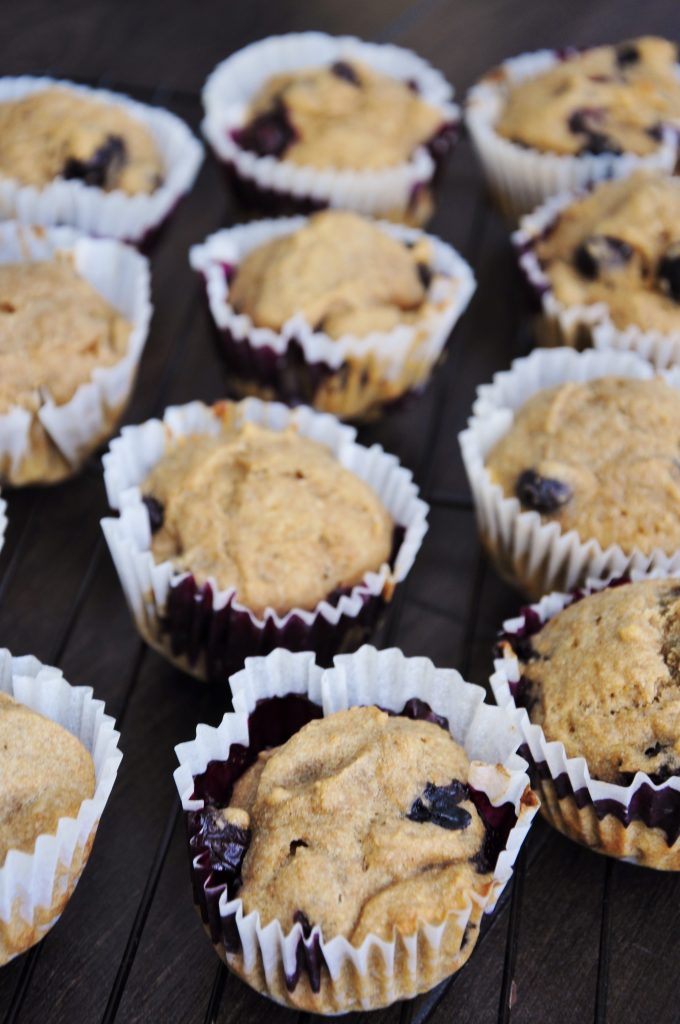 So, if you follow the simple instruction you will have some heart healthy whole wheat blueberry muffins (wow, that's a mouthful!). If you want to take it up a notch then by all means cover those healthy babies with a not necessarily healthy blueberry glaze. I usually make six muffins with the blueberry topping and 6 without. Then I try to be sneaky and hide the sugar glazed muffins from my kids so that they only have the healthy ones. I'm not as sneaky as I often think I am so this sometimes backfires. However, I think the glaze has less sugar than if it was topped with frosting.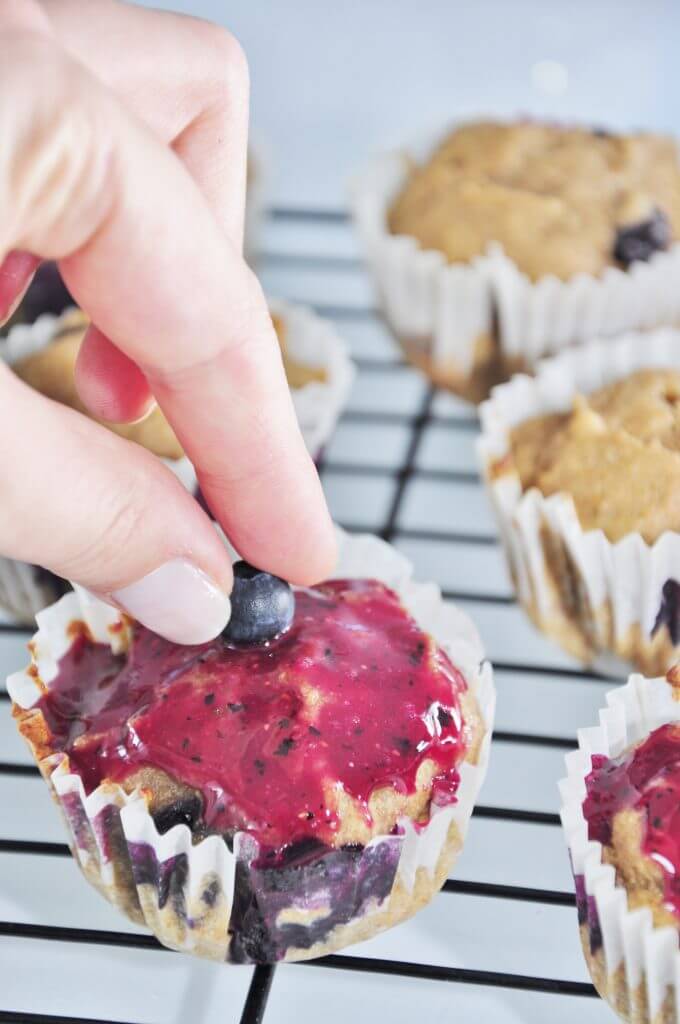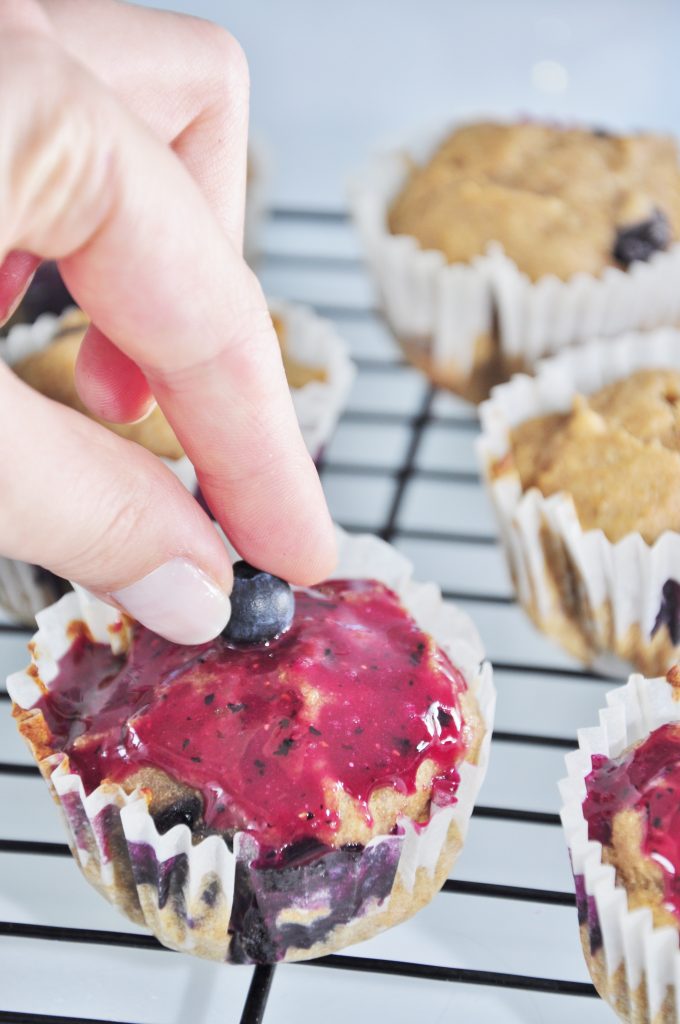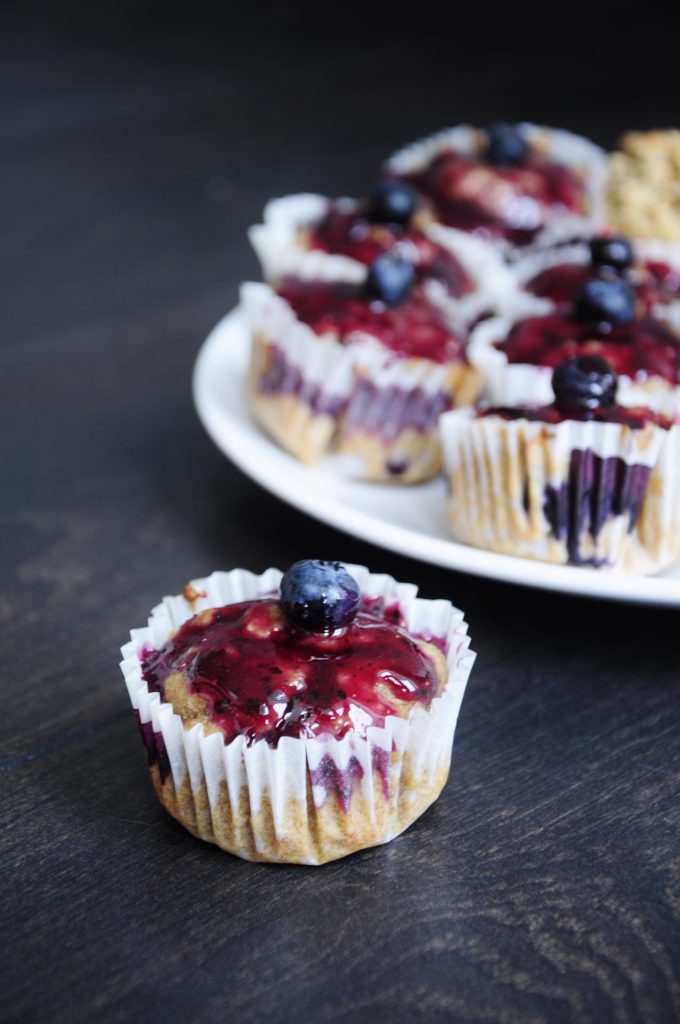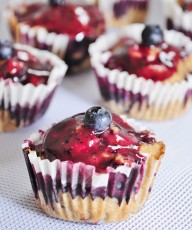 Whole Wheat Blueberry Muffins with Glazed Blueberry Topping
Ingredients
2

Bananas

½

cup

Plant-Based Milk

soy, almond, oat, hemp, etc.

¼

cup

Olive Oil

1 ½

cups

Whole Wheat Flour

¼

cup

Raw Cane Sugar

1

teaspoon

Baking Powder

½

teaspoon

Baking Soda

¼

teaspoon

Salt

¾

cup

fresh Blueberries

2

tablespoons

fresh Blueberries + 12 blueberries

⅓

cup

Vegan Powdered Sugar
Instructions
Preheat oven to 350F. Grease and flour a 12 cup muffin tray or line with muffin cups.

Blend together bananas, milk, and olive oil until smooth in a blender, food processor or with an immersion blender.

In a separate bowl mix together flour, sugar, baking powder, baking soda, and salt. Add the blended wet ingredients to the bowl and mix with a wooden spoon.

Stir in ¾ cup fresh blueberries and fill muffin mixture evenly into muffin cups.

Bake in oven for 15 minutes. Remove from oven and allow to cool completely on cookie rack.

Meanwhile, prepare blueberry glaze by blending 2 tablespoons fresh blueberries with powdered sugar. Once muffins have cooled brush glaze over them and top each muffin with a blueberry.
Having trouble finding some of the ingredients? These are some that I used:
If you love blueberries but are thinking, "This is too much for me!" or "I don't have the time!" or "I just want something healthy!" Then try my Blueberry Salad Dressing or Blueberry-Cherry Fruit Salad.