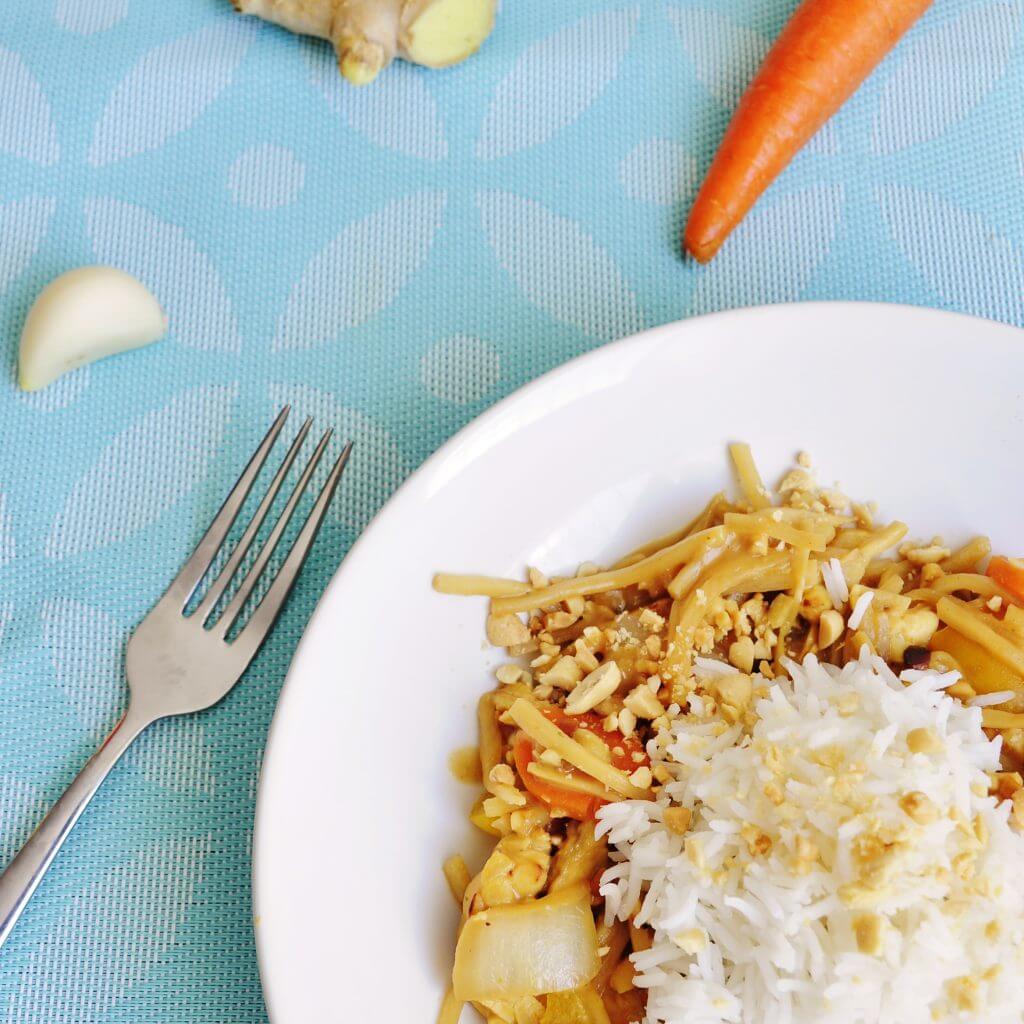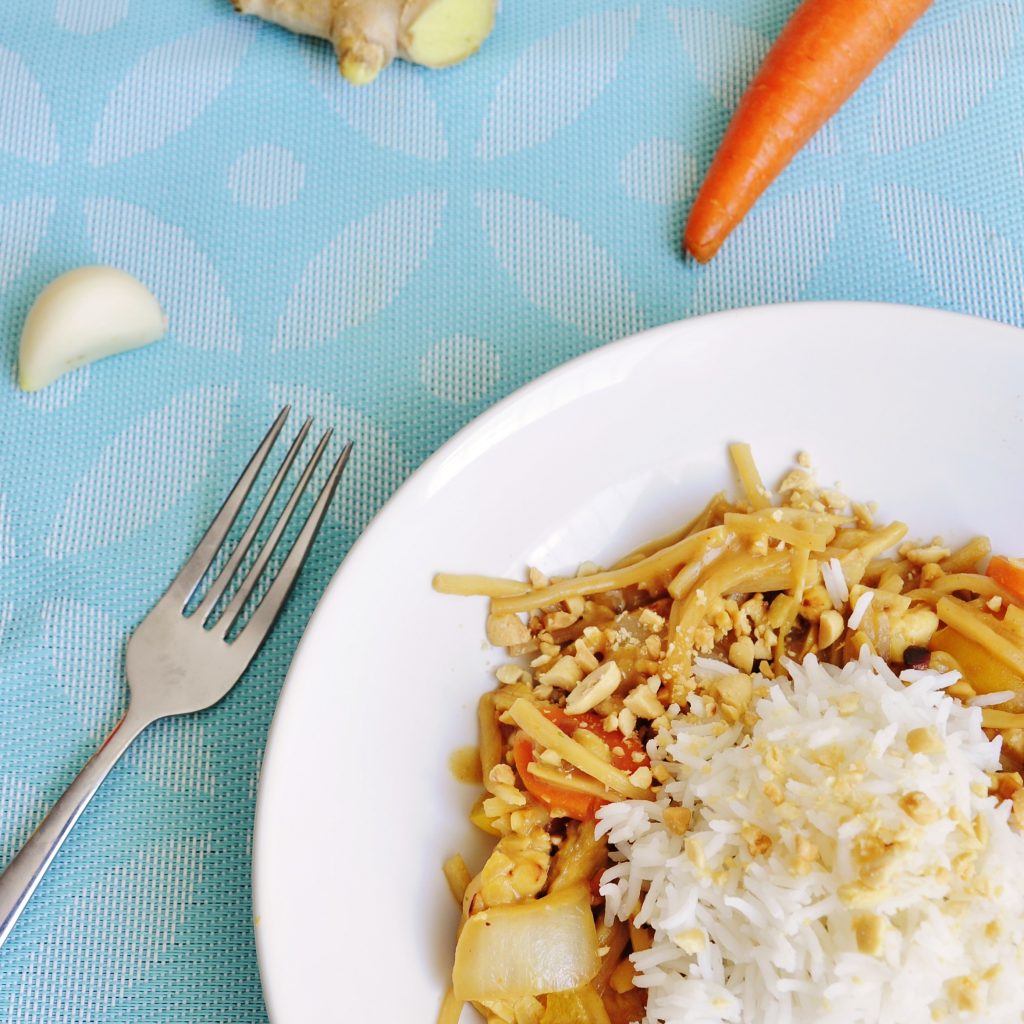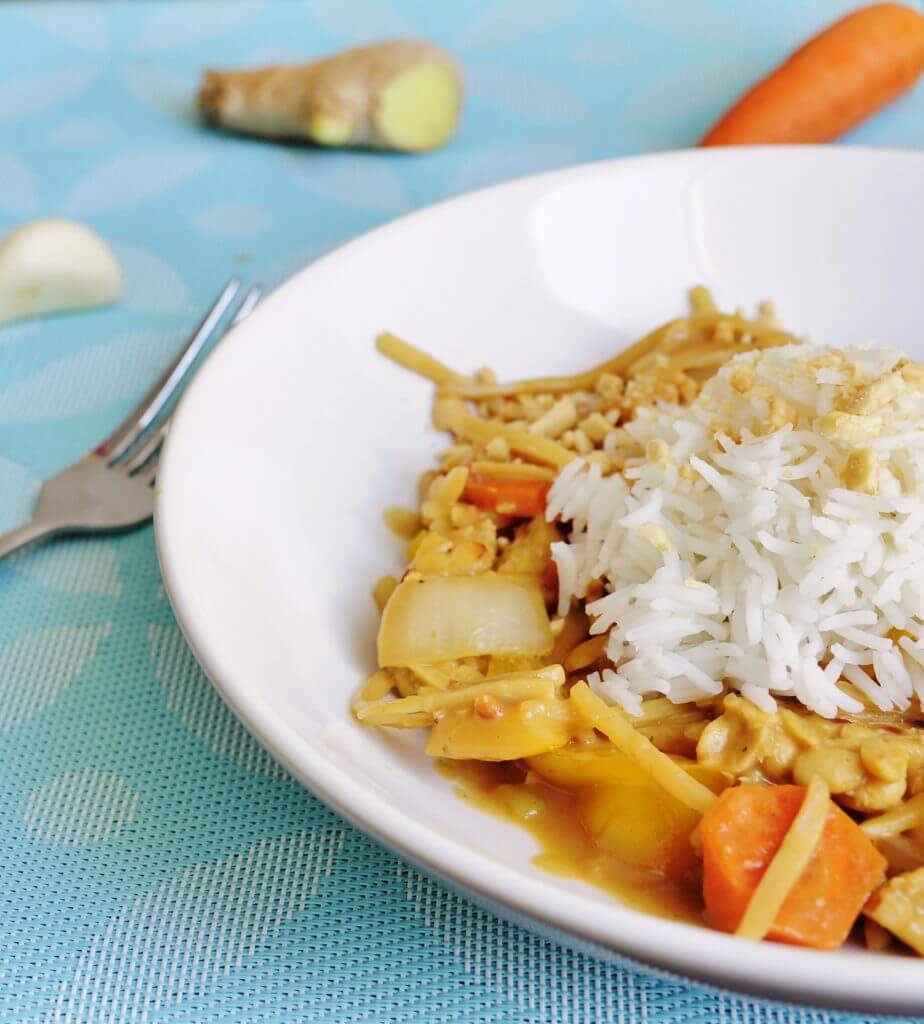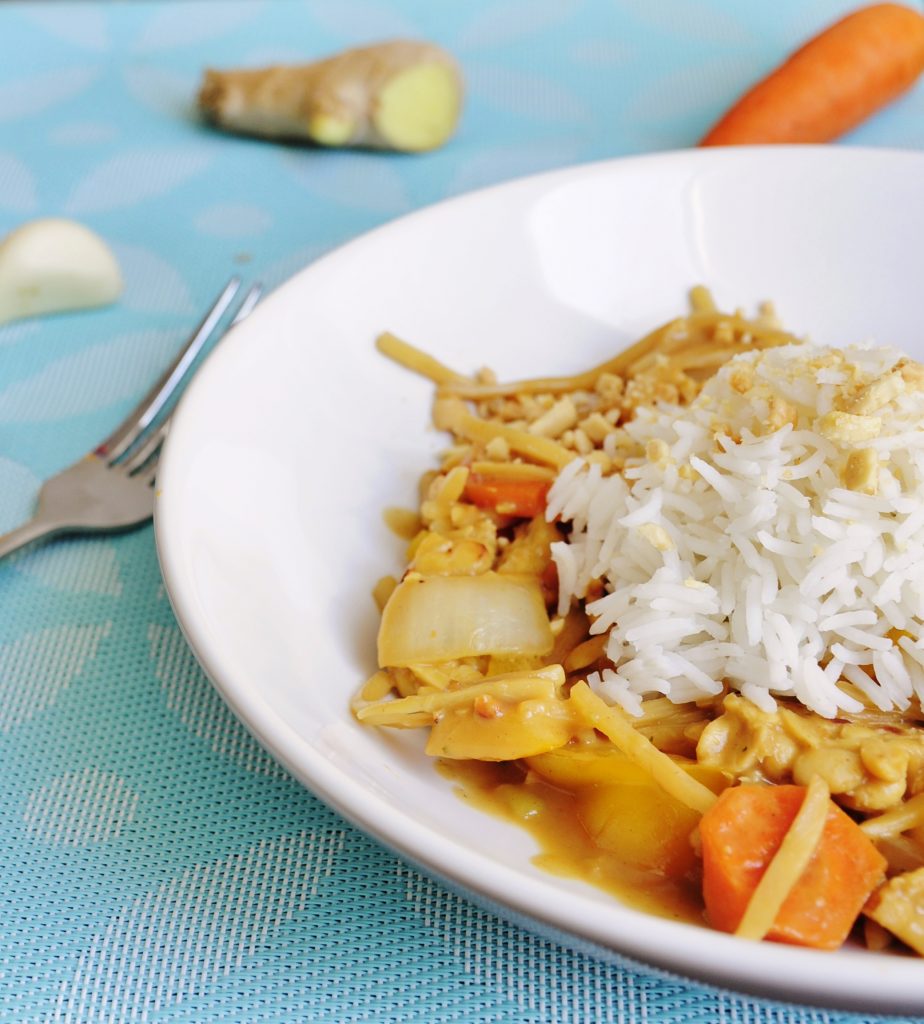 I'm always trying to find ways to add extra protein to my family's diet. This peanut sauce stir fry with tempeh does the trick! With two growing boys and the exercise we do, it's definitely important to make sure you are getting enough protein on a vegan diet. That being said, I'm not going to go on a vegan protein rant.I'll just say it's much simpler to get plenty of plant-based protein than most think, as long as you eat enough nutritious foods. My father, who is a major meat lover, will never understand that it is not necessary to eat half a cow a day to meet protein requirements.
1 cup of tempeh has 31g of protein. Wait, let me just yell that real quick. 31g OF PROTEIN! You would need to eat 6 eggs to get the same amount of protein. I'll go for tempeh any day.
Peanut butter is also a great protein source and when you combine it with tempeh for this recipe, you'll have you protein requirements covered for the day! So let's eat up!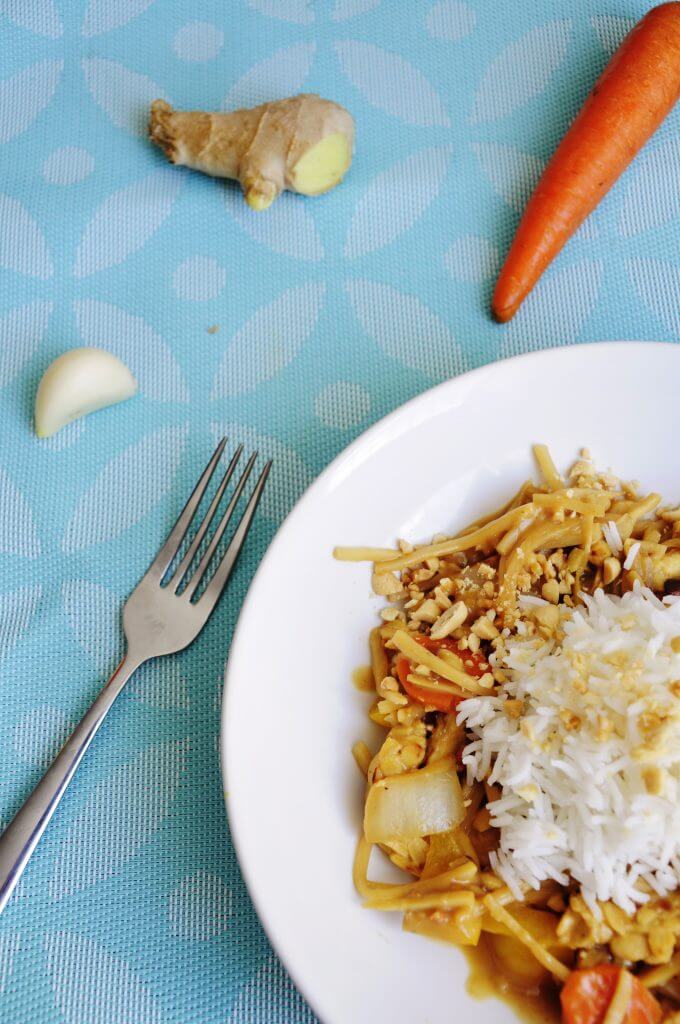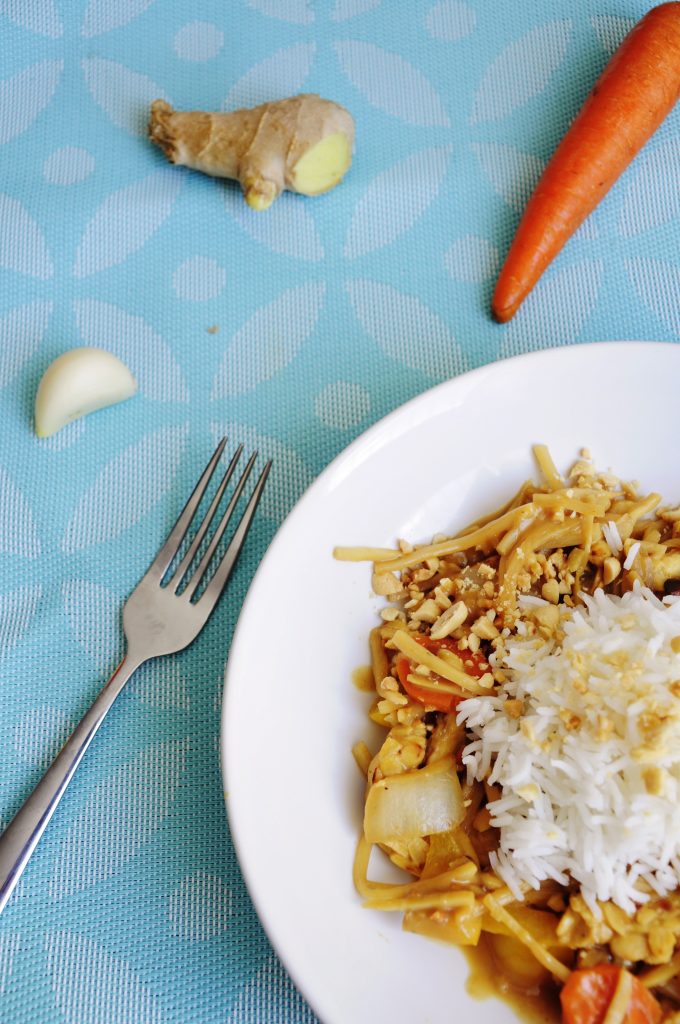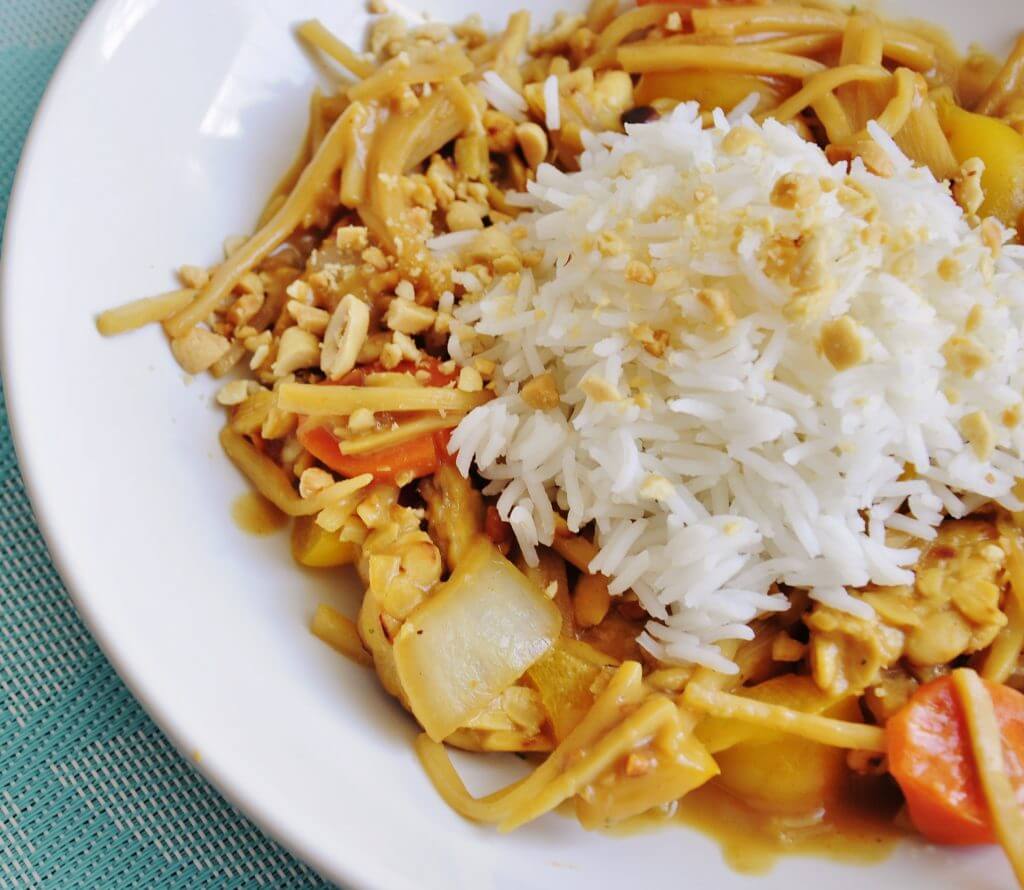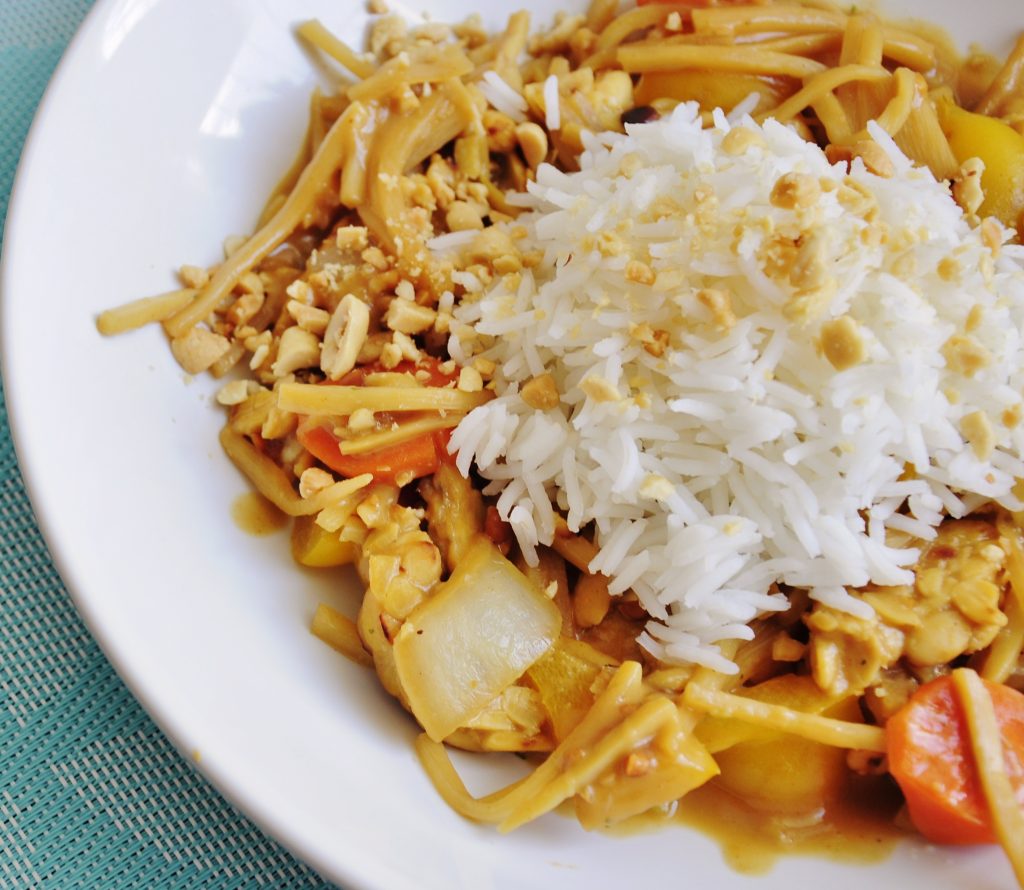 The great thing about this vegan stir fry recipe, well other than the fact that my kids even like it, is how easy it is. Sure, it's also easy stir frying a few vegetables and adding a jar of store bought sauce to it but this recipe won't take up much more time. It will also taste better and be better for you and your wallet. Definitely a win-win!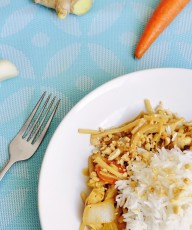 Peanut Sauce Stir Fry with Tempeh
Ingredients
2

tablespoons

Olive Oil

8

ounces

Tempeh

diced

1

yellow Bell Pepper

1

teaspoon

fresh Ginger

finely diced

2

cloves

of Garlic

crushed

2

carrots

medium in size and sliced

1

cup

Bamboo Shoot Strips

1

small yellow Onion

diced

2

cups

Rice

1

cup

Vegetable Broth

⅓

cup

Peanut Butter

natural and smooth

3

tablespoons

Soy Sauce

3

tablespoons

Pure Maple Syrup

Red Pepper Flakes

optional

handful chopped Peanuts

optional
Instructions
Prepare rice of choice according to instructions on packaging.

Heat 1 tablespoon olive oil in small fry pan. Fry diced tempeh over medium-high heat on each side until browned. Set aside.

Make peanut sauce by adding vegetable broth, peanut butter, soy sauce, and maple syrup to a bowl. Whisk together. Set aside.

Heat 1 tablespoon olive oil in a wok or large saute pan. Add onion, bell pepper, garlic, ginger, and carrots (and red pepper flakes if using). Stir fry vegetables over medium heat for 10 minutes. Add bamboo shoots, tempeh and peanut sauce.

Continue to stir fry vegetables in peanut sauce until sauce thickens about 5 minutes.

Serve peanut sauce stir fry with rice and top with chopped peanuts(optional).
Recipe Notes
1) Tempeh soaks up oil like a sponge. Keep it from burning or sticking to the pan while frying by adding a bit more oil or alternatively water.
You can easily find bamboo shoot strips at an asian supermarket or here
Make sure you use a good natural peanut butter without added sugar or hydrogenated oil. I like using this natural creamy peanut butter but you can easily just make your own by adding roasted peanuts and a bit of salt to a food processor and blending until smooth.
Most organic and health food stores have tempeh (Whole Foods, Trader Joe's) ! I recommend only buying organic soy products.