I think Pizza has a bad reputation. When people think of pizza they usually imagine some greasy pizza topped with a 2 inch layer of cheese and loads of pepperoni. To some that may sound delicious (Hubbs) but I prefer thin light pizza that doesn't give me the runs :)
#1 loves pizza and what better way to sneak spinach into a child's diet than on a pizza. Maybe it will be harder once he's a bit older but for now when he hears the word "pizza" he will eat it no questions asked. This healthy pizza recipe is one of my favorites. It's with the same whole wheat pizza crust that I use for all my
other pizza recipes
as well.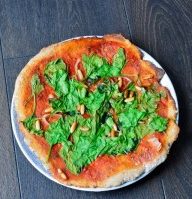 Healthy Spinach Pine Nut Pizza
Makes 2 Pizzas
Ingredients
Pizza Dough

½

a cube of Fresh Active Yeast

0.3ounces or 8g or 1 Packet Dry Yeast

2

cups

250g Whole Wheat Flour

¾

teaspoon

Salt

1

teaspoon

Whole Cane Sugar

Tomato Sauce

½

Cup

125ml Tomato Puree

1

tablespoon

dried oregano

1

tablespoon

dried basil

Salt and crushed Pepper to taste

Pizza Topping

1

medium sized Shallot or Red Onion

diced, or in small rings

1

cup

Baby Spinach

washed and dried

2

tablespoons

Pine Nuts

3

tablespoons

Olive Oil

½

teaspoon

Salt

Fresh cracked Pepper

optional
Instructions
Combine Yeast, ½ Cup (125ml) warm Water, and 2 tablespoons of the flour. Let stand for 10 minutes. Mix with a dough hook or knead with your hands while slowly adding salt and the rest of the flour. Knead until the dough is no longer sticking to the side of the bowl. The dough should not be sticking to your hands but still be soft and moist. (See notes if it is not) Cover dough with plastic wrap and let rise in a warm place for 20-40 minutes until it has doubled in size.

Preheat oven to 450F.

Meanwhile get started on the Tomato sauce. Simply add all ingredients together and put aside.

Take half of the risen dough and ,using a rolling pin, roll each half into a pizza base/crust. Lay on parchment paper lined sheet pan and cover to let rise for another 10 minutes.

Cover each base with tomato sauce, top onion or shallots, spinach, pine nuts, and salt. Drizzle with Olive Oil and bake on lowest rack in oven for 10 minutes.

Remove Pizza from oven. Adults will enjoy this pizza topped with fresh cracked pepper. Serve hot and Enjoy!
Recipe Notes
1) Due to different types and brands of flour, the amount of flour and water needed to reach the right dough consistency may vary. Is the dough to tough and dry, please add more water. Is it to runny and sticky, add more flour.2) Feel free to make any type of tomato sauce for the pizza. I used a quick and easy version. You may also use fresh herbs to bring out more flavor. 3) The pizza base can be shaped into any form and thickness. Note that the bake times may vary then. 4)If you would like for the spinach to look a bit fresher and not as wilted, bake the pizza for 6 minutes. Remove from oven add spinach and quickly return to oven for another 4 minutes.