Sweet potatoes and quinoa are both delicious and so healthy on their own but if you combine them to make a sweet potato quinoa salad, the result is divine. However, I didn't just stop at sweet potatoes and quinoa. I wanted to create a salad that would reap maximum health benefits with a wide array of minerals and vitamins. So I added cauliflower, some tomatoes, lemon and parsley. The result was delicious but I then decided to give it a little extra something with some toasted pine nuts for a finish.
Hubbs and I love this sweet potato quinoa salad. Somehow it's not that great of a hit with children. Both boys mainly just picked out the sweet potatoes and tomatoes but that's OK. Not everything I make needs to be to my children's liking. It's good to introduce them to different flavors so maybe in the next times where I make this salad they will learn to enjoy it as well. Let's hope :)
Now where was I? Right, I was talking about salad.
It's not very difficult to make even though the steps seem intimidating at first. I do have to make a note about cauliflower though. Oh tricky tricky cauliflower. Like quinoa, if not properly washed, cauliflower can have an unpleasant bitter taste. Bitter taste is definitely not something we want in this simple and clean salad. I've found that soaking the cauliflower head in water for about 30 minutes can do wonders in eliminating that unwanted taste. It even gets rid of any bugs, dirt and keeps them looking white.  Also, a short cook time helps as well. Steam your cauliflower for no longer than 5 minutes and you'll taste a real difference.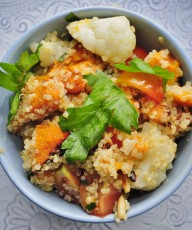 Sweet Potato Quinoa Salad
Ingredients
¾

cup

Quinoa

uncooked

1

Sweet Potato

peeled and diced

2

tablespoons

Olive Oil

¼

teaspoon

Salt

¼

teaspoon

Paprika

¼

head Cauliflower

cut into florets

1

Lemon

20

leaves

of fresh Parsley

chopped

¼

cup

Pine Nuts

8

Cherry Tomatoes

quartered
Instructions
Preheat oven to 375F (190C) and line a baking sheet with parchment paper.

Coat diced sweet potatoes with olive oil, salt and paprika. Roast in oven for 20 - 25 minutes, turning after 15 minutes. Remove from oven once edges have browned.

Meanwhile, rinse quinoa and cook as per instructions on packaging or add to a saucepan with 1 ¾ cup boiling water. Simmer for 20 minutes then remove from heat and add juice of half a lemon. Cover saucepan and allow to rest for 5 minutes. Fluff with a fork and set aside.

Cut cauliflower into florets and steam for 3-5 minutes. Alternatively blanch for 3 minutes in boiling water. Remove from water and set aside.

Heat a small fry pan over medium heat. Add pine nuts (don't use any oil!) toast for 45 seconds, toss and toast for an additional 30 seconds. Repeat this until they start turning brown.

In a large bowl, combine sweet potatoes, quinoa, cauliflower, quartered tomatoes, chopped parsley (leave a few leaves for garnish), and pine nuts.

Finish off with remaining lemon juice and add salt and pepper to taste.
Recipe Notes
1)Soaking cauliflower for 30 minutes will help remove its bitter taste. Also, make sure to remove it from it's heart source when cooking or steaming. Don't let it linger in hot water or accidentally forget about it. The longer cauliflower cooks the more bitter the taste. 2) Be sure to thoroughly rinse quinoa to remove any impurities and bitter taste as well.3) Carefully combine all ingredients to avoid getting a big mush of quinoa and sweet potato. I suggest using two metal spoons to lift and toss the ingredients. Don't stir them!