I used to always make all my recipes with tofu. I tended to be a bit skeptical whenever I would see tempeh. The texture, the brownish color, and the words "fermented soybeans" didn't seem very appealing. However, over the past year I've come to enjoy tempeh far more than tofu.
Tempeh does have more calories than tofu but it has 9x more fiber and twice as much protein. The nutty taste is great for hearty meals and stir fries. This why I decided to take that nutty flavor and add it to one of my favorite fall/winter vegetables, butternut squash.
I do have to add that my 2 year old refused to eat this. He didn't even try it but I believe mainly because he ate too much of the Chocolate Zucchini Walnut Bread I had made earlier that day. I think this will be something I'll make as a side dish on Thanksgiving. We'll see if he tries it then. Though something tells me he'll be to focused on all the pie :)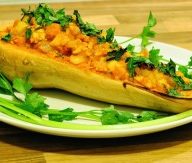 Tempeh Stuffed Butternut Squash
Total Time
1
hour
5
minutes
Ingredients
1

Butternut Squash

halved

1

medium Onion

diced

8

ounces

227g Tempeh (diced)

3

tablespoons

Olive Oil

1

Bell Pepper

Red, Yellow, or Orange (diced)

1

medium Tomato

diced

2

cloves

of Garlic

crushed

½

cup

Tomato Puree

1

tablespoon

Pure Maple Syrup

Cayenne Pepper

optional

½

cup

fresh Parsley

chopped
Instructions
Heat oven to 395F (200C) and line sheet pan with baking paper.

Cut squash in half, remove seeds, and brush olive oil on cut side. Place squash (cut side down) on baking pan. Cook for 40-50 minutes until squash is tender.

Heat olive oil in a fry pan. Add tempeh and onion and saute until onions become translucent and tempeh gains some color. Don't let onions burn. if they start to stick, add more oil.

Add bell pepper, tomato, tomato puree, and maple syrup to tempeh/onion mixture. Season with salt, pepper, and cayenne pepper. Keep warm over low heat.

Take butternut squash out of oven and further hallow out the squash. Leaving about ¼ to ½ inch squash around the edges. Add squash flesh to tempeh mixture.

Fill tempeh mixture into squash, drizzle with olive oil and cook in oven (lower rack) for another 10 minutes.

Remove squash from oven and top with fresh parsley. 1 stuffed squash half can be served as a meal or they can be cut into 3 or 4 pieces to be served as a side dish. Enjoy!
Recipe Notes
1) Cook time will depend on size of butternut squash. Don't let it burn. If you see the skin bubbling too much, take it out of the oven. 2) If the tempeh mixture seems too dry after adding the squash, add a few more tablespoons of Tomato puree.