With so many delicious fruits in season right now it's hard not adding fruit to every recipe. I recently picked up some delicious looking peaches. To my surprise they were white-fleshed. I'm used to always seeing and using yellow-fleshed peaches which are acidic, tangy, and sweet. If you haven't tried white-fleshed peaches, I can only recommend them. Peaches with white flesh are low in acid and sweeter.
The sweetness of the white-fleshed peaches works really well with this salsa. The slight spiciness from the red onions, the mild buttery flavor of the avocado, the sweetness of the peach, and the acidity of the lime make for a perfect flavor explosion in your mouth. I honestly wasn't expecting this avocado peach salsa to taste this good. I had to stop myself from eating all of it so I could have enough to still take pictures. That didn't last very long because the only good shots I got were within the first 5 minutes. Afterwards, all I had left to take pictures of was an empty plate.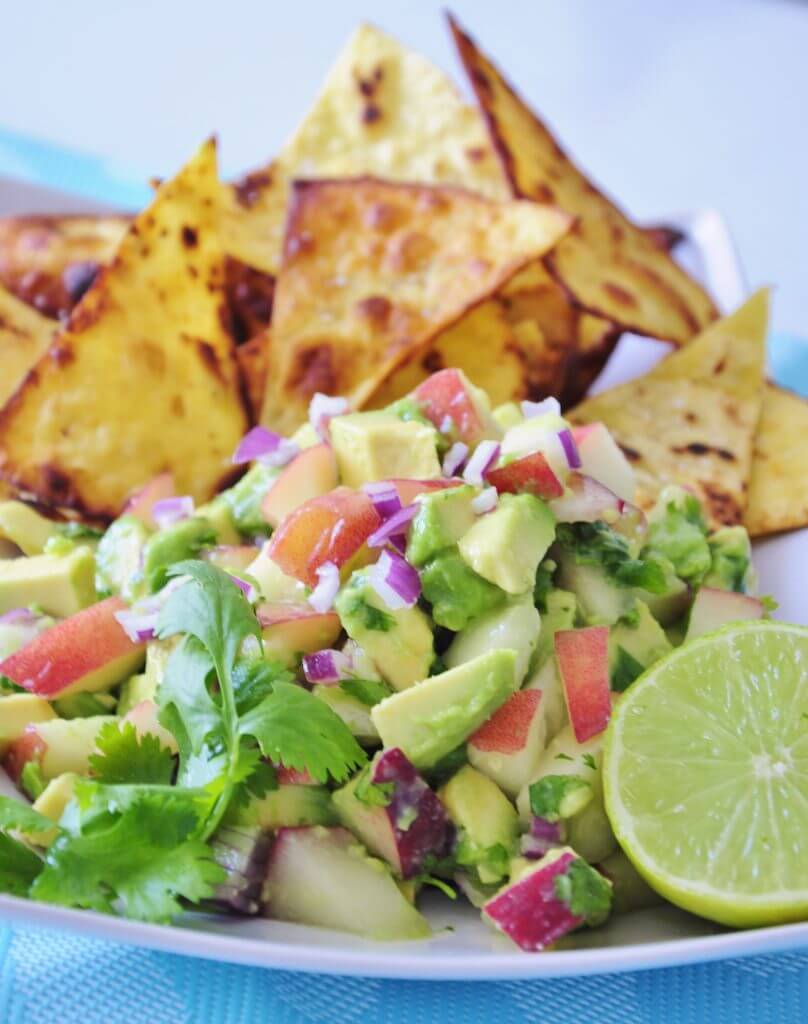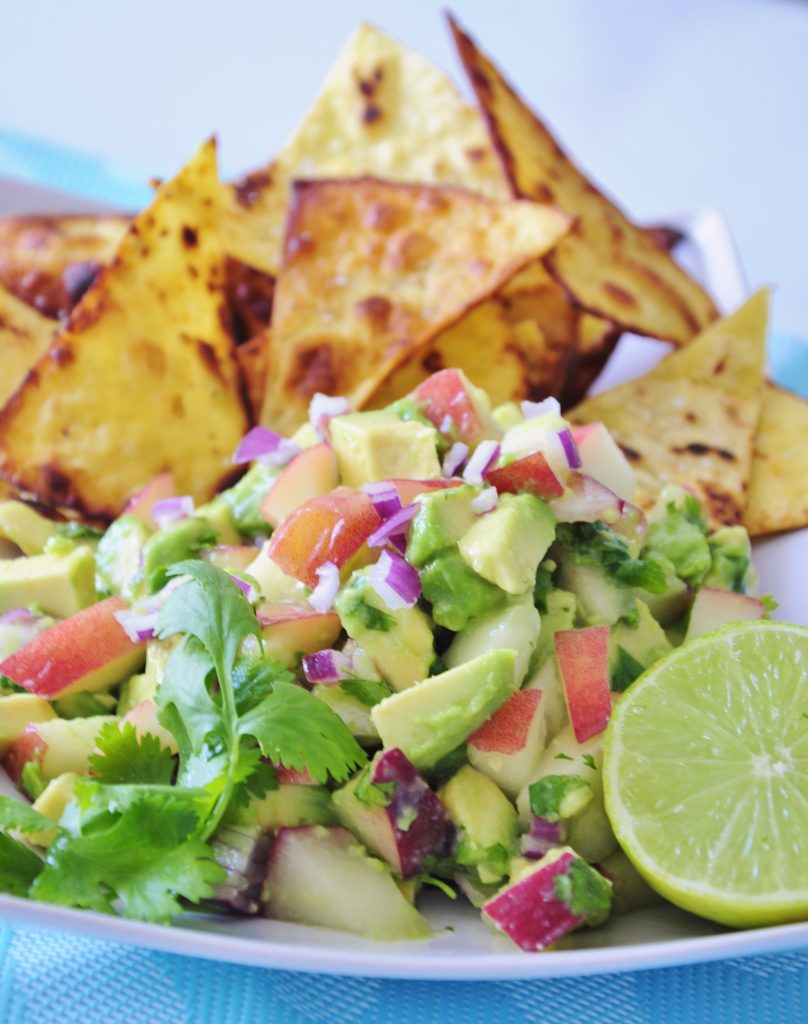 The avocado peach salsa pairs really well with homemade coconut oil tortilla chips. I like buying organic sprouted corn tortillas for these. They are vegan, gluten-free, and only have 4 ingredients (Organic Sprouted Corn, Filtered Water, Sea Salt, Lime). It's a lot of tortillas but if you are anything like my family you will use them up quickly. You can really use any kind of tortilla you like, whole wheat, organic, paleo coconut wraps , etc. Just cut up the tortillas into wedges and fry in a skillet with some coconut oil. Shake off any excess oil and done!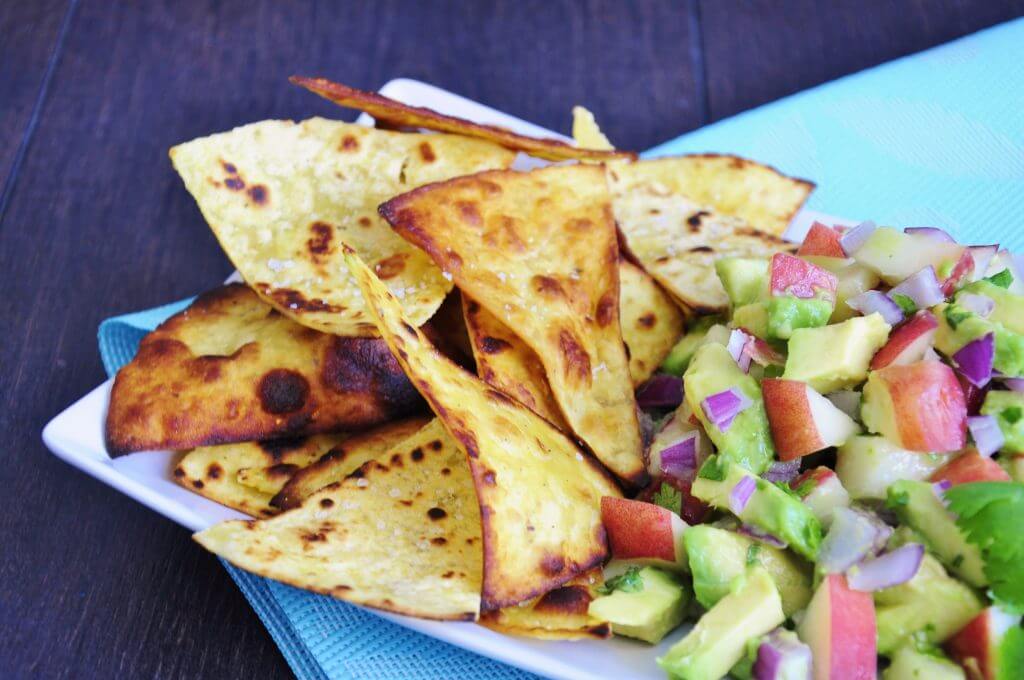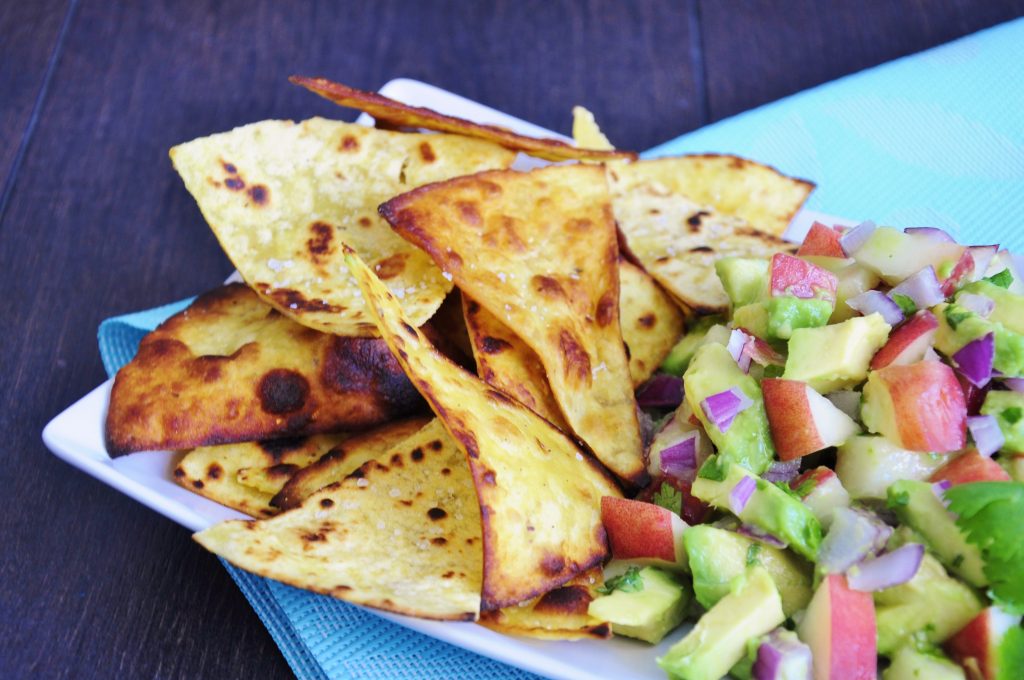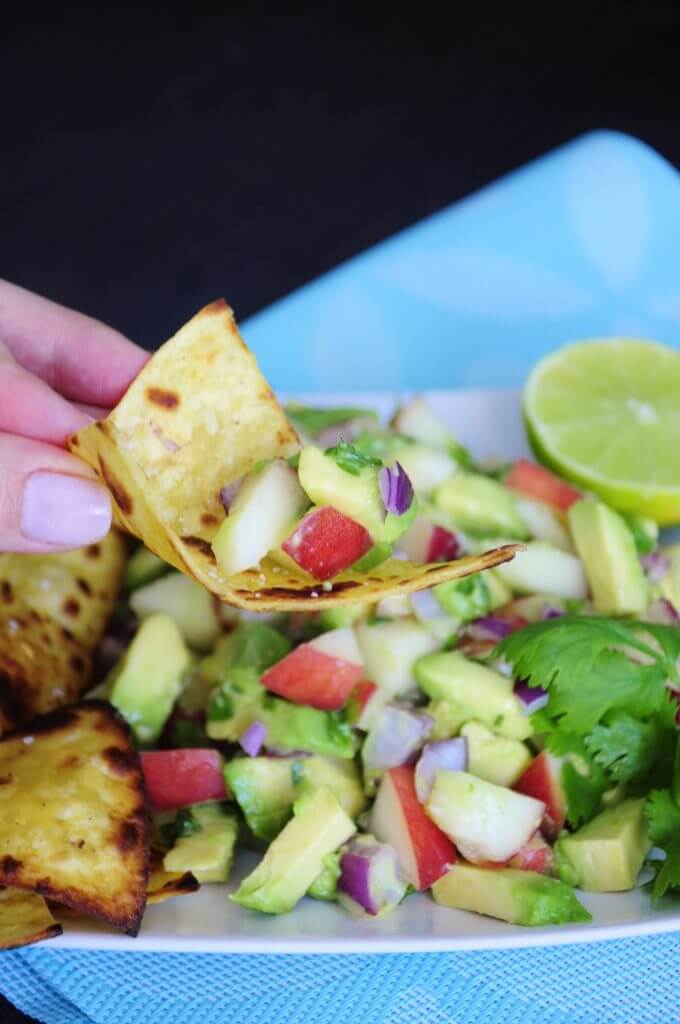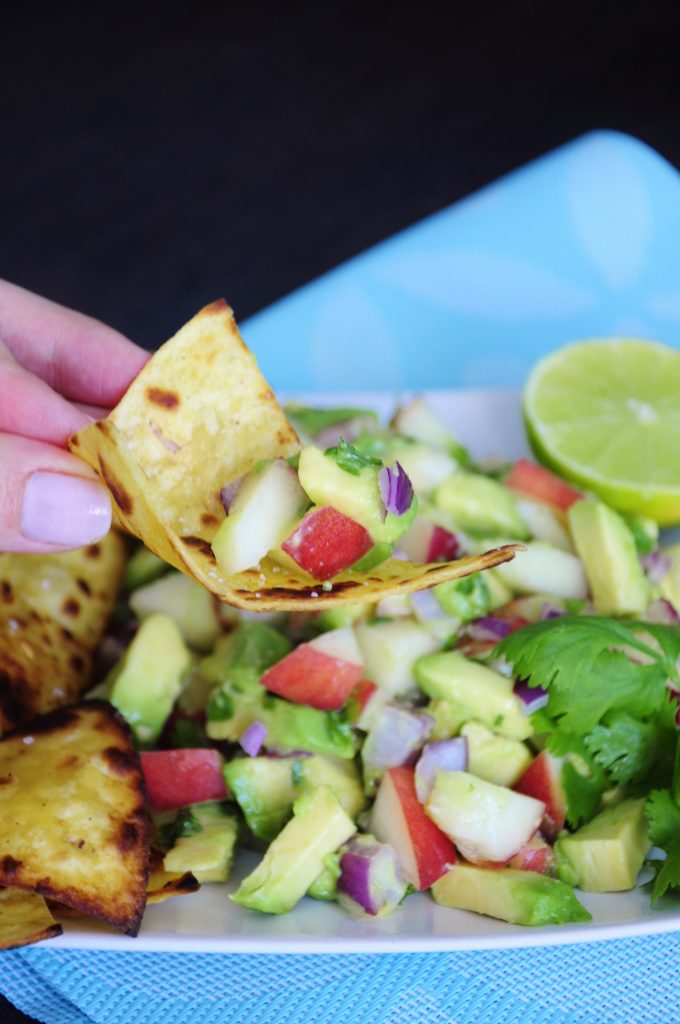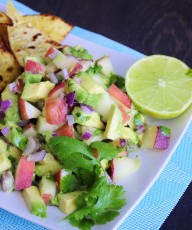 Avocado Peach Salsa with Coconut Oil Chips
Ingredients
1

Peach

pit removed, diced

1

Avocado

pit removed, diced

1

medium Red Onion

finely diced

1

small handful fresh Cilantro

chopped

¼

teaspoon

Salt

Juice from ½ Lime

2

Organic Corn Tortillas

1

tablespoon

Coconut Oil
Instructions
Dice peach, avocado, onion and chop cilantro.

Place peach, avocado, onion, salt and juice from ½ lime in a bowl. Mix gently being careful not to mush the avocado.

Heat 1 tablespoon coconut oil in a large skillet over medium-high heat.

Cut each corn tortilla into 8 pieces (the way you would a pizza) using a pizza cutter, scissors, or large knife.

When coconut oil is very hot, place corn tortilla wedges in hot oil. Fry each side for about 30 - 60 seconds. Eat side should have a nice golden color. Using tongs, remove wedges one by one from skillet and shake off excess oil. Cool off on a cookie rack or place directly on a plate. Sprinkle with salt if desired while corn tortilla chips are still hot.

Serve chips with avocado peach salsa and enjoy!
Just a few quick notes:
This delicious avocado peach salsa will taste great with both types of peaches. I prefer it with the white-fleshed but if you are in the mood for a sweet & tangy salsa then definitely give the yellow-fleshed peaches a try.
There is a slight learning curve in getting the temperature and fry time of the tortillas just right. If you mess up your first tortilla just give the second a try and lower the heat a bit. Alternatively I've heard others bake them in the oven.
Some of the ingredients I used for this recipe can be found here: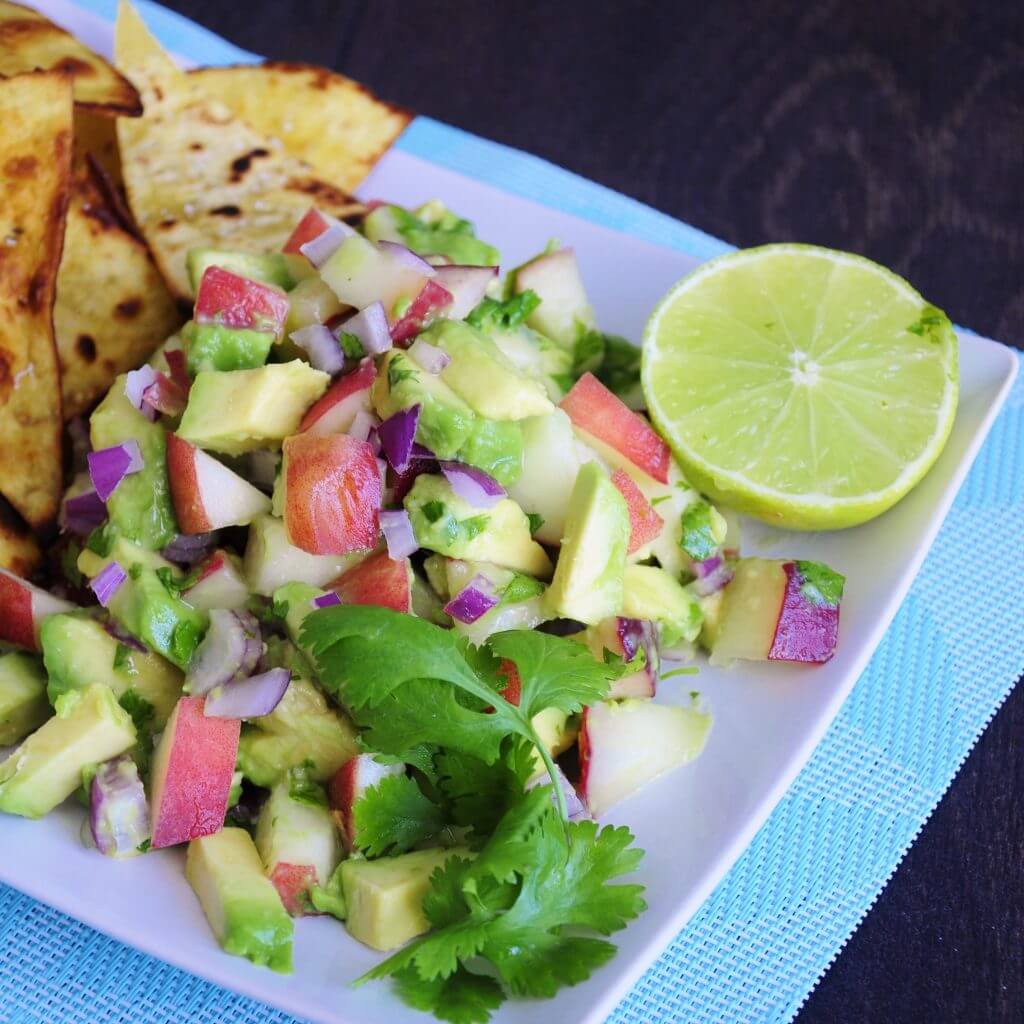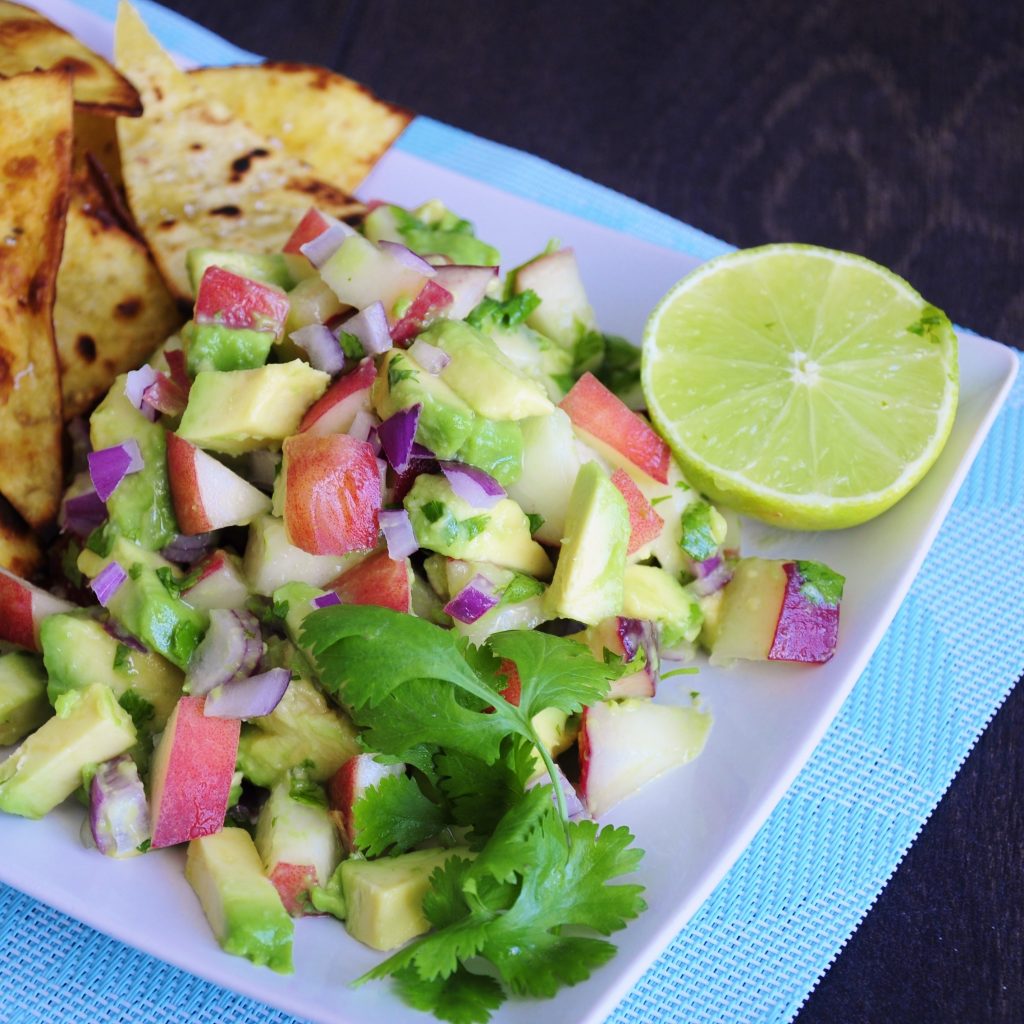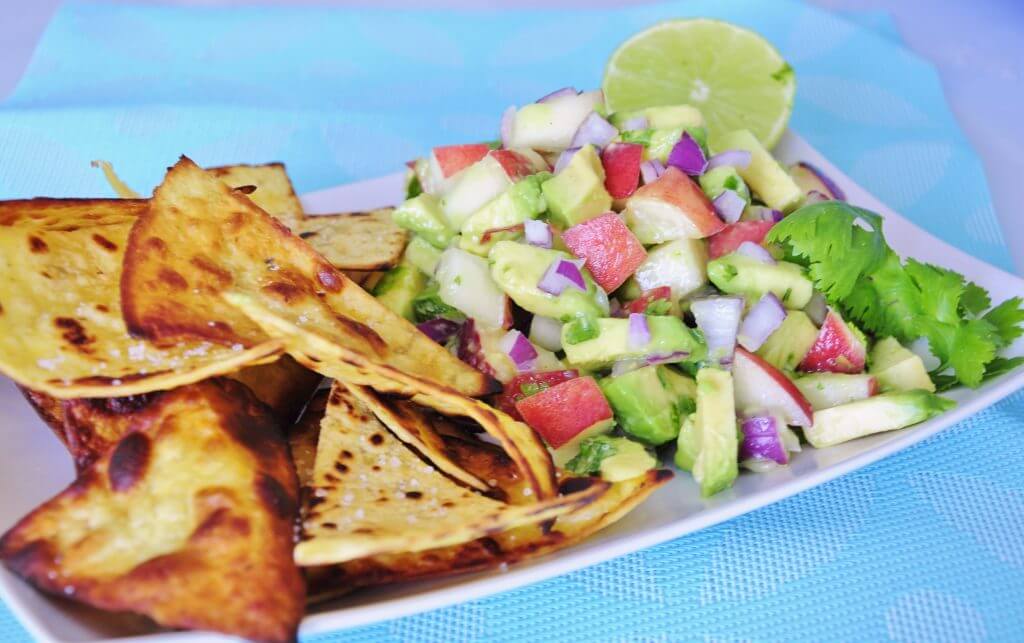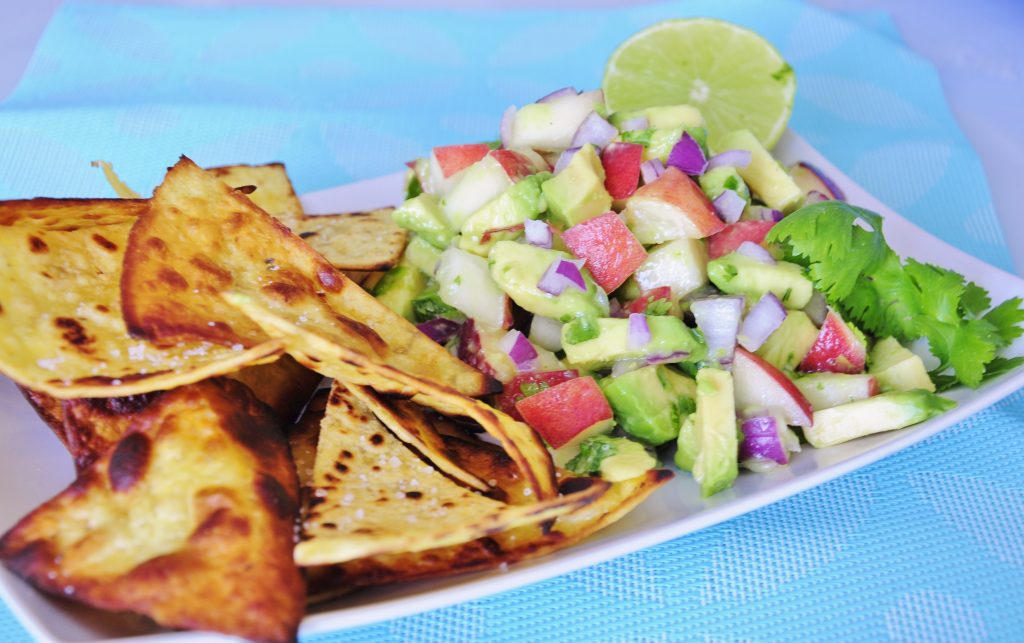 The fruity salsa and coconut oil chips made my not so tropical home seem like paradise. Ever have food that just makes you happy and want to put on some beach music and dance? Well...this did it for me! All that was missing was a good margarita :D
Peaches not your fruit of choice? Try my Fast Mango Bean Salsa or Habanero Corn Salsa.