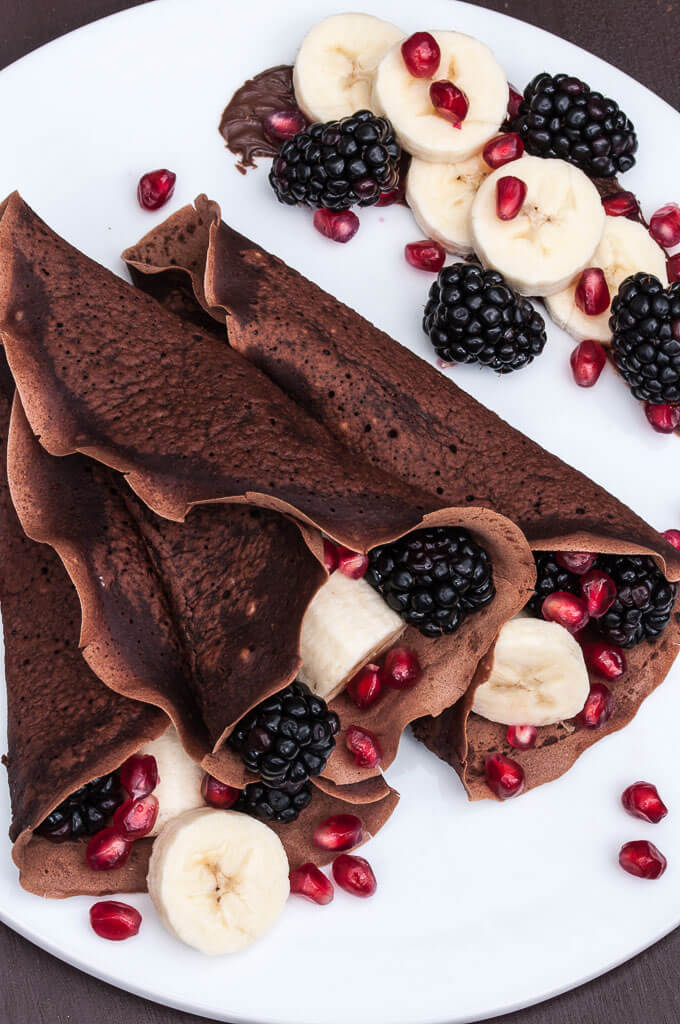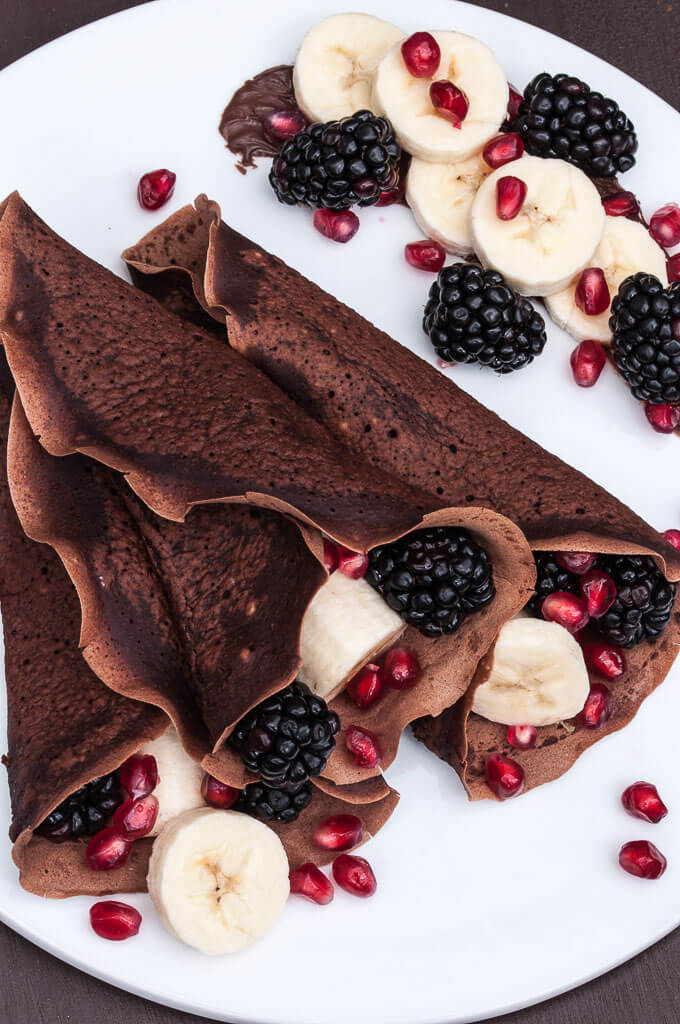 If these Chocolate Crepes, aka only the BEST VEGAN CREPES I'VE EVER HAD, have you drooling up a storm then you will love what I'm about to show you.
One of my favorite vegan bloggers, Ginny Kay McMeans, just released her first cookbook, The Make Ahead Vegan Cookbook.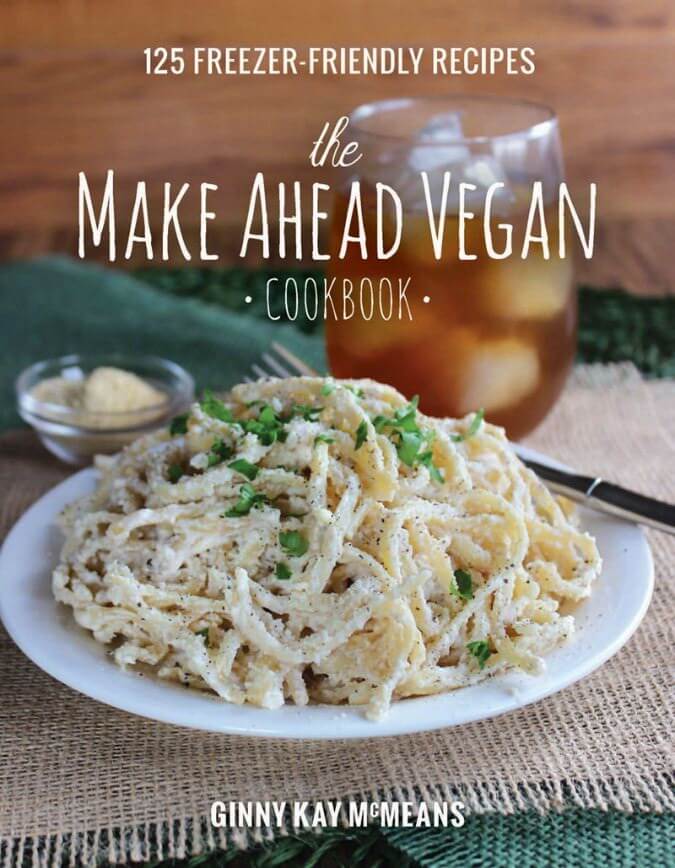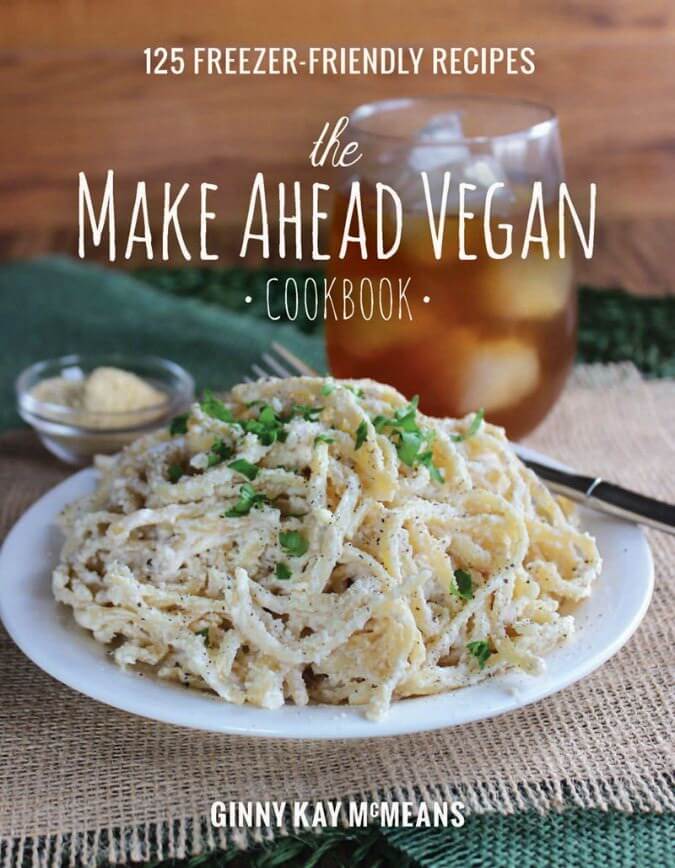 As much as I'd like to take credit for these incredible vegan crepes, I can't. Ginny's cookbook has 125 recipes and her chocolate crepe recipe is just one of them. She was so generous to allow me to share the crepe recipe with you, so you get a feel for just how delicious her recipes are.
What makes this vegan cookbook different than any other is that all recipes are freezer-friendly. Not only does this make it perfect for families but also for anyone else with a busy schedule. Don't worry if you don't want to freeze these delicious meals, you can eat all of them straight away too!
Ginny's cookbook is split into 8 chapters:
Party Pleasers
Wake up & Eat
To Warm You From The Inside Out
Side Dishes To Complement
Hearty Meals
Extra Embellishments
Sweetness
Always Frozen
Every chapter is filled with recipes that I can't wait to try. Usually, when I go through a cookbook I like to add post-its to recipes I want to make. About a quarter way through her cookbook I stopped since I realized I was putting a post-it on every page. Her recipes are incredibly easy to follow and you'll notice that in the vegan crepe recipe below.
What's great is that every recipe is also accompanied by a picture. This way you know exactly what you can expect your food to look like. No surprises or guesswork here. Here you can see her picture for her vegan chocolate crepe recipe.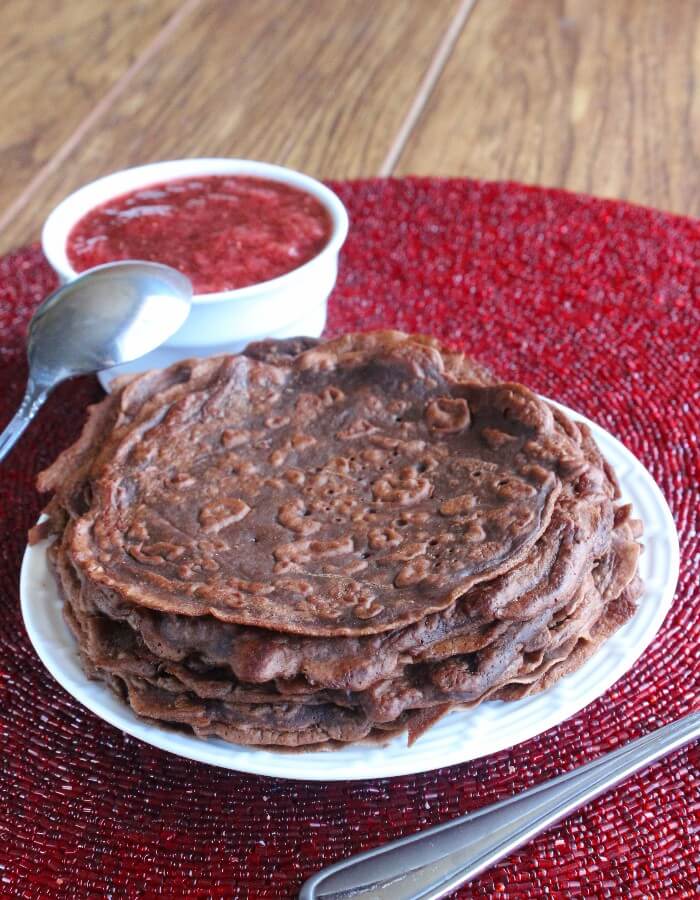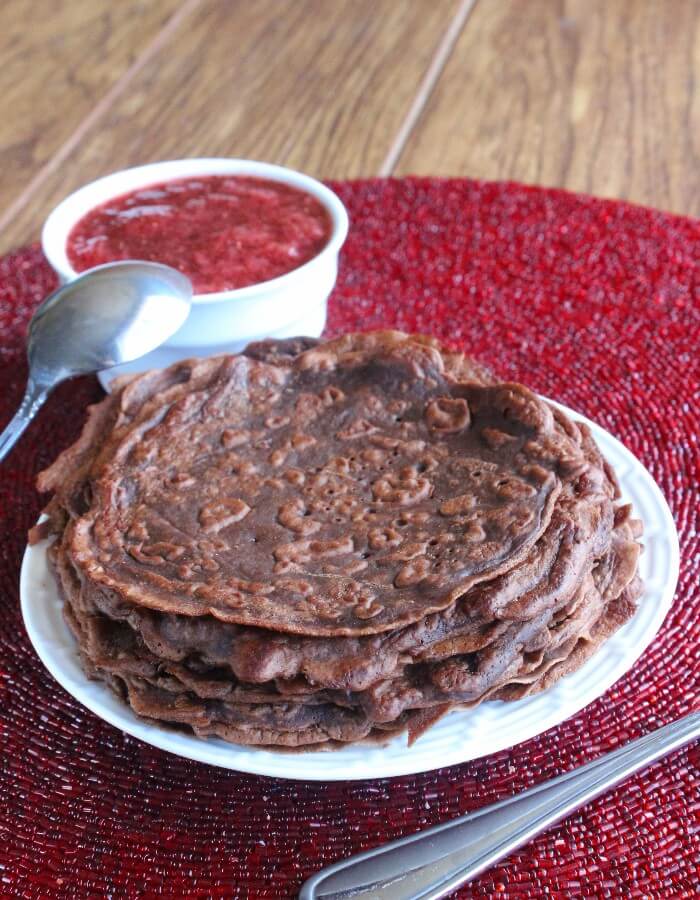 My crepes turned out just like hers. I just wanted to take some pictures of the crepes filled with fruit because that's exactly how I love them :)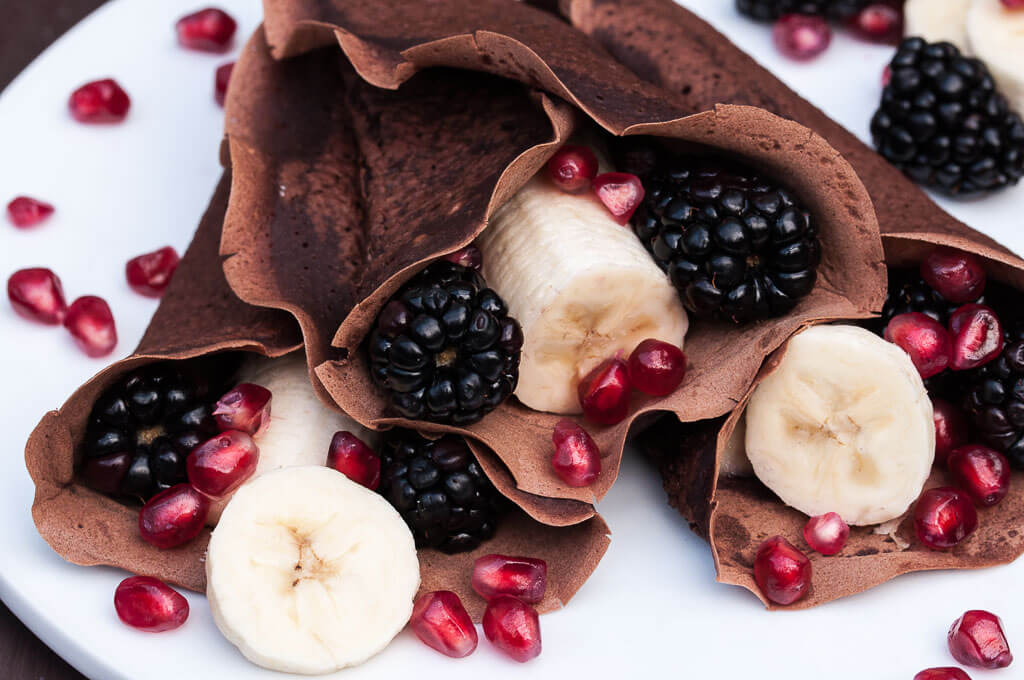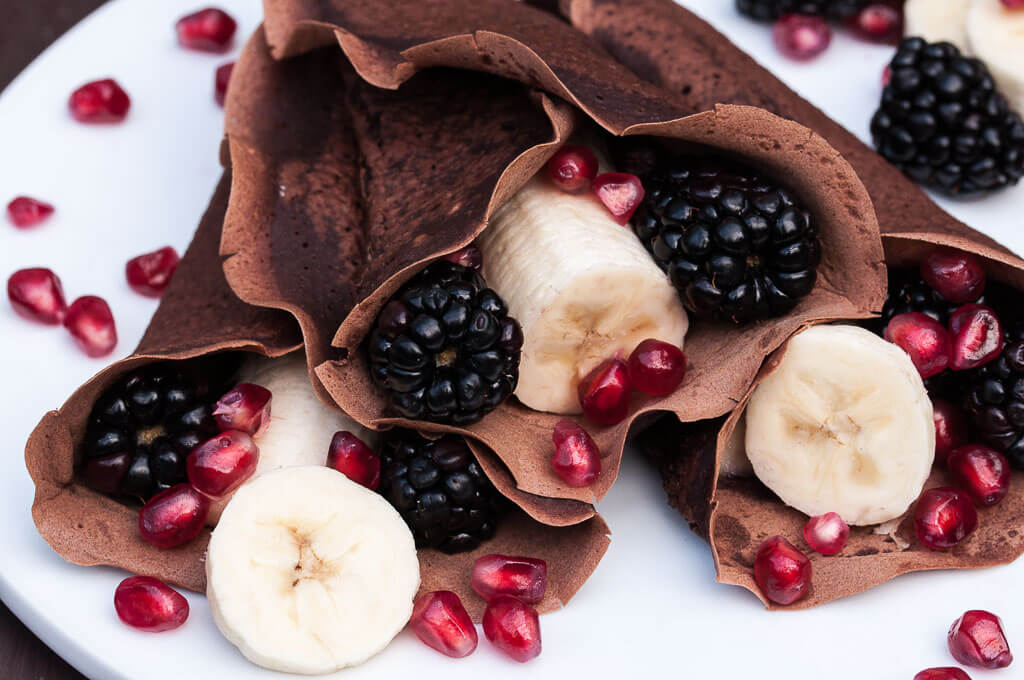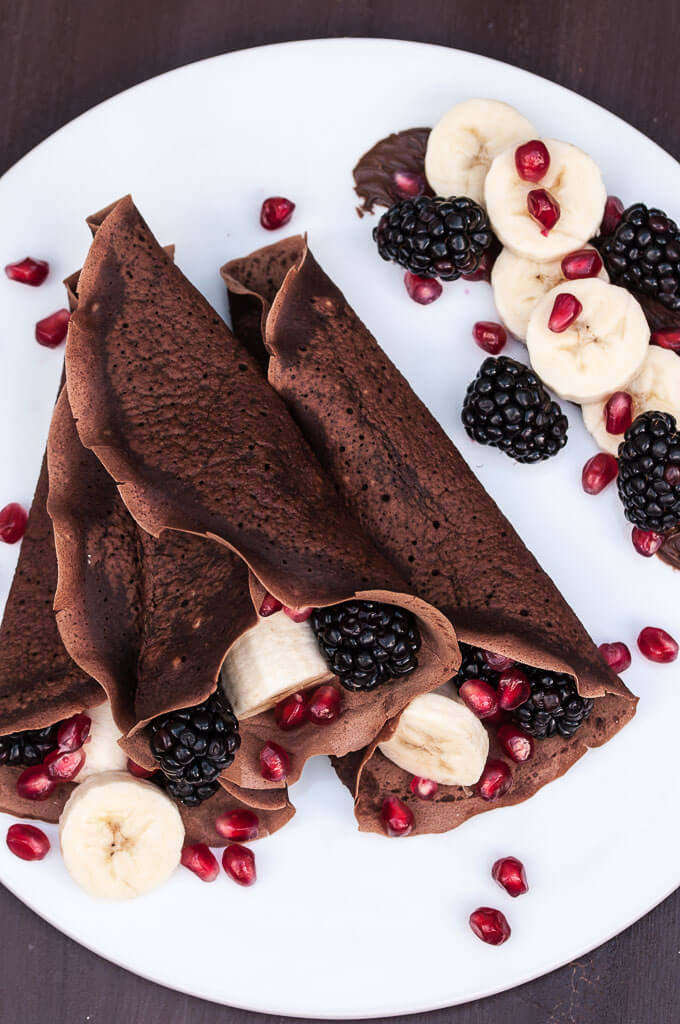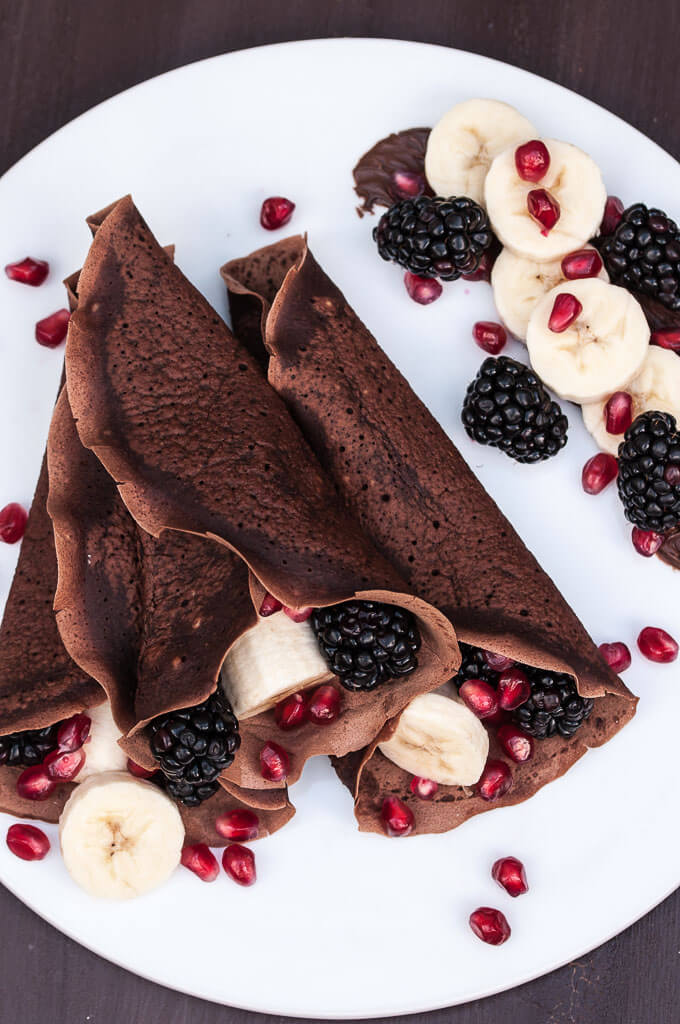 It's pomegranate season (October - February) and I've been eating them non-stop. It was only fitting to add them to these crepes. That being said you can add any fresh fruit, jam, or chocolate spread (vegan Nutella? yes please!).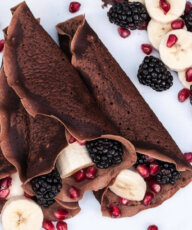 Chocolate Crepes from The Make Ahead Vegan
With a small pan and a twist of the wrist, you will have chocolate crepes. Roll them up all by themselves for a snack or top with your favorite jam for a decadent treat.
Ingredients
½

cup

nondairy milk

½

cup

water

¼

cup

plus 2 tablespoons pure maple syrup

1

cup

all-purpose flour

¼

cup

unsweetened cocoa powder

½

teaspoon

baking powder

¼

teaspoon

sea salt

Coconut oil

for frying
Instructions
In a large bowl, combine all of the ingredients, except the coconut oil.

Mix with an electric mixer on low speed until the mixture is completely blended.

Put in the refrigerator to rest for an hour. When ready to make your crepes, take the batter out of the refrigerator and stir by hand.

Heat a drop of coconut oil in small skillet over medium high heat. Pour a scant ¼ cup of the batter. Lift the pan and swirl and tilt to cause the batter to cover the bottom.

Cook for about 2 minutes, until golden brown, then flip and cook for a minute more. Remove from the pan and continue with the rest of the batter, adding a drop of coconut oil to the pan every once in a while.

They cook best without much oil.

Serve folded over, filled with strawberry or blueberry jam. A chocolate hazelnut spread is great, too.
Recipe Notes
Storing in the refrigerator:Will keep in the refrigerator for up to 1 week.Freezing:Freeze in freezer bags and just take out a few when you want. They defrost almost immediately. Will keep in the freezer for 3 to 4 months.
Reprinted with permission from "The Make Ahead Vegan Cookbook" by Ginny Kay McMeans
If you've enjoyed this vegan crepe recipe then be sure to buy The Make Ahead Vegan Cookbook.
Be sure to check out these other vegan breakfast recipes!