It's finally summer which means it's time for summer pasta salads. I've seen too many mayonnaise-based pasta salads at potlucks, picnics and BBQ's. Let's be real, I don't want to eat something that will sit heavily in my stomach nor do I want any mayonnaise (also for obviously vegan reasons) that has been sitting in the hot sun all day. Summer should be all about light and healthy pasta salads. A pasta salad that is easy and quick to make since I don't feel like spending hot summer days in the kitchen. I want to be outside enjoying the nice weather while eating some good food. Who is with me?
Seriously, next time I go to a BBQ and see a mayo-based pasta salad taking a beating in the sun, I'll chuck it in the trash and replace it with this simple salad. Then I'll pat myself on the shoulder, grab a plate, and feel proud that I just saved everyone from food poisoning and multiple bathroom trips. You're very welcome!
If you are looking at this picture and think the pasta looks a bit dark, it is. No it's not the lighting or your eyes. I used whole wheat pasta with this recipe. Don't have any whole wheat pasta? That's OK. You can use any other kind as well. However, I can only recommend to anyone and everyone to make this simple exchange in your diet. Go from white pasta to a whole-grain pasta. You'll keep your blood sugar levels from bouncing off the walls and you'll stay full longer. There are several
different types
to choose from: buckwheat pasta, whole wheat pasta, kamut pasta, and brown rice pasta. Believe it or not there is even
quinoa pasta
. How amazing is that?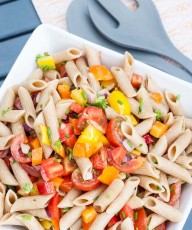 Summer Pasta Salad
A healthy pasta salad with a simple oil and vinegar dressing. No mayo, simple and vegan.
Ingredients
500

g

or 4 cups Whole Wheat Penne

can be substituted with any other kind of pasta

4

tablespoons

Olive Oil

6

tablespoons

Apple Cider Vinegar

3

Bell Peppers

Red, Yellow,Orange - diced

1

Red Onion

diced

15

Cherry Tomatoes

halved

½

cup

Fresh Parsley

chopped

½

cup

Chives

chopped

Salt and Pepper to taste
Instructions
Cook pasta according to instructions on packaging. Drain pasta and add olive oil. Allow pasta to cool for 15 minutes.

Meanwhile, dice bell peppers and onion, halve tomatoes, and chop herbs.

Once pasta as cooled add vegetables, herbs, vinegar and season with salt and pepper.

Serve and Enjoy!
Recipe Notes
1)Pasta will keep well in refrigerator, in airtight container or covered with plastic wrap, for up to 4 days.2) I recommend using whole wheat, spelt, or quinoa pasta to give this salad the additional healthy boost it deserves :)
Want more ideas for your next vegan summer bbq? Try my Eggplant Burgers, Oil-free Watermelon Tomato Salad, or Avocado Peach Salsa with Coconut Oil Chips :)