After making my own balsamic reduction sauce I realized that the number of uses for it are endless. I think the most common use is on a caprese salad aka tomato-mozzarella salad. But wait! Did you know that a traditional Italian caprese salad doesn't have any vinegar on it? I didn't. However, I think it has become standard practice to add balsamic vinegar to a caprese salad, especially across the US.
I think I forgot something. Right! Obviously a caprese salad is NOT vegan. Who says that us vegans can't have one though?
For this vegan caprese salad I replaced mozzarella with tofu. It almost looks the same and it sure fooled Hubbs and #1 at first. Sure, tofu won't taste like mozzarella but for us vegans it's a really easy replacement. Top it with a quick and easy basil pesto and some homemade balsamic reduction sauce and you've got yourself one healthy vegan caprese salad!
Quick note to the basil pesto recipe: It is so easy! Did I already mention that? Just pop 4 ingredients into a food processor, blend, and done. The basil pesto is delicious not only on this vegan caprese salad but also on bread, pasta, etc. Believe me, you will not be buying anymore store bought pesto after making this. Now add it on top of the tomatoes and tofu and you are golden!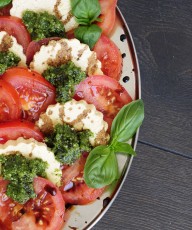 Vegan Caprese Salad with Tofu
Ingredients
1

cup

fresh Basil

1

Garlic clove

½

cup

Cashews

⅛

teaspoon

Salt

⅛

teaspoon

fresh cracked Pepper

4

tablespoons

Olive Oil

7

ounces

200g Organic Firm Tofu

2

large Tomatoes

2

Tablespoon

Balsamic Reduction Sauce
Instructions
Wash and dry the basil leaves. Put aside 6 leaves for garnish. Place the remaining basil leaves together with the garlic, cashews, salt, pepper, and 3 tablespoons olive oil in a food processor and blend.

Cut out tofu block using a circle cookie cutter or a knife. Slice tofu into ¼ inch slices.

Marinate tofu slices in 1 tablespoon olive oil and a pinch of salt and pepper for about 3 - 5 minutes.

Wash and cut tomatoes into ¼ inch slices.

Alternate placing tomato and tofu slices on a large plate. Add a large teaspoon of basil pesto on each tofu slice.

Garnish with basil leaves and drizzle with balsamic reduction sauce.
Recipe Notes
1) Use a store bought balsamic reduction sauce or easily make your own. A link can be found on the bottom of the page. 2) Refrigerate covered if not serving right away.
This is one of my favorite summer salads. It's refreshing and filling. It's quick and easy. It's vegan! What else do you want? Oh, some cookies? Alright fine, here are some great ones :)
To learn how to make your own balsamic reduction sauce, click here!