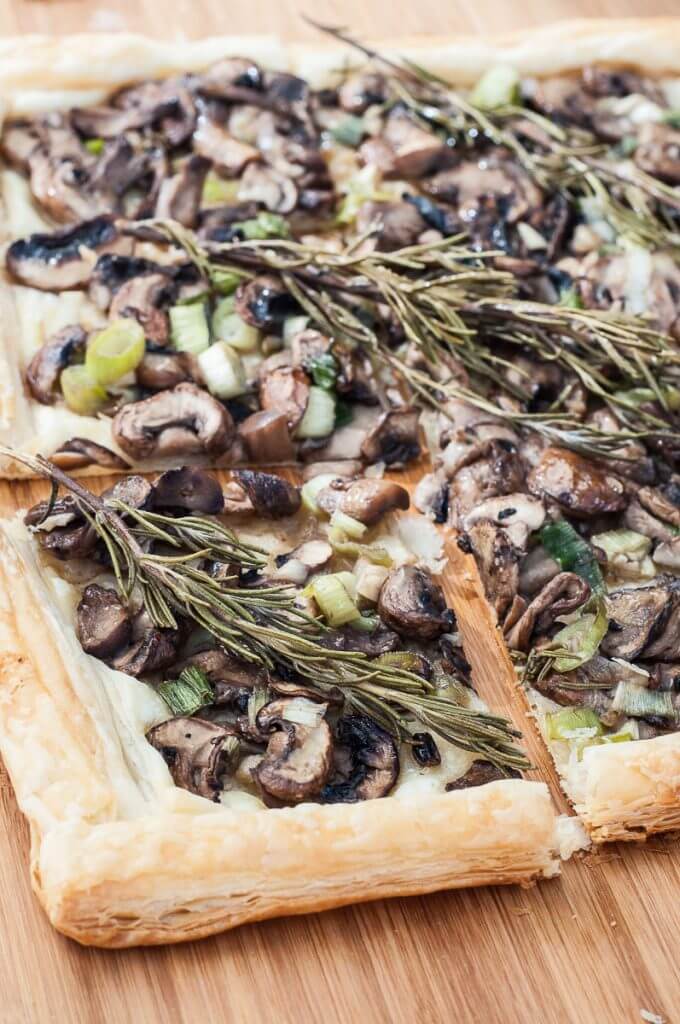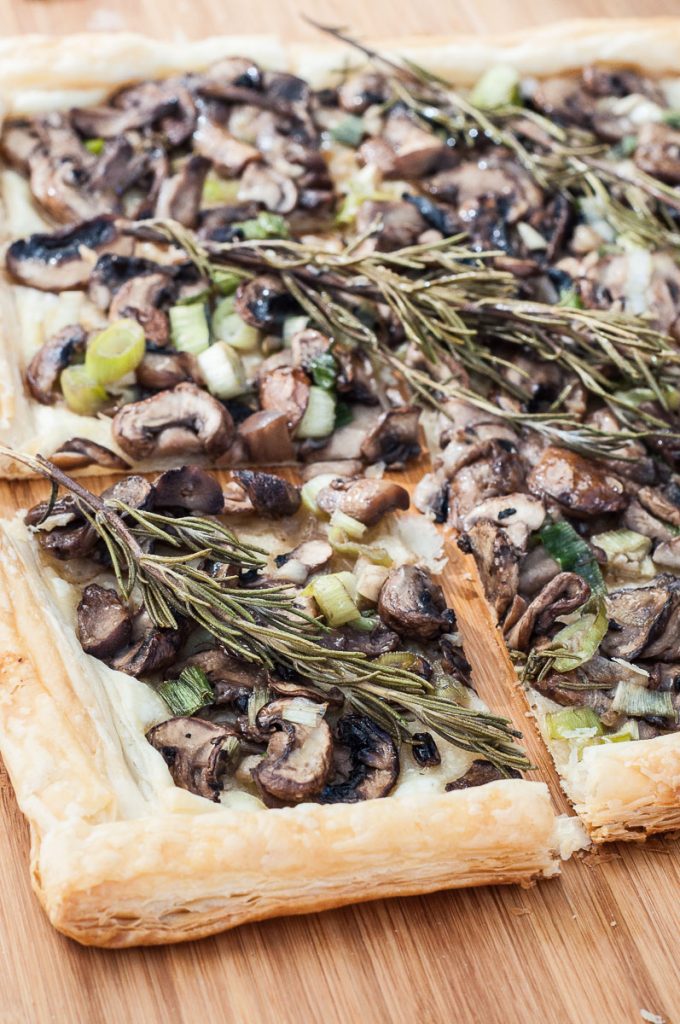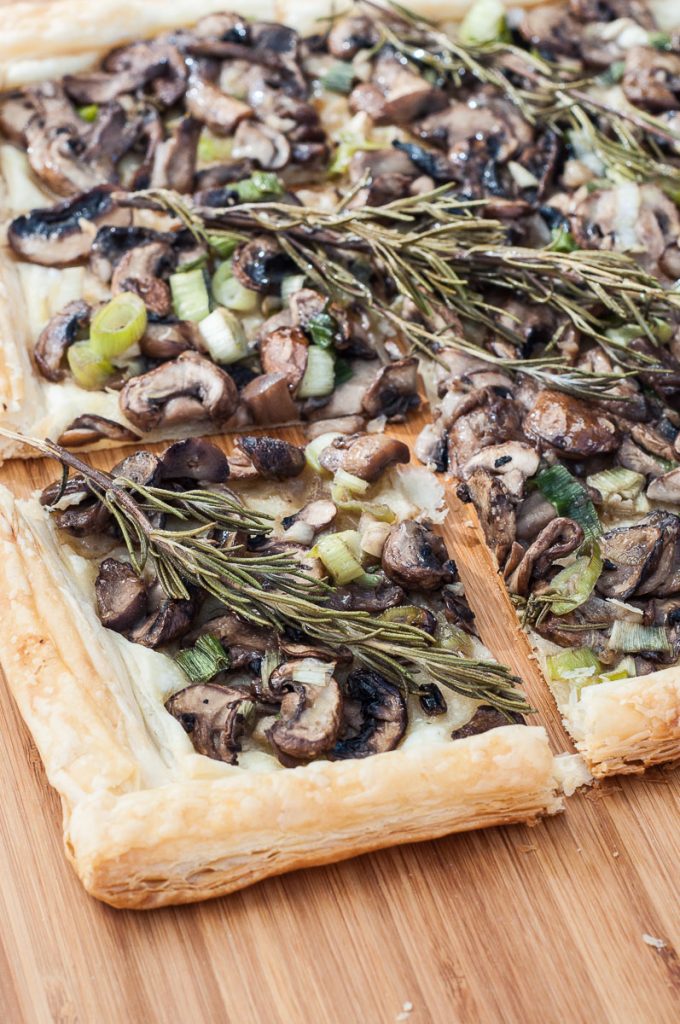 You can grow and buy mushrooms all year around but their peak season is in the fall and winter. There is something so perfect about eating fresh, earthy mushrooms this time of year. Especially when they are made into a Vegan Rosemary Mushroom Tart!
The sad part? I seem to be the only person in my family that likes mushrooms.
OK, maybe it's really not that bad since anything delicious I make with mushrooms I can openly enjoy without having toddlers trying to steal all my food.
Even my husband doesn't like mushrooms. Which is awesome! I don't mind sharing my food with him.  When he asks for just "one bite", it doesn't seem so bad. However, that "one bite" isn't a small one. It is one massive, manly bite that could resemble that of a tiger.
That's why mushrooms are so brilliant. I think they are incredibly tasty and I get to enjoy them ALL BY MYSELF! Seriously, this is what mushroom dreams are made of.
Is there a specific ingredient that you like but the rest of your family won't touch?
Cherish that ingredient! Soon enough, the rest of your family will figure out that it does actually taste amazing and you'll go back to only getting the leftover scraps.
Recently I made a savory pumpkin tart that my 4yr old couldn't keep is hands off of. I made it with a really delicious garlic cream sauce that I thought would taste great with mushrooms as well. I first made this rosemary mushroom tart with the sauce but quickly realized that mushrooms are so darn good you really don't have to complicate them with a whole load of other ingredients.
All you really need to do to make this yummy-in-my-tummy mushroom tart is give your mushrooms a quick sautee with onion and garlic and put those mushrooms on a sheet of puff pastry with rosemary.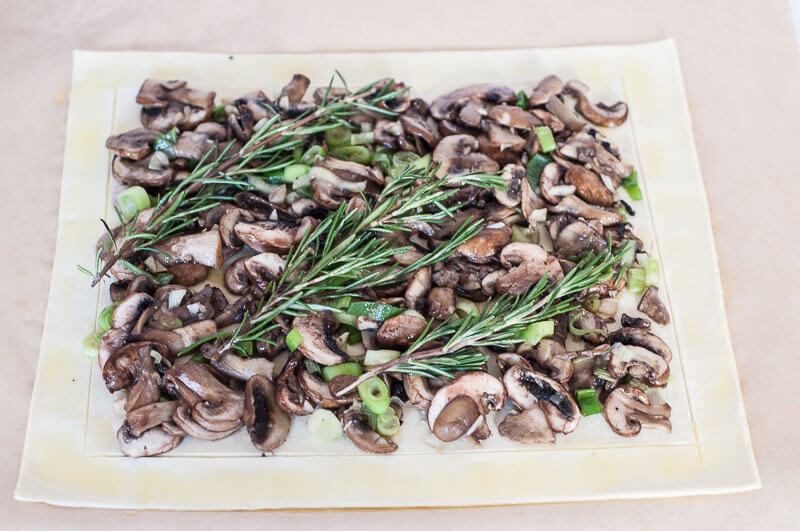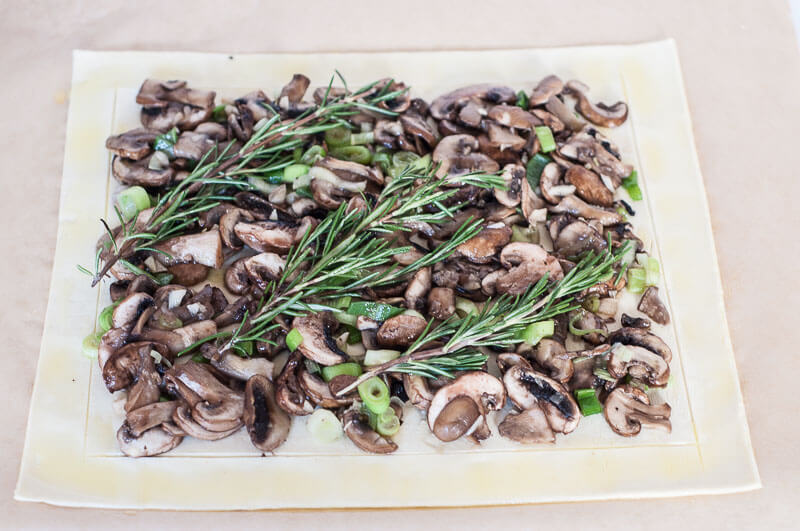 Cook it in the oven and voila!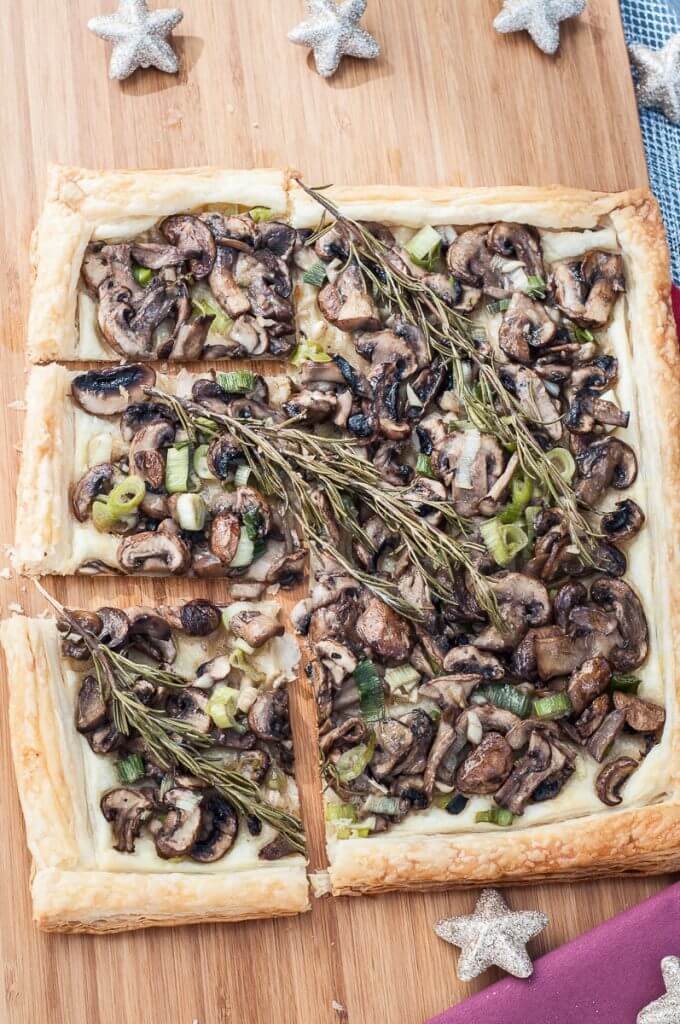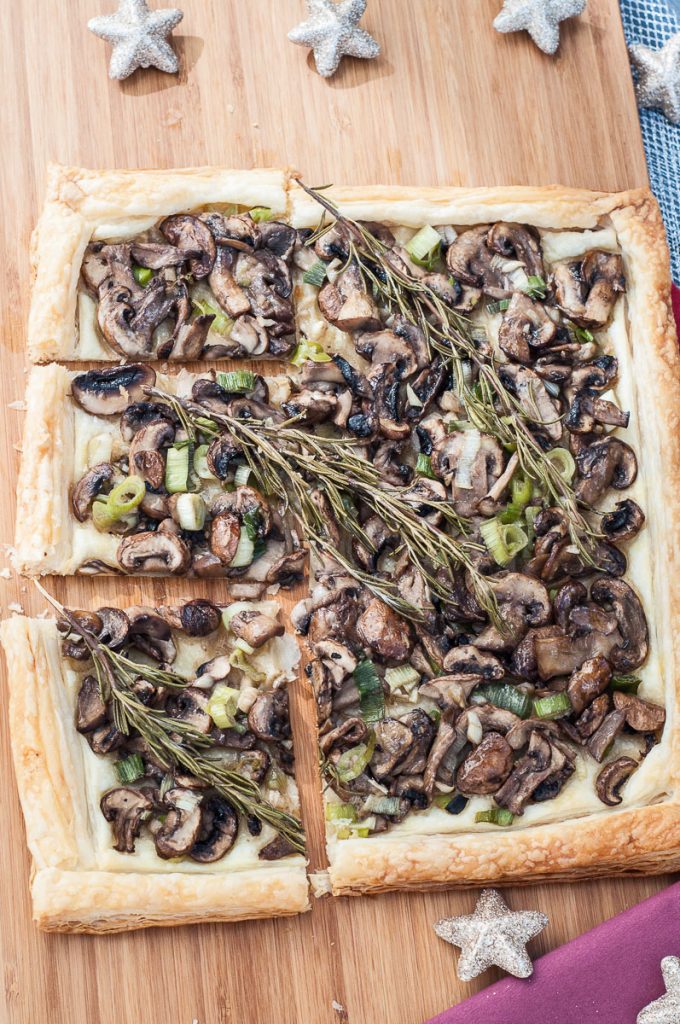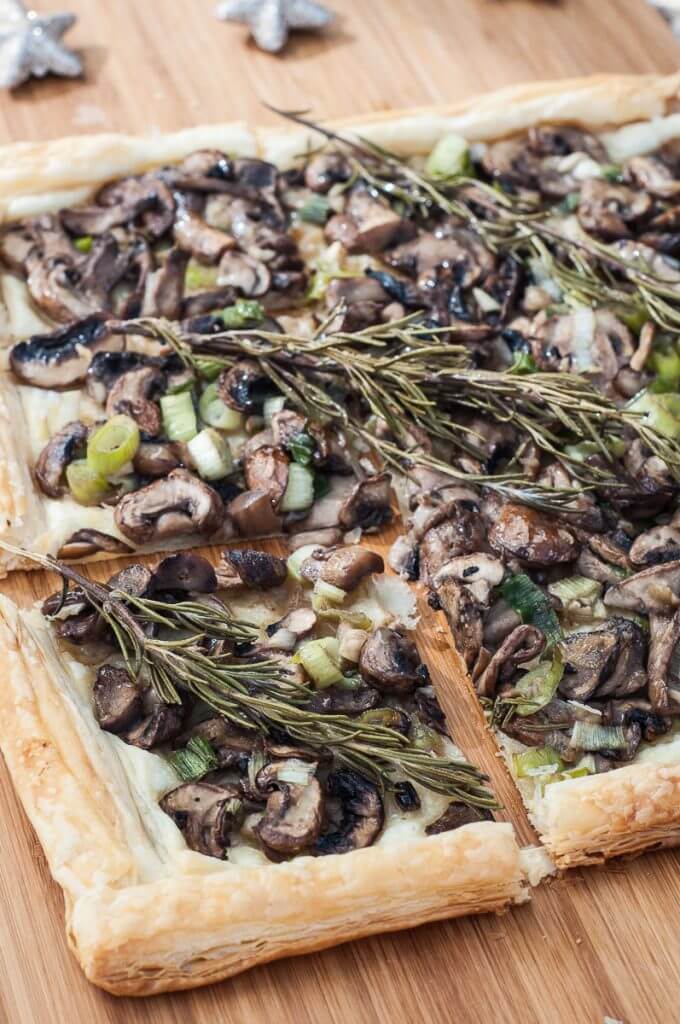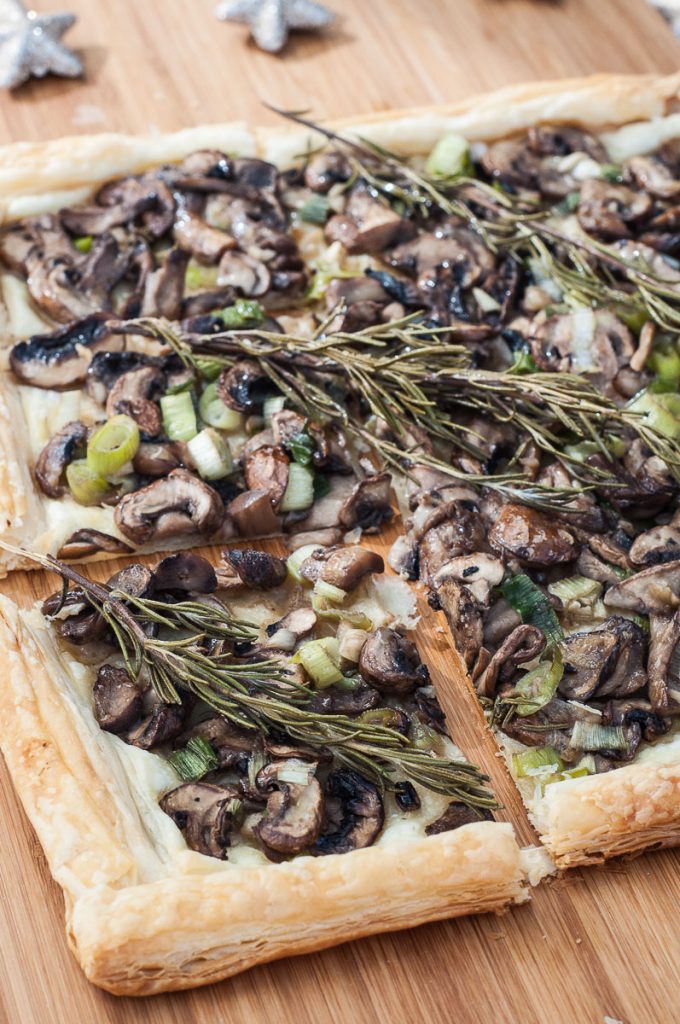 I love making this tart as a quick dinner served with a fresh green salad. However, it also works beautifully as an appetizer. Just cut the tart into bite sized pieces for easy, no mess eating.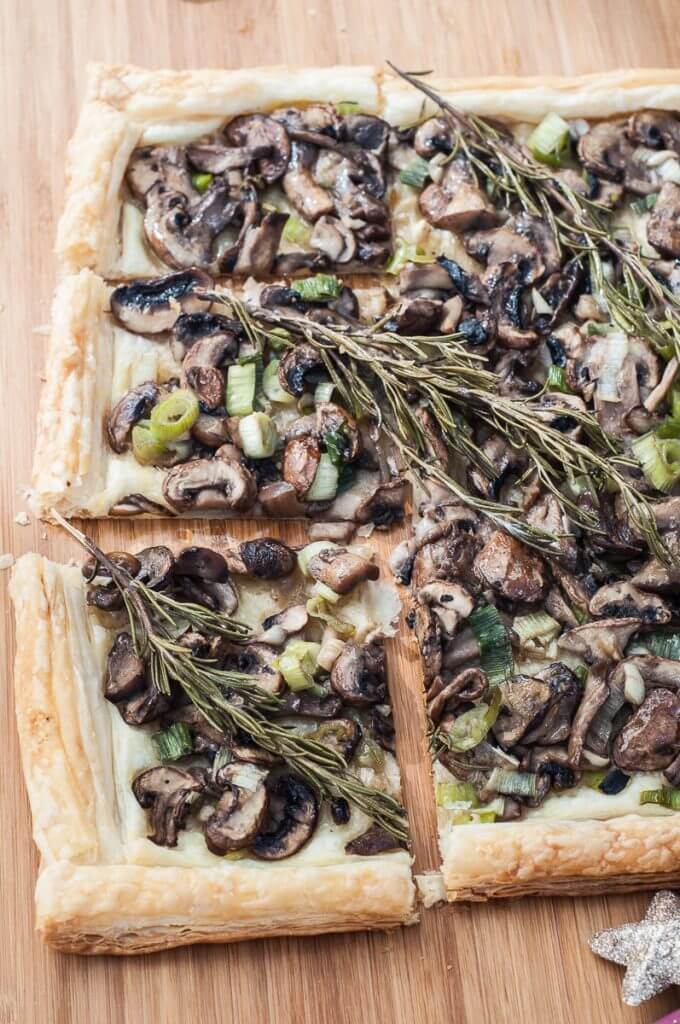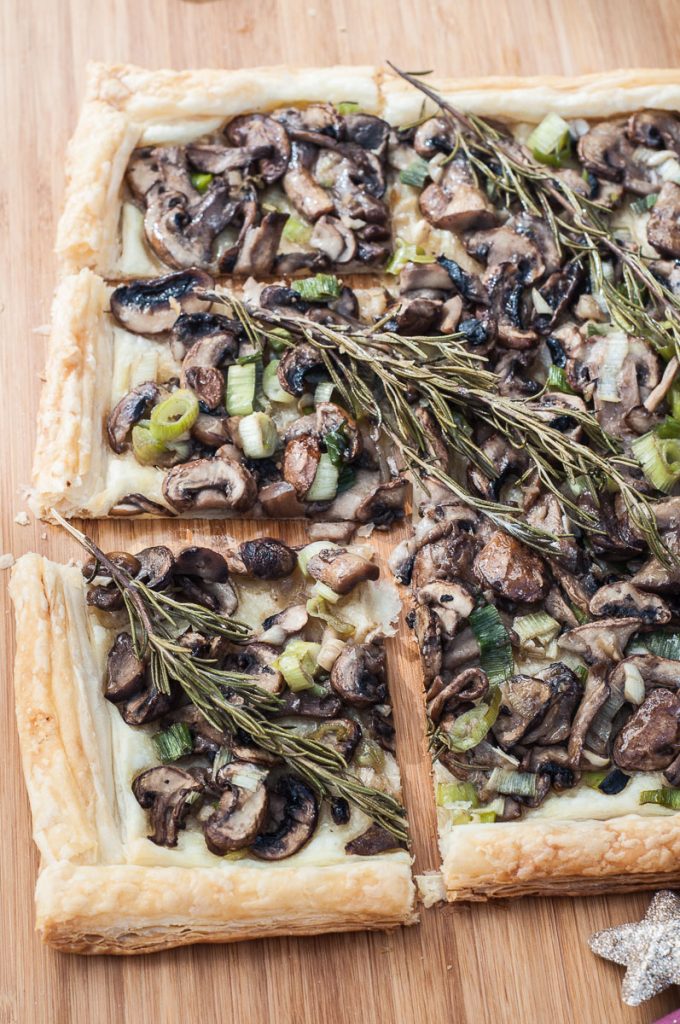 Let puff pastry be your friend this holiday season. The options are endless, delicious, and will come together quickly for your next Christmas party :)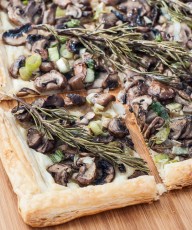 Rosemary Mushroom Tart
This mushroom tart recipe comes together so quickly and is perfect as a meal or as an appetizer. Play around with the addition of different herbs for a unique taste each time!
Ingredients
3 - 4

cups

chopped Cremini Mushrooms

about 20

1/2

of a teaspoon Olive Oil

1/4

of a teaspoon Salt

2

cloves

Garlic

minced

1

Scallion

sliced

1

sheet Puff Pastry

3

springs of Rosemary

Salt and Pepper
Instructions
Preheat oven to 390 F (200 C) with a baking sheet inside.

Add chopped mushrooms and olive oil to a fry pan and cook for roughly 3-4 minutes over medium heat until mushrooms have softened. Add salt, garlic and scallions and cook for 2 more minutes. Remove pan from heat and set aside.

Roll out your puff pastry sheet on a piece of parchment paper and score a 1 inch border. (See notes)

Place your mushrooms evenly within the border of your puff pastry sheet. Try to not add to much of the extra mushroom liquid in the pan. Top with 3 rosemary springs and brush with small amount of olive oil.

Carefully slide puff pastry onto the now hot baking sheet in the oven. Cook for 20 minutes or until puff pastry is golden brown.
Recipe Notes
1.) Scoring a border just means to slightly make a border around the outside of the puff pastry. Use a knife and cut half way into the puff pastry, and inch from the edge. Be careful not to cut through the puff pastry.
Looking for a few more holiday inspired recipes? Be sure to check these out…