You can get mushrooms all year around but peak mushroom season is in the fall and winter. I've seen too many recipes where beautiful mushrooms get covered up in a cream sauce to the point where your dish only tastes like cream and nothing like mushrooms. Yes, those recipes often taste delicious but I find it to be such a waste of precious mushrooms. I've made two other stuffed mushroom recipes before but they never seem to get old.
I had a box of frozen peas laying around and couldn't quite figure out what to make with them. Sure, I could make some form of pea soup but that's been done too often. So why not stuff them into mushrooms? Add some garlic, onion, tomatoes, and spices and you've got some delicious stuffed mushrooms. I like stuffed mushroom best off the grill but these work perfectly when baked in the oven as well.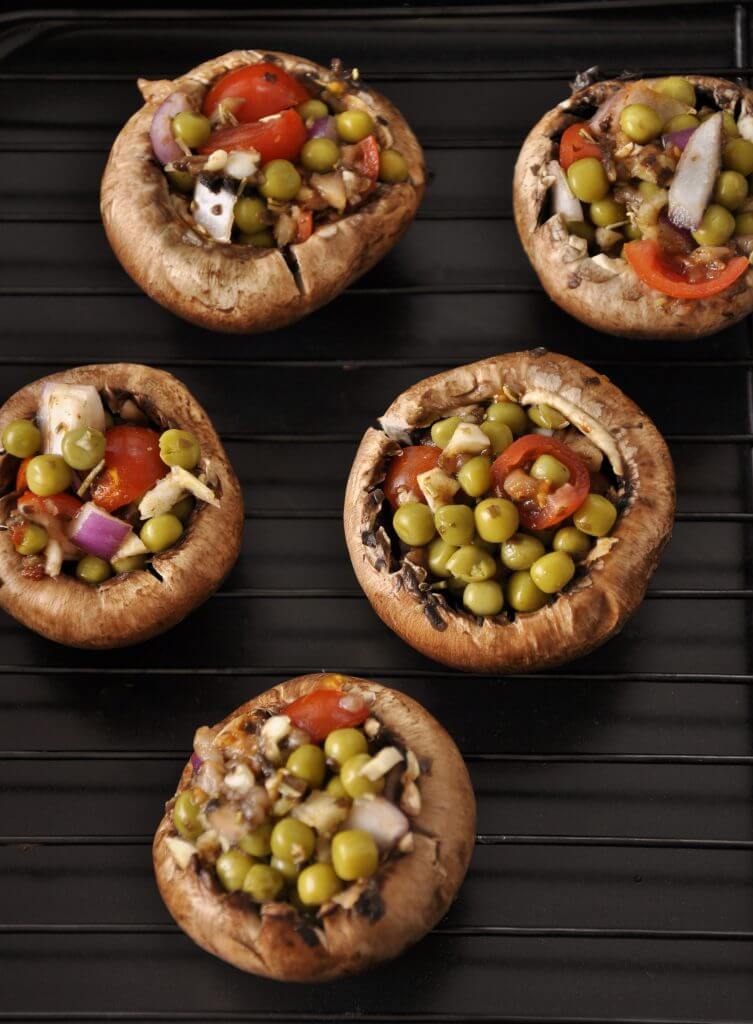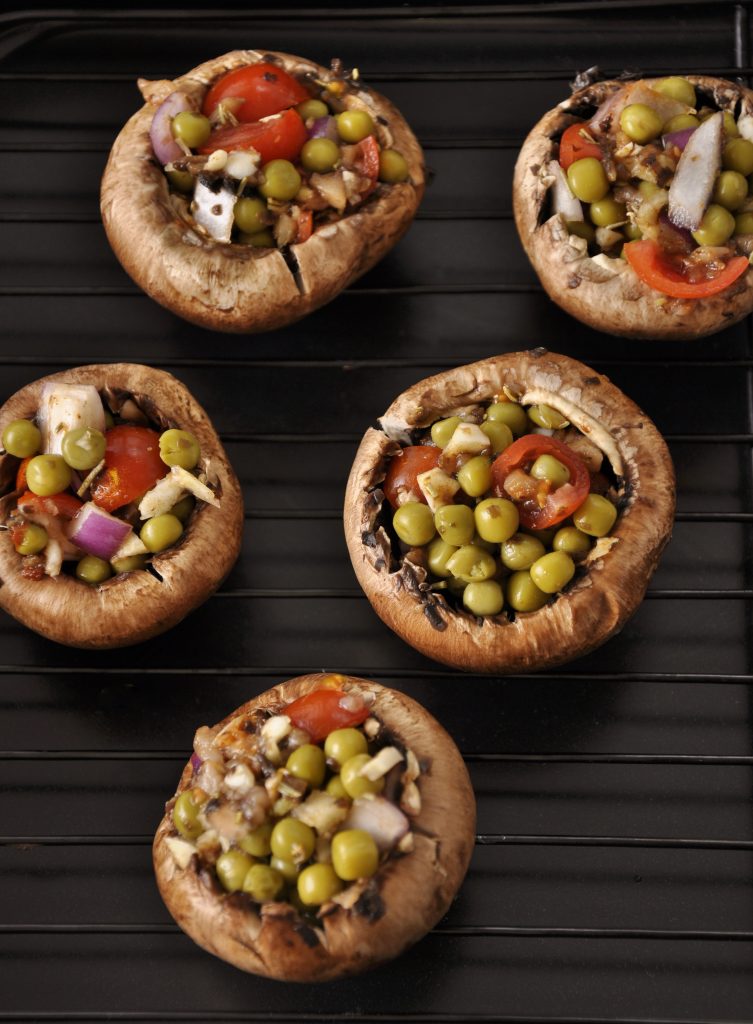 The great thing about these healthy stuffed mushrooms is that you don't even need to use any oil to make them taste good. I've made them with oil and without and couldn't taste a difference. So why add something to a recipe if it doesn't add anything to it?
These oil-free mushrooms are also great if you want to keep your calorie count low. One stuffed mushroom only have 16 calories and 0 grams of fat. I personally don't count calories. I sure as hell don't want to know how many calories are in some of my vegan cheesecakes :) However, knowing that these are so low in calories makes it OK to eat all 10 of them. Which is tough, since I find mushrooms very filling.
To be honest though, it doesn't matter if you are health or calorie conscious, these stuffed mushrooms will taste delicious!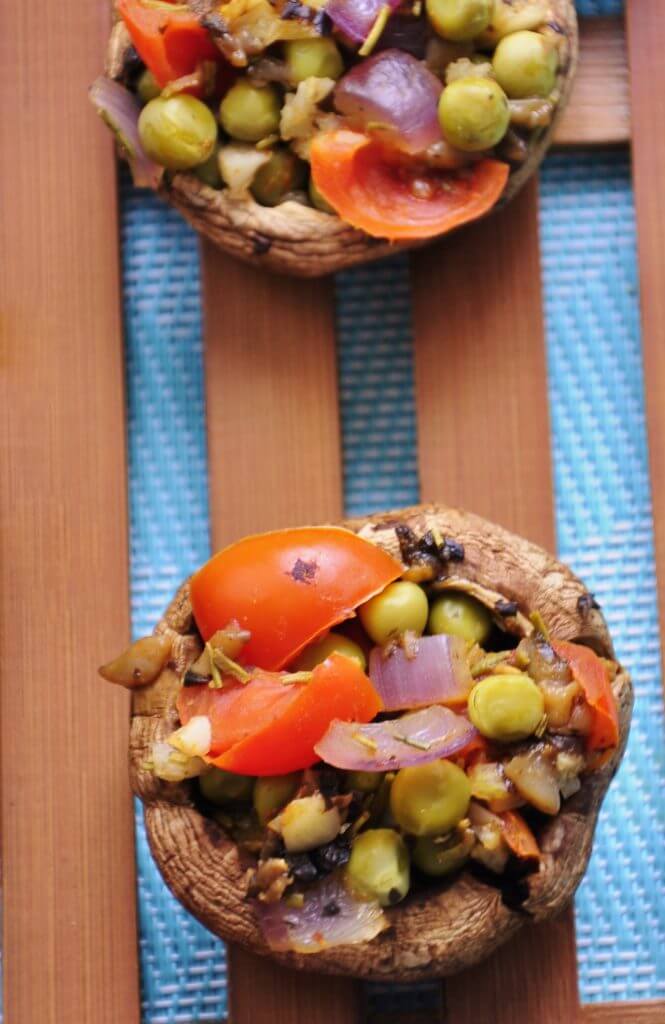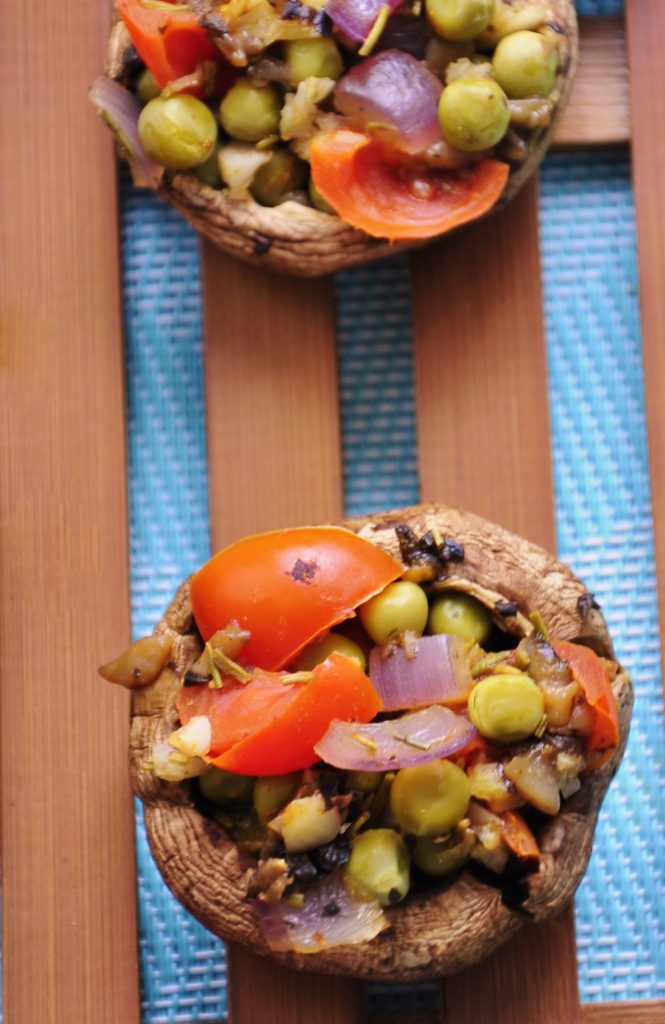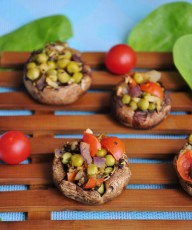 Stuffed Pea and Garlic Mushrooms
Ingredients
10

Mushrooms

Cremini (brown or white) - cleaned, steam removed and hollowed out

½

cup

frozen Peas

thawed

2

tablespoons

diced Red Onion

about ½ of a small red onion

8

Cherry Tomatoes

quartered

2

Garlic Cloves

crushed

½

teaspoon

dried Rosemary

or fresh if available

¼

teaspoon

Salt

½

teaspoon

Paprika
Instructions
Clean mushrooms and remove stems.

Hollow out mushrooms carefully with a small spoon, and dice what has been hollowed out. (stems will not be used)

Combine diced mushroom (about 2-3 tablespoons) with peas, onion, tomatoes, garlic, rosemary, salt, and paprika.

Fill mixture into mushrooms using a spoon and push down with your fingers to ensure they are thoroughly stuffed.

Place stuffed mushrooms in a foil pan on a covered grill on medium-high heat for 6-8 minutes until mushrooms are tender (if using an oven see NOTES)
Recipe Notes
1) If using an oven follow these directions: Heat oven to 435F (225C). Place stuffed mushrooms in a deep roasting pan. Cover roasting pan with tin foil and roast in oven (middle rack) for 12-15 minutes or until mushrooms are tender. 2) The uncooked mushroom mixture will taste very salty and overwhelmingly like garlic. Once stuffed mushrooms have been roasted or grilled the flavor will become much milder. 3) Canned peas can also be used in place of frozen peas. Please rinse canned peas thoroughly before using.
It's easy (and fun) to play around with the ingredients. Don't have peas? Swap them out with beans, bell pepper, or zucchini. Don't like garlic? Don't add it. I'd love to hear your favorite variations!
Looking for a different stuffed mushroom recipe? Try some Vegetables Stuffed Mushroom or Mexican Stuffed Mushrooms
Don't like your mushrooms stuffed? This Rainbow Vegetables Side will change your life!