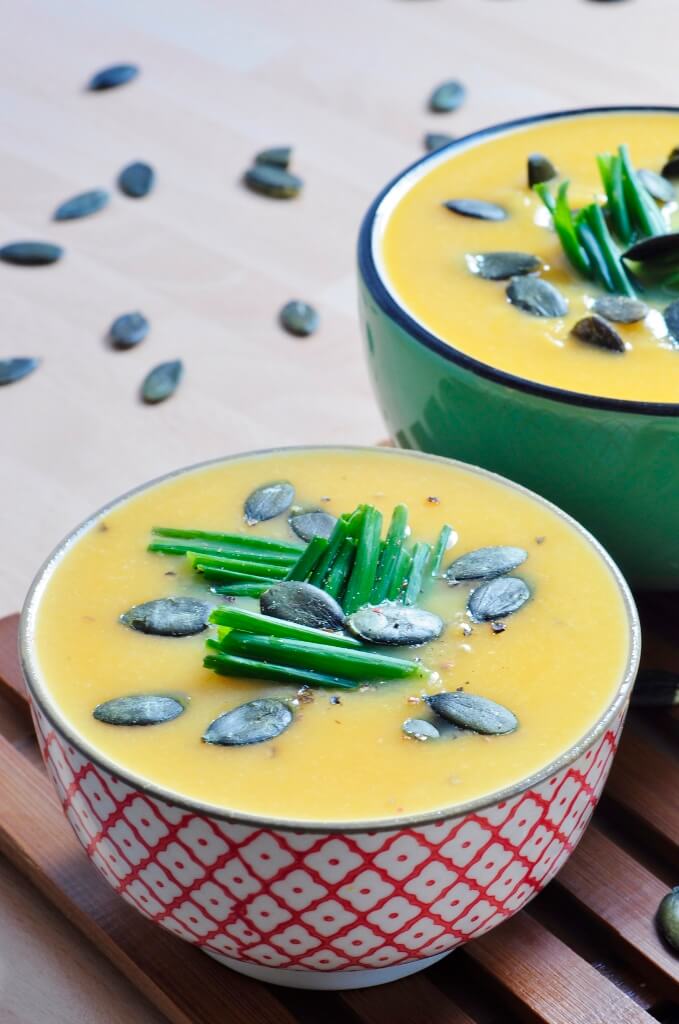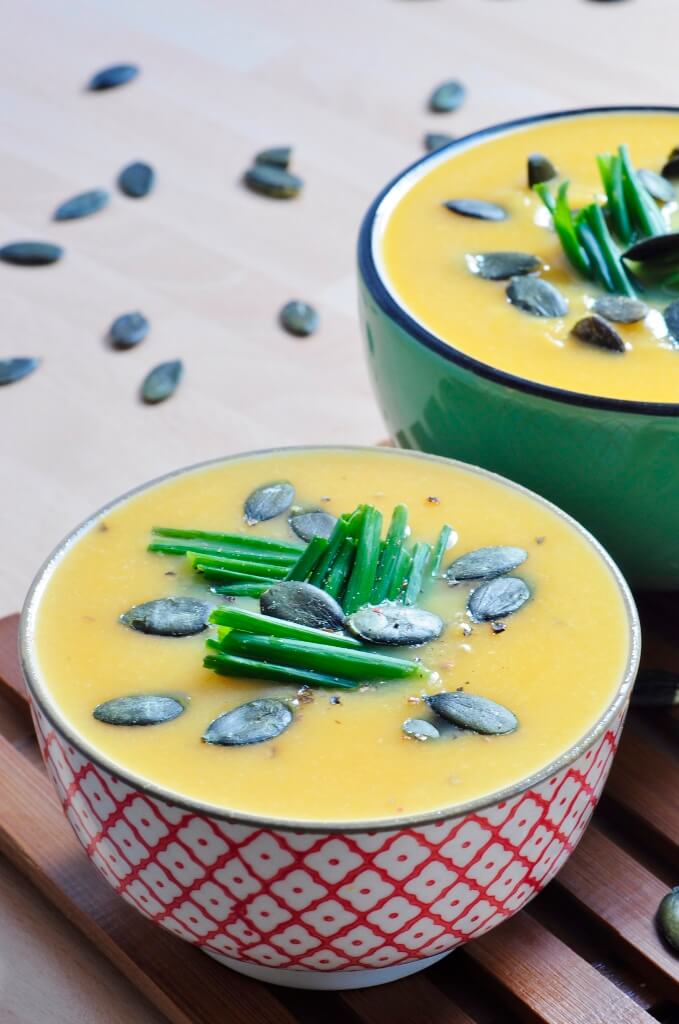 It's gotten really cold, really fast. It's definitely not my favorite weather but my favorite soup weather :) Not sure that such a thing even exists...I'll pretend it does. There's just something nice and comforting about a hot pot of simmering soup on the stove. Amirite?
Jump to:
My favorite soup, as of right now, is this Sweet Potato Cauliflower Soup. Sweet potato in soup is a no-brainer. Actually sweet potato in any recipe is delicious (except when it's made with sugar and marshmallows, GAG!). Cauliflower, on the other hand, I added to give this soup a creamy texture without having to use any cream or milk. I usually add coconut milk to my soups to make them creamy but sometimes that can also make them quite heavy. This soup is nutrient-dense, filling, and only has 43 calories in a cup. I don't really pay attention to calories but that's pretty impressive.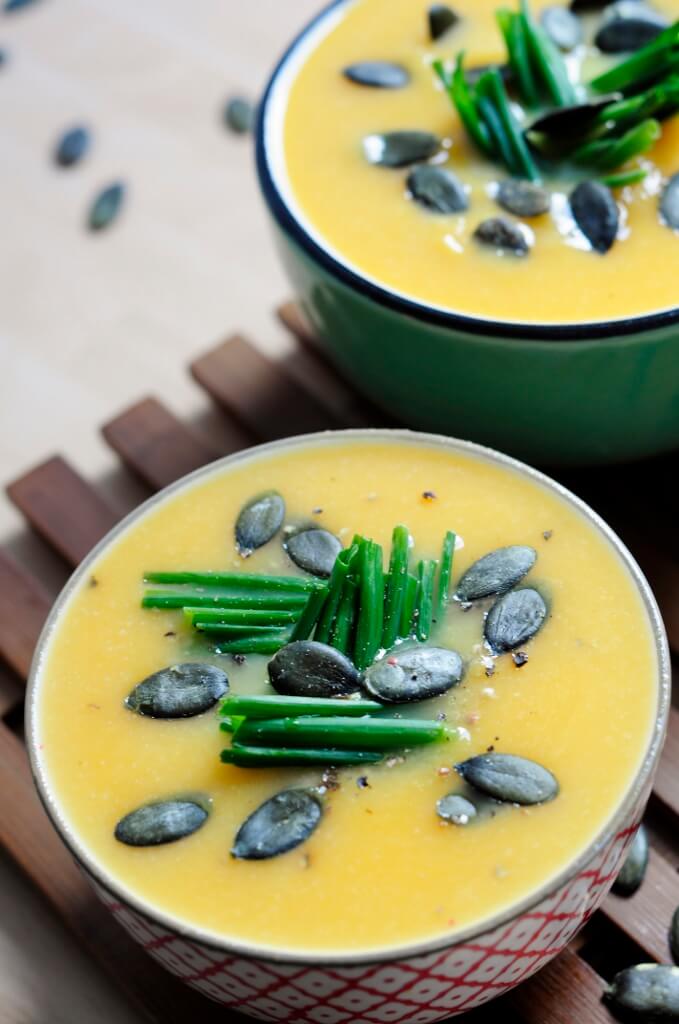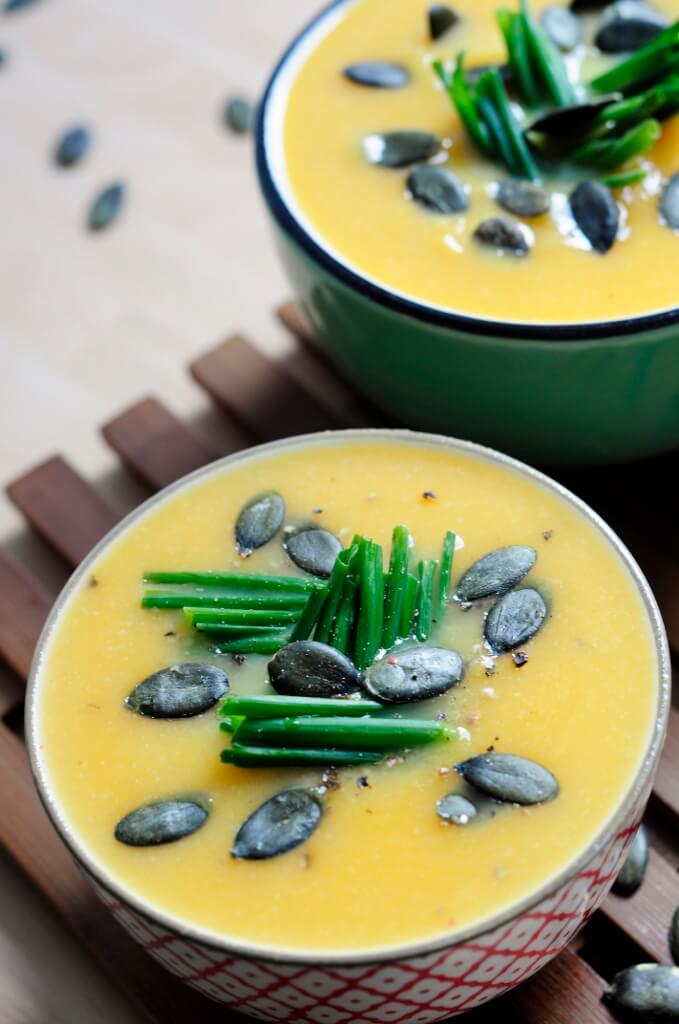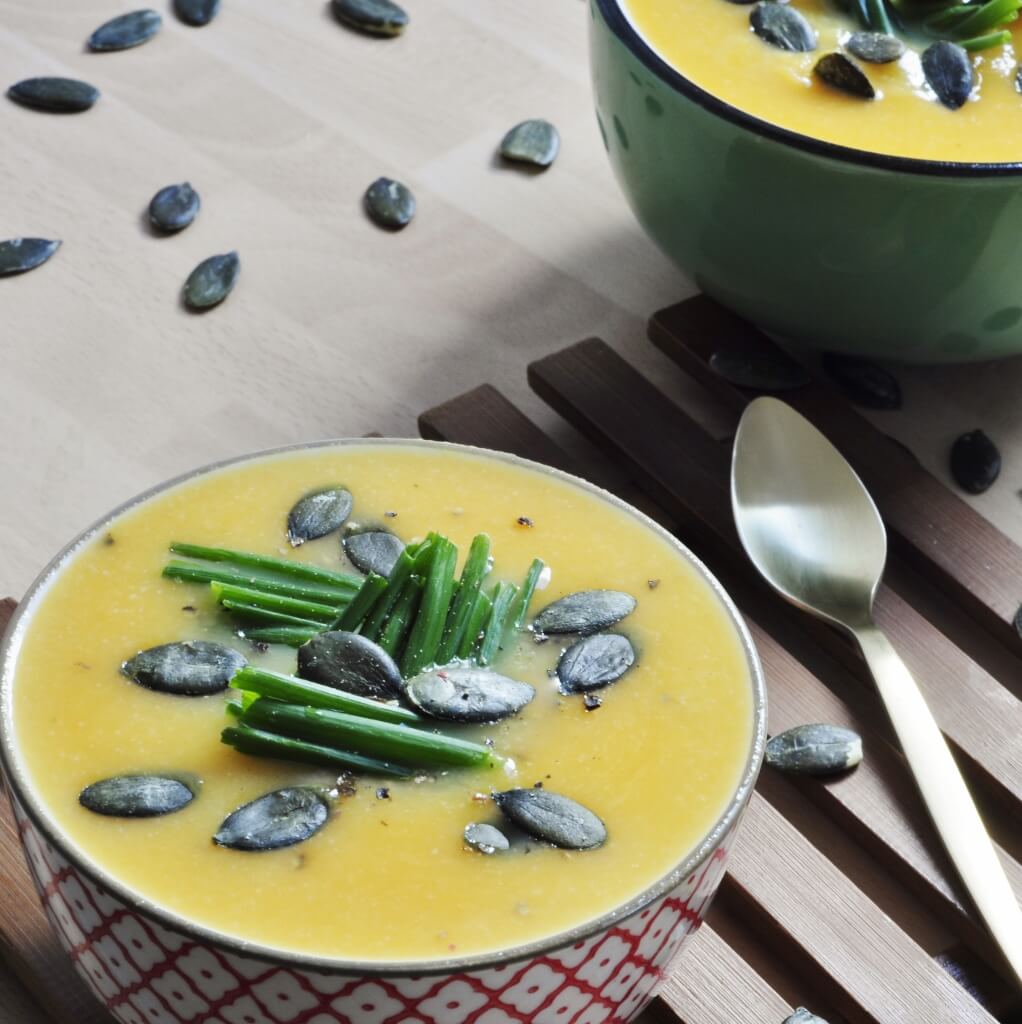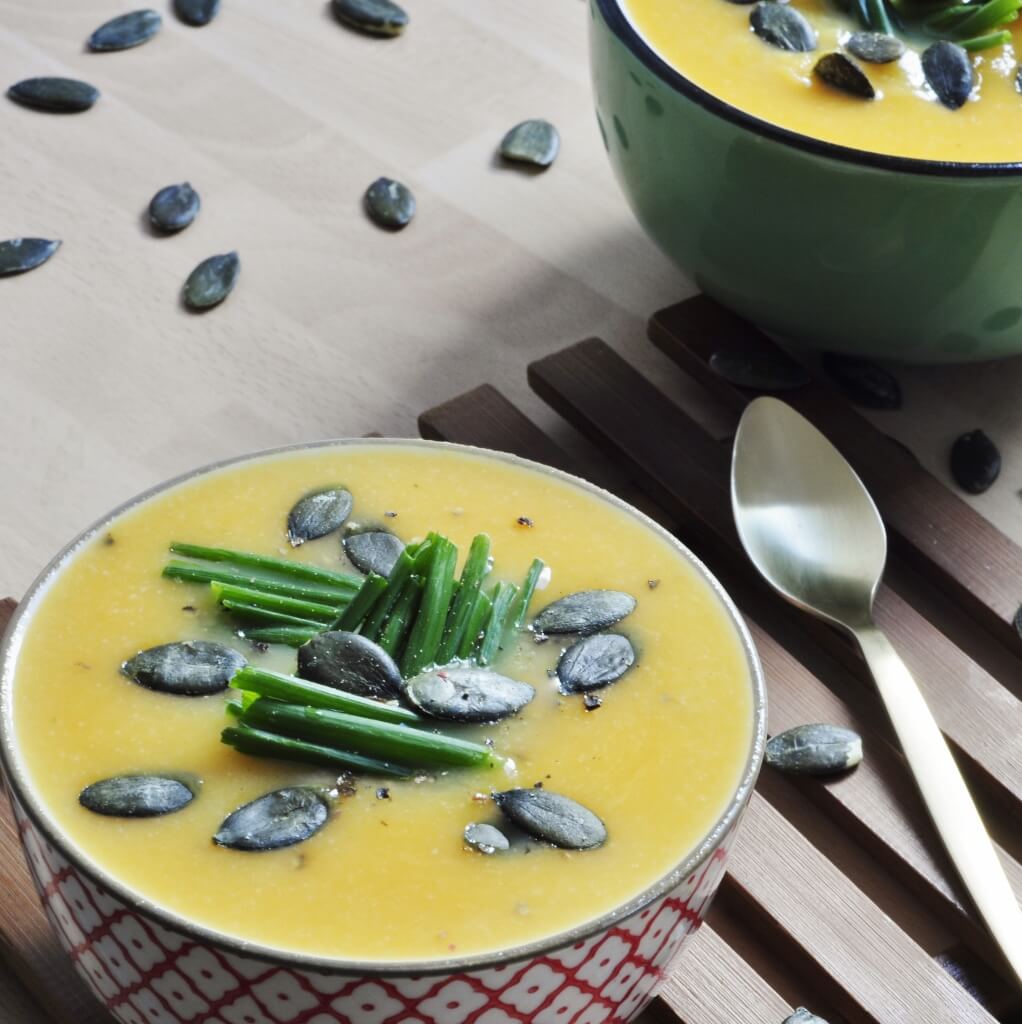 My kids love this sweet potato cauliflower soup. Usually, I cringe when I think of feeding soup to a baby or toddler. However, if you are planning on serving this to kids, then I suggest adding a bit less broth so the soup is thicker. I also cut up a piece of bread into ½-inch cubes and put them on top of the soup. This way it's pretty chunky, will actually stay on your toddler's shaky spoon, and have a much better chance of getting into his mouth :)
What are the nutritional benefits?
Get ready for a nutritional powerhouse of a recipe! This dish packs a punch of vitamins, minerals, and antioxidants that will have your body feeling and performing at its best.
Olive oil: It's like liquid gold for your heart, as it's packed with healthy fats that can lower cholesterol levels and reduce the risk of heart disease.
Yellow onion: These little guys pack a punch of vitamin C, which is essential for a healthy immune system and a glowing complexion.
Garlic: It's like nature's medicine cabinet, as it's packed with antioxidants and compounds that can lower blood pressure and reduce the risk of heart disease.
Sweet potato: These little powerhouses are packed with vitamin A for healthy vision and immune function, and fiber for a happy digestive system.
Cauliflower: It's like a superhero in disguise, as it's packed with vitamin C and K for strong bones and blood clotting, and fiber for a happy digestive system.
Vegetable broth: It's like a hydrating and low-calorie flavor bomb that will make your taste buds dance with joy.
Apple Cider Vinegar: It's like a magic potion for weight loss, blood sugar control and improved heart health.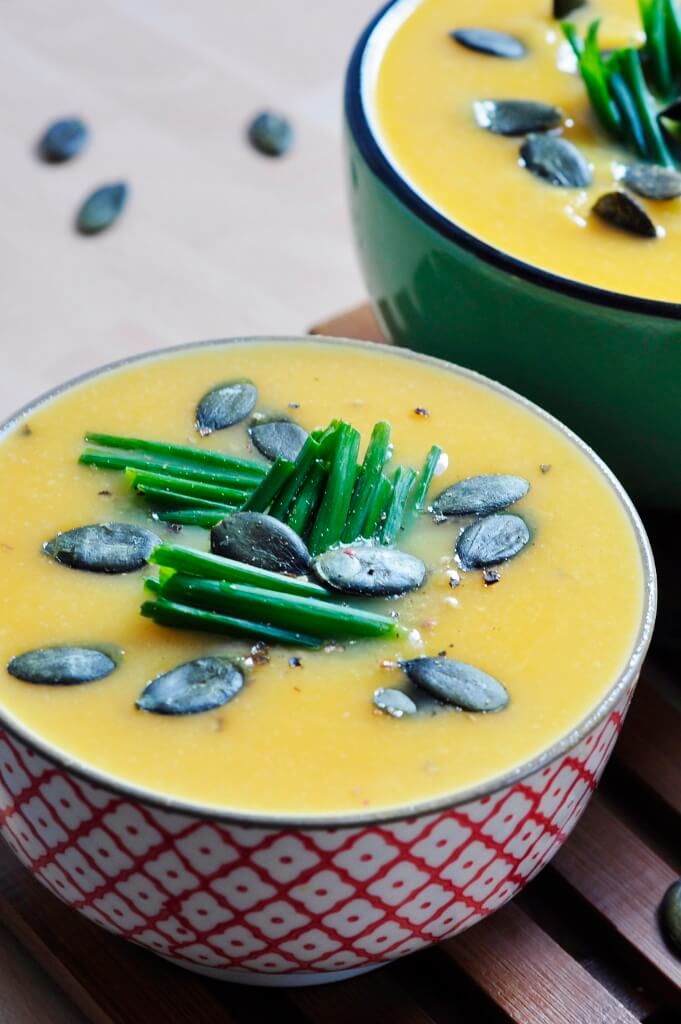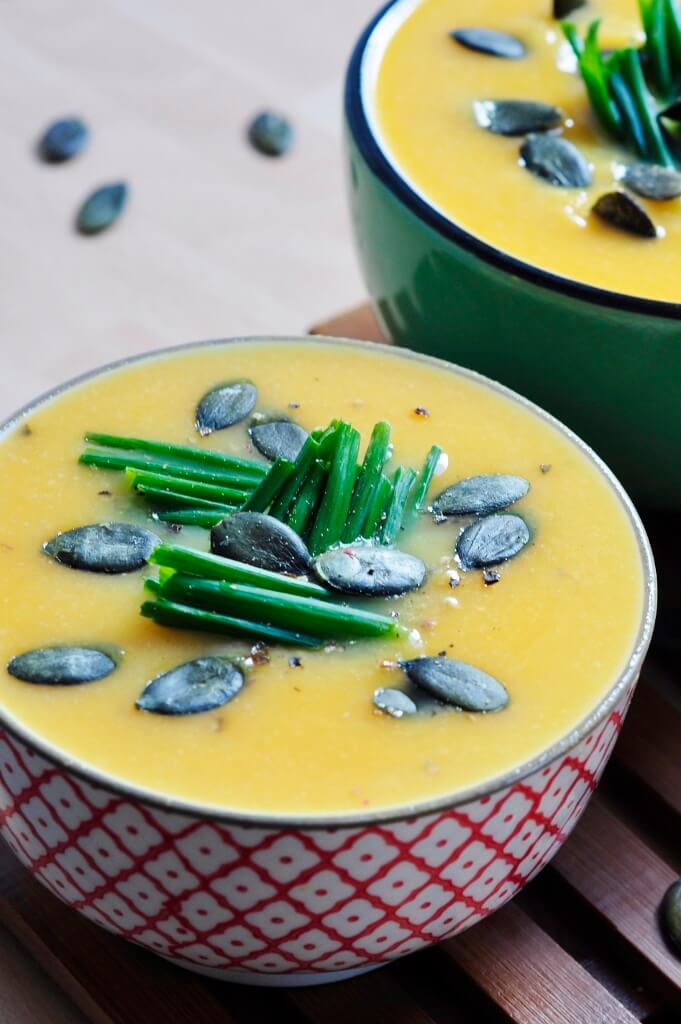 #1 Cauliflower Tip
Don't overlook the importance of prepping your cauliflower before using it in your recipe! Soaking it in water before using it is like giving it a mini spa treatment, it can help remove any dirt, pesticides, or impurities that may be present on the surface of the vegetable. It's also a great way to make it more digestible, as it can help to soften the fibers in the cauliflower, making it easier for your body to break it down and absorb its nutrients. So go ahead, give your cauliflower a little spa treatment before using it in your recipe, and enjoy the delicious and nutritious dish you'll create!
Vegan toppings?
Can't forget the toppings! For this sweet potato cauliflower soup, I opted for pumpkin seeds, chives, and fresh cracked pepper. My kids really like adding a swirl of balsamic glaze to their soup.
There really is no right or wrong way to top a soup! Here are some more soup toppings to get creative with!
Croutons: Make your own by tossing cubes of bread with olive oil and herbs, or try store-bought options that are vegan-friendly.
Sliced avocado: Creamy and delicious, avocado is the perfect topping for adding healthy fats to your soup.
Nutritional yeast: Give your soup a cheesy flavor without the cheese, nutritional yeast is a vegan's best friend. This is the best!
Crushed nuts: Add some crunch and flavor to your soup with crushed almonds, pecans, or walnuts.
Fresh herbs: Add some fresh herbs like cilantro, parsley, or basil for a pop of color and flavor.
Sesame seeds: Add some nutty flavor and a nice crunch to your soup with sesame seeds.
Hot sauce: Add a few drops of hot sauce or Sriracha for a spicy kick to your soup.
Vegan sour cream or yogurt: Add some tangy and creamy flavor to your soup with vegan sour cream or yogurt.
Vegan cheese: Add some cheesy flavor to your soup with vegan cheese alternatives like nutritional yeast or store-bought vegan cheese
Crushed crackers: Add some extra crunch to your soup with some crushed crackers.
📖 Recipe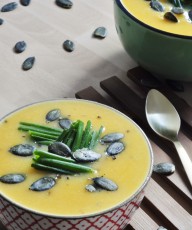 Sweet Potato Cauliflower Soup
makes 8.5 cups (2 Liters)
Ingredients
1

teaspoon

Olive Oil

1

medium

Onion

diced

1

clove of

Garlic

crushed

1

large

Sweet Potato

peeled, diced

½

head

Cauliflower

cut into florets, soaked in water - See Notes

5

cups

Vegetable Broth

low sodium

1-2

tablespoons

Apple Cider Vinegar
Instructions
Heat olive oil in a medium sized stock pot. Saute onions until glossy. Add garlic and continue cooking, stirring often, until garlic becomes fragrant ( about 3 minutes).

Add sweet potato and cauliflower, cook for 1 - 2 minutes, and then add broth. Cover stock pot Reduce to low heat, uncover, and let simmer for 15 to 20 minutes until sweet potato can easily be pierced with a fork.

Puree with an immersion blender until smooth.

Stir in 2 tablespoons of apple cider vinegar, bring to another quick boil, and again simmer for an additional 3 minutes.

Serve hot and garnish with favorite toppings such as pumpkin seeds, chives, pine nuts, parsley, croutons, vegan sour cream or yogurt.
Recipe Notes
1) Soak cauliflower florets in a large bowl of cold water for at least 5 minutes or longer before using. This not only removes dirt and debris that might be stuck in it but also helps draw out any bitter flavors from it. Drain and shake off excess water before cooking. Soaking cauliflower is optional but I highly recommend it.2) If you are fond of garlic, feel free to add 3 cloves for extra flavor.3) Feel free to add as much or a little broth to the soup until desired texture is achieved. The amount of broth may also vary a bit due to the size of the sweet potato and cauliflower being used.4) Slowly add apple cider vinegar to the soup according to taste. Apple cider vinegar can also be substituted with lemon juice or sherry vinegar.
Don't like cauliflower in your soup? Try my Sweet Potato Carrot Soup or Easy Chickpea Soup!
Other Vegan Soup Recipes to Try!