These healthy Vegan Spinach Balls are the perfect appetizer for your next party and even make for a kid-friendly snack!
It's been quite a while since my last recipe post. I've got to thank colds, flus, family visits, and vacations for that :) Before all this happened I had cravings for spinach balls. My grandma makes some delicious spinach balls but sadly they aren't vegan. I tried googling "vegan spinach balls" but came up empty. Most spinach balls have egg, bread crumbs, and frozen spinach. I wanted to make a vegan spinach ball that used fresh ingredients and also happened to be gluten-free.
I came up with this simple recipe that is a delicious appetizer or snack. My Grandma usually makes these for Thanksgiving and Christmas but I think they are a great appetizer all year around. Spinach is in season in the winter and spring months making it especially great when you can buy fresh spinach locally. That being said, you can also makes these using frozen spinach (check notes on the recipe below for how to). However, I find that the spinach ball burst with more color and flavor when using fresh spinach as opposed to frozen.
I do have to mention one more thing about the color. For some reason it reminds me of "How the Grinch stole Christmas". I was so tempeted to call these Grinch Balls but realized that no person in their right mind would actually want to eat something called a grinch ball. Sadly, I stuck with boring Vegan Spinach Balls but be my guest to call these grinch balls at next year's Christmas party :)
These spinach balls are really easy to make. Pop all the ingredients into a food processor and pulse...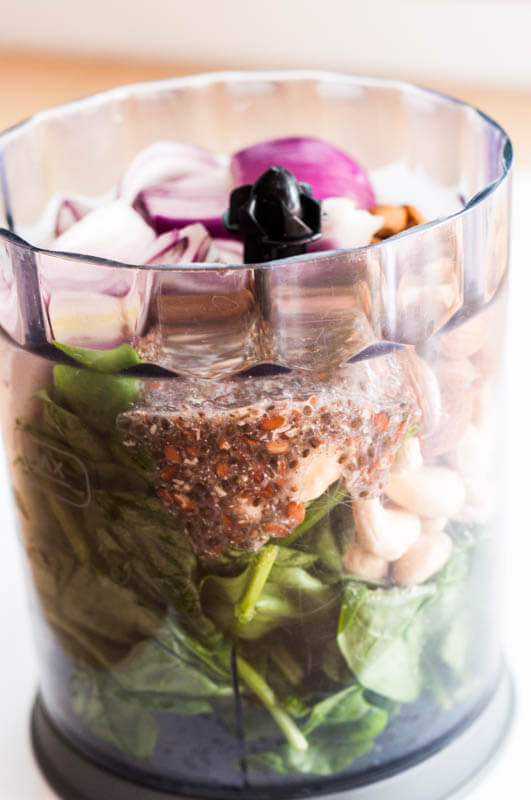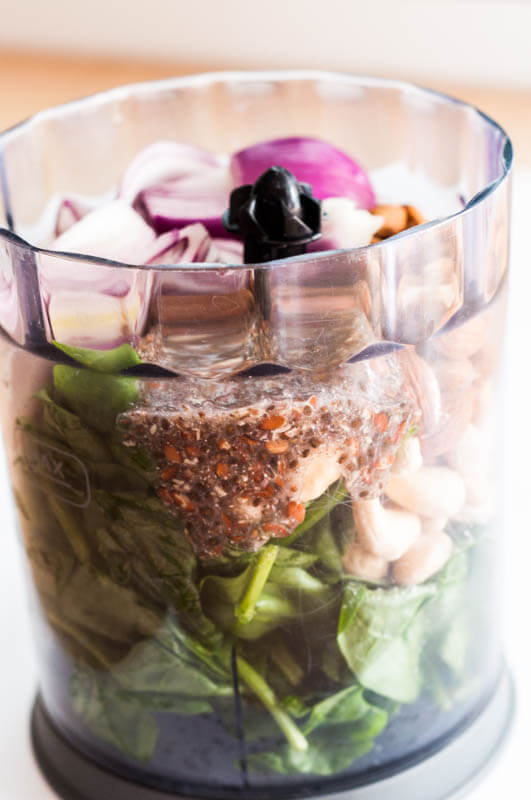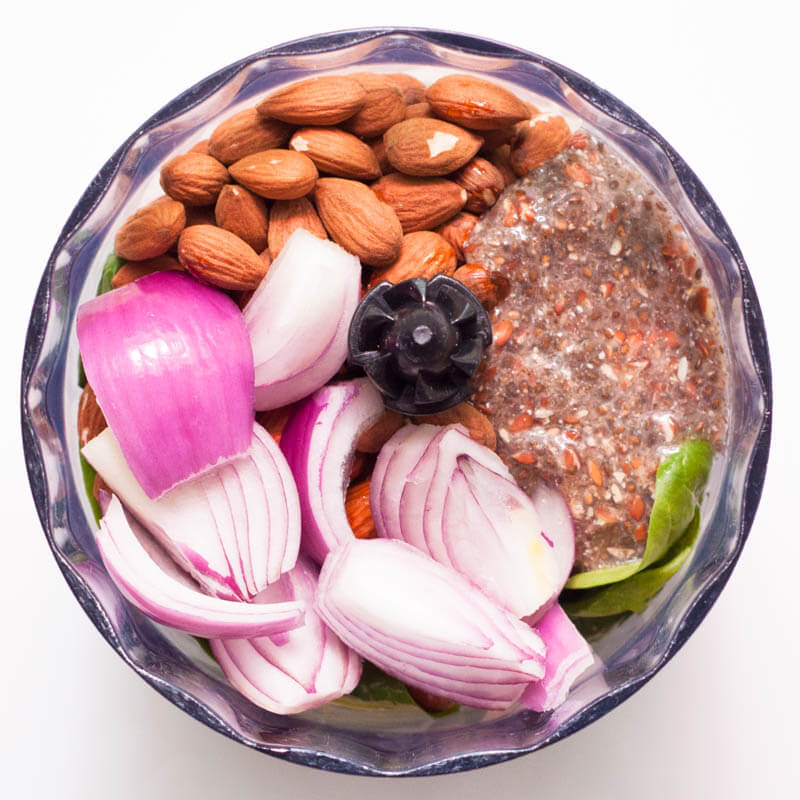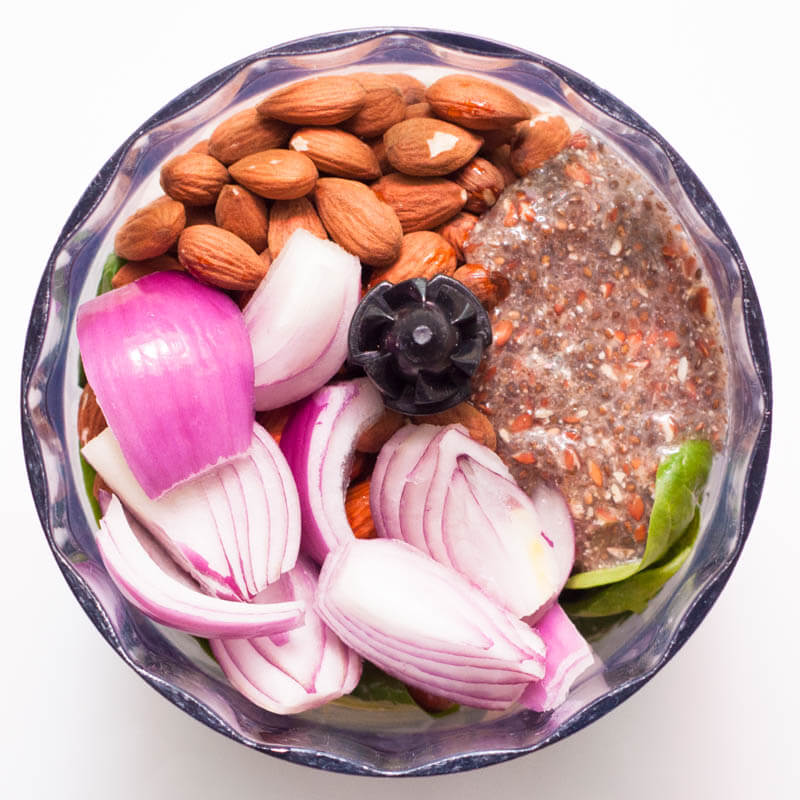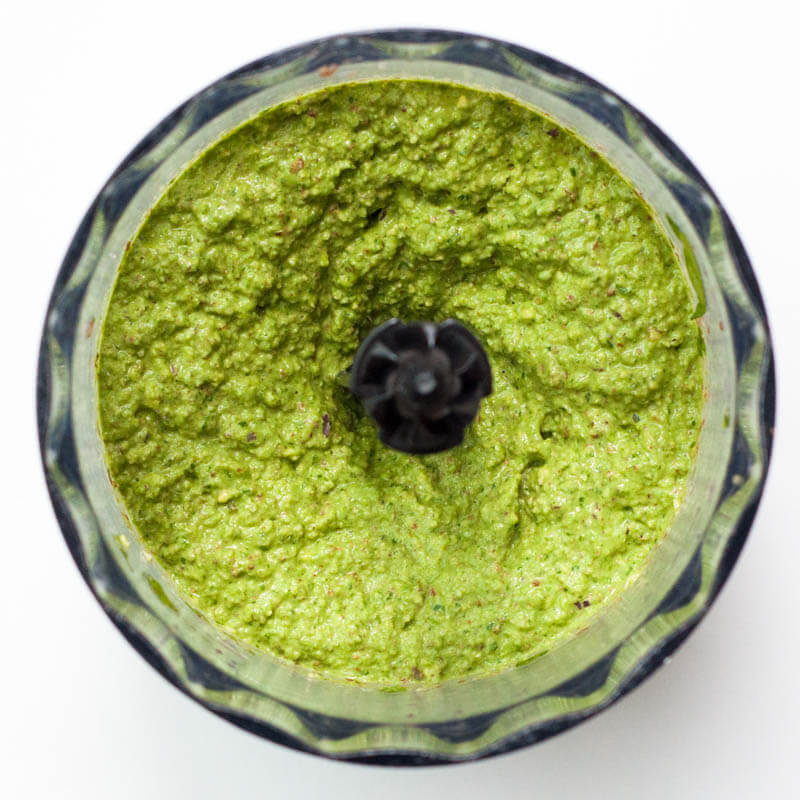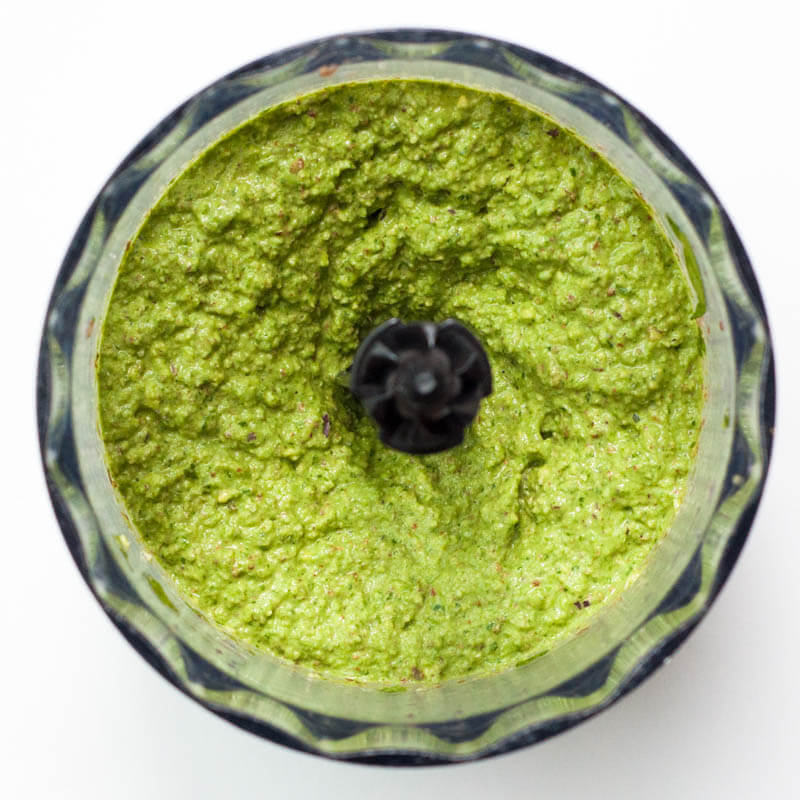 Once the mixture is nice and thick, scoop out tablespoon sized balls and bake in the oven until they are nice and brown on the bottom.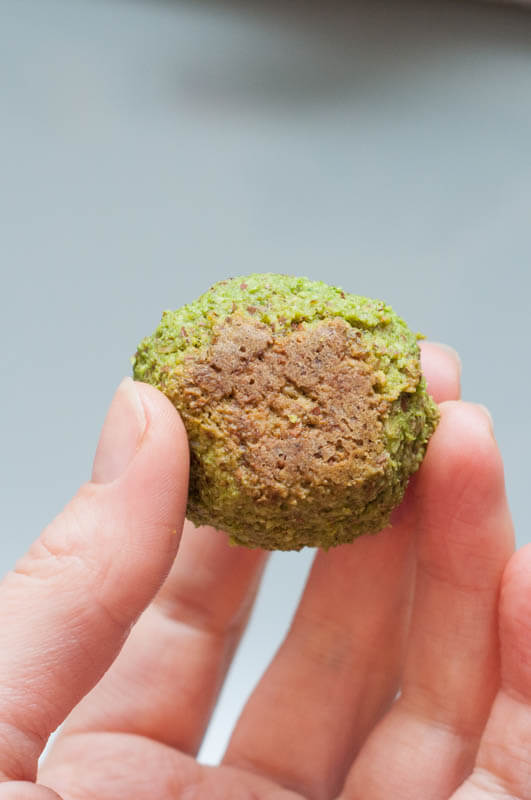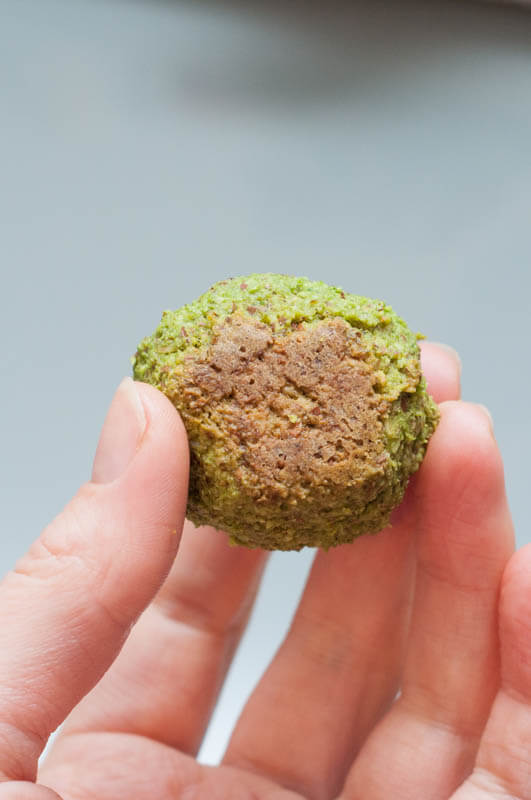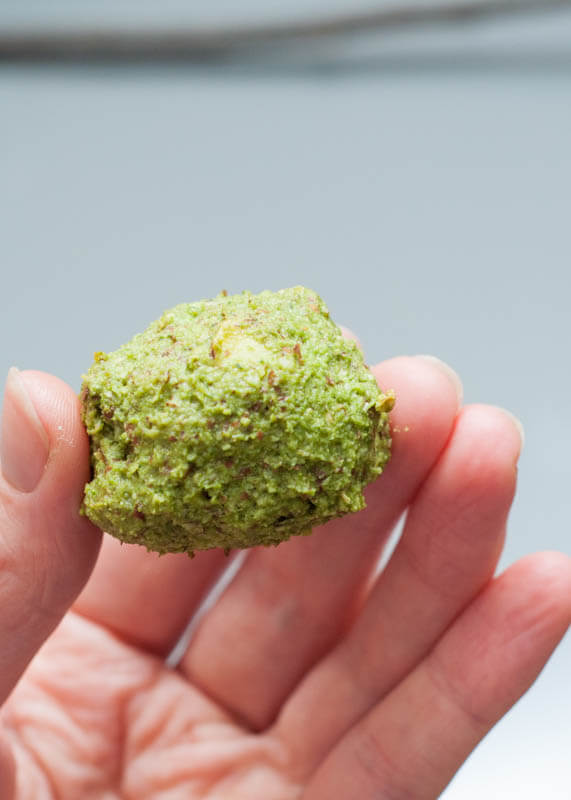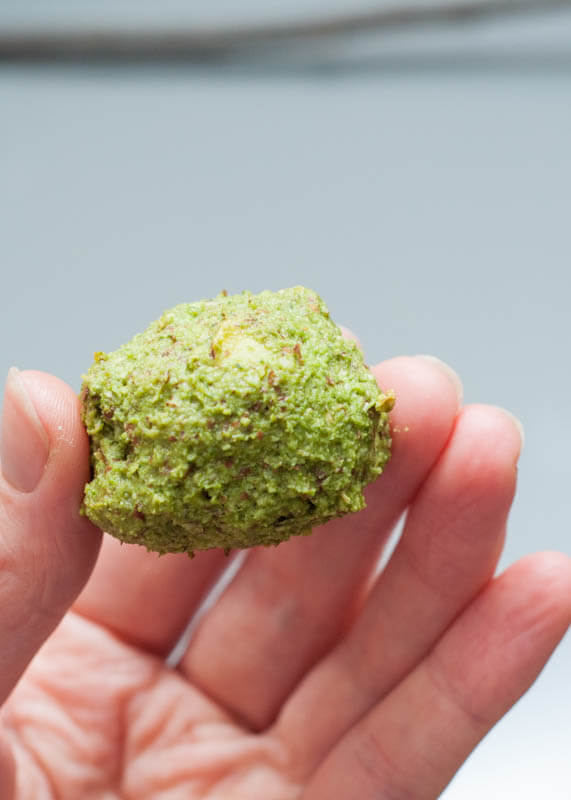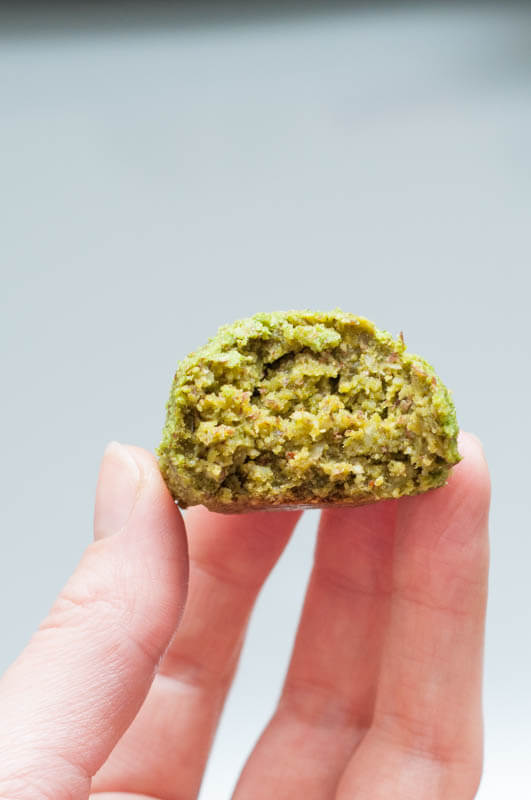 Delicious! Both boys were popping these in their mouths non-stop. I didn't mind. These are filled only with healthy clean ingredients and even Flax seeds (or Chia seeds). We ate them as snack but are actually meant to be served as an appetizer.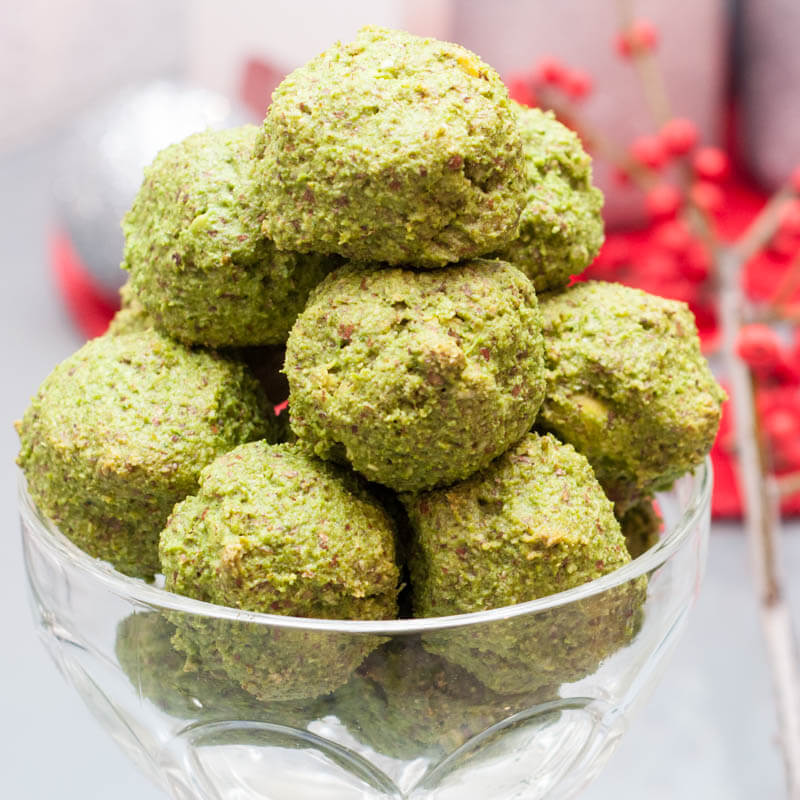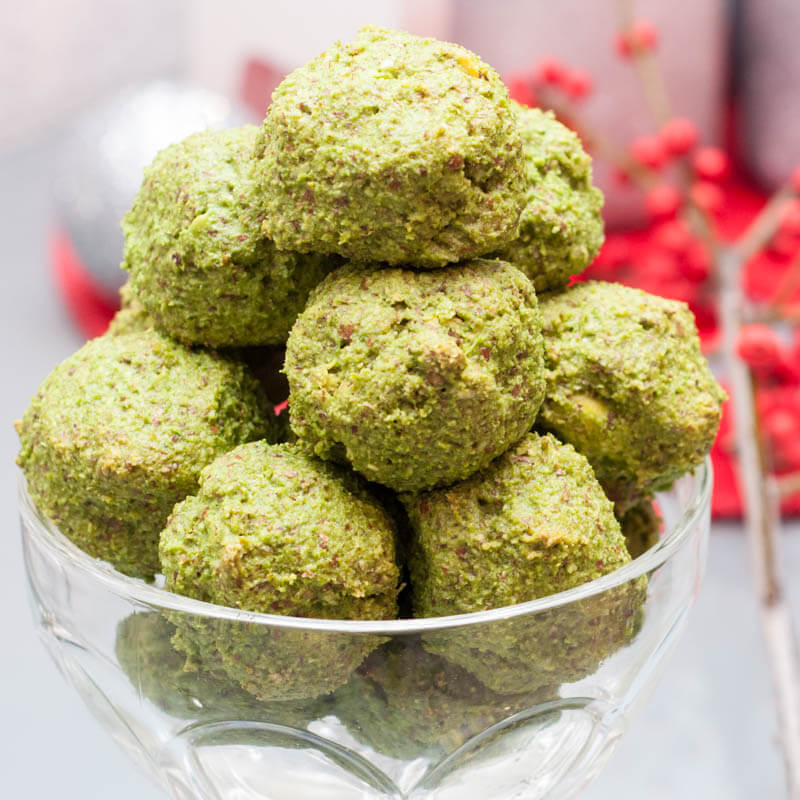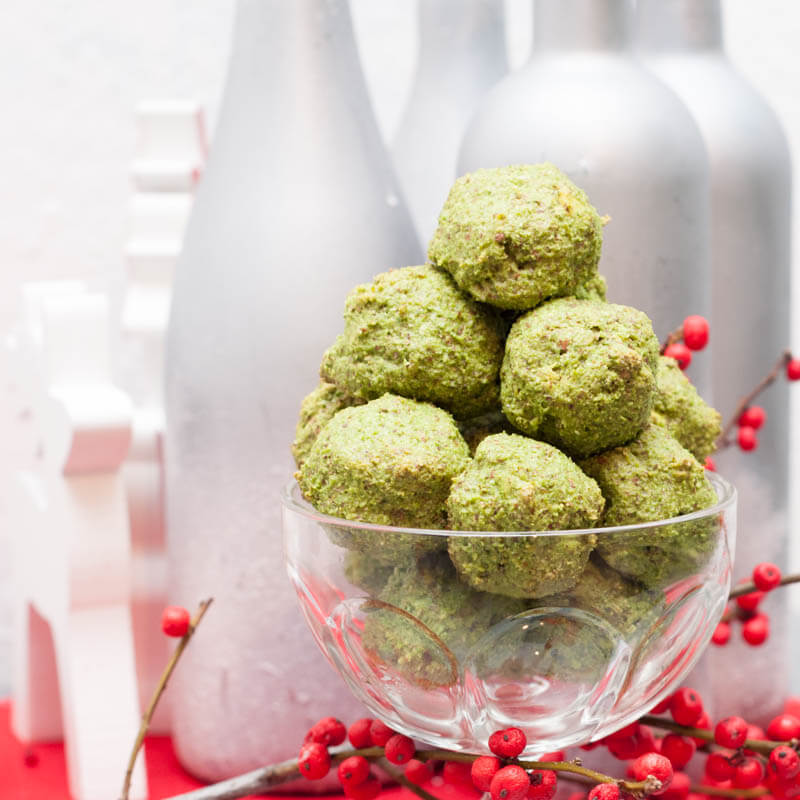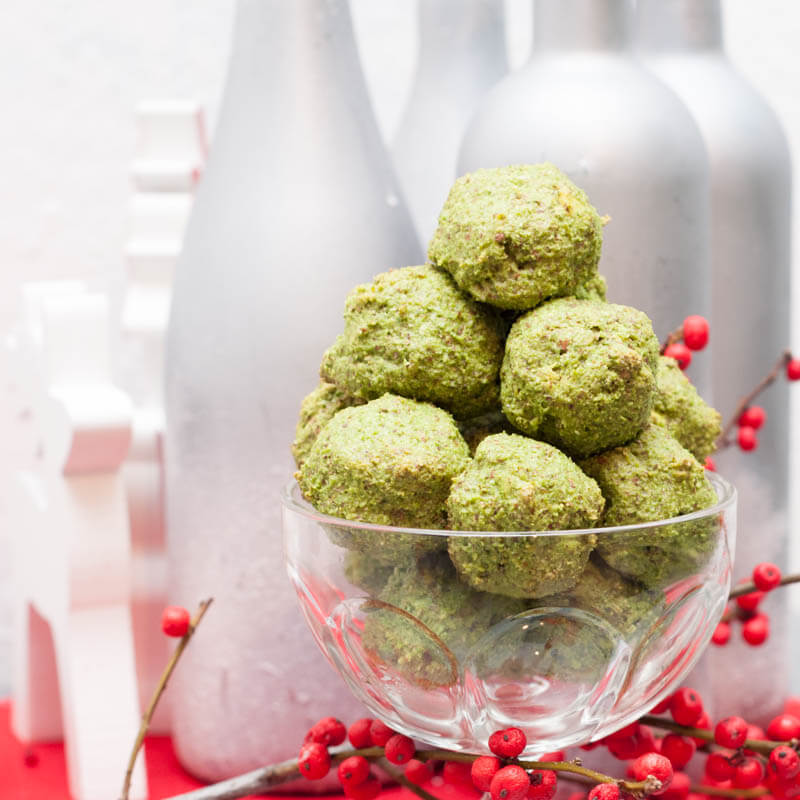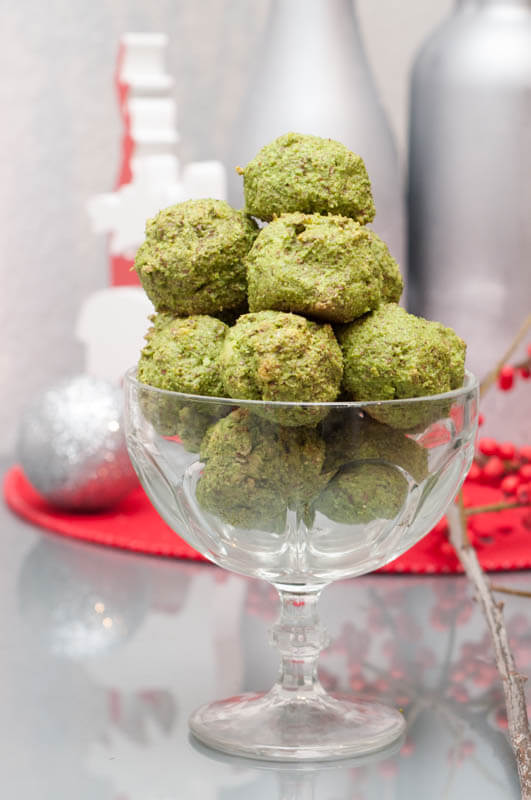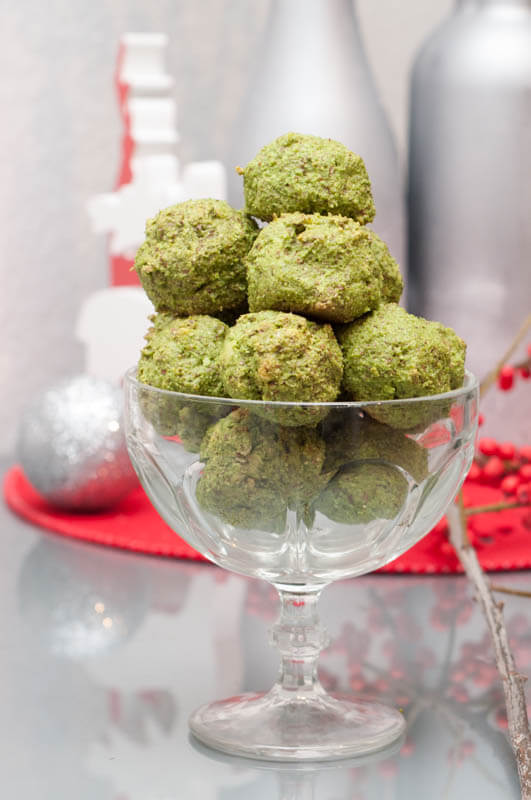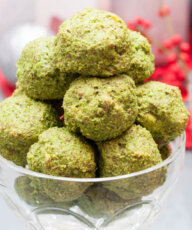 Vegan Spinach Balls
Delicious and easy to make Vegan Spinach Balls! They're the perfect healthy appetizer for any party or even great as a snack!
Ingredients
3

cups

Spinach

fresh, washed and dried, 3 ounces or 90g

½

cup

Cashews

whole and raw

1

cup

Almonds

whole and raw

3

tablespoon

Olive Oil

½

teaspoon

Salt

1

Chia or Flax Egg

see notes for directions

1

small

Red Onion

quartered

½

cup

Oats
Instructions
Preheat oven to 350F and line a cookie sheet with parchment paper.

Place all ingredients in a food processor and pulse until nuts are slightly ground. If too much for food processor, process ingredients in batches. and mix together in a bowl.

Scoop tablespoon sized balls of the spinach mixture out of the food processor or bowl and place on cookie sheet.

Bake in oven for 15-20 minutes until bottoms of the spinach balls have browned.

Remove from oven and allow to cool for a minute on a cookie rack. Serve warm.
Recipe Notes
1) Prepare Flax or Chia eggs by mixing 1 tablespoon of ground Chia or Flax Seeds with 3 tablespoons of water. Allow to sit for 15 minutes until a thick gel forms. This is your egg replacement!2) Spinach balls can be eaten cold as well but taste best when warm and fresh out of the oven. If this is not an option pop them in the microwave for a few seconds to warm up before serving.3) You may use frozen spinach if needed. Allow the spinach to thaw completely and drain it of any excess water before using.4.) If your mixture is too wet to form balls, add more oats or almonds. If your mixture is too dry, add a bit more olive oil or a bit of water.
Looking for another great vegan recipe that uses lots of spinach? Make this yummy Kale Spinach Smoothie!
Otherwise, check out some of my other vegan sides and appetizer recipes!