Looking for your next favorite soup?
This Easy Thai Carrot Soup might just be it!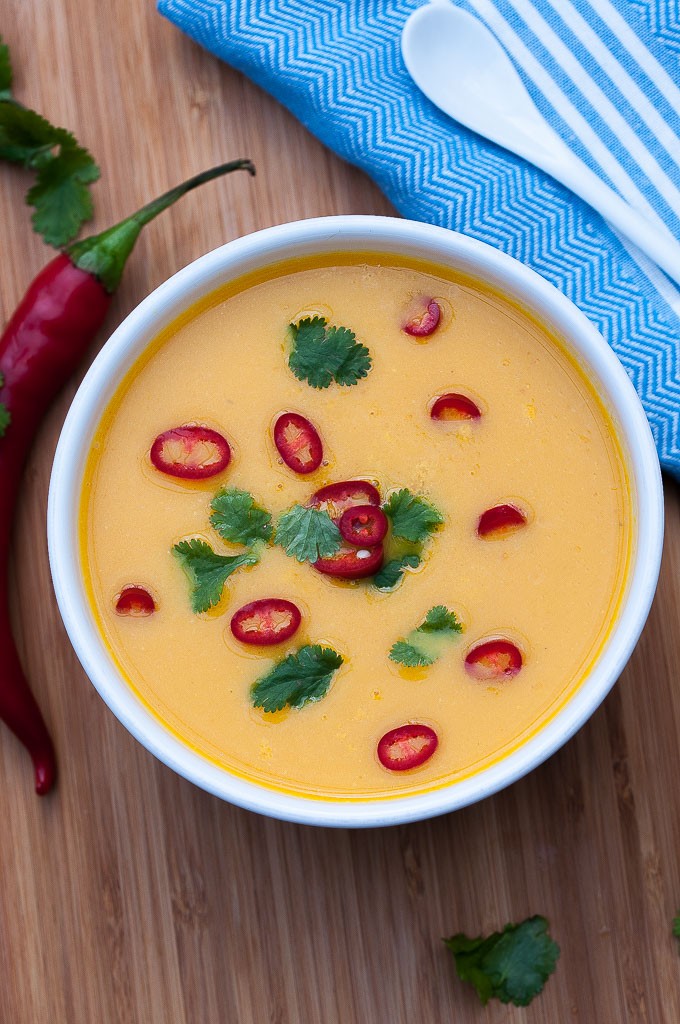 There is something so soothing about a bowl of hot, creamy soup while it is absolutely freezing outside. What's even better is when it's a hot, creamy, nutrient dense soup that my kids will actually eat. This Easy Thai Carrot Soup nails it Every.Single.Time.
Not only is the prep work an absolute joke but it turns out tasting like you must have slaving over this all day. There aren't any crazy ingredients either. I always have all of these ingredients in my pantry. It's one of those recipes I like to make if I've had a long day. There's not a whole lot of thinking required and it's pretty hard to mess it up.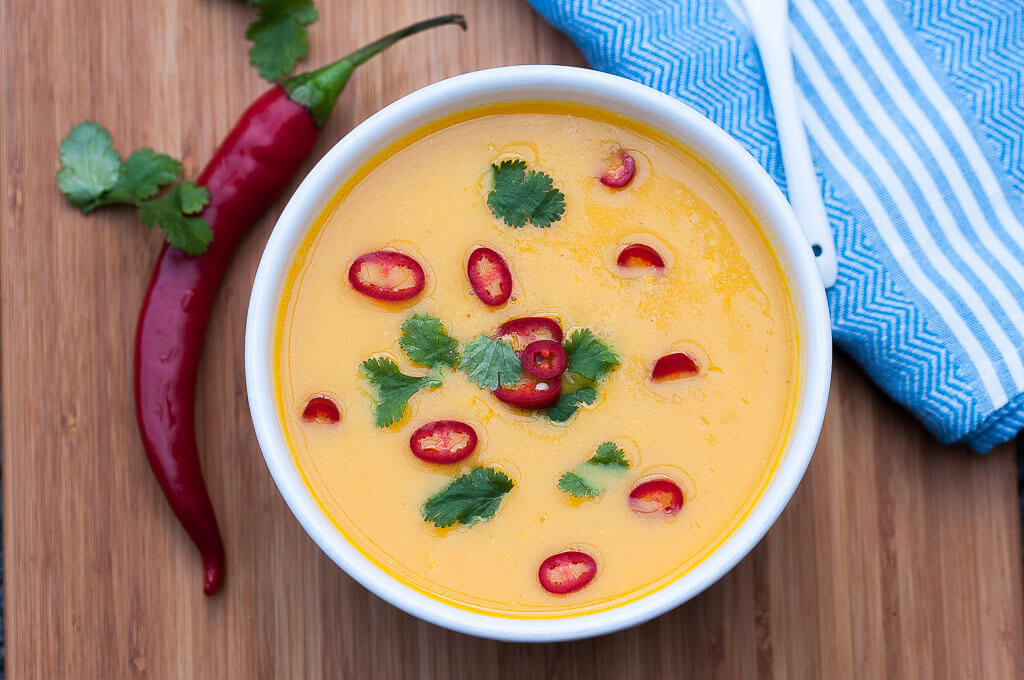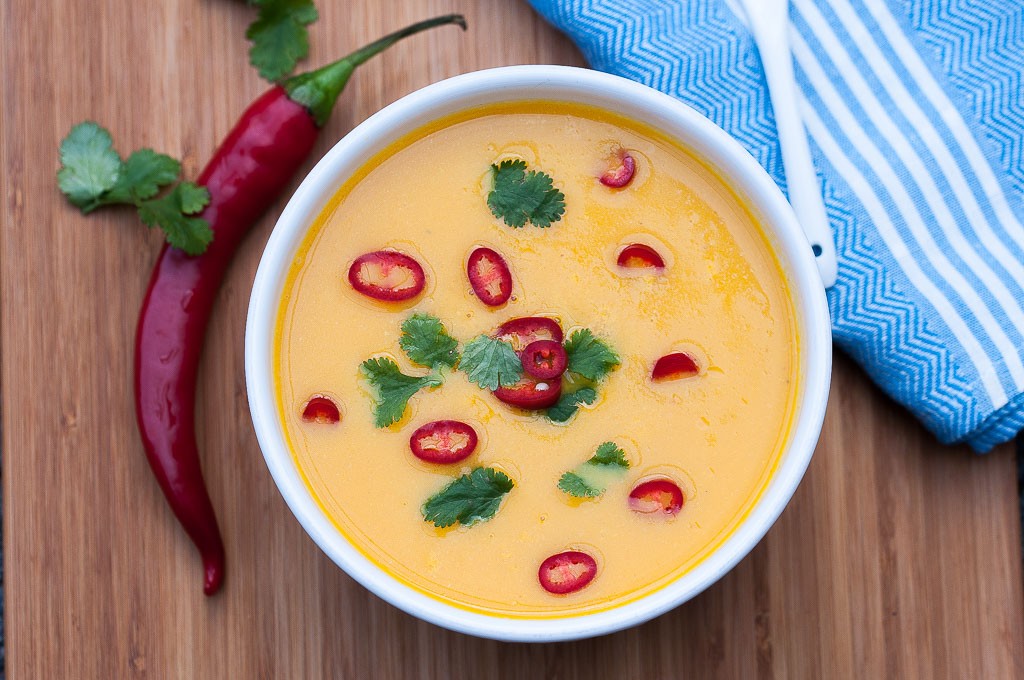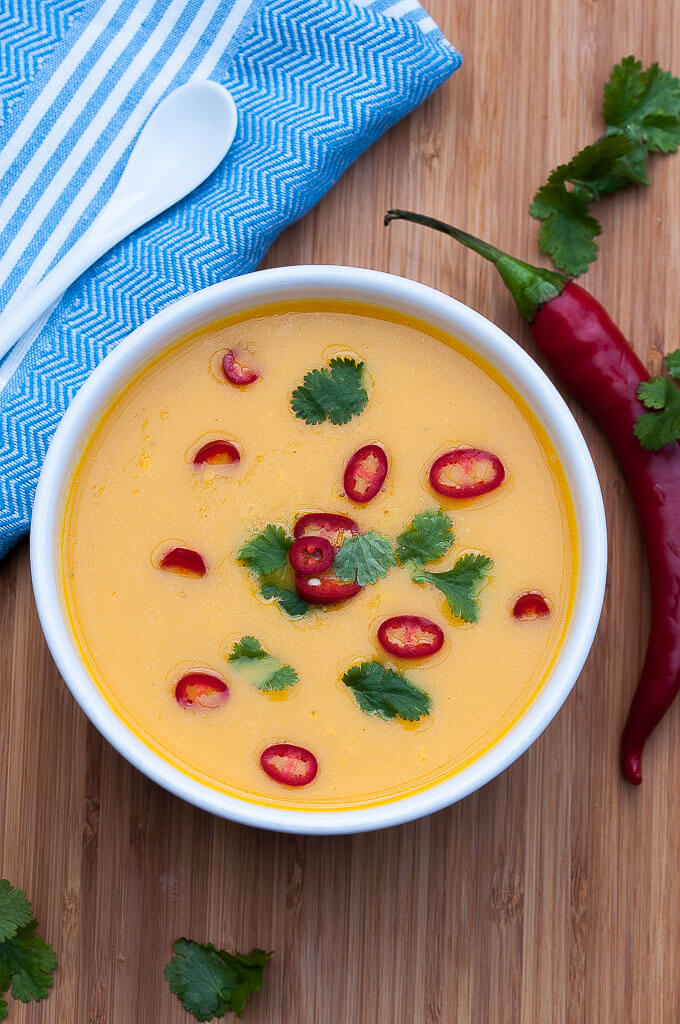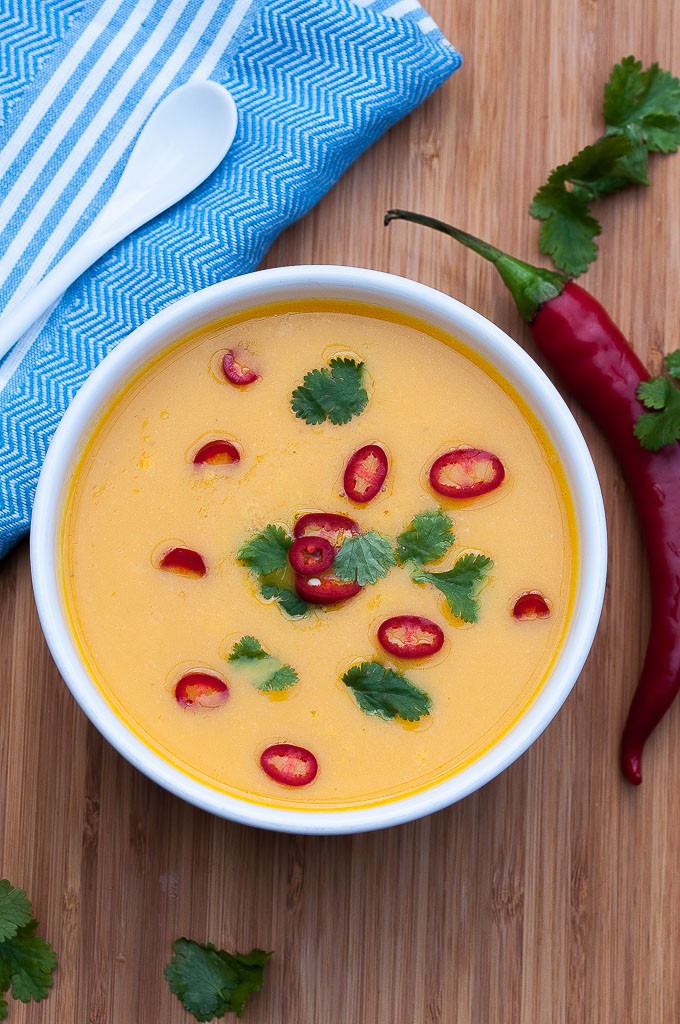 After making this Thai Carrot Soup recipe a couple of times, you'll quickly be able to make it without much thought.
For my family, it is a healthy slight alternative to the Vegan Carrot Soup we eat a lot. The difference with this soup is that I like adding coconut milk to make it extra creamy, lime juice for just a hint of citrus, and cilantro for a bright, earthy flavor.
To top it all off, I like adding fresh cayenne pepper. So what flavors and textures does this Thai Carrot Soup have?
Sweet from the Carrots
Earthy from the Cilantro
Sour from the Lime
Creamy from the Coconut Milk
Heat from the Cayenne Pepper & Ginger
Oh, and garlic...because garlic is garlic and it's so dang good that you never need an excuse to cook with it.
If you are thinking, this might be too spicy for my kids. Fear not, the reason I added the cayenne pepper on top instead of cooking it into the soup is so that you can easily leave it off. My kids love the taste of ginger now since I regularly cook with it or add it to tea as well. However, if your kids aren't too accustomed to it then go easy on the ginger.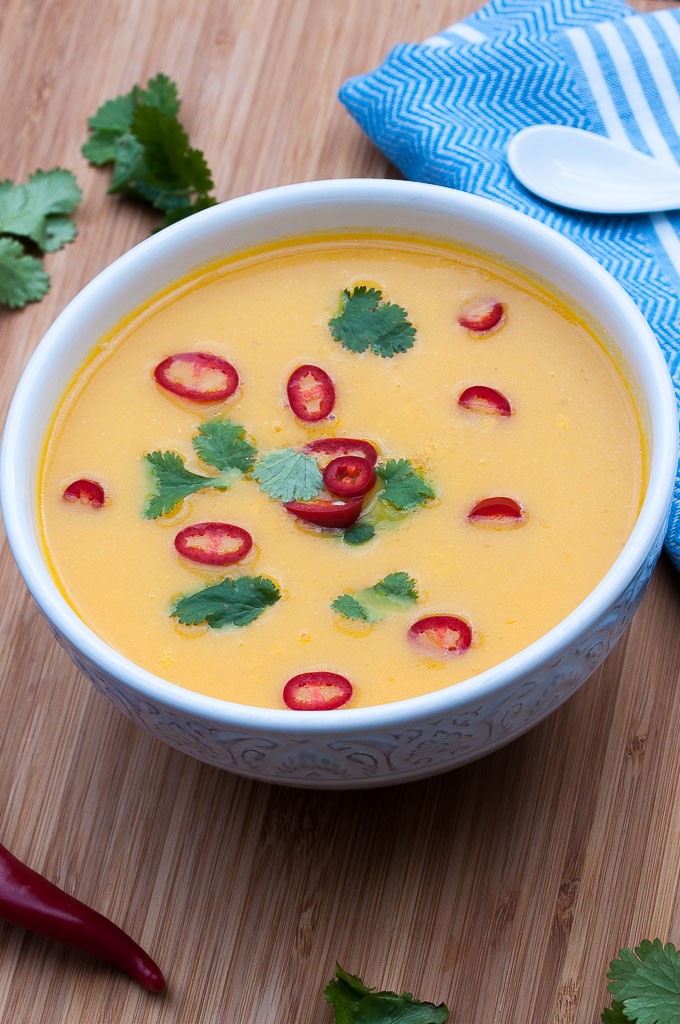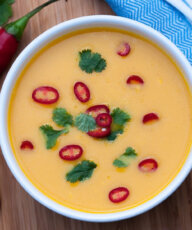 Easy Thai Carrot Soup
Quickly make this easy thai inspired carrot soup with fresh ingredients. Adjust the amount of chili and ginger used to make it kid-friendly. For extra thai flavor, add a teaspoon red curry paste with the coconut oil.
Ingredients
1 ½

teaspoon

Coconut Oil

1

large Yellow Onion

diced

Small knob of fresh Ginger

peeled, grated

2 - 4

Garlic Cloves

minced

1.5

lbs

750 g Carrots (peeled, roughly diced)

3

cups

Low Sodium Vegetable Broth

small handful Cilantro

1

Cayenne Pepper

diced, optional

1

can of Coconut Milk

1 - 3

teaspoons

Fresh Lime Juice

optional
Instructions
Melt coconut oil in over medium-high heat in a medium sized stock pot. Add onion, garlic, and ginger to pot and cook for 5 minutes. Add carrots and cook for 3 more minutes. Stir broth and cilantro into pot and bring to a boil. Once boiling, lower heat, cover pot and simmer until carrots can easily be pierced with a fork. This will take anywhere between 15 and 40 minutes depending on the size of the diced carrots.

When carrots are soft, puree using an

immersion blender

or add to a blender to puree. Return soup back to stock pot and add coconut milk and more water if too thick.

Add lime juice and more salt to taste.

Garnish soup with cayenne pepper and fresh cilantro leaves. Serve hot.
Recipe Notes
1.) To make this a low calorie soup with only 69 calories in a cup, omit the coconut milk.2.) I'm a big fan of steaming vegetables since it helps preserve more nutrients. If you wish, you can steam your carrots first and add then to the pot with boiling water. Then immediately puree and serve. 3.) The reason I add the cayenne pepper as a garnish is to keep this kid friendly. If you prefer a spicier soup. Add you diced cayenne chili pepper to the stock pot at the same time you add the onions, garlic, and ginger. This will allow the spice from the pepper to evenly spread throughout the entire soup.4.) You can substitute the coconut oil with olive oil, if needed.
Looking for a few more soups to try out? Maybe some of these might catch your fancy :)